Slightly sweet shortbread-style cookies filled with a deliciously tart raspberry filling, these Raspberry Linzer Snowflake Cookies are the perfect balance for those who love the not-so-sweet desserts!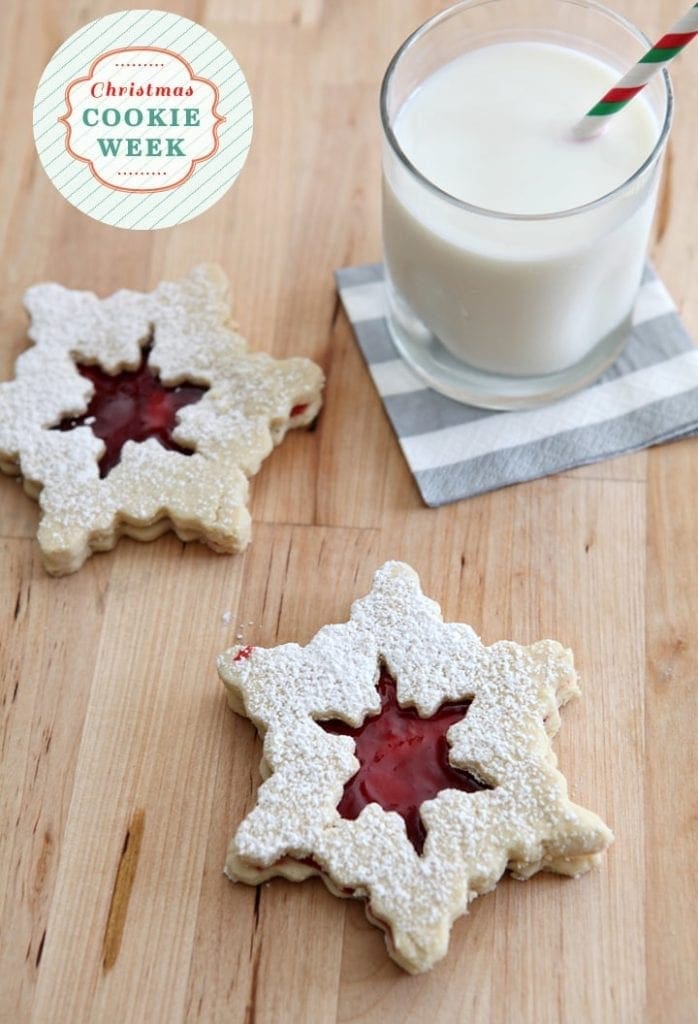 This post contains affiliate links. If you were to make a purchase through one, I would receive a small commission. For more information about the affiliate programs The Speckled Palate participates in, please refer to my disclosure page.
It's Christmas Cookie Week, and I am thrilled to have y'all here with me!
Who's excited about some cookies?
I know I am!
However, I'm currently at the doctor's office taking a glucose test to see how well my body is processing sugar during pregnancy. If y'all could send me some positive vibes, that would be ah-mazing. And yes, I realize how ironic it is that I'm hosting Christmas Cookie Week this week while potentially not being able to eat cookies anymore if the results don't come back normal. I know. Let's not discuss it, mmmkay?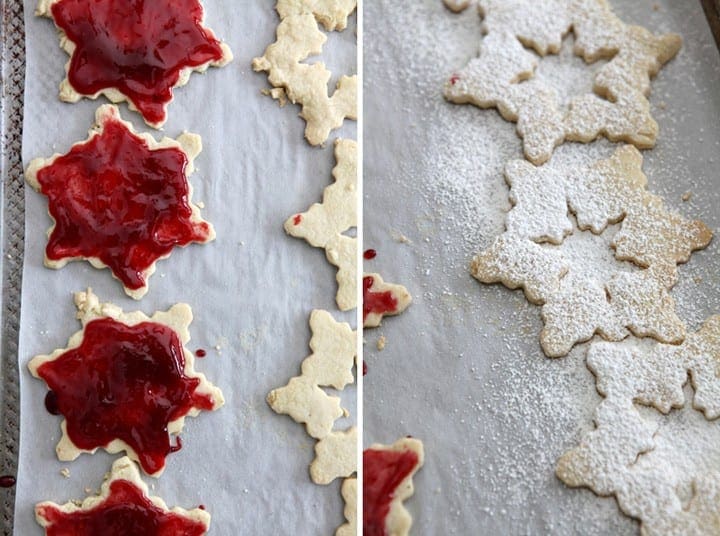 The story behind these Raspberry Linzer Snowflake Cookies starts last January.
My neighbors come together for a yearly progressive dinner during the wintertime. We've gone for the past two years, and we've had a fantastic time each time spending time with our neighbors and getting to know more people in our neighborhood.
Someone brought Raspberry Linzer Cookies to the dessert house, and they were absolutely scrumptious. And I may or may not have scarfed several while we were there, hanging out and chatting with our friends. (Hey, I was in marathon training, so it was OK…)
I've been dreaming about them ever since, but I can't seem to find Linzers in the grocery stores around here.
What's a girl to do?
She makes her own!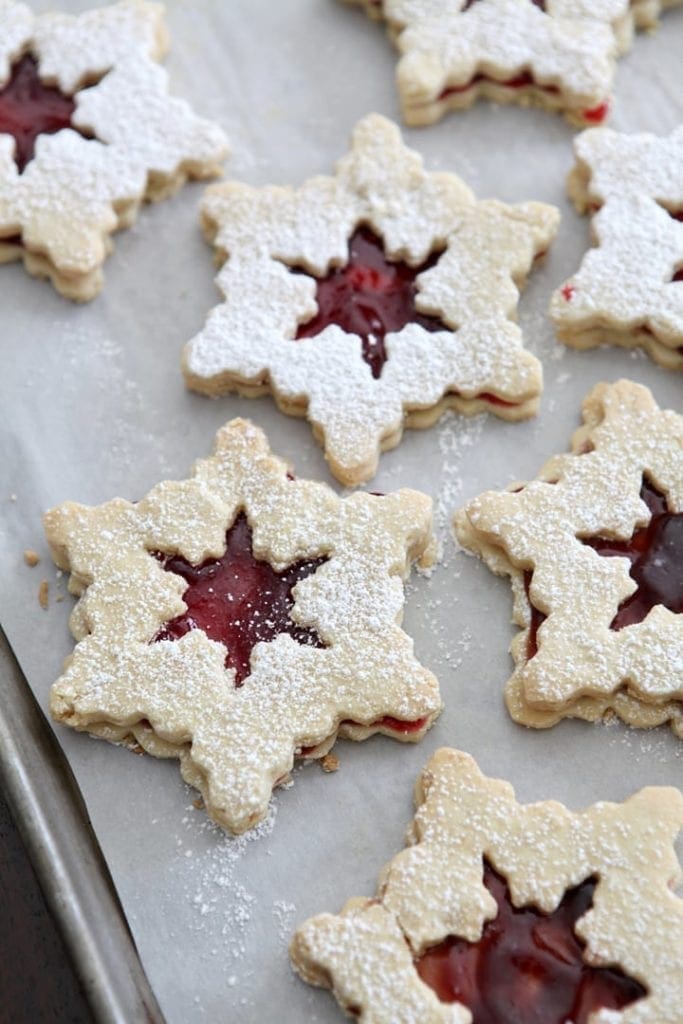 These Raspberry Linzer Snowflake Cookies are a beautiful balance. The cookies are sweet but not too sweet. The raspberry jam is tart but not too tart.
The combination of slightly sweet and slightly tart just sings, and I declared my love for these cookies at first bite.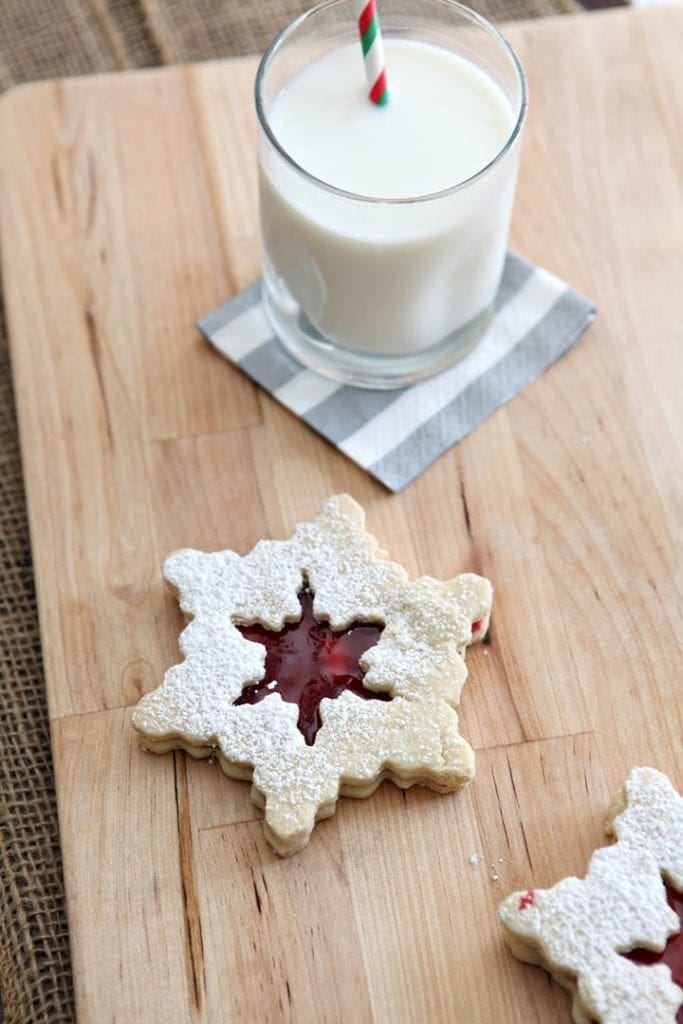 Erin's Recommended Tools/Products for Raspberry Linzer Snowflake Cookies
Please note that some of the links listed below are affiliate links, meaning if you were to make a purchase through one of these links, I would receive a small commission. Thanks for your support of The Speckled Palate!
Here's how you can make them: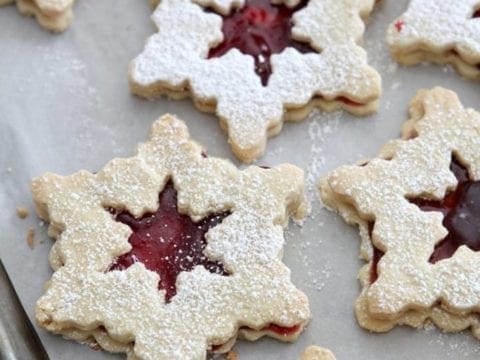 Yield:

8 cookie sandwiches
Raspberry Linzer Snowflake Cookies
Prep Time:
1 hour
30 minutes
Total Time:
1 hour
47 minutes
Slightly sweet shortbread-style cookies filled with a deliciously tart raspberry filling. These Raspberry Linzer Snowflake Cookies are the perfect balance for those who love the not-so-sweet desserts!
Ingredients
4 oz. slivered and blanched almonds, (about 1 cup)
¼ cup cornstarch
¾ cup unsalted butter, softened (1 ¼ sticks)
2/3 cup powdered sugar, plus more for sprinkling
1 teaspoon pure vanilla extract
¼ teaspoon kosher salt
2 tablespoons vegetable oil
1 cup + 2 tablespoons unbleached all-purpose flour, plus more for rolling
½ cup seedless raspberry jam
Instructions
In a food processor, pulse the almonds and cornstarch until the almonds are finely ground.
Using a stand mixer with a large bowl attached, beat the butter and powdered sugar until smooth. Increase the speed to high and beat until light and fluffy. Scrape down the sides.
Turn the speed down to medium and add the vanilla, salt and vegetable oil. Scrape down the sides.
Turn the mixer on low, and slowly alternate adding the almond mixture and flour. Mix until combined, then scrape down the sides with a plastic spatula.
Divide the dough into two pieces. Flatten them in a strip of plastic wrap, and wrap tightly.
Refrigerate dough until firm. (I refrigerated mine overnight, and it was entirely too hard, so I let it sit out for an hour or two until it was pliable for rolling.)
Preheat the oven to 325°F. Line two baking sheets with parchment paper, and set aside.
Sprinkle flour on a flat, dry surface.
Remove one round of dough from its plastic wrap, and roll out until about 1/4" thick.
Using a floured cookie cutter, cut out your cookies. For half the cookies, you'll leave the cookie whole while the other half, you will cut out the centers of the cookies with another prepared cookie cutter. (I used snowflake shapes, but you can use whatever cookie cutter you have on hand as long as the cutter that is used for the centers is smaller than the size of the cookie cutter used to create the main cookie shapes.)
transfer to a prepared baking sheet, setting the cookies about 1" apart from one another.
Repeat this process with the second round of dough until all cookies have been formed and transferred to the baking sheets.
Bake for 17-20 minutes, or until the edges have turned golden brown.
Transfer the cookies to a wire rack for cooling.
Sprinkle additional powdered sugar on top of the cooled cookies with cut-out centers.
In a small bowl, heat the jam until slightly warm, and stir until smooth. Spread the top of the whole cookies with a tablespoon of jam, then place the cookies with the cut-out centers on top of them.
Enjoy with a glass of milk!
Notes
Adapted from Good Housekeeping's Good Housekeeping Christmas Cookies.
Please note that the preparation time does NOT include the rest time for the dough.
Cookies should be stored in a sealed container with wax paper separating the layers for up to a week. They can also be frozen for up to 2 months in a freezer-safe container.
Nutrition Information:
Yield:
8 cookie sandwiches
Serving Size:
1 cookie sandwich
Amount Per Serving:
Calories:

383
Total Fat:

28g
Saturated Fat:

12g
Trans Fat:

0g
Unsaturated Fat:

15g
Cholesterol:

46mg
Sodium:

146mg
Carbohydrates:

31g
Fiber:

2g
Sugar:

19g
Protein:

3g
Nutrition facts are an estimate and not guaranteed to be accurate.

Are you a fan of Linzer cookies?
Have you found yourself craving a specific dessert before?

Want to join in on this sugar, butter and baked goodness celebration? We're just getting started and would LOVE for you to be a part! Head over to the intro post to Christmas Cookie Week 2014, and I'll see y'all back here tomorrow for another gorgeous holiday-themed sweet recipe!