Fluffy and light Lemon Drop Cookies are bursting with lemon zest and topped with a lemon glaze. These soft lemon cookies are a perfect holiday treat! Makes 24 cookies.
Love a fluffy cookie recipe? Don't miss Peppermint Brownie Drop Cookies, Pumpkin Drop Cookies with Cream Cheese Frosting and Peanut Butter Chocolate White Chocolate Chip Cookies.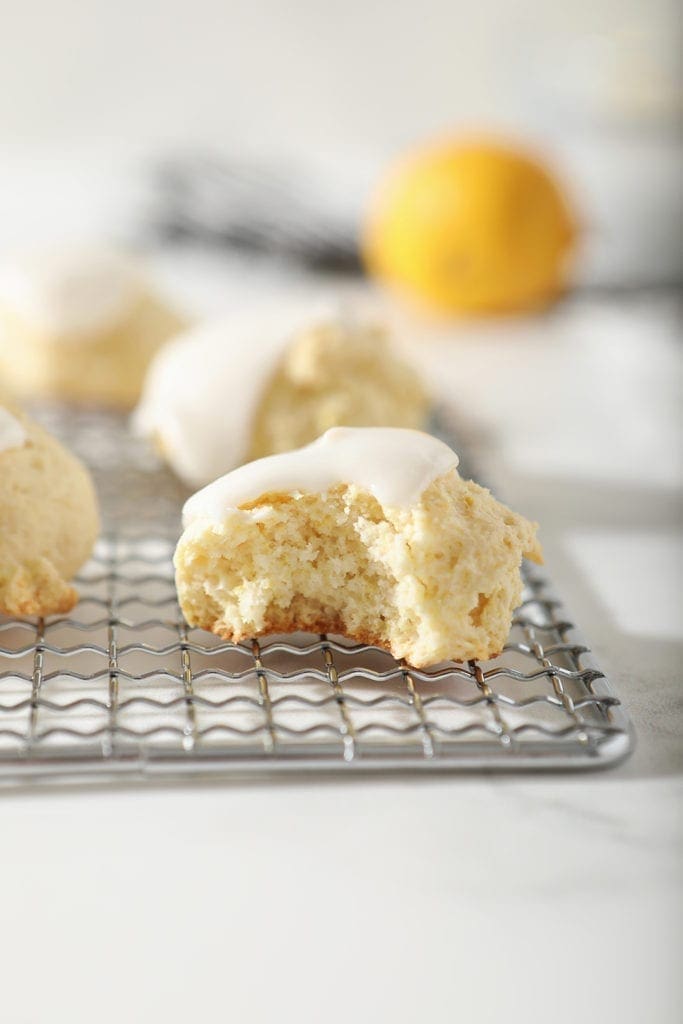 In years past, we've traveled for Thanksgiving. This year, we went to visit my family, and last year, we headed to Louisiana to visit Winston's family.
Whenever we travel, we inevitably bring home food-related items from our families.
And these light-as-air, fluffy lemon cookies are a nod to a giant Meyer lemon that Winston's aunt sent us home with years ago.
Why I love these lemon cookies:
Lemon-flavored desserts were never on the docket when I was growing up (hi, hello, I ate a lot of Peanut Blossoms, Chocolate Crinkle Cookies, All-Butter Tea Cake Cookies and Potato Chip Cookies), but they are absolutely a thing I adore now.
I mean… how could I not love something that's a little tart and a little sweet in a cookie that's super soft and delicate? The lemon flavor is subtle, but it's there, and in my opinion, it is divine.
These Lemon Drop Cookies are the PERFECT cookie for any lemon lover. They are fluffy and light. The citrus flavor adds a lovely pop without being overwhelming… and they call for fresh lemons, no extract necessary.
Please note that these are not traditional Italian Lemon Drop Cookies with ricotta cheese, nor are they Italian cookies… but they're pretty dang good all the same.
Scroll on down for the full recipe in the recipe card.
Other citrusy desserts for the holidays you might like: Orange Cranberry Cream Cheese Thumbprint Cookies / Fig and Lemon Cheesecake Bars / Cranberry Orange Ginger Biscotti / Orange Raspberry Shortbread Cookies | Lemon Cooler Cookies / Cranberry Crumb Bars
Need a holiday recipe, but don't know where to start? I have all kinds of inspiration for you on my Christmas recipe index, including more cookies, bars and more.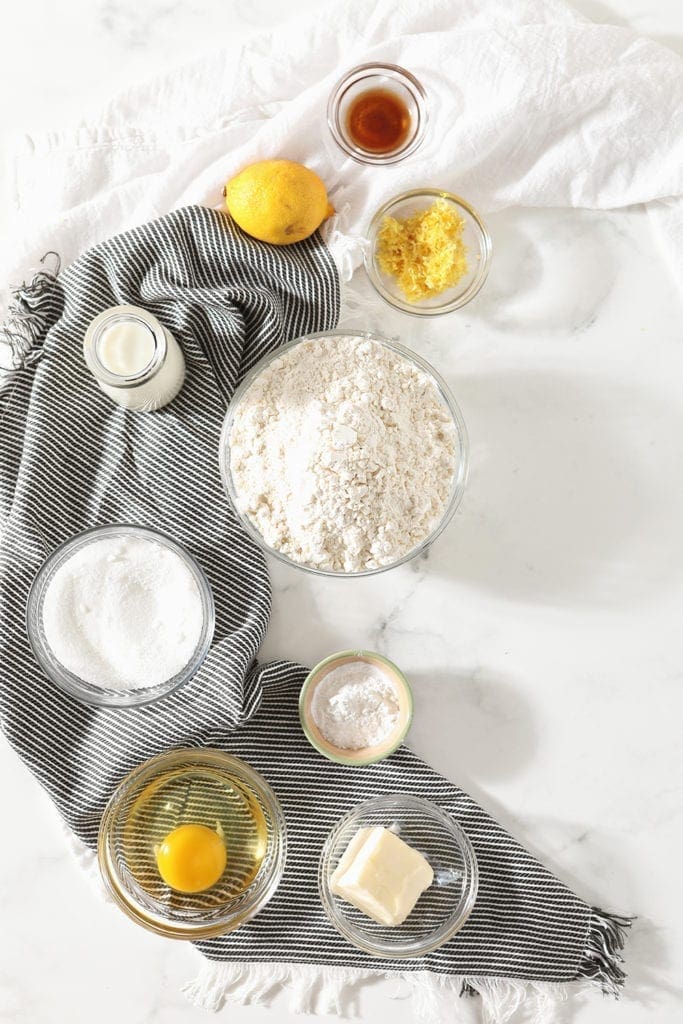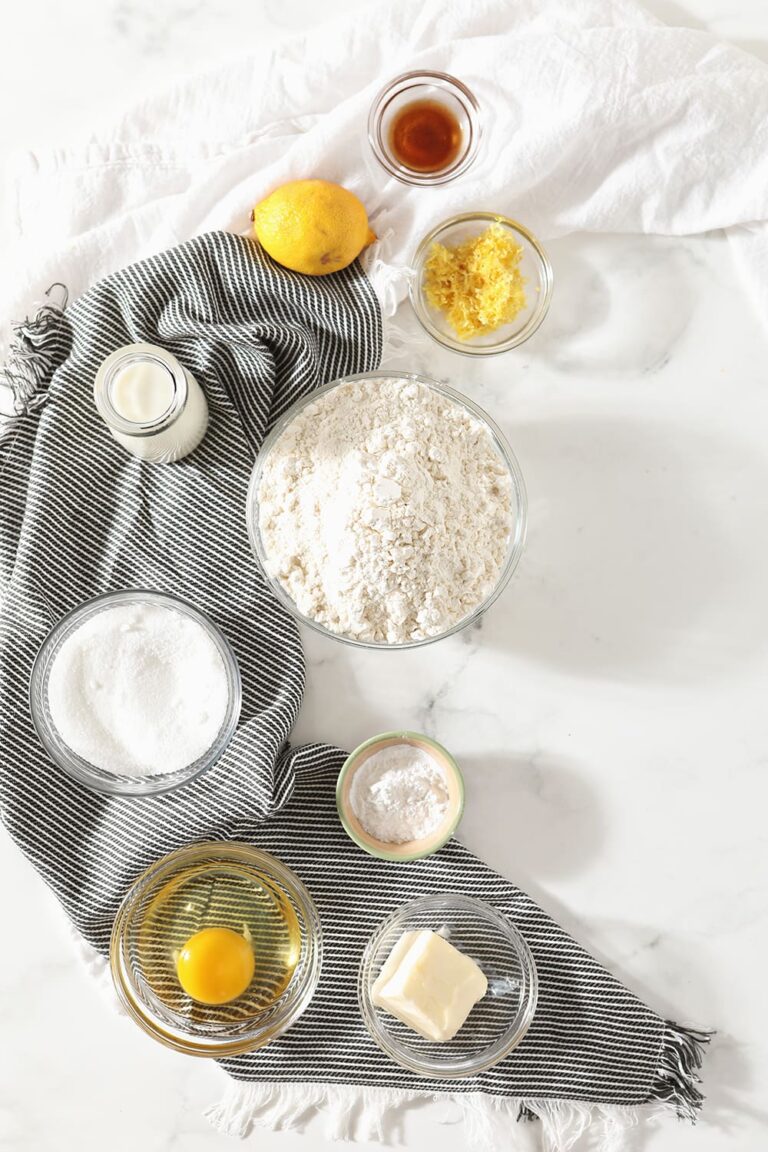 What you need to make this recipe:
The Speckled Palate participates in affiliate programs. As an Amazon Associate, I earn a commission from qualifying purchases. Please refer to my disclosure page for more information about these affiliate programs.
Let's talk ingredients!
In addition to the tools above, you're going to need some ingredients to make this recipe, too! Chances are, you might already have some of them in your fridge or pantry. Scroll down to the recipe card for the full measurements and instructions.
In addition to these tools, you're going to need a few ingredients to make these soft lemon cookies and the lemon glaze, too: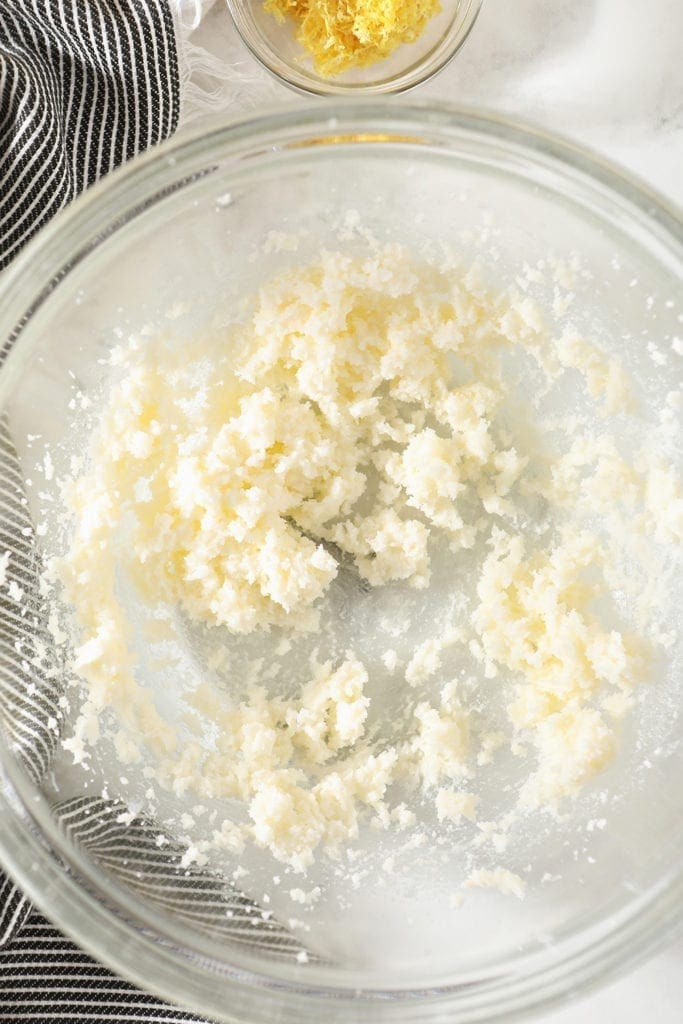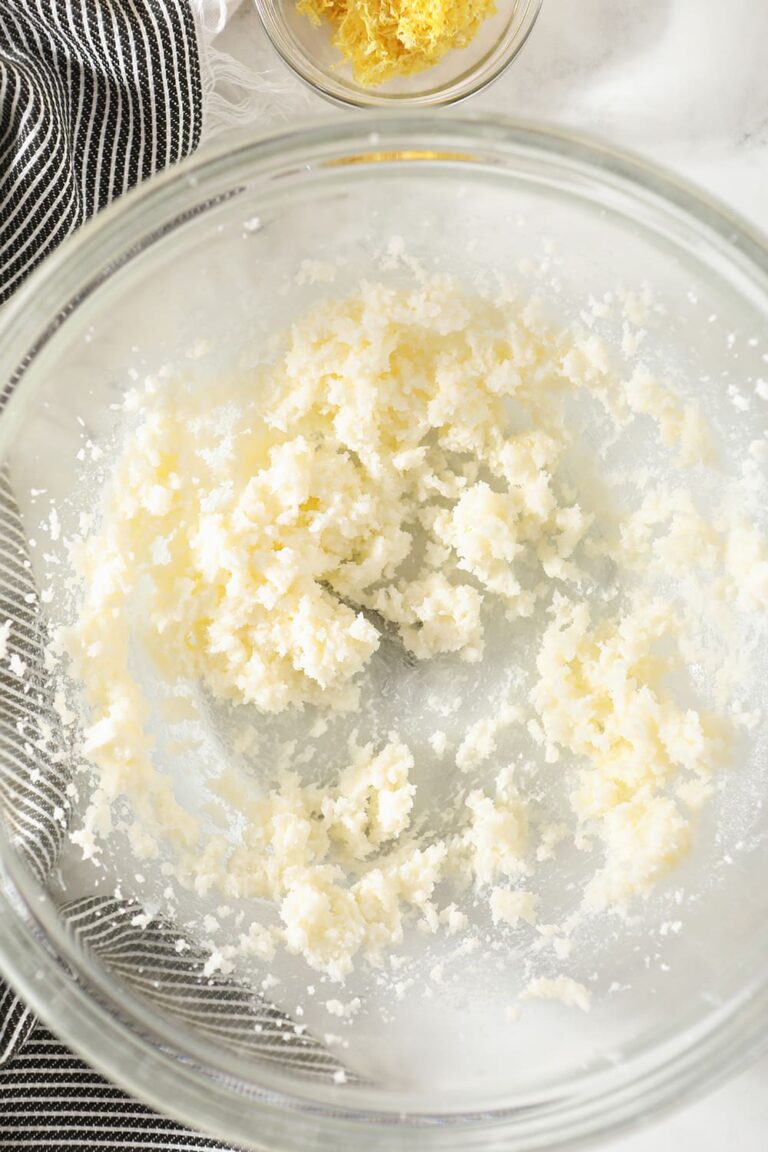 How to Make Lemon Drop Cookies
Prepare. Preheat the oven, and line a baking sheet with parchment paper or a nonstick baking mat.
Personally, I like the nonstick mat, but parchment paper works, and so does spraying the pan lightly with nonstick cooking spray.
Once your pan is prepared, set it aside.
For these cookies, I like to use a stand mixer fitted with a paddle attachment, but you can also use a hand mixer if you've got a big 'ol bowl to mix them in.
The first step is to cream together the butter and sugar. This will take about 2-3 minutes, and you really want to mix them together until the butter is a very pale yellow.
Next, break the egg and add it to the bowl. Measure in the vanilla, too, and blend 'em until combined and smooth. This will take another 2-3 minutes, because you want to make sure your ingredients are good and mixed.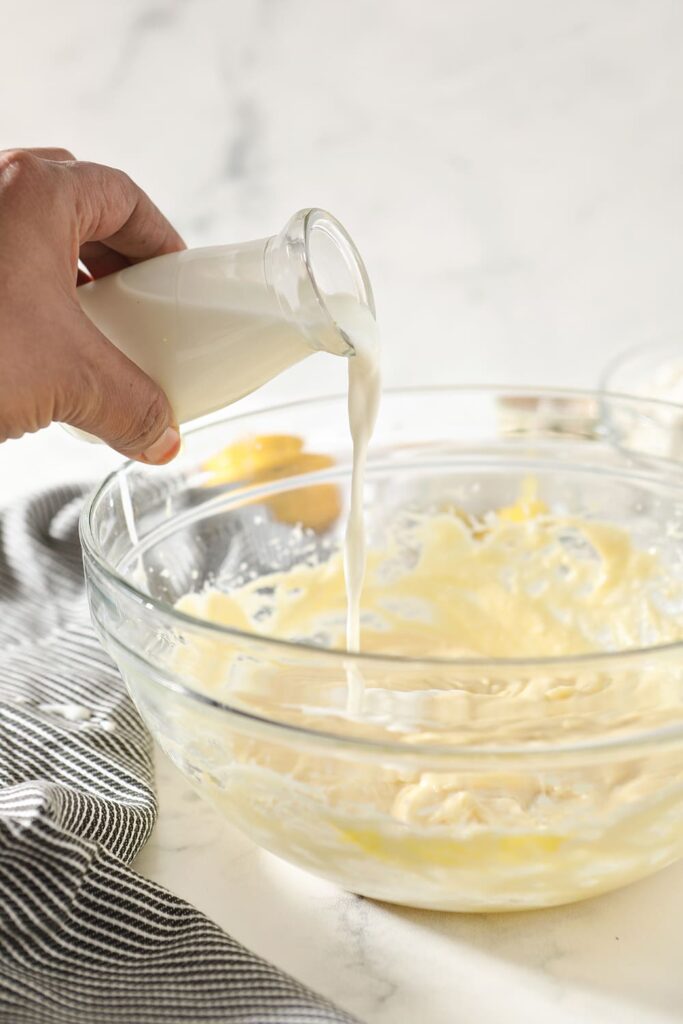 Pour in the milk and zest the lemon. This can be done directly over the bowl or done on a cutting board and tossed into the bowl–your call!
Use the mixer to blend the milk and lemon zest into the batter.
Please note that the Lemon Drop Cookie batter will be super liquidy at this point, so do not fret. I promise it's supposed to be like this. 😉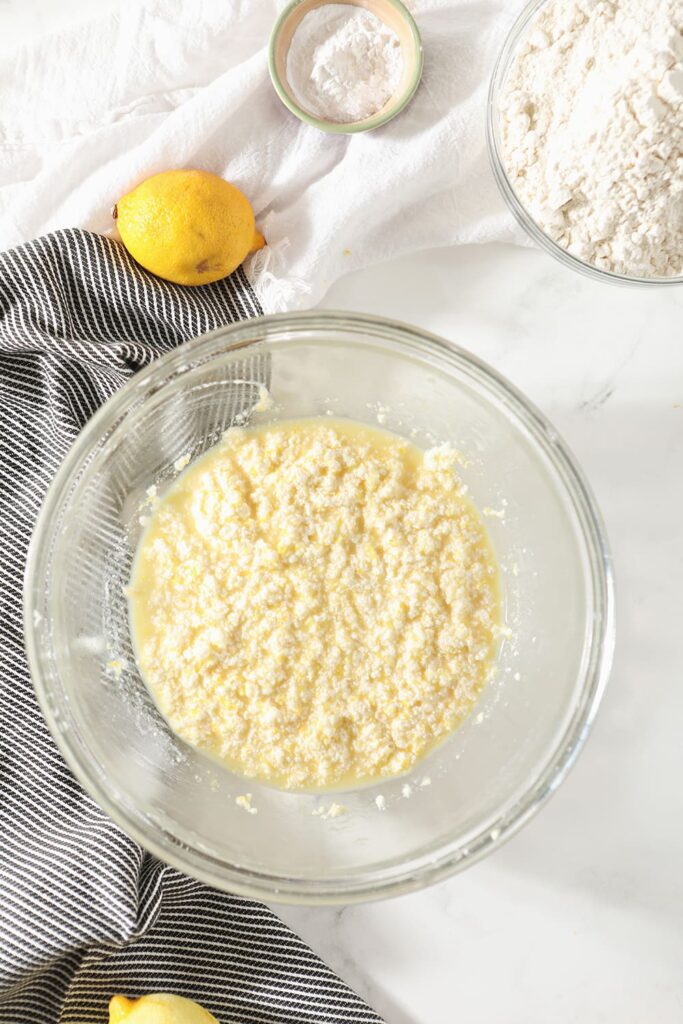 Next up, measure in the flour, baking powder and salt into another bowl and whisk them together.
Gently sprinkle the flour mixture on top of the wet ingredients and incorporating them. Make sure to start slowly on the mixer or flour will fly everywhere!
Stir these ingredients together until just combined, and then stop. If you continue mixing, the cookies will become more tough because the gluten has been overworked.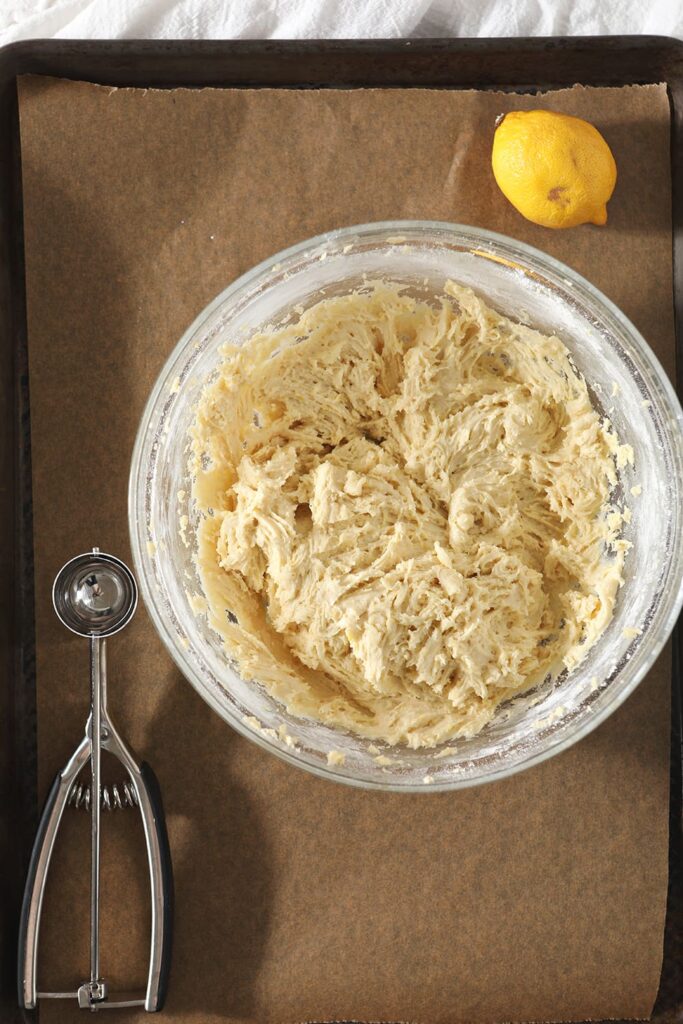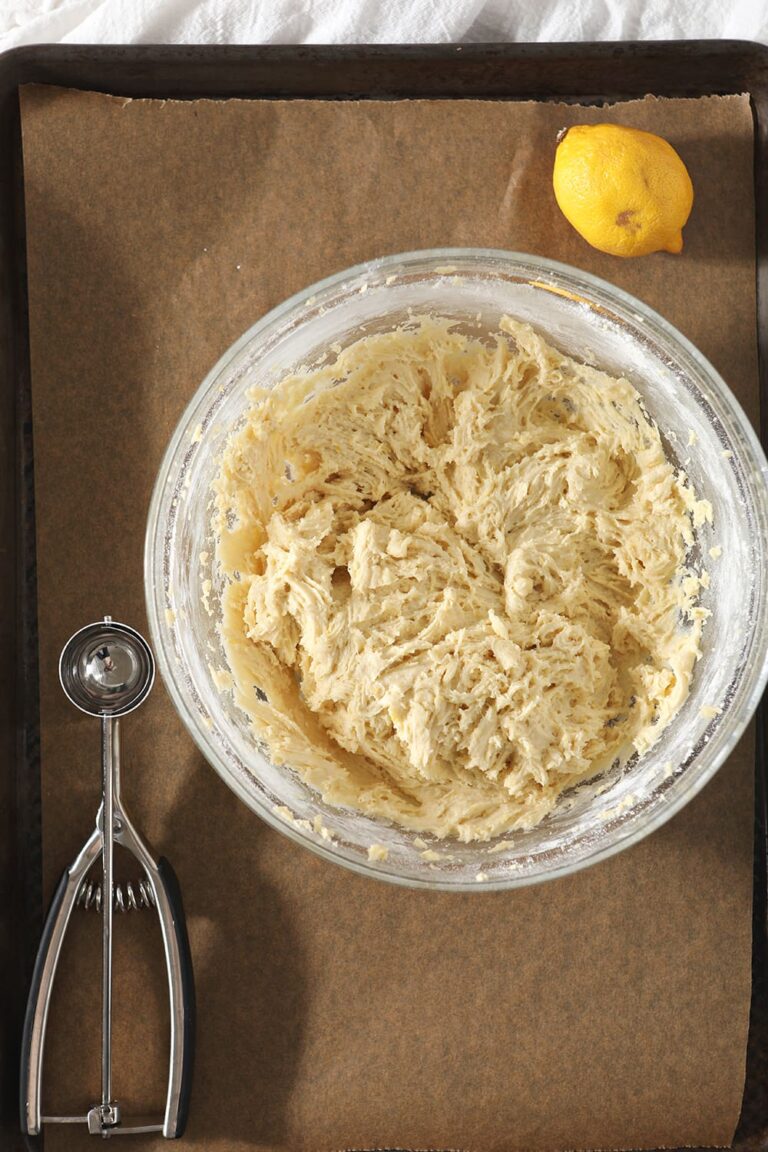 Use a cookie scoop to measure out the soft lemon cookies. Personally, I like a 1-tablespoon scoop, but you can use a larger one if you'd rather. Just know that your number of cookies will vary based on the size of your scoop.
Be sure to space the cookies about 1″ apart so they have room to spread in the oven, too!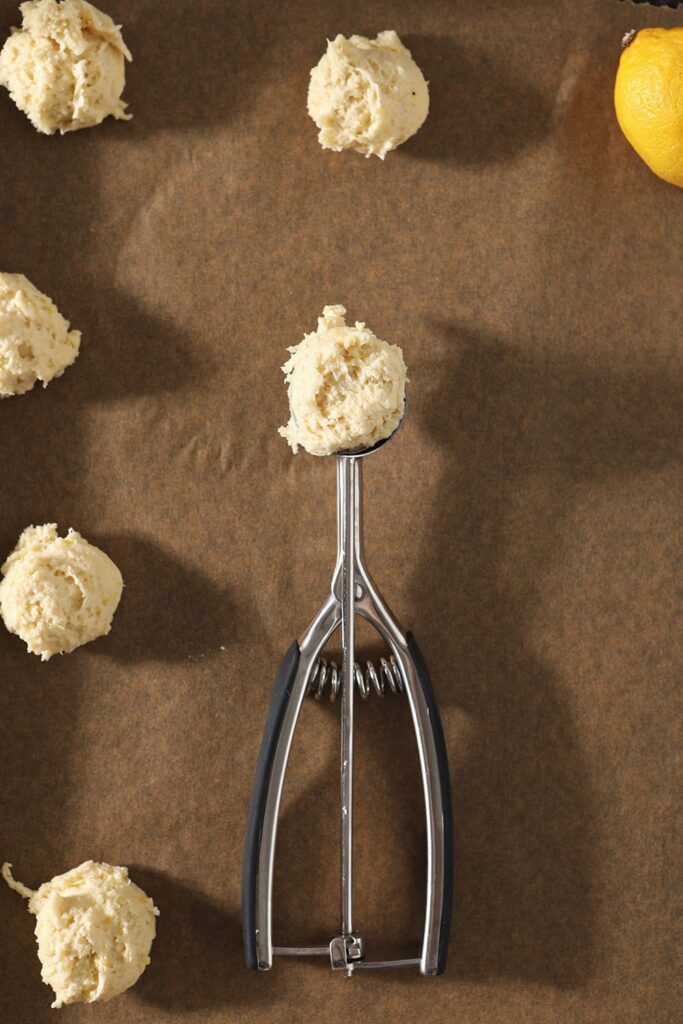 Bake the Lemon Drop Cookies
Once all the cookies have been scooped onto the prepared baking sheet, transfer them into the preheated oven, and bake until the cookies are golden brown.
The edges of the cookies will crisp up first, so keep an eye on them.
When the cookies are done cooking, remove them from the oven and transfer 'em to a cooling rack.
You will want the cookies completely cooled before drizzling the glaze on 'em. (If they're not, the glaze will slide right off!)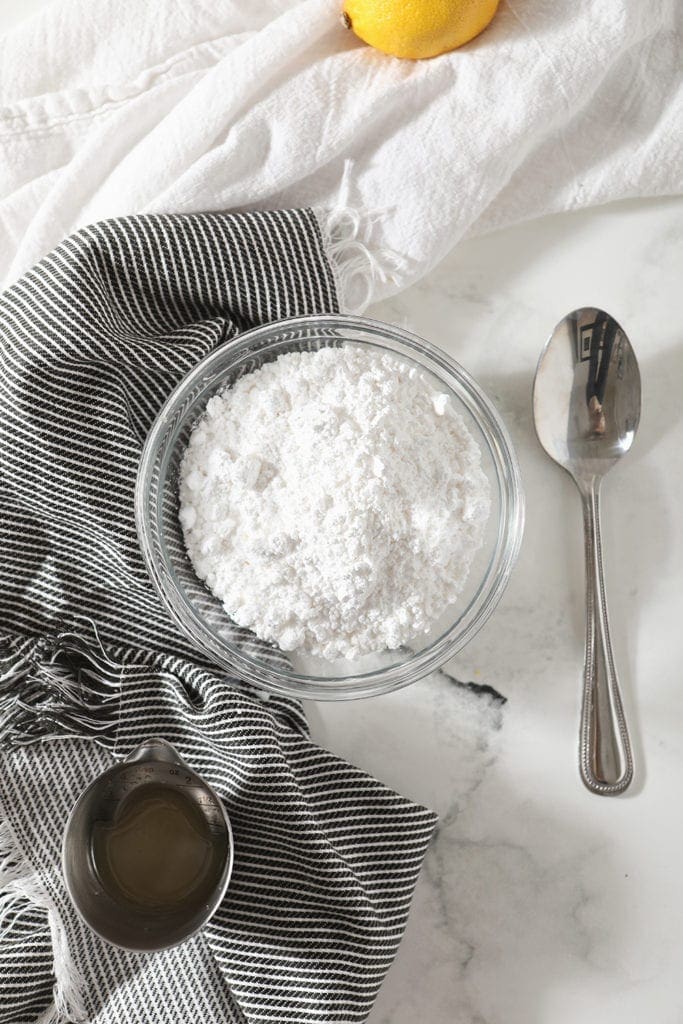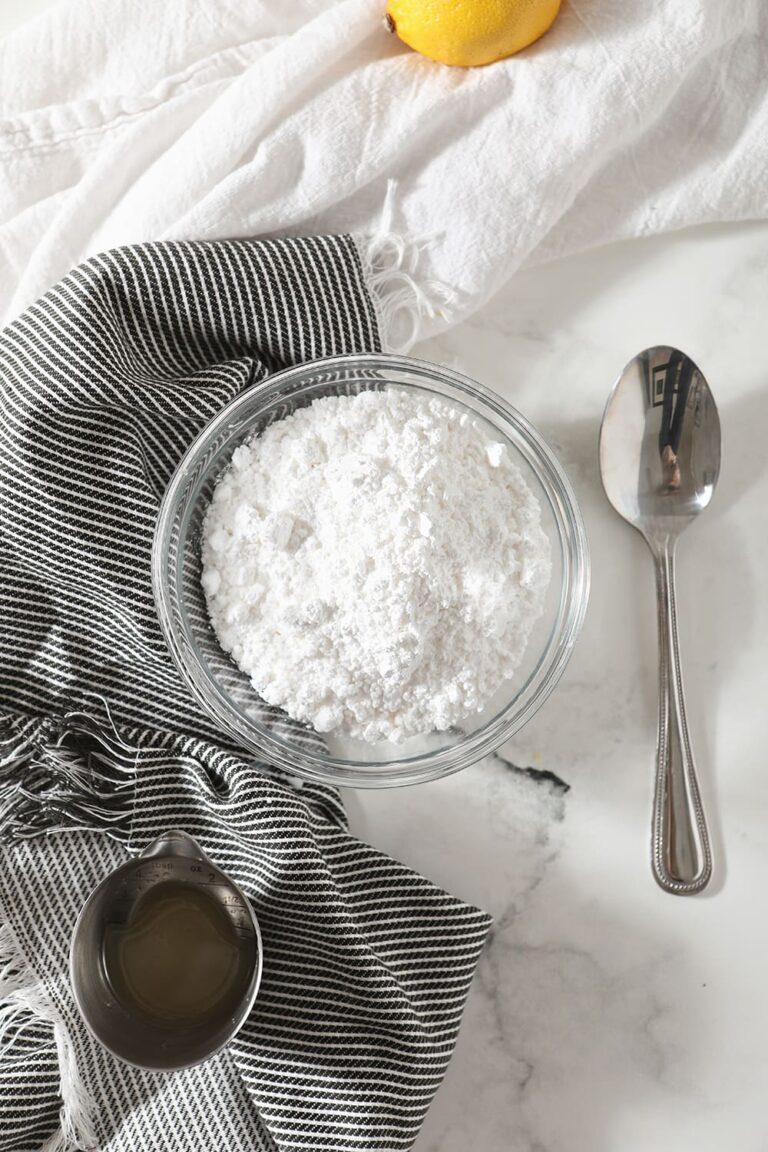 Make the Lemon Glaze for Cookies
Make sure that your powdered sugar doesn't have giant lumps in it. I like to measure out my powdered sugar and sprinkle it through a fine mesh strainer into a bowl to ensure there are no lumps and so that my glaze is smooth.
This is an extra step, and I know it's asking for a bit much… so if you don't want to do it, you don't have to. But if your glaze is lumpy? Well… you can fix your glaze by throwing it into a blender to smooth it out.
So. Once the powdered sugar is good to go, pour in the freshly squeezed lemon juice, and whisk 'em together.
That. Is. It.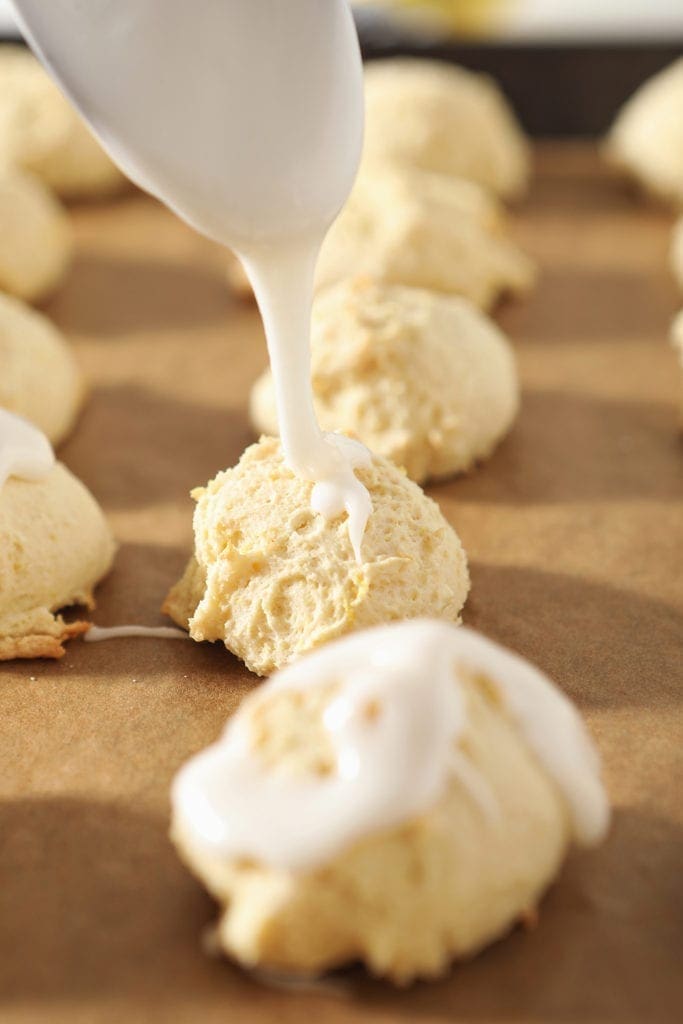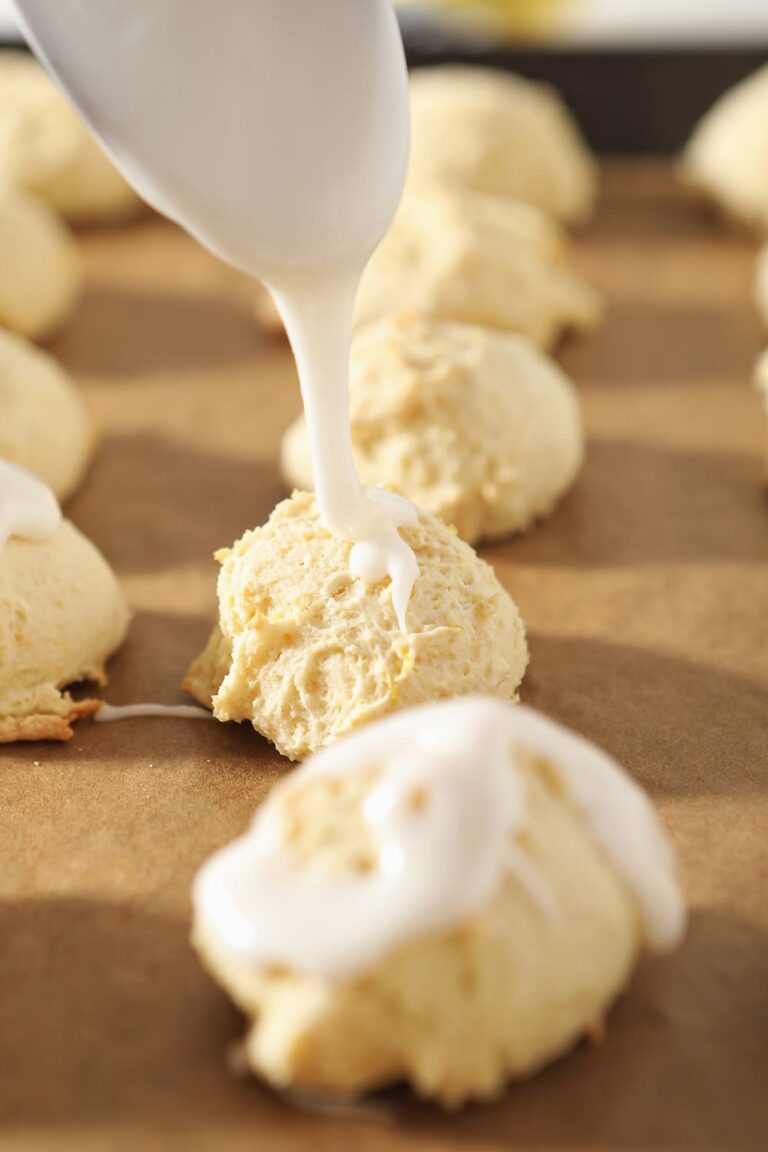 Glaze the Cookies
Once the soft lemon cookies have cooled completely and the lemon glaze has been made, drizzle it on top of the cookies.
Let the glaze harden (1-2 hours tops, depending on how thick it is on top of your cookies), and then store… or enjoy immediately!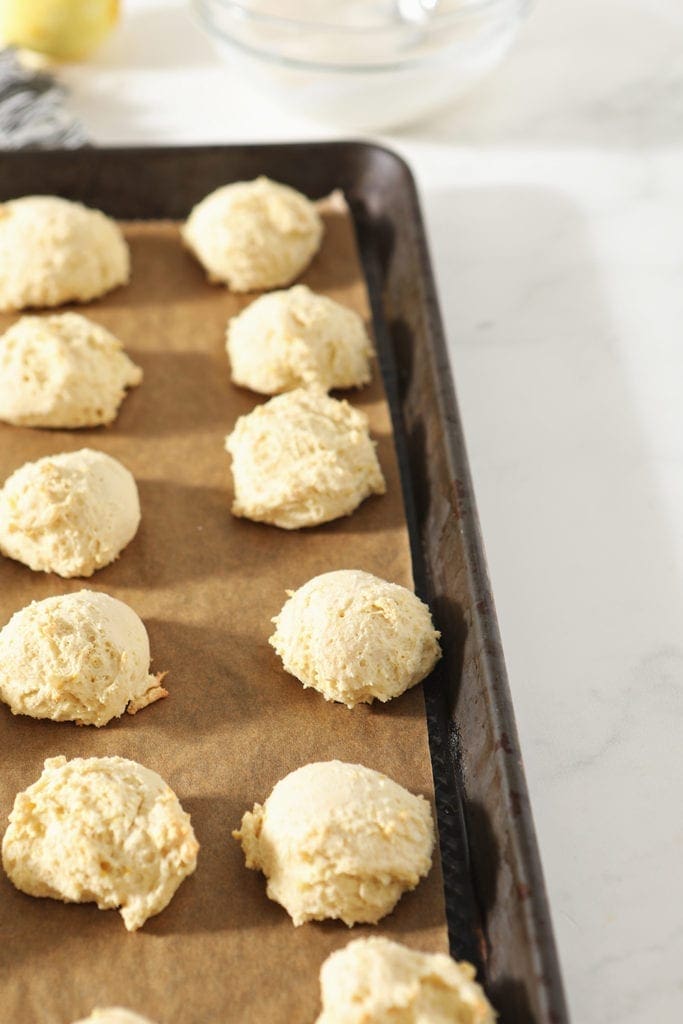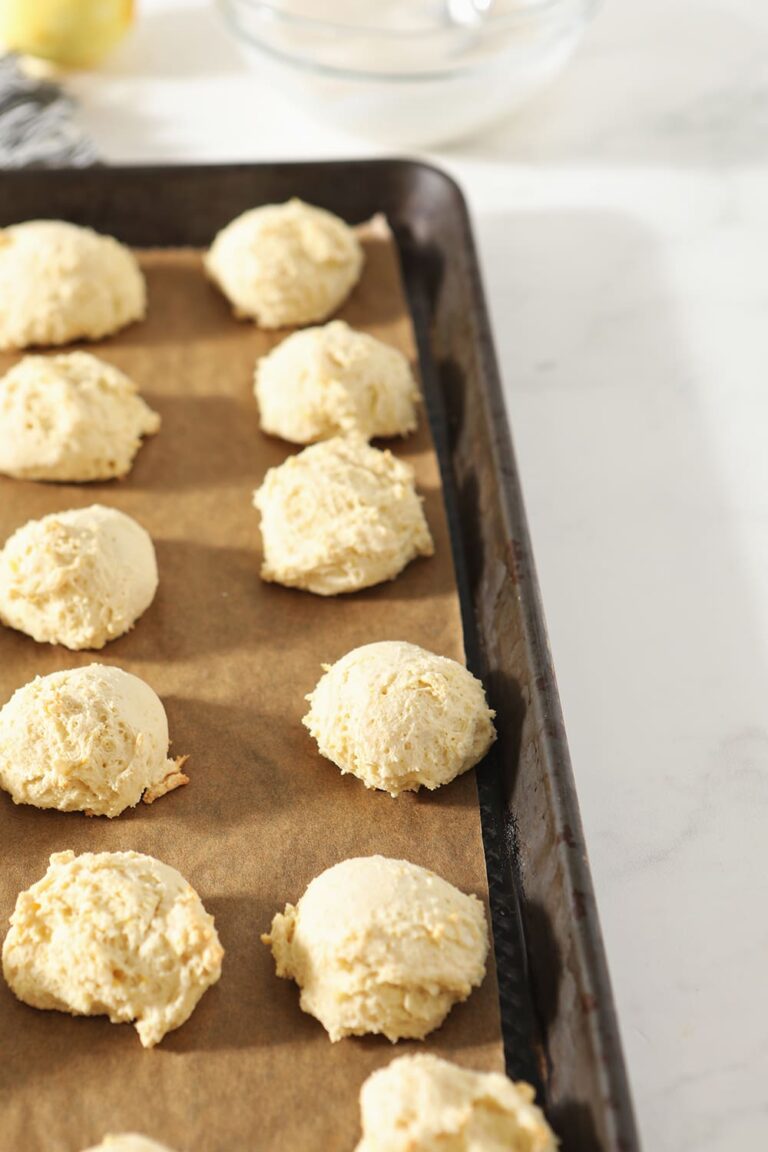 Erin's Easy Entertaining Tips
The holiday season is my favorite time of year for entertaining because I love seeing my friends and I love seeing everything decorated and pretty.
That said, it can also be stressful to entertain this time of year because there is SO MUCH going on.
If you're hosting friends and want to bake these cookies, I have a few tips and tricks for you that might be helpful: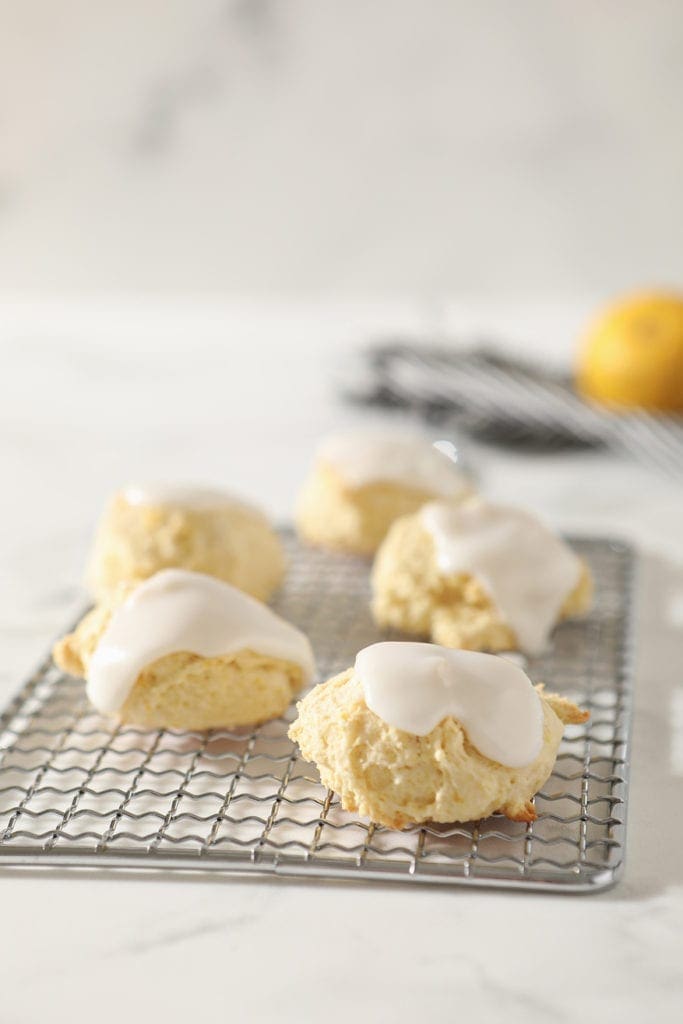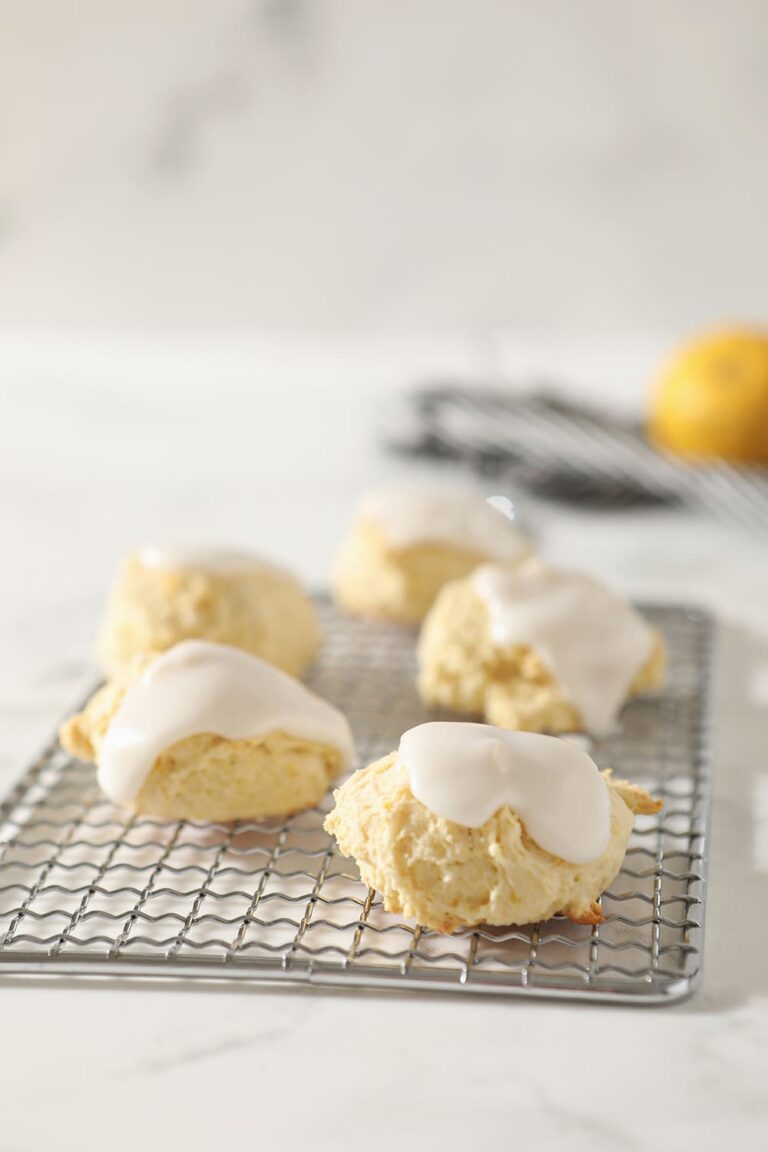 Frequently Asked Questions
Why do I want to try these lemony cookies?
If you enjoy lemon in a dessert and like a light cookie, these are totally for you! The lemon taste is subtle and sweet without being sour, and the glaze is perfection, too.
How do I make sure that my lemon icing isn't lumpy?
I recommend using a fine mesh strainer to sprinkle the powdered sugar through before mixing it with the lemon. If you don't do this and your glaze has some lumps, you can run it through a blender to smooth it out.
How should I store these Lemon Drop Cookies?
Once the cookies have been cooled and glazed (and the glaze has hardened), you can transfer them into a cookie tin or to a plate. Cover and keep for up to a week. Keep them separate from other cookies because flavors can leech into these.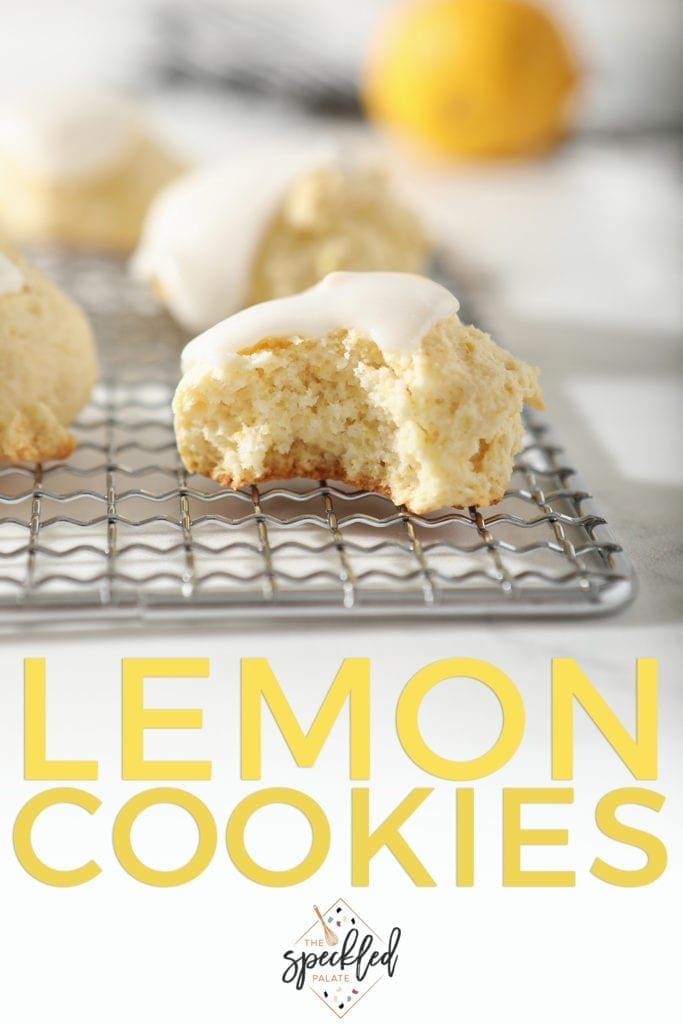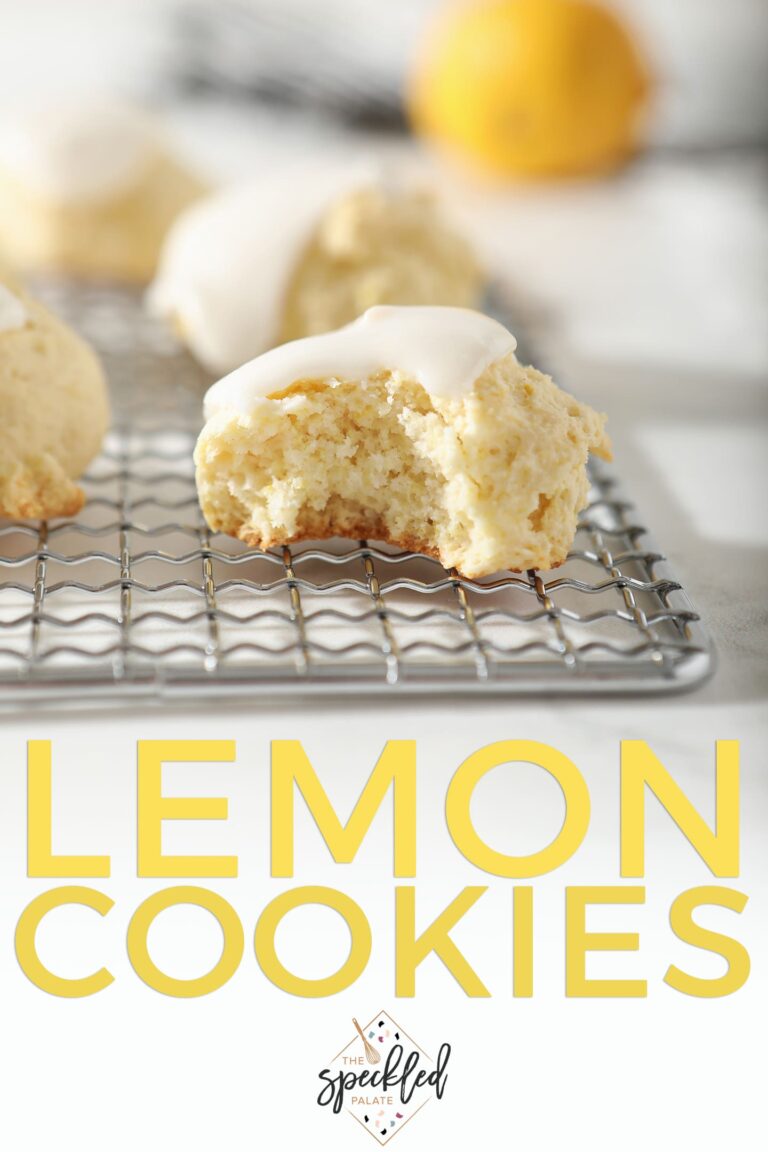 More lemon desserts to try: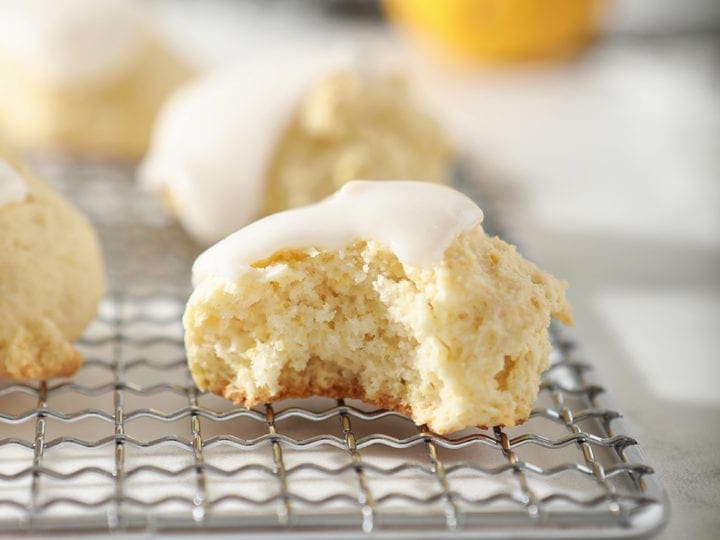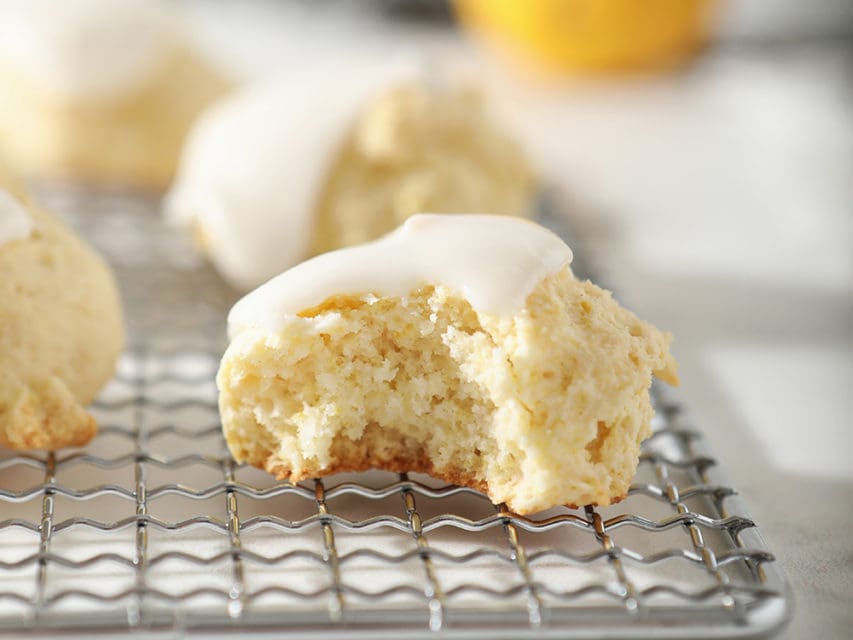 Yield:

24 cookies
Lemon Drop Cookies
Fluffy, light drop cookies containing lemon zest, topped with slightly sweet and tart lemon glaze. These Lemon Drop Cookies are the perfect non-chocolate holiday cookies!
Ingredients
Lemon Drop Cookies
¼ cup unsalted butter, softened (½ stick)
1/3 cup granulated sugar
1 egg
1 teaspoon pure vanilla extract
½ cup milk
1 tablespoon lemon zest (from about 2-3 lemons, depending on size)
2 cups unbleached all-purpose flour
1 tablespoon baking powder
¼ teaspoon kosher salt
Lemon Glaze
1 cup powdered sugar
2 tablespoon lemon juice, freshly squeezed
Instructions
Preheat the oven to 375°F. Line a baking sheet with parchment paper or a nonstick baking mat, and set aside.
In the bowl of a stand mixer (or in a large bowl with a hand mixer) with the paddle attachment, cream the butter and sugar together for 2-3 minutes, until light and fluffy.
Break the egg, and drop it in. Measure in the vanilla, too, and blend until smooth and well-combined, another 2-3 minutes.
Pour in the milk and the lemon zest, blending until smooth. (The batter will be very liquidy at this point. It's supposed to be, so don't fret.)
Whisk together the flour, baking powder and salt in another bowl, and sprinkle it on top of the wet ingredients. Turn on the stand mixer, and mix the dry ingredients into the wet ingredients until just combined.
Dollop the cookies onto the prepared baking sheet about 1 ½" apart using a cookie scoop.
Transfer the cookies to the oven, and bake for 10-12 minutes, or until the cookies are golden brown.
Transfer cookies to a cooling rack.
Make the glaze by whisking together the powdered sugar and lemon juice until smooth. (This can be done in a blender if you're afraid that it will be lumpy.)
Drizzle the glaze over the cookies once they have cooled, then enjoy the cookies at room temperature!
Notes
Make around two dozen cookies, depending on how large a scoop you use. (I used a 1" cookie scoop and got 24.)
How to store these cookies: Once the cookies have been cooled and glazed (and the glaze has hardened), you can transfer them into a cookie tin or to a plate. Cover and keep for up to a week.
Recommended Products
As an Amazon Associate and member of other affiliate programs, I earn from qualifying purchases.
Nutrition Information:
Yield:
24 cookies
Serving Size:
1 cookie
Amount Per Serving:
Calories:

90
Total Fat:

2g
Saturated Fat:

1g
Trans Fat:

0g
Unsaturated Fat:

1g
Cholesterol:

13mg
Sodium:

90mg
Carbohydrates:

16g
Fiber:

0g
Sugar:

7g
Protein:

2g
Nutrition facts are an estimate and not guaranteed to be accurate.
The photos and recipe for these Soft Lemon Cookies were originally published on December 9, 2014. The photographs, along with the text of this blog post, were updated on December 4, 2019.