Fig and Lemon Cheesecake Bars
Fig Lemon Cheesecake Bars combine two favorites: a perfectly lemon tart cheesecake and a tangy fig filling. With a crispy oatmeal base, these easy homemade cheesecake bars are a dessert for all seasons. Makes 16 bars.
Love lemon desserts? Don't miss Easy Lemon Bars and Lemon Tea Cakes!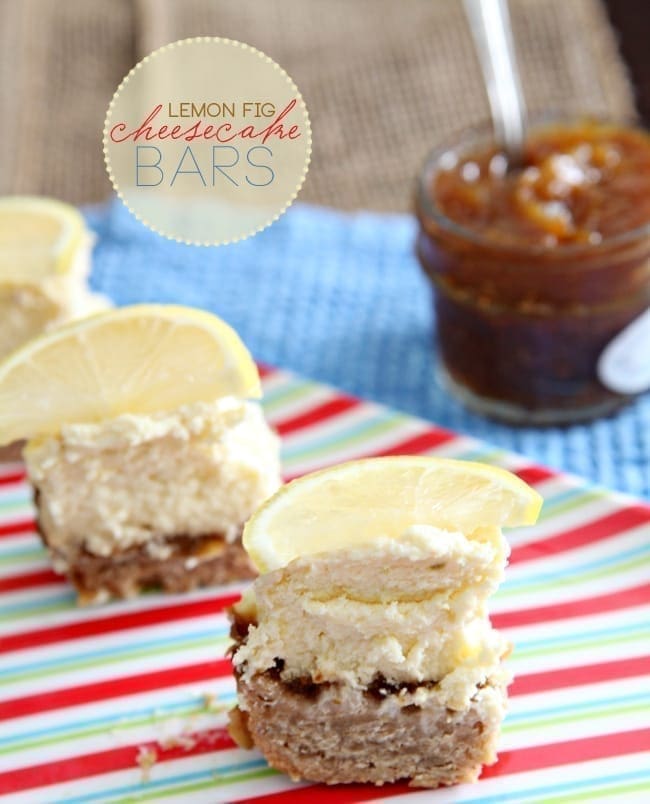 Ever been that person in your crowd who was crazy picky about food, but you don't want to ruin everyone else's time by not going to restaurant XYZ that only serves that type of cuisine you're not a fan of?
I was totally that person when my collegiate career started.
I had very particular likes and dislikes when it came to food, and being the new kid in town at the beginning of college, I didn't want to turn down invitations to go eat and hang out because I didn't know anyone. Literally.
From the very beginning, I was included into a fantastic group of friends, and they introduced me to many culinary experiences, including Lebanese cuisine (my FAVE!), spicy seafood, and cheesecake, among other things.
… I didn't even try cheesecake until I was 19. I was under the impression that I didn't like cream cheese, so when I went out to a nice restaurant with friends to celebrate one of our birthdays, I found myself in an interesting predicament: Should I order the cheesecake, as it was the only dessert offered at the restaurant? Or did I confess to my friends that I'd never had it and probably hated it and not eat dessert at all?
I chose the first option, grimacing when my slice came out but pasting a smile on my face as we all dug into our desserts after a rousing round of, "Happy Birthday." After one bite, I immediately changed my tune, never again implying I wasn't a cheesecake fan.
Since that fateful dinner, I've been tinkering with all sorts of cheesecake recipes, and these Lemon Fig Cheesecake Bars are the perfect balance of sweet and tart.
Other bar dessert recipes we adore: Chocolate Chip Cookie Bars / Boozy Bacon Pretzel Peanut Butter Bars / Mint Smores Bars / Ooey Gooey Bars / Orange Cranberry Bars / Drunken Pecan Pie Bars / Cranberry Crumb Bars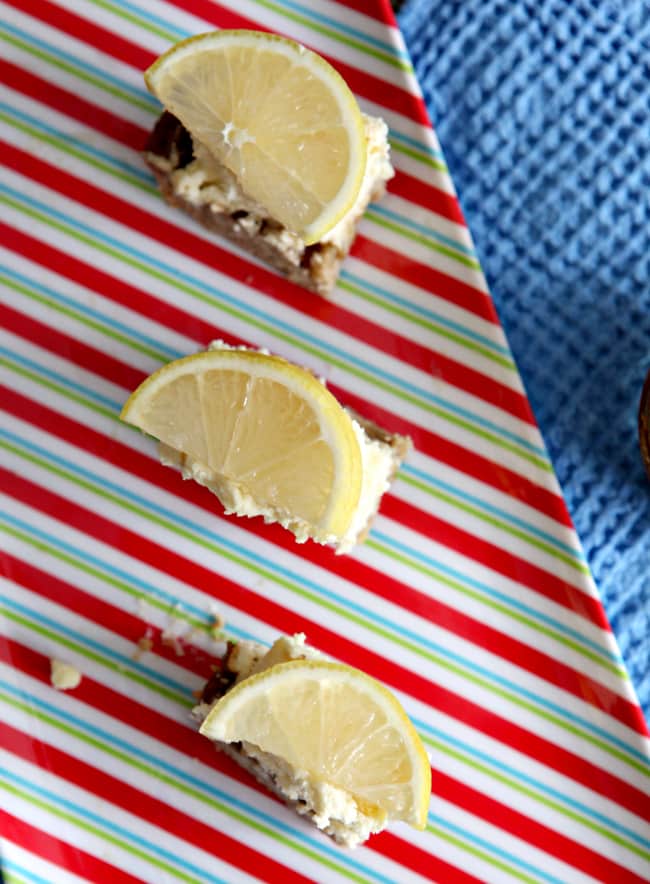 Yield:

16 bars
Lemon Fig Cheesecake Bars
Lemon Fig Cheesecake Bars are a perfectly lemon tart cheesecake over a crisp, oatmeal crust and fig filling. These cheesecake bars are a dessert for all seasons
Ingredients
Crust
¼ cup vegetable shortening
2 tablespoons unsweetened applesauce
¼ cup light brown sugar
½ cup + 2 tablespoons unbleached all-purpose flour
½ cup uncooked old-fashioned oats
1/8 teaspoon salt
Filling
½ cup fig preserves
12 oz. cream cheese, softened
7 tablespoons granulated sugar
1 tablespoon unbleached all-purpose flour
1 egg
1 tablespoon lemon zest
2 tablespoons lemon juice, freshly squeezed
Instructions
Preheat the oven to 350°F, and spray an 8"x8" baking dish with nonstick cooking spray.
For the crust, measure out the shortening, applesauce and brown sugar. Beat at a medium speed with an electric mixer until well blended, then add the flour, oats and salt to the mixture gradually at a low speed. Mix until just blended, then press onto the bottom of the prepared pan.
Bake the crust for 20 minutes or until lightly browned.
Spoon the preserves onto the hot crust immediately after it comes out of the oven. Spread carefully to cover the crust evenly.
Combine the cream cheese, sugar and flour in a large bowl, beating on a low speed until blended. Add the eggs, and mix well. Add the lemon zest and lemon juice, folding into the batter until smooth. Pour over the fig layer.
Bake the cheesecake bars for 25 minutes or until set. (Depending on how hot your oven runs, it might take a little longer.)
Remove the pan to cool on a rack and cool to room temperature before cutting into bars.
Cover and refrigerate, then enjoy!
Recommended Products
As an Amazon Associate and member of other affiliate programs, I earn from qualifying purchases.
Nutrition Information:
Yield:
16 bars
Serving Size:
1 bar
Amount Per Serving:
Calories:

184
Total Fat:

11g
Saturated Fat:

6g
Trans Fat:

0g
Unsaturated Fat:

4g
Cholesterol:

35mg
Sodium:

92mg
Carbohydrates:

20g
Fiber:

0g
Sugar:

14g
Protein:

2g
Nutrition facts are an estimate and not guaranteed to be accurate.
Are you a cheesecake fan?