Love chocolate, mint and marshmallow together? These Mint Smores Bars are going to be your new favorite sweet! Perfect for summer get togethers and chilly winter evenings, Mint Smores Bars make a unique minty dessert for all seasons!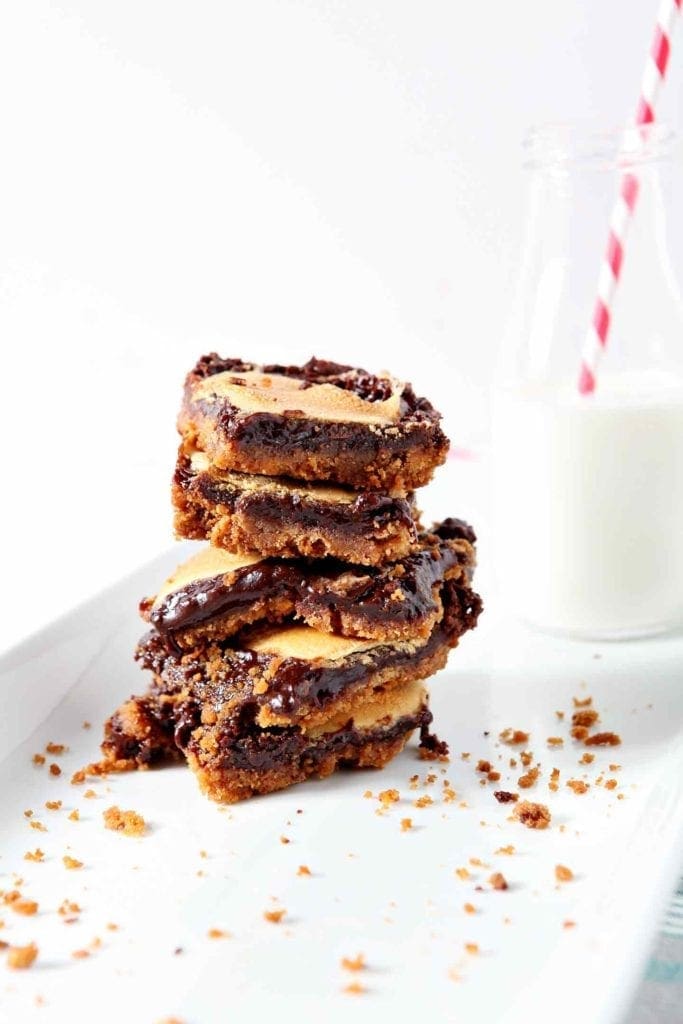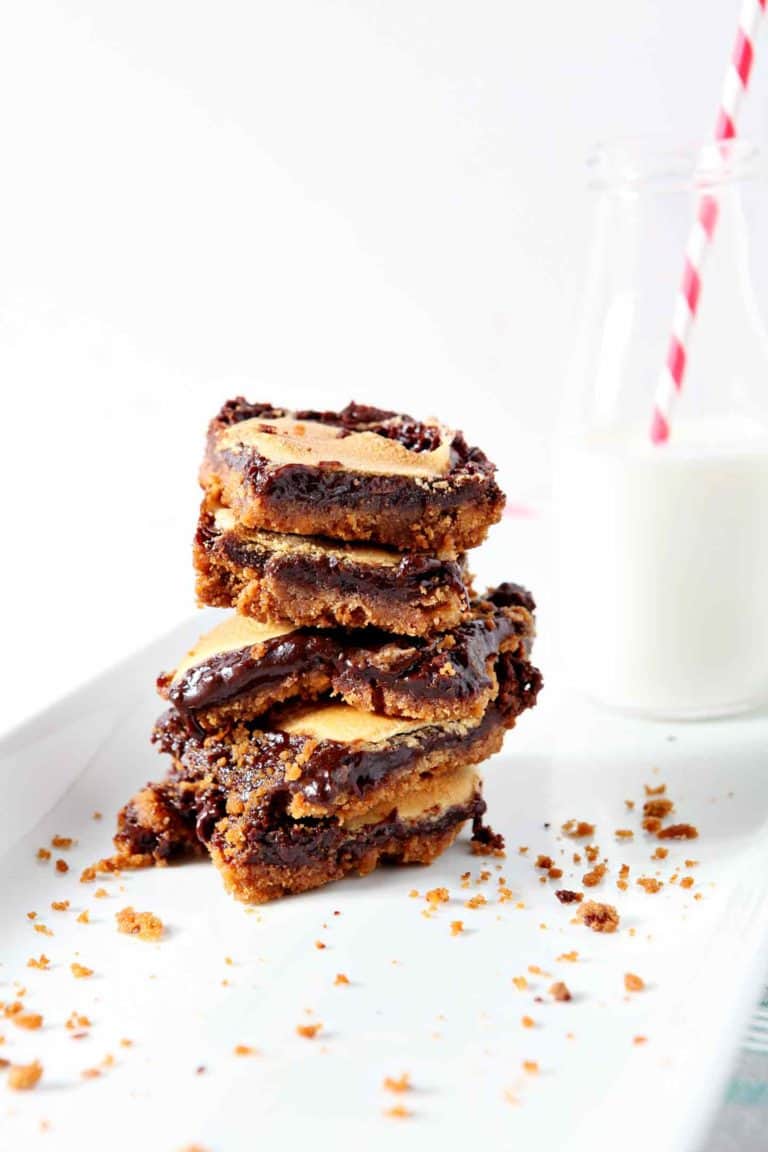 When I was a rising high school senior, I spent a month of my summer working at a camp in Central Florida.
On our drive there, I pondered what my job would be—no one knew was informed of their specific tasks until arrival—and I was later horrified because I'd been placed on the Ropes Team.
… I don't know if y'all know this about me, but I'm terrified of heights.
So being on the Ropes Team?
Well, that was going to be a challenge.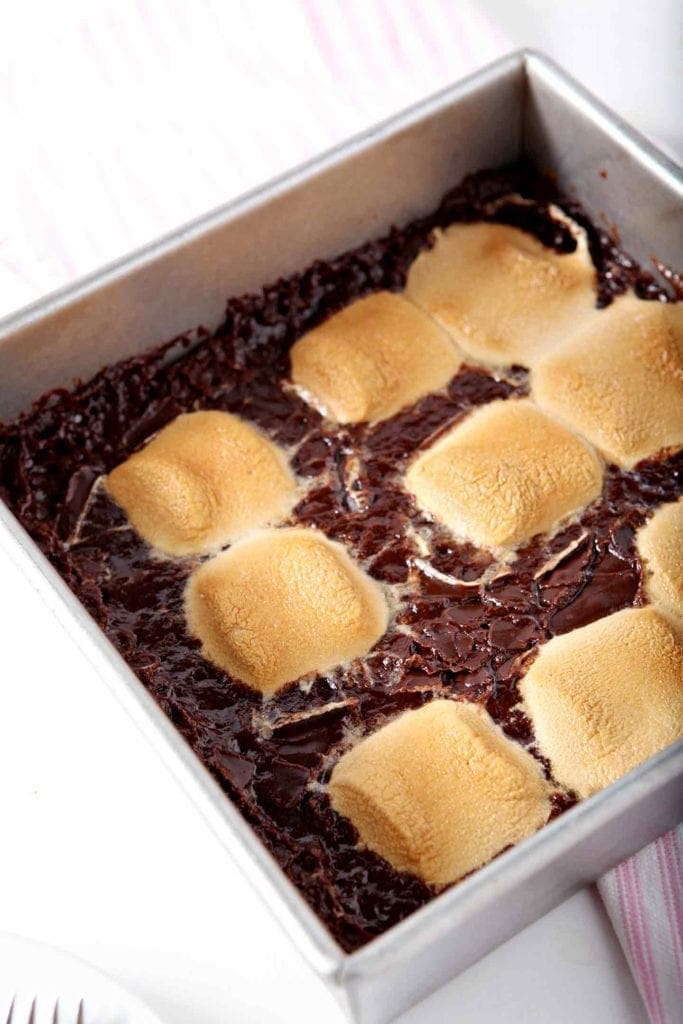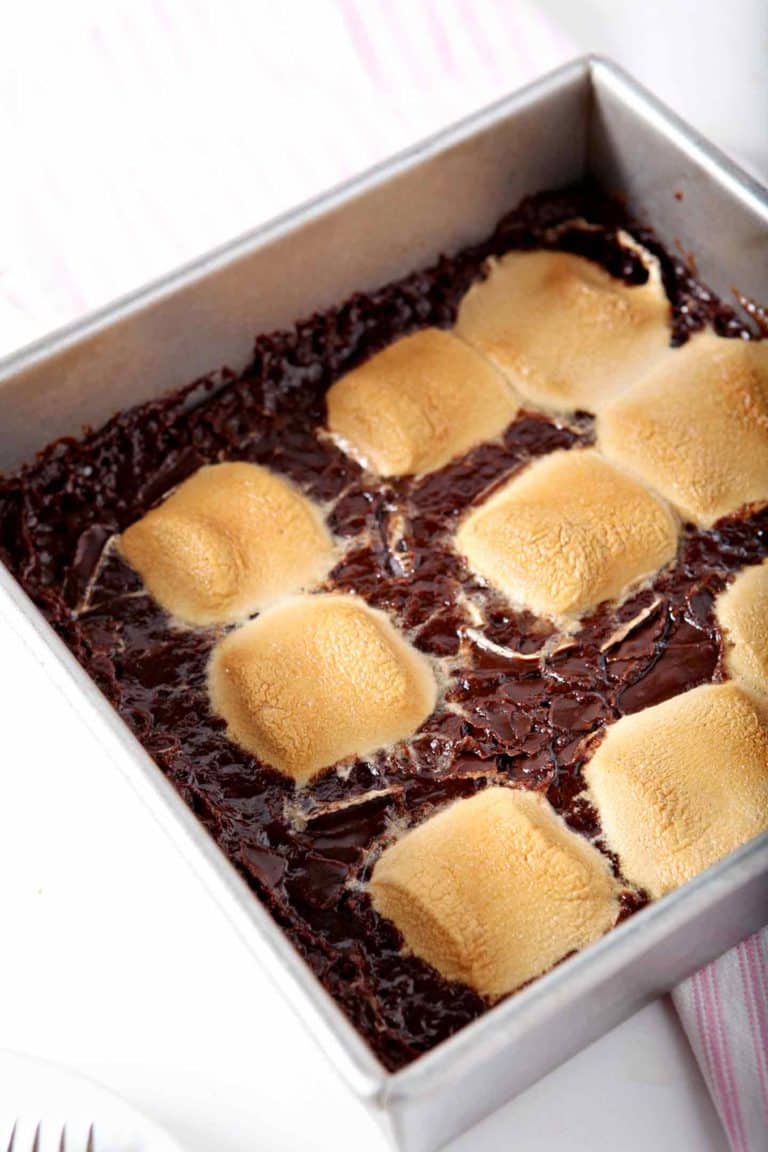 However, I didn't want to be the person who bowed out of her assigned team, so I decided I'd tough it out. And that month was one of the most eye-opening I've ever had because I opened myself up to an experience I otherwise would not have.
I also got to help kids who were terrified and could honestly comfort them with the fact that I was scared, too, but we could do it together with trust and faith.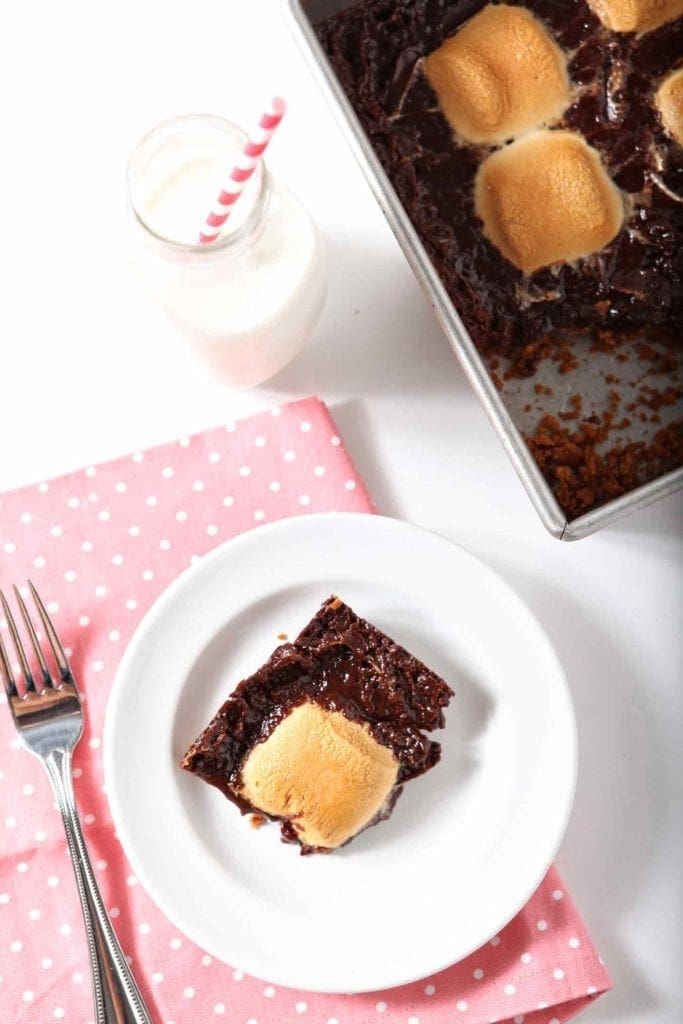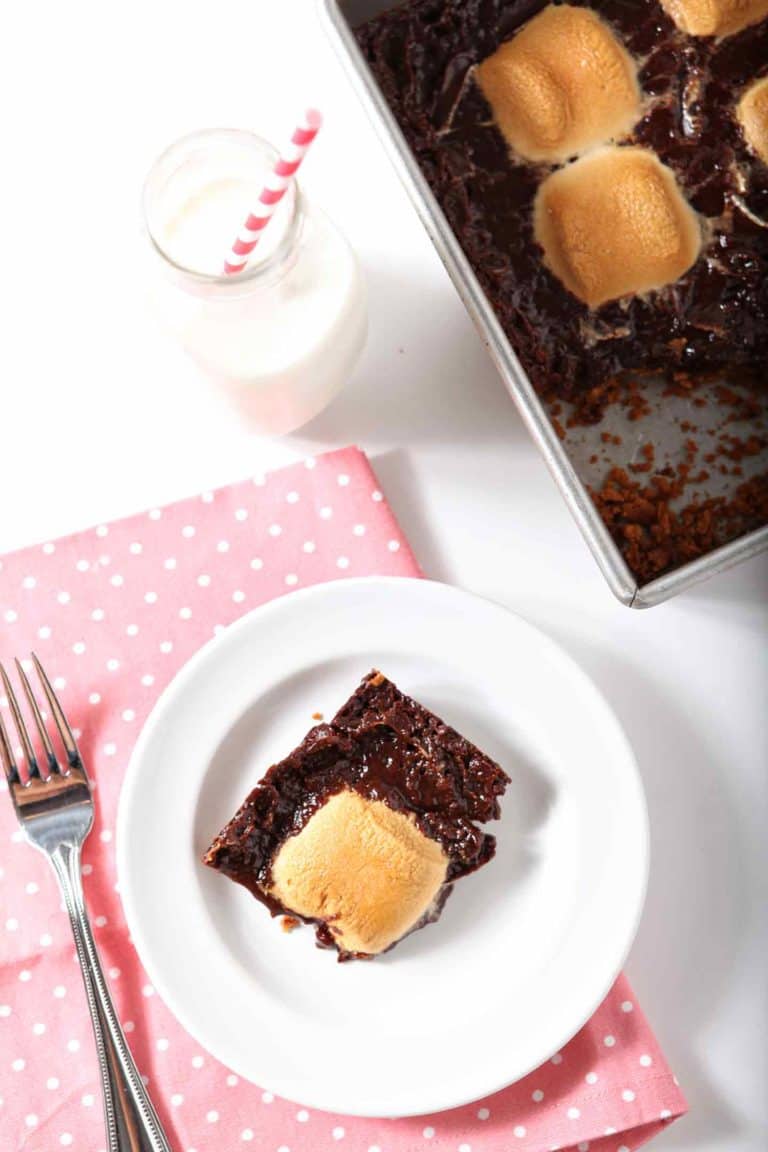 Being a member of the Ropes Team was actually a pretty sweet deal.
While my fellow workers were working evenings in the kitchen and dining hall, we got to take it easy along with the Grounds Crew.
But since we didn't have any jobs during those times, we helped prep for evening activities.
Need thousands of balloons filled for an epic balloon fight? Done.
Decorate for a luau? We got it covered.
Bonfire prep? Oh yeah.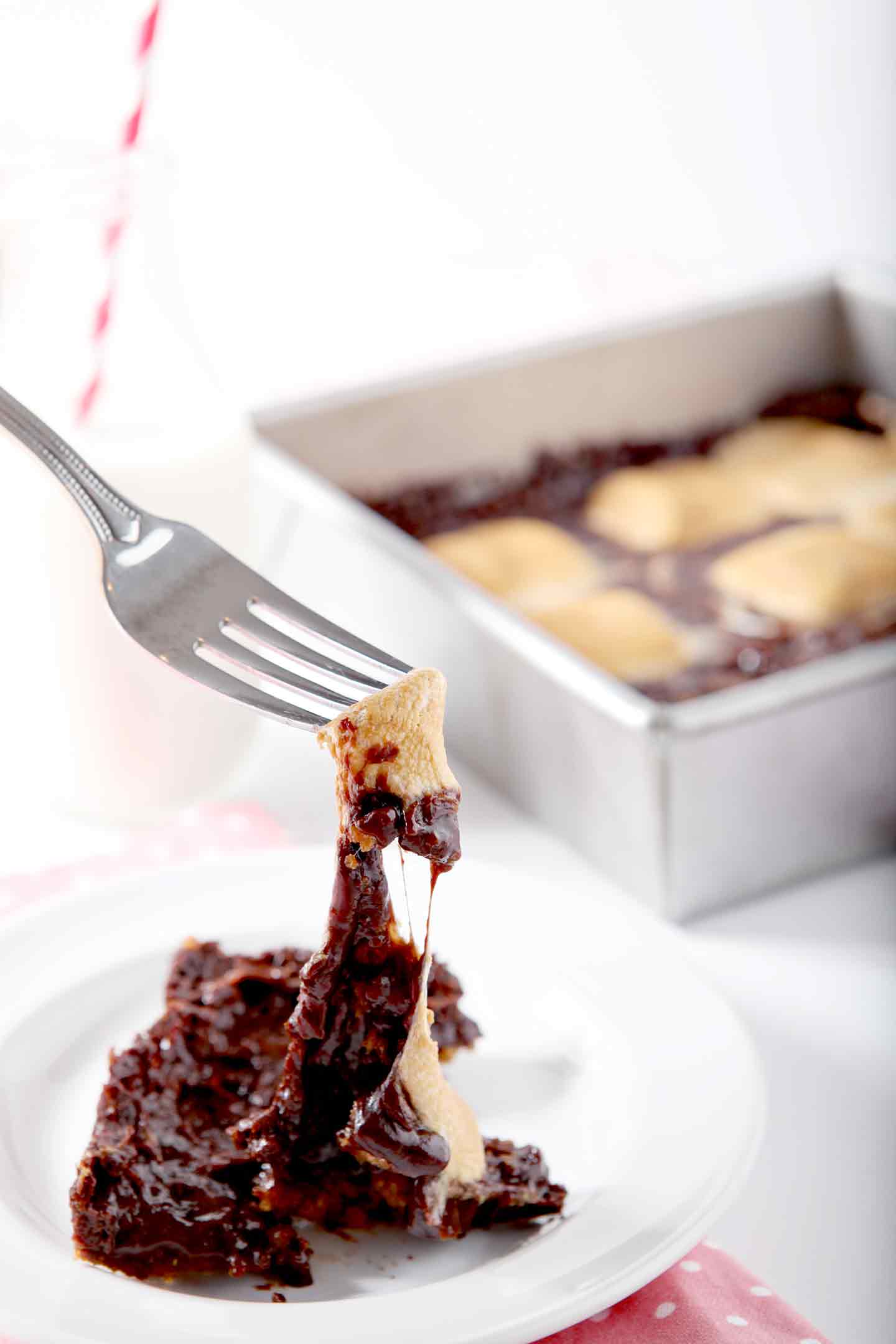 The bonfire night was one of my favorite, if for nothing else than we got to help make hundreds of smores.
And one of those evenings, I was introduced to my all-time favorite smore addition: MINT! (By way of Andes mints… yummmmmmmm.)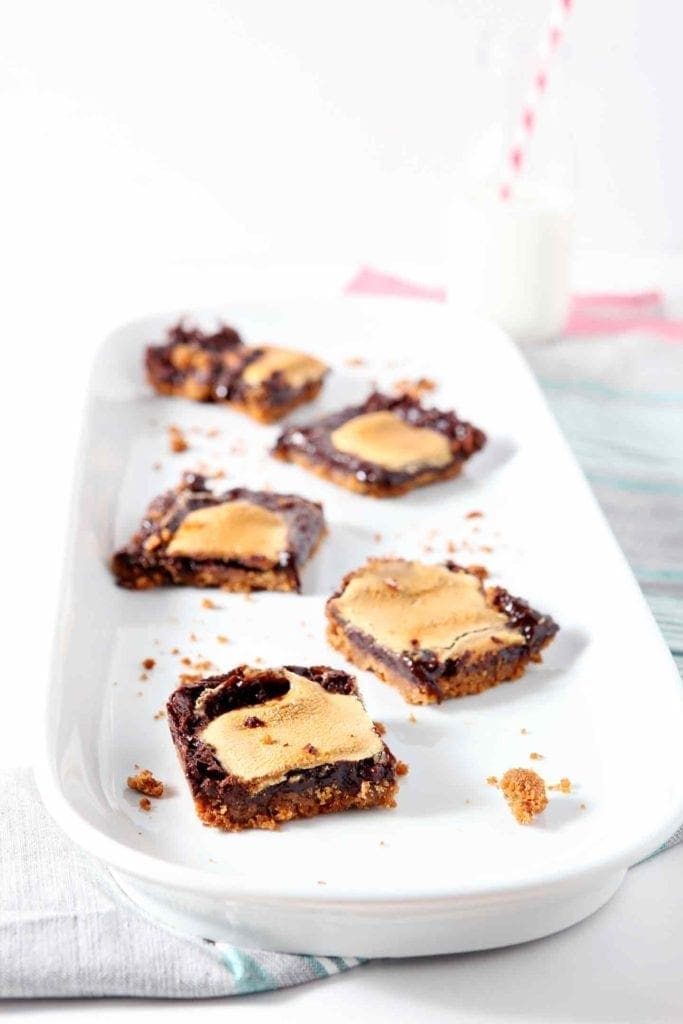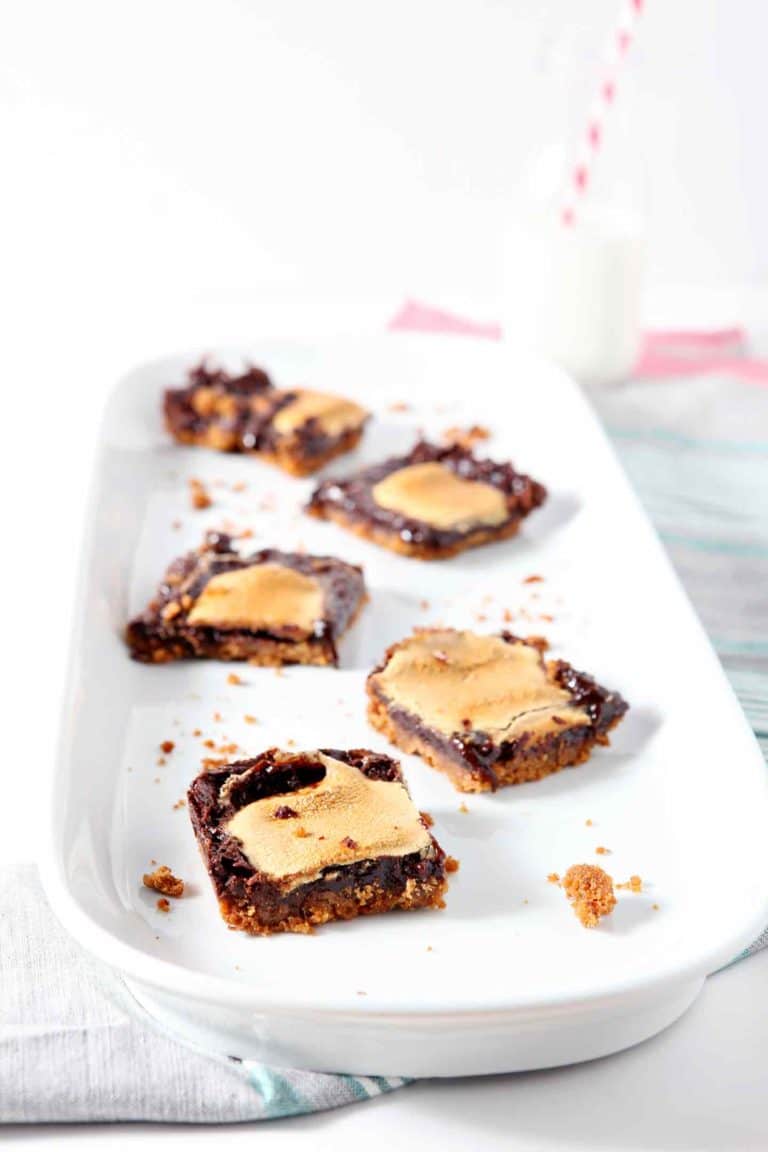 It's been more than fifteen years since I discovered this chocolate-mint-marshmallow combination, and it still makes my tastebuds sing to this day.
So this summer, in preparation for National Smores Day, which is August 10, I wanted to make some smores bars.
MINT Smores Bars.
And these babies are tasty.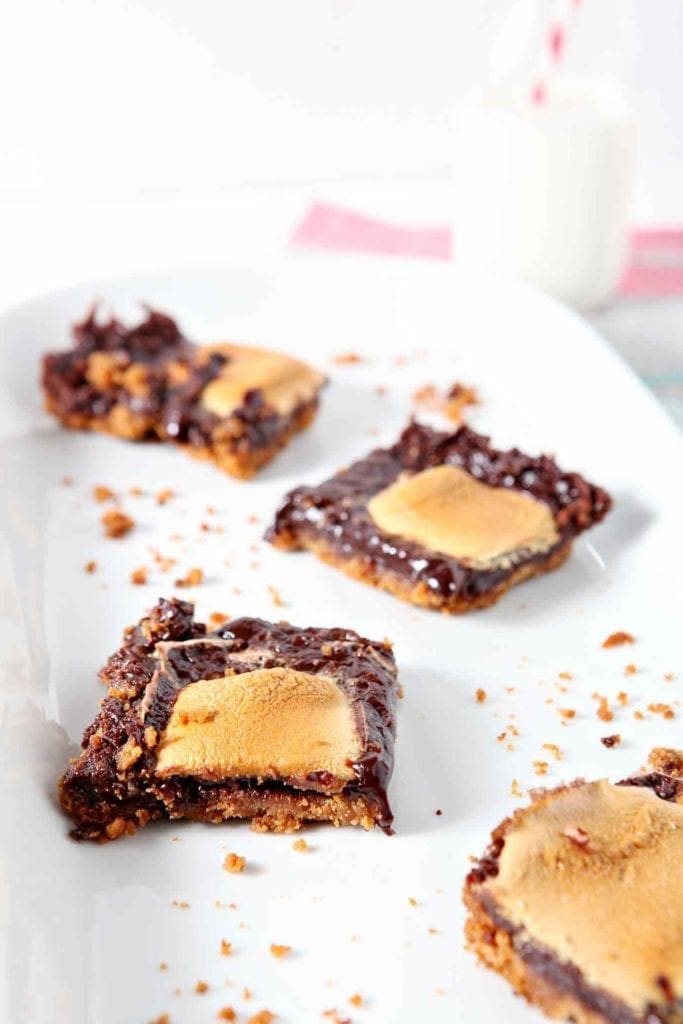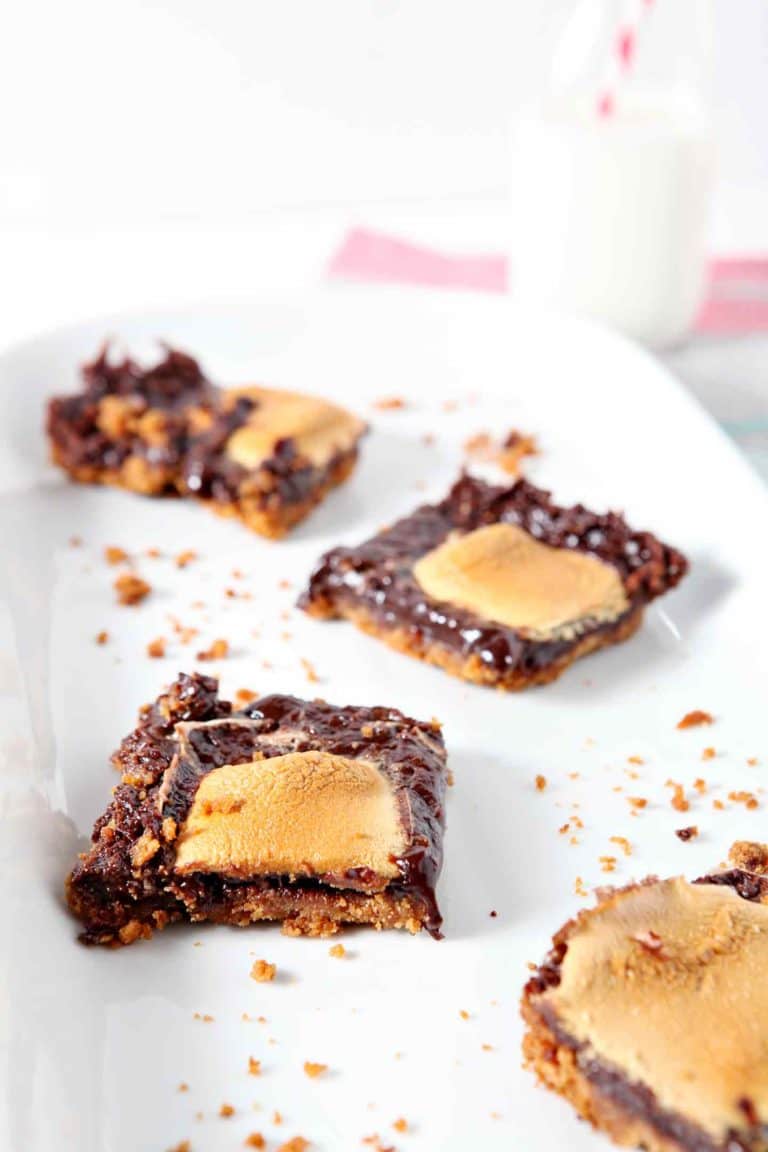 Fair warning, if you're not a fan of mint, you're NOT going to like these bars. (But you can make 'em sans the peppermint extract and enjoy the smores-y goodness that way!)
If you adore mint? This is the dessert for you!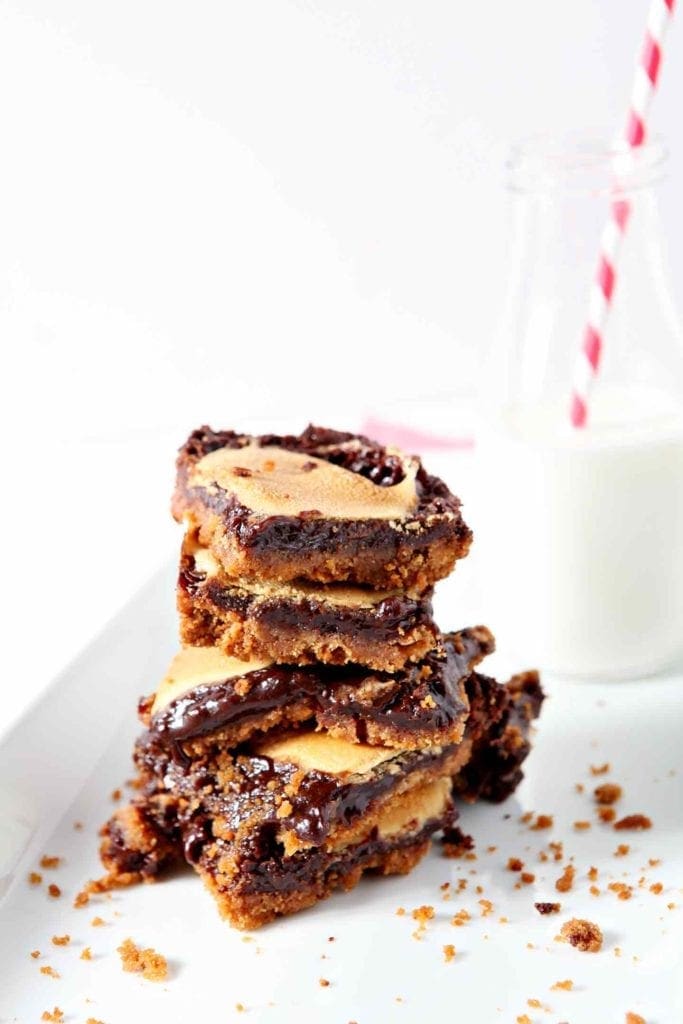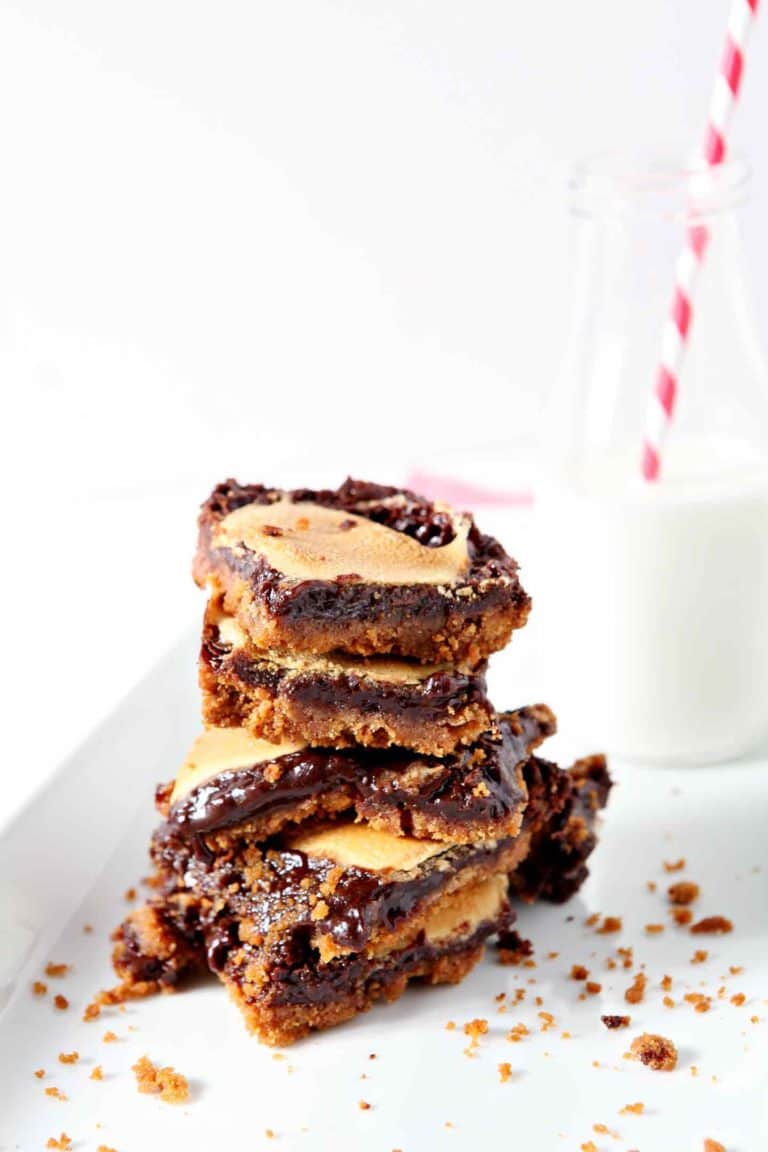 What you need to make this recipe:
The Speckled Palate participates in affiliate programs. As an Amazon Associate, I earn a commission from qualifying purchases. Please refer to my disclosure page for more information about these affiliate programs.
Get the look!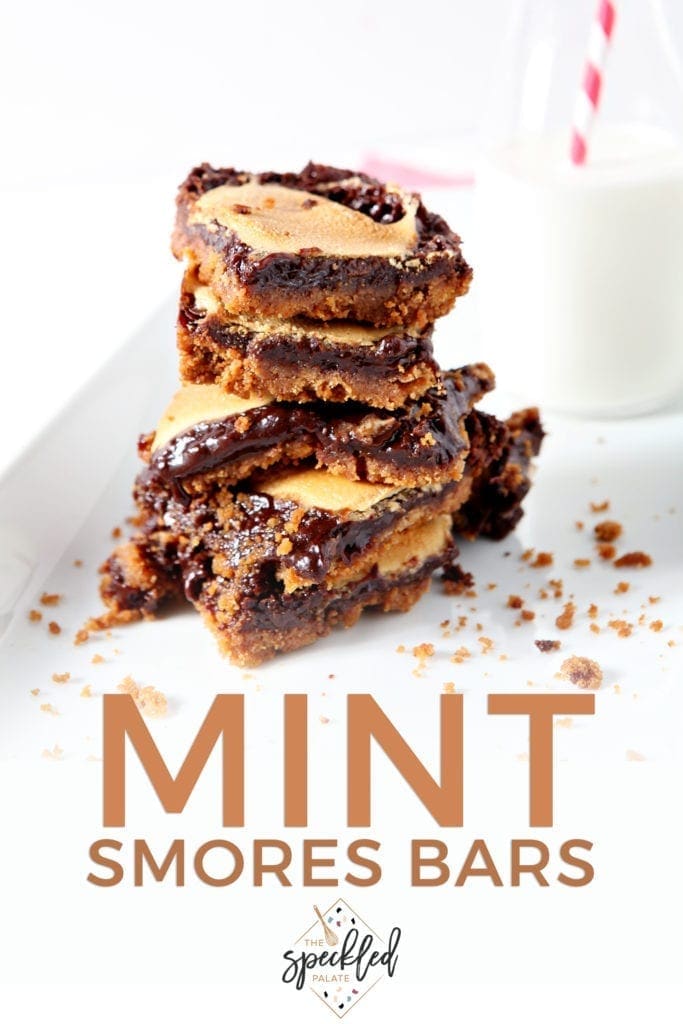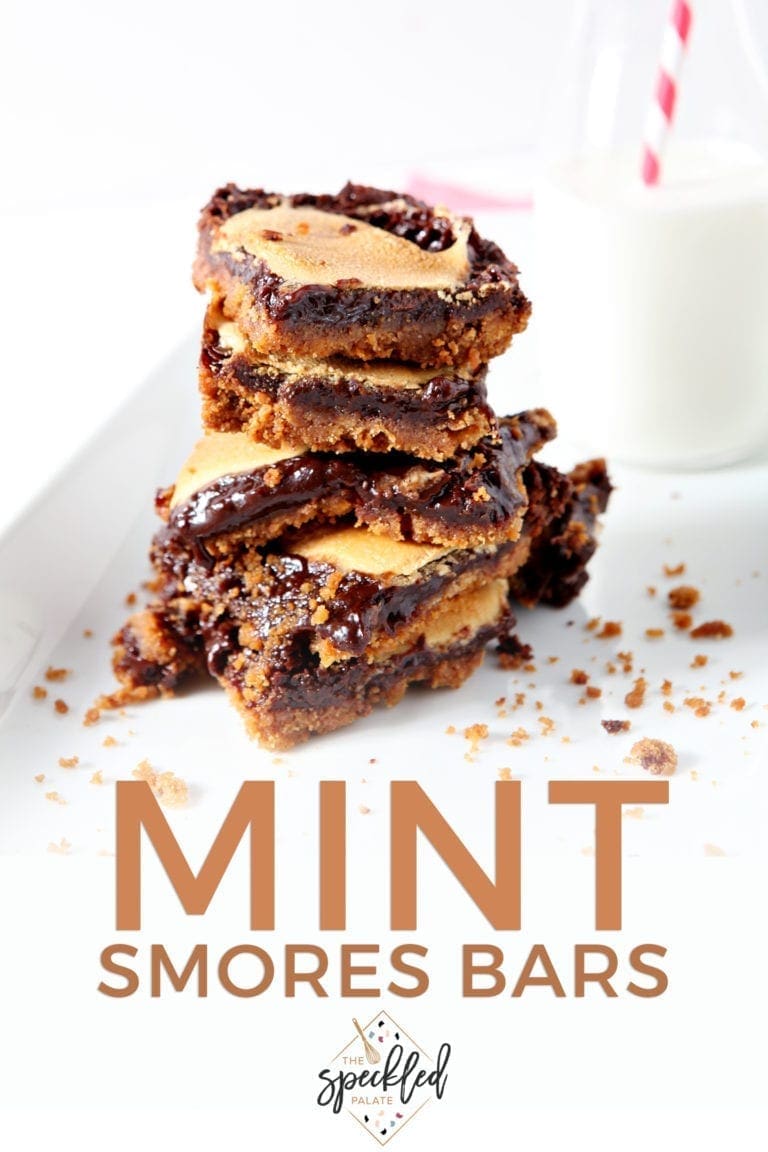 Looking for more unique smores? Bookmark my Sweet Potato Smores and Indoor Smores recipes!
Love minty desserts? Mint Chip Guinness Floats are fab for adults! Everyone adores these Peppermint Brownie Cookies, my No Churn Peppermint Ice Cream Milkshakes and these super easy Mint Chocolate Chip Ice Cream Sandwiches.
Just interested this recipe? Scroll on down to discover how you can make these beauts at home…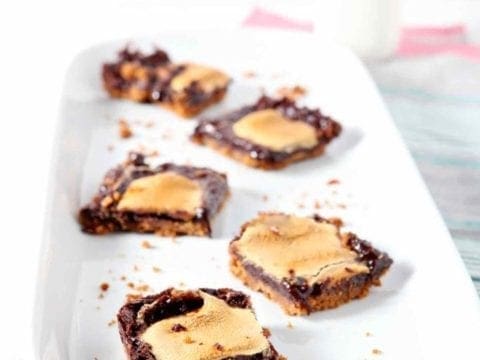 Yield:

9 bars
Mint Smores Bars
Total Time:
1 hour
15 minutes
Love chocolate, mint and marshmallow together? These Mint Smores Bars are going to be your new favorite sweet! This twist on a classic recipe starts with a homemade graham cracker base. Mix up a decadently rich, gooey, minty chocolate filling, then finish the bars with marshmallows. Bake to ooey gooey smore bar perfection. Perfect for summer get togethers and chilly winter evenings, Mint Smores Bars make a unique minty dessert for all seasons!
Ingredients
Graham Cracker Crust
1 1/3 cups graham cracker crumbs (1 sleeve organic graham crackers, smashed)
2 tablespoons granulated sugar
6 tablespoons unsalted butter, melted
Chocolate Mint Filling
4 tablespoons unsalted butter, melted
2 oz. unsweetened chocolate, chopped
1 ½ cups powdered sugar
1 teaspoon pure peppermint extract
A pinch of kosher salt
3 tablespoons milk (non-fat, non-dairy or whole OK)
9 regular-sized marshmallows
Instructions
Make the Graham Cracker Crust
Preheat the oven to 350°F.
In a large glass bowl, combine the graham cracker crumbs and granulated sugar, and whisk together until combined.
Pour in the melted butter, and stir until the graham cracker mixture is coated.
Press the base mixture into the 8"x8" square baking pan. Using your hands or another kitchen utensil, make sure the crumbs are well packed.
Once the base is in the pan, bake for 15 minutes in the preheated oven.
Once the base has baked for 15 minutes, remove from the oven, and set aside.
Make the Chocolate Mint Filling
While the graham cracker crust bakes, prepare the filling and topping.
In a large glass bowl, add the unsweetened chocolate to the melted butter. Stir until the chocolate has completely melted.
Once the chocolate and butter mixture is smooth, add the powdered sugar, peppermint extract, salt and milk.
Whisk until smooth and well-combined.
Pour the Chocolate Mint Filling on top of the prebaked Graham Cracker Crust.
Space the nine marshmallows out evenly on top of the chocolate. (I did three rows of three marshmallows, forming a loose grid on the baking sheet.)
Bake at 350°F for 45-55 minutes, or until the chocolate layer has set.
Remove from the oven, and let cool.
Once cooled, cut the bars, and enjoy!
Notes
It is imperative to let these bars cool all the way, as you could seriously burn yourself on the marshmallows and chocolate. Additionally, the graham cracker base will fall apart.
Marshmallows can get super chewy when they've been heated and come back down to room temperature. For these bars, we like to let them cool completely so they can be sliced (without burning our fingers on molten mallows!), then like to heat them individually in the microwave after cutting. Microwave for 10-15 seconds, or until the chocolate is just slightly soft, then enjoy!
Nutrition Information:
Yield:
9
Serving Size:
1 bar
Amount Per Serving:
Calories:

316
Total Fat:

18g
Saturated Fat:

10g
Trans Fat:

0g
Unsaturated Fat:

6g
Cholesterol:

34mg
Sodium:

84mg
Carbohydrates:

39g
Fiber:

1g
Sugar:

28g
Protein:

2g
Nutrition facts are an estimate and not guaranteed to be accurate.
Did you ever work at a summer camp, too?
Do you like mint and chocolate together?