Baby's Grand Adventure Shower: Indoor S'mores!
Toasted s'mores… made indoors! Allow your guests to roast their own marshmallows, or bake these treats in advance for a stunning shower dessert that's delicious and unique!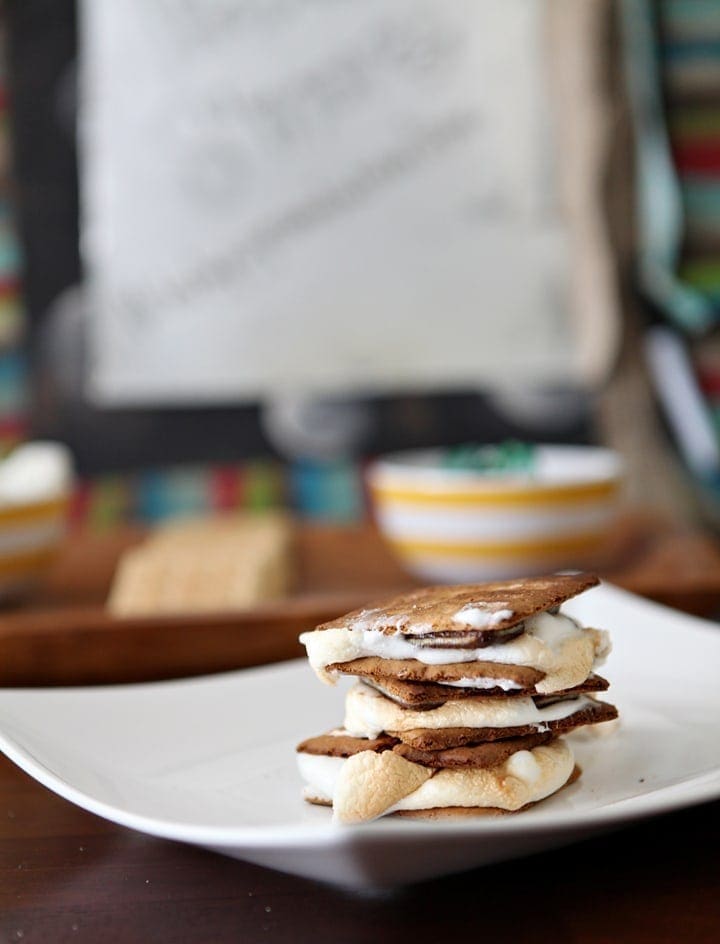 It's a special day! Some fellow bloggers and I are gathering together to throw a baby shower in honor of Chelsea and her sweet baby! Hooray, Baby's Grand Adventure Baby Shower Day!
I was tickled pink when Phi reached out to me about this little shower she was putting together for Chelsea because I've enjoyed following Chelsea's blog and was thrilled to learn she was expecting her first child earlier this year. Because who doesn't love when one of their friends is pregnant?
Chelsea, we've made a ton of fun things for your virtual baby shower, and we hope you enjoy this little celebration. We're so excited for you and Chase and can't wait to hear all about your little one when he or she arrives in January!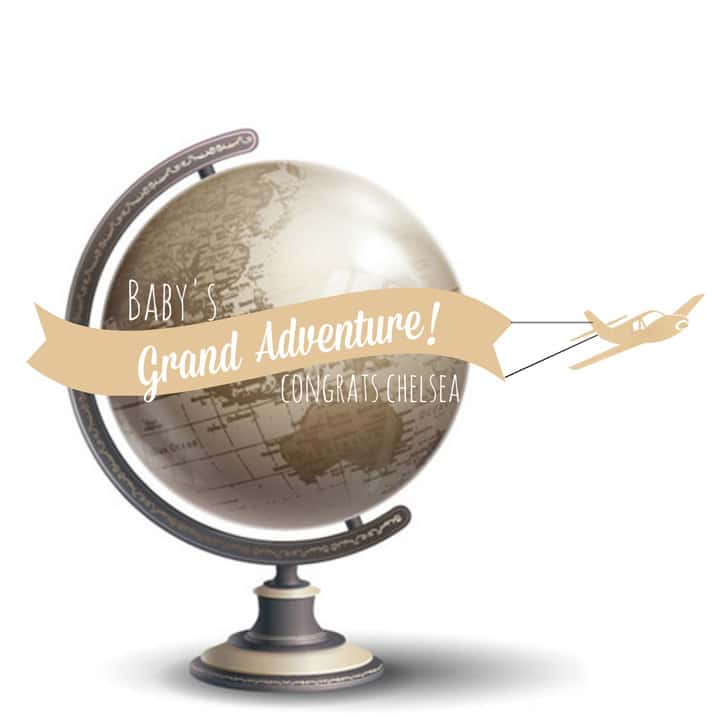 For the shower, I've made Indoor S'mores… with Andes Mints. Because, well, s'mores are pretty fabulous… and s'mores with Andes Mints are especially delicious… and because I thought s'mores indoors would be a little adventure for this celebration.
These s'mores can be made two ways: By guests at the table using a kitchen torch or candle or before the shower in the oven. I made mine in the oven, simply because when it was time to take these photographs, I realized I didn't have a kitchen torch.
Yes, I know. Pregnancy brain at its finest.
That being said, I think these s'mores would be an exciting treat for guests to make, toasting marshmallows to their personal favorite char, and then putting the slightly messy dessert together and enjoying. However, I understand if you'd rather make these in bulk and not have an open flame on your buffet table (or wherever you're serving the desserts) because that will require monitoring to ensure everything goes off without a hitch.
So… make the call you think is right for your guests and your own home. And if you make these in advance, try to pull them out of the oven when guests arrive, as the marshmallows get a bit stiff when they cool, and everyone loves a gooey s'more.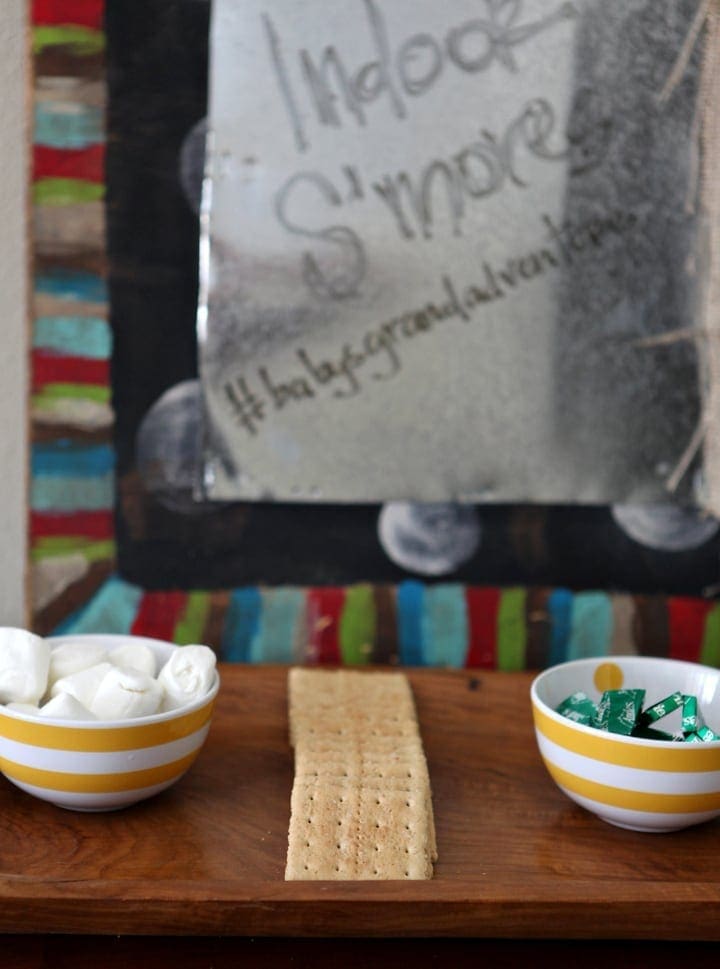 Here's how I made mine: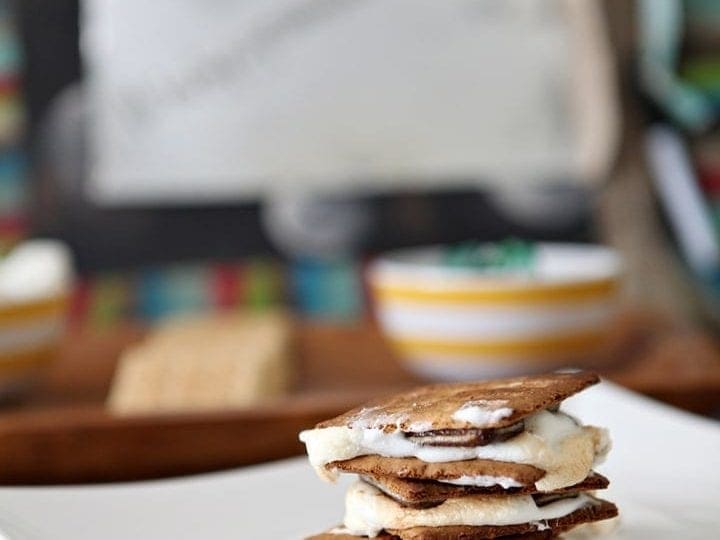 Yield:

24 servings
Indoor S'mores (with Andes Mints)
Toasted s'mores... made indoors! Allow your guests to roast their own marshmallows, or bake these treats in advance for a stunning shower dessert that's delicious and unique!
Ingredients
24 large marshmallows
24 Andes Mints, (or your favorite kind of chocolate)
48 Graham crackers (24 sheets)
Instructions
If baking in advance
Preheat the oven to 425°F, and line a baking sheet with aluminum foil.
Prepare the s'mores: Set out the Graham crackers in two rows, making sure the number is even in each. (Be sure to know how many s'mores you want to make, and double that for the Graham cracker number, as one will go on the bottom and one will go on the top of the finished dessert.) On one row of Graham crackers, place marshmallows in the center of the crackers. On the other row of Graham crackers, place one to two Andes Mints (or piece of chocolate.)
Transfer the baking sheet to the oven, and bake for 7 minutes, or until the marshmallows have bubbled up and browned, but not burned.
Remove from the oven, and using a spatula, turn the Graham cracker sides with chocolate on top of the marshmallow'ed sides.
Serve warm, and enjoy!
If allowing guests to roast their own marshmallows
Set out the ingredients to the s'mores, as well as skewers that guests can use to roast the marshmallows on.
Place a kitchen torch or candle on the table (and be sure to have someone watching it while on so no one is burned and/or accidentally burns the table/ingredients/house down).
Let guests prepare their own s'mores, and enjoy warm!
Recommended Products
As an Amazon Associate and member of other affiliate programs, I earn from qualifying purchases.
Nutrition Information:
Yield:
24
Serving Size:
1 s'more
Amount Per Serving:
Calories:

160
Total Fat:

3g
Saturated Fat:

0g
Trans Fat:

0g
Unsaturated Fat:

2g
Cholesterol:

0mg
Sodium:

144mg
Carbohydrates:

31g
Fiber:

1g
Sugar:

13g
Protein:

2g
Nutrition facts are an estimate and not guaranteed to be accurate.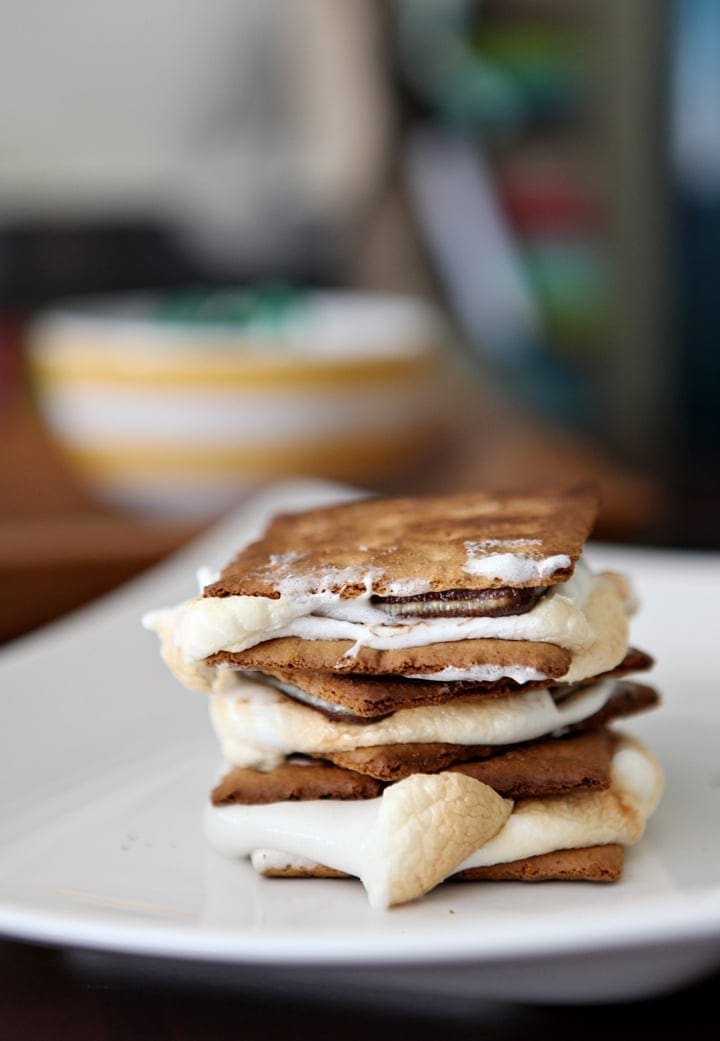 And when everything was said and done with this shoot… I ate all three of these s'mores. Oops?
Chelsea, I hope you enjoyed this and get a chance to try something sweet like this before your little one arrives!
And before y'all head out, be sure to check out the other bloggers participating in Chelsea's baby shower!
What kind of foods do you like to eat at a baby shower?