Chocolate Cheesecake Dip is a tart and creamy chocolate dip. Blend just four ingredients together and serve with your favorite dippers to make the ultimate chocolate fruit dip. If you want an easy no bake dessert for a gathering, this is it! Makes 6-8 servings, but can easily be doubled.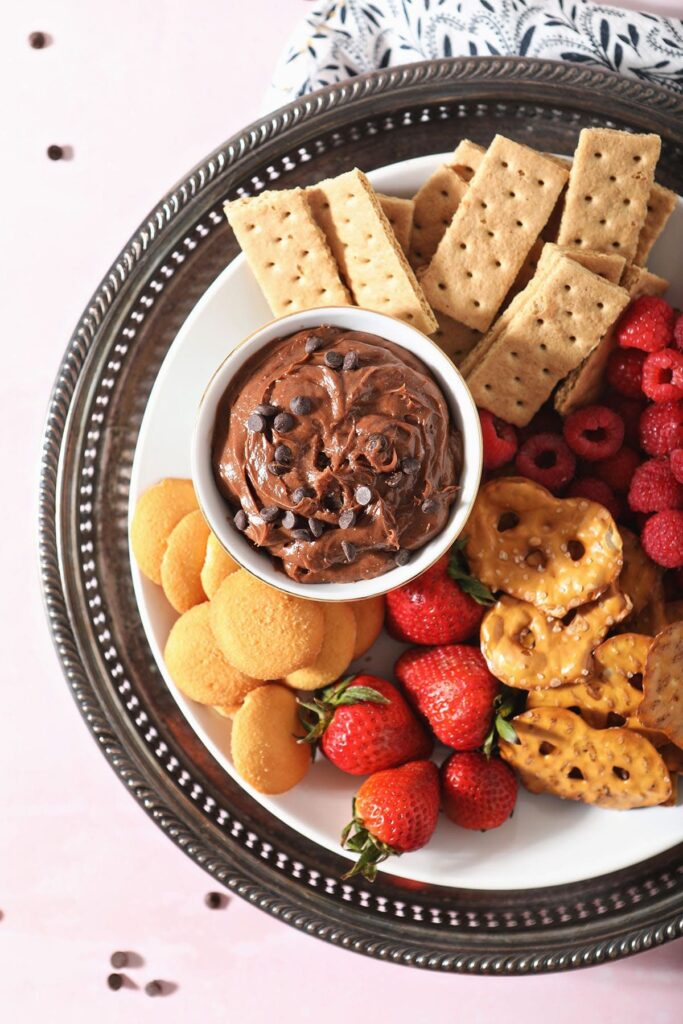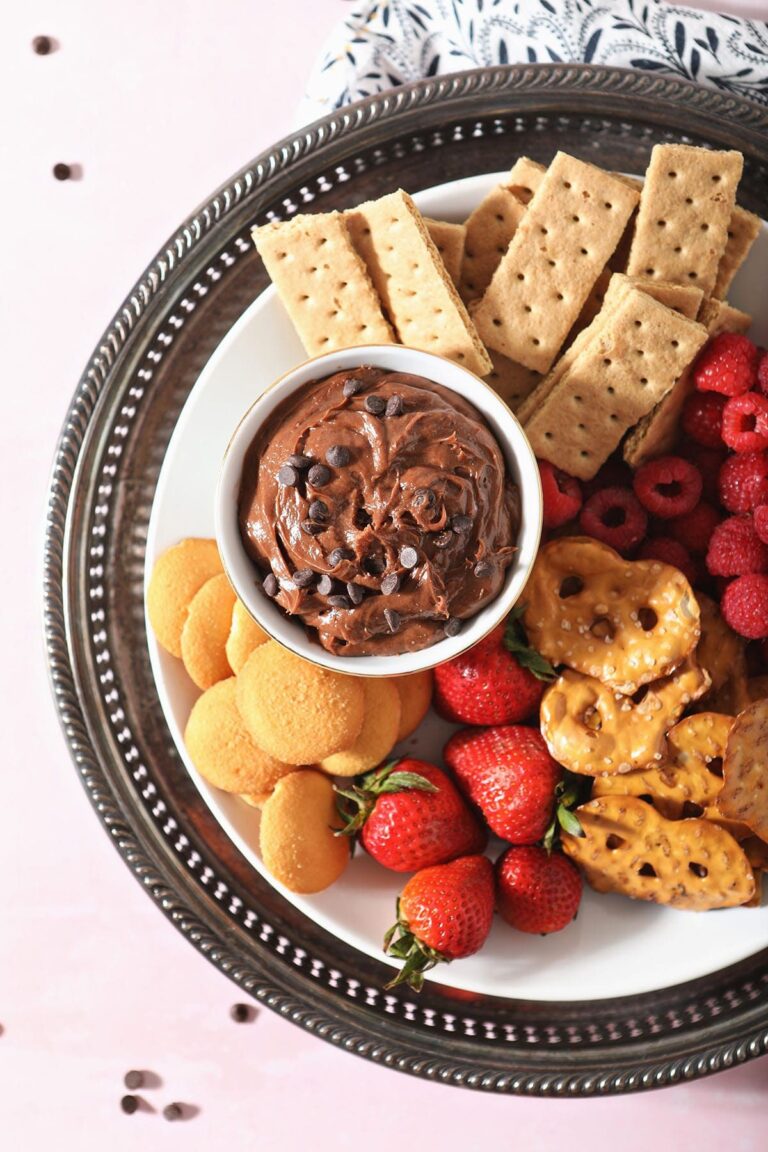 This dessert dip was originally published on March 4, 2016. The photos and text were updated and republished in April 2021.
When I think about hosting my people in my home again, I think about serving all kinds of scrumptious (and fancy looking) recipes that are actually a breeze to make.
This Chocolate Fruit Dip is one of the recipes I want to share.
The girls love it. We love it. Everyone who's ever had the chance to try this has loved it, too, and it's such a simple, yet flavorful dish to serve.
Why I love this recipe:
I'm not going to lie to y'all: I absolutely love a cheesecake, but I do not absolutely love how long a classic cheesecake takes to make and chill before you can enjoy it.
Hence, a cheesecake DIP which takes about 5 minutes total and that can be enjoyed right away!
I added chocolate to this dessert because I love a good 'ol chocolate cheesecake, but I've got variation ideas for you below in case chocolate isn't your favorite.
The chocolate paired with the tangy cream cheese just works. This chocolate dip is just sweet enough, too, and pairs with so many different dippers, making it the great centerpiece for a dessert board or tray.
Other easy desserts that are great for entertaining: Raspberry Yogurt Fruit Dip | Chocolate Chip Cookie Bars | Valentine's Day Dessert Board | Dessert Nachos | Funfetti Sugar Cookie Bars | Classic Cheesecake Dip
Looking for sweet tooth inspiration? Head on over to my Dessert Recipe Index for some ideas.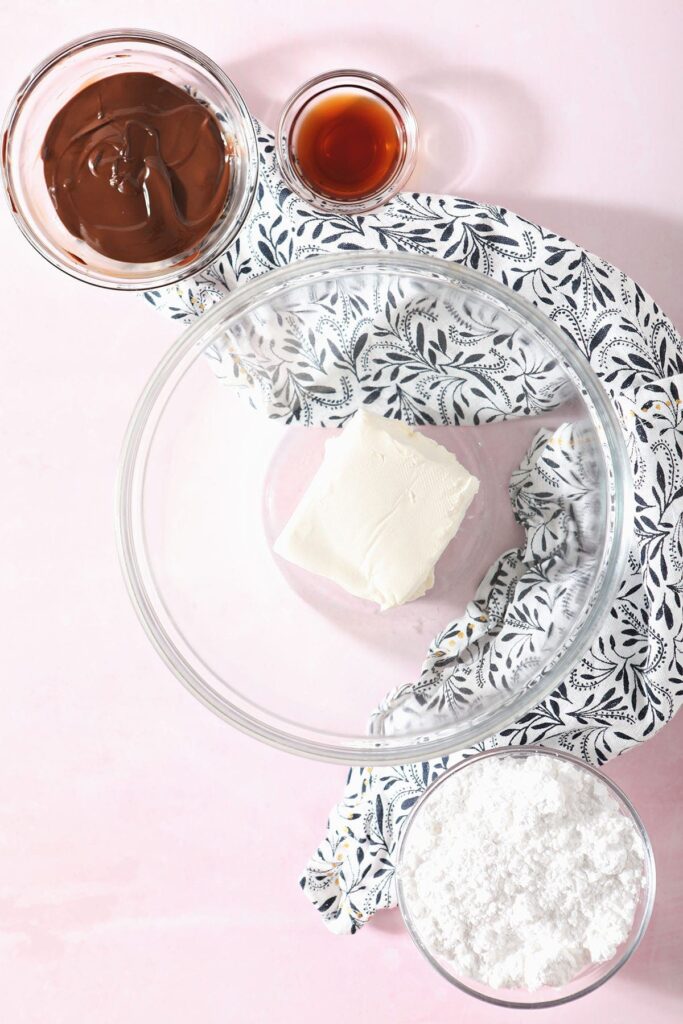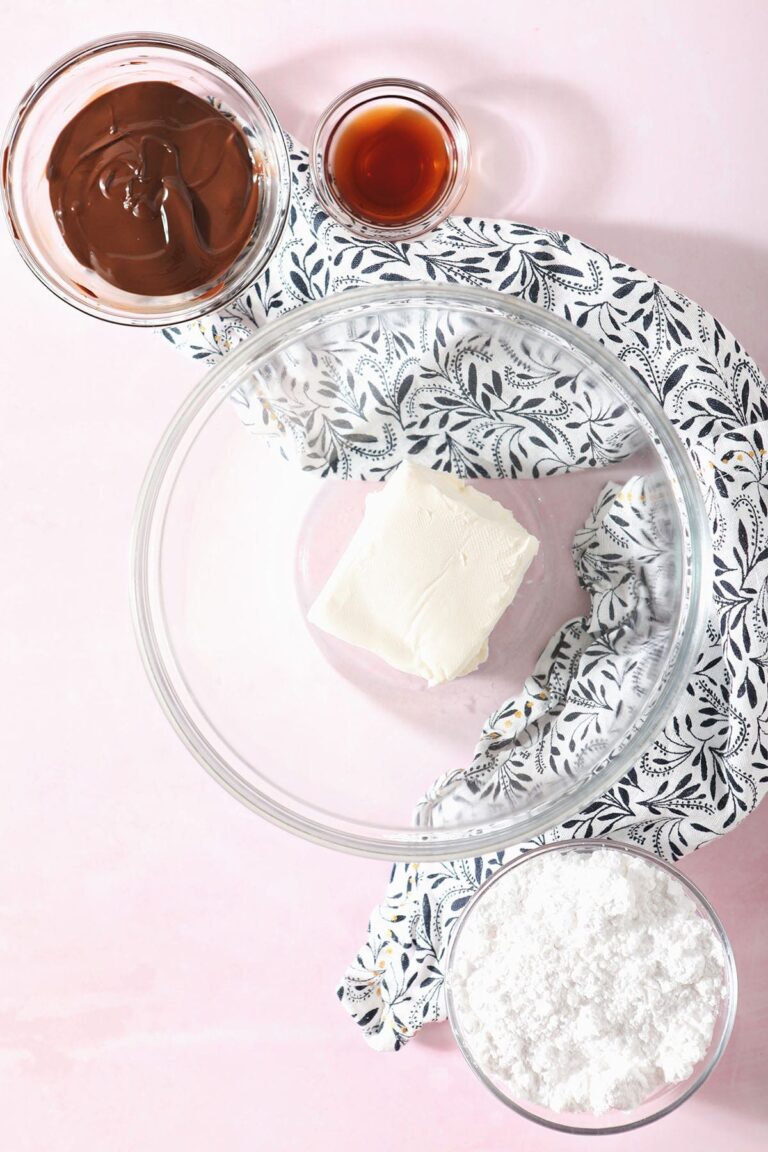 What you need to make this chocolate dip:
The Speckled Palate participates in affiliate programs. As an Amazon Associate, I earn a commission from qualifying purchases. Please refer to my disclosure page for more information about these affiliate programs.
Let's talk ingredients!
In addition to the tools above, you're going to need some ingredients to make this recipe, too! Chances are, you might already have some of them in your fridge or pantry. Scroll down to the recipe card for the full measurements and instructions.
Here's what you need for this dessert dip:
Cream cheese — I always recommend using the full fat variety of this for the most flavor
Chocolate chips — whatever kind is your favorite! I used dark chocolate chips because I enjoy how they're less sweet, though I know that's not everyone's jam.
Powdered sugar — also known as confectioner's sugar. This provides sweetness, along with the melted chocolate.
And of course, you'll need a few dippers, as well. You can have as many or as few as you want, so feel free to have fun with it, especially if you're hosting friends and sharing this with them.
Here are some of our favorite dippers for this chocolate dip:
Strawberries
Raspberries
Apple slices
Bananas
Graham crackers (the regular honey kind, the cinnamon-sugar kind or even the chocolate ones!)
Nilla Wafers
Oreos
Cinnamon sugar pita chips
Pretzel Crisps or even soft, homemade pretzels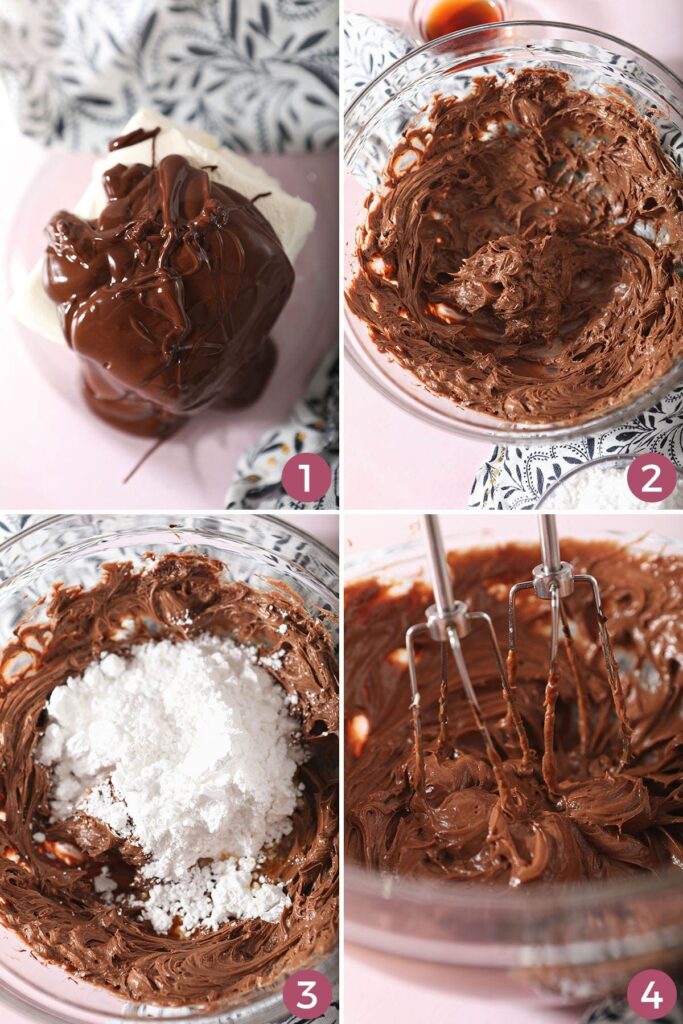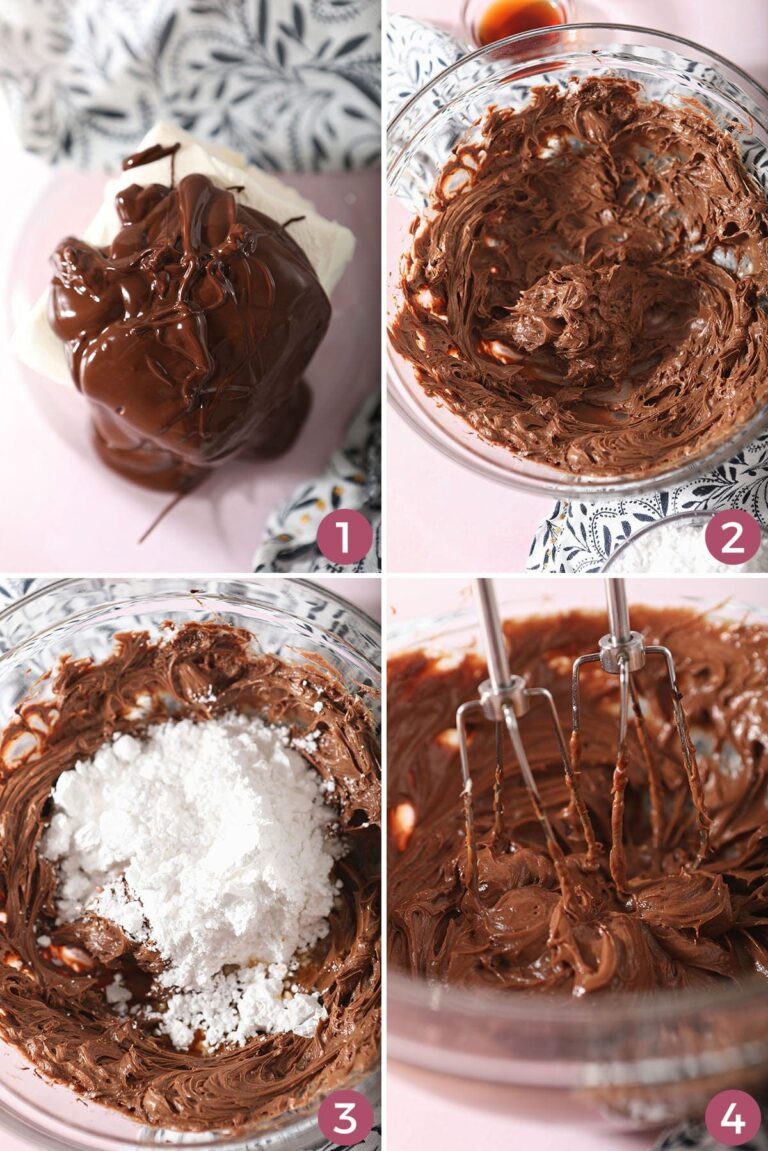 How to make Cheesecake Dip
You whip together softened cream cheese and your favorite melted chocolate chips until smooth.
Next, add in powdered sugar and vanilla extract, mixing until well-combined.
And that's it.
Serve with your favorite dippers—crispy pretzels (or soft pretzels!), Graham crackers, fruit, etc. The sky is the limit to what you can pair with this dip, so have fun with it and choose dippers that you personally enjoy!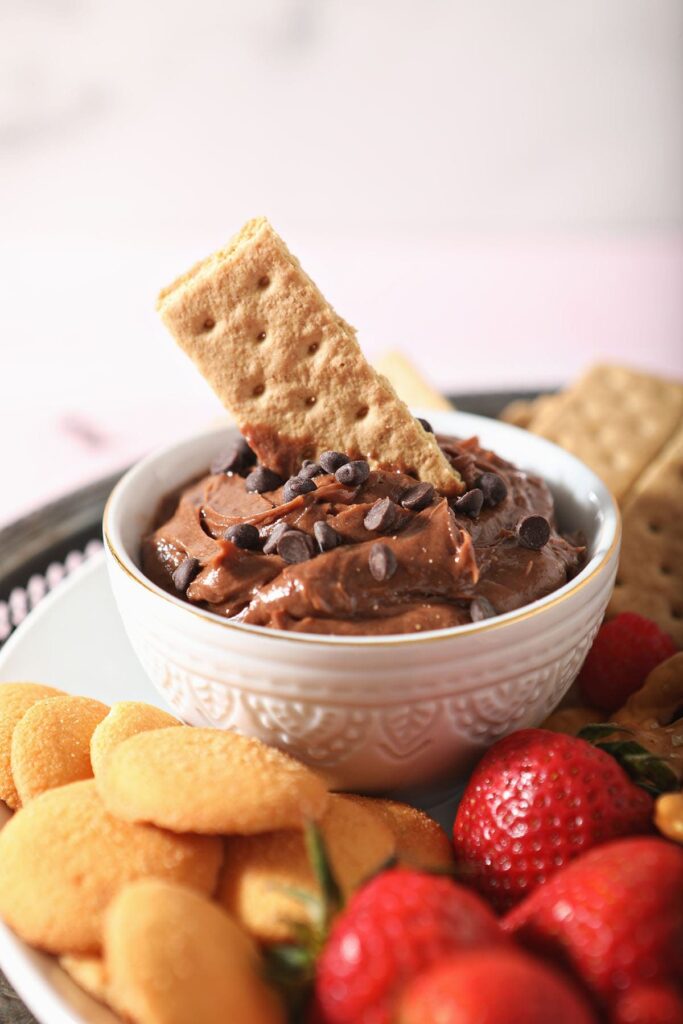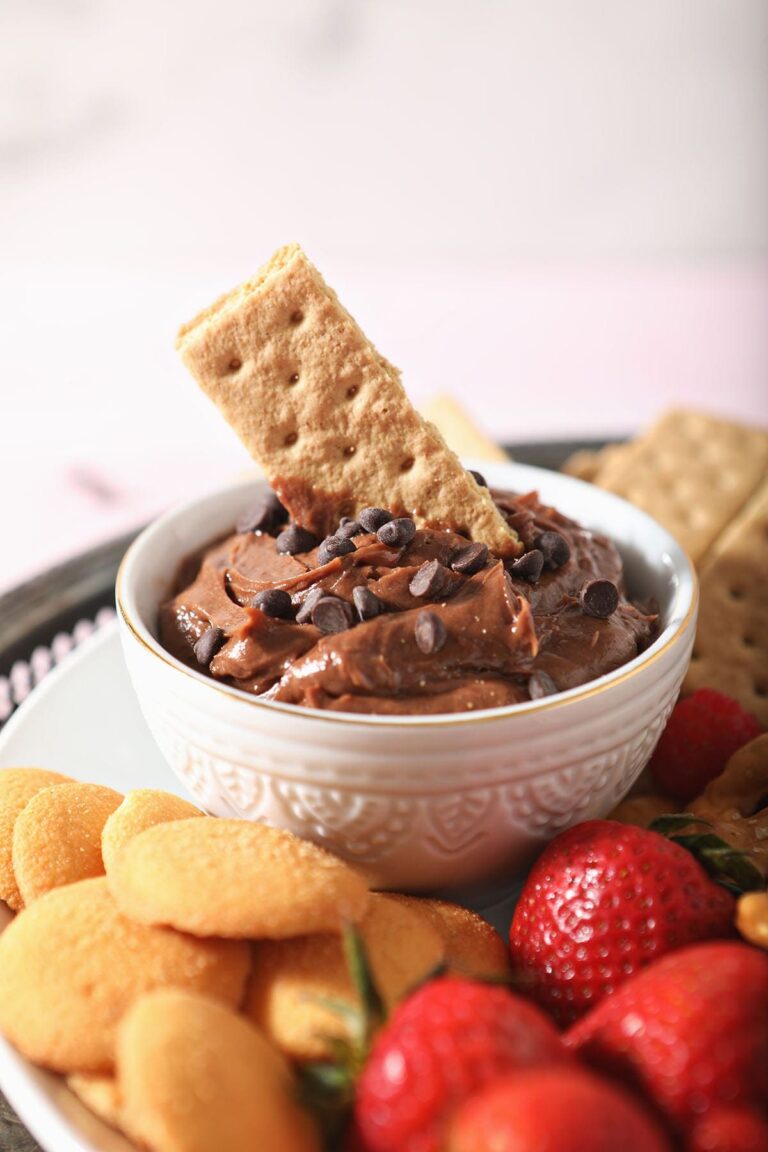 Erin's Easy Entertaining Tips
A Chocolate Fruit Dip would be a super fun thing to serve when you're hosting guests, whether they're over for a play date for your kids, a casual happy hour or even an outdoor gathering in your backyard.
This dessert dip is truly fabulous for entertaining because it takes so few ingredients and about 5 minutes of your time to mix together.
If we're hosting friends or family and want to serve this dip, here are some things I suggest:
Double the recipe for a crowd. We've hosted friends and served this as an easy entertaining dessert. Three of us have taken down this dip without an issue, and with our kids running around, it was gone in no time flat.
Make it in advance. Since this keeps well in the fridge, make it a day or two in advance so all you have to do is remove the chocolate dip from the fridge 30 minutes before you plan on serving it.
Offer all kinds of dippers. Depending on who you're hosting, you might want more or less of some dips. For us, we went about 50/50 fruit and pretzels/cookies/crackers, but do whatever works best for you!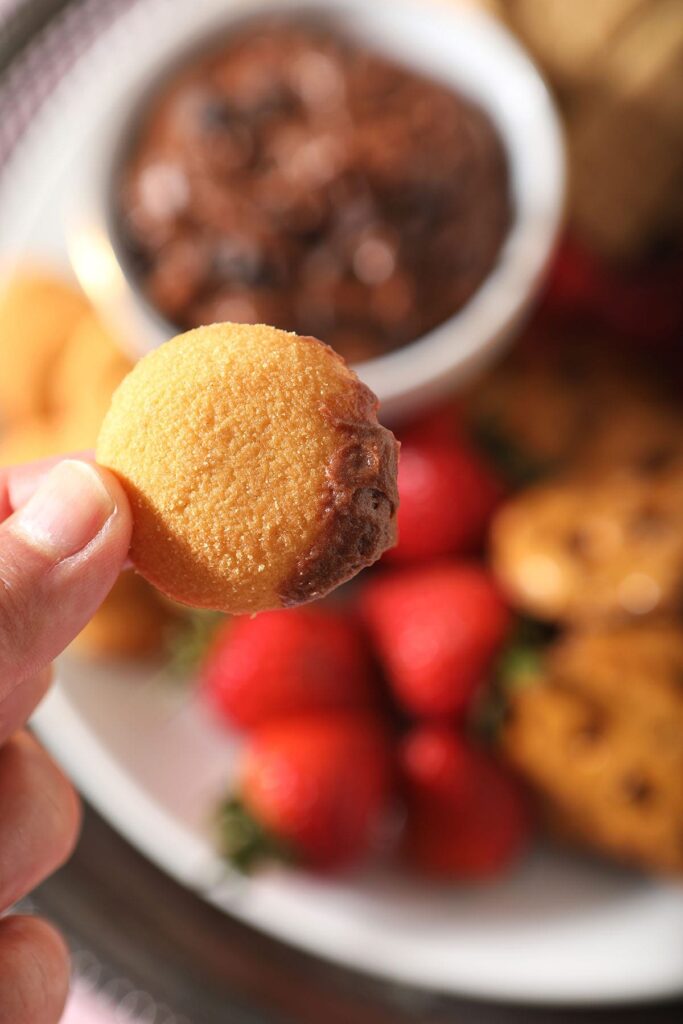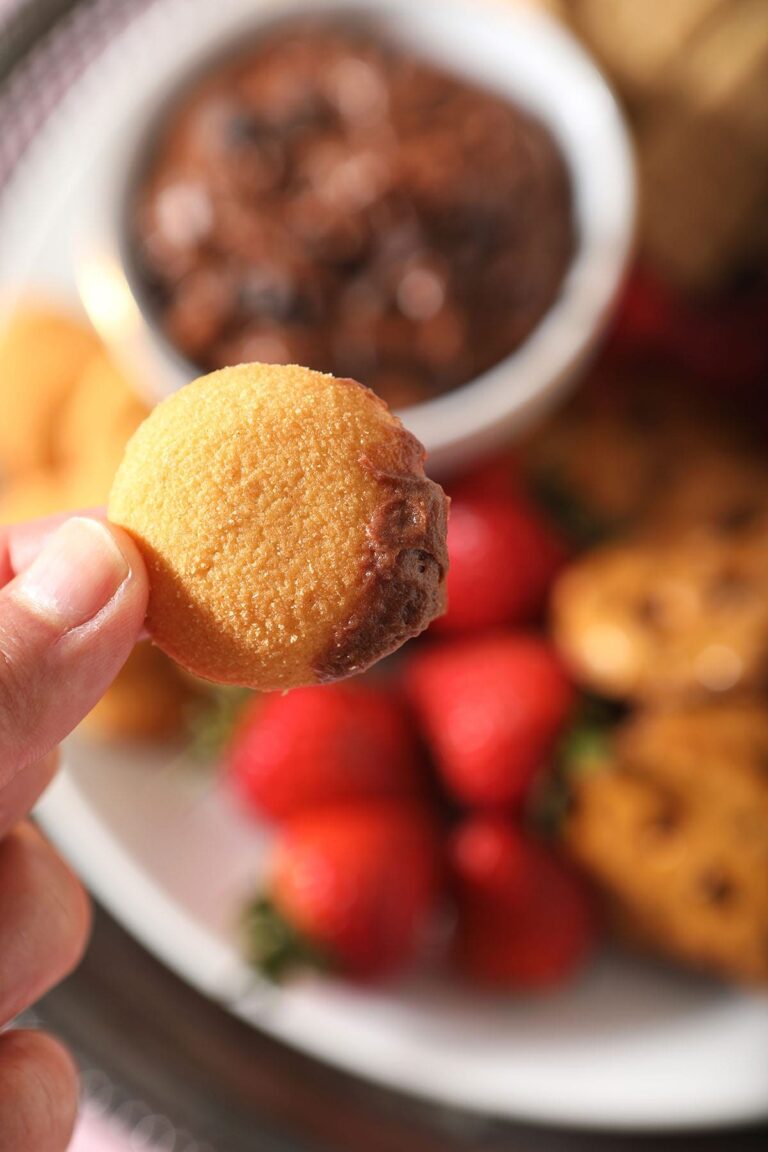 Frequently Asked Questions
What is cheesecake dip?
It's a fun twist on a traditional cheesecake that takes significantly less time. It's also a no bake dessert! This cheesecake dip has the tangy flavor of a classic cheesecake and is made for dipping.
What is the best way to melt chocolate for dipping?
Personally, I like to melt chocolate in the microwave because it's a lot easier than setting up a double boiler. However, the key to melting chocolate in the microwave is doing it in bursts and stirring between each round of heating until the chocolate is just melted. While photographing this dip, my daughter and I actually scorched some of our chocolate in the microwave because we heated it for too long without stirring, and our entire home smelled of burnt chocolate for the rest of the day.
What fruits can be dipped in chocolate?
Whatever fruit you like paired with chocolate! I'm a big fan of strawberries and chocolate (and have a Chocolate Dipped Strawberries recipe), but the world is your oyster. Raspberries are excellent. So are bananas, apples, pineapple, etc.
How do I soften cream cheese quickly?
Place your foil-wrapped cream cheese on a plate. Heat water in a liquid measuring cup in the microwave until the water is almost boiling. Dump out the water and wipe any droplets off the glass, then place it over the cream cheese on a plate. This will soften the cream cheese quickly! If it's not softened in 5-10 minutes, repeat the process of heating up the water.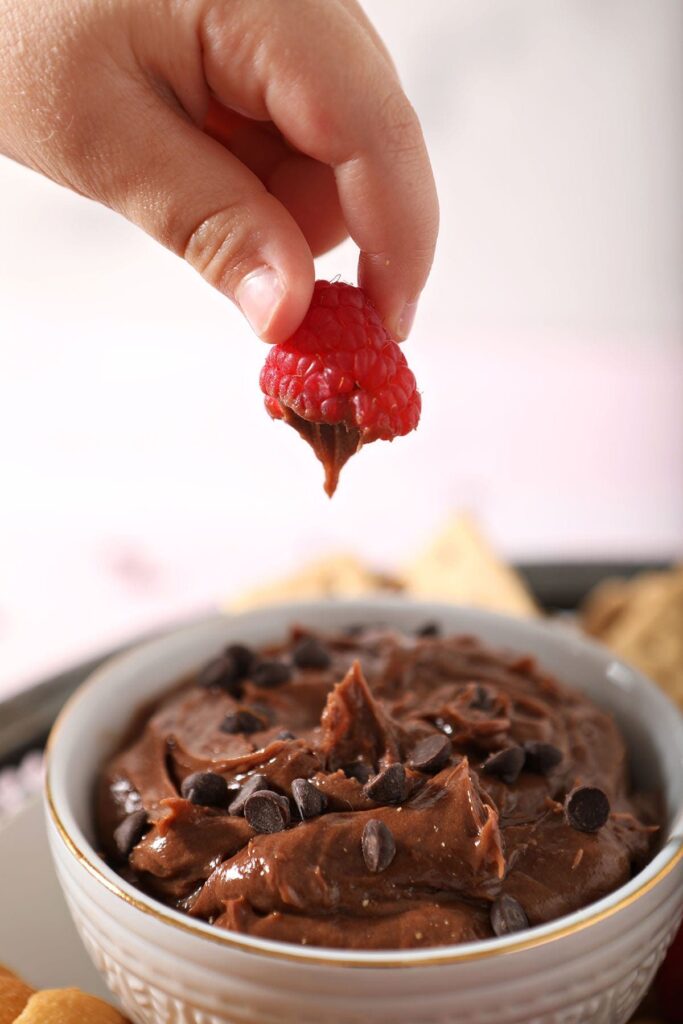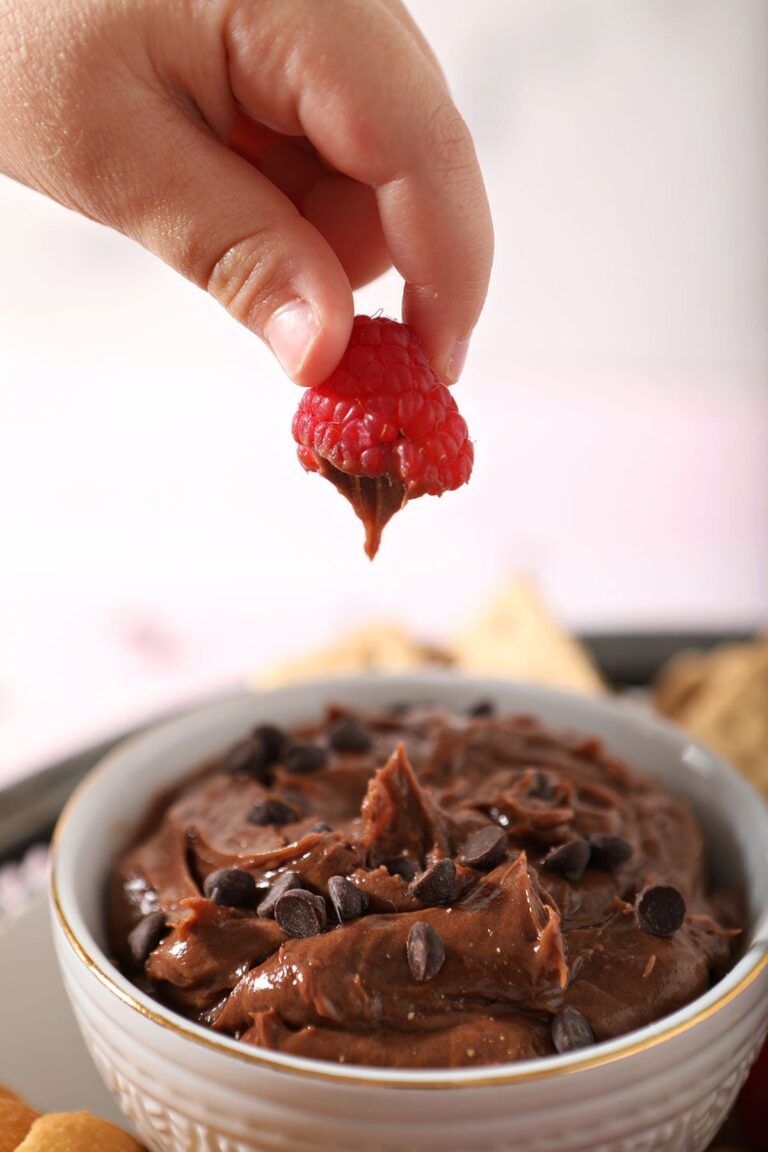 Quick tips and tricks to the best Chocolate Dip
Room temperature ingredients are best. The cream cheese won't blend as easily if it's cold from the fridge. Likewise, you want the melted chocolate chips to cool off some so they don't mess up the cream cheese, too!
Store this Chocolate Cheesecake Dip in an airtight food storage container in the refrigerator for up to a week! High fives for being able to make this dip well in advance so you don't have to fret the day of your gathering.
Make a fun variation on this no bake dessert. I've got some ideas for you below…
Variations on this Chocolate Cheesecake Dip:
Leave out the melted chocolate and make it a classic Cheesecake Dip. You might have to add 1-2 tablespoons of milk to get the consistency right as you're blending it up!
In place of the melted chocolate chips, use Nutella or another chocolate hazelnut spread to make a hazelnut chocolate fruit dip.
Switch up the chocolate chips for different flavors! I used my favorite dark chocolate chips* (affiliate link), but you can use semisweet, milk chocolate or even white chocolate, depending on what you like.
Serve Cherry Pie Filling* (affiliate link) over the chocolate dip to make a chocolate-cherry dessert situation. You could do the same with strawberry pie filling or even blueberry pie filling, if you like that combination of flavors.
More recipes inspired by cheesecake flavors:
Here's my recipe: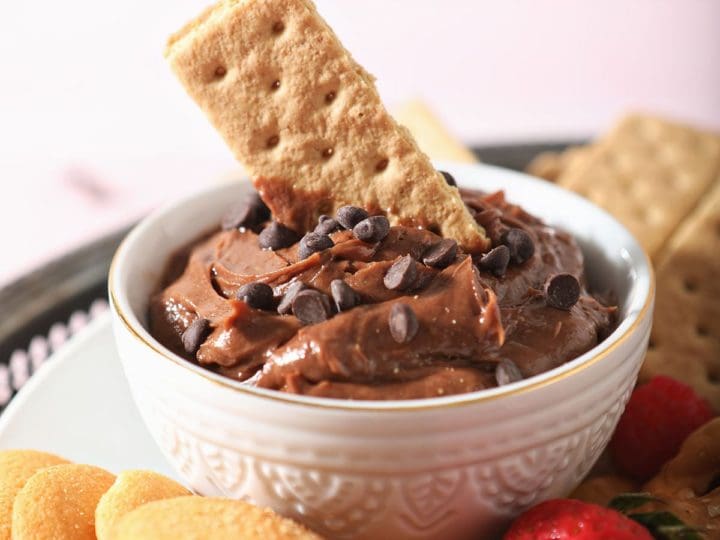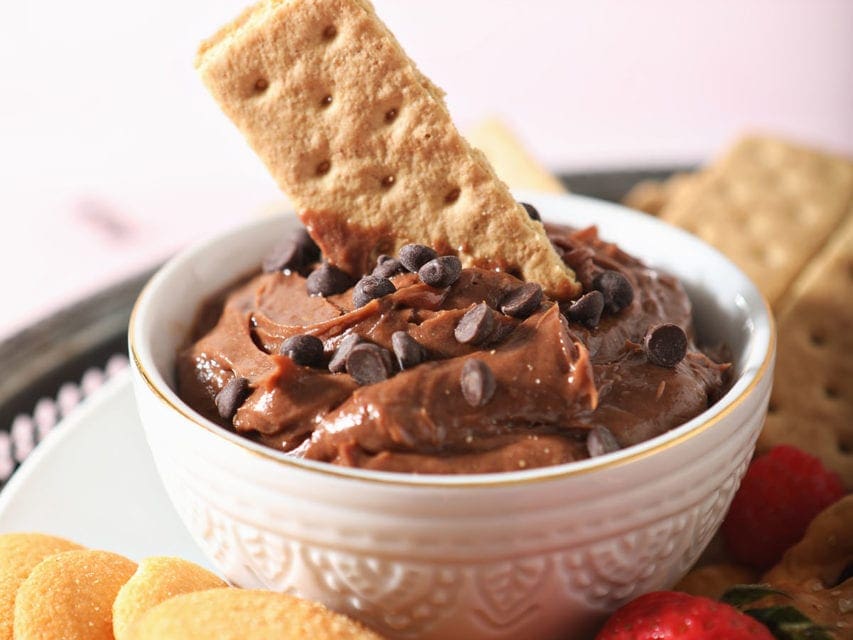 Yield:

8 servings
Chocolate Cheesecake Dip
Chocolate Cheesecake Dip is a tart and creamy chocolate dessert dip. Blend the ingredients together and serve with your favorite fruits, pretzels, Graham crackers and cookies for the ultimate chocolate dip.
Ingredients
4 oz. cream cheese, softened
¼ cup chocolate chips, melted
½ cup powdered sugar
2 teaspoons pure vanilla extract
Dippers
Graham crackers
Nilla Wafers
Pretzel Thins
Strawberries
Raspberries
Instructions
Warm the chocolate chips in a microwave-safe glass bowl in 30-second bursts until melted. Stir between each heating to ensure the chocolate doesn't burn.
Measure out the cream cheese and melted chocolate chips into a large bowl.
Mix the two ingredients together using a hand mixer, bending until smooth.
Sprinkle in the powdered sugar and add the vanilla extract, mixing with the hand mixer until smooth.
Serve with your favorite fruits, crispy pretzels, Graham crackers or cookies.
Notes
Variations on this Cheesecake Dip
In place of the melted chocolate chips, use Nutella or another chocolate hazelnut spread.
Switch up the chocolate chips! I used my favorite dark chocolate chips* (affiliate link), but you can use semisweet or even milk chocolate, depending on what you like, flavor-wise.
Serve Cherry Pie Filling* (affiliate link over the chocolate dip to make a chocolate-cherry dessert situation.
Recommended Products
As an Amazon Associate and member of other affiliate programs, I earn from qualifying purchases.
Nutrition Information:
Yield:
8
Serving Size:
1 serving
Amount Per Serving:
Calories:

106
Total Fat:

7g
Saturated Fat:

4g
Trans Fat:

0g
Unsaturated Fat:

2g
Cholesterol:

14mg
Sodium:

45mg
Carbohydrates:

11g
Fiber:

0g
Sugar:

10g
Protein:

1g
Nutrition facts are an estimate and not guaranteed to be accurate.