Princess Violette Cocktail
The bubbly Princess Violette Cocktail is a lovely brunch drink and simple to make at home! This creme de violette cocktail is gorgeous and perfect for sipping. Makes 1 champagne cocktail, but can easily be doubled.
Love a good champagne cocktail? Don't miss Strawberry Champagne Cocktail and Framboise Champagne Cocktail!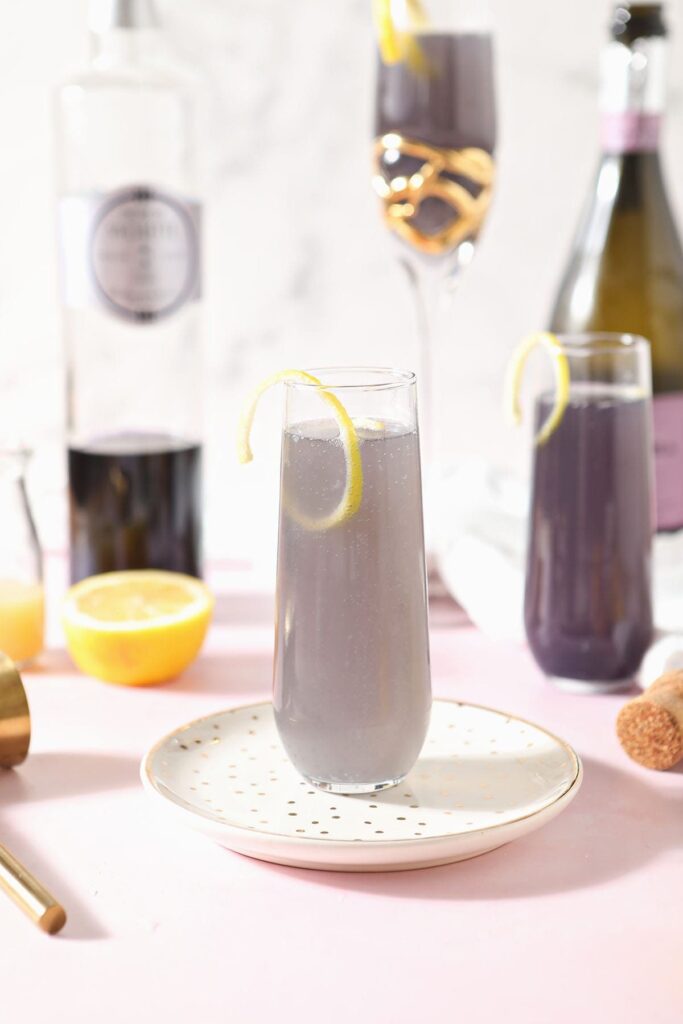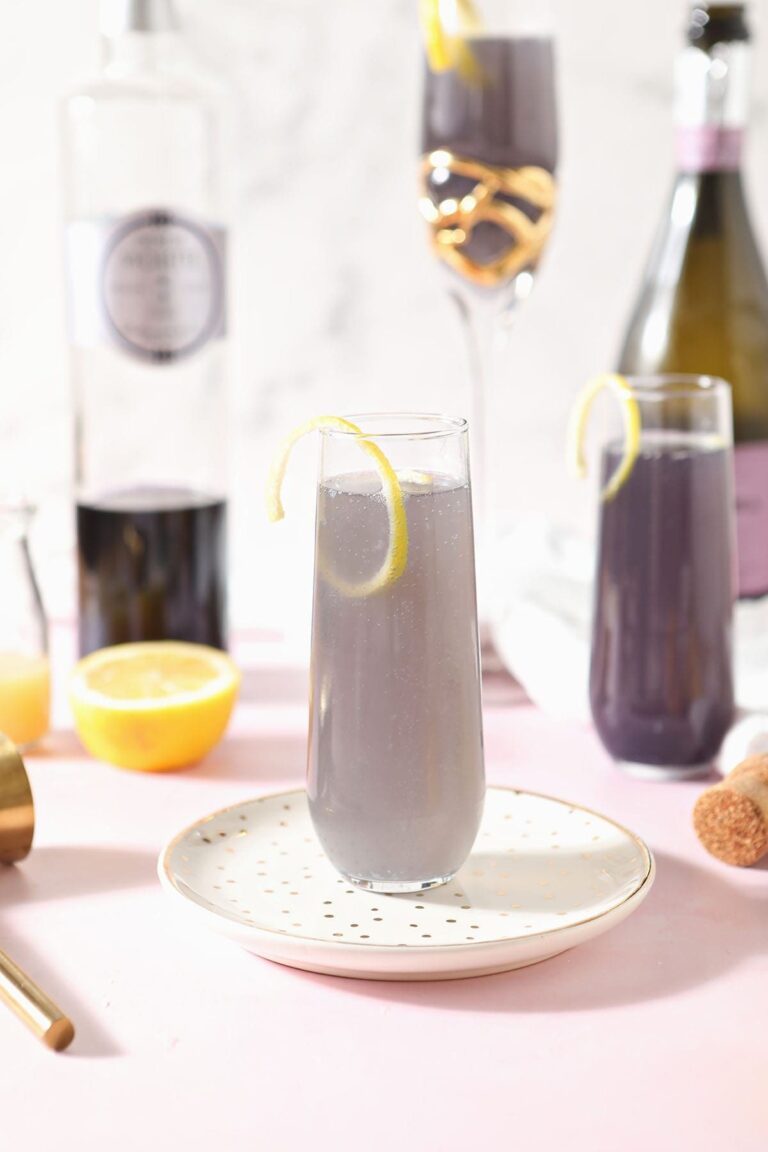 This champagne drink was originally published July 27, 2016. The text and images were updated and republished in April 2021.
Today is a sad day. My friend Valorie is moving halfway across the world to spend the next year studying abroad in France.
Valorie is one of my longtime blog friends. We met when we were both running personal blogs, and we've teamed up in the past to create awesome cocktails, too. (Hello, African Sunrise, The Ginger Pomegranate Experiment, The Boyfriend Irish Coffee, The Siciliano and The Melty Cold Brew Shake!)
We've had a ton of fun this last year adapting and creating cocktails together, and she's going to be sorely missed around these parts.
So to send her off right and to fit with our usual M.O., we made one final cocktail together.
Why I love this creme de violette cocktail recipe:
This champagne cocktail was inspired by brunch at The Meddlesome Moth, a Dallas mainstay. Valorie had tried this creme de violette cocktail while brunching with another friend, and she insisted that we had to try it when we shared brunch with another blogger friend.
We decided to recreate the light, bubbly and delicious drink for the home cook. It's not too sweet. The violet flavor is floral and surprisingly delicious. And if you're concerned about this cocktail tasting like an overly fragrant hand soap, let me assure you that it does not.
This creme de violette cocktail is so great for this time of year, especially if you like your champagne drinks less sweet.
But what's with the name, Princess Violette? Honestly, it started off as a joke because we couldn't remember the name of the drink that inspired Valorie's rendition, then we kept calling it the Princess and it stuck.
Other bubbly cocktails you need to try: Pomegranate French 75 | Prosecco Mimosa | Winter Sparkling Champagne Sangria | How to Make a Mimosa Bar (Video Tutorial!) | Cranberry Bellinis
Looking for mixed drink inspiration? Head on over to my Cocktail Recipe Index for lots of ideas!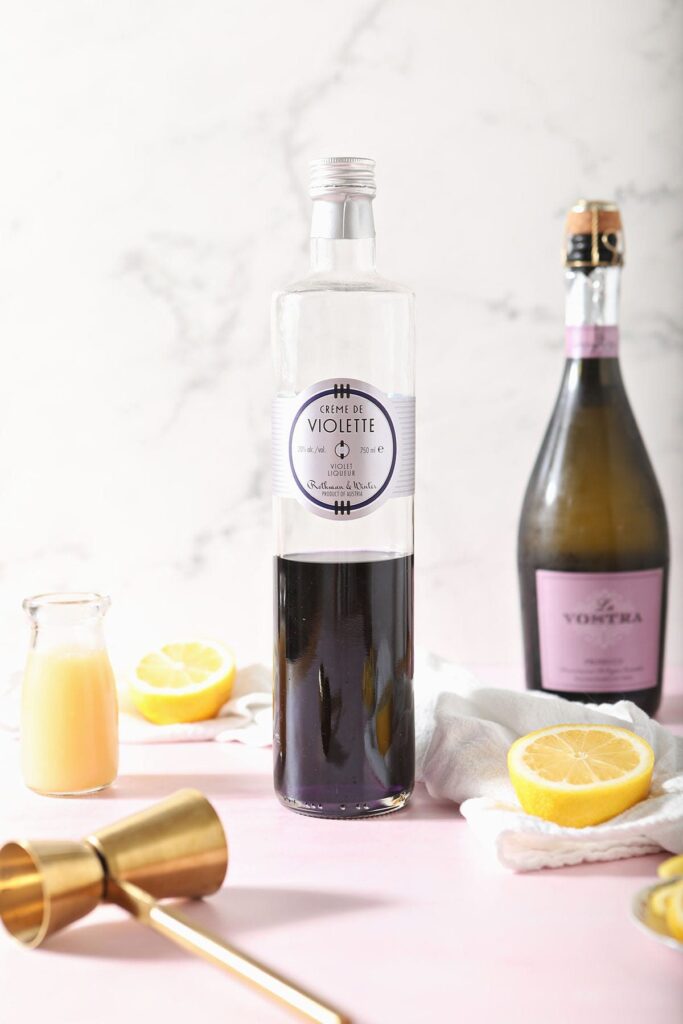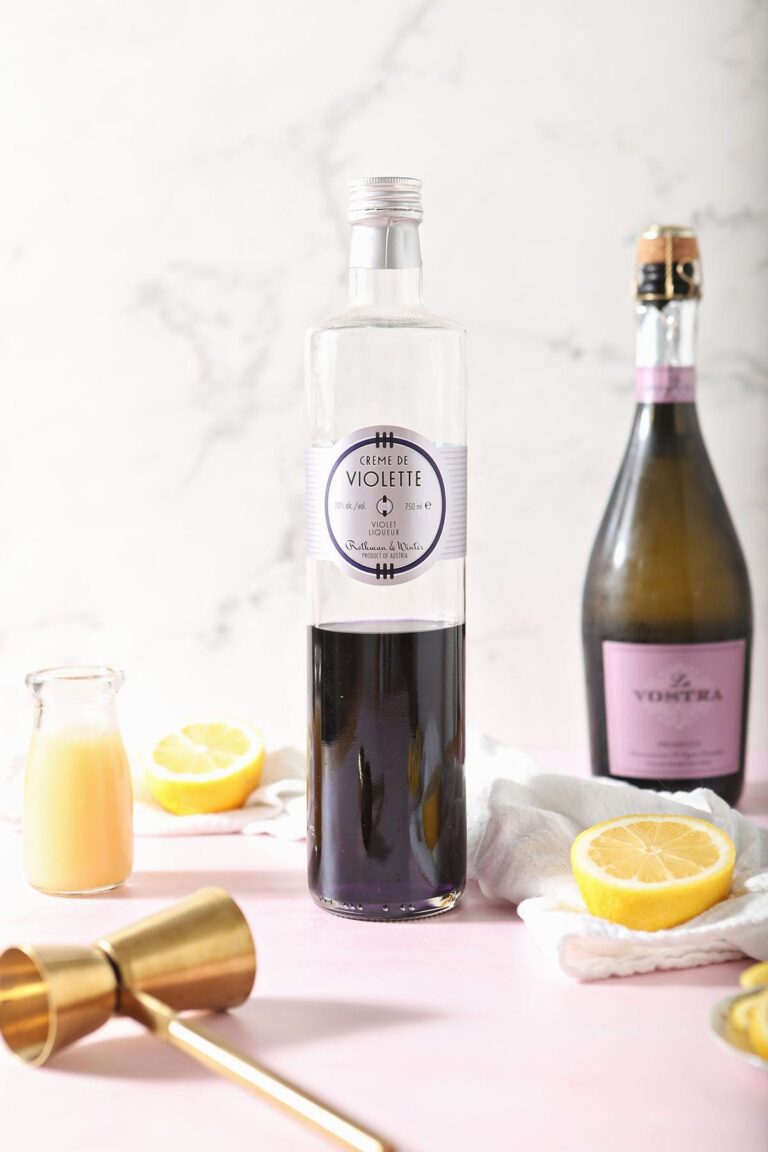 What you need to make this champagne cocktail:
The Speckled Palate participates in affiliate programs. As an Amazon Associate, I earn a commission from qualifying purchases. Please refer to my disclosure page for more information about these affiliate programs.
Sharp knife and cutting board
Let's talk ingredients!
In addition to the tools above, you're going to need some ingredients to make this recipe, too! Chances are, you might already have some of them in your fridge or pantry. Scroll down to the recipe card for the full measurements and instructions.
Here's what you'll need:
Creme de violette liqueur — you can use whatever brand you can find. I have a bottle of Rothman & Winter Creme de Violette in my liquor cabinet currently.
Lemon juice — from an actual lemon instead of the shelf-stable bottle from the store, please and thank you
Champagne — your favorite type, though I suggest purchasing brut and not going for the extra dry, which is a lot sweeter
Lemon peel or twist, as garnish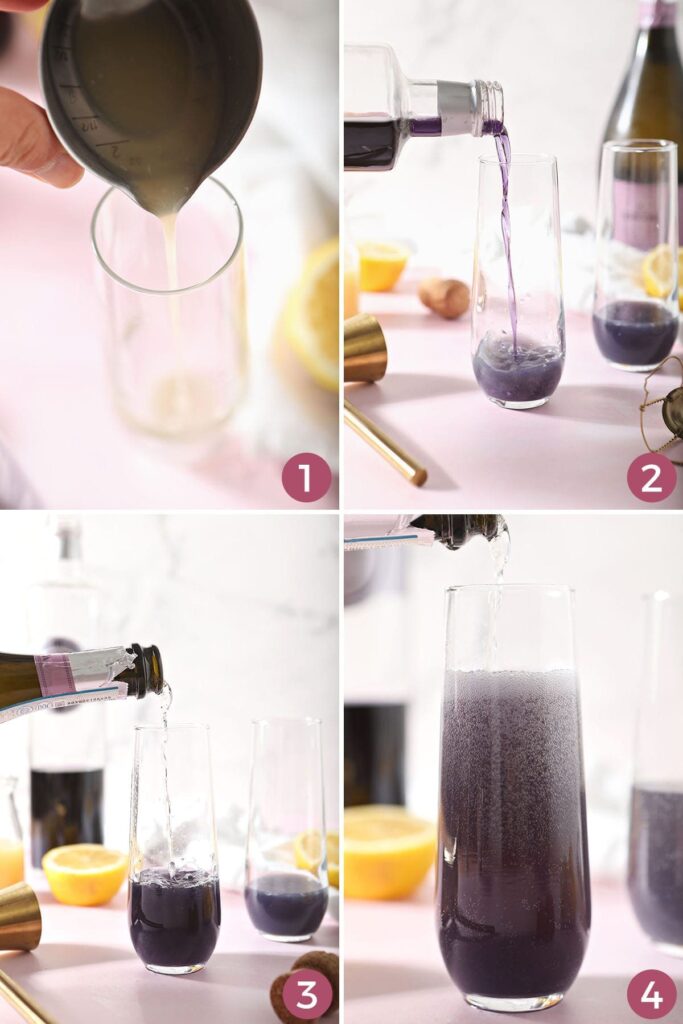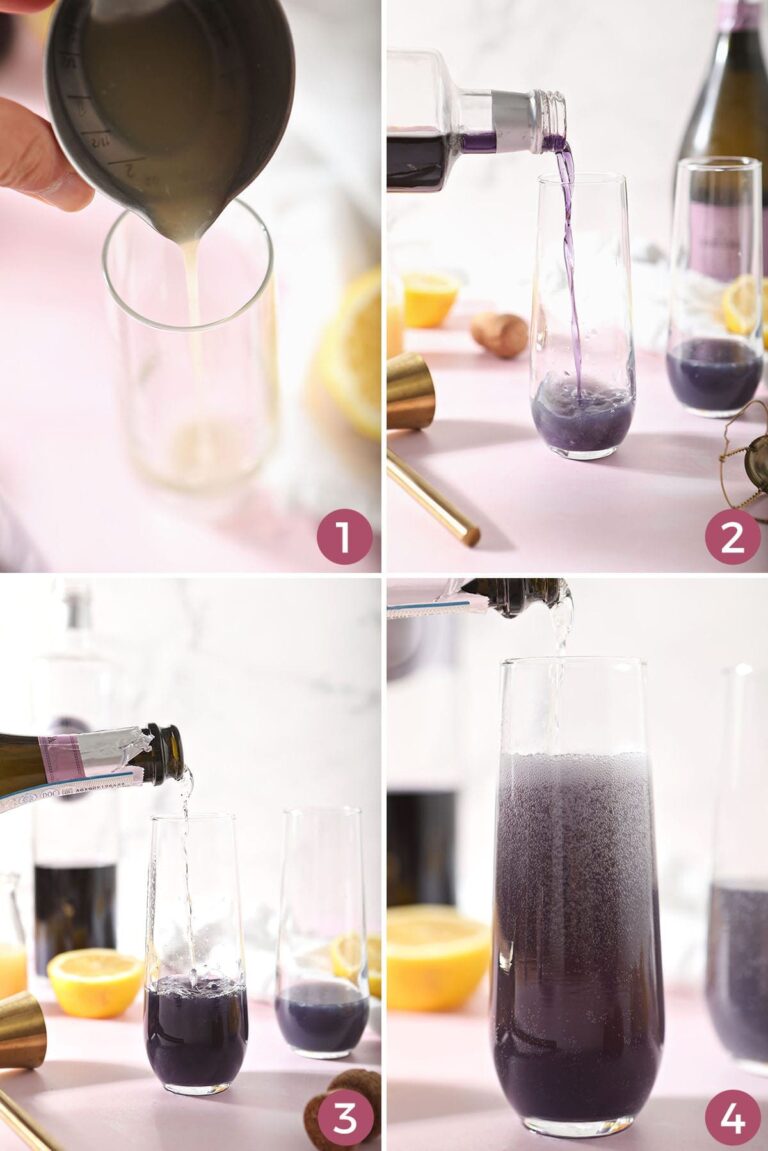 How to make the Princess Violette (Creme de Violette cocktail recipe)
In a champagne glass, measure in the creme de violette and the lemon juice.
Top the ingredients with cold champagne, and garnish with a lemon peel or twist.
Enjoy immediately!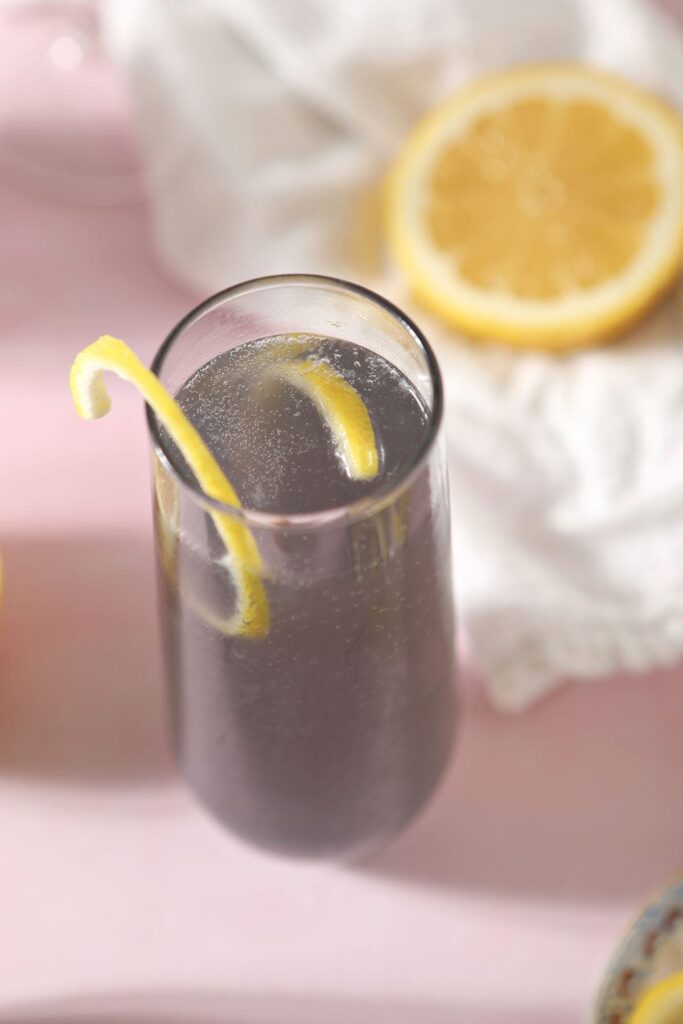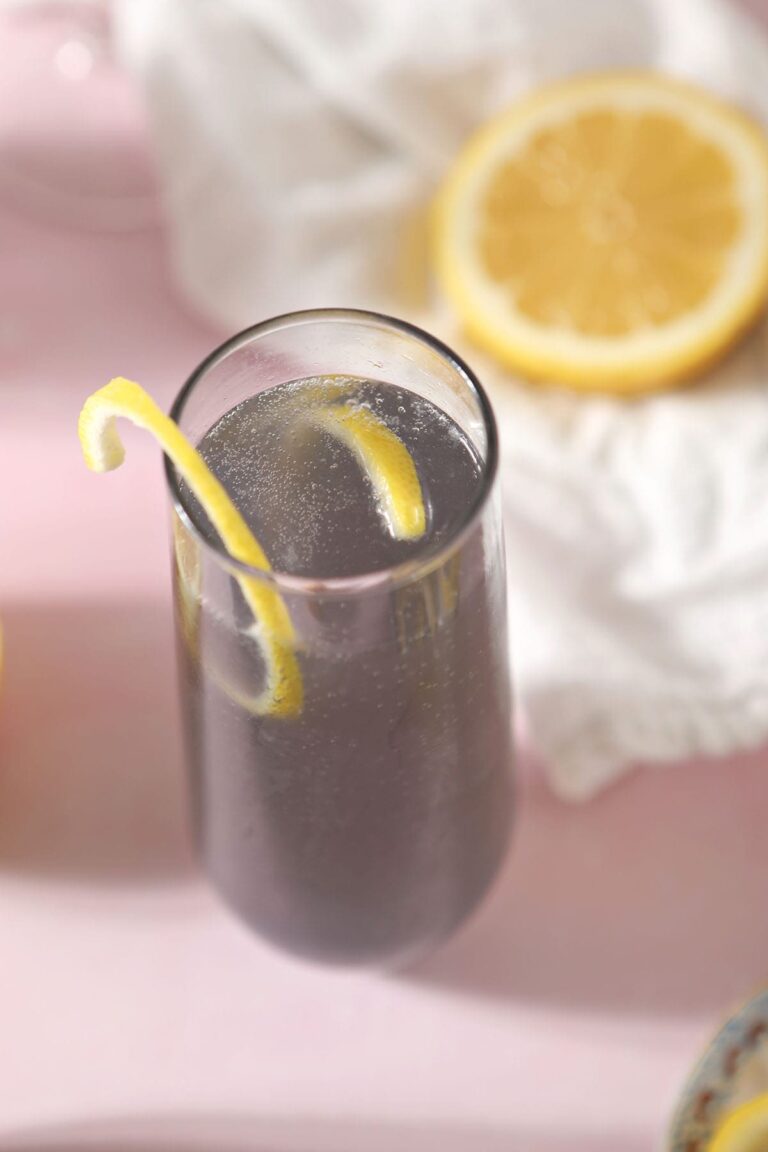 Erin's Easy Entertaining Tips
Champagne mixed drinks are one of my favorite drinks to serve at an at-home brunch, whether or not it's a holiday brunch, because everyone enjoys bubbly in the morning when paired with breakfast foods.
This Princess Violette Cocktail definitely fits right in! Here are a few ideas of making this mixed drink for entertaining in the near future.
Purchase your ingredients in advance… and if you're hosting a crowd, consider doubling or tripling the ingredients you have on hand. We have had the unfortunate instance of running out of champagne while making these drinks to share. Be sure to have enough on hand if guests want to enjoy more than one drink.
Chill your champagne, too! While you can drink champagne on ice, this drink is especially delicious when served chilled.
Make ahead tip: Juice your lemons in advance, and make the lemon twists, too! However, you cannot pour drinks in advance because the champagne will go flat.
When should you serve this creme de violette cocktail? Whenever you feel like opening up bubbly! We've served this at brunch for friends, as well as served family at Easter brunch. I think this would make a delightful drink to serve on Valentine's Day or Mother's Day, too.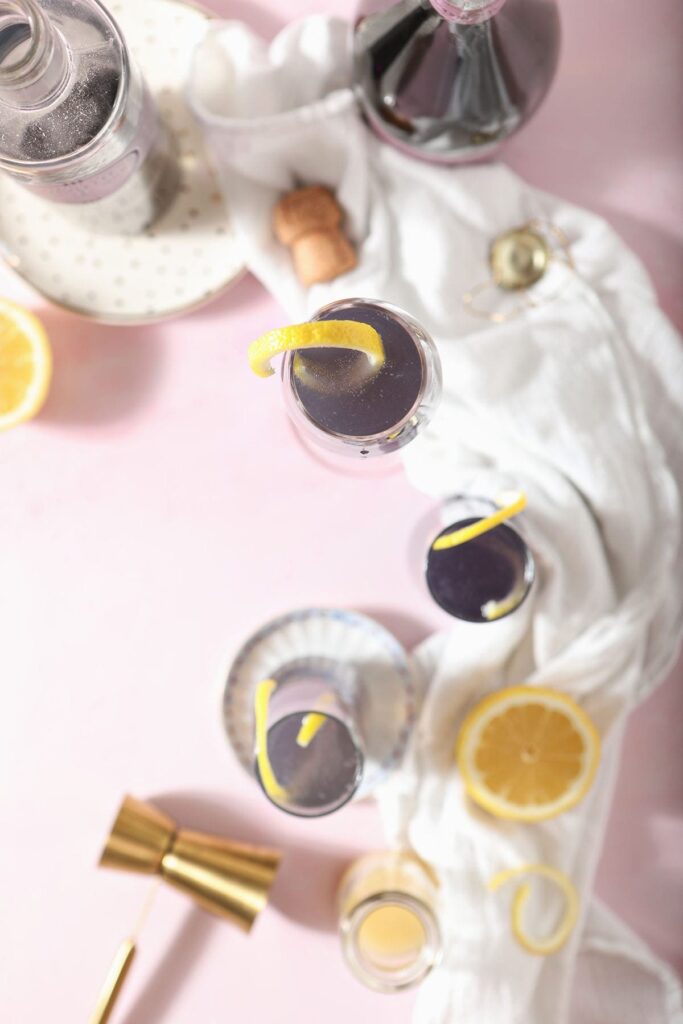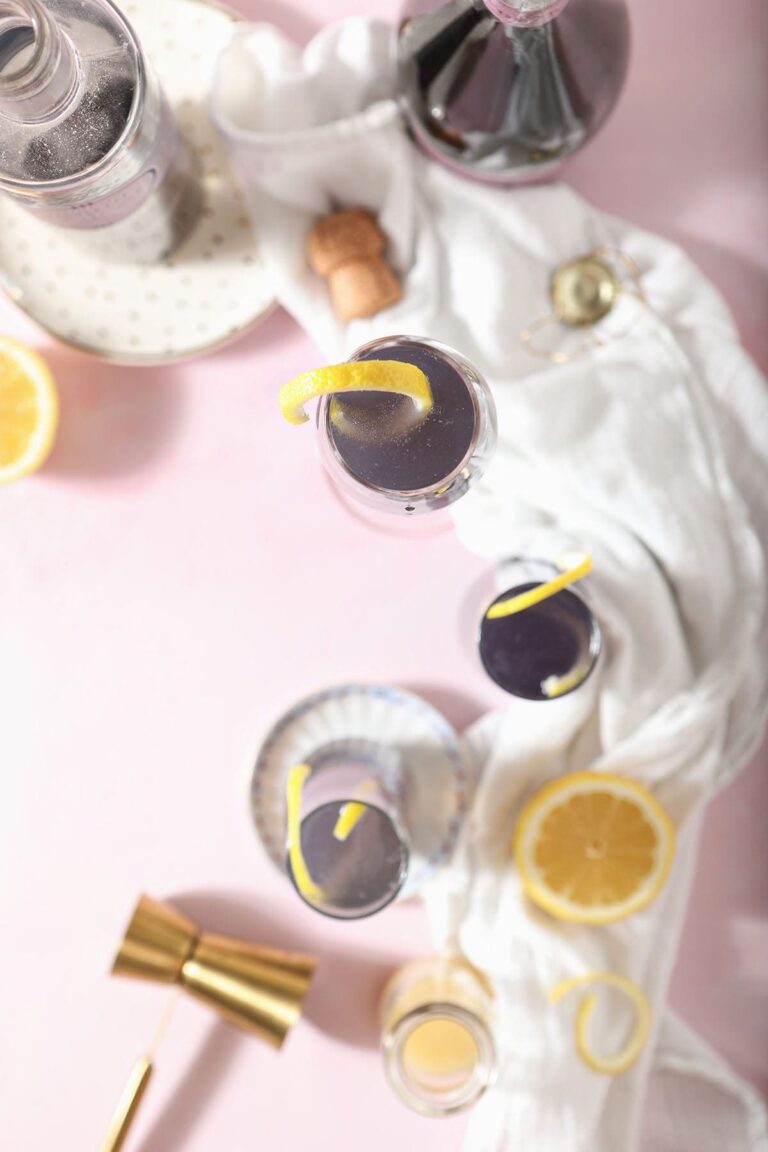 Frequently Asked Questions
What does Creme de Violette taste like?
Creme de Violette, also known as liqueur de violette, is light, floral and a little citrusy.
What is Creme de Violette made of?
Creme de Violette is made with violet flowers. Some are mixed with vanilla or fruit to add some sweetness to the liqueur.
What can I use instead of Creme de Violette?
There is no substitute for Creme de Violette, unfortunately.
Can I serve this drink on ice?
If your champagne isn't cold enough, yes, you most certainly can. We try to put our champagne "on ice" (AKA in the coldest part of our wine fridge) about a day before we make this so it's nice and cold.
Why do you put champagne in the ice bucket?
Once your champagne is open, pop it into an ice bucket to keep it cold!
Other creme de violette cocktails to try: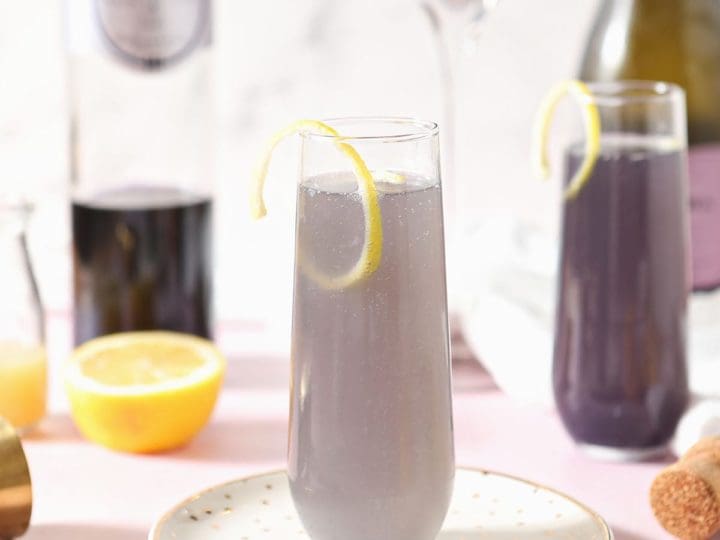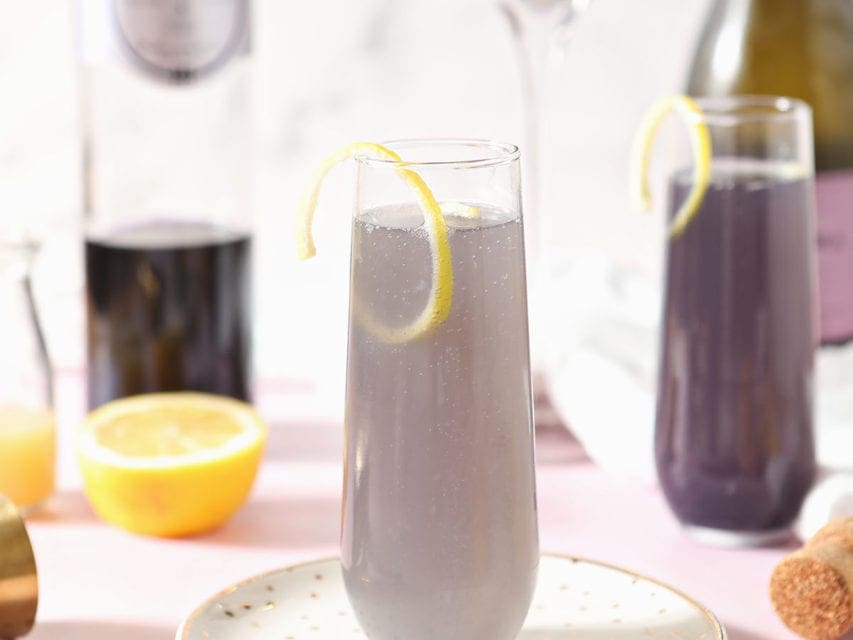 Yield:

1 cocktail
Princess Violette Cocktail
The Princess Violette Cocktail makes the PERFECT warm weather brunch drink with its bubbliness and lemon zing! The color of lavender, this combination of exotic creme de violette, champagne and lemon juice is invigorating and slightly sweet. Inspired by a libation at a Dallas brunch mainstay and born out of the love of champagne, this cocktail is sure to be well-loved during hot months when a bubbly drink is equally refreshing and delicious!
Ingredients
1 oz. creme de violette liqueur
½ oz. lemon juice, freshly squeezed
Champagne, for topping
Lemon peel, for garnish
Instructions
In a champagne glass, measure in the creme de violette and the lemon juice.
Top off with cold champagne.
Garnish with lemon peel.
Enjoy immediately.
Recommended Products
As an Amazon Associate and member of other affiliate programs, I earn from qualifying purchases.
Nutrition Information:
Yield:
1
Serving Size:
1 cocktail
Amount Per Serving:
Calories:

213
Total Fat:

0g
Saturated Fat:

0g
Trans Fat:

0g
Unsaturated Fat:

0g
Cholesterol:

0mg
Sodium:

12mg
Carbohydrates:

13g
Fiber:

1g
Sugar:

9g
Protein:

0g