The BEST Lemonade Recipes for Kids
Whether you're looking for the best lemonade recipes to make with your kids or the best ones to sip together, we've got ideas for you here! From the classics to more unique spins, including fruity and herbal varieties, there are 15+ lemonade recipes here and a little bit of something for everyone.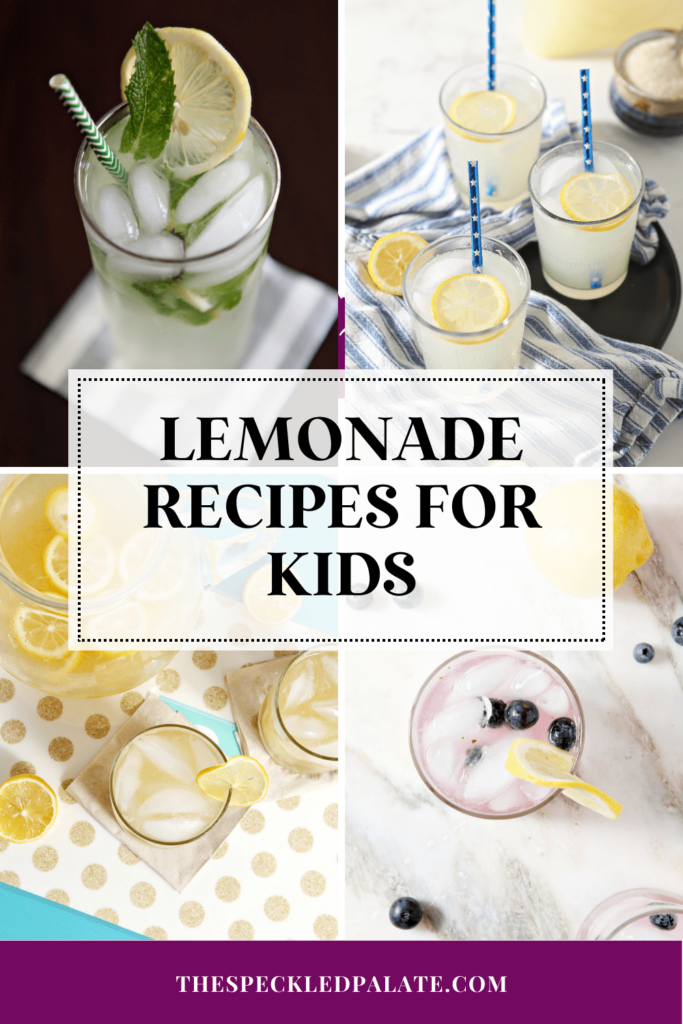 We all LOVE lemonade over here, especially for a hot summer day, so I thought it would be fun to talk about different lemonade recipes to make and enjoy with your kids.
These are also some excellent recipes to serve at lemonade stands, in case that's something that your kids are into. (Mine are. Wholeheartedly.)
This delicious drink is something we all know and love and a fun treat to make and share… so why not make a pitcher (or two!) this summer.
Check out our favorite tips and tricks for freshly squeezed lemonade below, as well as some of our favorite recipes.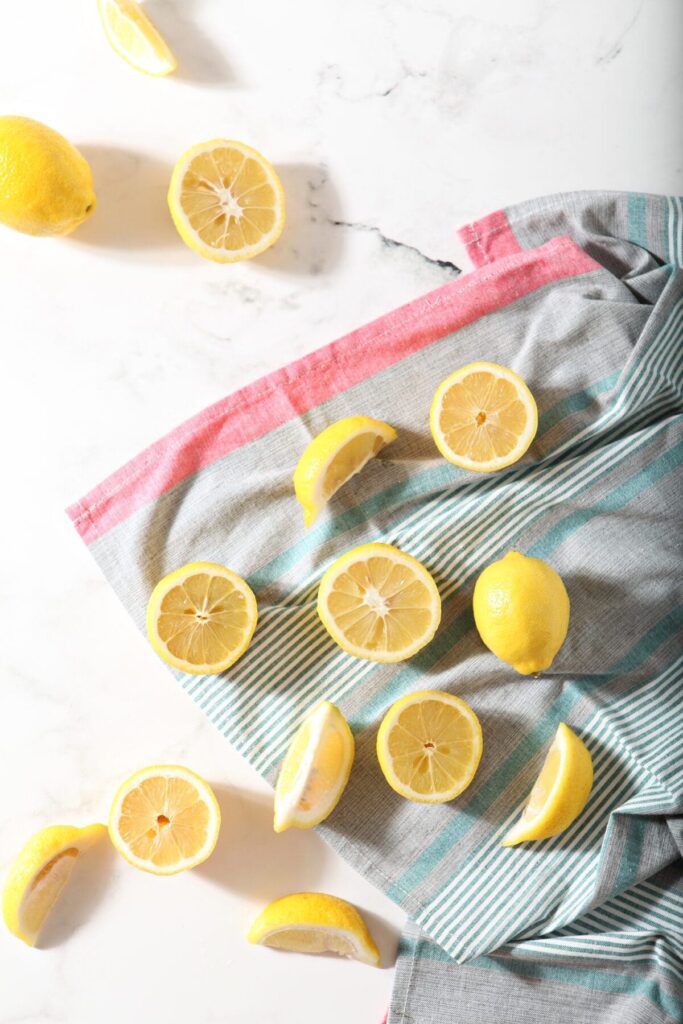 Tools to make lemonade:
The Speckled Palate participates in affiliate programs. As an Amazon Associate, I earn a commission from qualifying purchases. Please refer to my disclosure page for more information about these affiliate programs.
Lemonade ingredients:
Obviously, these ingredients and tools will be slightly different for what type of lemonade you're actually making, but there are some general things you'll need to have on hand…
Fresh lemons for freshly squeezed lemon juice — the shelf-stable variety you can find at the grocery store won't do. Juice the lemons yourself or find the cold pressed fresh lemon juice at the store. It normally hangs out by the pre-cut fruits in the refrigerated section.
Water — if you drink your tap water, just use that! You don't need fancy water to make simple syrup.
Sweetener — some lemonade recipes call for granulated sugar to sweeten them while others use simple syrup, which is also known as sugar syrup. I prefer using simple syrup because you don't have to wait for the sugar to dissolve, but it all works! I'm not a fan of sugar substitutes, but there are some fabulous recipes for sugar-free lemonade.
Pro tip!
Large lemons will yield more juice than small ones. We like to purchase a bag of lemons since you need a LOT of lemons to make a fresh lemonade recipe.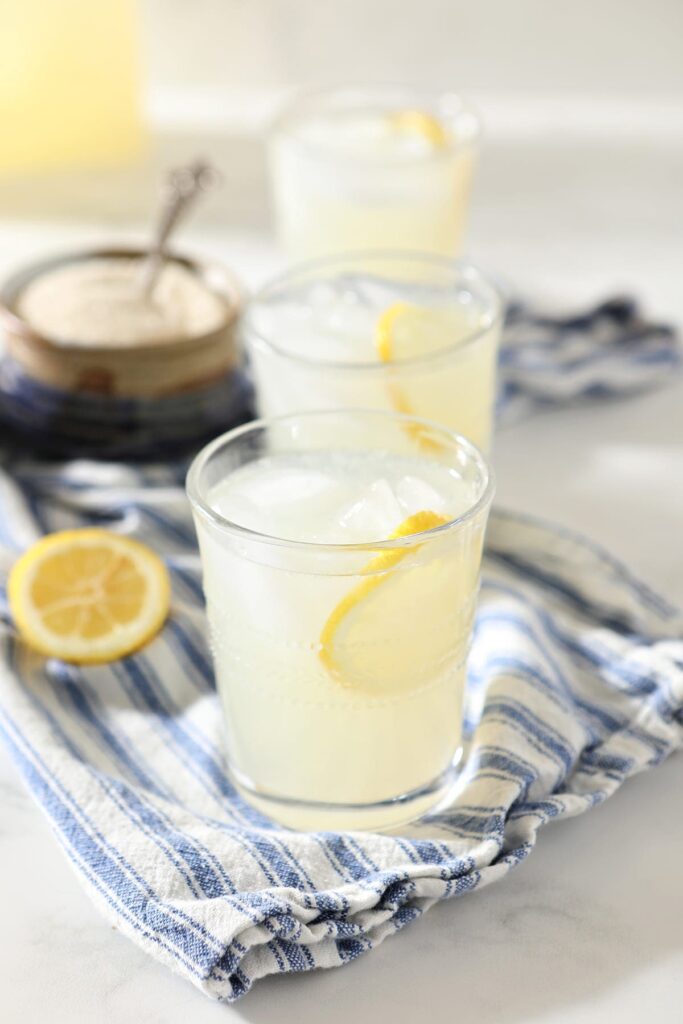 The lemonade ratio
For me, I really like to use 5 cups of cold water to 1 cup of lemon juice. (Freshly squeezed, please and thank you.) I tend to use about 1/2 cup of liquid sweetener in this ratio, though it varies from recipe to recipe.
For example, in my strawberry lemonade recipe, I use fresh strawberries and granulated sugar to sweeten the recipe.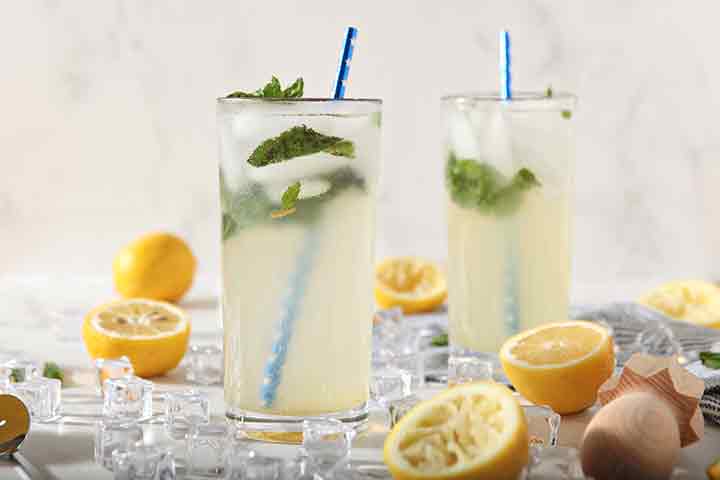 Erin's Easy Entertaining Tips
Lemonade is one of those classic summertime drinks to have around… always!
Whether you're hosting a lemonade stand for kids or simply want to make a big 'ol batch to share with your people when it's HOT outside, I've got some tips and tricks for you here.
If the recipe calls for simple syrup, make the syrup days in advance. It keeps in the fridge and doesn't go bad, so this is an easy win.
Juice the lemons in advance… or purchase a jar of freshly squeezed lemon juice in the refrigerated fruit section of your grocery. This'll make it easier to put the lemonade together before guests arrive.
Double or triple the recipe if you're going to be serving a lot of people. After all, nobody wants to stop having fun to squeeze some lemons for more lemonade.
Have a bowl of lemon slices and reusable straws to serve alongside the lemonade pitcher!
Tips for juicing lemons:
Here are a few of my favorite tips and tricks about juicing lemons. They come in handy when you're making a pitcher of homemade lemonade.
Use room temperature lemons. Cold lemons won't give as much juice as a room temperature one. If you keep your lemons in the fridge, let it come to room temperature, or pop it in the microwave for 20 seconds to get it to warm up.
Roll the lemon on the countertop before slicing. This will bring the juices to the surface.
Slice the lemon down the equator, not from the stem to the tip.
Don't just squeeze the lemon halves with your hands… use a citrus reamer or a juicer to get that juice out of it. Personally, I like a lemon reamer better.
Tips and tricks for the BEST homemade lemonade recipe:
Don't add ice cubes to your pitcher! They'll water down the lemonade. Add ice to individual glasses right before serving.
Double or triple a recipe to make a HUGE batch of lemonade for sharing.
Use real lemons. That'll provide the best flavor to these fresh lemonade recipes.
Curious to see some of our favorite easy lemonade recipes?
The BEST Lemonade Recipes for Kids
Whether you're looking for the best lemonade recipes to make with your kids or the best ones to sip together, we've got ideas for you here! From the classics to more unique spins, including fruity and herbal varieties, there are 15+ lemonade recipes here and a little bit of something for everyone.
Fresh Squeezed Lemonade is one of the best things about the summer months. This refreshing 3-ingredient homemade lemonade recipe is so simple to make at home that you'll never go back to the pre-made stuff!
Watermelon Lemonade is a fresh and delicious summer drink that is perfectly balanced. Made with fresh watermelon and three other simple ingredients, this watermelon drink recipe is perfect for sharing.
Lavender Lemonade is a refreshing, floral and balanced drink to make all summer long. All you need are three ingredients, including homemade lavender simple syrup, to make this easy lemonade recipe.
Instead of making regular lemonade this summer, let's mix up some sweet Strawberry Lemonade! This refreshing lemonade, made with fresh berries, is the perfect way to cool down on a hot summer afternoon.
The thermometer is climbing as the warm summer temperatures arrive. To combat the heat, we should cool down with a glass of this large-batch Blueberry Lemonade, which strikes the perfect balance of sweet and tart.
Photo Credit: braziliankitchenabroad.com
Brazilian Lemonade is refreshing and perfect to drink to cool off on a hot day! It's simple to make, ready in less than 5 ingredients and calls for just TWO ingredients.
Photo Credit: houseofnasheats.com
This lemonade recipe with fresh blackberries adds a fun berry twist to the classic summer drink. Everyone loves this easy lemonade recipe.
Photo Credit: www.soulfullymade.com
A copycat recipe from a beloved fried chicken restaurant, this chilly lemonade recipe is great for a scorching day!
Photo Credit: www.stetted.com
Lemonade and vanilla together are so delicious and unique! This fun twist on a classic lemonade is simple to make and wonderfully fresh.
Photo Credit: www.thefreshcooky.com
If you and yours love tea and lemonade together, this recipe is for you! A copycat recipe from a beloved coffee shop, this is a unique recipe to try this summer.
Naturally Sweetened Lemonade Recipes
If you want your lemonade to be sweetened with something that's not simple syrup or sugar, we've got a few ideas for you!
Cool down with a glass of naturally sweetened Mint Lemonade this summer. This tart and refreshing twist on a classic calls for very few ingredients, and is sweetened with agave.
This refined sugar-free and paleo-friendly Honey Lemonade is so refreshing! A mix of tart lemon juice, honey simple syrup and water, this drink is perfect to enjoy on a hot summer's day!
Naturally sweetened, vegan Mixed Berry Mint Lemonade is the perfect drink to make for an outdoor soiree or picnic! Raspberries, blackberries and blueberries are muddled with fresh mint, then mixed into the lemon juice, water and agave nectar base to create this crisp and delicious lemonade!
Photo Credit: joyfullymad.com
Made with freshly squeezed oranges and lemons, this Honey Orange Lemonade is naturally sweetened! Learn how to make a quick honey simple syrup and then a pitcher of this deliciousness.
Photo Credit: www.thefoodieaffair.com
The tartness of fresh lemon juice paired with the floral flavors of hibiscus makes this lemonade extra special. Wouldn't it be lovely to serve at a party or a lemonade stand?