Refreshing Blueberry Lemonade is the perfect summertime sipper. This homemade blueberry lemonade recipe is perfect for easy entertaining, whether you're hosting a backyard barbecue, a baby shower or simply inviting friends to your house just because. Makes 12 servings.
If you love, love love Blueberry Lemonade, you should also give my Arnold Palmer Iced Tea Lemonade Mocktail, Sweet Sunrise Mocktail and Strawberry Lemonade a try this summer.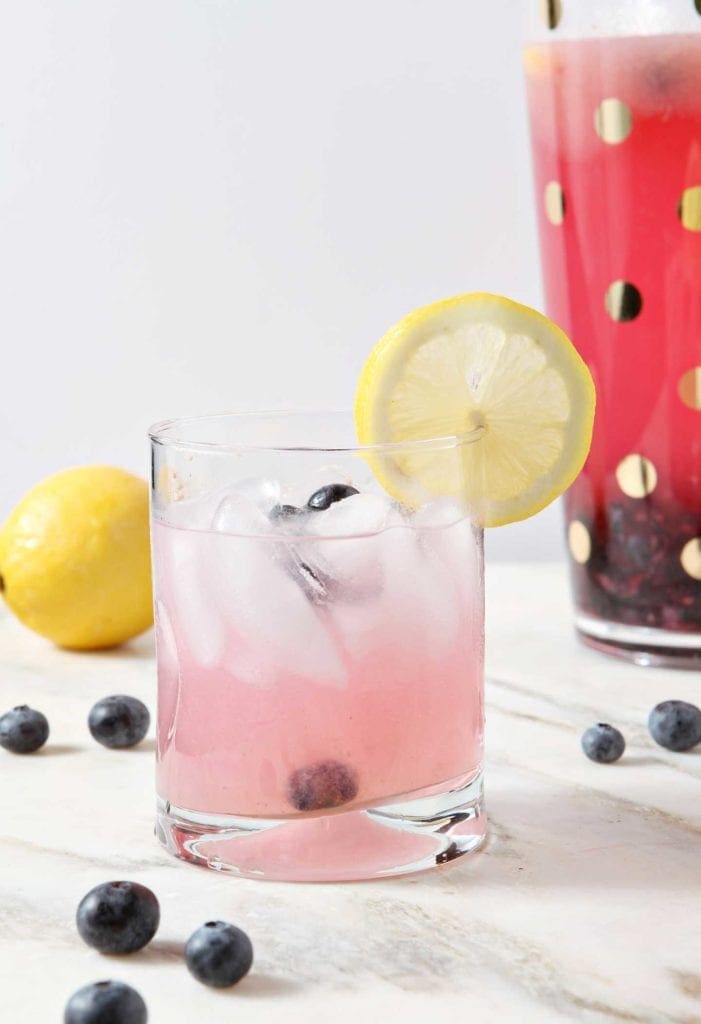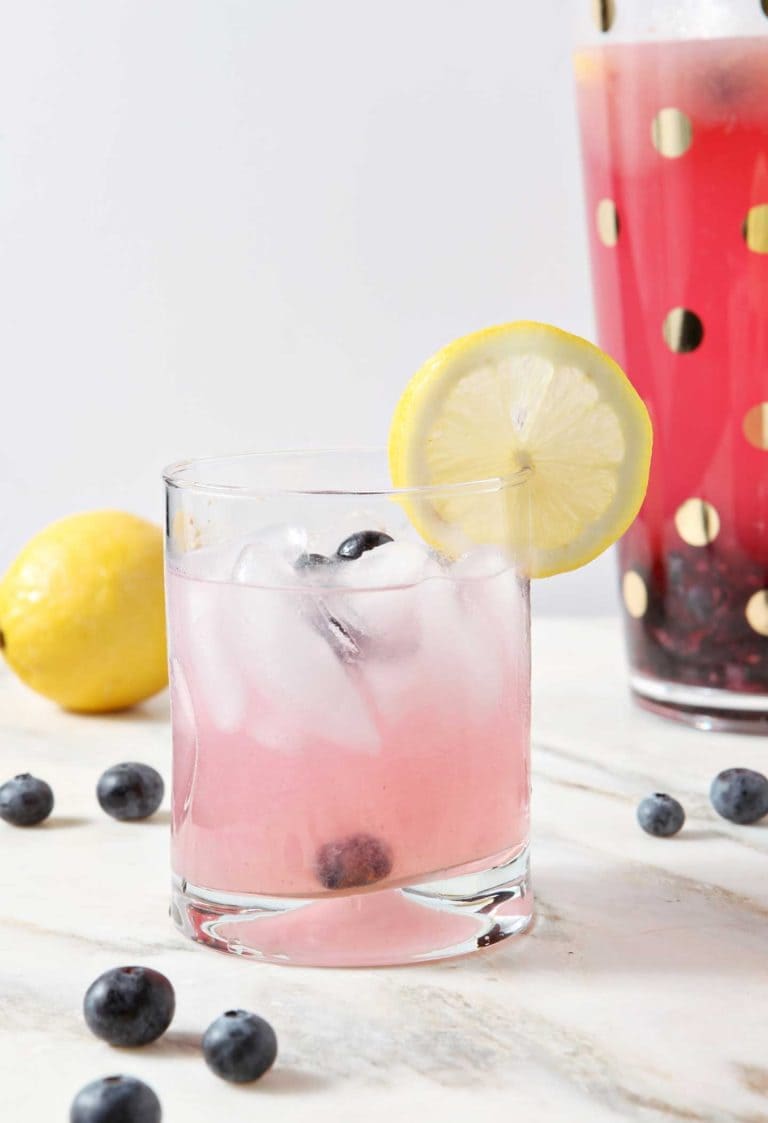 In my opinion, the best way to combat the oncoming summer heat is to have a go-to warm weather drink.
My drink this year is Blueberry Lemonade.
Last week, I picked up a giant box of blueberries, as well as two large bags of fresh lemons, in preparation for the baby shower we hosted this past weekend.
Our friends are having a boy, so I wanted a drink that was appropriately colored (even if the muddled blueberries leave this drink a little pinkish/purple), as well as something refreshing and non-alcoholic for our guests to enjoy!
Why I love this recipe:
A take on my Strawberry Lemonade recipe, I made this homemade Blueberry Lemonade recipe the day before the shower.
I knew the preparations were going to get a little crazy the day-of, and I wanted to give myself as much time as possible to pull things together on Saturday.
Since this lemonade was made the day before the party, I didn't have to fret about squeezing lemons and muddling blueberries while balancing the remaining party prep.
Unsurprisingly, the shower was a smashing success!
And this Blueberry Lemonade was well-loved, too! It's got a good balance between sweet and tart, and it is incredibly refreshing for the hot days ahead.
Other lemonade recipes we adore during the summer months: Vodka Lemonade with Raspberry | Homemade Mint Lemonade | Cherry Lemonade Margaritas | Mixed Berry Mint Lemonade | Spiked Blueberry Lemonade | Fresh Squeezed Lemonade | Watermelon Lemonade | Lavender Lemonade
Looking for another refreshing summer drink? Be sure to check out my Nonalcoholic Drinks Recipe Index.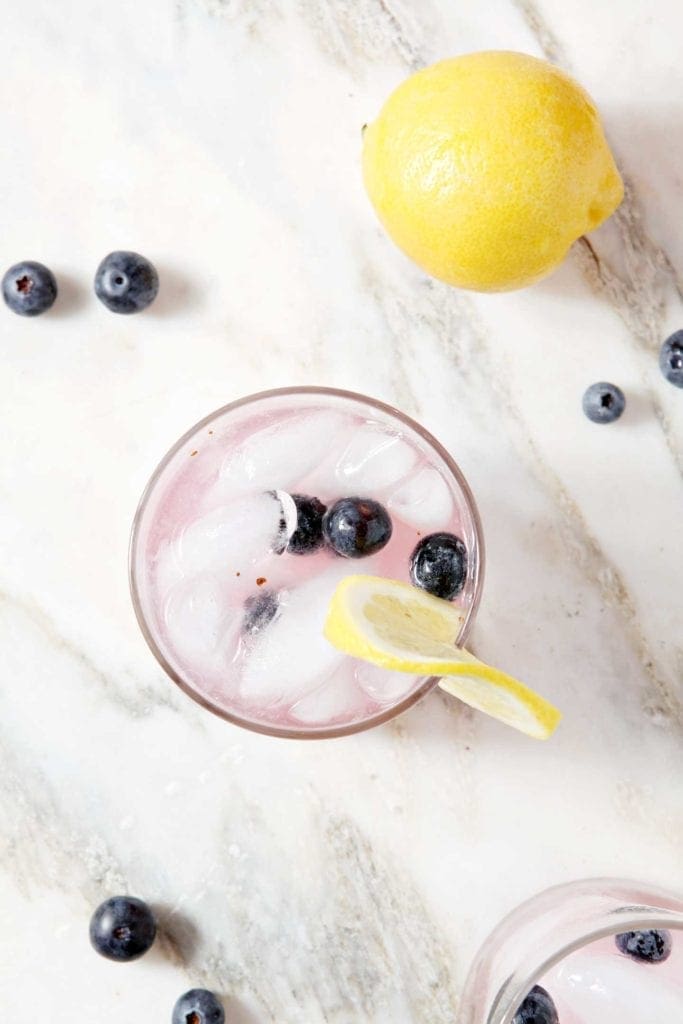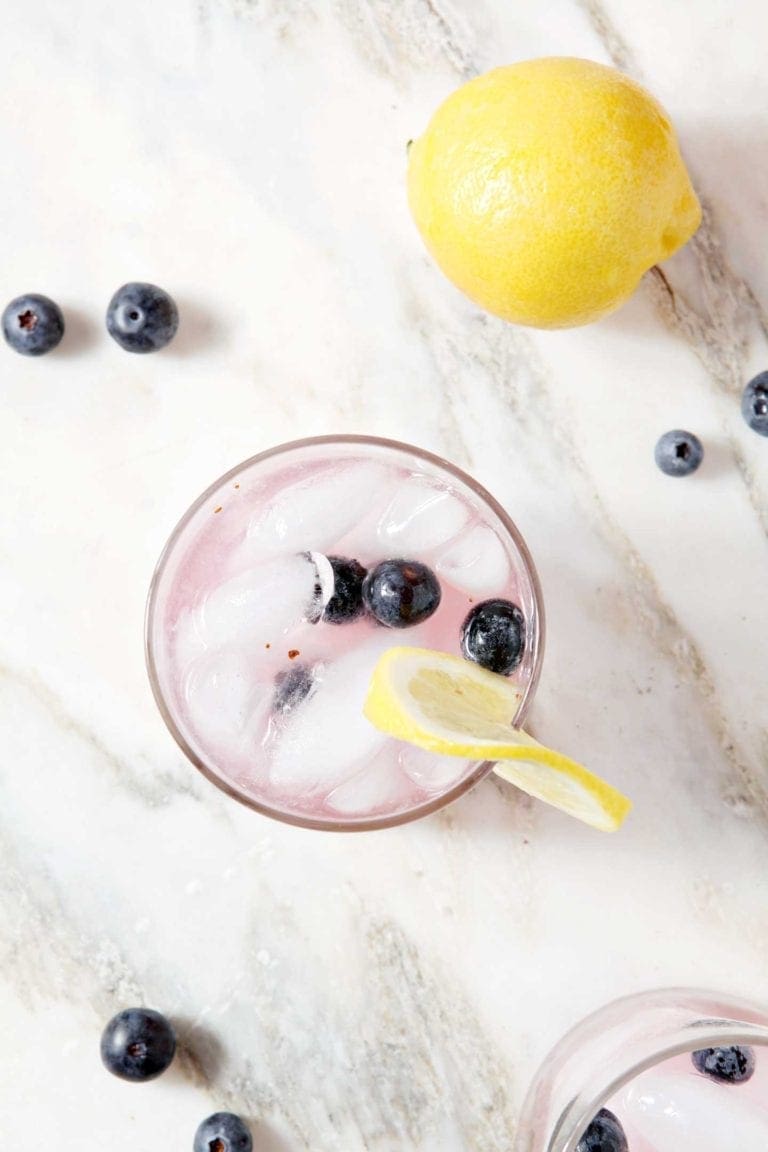 What you need to make Homemade Lemonade with Blueberries
Disclaimer: The links below are affiliate links. If you click through and take action, I will receive a small commission. Please refer to my disclosure page for more information about the affiliate programs The Speckled Palate participates in.
In addition to these tools, you're going to need a few ingredients to make this lemonade recipe:
Simple syrup—you can make homemade simple syrup or you can purchase the bottled kind from the store, if that's easier
Water—this is going to dilute our lemon juice, so it's important!
Freshly squeezed lemon juice—the shelf-stable stuff at the store just don't do. The only way to "cheat" is if you find cold pressed lemon juice in the refrigerated section of the grocery store. That's
Fresh blueberries—for the blueberry flavor and the gorgeous pink color. If you can't find juicy, fresh blueberries, you can use frozen ones. Just be sure that they're defrosted before you muddle them.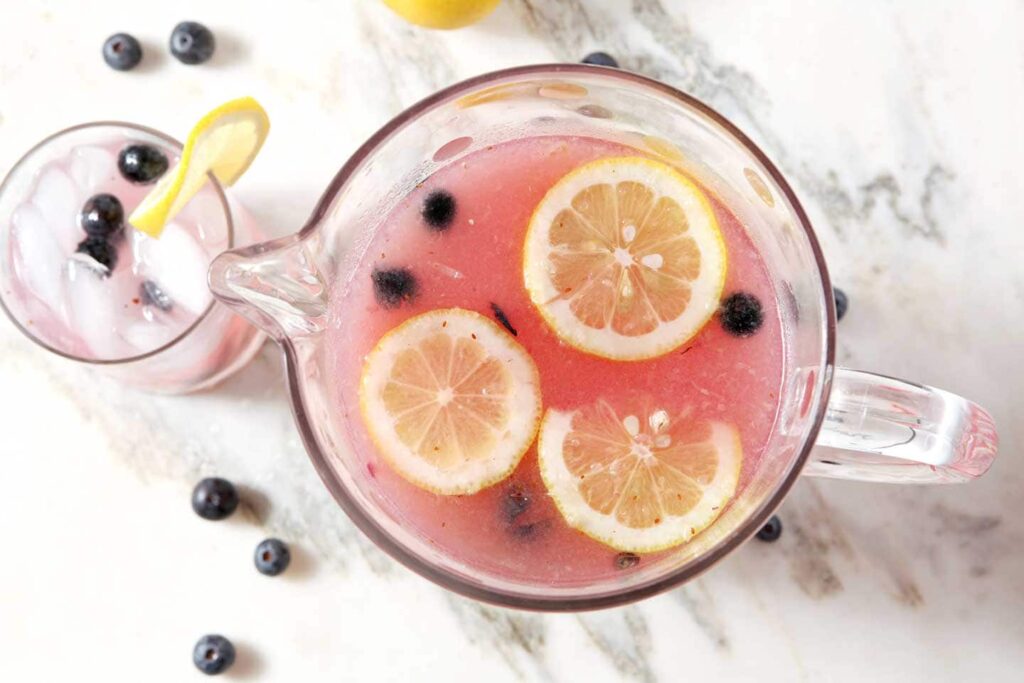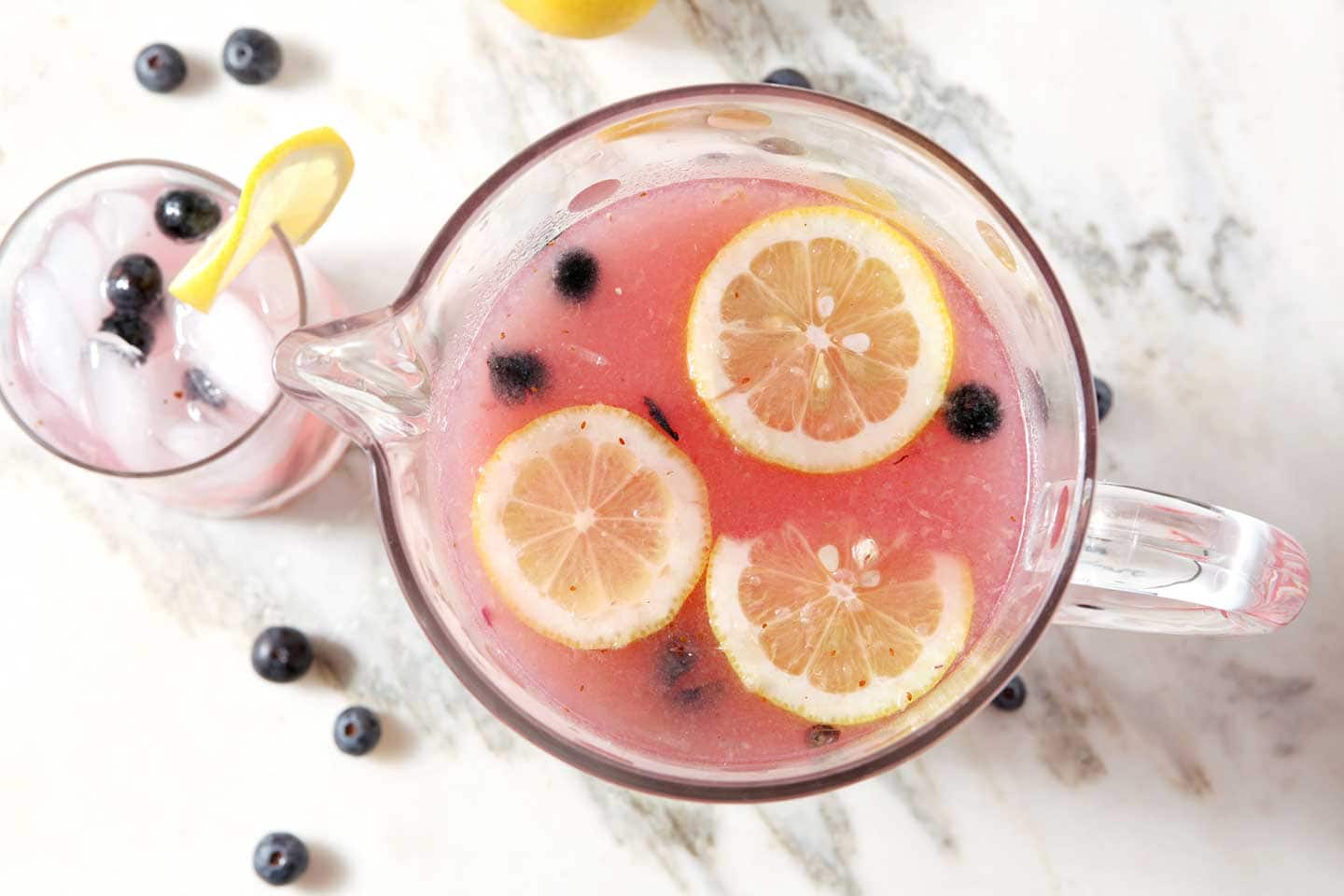 How do you make blueberry lemonade from scratch?
Make The Simple Syrup
In a saucepan over high heat, combine equal amounts of water and granulated sugar. Raw (turbinado) sugar works, too, though I do not recommend using brown sugar for this step.
As the mixture heats, swirl it gently until the sugar completely dissolves, and then turn off the heat.
Set this aside. You can make this 1-2 days in advance, and transfer it to a mason jar and keep it cool in the fridge once it's cooled to room temperature.
Make The Lemonade
First and foremost, squeeze your lemon juice! (You can also make this step easier on yourself by purchasing freshly squeezed lemon juice from the store OR using an electric citrus juicer.) This is the most time-consuming step and will take you a while if you're doing this by hand since you'll only get 1-2 oz. of juice per lemon.
Measure out the blueberries into a small bowl. Use a muddler to mush them up, and set aside. This is a really fun step for kids to complete if you've got tiny kitchen helpers on hand.
In a large pitcher, combine the water, simple syrup, lemon juice and muddled blueberries. Stir them together with a large spoon until combined.
Chill for a few hours or serve over ice! You can also add frozen blueberries as "ice cubes" to keep this pitcher cold for guests!
Pro tip: If you're chilling the blueberry lemonade overnight, strain the lemonade before serving to remove the pieces of the blueberries, as well as extra lemon pulp.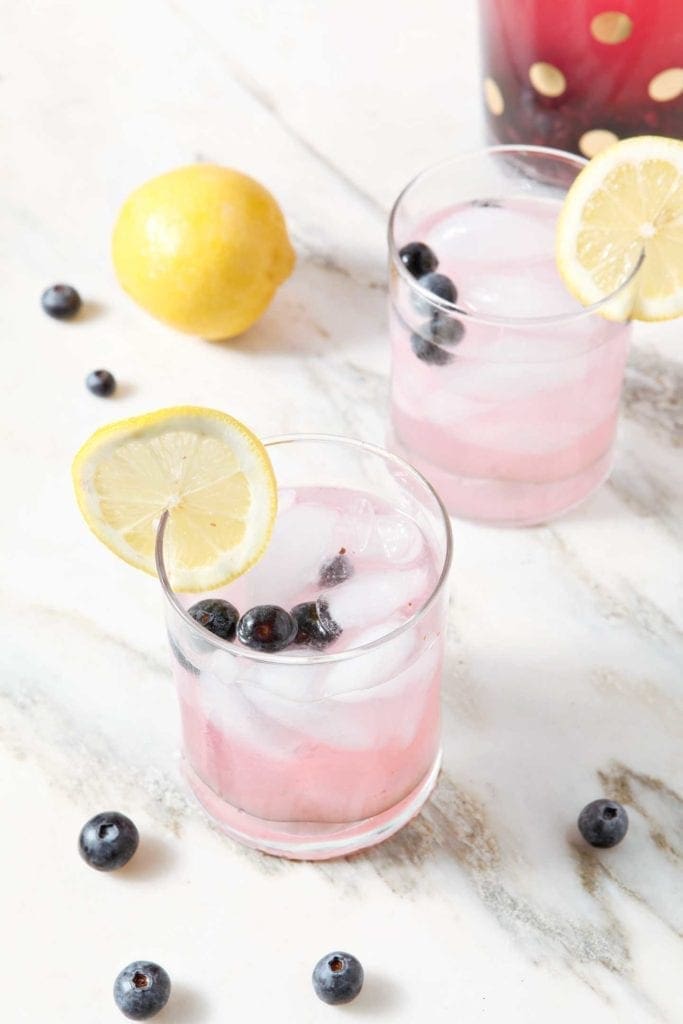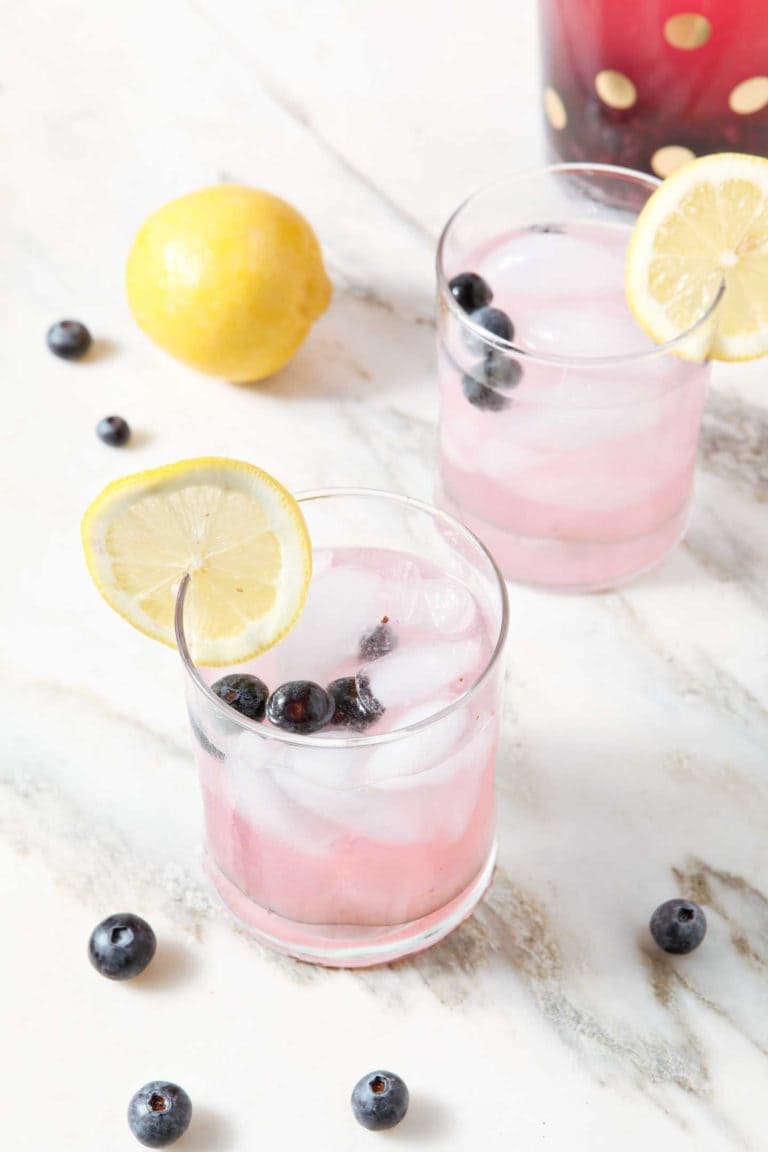 Erin's Easy Entertaining Tips
As I previously stated, Blueberry Lemonade (or any large batch lemonade recipe) is really fantastic for entertaining in the summertime. (Think, like a Backyard Barbecue!)
Entertaining should be fun, so you want to make hosting easy on yourself. Which means… a few simple shortcuts can make all the difference in your attitude and mentality leading up to your gathering. And since I know you want to have fun, here's what I like to do:
Make it in advance. And don't be afraid to use shortcuts, like store-bought freshly squeezed lemon juice.
Serve with blueberry "ice cubes." A pitcher drink should stay cold without getting watered down, and frozen fruit is a fabulous way to do just this! It adds color, too!
Set it on a bar… and forget it! Since this makes such a large amount of lemonade, unless you're hosting a ton of folks, you can let this hang out on the bar for guests to serve themselves without you worrying about it running out. And if you're concerned about it running out, make a second pitcher in advance to ease those woes.
If you're going to juice your own lemons, I salute you and your arm strength.
Here are some thoughts on getting the most juice out of the lemons you have:
The Best Tricks for Juicing a Lemon
Don't juice a cold lemon. A cold lemon won't give as much juice as a room temperature one. If you keep your lemons in the fridge, let it come to room temperature, or pop it in the microwave for 20 seconds to get it to warm up.
Roll the lemon on the countertop because this will bring the juices to the surface.
Slice the lemon down the equator, not from the stem to the tip.
Don't just squeeze it with your hands… use a citrus reamer or a juicer to get that good juice out of it. Personally, I like a lemon reamer better.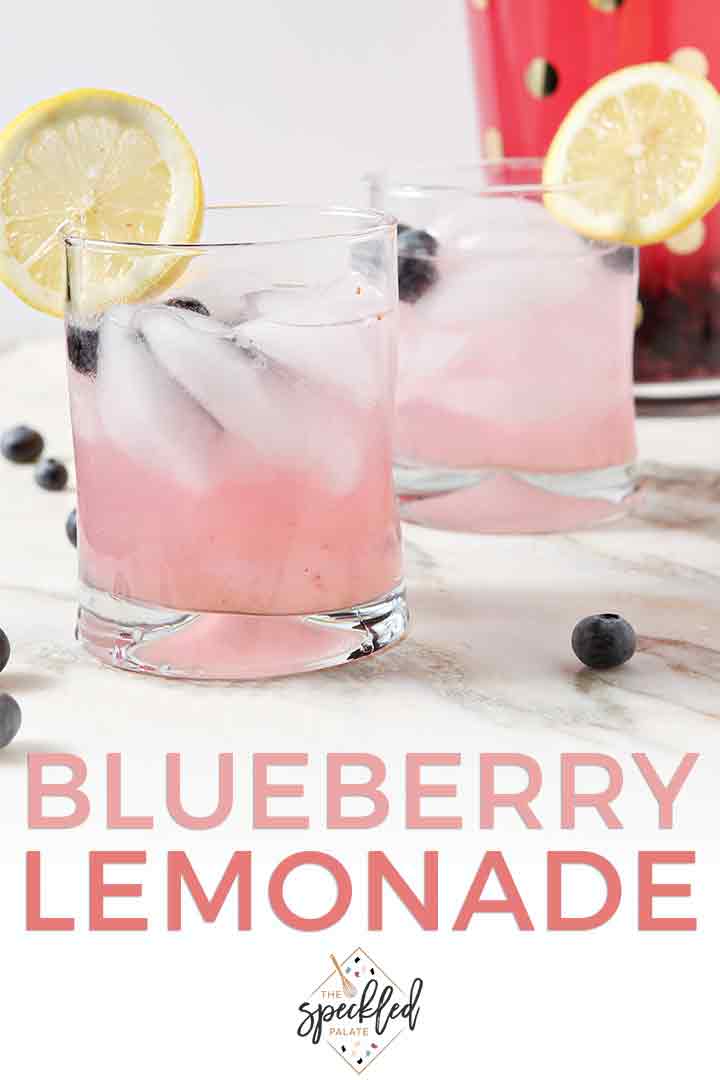 Looking for an easy entertaining dishes to pair with blueberry lemonade?
Here are some of our favorite summertime recipes to make and serve alongside this homemade lemonade recipe at a casual gathering.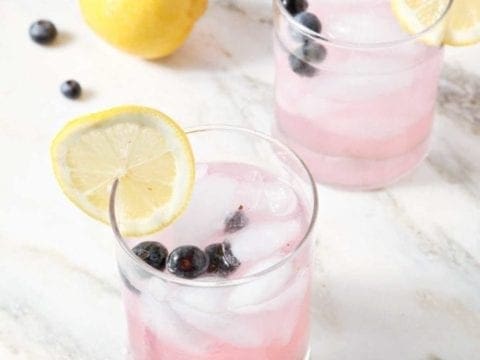 Yield:

10 servings
Blueberry Lemonade
The thermometer is climbing as the warm summer temperatures arrive. To combat the heat, we should cool down with a glass of this large-batch Blueberry Lemonade, which strikes the perfect balance of sweet and tart.
Ingredients
Simple Syrup
1 cup water
1 cup granulated sugar
Lemonade
Simple Syrup, recipe above
10 cups water
2 cups lemon juice, freshly squeezed
2 cups blueberries
Instructions
Make the Simple Syrup
In a saucepan over high heat, combine the water and granulated sugar.
Swirl the mixture around the pan until the sugar dissolves.
When the sugar has dissolved, remove from the heat, and set aside.
Make the Lemonade
In a large glass container, combine the water, simple syrup, freshly squeezed lemon juice and muddled blueberries.
Stir with a large spoon until combined.
Chill overnight or pour over ice.
If chilling overnight, strain the lemonade before serving, removing bits and pieces of blueberries, as well as lemon pulp, if need be. (Or leave them in if you don't mind it!)
Chill with the frozen blueberries, and serve cold.
Notes
This recipe can be halved to create a smaller batch of lemonade.
Recommended Products
As an Amazon Associate and member of other affiliate programs, I earn from qualifying purchases.
Nutrition Information:
Yield:
10 servings
Serving Size:
1
Amount Per Serving:
Calories:

161
Total Fat:

0g
Saturated Fat:

0g
Trans Fat:

0g
Unsaturated Fat:

0g
Cholesterol:

0mg
Sodium:

23mg
Carbohydrates:

42g
Fiber:

1g
Sugar:

39g
Protein:

0g
Nutrition facts are an estimate and not guaranteed to be accurate.