Pulled Pork Coleslaw Eggrolls
This post is sponsored by Sprouts Farmers Market. As always, all opinions and recipe are my own. Thanks for supporting the brands that support The Speckled Palate!
A Southern classic combined with an Asian favorite makes this delightful mash-up. Homemade Pulled Pork (in a tangy barbecue sauce!) is made in the slow cooker, then creamy coleslaw, made with yogurt instead of mayo, is tossed together. Roll the pulled pork and coleslaw into eggroll wrappers, fry, then serve with the creamy coleslaw dipping sauce. Pulled Pork Coleslaw Eggrolls are a tasty appetizer to enjoy at a sports watching party!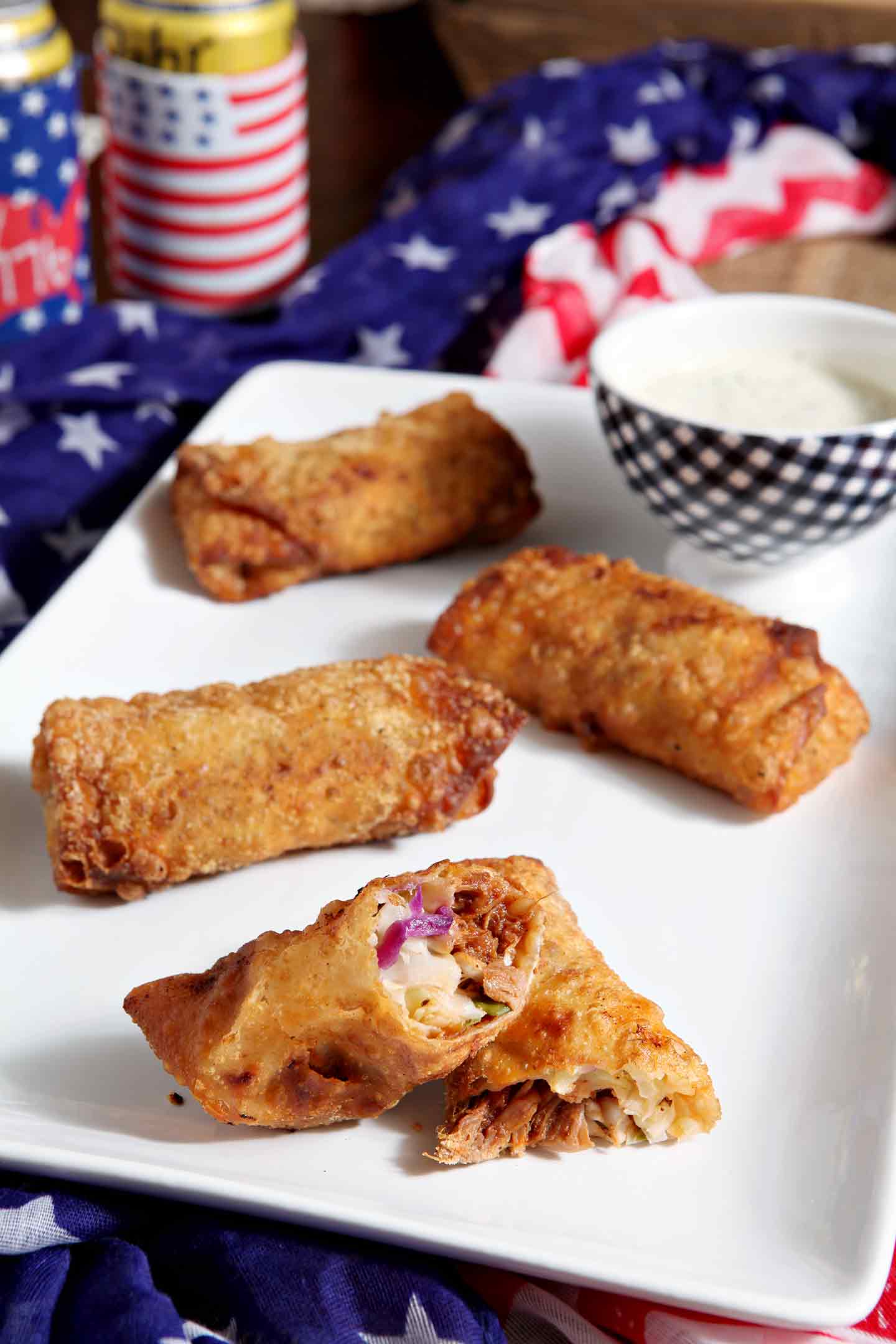 This post contains affiliate links. If you were to make a purchase through one, I would receive a small commission. For more information about the affiliate programs The Speckled Palate participates in, please refer to my disclosure page.
When I was a kid, I lived with my head in the clouds. I was (and still am) a huge dreamer.
So every two years when the games rolled around? I dreamt of competing for my country.
I desperately wanted to be a gymnast after watching the U.S. women in the '92 games. When we arrived at the gymnastics gym, I was told with no uncertainty that I was too tall.
I was in the second grade at the time, and I don't recall being a giant… but apparently, they knew I'd grow up to be the 5'7″ Amazon I am today.
Excuse me while I laugh a little. You can, too.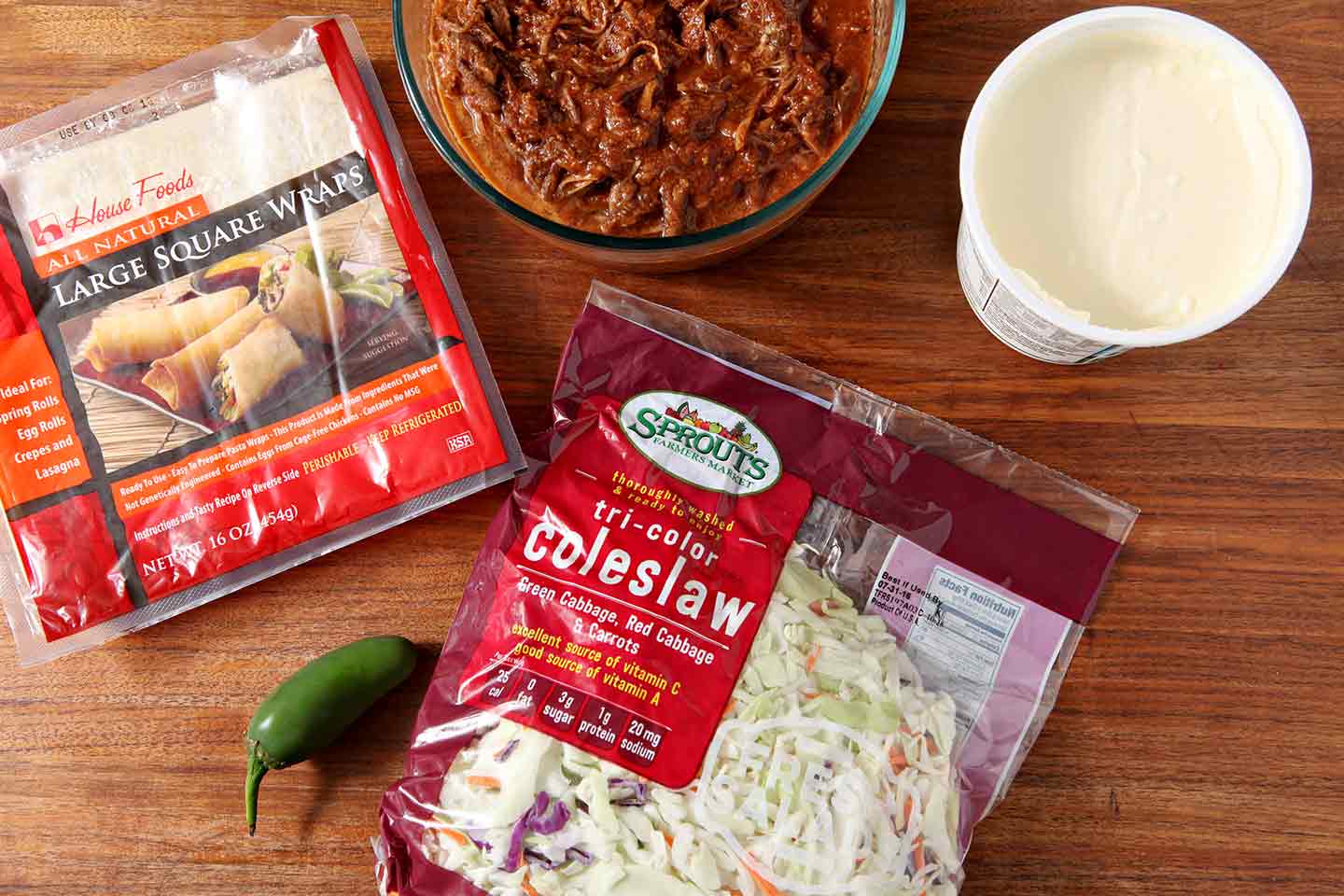 Their naysaying didn't kill the dream, though. While I never took gymnastics lessons, I played every sport I could. Basketball? Softball? Soccer? Track and field? Swimming? Volleyball? You name it, I probably played it.
My gymnastics dream was never realized, obviously, but whenever my parents, sister and I visited our family in Pennsylvania, we held gymnastics competitions in their backyard.
My sister, cousins and I practiced our beam routines, complete with a rope swing, which obviously made it way cooler, and our floor/dance routines.
Floor/dance was my weak point, as I still have no real grace when it comes to being on my feet. But the balance beam that my uncle built in their backyard with the rope swing? I was so good at it. We all were. And I recently stumbled upon a photo from that time and smiled at the sweet memories of cousinly competition.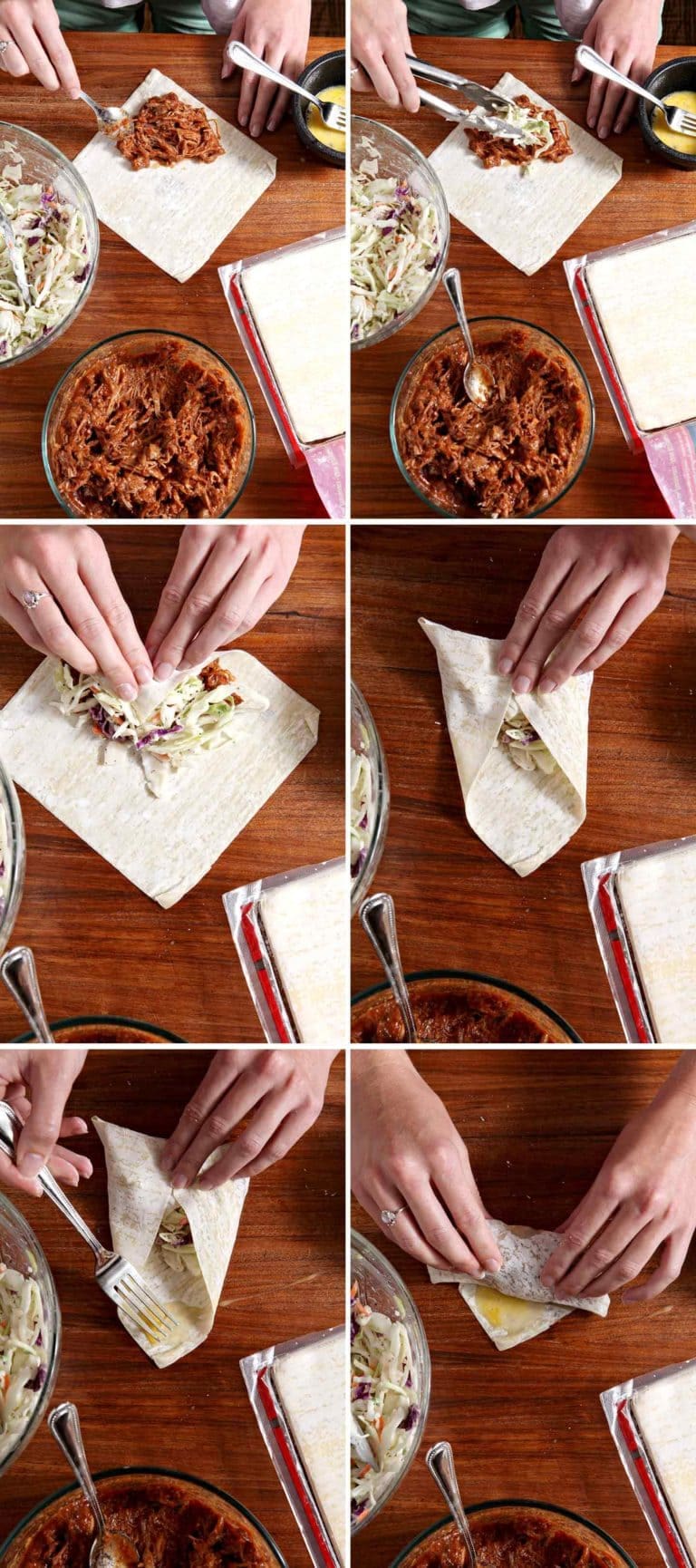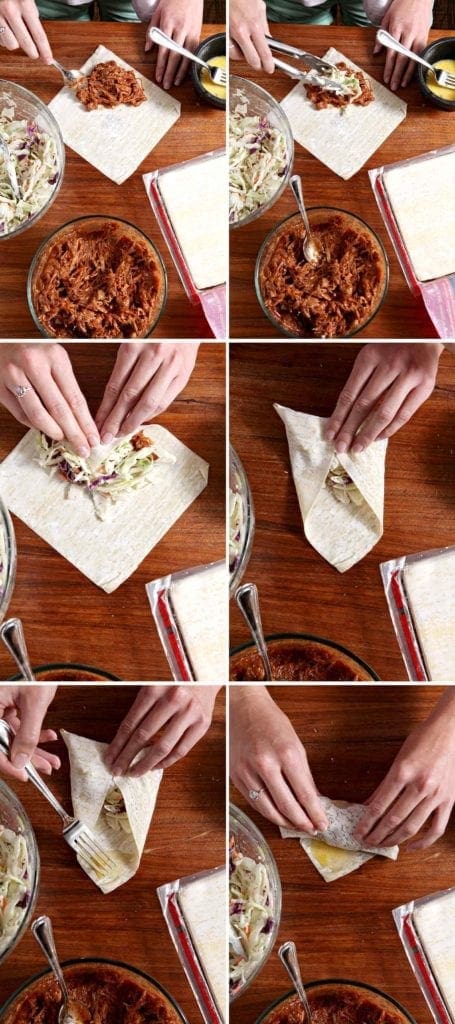 I obviously never made it to the summer or winter games, though I've continued pursuing athletic goals my entire life. Hell, I still do, even though I prefer competing against myself these days. That's probably for the best… even though I watch the beach volleyball players and am transported back to my years playing that sport and wonder… 😉
And every two years, I'm riveted as the games play on my TV. I adore watching the competition and learning about the athletes and how they arrived in their sport. I love the rich and oftentimes surprising backstories, the comeback tales, and watching records be shattered.
And I'm really excited for Opening Ceremonies to start this year's games tomorrow.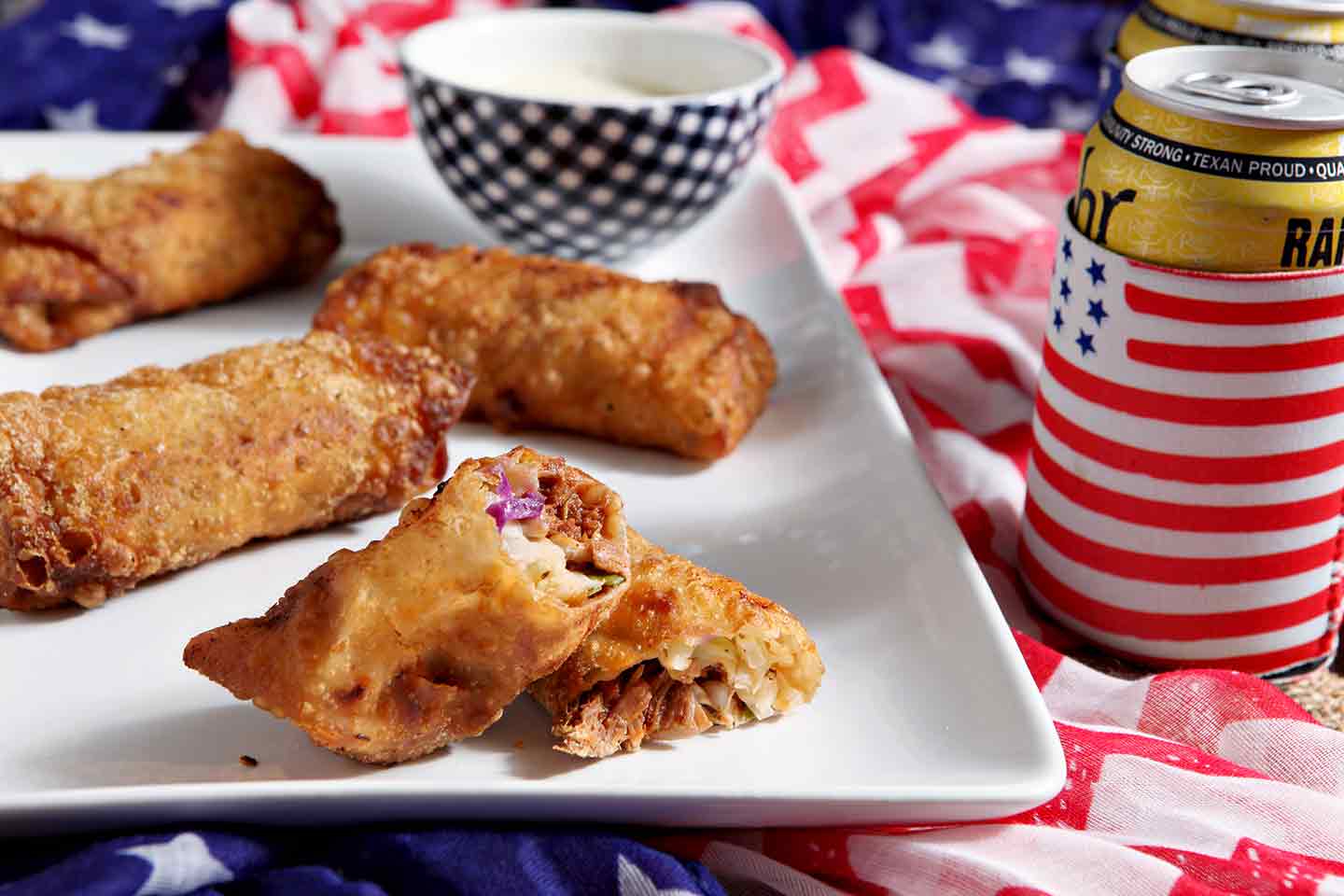 I was approached by the folks at Sprouts Farmers Market, who asked if I'd like to be a part of a collaboration with them and other bloggers.
The idea? Make a delicious appetizer or side dish to enjoy during the Opening Ceremonies and throughout the entirety of the games. Every dish should represent a country competing, and we were asked to choose what country we'd like to cook on behalf of.
I, of course, chose the U-S-A.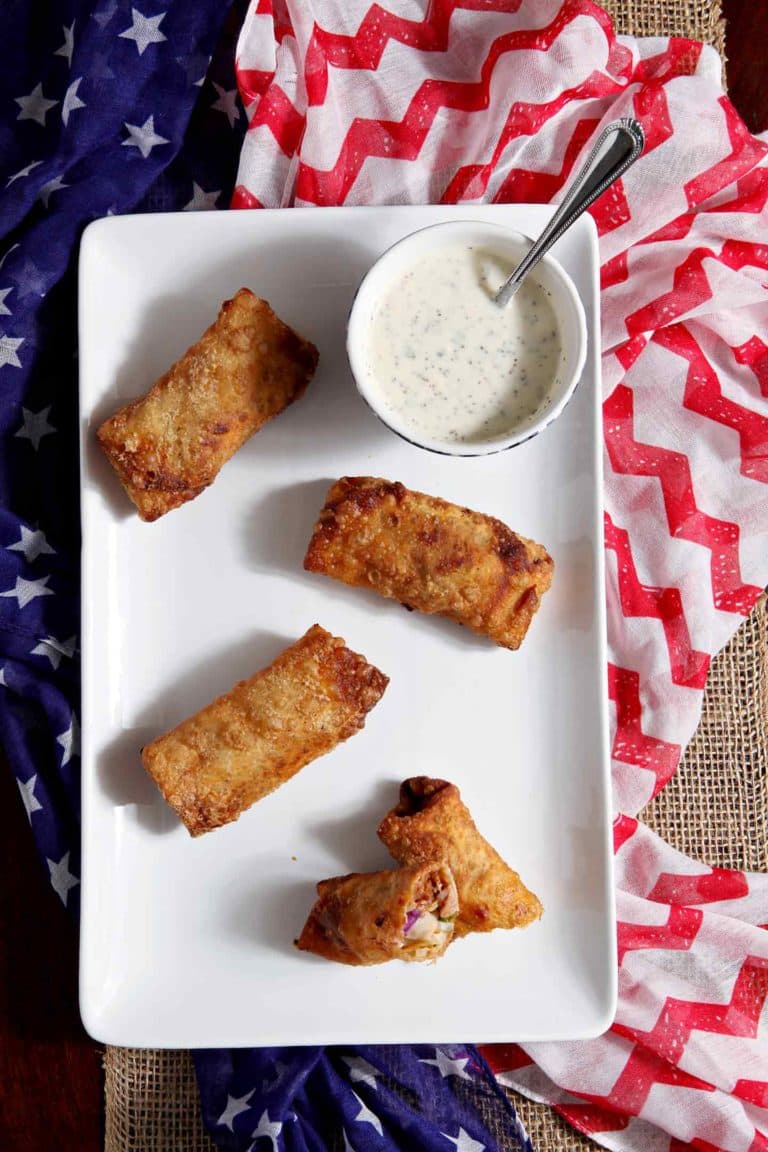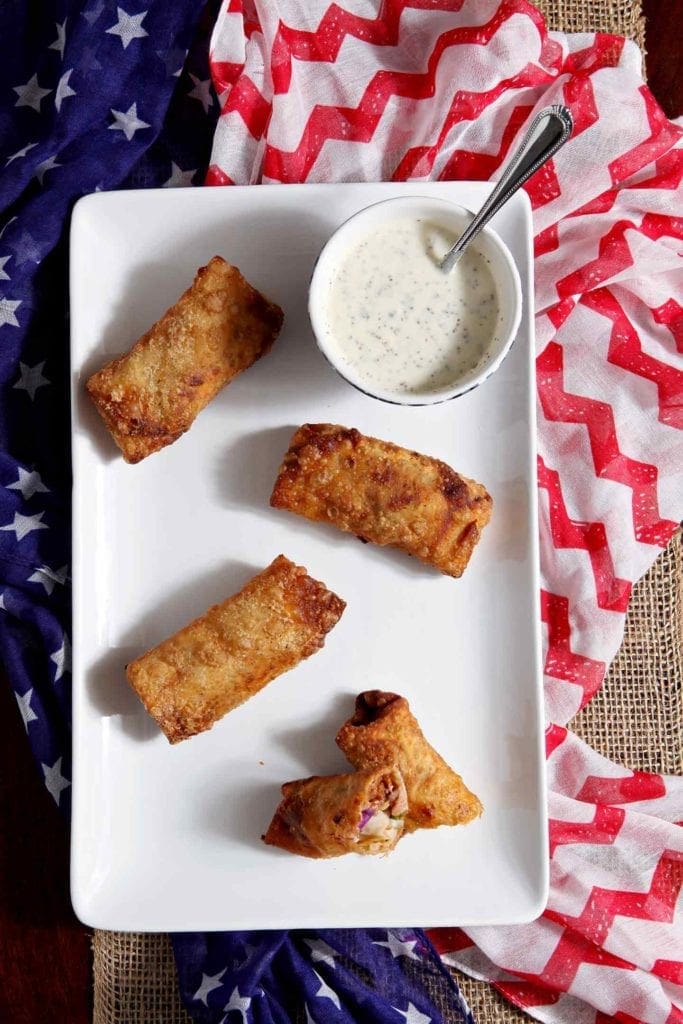 When I started thinking about what American dish I could make as an appetizer, I realized one of the many things I love about this country is that it's a melting pot. Many of us come from different cultural backgrounds. We all don't look the same. But we all bring something different to the table. We're Americans.
So instead of choosing a quintessential 'American' recipe, I wanted to combine two of my favorite cuisines into an all-American appetizer.
And that appetizer is Pulled Pork Coleslaw Eggrolls.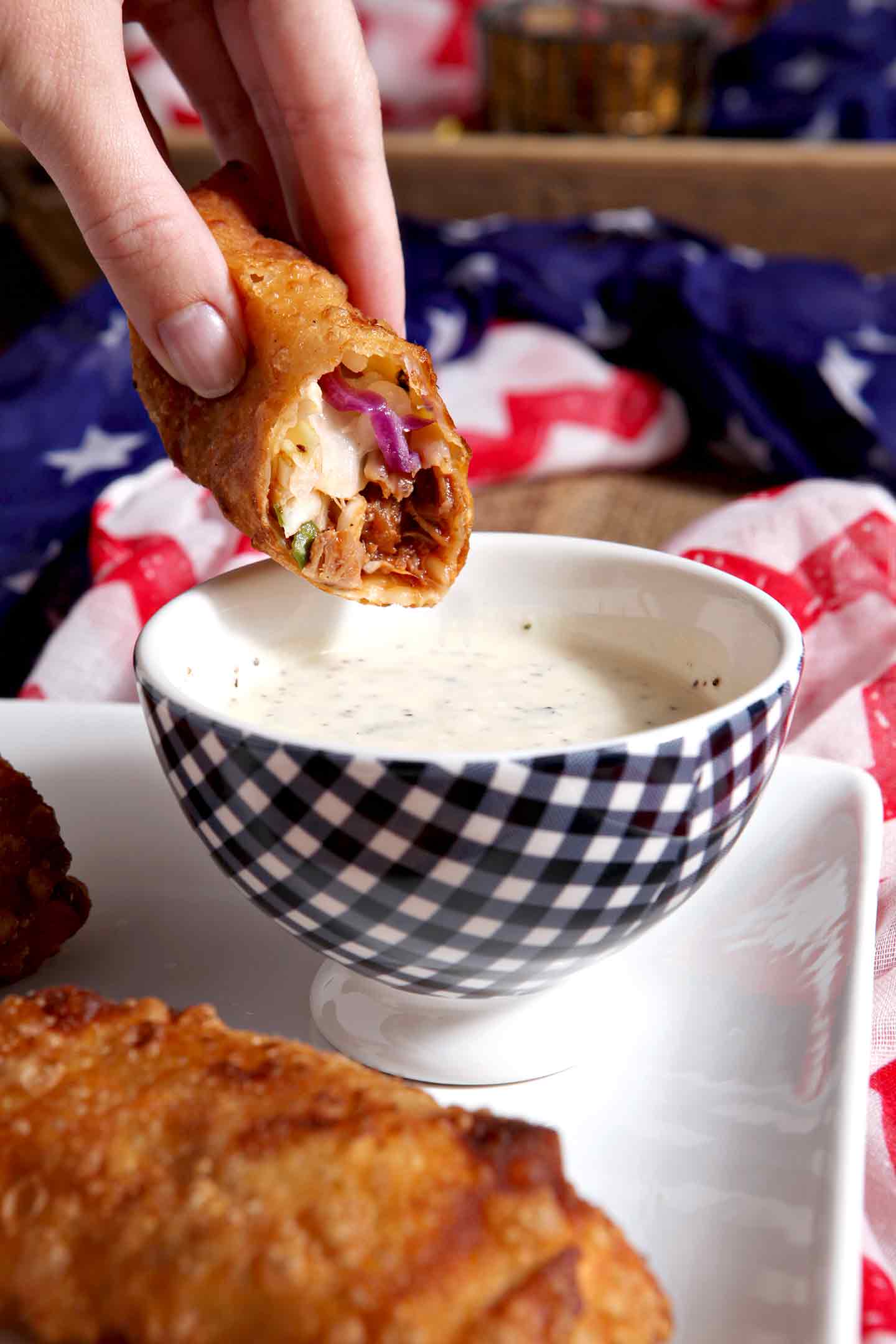 I'm a Tennessee girl, born and raised. When I think about the ultimate Southern comfort food, I think about Memphis-style barbecue. Specifically, pulled pork and creamy coleslaw. Together.
When I think about another cuisine I love just as much as Southern, my brain immediately goes to Asian food and flavors. I can't choose a favorite, though, because it's all so tasty.
So I combined Pulled Pork and Creamy Coleslaw with a traditional eggroll. When we lived in Nashville, one of my sweet friends, originally from Laos, taught me how to make eggrolls one weekend. They were beyond delicious, and I wish we all still lived in the same place because Sam's eggrolls and wontons and papaya salad are all so delicious.
I hope this rendition of her eggroll does Sam proud, even if my rolling skills aren't as good and my eggroll filling is a little bit different than hers. That said, cabbage and pork are two of her ingredients, so I'm not that far off. 😉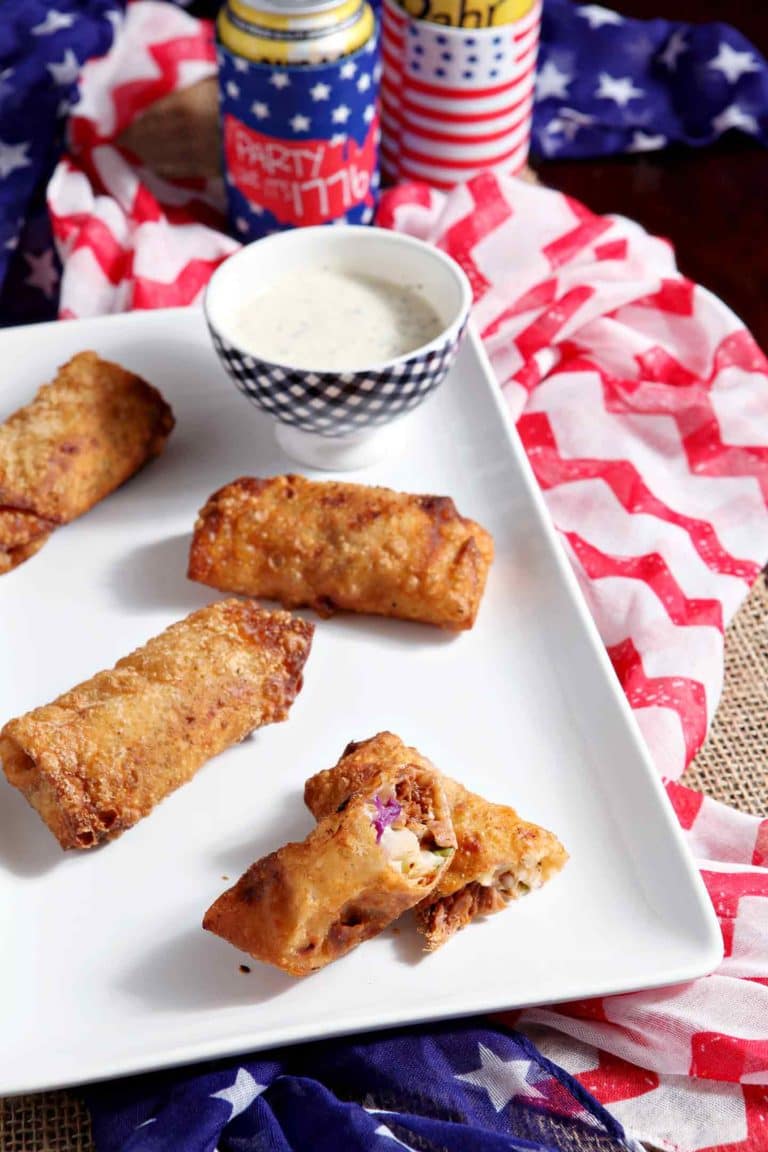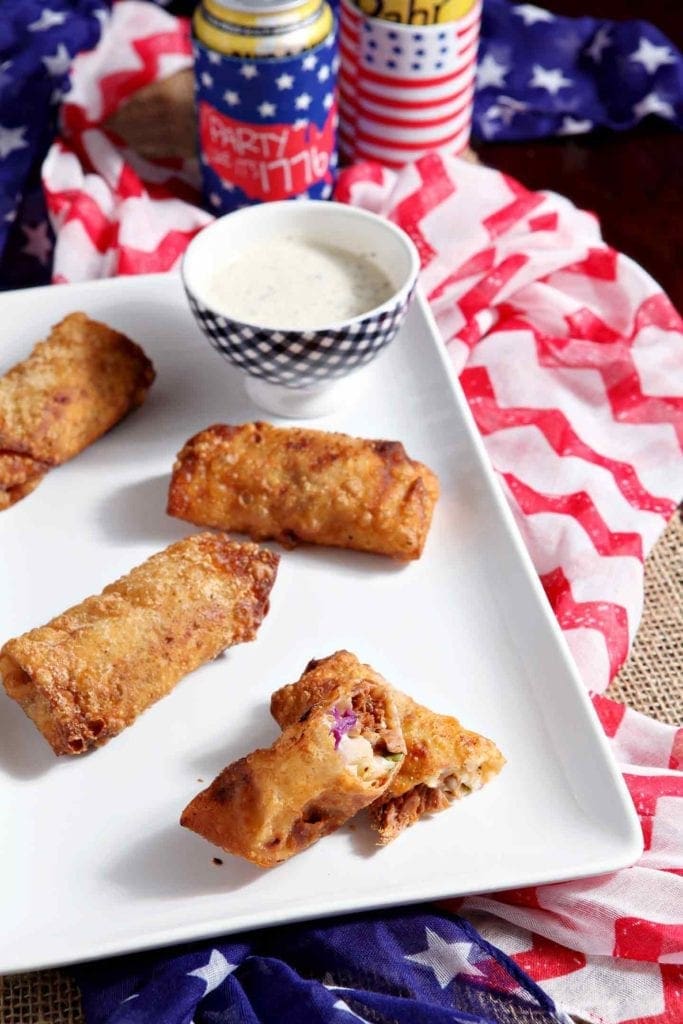 This appetizer takes some time and foresight to put together, so I suggest making the pulled pork a day in advance. If not, i suggest giving yourself plenty of time the day of to get everything together.
It's well worth the trouble, though.
And I have no doubt that these Pulled Pork Coleslaw Eggrolls will be devoured as we watch the Opening Ceremony tomorrow evening.

Tips and Tricks for the BEST Pulled Pork Coleslaw Eggrolls
Please be aware that rolling eggrolls is going to be time-consuming. What I like to do is set everything out in front of me–with the correct measuring scoops–before rolling the eggrolls. If you have helpers, give everyone a specific task (so someone is scooping in the pork, someone does the coleslaw, someone else rolls them, then someone else mans the fryer.) If you're flying solo, roll out ALL the eggrolls and place on a large sheet pan before frying in batches. Be prepared for this to take longer than expected.
I fried my eggrolls in vegetable oil, but feel free to do yours in another unflavored oil if you have it on hand.
Make-ahead tip: Cook your pork a day ahead and make the coleslaw sauce/dipping sauce, too, and refrigerate both overnight. The day of, all you have to do is throw together the coleslaw, then roll out the eggrolls and fry them.
Essential Tools for Pulled Pork Coleslaw Eggrolls


Other Dishes I'd Serve at a Viewing Party with these Eggrolls
BBQ Chicken Burger Bites with Avocado Slaw
Here's how you can make them for your at-home view party, too!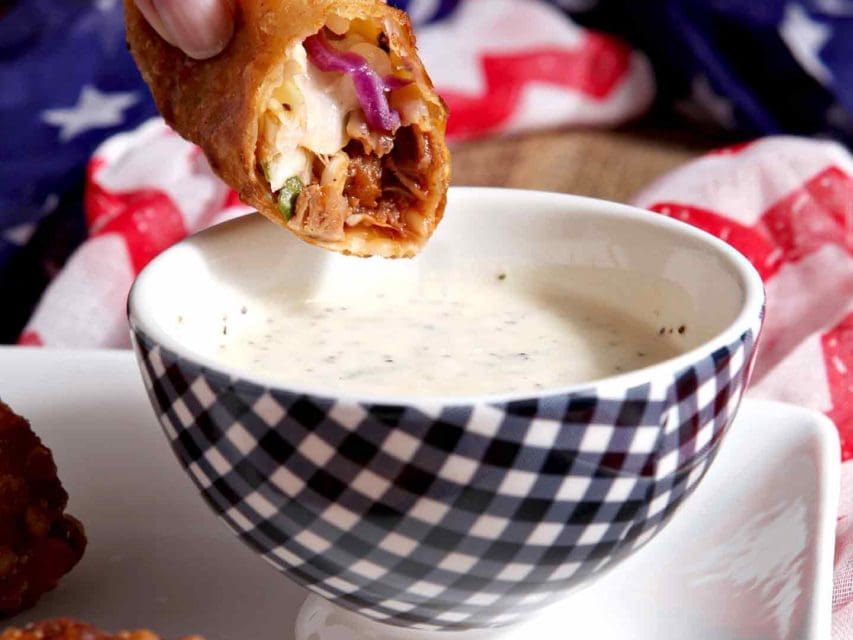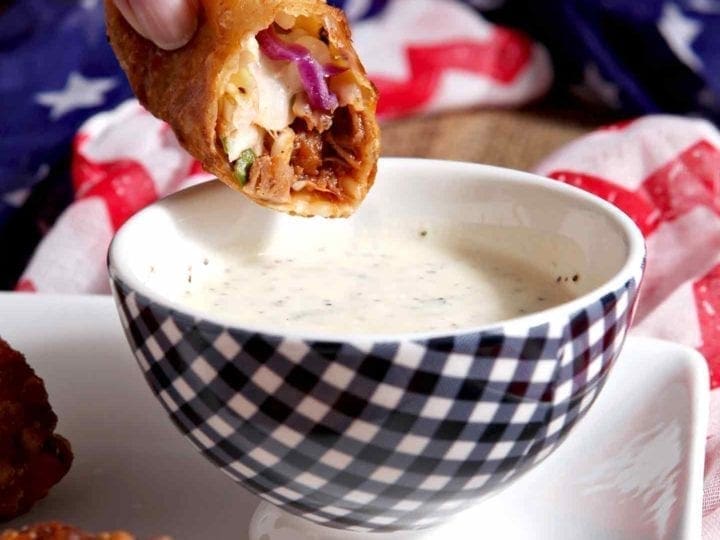 Yield:

16 eggrolls
Pulled Pork Coleslaw Eggrolls
Cook Time:
8 hours
30 minutes
A Southern classic combined with an Asian favorite makes this delightful mash-up. Homemade Pulled Pork (in a tangy barbecue sauce!) is made in the slow cooker, then creamy coleslaw, made with yogurt instead of mayo, is tossed together. Roll the pulled pork and coleslaw into eggroll wrappers, fry, then serve with the creamy coleslaw dipping sauce. Pulled Pork Coleslaw Eggrolls are a tasty appetizer to enjoy at a sports watching party!
Ingredients
Pulled Pork
2 ½ lb. pork shoulder roast, boneless
2 tablespoons barbecue dry rub
Pulled Pork BBQ Sauce
1 cup ketchup
½ cup cooking liquid from slow cooker (make sure to skim the fat off the top!)
3 tablespoons apple cider vinegar
3 tablespoons honey
2 tablespoons Worcestershire sauce
1 tablespoon soy sauce
1 tablespoon hot sauce
1 tablespoon grainy Dijon mustard
1 ½ teaspoons onion powder
1 ½ teaspoons garlic powder
1 teaspoon barbecue dry rub
Coleslaw
16 oz. Tri-Color Coleslaw
Coleslaw Sauce (Half will be poured and mixed into coleslaw, the other half will be used as a dipping sauce)
2/3 cup whole fat yogurt
1 jalapeño pepper, finely diced
2 tablespoons honey
2 tablespoons white vinegar
1 teaspoon celery seed
½ teaspoon black pepper
½ teaspoon kosher salt
Eggrolls
Pulled pork in its barbecue sauce
Prepared Coleslaw
16 eggroll wrappers
1 egg, whisked to create an egg wash
Coleslaw Sauce for dipping
Instructions
Prepare the Pulled Pork
Place the boneless pork shoulder in the slow cooker. Season with the barbecue dry rub.
Cook on LOW for 6-7 hours, or until the pork is fork tender and falling apart.
Remove the pork from the slow cooker.
Drain the liquid from the slow cooker into a glass measuring cup. Skim the fat off the top. Reserve for later.
In the slow cooker, add the ketchup, reserved cooking liquid, apple cider vinegar, honey, Worcestershire, soy sauce, hot sauce, mustard, onion powder, garlic powder and barbecue seasoning. Stir until combined.
Shred the pork, removing the fat from the meat. Throw away the fat, and place the pulled meat into the slow cooker with the barbecue sauce.
Cook the pork in the barbecue sauce for an additional hour.
Continue to the next steps immediately, or store overnight in the refrigerator.
Prepare the Coleslaw Sauce
In a glass bowl, combine the yogurt, jalapeño, honey, white vinegar, celery seed, salt and pepper.
Pour half into a serving dish to become the dipping sauce.
Prepare the Coleslaw
Place the 16 oz. Sprouts Tri-Color Coleslaw into a large glass bowl.
Pour half of the coleslaw sauce over the cabbage mixture.
Toss until combined.
Set aside to immediately make the egg rolls.
Make the Eggrolls
Start with a clean, flat surface. Set a wrapper down and arrange it to where it looks like a diamond (as opposed to a square.) In the corner closest to you, add about 1/4 cup of pulled pork. Spread it evenly on the half of the wrapper closest to you. Top the pulled pork with coleslaw, spreading evenly over the meat and patting flat. Paint the corners that are not touching the pork and coleslaw with the egg wash.
To roll the eggrolls: Lift the corner closest to you and roll away from you, tucking in the corners as you roll. Once you have rolled half of the wrapper, fold in the right side toward the center, then do the same with the left side. Finish rolling, and place seam-side down on a clean plate. Make sure you roll them tightly!
Repeat this process until all the eggrolls have been made.
Fry the Eggrolls
Fill a heavy-bottomed pot (like a Dutch oven) with 3-4" of cooking oil. Heat the oil to 350°F.
Gently place the eggrolls to the hot oil, frying no more than 2 or 3 at a time. Keep an eye on the temperature of the oil as you fry, too. You don't want it to get too hot or too cool, and the temperature can go down if the pot is crowded.
Fry until the eggrolls are golden brown on all sides. This should take 2-3 minutes tops. When the eggrolls are golden brown, remove from the oil with the spider strainer and place on paper towels to drain and cool.
Serve the cooked eggrolls with the coleslaw dipping sauce, and enjoy!
Notes
Please note the total time is a combination of the cook time for the pork in the slow cooker, as well as the fry time for the eggrolls. The eggrolls will only fry for 2-3 minutes, so please keep your eyes on them closely.
Nutrition Information:
Yield:
16 eggrolls
Serving Size:
1 eggroll
Amount Per Serving:
Calories:

461
Total Fat:

22g
Saturated Fat:

7g
Trans Fat:

0g
Unsaturated Fat:

13g
Cholesterol:

100mg
Sodium:

844mg
Carbohydrates:

40g
Fiber:

2g
Sugar:

17g
Protein:

24g
Nutrition facts are an estimate and not guaranteed to be accurate.
Are you a daydreamer, too?
What sport would you want to compete in?
What kind of appetizer would you make to represent your country?