Spicy Bloody Beer Cocktail
Attending a morning tailgate and do not want to imbibe a mimosa? Make this fun twist on a classic breakfast cocktail! Bloody Beer is essentially a Bloody Mary with beer and sometimes known as "red beer." Makes 1 drink, but easily can be turned into a pitcher drink.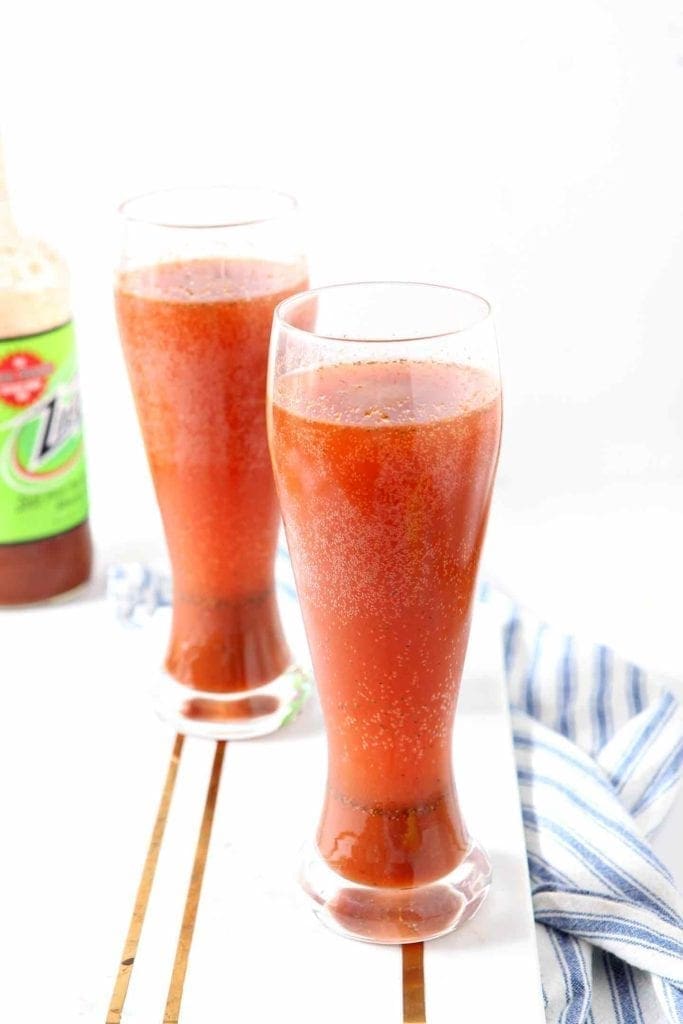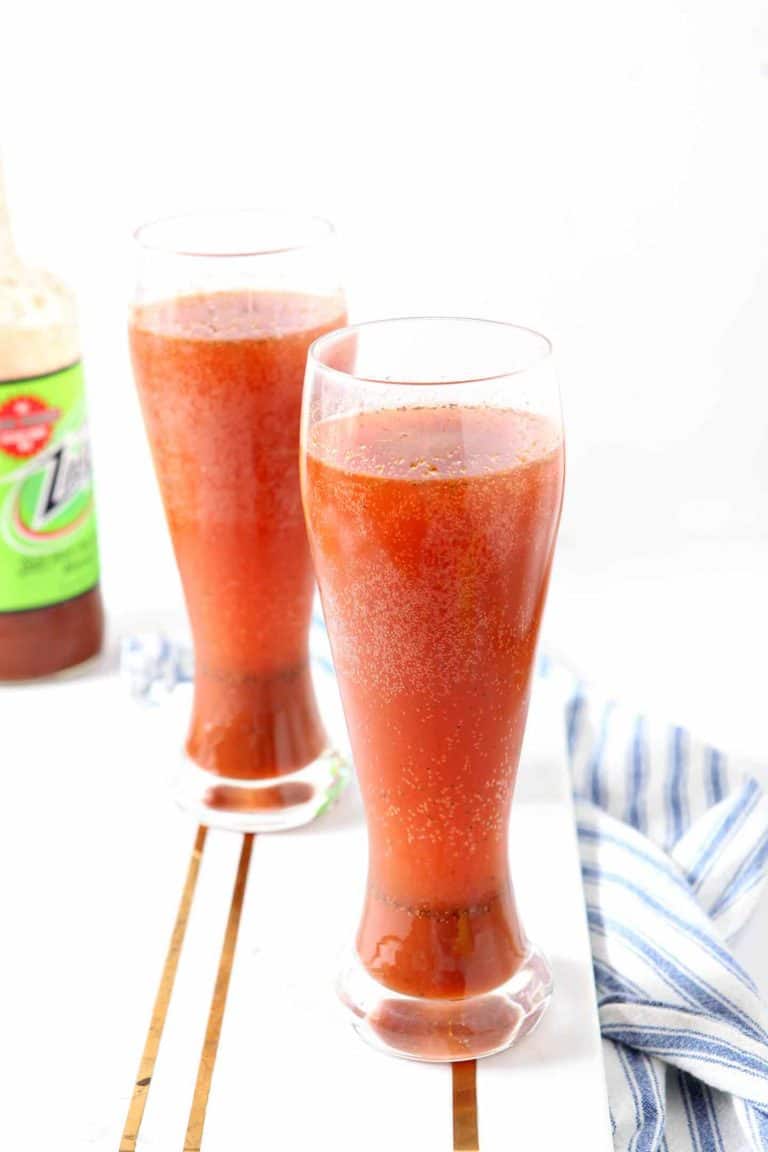 This drink is known by maaaaaaaany names: Bloody Beer. Red Beer. A Bloody Mary with beer.
Basically, it highlights your favorite wheat beer (that's has no fruity flavors) with your favorite Bloody Mary mix.
I was introduced to a tamer version of it (also known as Red Beer) years ago from a friend of my sister's, who popped open a beer, took a swig and dumped in some tomato juice.
Then reintroduced to it in Louisiana from a friend of my husband's aunt and uncle. She offered us a Bloody Beer when we visited their lake house, which is a spicier version of Red Beer.
This beer cocktail is one of my favorites for the fall and football season, but it works beautifully as a breakfast drink, especially if you're not partial to vodka and/or don't have it on hand.
Other beer cocktails you might enjoy: Strawberry French Monaco | Meyer Lemon Shandies | Pumpkin Bang
Other recipes that use Bloody Mary mix: BBQ Bloody Mary | Bloody Mary | Sriracha Baked Beans | Bloody Maria
Looking for another drink? Check out my Cocktails Recipe Index.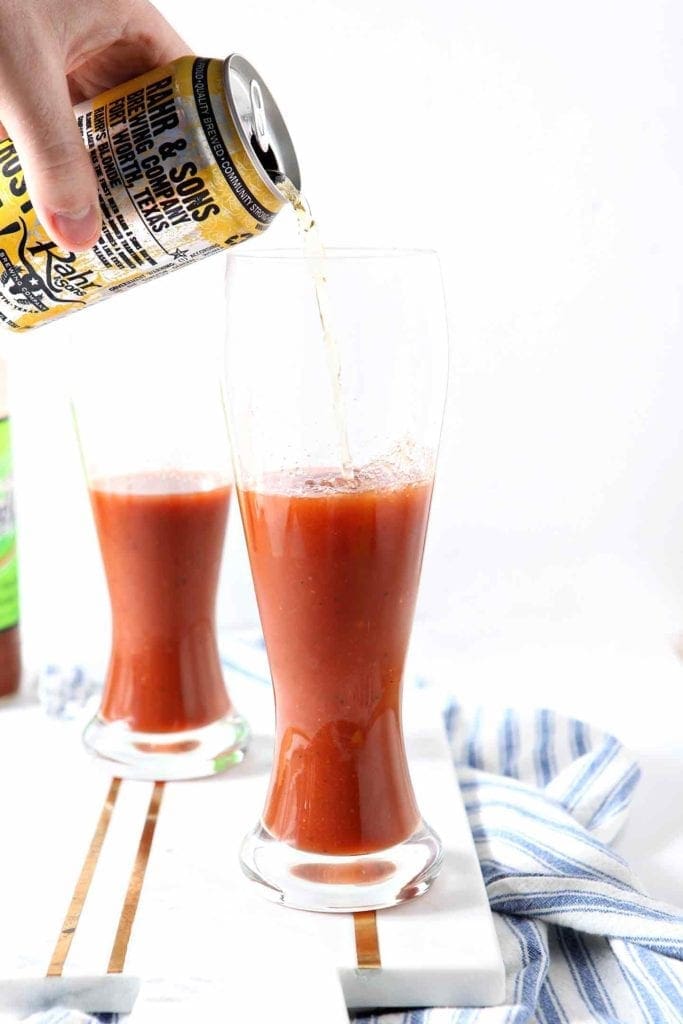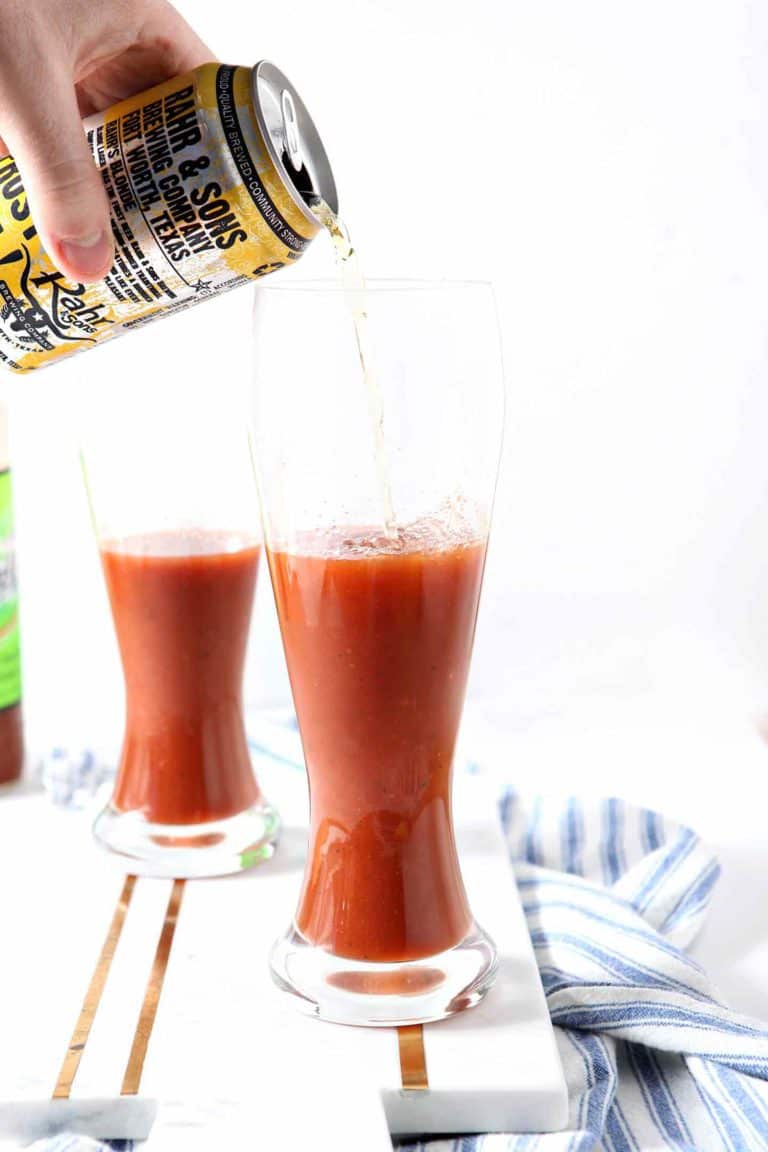 What you need to make a Bloody Beer
Disclaimer: The links below are affiliate links. If you click through and take action, I will receive a small commission. Please refer to my disclosure page for more information about the affiliate programs The Speckled Palate participates in.
You can also flavor and garnish your spicy red beer with a variety of toppings:
A squeeze of lemon juice (and a lemon wedge)
Worcestershire sauce
Black pepper
Celery salt or celery seed
Celery sticks
Pickled green beans, okra, etc.
How to make a Bloody Mary with Beer
First and foremost, pour Bloody Mary Mix into your cup. Traditionally, we've used pint glasses to serve up these Bloody Beers, but you could use a pilsner glass, too. Whatever works, honestly.
Next, pour the beer in slooooooooowly.
Season your drink with hot sauce and black pepper. You could also throw in a sprinkle of celery salt if you're feeling fancy and have that on hand, too.
Stir the drink slowly, then add celery sticks and pickled veggies as garnish. As you can see in these photos, we don't normally have a lot of pickled things on hand usually, but if you have them and want to make your Bloody Mary with beer fancier, have at it!
Other additions to this beer cocktail: A squeeze of lemon juice. A sprinkle of Worcestershire sauce. Celery salt and seed.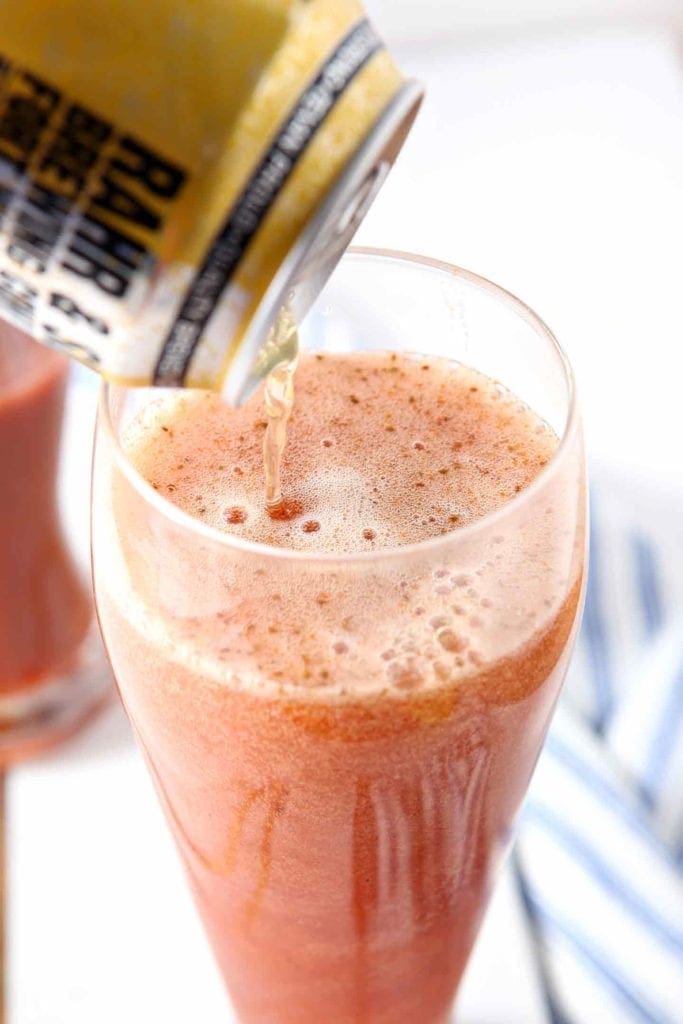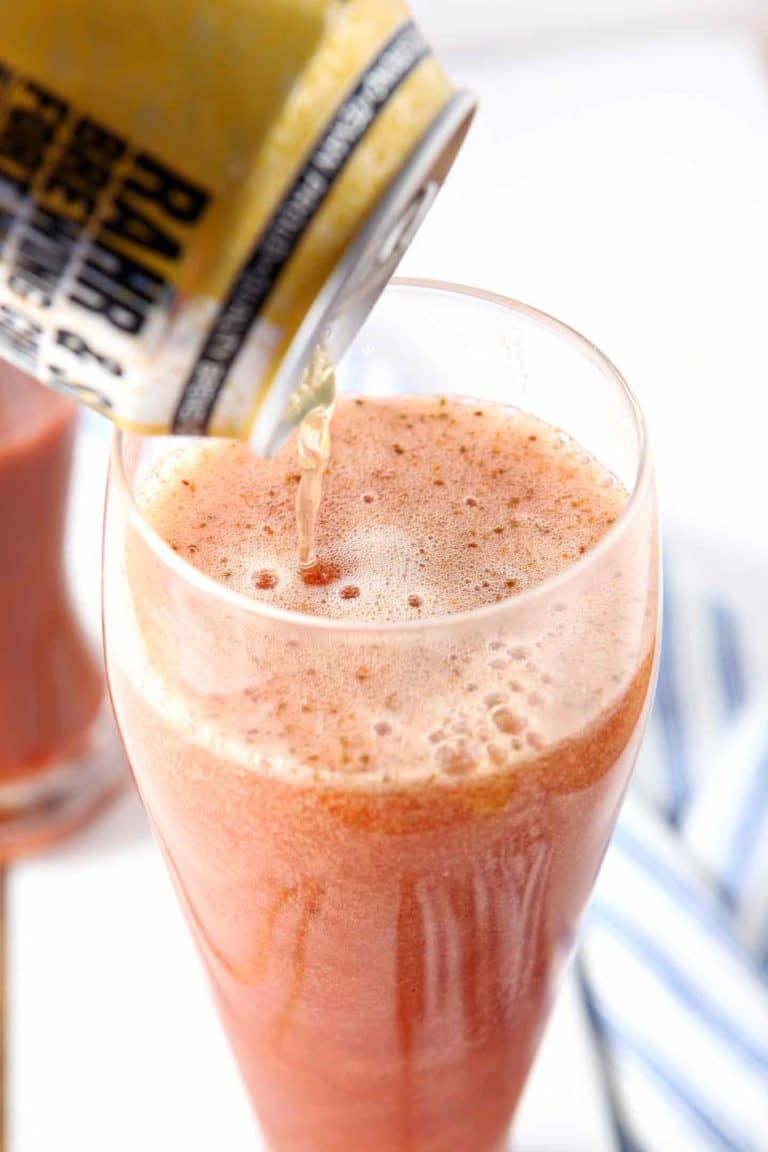 Erin's Easy Entertaining Tips
Real talk: Beer cocktails are fantastic for entertaining! We love these for an at-home brunch and for homegating, which is to say tailgating at home. 😉
This spicy red beer pairs beautifully with any breakfast foods, too, or just with an afternoon cocktail hour and a cheese board.
Here are some tips and tricks for making a batch of these beauties at your home sometime soon:
Turn Bloody Marys with Beer into a pitcher drink!
Add extra heat–if you can take it! We generally measure hot sauce and black pepper with our hearts, so feel free to do the same if you like a spicier sipper.
Make it an occasion and turn these Bloody Beers into a make-your-own Bloody Mary Bar! My friend, Chrissie, explains exactly how to do this and how to bulk-prepare toppings for the bar for your friends to be able to put together their own.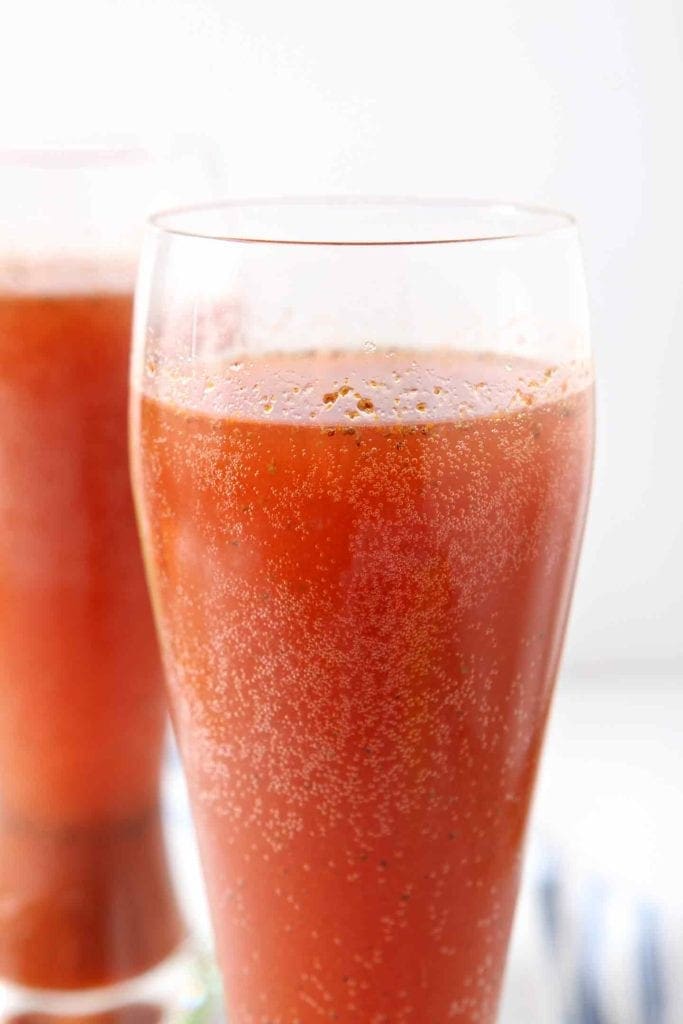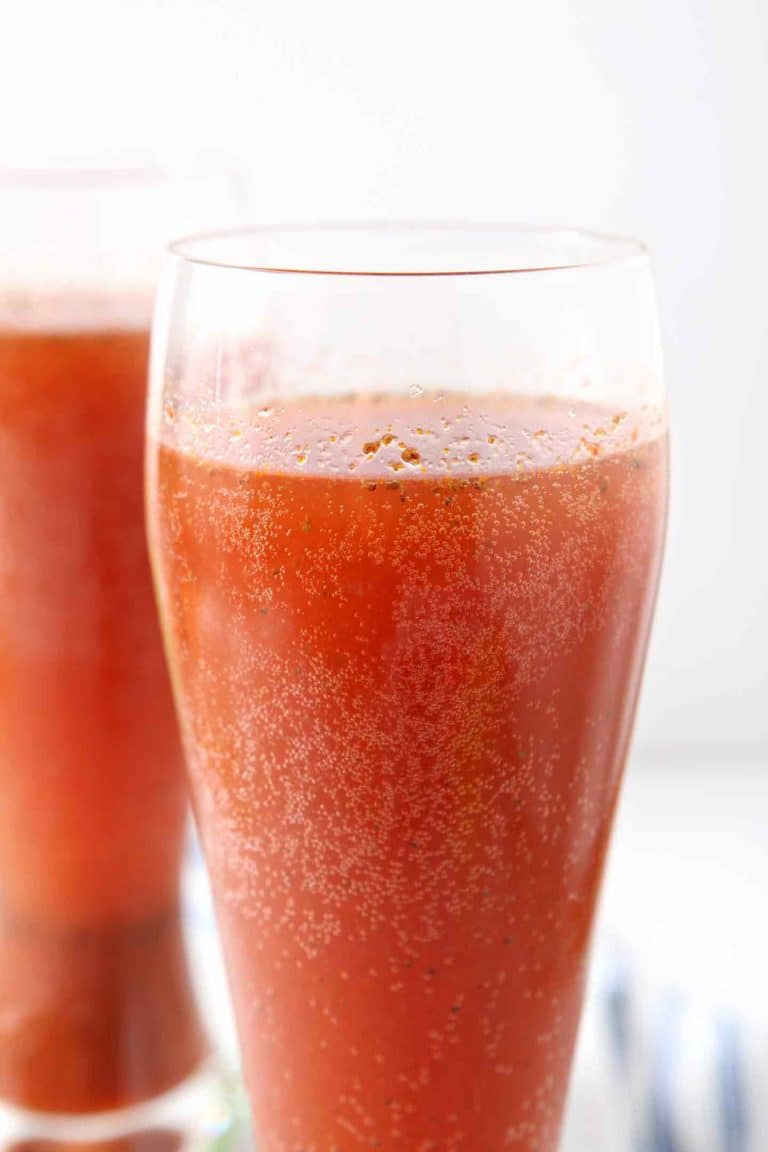 Frequently Asked Questions
What are red beers?
It's a beer cocktail that involves tomato juice (or in this case, Bloody Mary mix) for a delicious twist on the classic.
What kind of beer is best in this cocktail?
Personally, I like a golden ale or a wheat beer (that's unflavored) to make this beer cocktail. They're light and flavorful without taking away from the spice and heat of the Bloody Mary mix.
What is your favorite Bloody Mary mix?
We love Zing Zang* (affiliate link) because it's incredibly flavorful and has a lot of built-in heat. Tabasco makes an awesome Bloody Mary mix* (affiliate link), too.

Honestly, though, use what you have on hand. If the mix isn't spicy enough, you can always add extra heat in the way of hot sauce and black pepper.
I don't have Bloody Mary mix. Is there a way for me to still make this beer cocktail?
Do you have V8 or a tomato juice at your house? If so, you can spice it up and make it into a homemade Bloody Mary mix.
How can I make this into a Bloody Mary with Beer pitcher?
It's very easy! For a pitcher that serves 6 people, use the following measurements:

6 golden or wheat beers (12 oz. cans)
6 cups Bloody Mary Mix
1 tablespoon hot sauce
1 ½ teaspoons black pepper

Just make sure that you don't pour the beers in until your people are about to start serving themselves so the beers don't go flat and warm.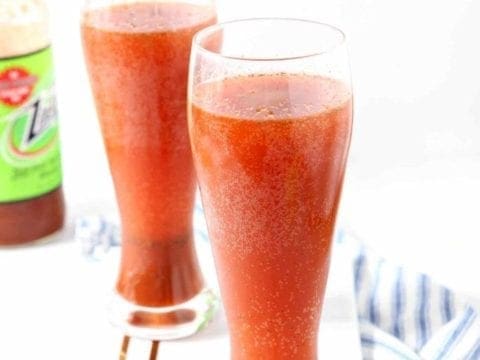 Yield:

1 cocktail
Spicy Bloody Beer Cocktail
Attending a morning tailgate and do not want to imbibe a mimosa? Make this fun twist on a classic breakfast cocktail! Bloody Beer combines your favorite beer with a Bloody Mary. Pour the Bloody Mary Mix into a glass, add hot sauce and black pepper, then top with a golden beer to complete this breakfast drink.
Ingredients
12 oz. golden or wheat beer
1 cup Bloody Mary Mix
½ teaspoon hot sauce
¼ teaspoon black pepper
Pickled Green Beans and Jalapeños, for garnish
Celery sticks, for garnish
Instructions
Add Bloody Mary Mix to your cup.
Pour in the beer slowly.
Season with hot sauce and pepper to taste.
Stir, add any various number of vegetables that are good in Bloody Marys (like green beans or celery), and then enjoy.
Notes
If you don't like the spicy of Bloody Mary mix, you can use a tomato juice in place of that, turning this into a true red beer.
Nutrition Information:
Yield:
1
Serving Size:
1 cocktail
Amount Per Serving:
Calories:

357
Total Fat:

1g
Saturated Fat:

0g
Trans Fat:

0g
Unsaturated Fat:

0g
Cholesterol:

0mg
Sodium:

308mg
Carbohydrates:

25g
Fiber:

3g
Sugar:

8g
Protein:

4g
Nutrition facts are an estimate and not guaranteed to be accurate.
…
The photos and recipe for this Bloody Beer were originally published on October 27, 2011. The photographs, along with the text of this blog post, were republished on August 30, 2017.