Mint Chocolate Chip Ice Cream Sandwiches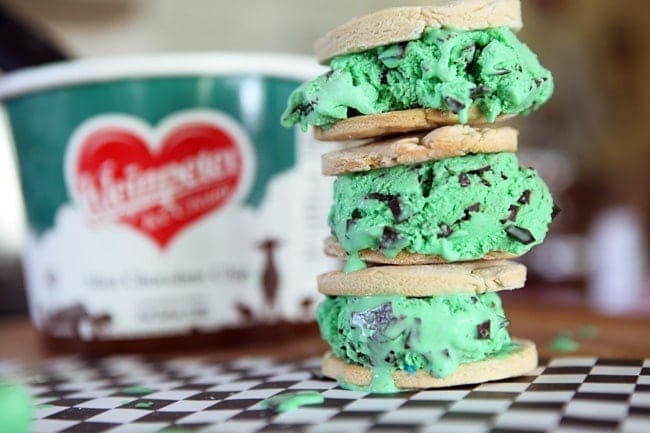 For the Fourth of July, my family has always shared Red, White and Blue Tea Cakes with our friends, family and neighbors. This is a tradition I have continued into adulthood, and whenever Independence Day rolls around, y'all can pretty much bet on findind me in the kitchen baking and attempting to rope friends into assisting. … I'm looking at you, Heather and Jason, for being the best sports about this and actually assisting in the production of these cookies years ago.
This recipe stems from the eight cookies that were leftover from the Fourth. An atrocity, I know, and I decided I was going to put them to good use by making homemade ice cream sandwiches.
Also, if you look really close at the bottom cookie in the following images of the sandwich being made, you'll see some of my electric blue icing that accidentally was sprinkled on the cookie. Oops?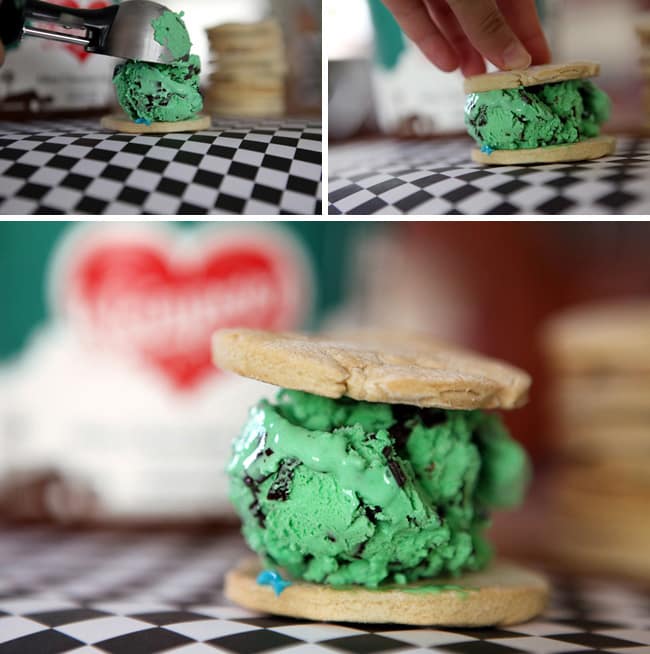 It's simple and sweet, y'all… just the way I like my desserts.
Take a scoop of the ice cream of your choosing. I'm a huge fan of Mint Chocolate Chip and not-so-guiltily purchased the sweet dessert from the local creamery last week… so this was what I used. Plop that scoop down onto one of the cookies. Place another cookie on top of the ice cream, pushing the ice cream down so the top sandwich cookie is completely attached to the sandwich. And then transfer that little ice cream sandwich into the freezer to solidify and no longer drip ALL OVER THE PLACE for a second or two.
Once the ice cream has hardened, bite into your dessert, let the ice cream dribble down your chin just a bit and be so ridiculously happy that you made your own ice cream sandwiches.
Mmmhmm.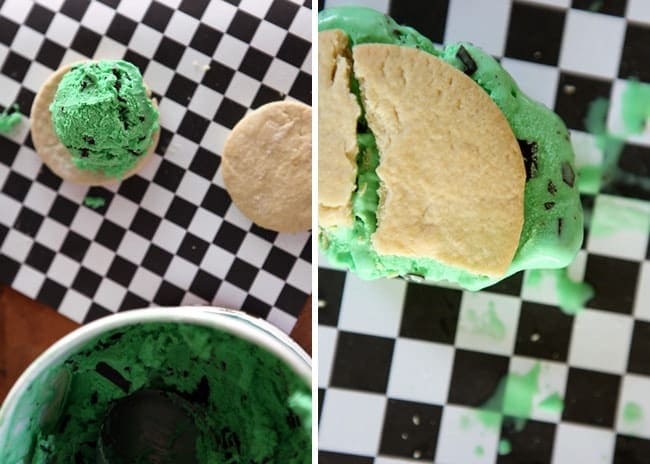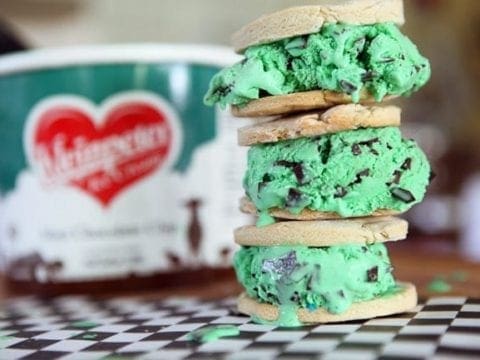 Yield:

1 ice cream sandwich
Mint Chocolate Chip Ice Cream Sandwiches
Dessert never looked or tasted sweeter! Mint Chocolate Chip Ice Cream Sandwiches combine the flavors of classic tea cake cookies and the minty goodness of mint chocolate chip ice cream. Bake the cookies (or use leftovers from a previous baking!) to create the sandwiches, then fill with a scoop of mint chocolate chip ice cream. A heavenly sweet for the summertime!
Ingredients
¼ cup Mint Chocolate Chip Ice Cream
Instructions
Take two cookies, and place them both face-down on a flat surface.
Scoop the ice cream onto one of the cookies.
Using the other cookie, top the sandwich and flatten the ice cream a bit.
Continue this process to make however many Mint Chip Ice Cream Sandwiches you would like to have.
Wrap them in plastic wrap, and place on a baking sheet.
Pop the ice cream sandwiches in the freezer for them to harden for 10 minutes.
Once the ice cream has solidified between the cookies, take them out of the freezer and consume!
Recommended Products
As an Amazon Associate and member of other affiliate programs, I earn from qualifying purchases.
Nutrition Information:
Yield:
1
Serving Size:
1
Amount Per Serving:
Calories:

712
Total Fat:

24g
Saturated Fat:

8g
Trans Fat:

0g
Unsaturated Fat:

14g
Cholesterol:

24mg
Sodium:

662mg
Carbohydrates:

113g
Fiber:

7g
Sugar:

37g
Protein:

14g
Nutrition facts are an estimate and not guaranteed to be accurate.
Not even gonna lie, y'all: These babies are well-worth the time it takes to make them!