Fresh Strawberry Vinaigrette
Perfectly balanced Strawberry Vinaigrette is perfect for the springtime and easy to make at home. This four ingredient strawberry salad dressing highlights the sweetness of fresh strawberries! Makes 4 servings.
Love recipes using fresh strawberries? Don't miss Strawberry Romaine Salad in a Jar, Strawberry Pudding and Strawberry Scones with Strawberry Glaze.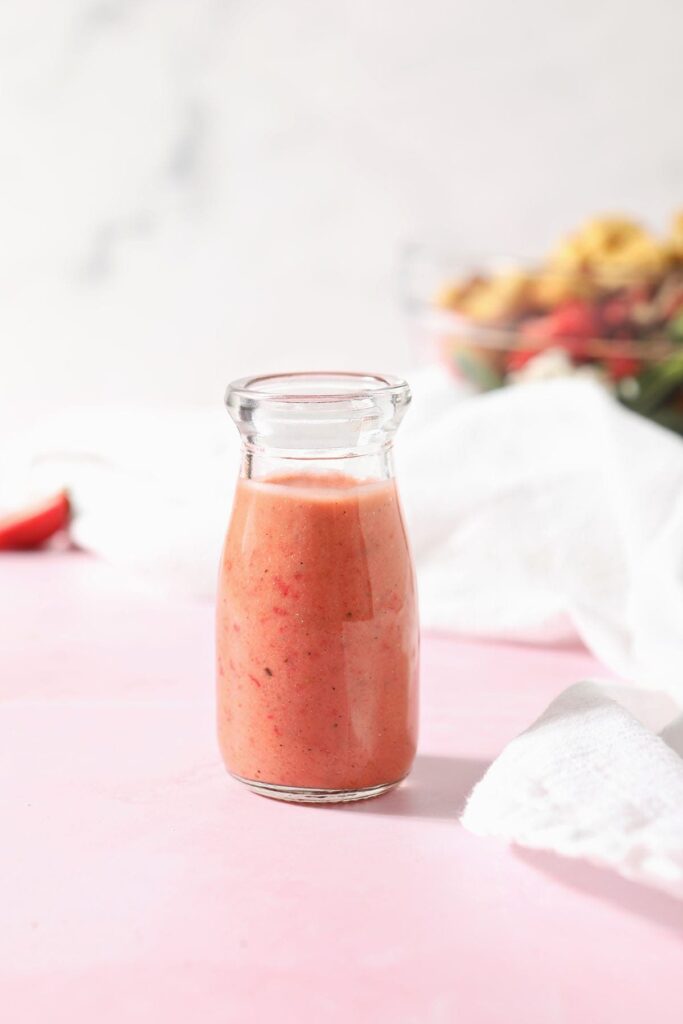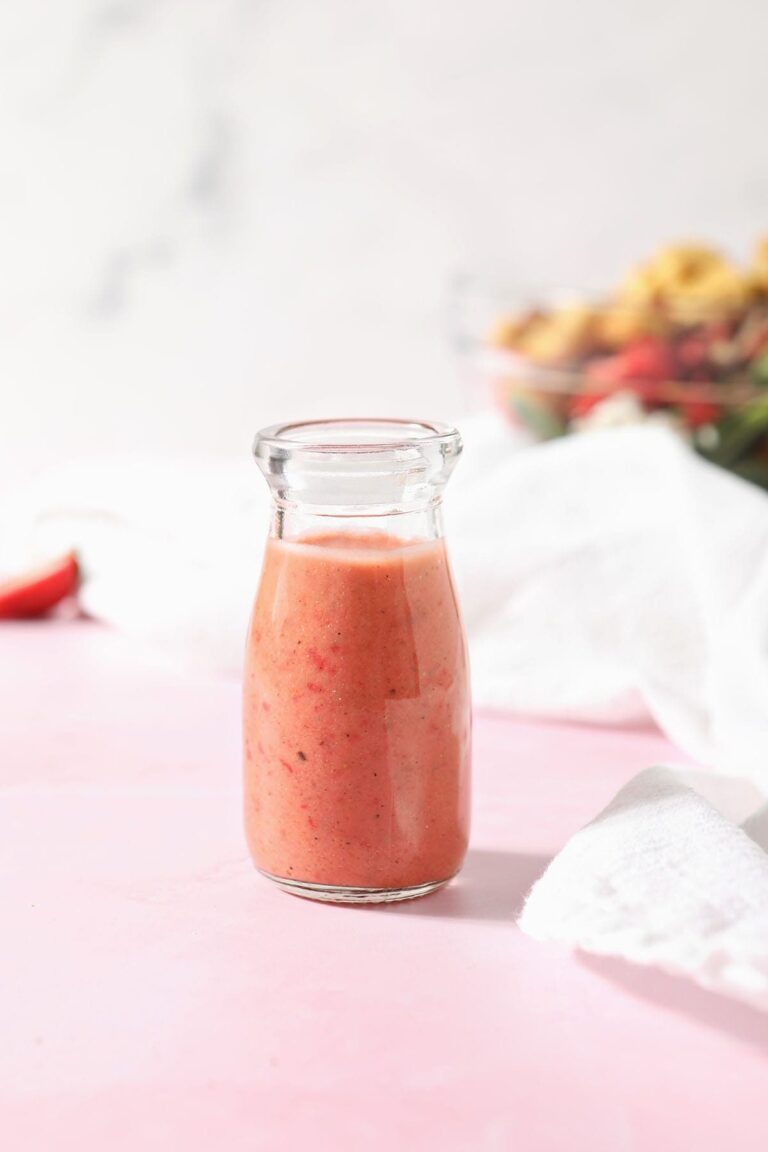 This strawberry salad dressing recipe was originally shared on May 9, 2012. It was updated and republished in March 2021.
This Fresh Strawberry Vinaigrette recipe was inspired by springtime in Louisiana and the abundance of fresh, locally grown, incredibly sweet strawberries.
It was also inspired by a raspberry vinaigrette I had when we lived in Nashville that I was o-b-s-e-s-s-e-d with.
Why I love this recipe:
Homemade salad dressing is so easy to make at home, and when you make it at home, you've got control over the flavor!
This Strawberry Salad Dressing is slightly sweet, a little tart and super delicious.
Depending on the ripeness of your berries, you might want to add a little more sugar to the dressing, as I found it was bitter without the added sweetness.
Other salads for the spring months: Cucumber and Feta Salad | Strawberry Melon Salad | Salmon Niçoise Salad | Cajun Cobb Salad | Chicken, Strawberry and Apple Salad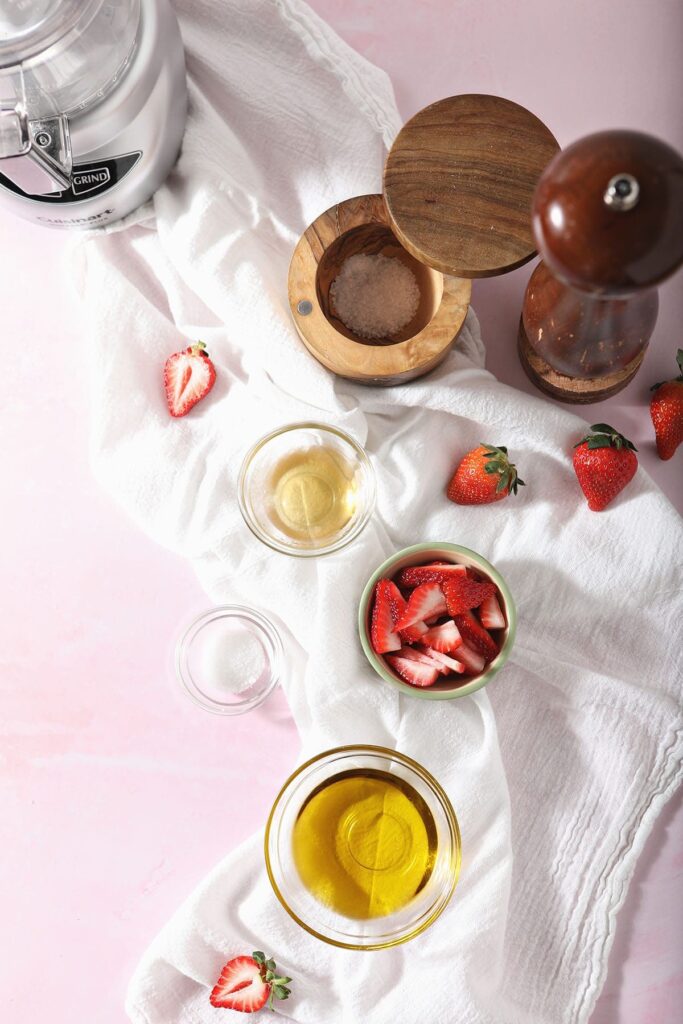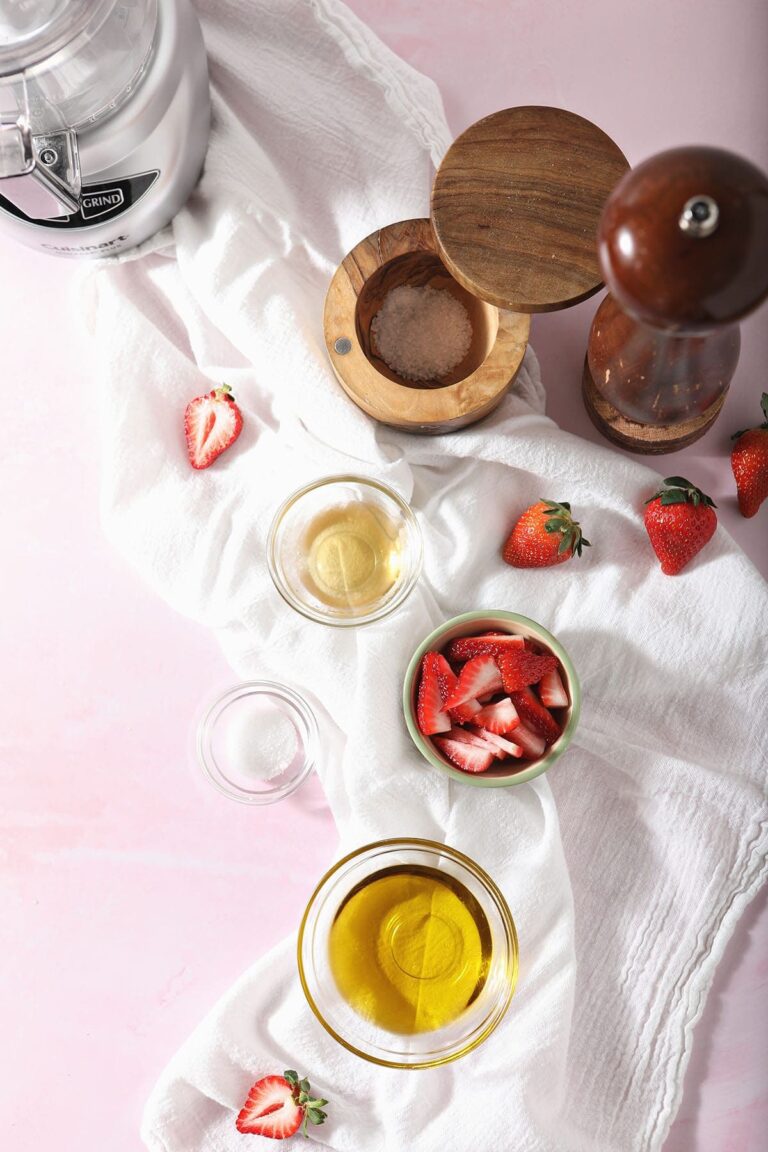 What you need to make this homemade vinaigrette
The Speckled Palate participates in affiliate programs. As an Amazon Associate, I earn a commission from qualifying purchases. Please refer to my disclosure page for more information about these affiliate programs.
Let's talk ingredients!
In addition to the tools above, you're going to need some ingredients to make this recipe, too! Chances are, you might already have some of them in your fridge or pantry. Scroll down to the recipe card for the full measurements and instructions.
Here's what you'll need:
Fresh strawberries — in-season strawberries are the sweetest and will yield a delicious vinaigrette. Wash 'em off and them give them a good chop!
Olive oil — extra virgin olive oil is my go-to oil for dressings. You may also use regular olive oil.
Apple cider vinegar — for some tartness and balance
Granulated sugar — for a little bit of sweetness. We only use a little bit of sugar because the natural sweetness of the strawberries should shine in this salad dressing recipe.
Salt and pepper — to taste!
Variations you can make on this Strawberry Salad Dressing:
Fruit—I think any berries would be delicious in place of the strawberries. Keep in mind that if the berries are more tart than a strawberry that you might need to add a little more sweetness.
Oil—While olive oil is my go-to, any unflavored oil would work here. Avocado oil or grapeseed oil would be my choices if I didn't have olive oil at home.
Vinegar—Another vinegar would work here, too! Balsamic and strawberries pair beautifully, as would white wine vinegar and champagne vinegar.
Sweetener—If you're not a fan of granulated sugar, you could easily swap that for the same amount of honey.
A note on the flavors of this homemade salad dressing: Since you're making it, you can add a pinch more sweetness if the original dressing is too tart. Give it a taste before you pour it onto a salad.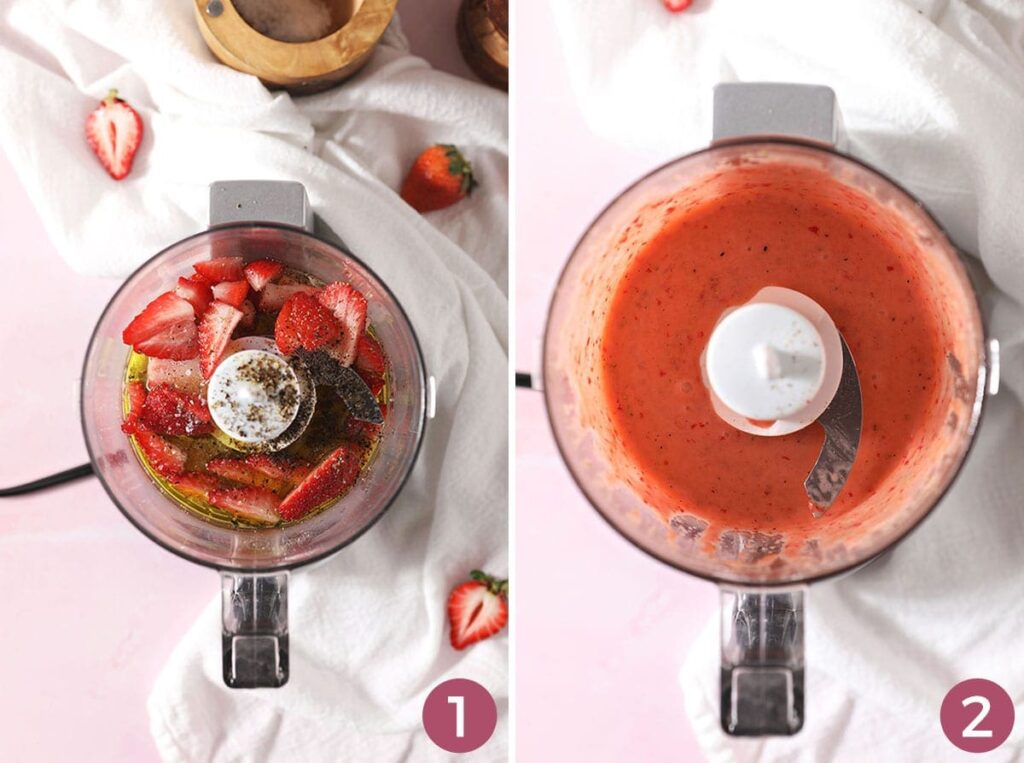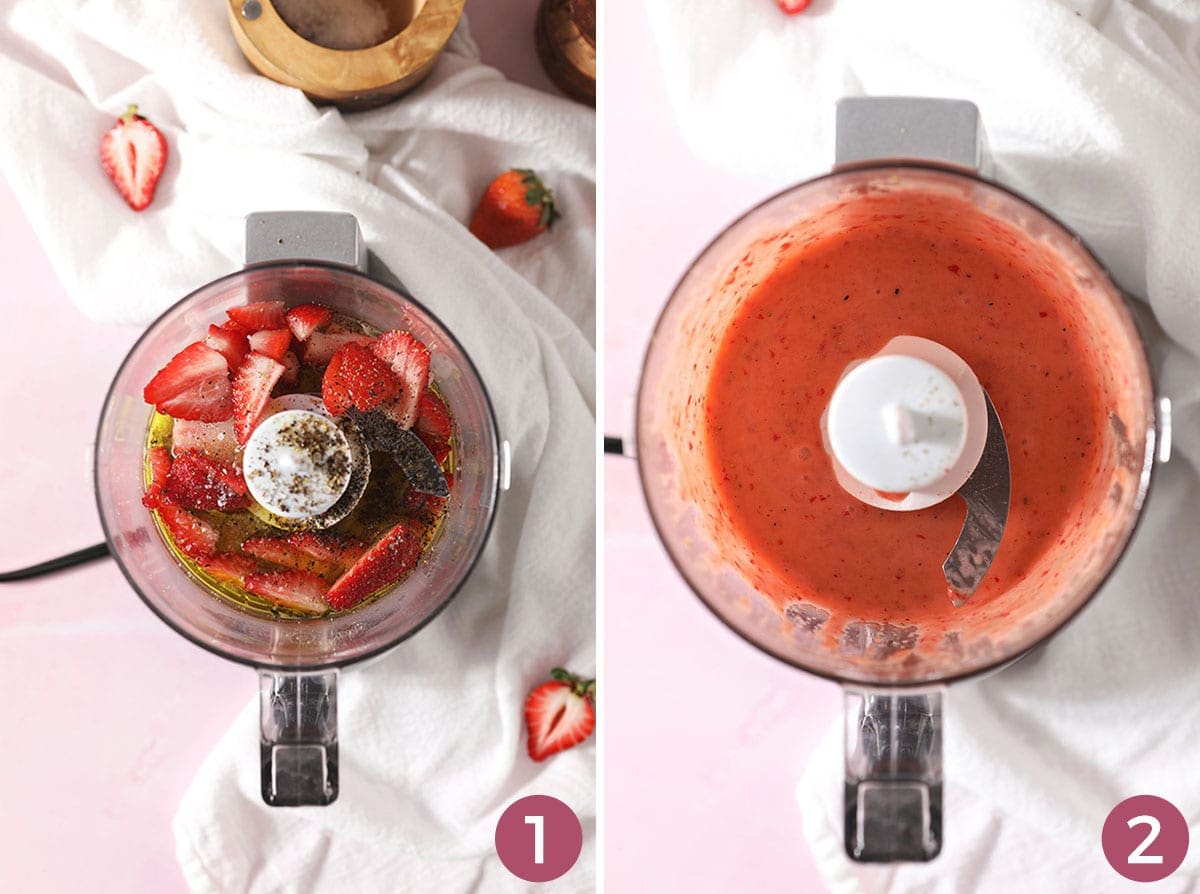 How to make Fresh Strawberry Vinaigrette
First and foremost, measure out all your ingredients into the base of a blender or food processor.
Blend until the mixture is smooth and thick. Season with salt and pepper, then blend again.
Chill for thirty minutes before pouring on top of a salad.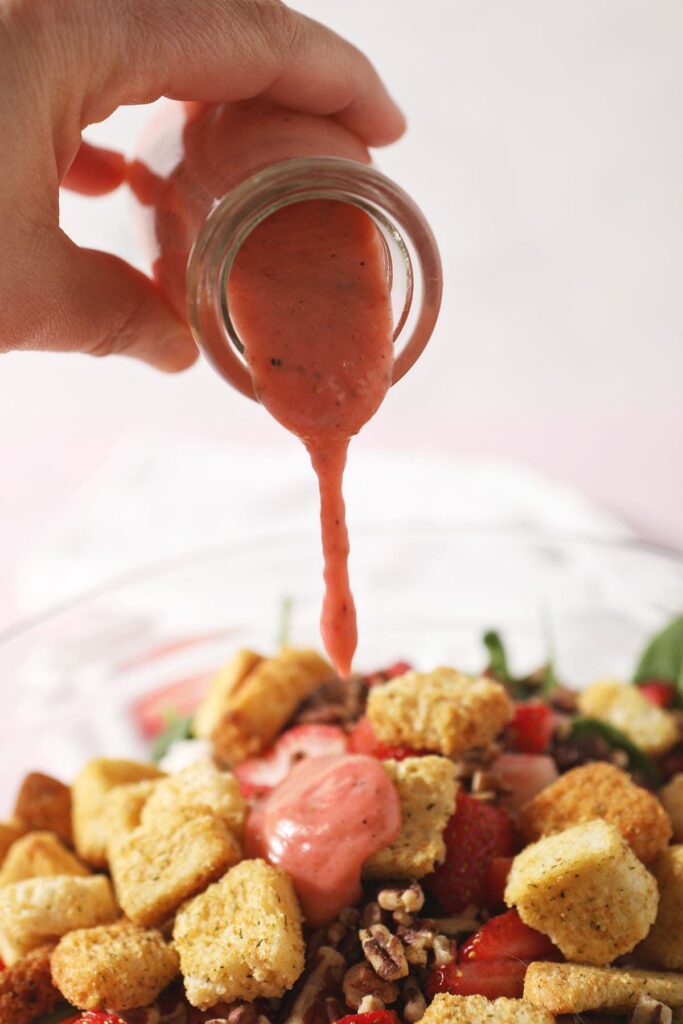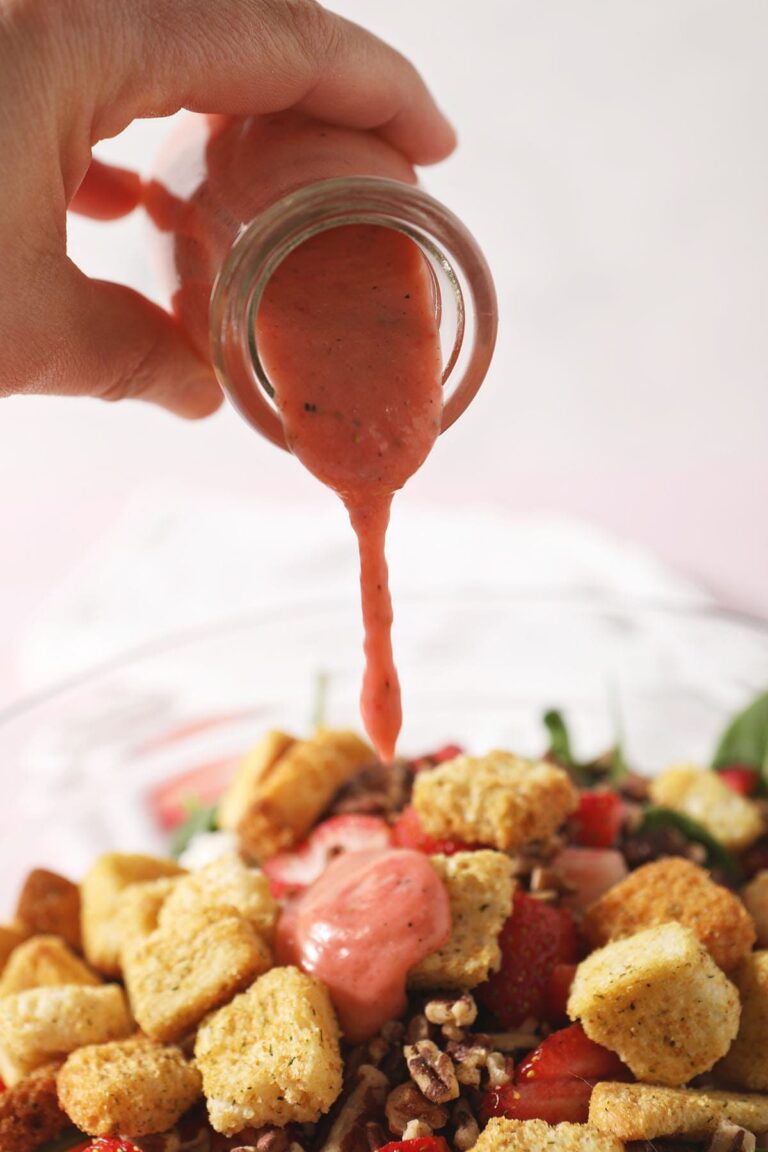 Frequently Asked Questions
How do I store this homemade salad dressing?
Keep it in a mason jar in the refrigerator for up to a week.
Can I use frozen strawberries instead of fresh?
Yes, you can, but they must be defrosted before you blend everything up.
What recipes can I use this salad dressing on?
We love this salad on a spring salad, like a Strawberry Spinach Salad! You could toss this onto a basic green salad, too.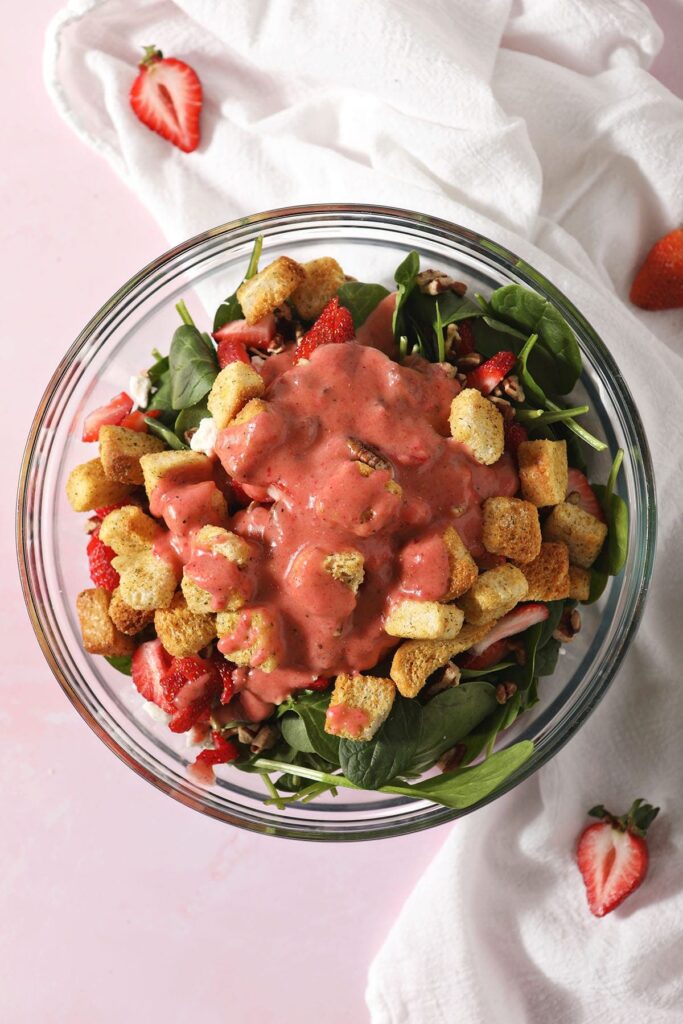 Tips and tricks for making the best homemade Strawberry Salad Dressing
Store this dressing in a mason jar in the fridge for up to a week. Since it makes a small batch, chances are it'll be eaten before then!
Adjust the sweetness to taste. The beauty of making a strawberry vinaigrette at home is being able to do this. Give the dressing a taste after mixing it together and add another pinch of sugar if it's too tart for you. You can and should customize this for your tastebuds!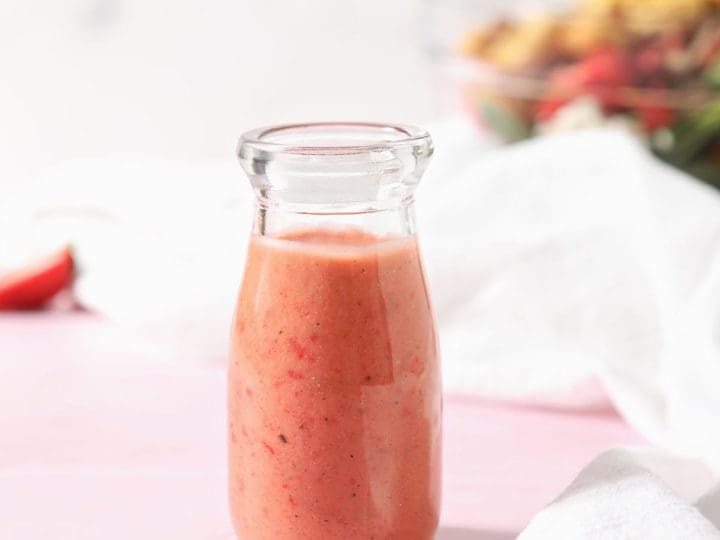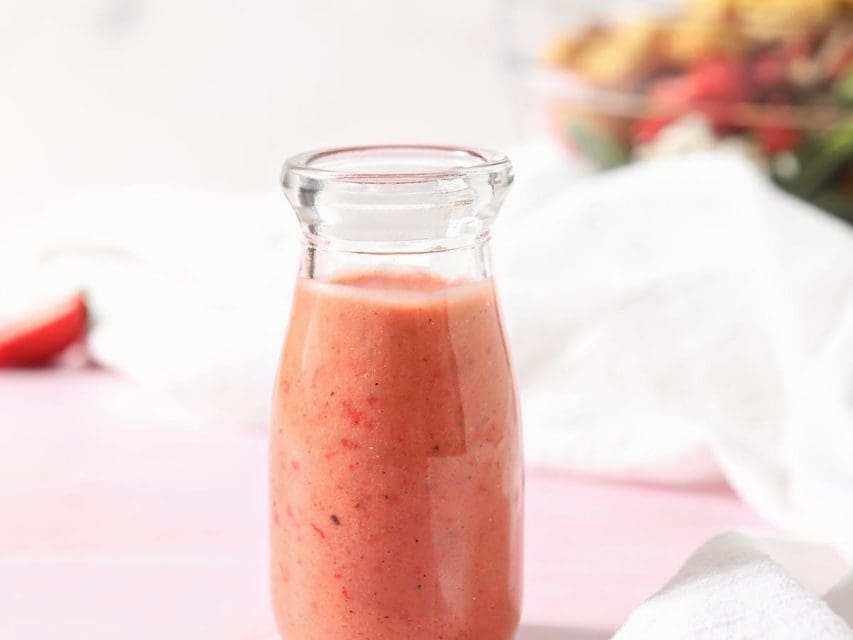 Yield:

4 servings
Strawberry Vinaigrette
Chilling Time:
30 minutes
Strawberry Vinaigrette is so perfect for the springtime. This four ingredient dressing is easy to make at home!
Ingredients
1/3 cup chopped strawberries
3 tablespoons extra virgin olive oil
1 tablespoon apple cider vinegar
¾ teaspoon granulated sugar
Salt and pepper, to taste
Instructions
In a blender or food processor, combine all four ingredients.
Blend until the mixture is smooth and thick.
Give the dressing a taste, and season with salt and pepper. Blend again until smooth.
Chill for thirty minutes (optional), then pour on top of a salad.
Enjoy!
Notes
Store leftover strawberry vinaigrette in an airtight storage container on the refrigerator for 2-3 days. Give it a good shake before pouring on top of your salad.
Recommended Products
As an Amazon Associate and member of other affiliate programs, I earn from qualifying purchases.
Nutrition Information:
Yield:
4 servings
Serving Size:
1 serving
Amount Per Serving:
Calories:

65
Total Fat:

7g
Saturated Fat:

1g
Trans Fat:

0g
Unsaturated Fat:

6g
Cholesterol:

0mg
Sodium:

0mg
Carbohydrates:

1g
Fiber:

0g
Sugar:

1g
Protein:

0g
Nutrition facts are an estimate and not guaranteed to be accurate.