Monthly Meal Plan: 31 Recipes to Make in March 2018
Looking for recipes to make this March? Look no farther than this Monthly Meal Plan, which includes 31 recipes to make this month! Featuring several St. Patrick's Day treats, weeknight dinner inspiration, salads galore, Easter brunch goodness and more, this monthly recipe list is sure to offer something for everyone!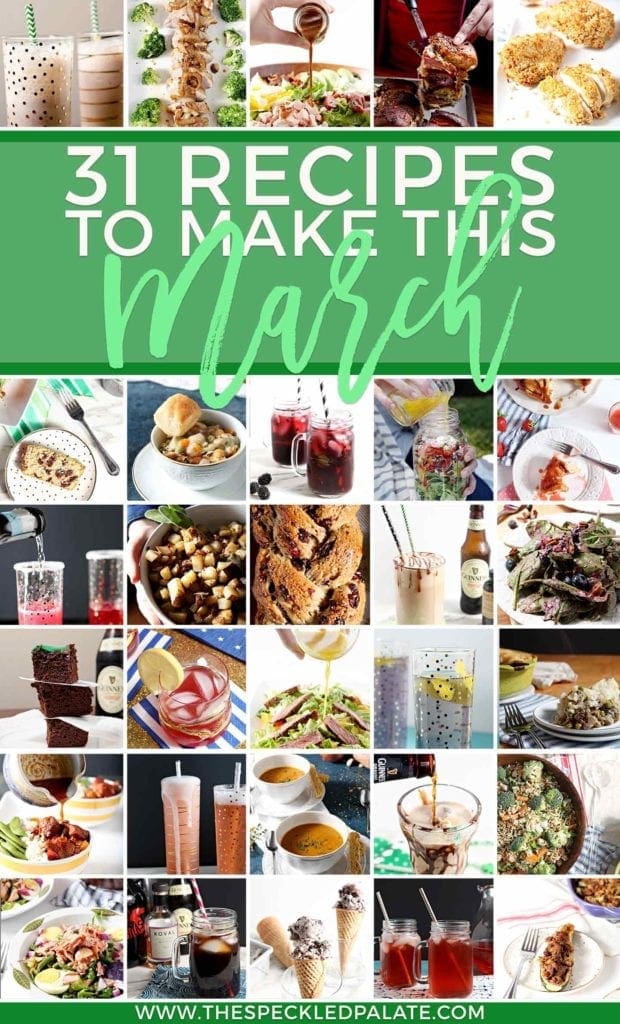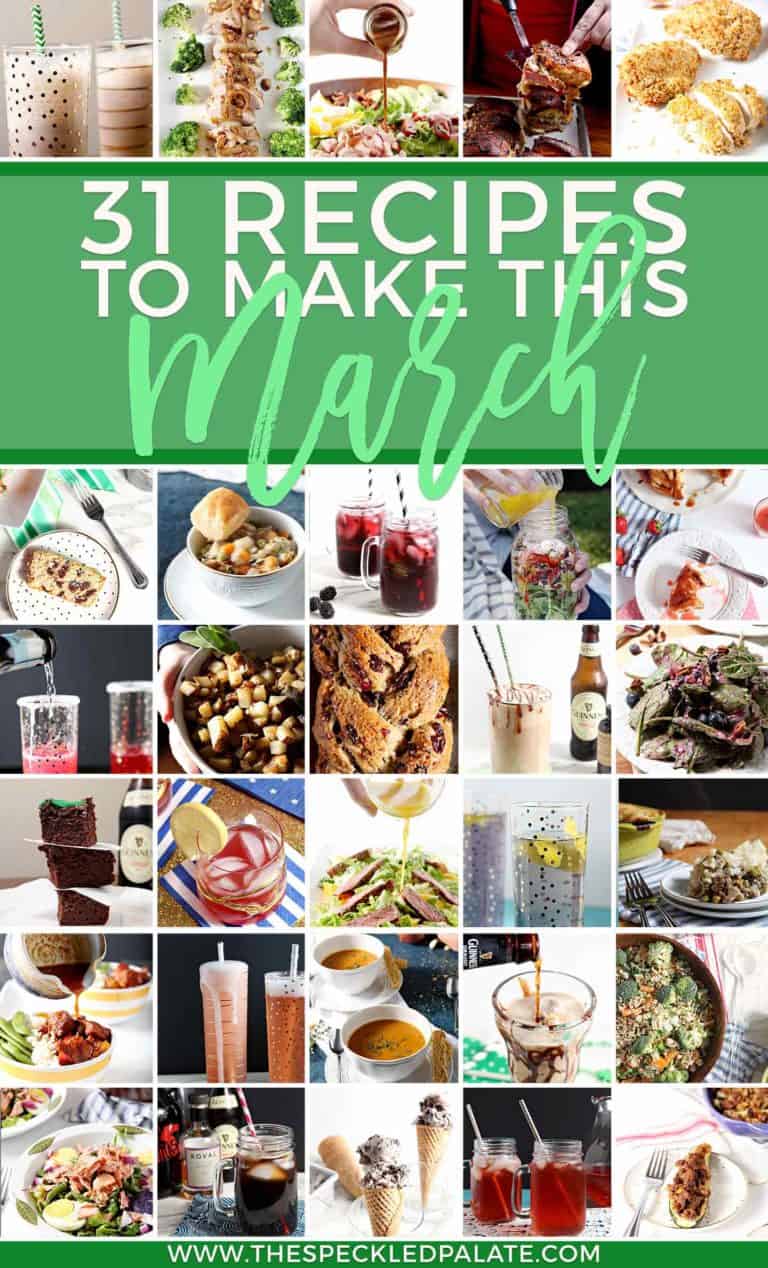 Happy (almost) March, y'all!
This month is packed full of goodness, and I'm already looking forward to our daughter's birthday, St. Patrick's Day festivities and Easter goodness–even though Easter technically falls in April. I like to plan ahead on my menu, so I'm including some Easter brunch inspiration below for y'all in case you're the same. (Because who wants to plan for a holiday the DAY OF?)
What are YOU looking forward to this month? Any celebrations planned on your end?
Scroll on down to learn what we'll be cooking this month and what you should, too!
Monthly Meal Plan: Weeknight Meals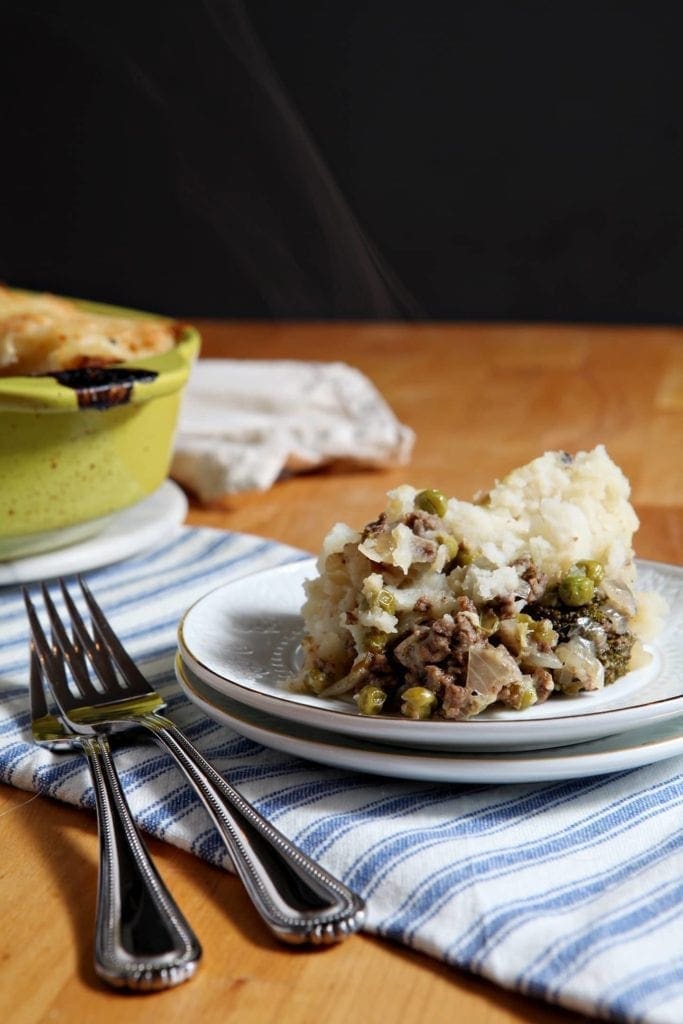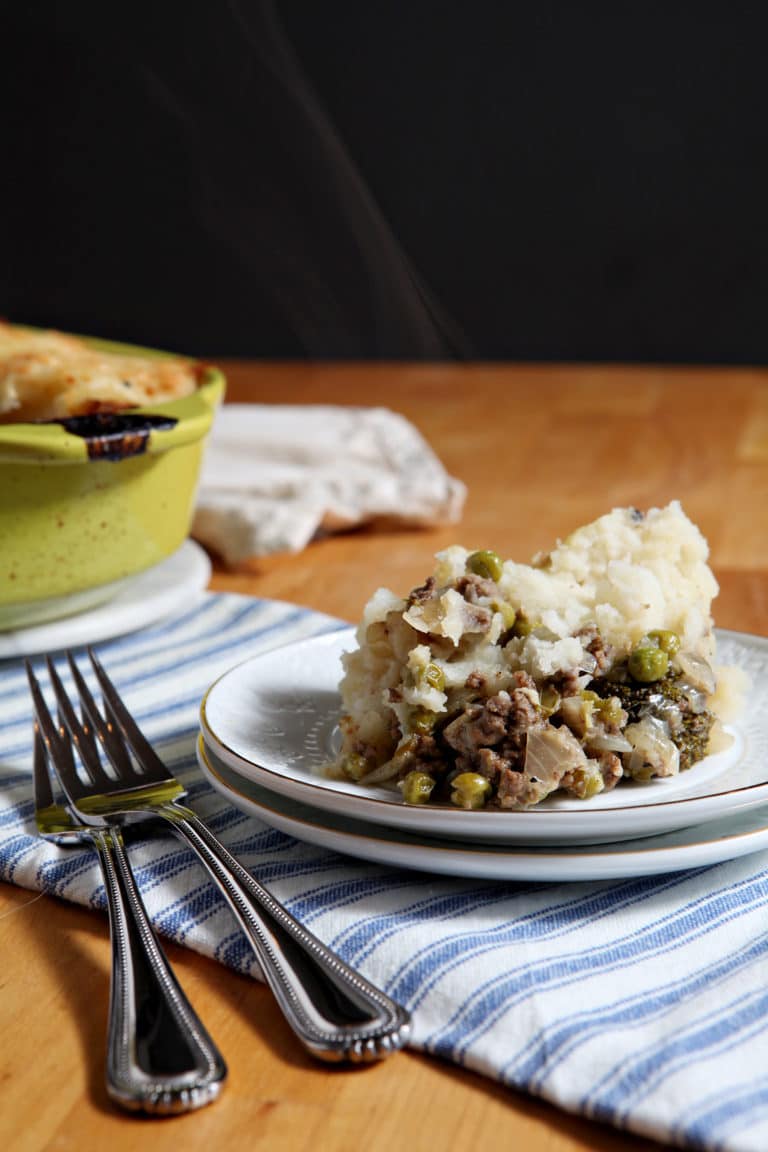 Shepherd's Pie is a comforting, favorite winter entree. Beef, onions, garlic, bell pepper, broccoli, peas and more cook together before topping with cheesy mashed potatoes. Bake until perfection for the ultimate wintertime comfort food.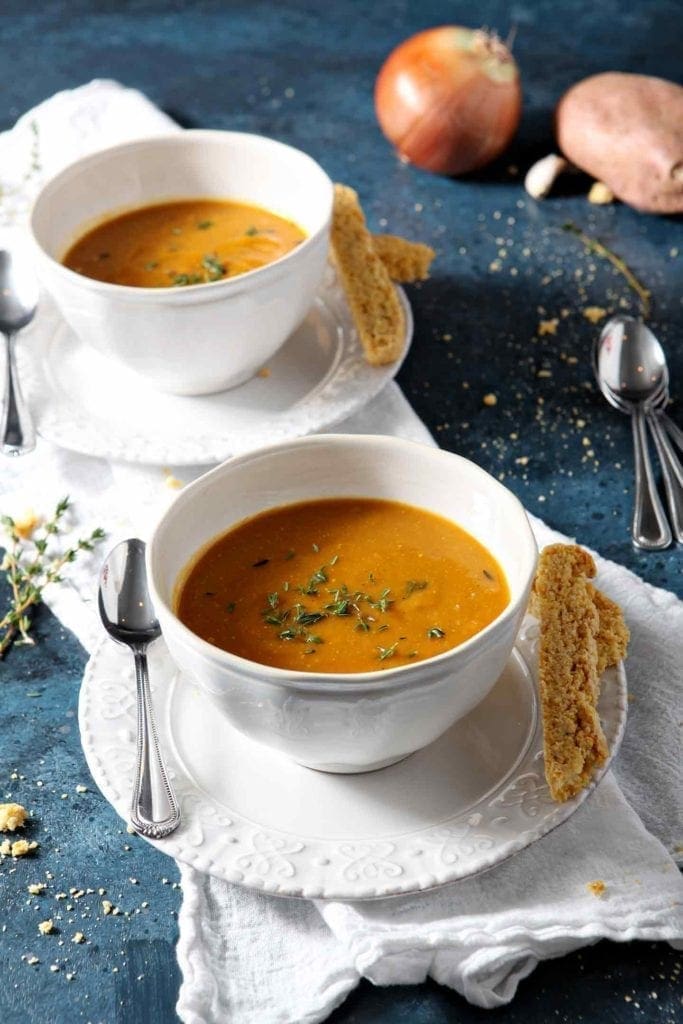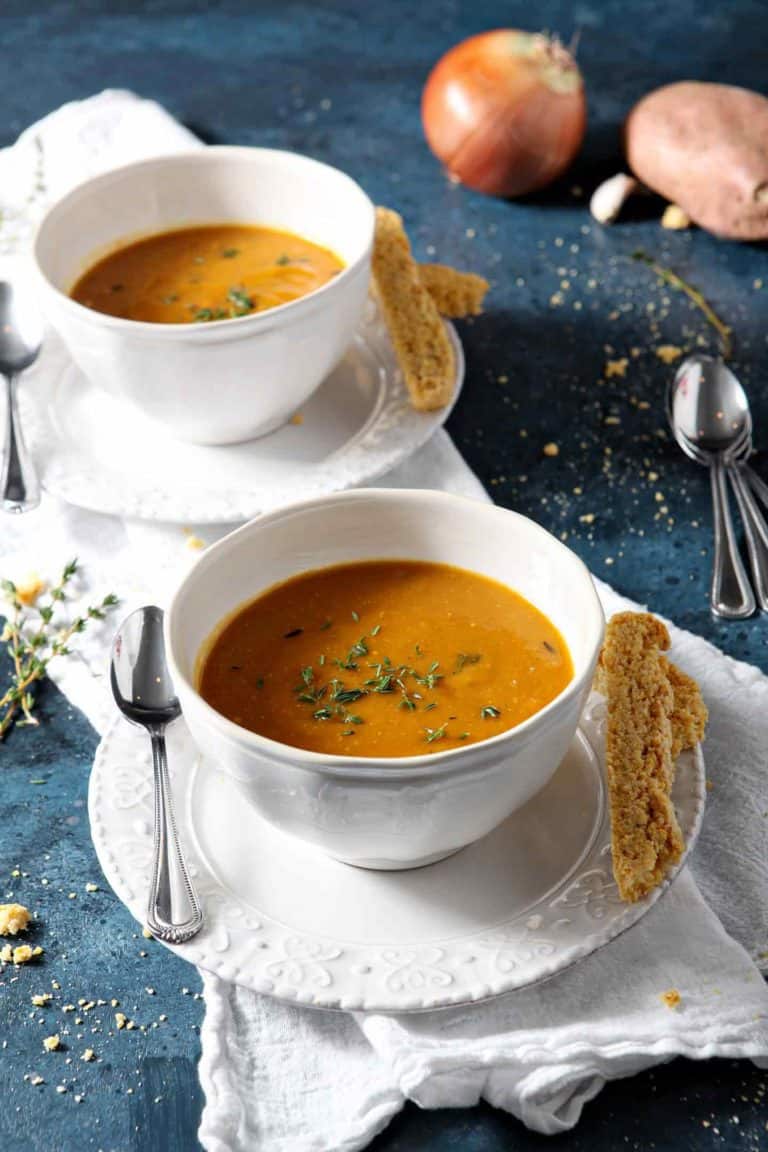 Savory, smooth and flavorful, Sweet Potato Bisque is chock full of sweet potato goodness. Made with simple ingredients and warming spices, this vegetarian soup is bound to wow your guests, no matter if it's served as a weeknight dinner or a party entree. In addition, his recipe can be tweaked to feed someone on the Whole30 or a paleo eater! Sweet Potato Bisque is perfect comforting meal for a cold winter's evening.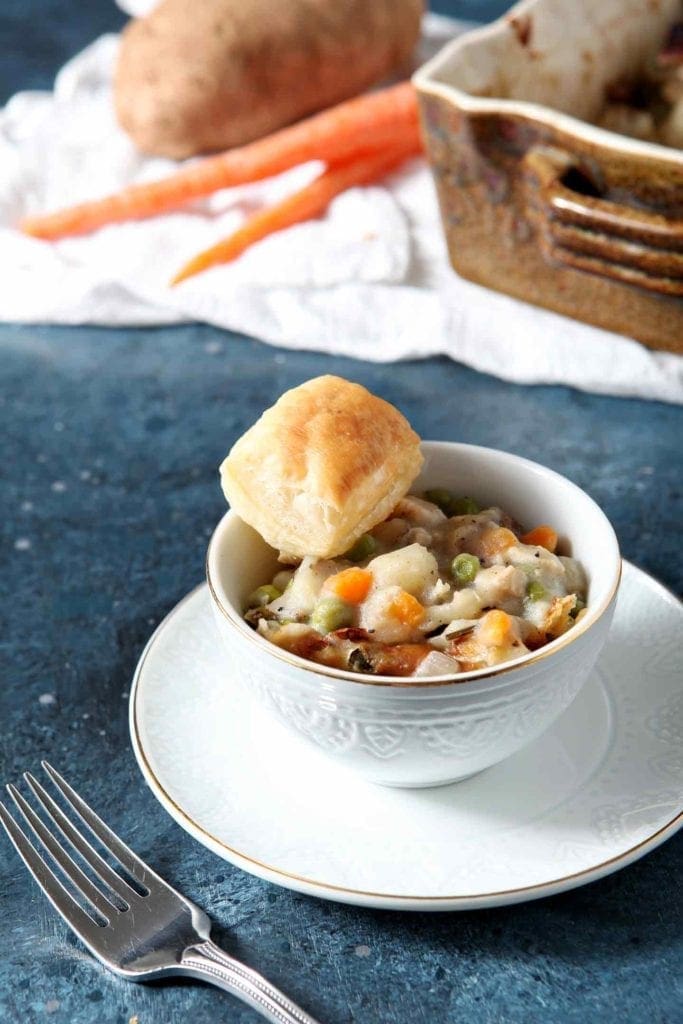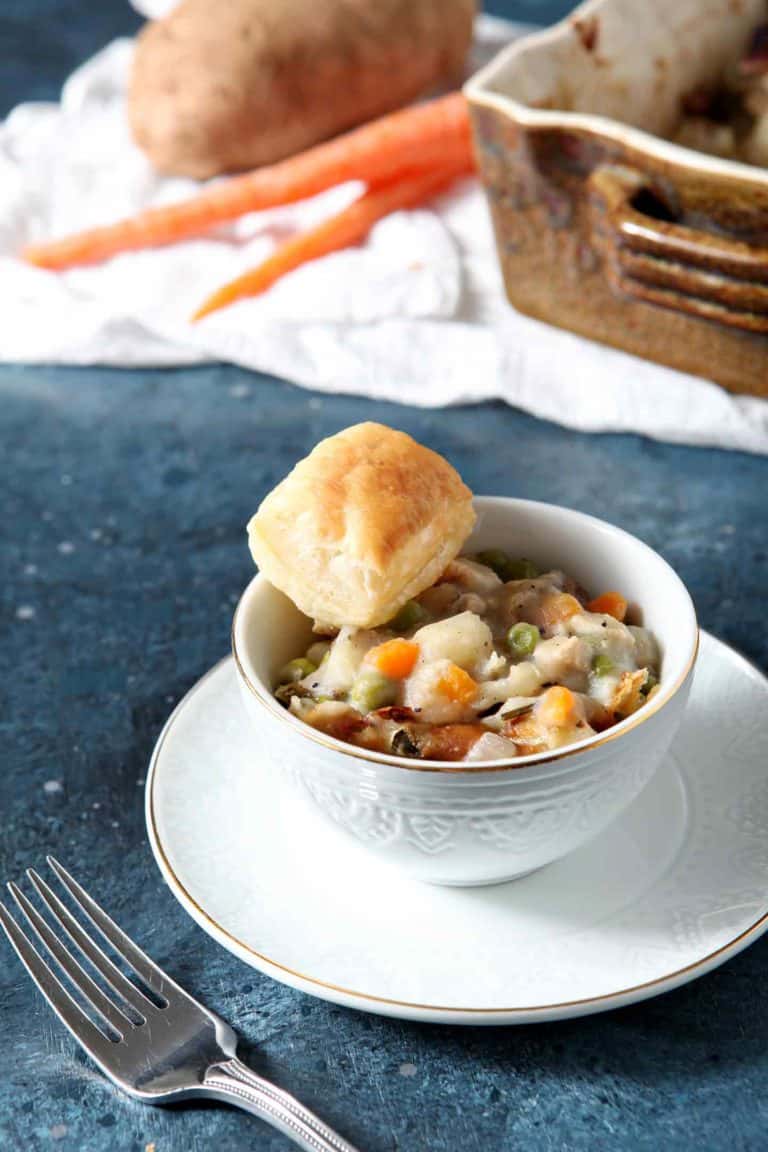 The ultimate comfort dish, Homemade Chicken Pot Pie makes for a delicious dinner. Filled with chicken and various vegetables, this chicken pot pie is a comforting, easy dinner. And the best part is the crust never gets soggy because the chicken pot pie is topped with individually baked pieces of Puff Pastry! This homemade Chicken Pot Pie makes a perfect meal for the whole family to enjoy during the chilly winter months.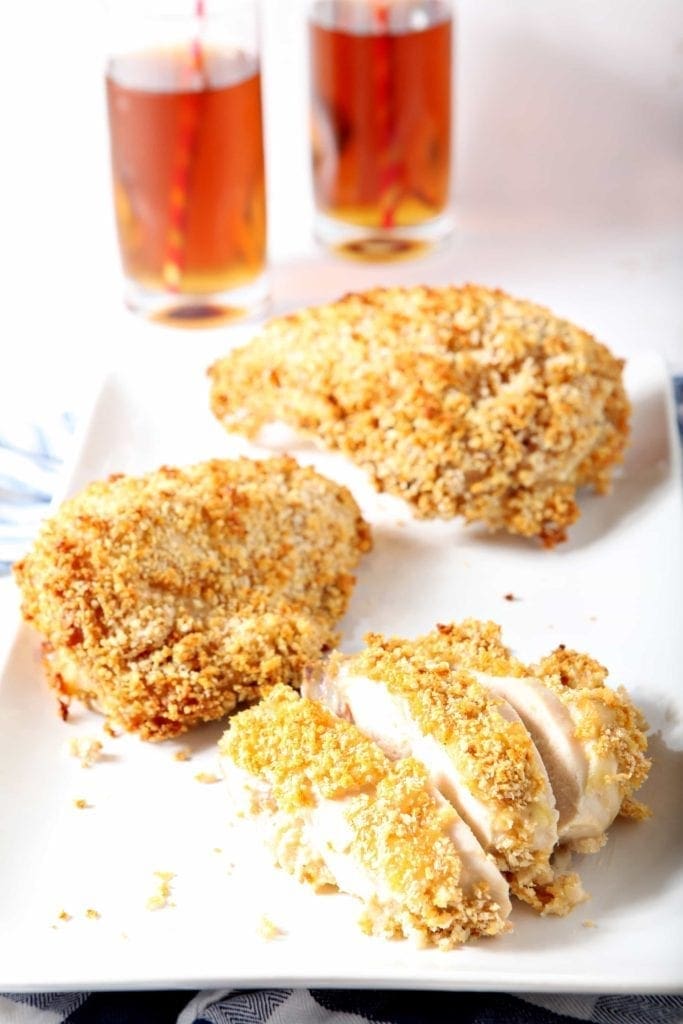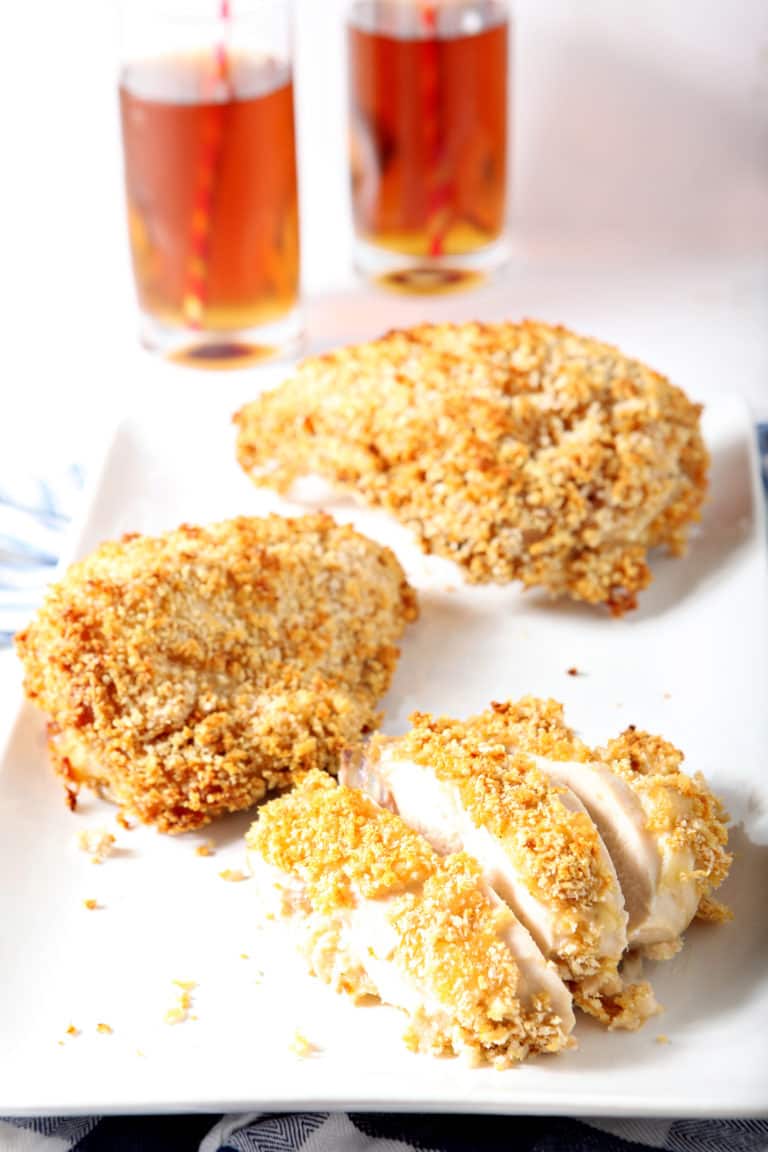 Satisfy a fried chicken craving by making Sweet Tea Oven Fried Chicken! This twist on a Southern fried classic uses sweet tea brine to infuse flavor and lock in juiciness before the chicken breasts go into a spicy buttermilk bath. Coat in panko breadcrumbs before baking for the crunchiest, juiciest "fried" chicken you've ever tasted! Perfect for any gathering, this slightly spicy Sweet Tea Oven Fried Chicken is SO tasty!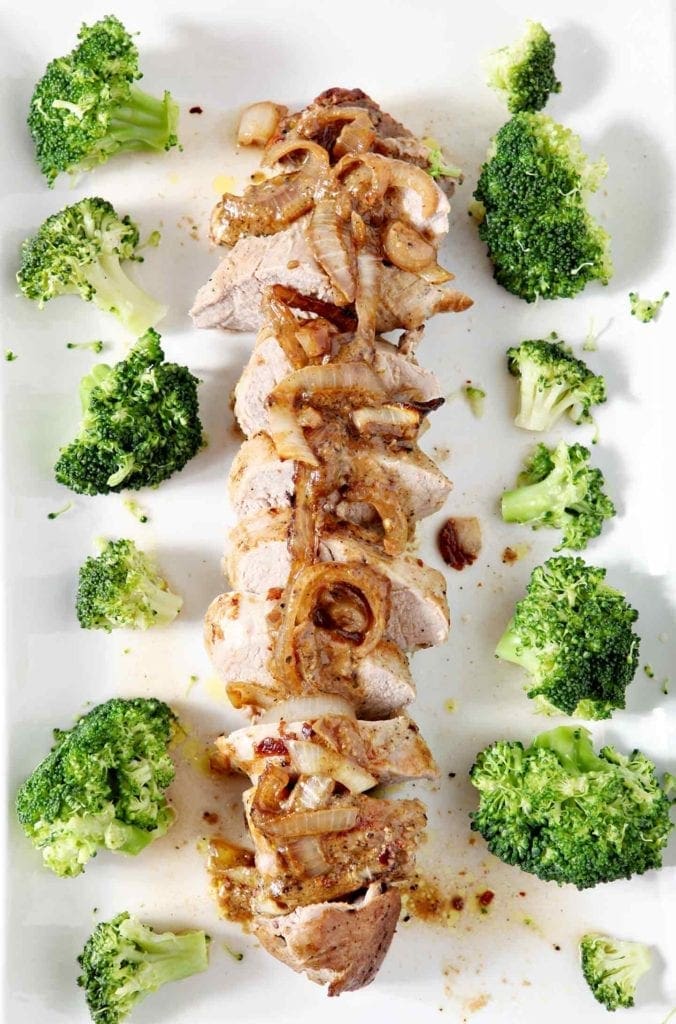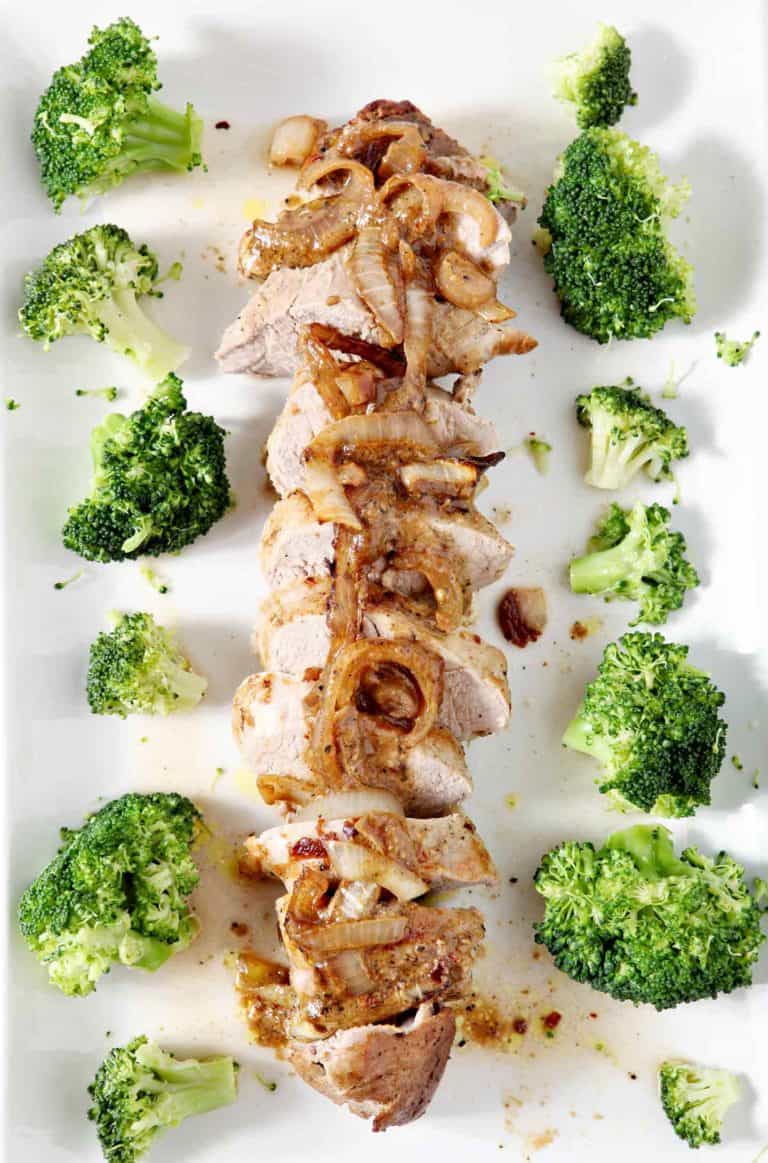 A family favorite, Leigh's Everything-but-the-Kitchen-Sink Pork Tenderloin bakes up to make a DELICIOUS meal any time of the year! This pork tenderloin first marinates in a mixture of olive oil, Worcestershire sauce, soy sauce, grainy mustard, hot sauce, apple cider vinegar and various spices to create a juicy and tender protein before baking. Leigh's Everything-but-the-Kitchen-Sink Pork Tenderloin is bound to become a household favorite!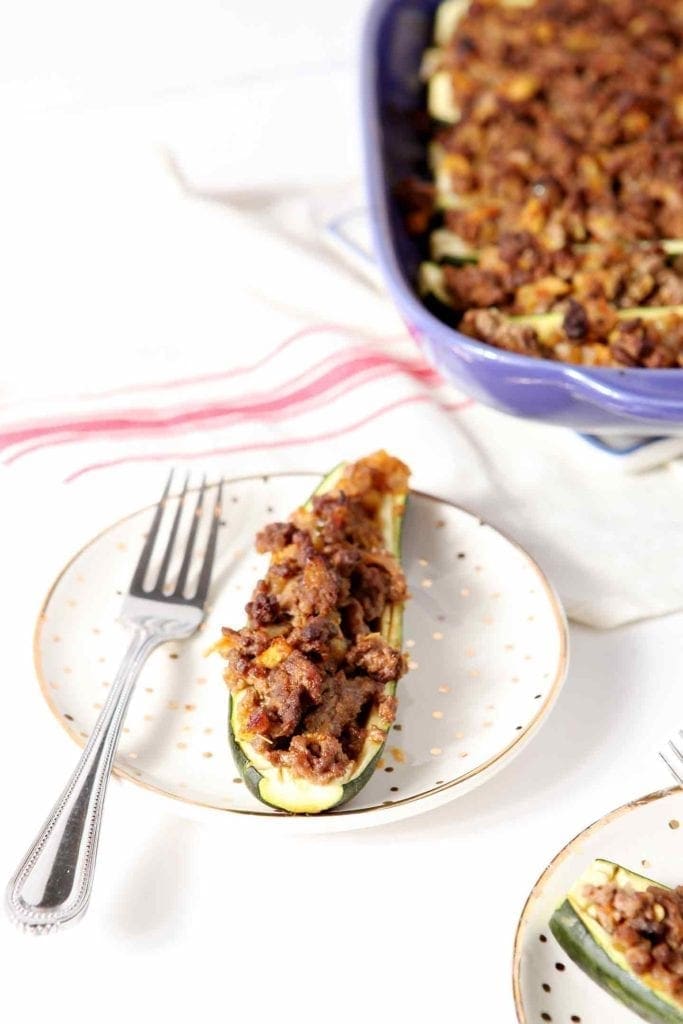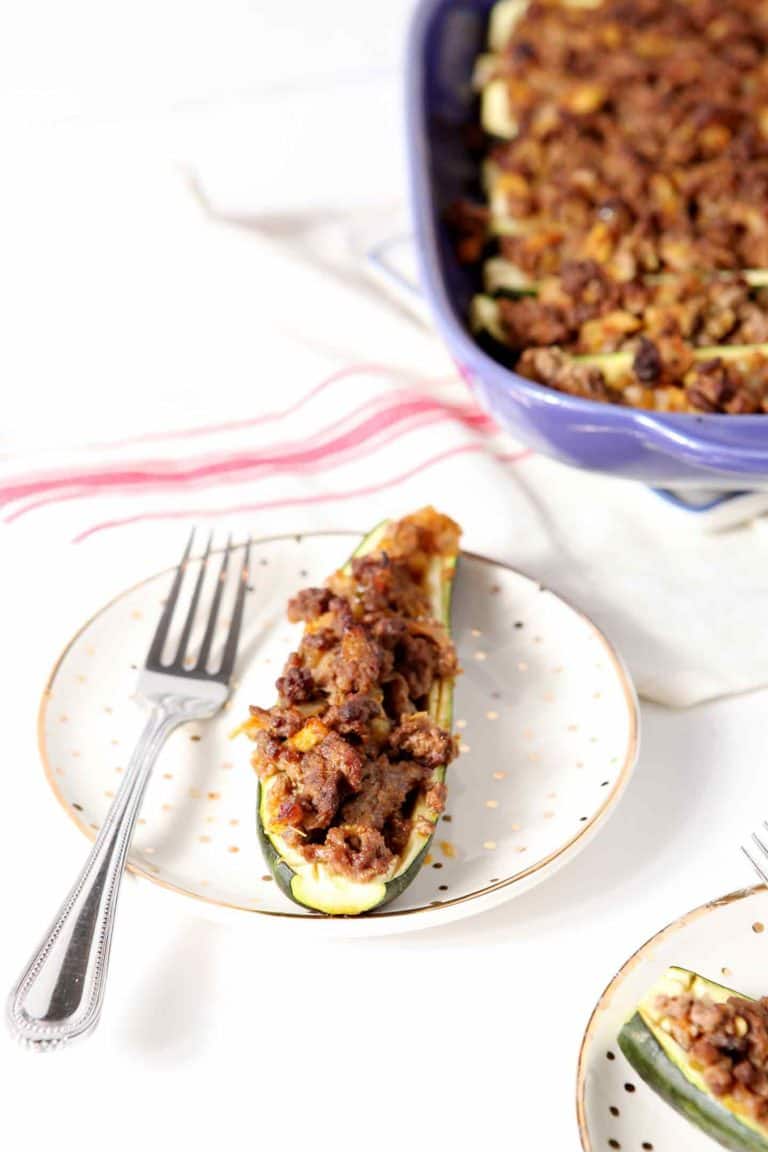 Bursting with flavor, Whole30 Taco Zucchini Boats make a dinner the whole family will adore! Hollow out fresh zucchini and fill with a ground beef-onion-zucchini-salsa filling before baking to perfection. Insanely flavorful with just the right amount of spice, these satisfying Whole30 Taco Zucchini Boats bring taco goodness to the table without wheat, corn OR dairy! These zucchini boats are one of our favorite meals!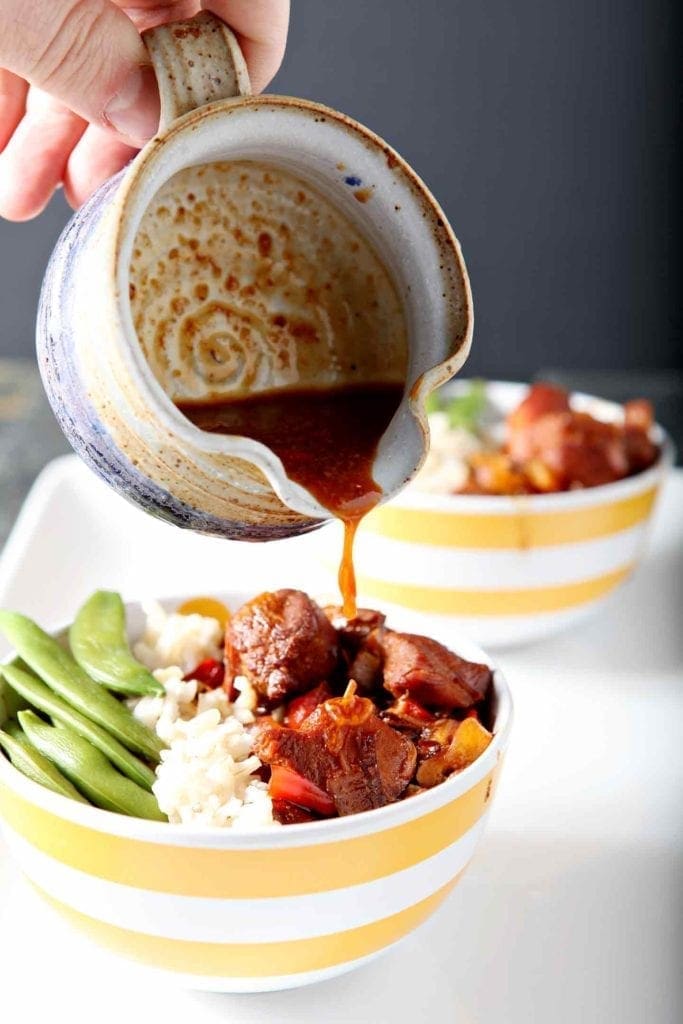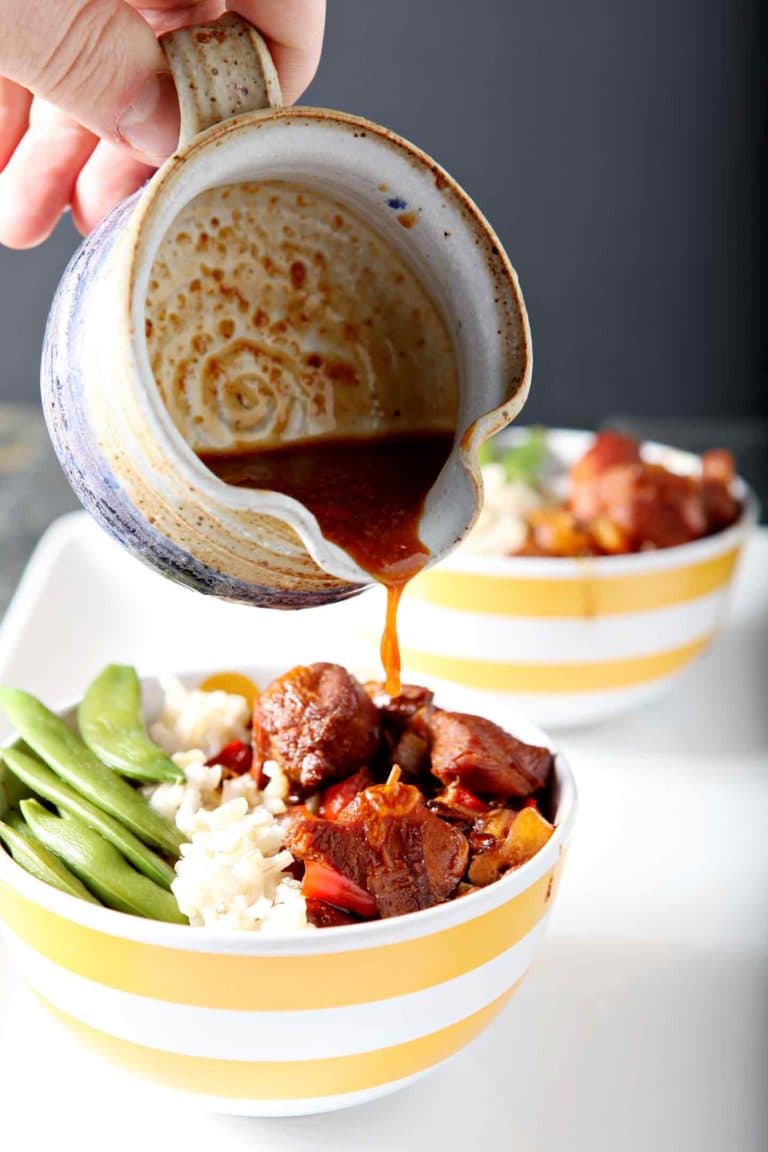 Enjoy flavorful Honey Sriracha Chicken Rice Bowls for dinner this week! Place the chicken, onion and red bell pepper in the slow cooker with honey, soy sauce and water. Cook for 4 hours. Steam brown rice and snow peas, then layer the rice, chicken and its sauce and snow peas in a bowl for serving. Slightly sweet with a zing of spice, Honey Sriracha Chicken Rice Bowls make a well-loved, simple and healthy weeknight meal for the whole family.
Monthly Meal Plan: Versatile Salads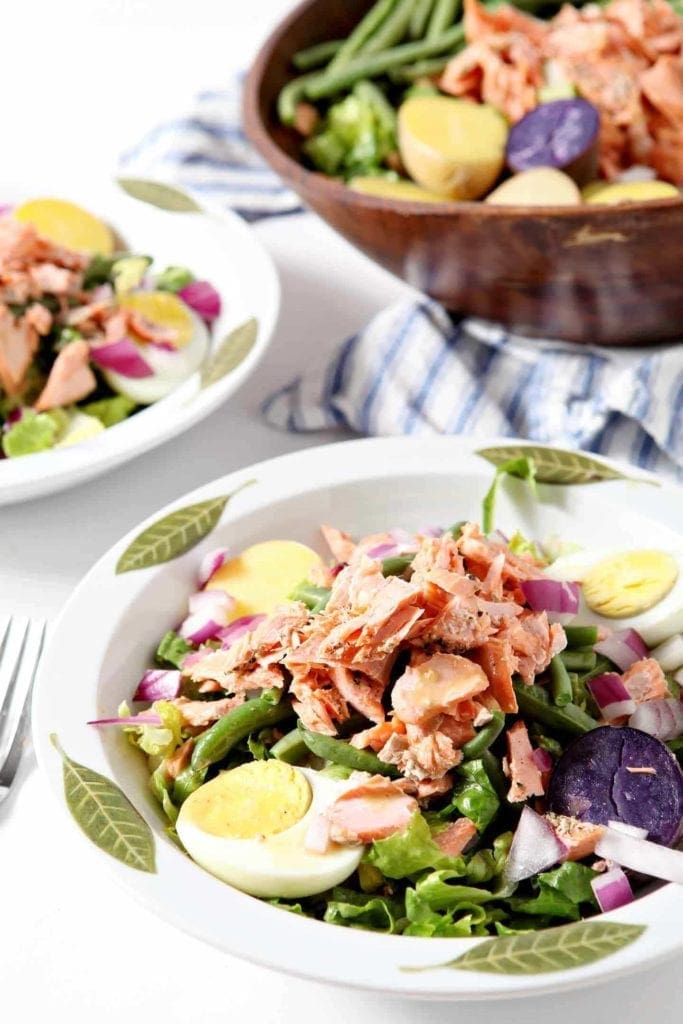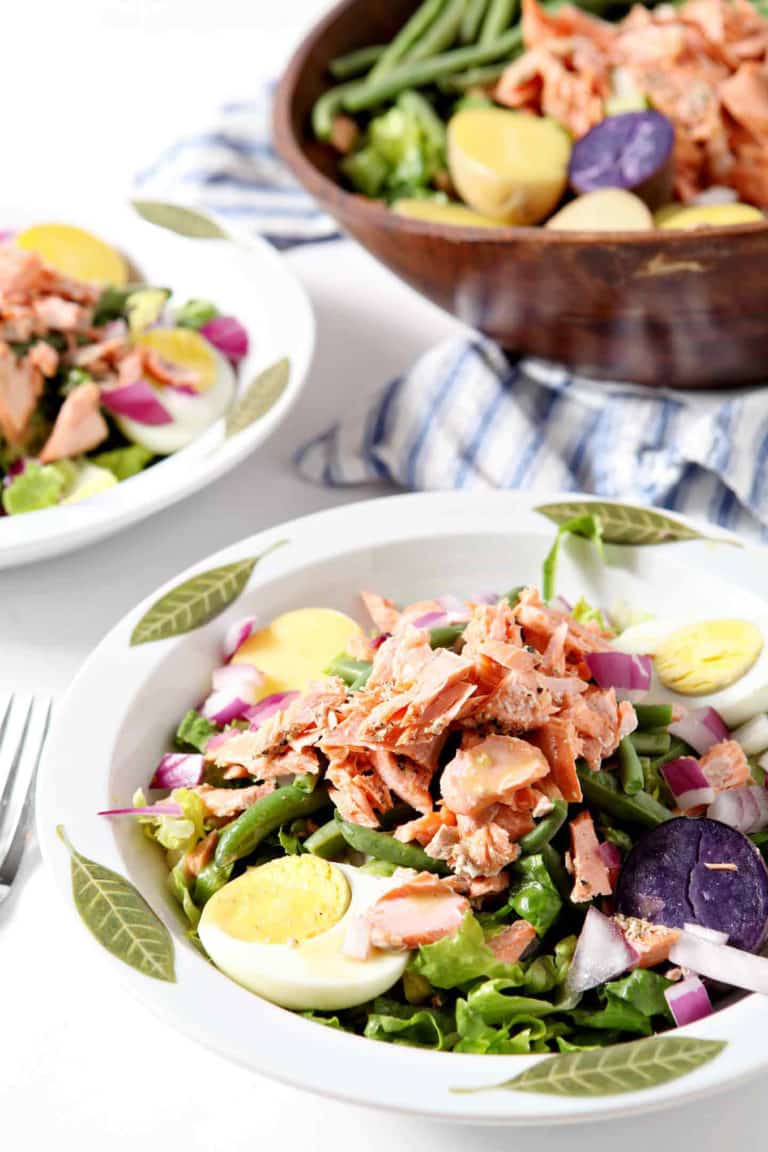 A twist on the French classic, Salmon Niçoise Salad makes a flavor-packed dinner! Fresh sockeye salmon serves as the centerpiece of this entree salad in place of traditional tuna. Romaine lettuce, steamed green beans, baby potatoes and red onion are tossed together to create the rest of the salad, then topped with a tangy olive oil-Dijon vinaigrette. Flavorful for lunch or dinner, this Salmon Niçoise Salad sings.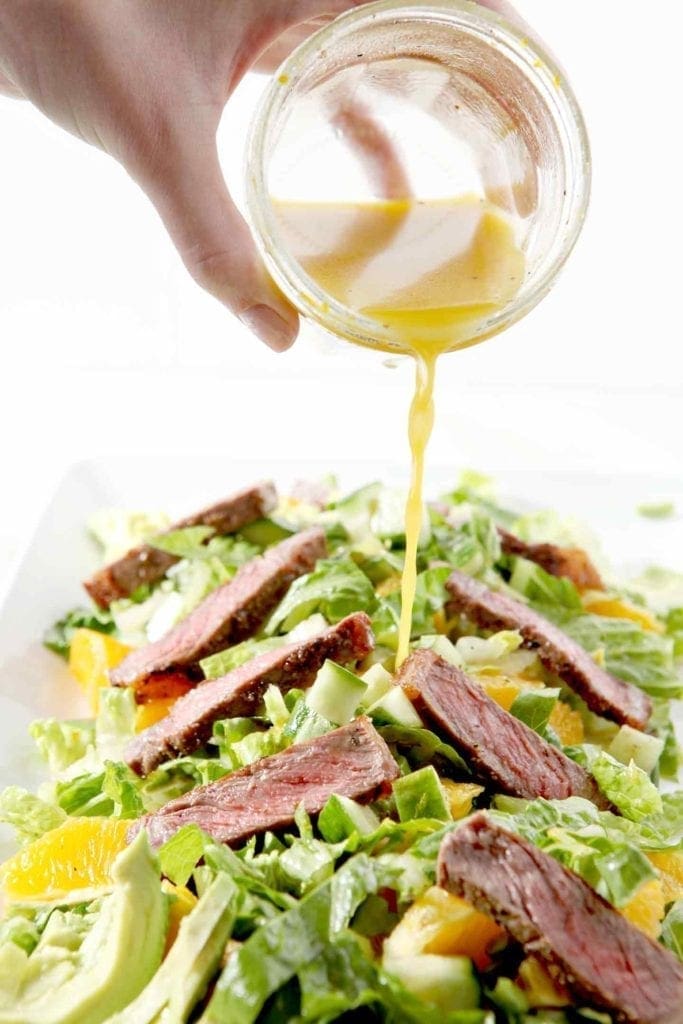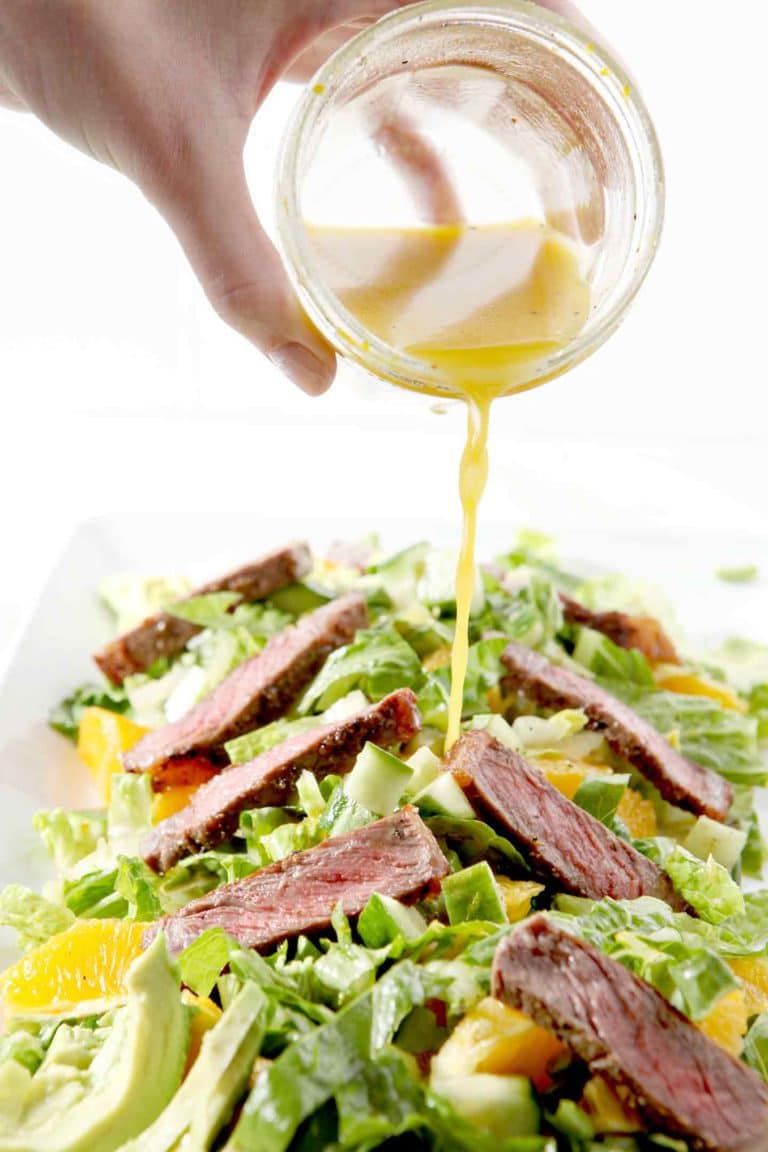 Looking for an entree or appetizer to wow the crowd this summer? Orange Steak Salad is the way to go! This Whole30-compliant, Paleo and Gluten Free recipe will impress guests and family alike. Perfectly cooked New York Strip Steak sits atop a bed of romaine lettuce, studded with navel oranges, English cucumbers and avocado. Finish with a drizzle of homemade Orange Vinaigrette, and this Orange Steak Salad makes the perfect summer meal!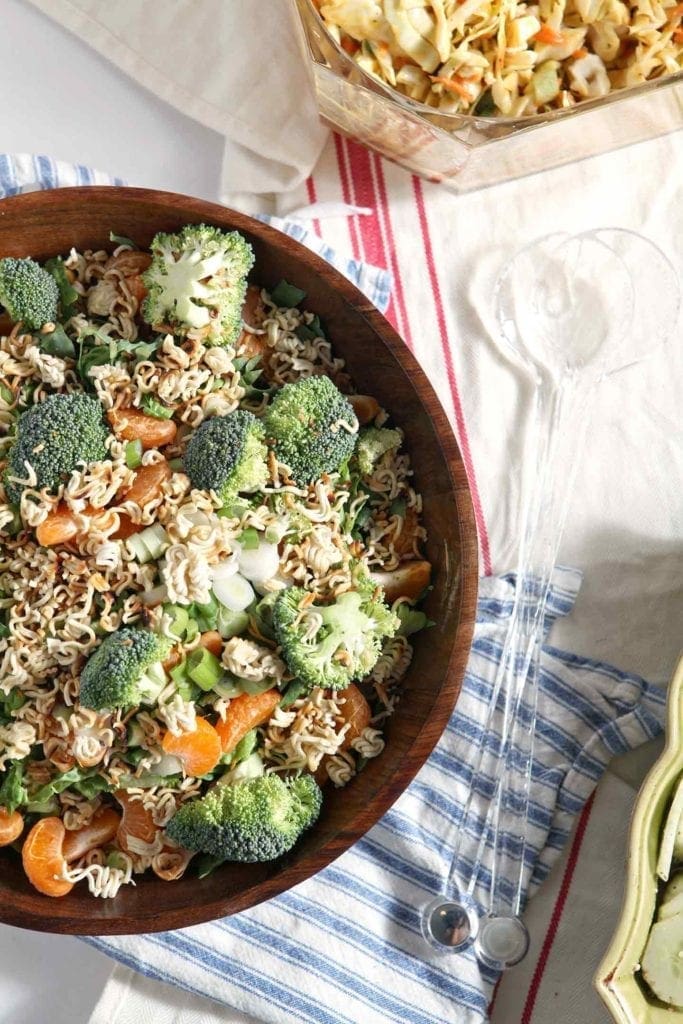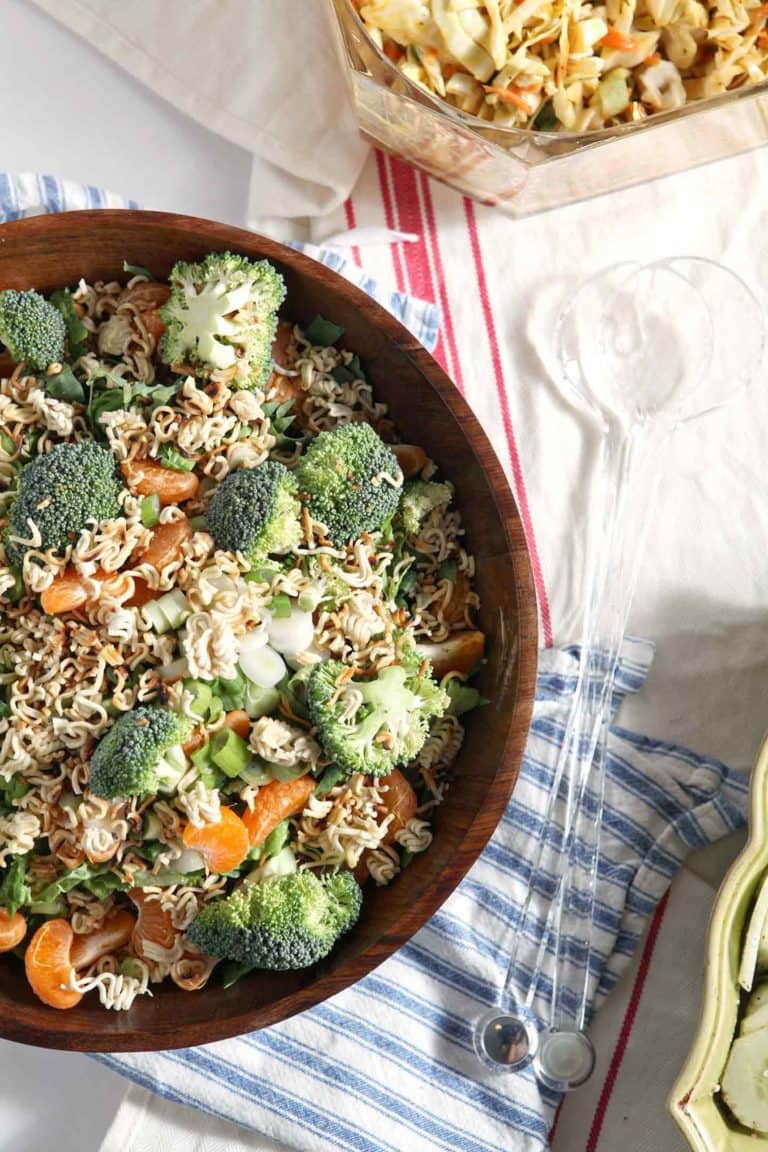 Ramen Noodle and Clementine Salad is a favorite side dish that's perfect for all seasons! Toss crunchy romaine lettuce with fresh clementines, broccoli, scallions and crisped ramen noodles. Top with a homemade honey vinaigrette, and this side salad makes an outstanding side that is also delicious as an entree. Whether you're hosting a tailgate, an at-home viewing, a barbecue or more, Ramen Noodle and Clementine Salad is an EASY salad to enjoy!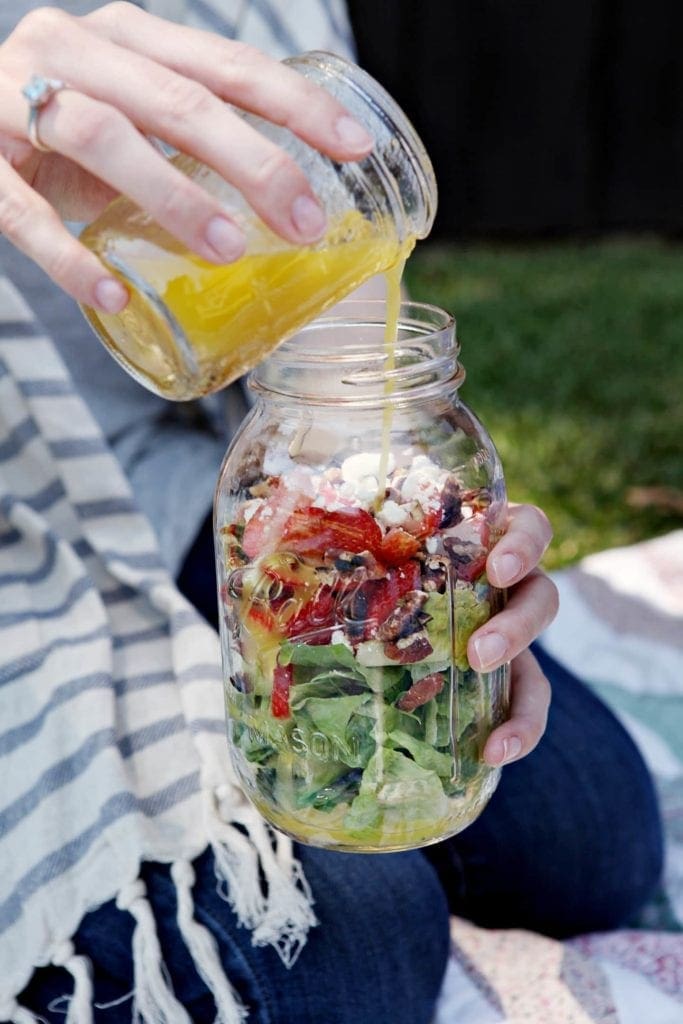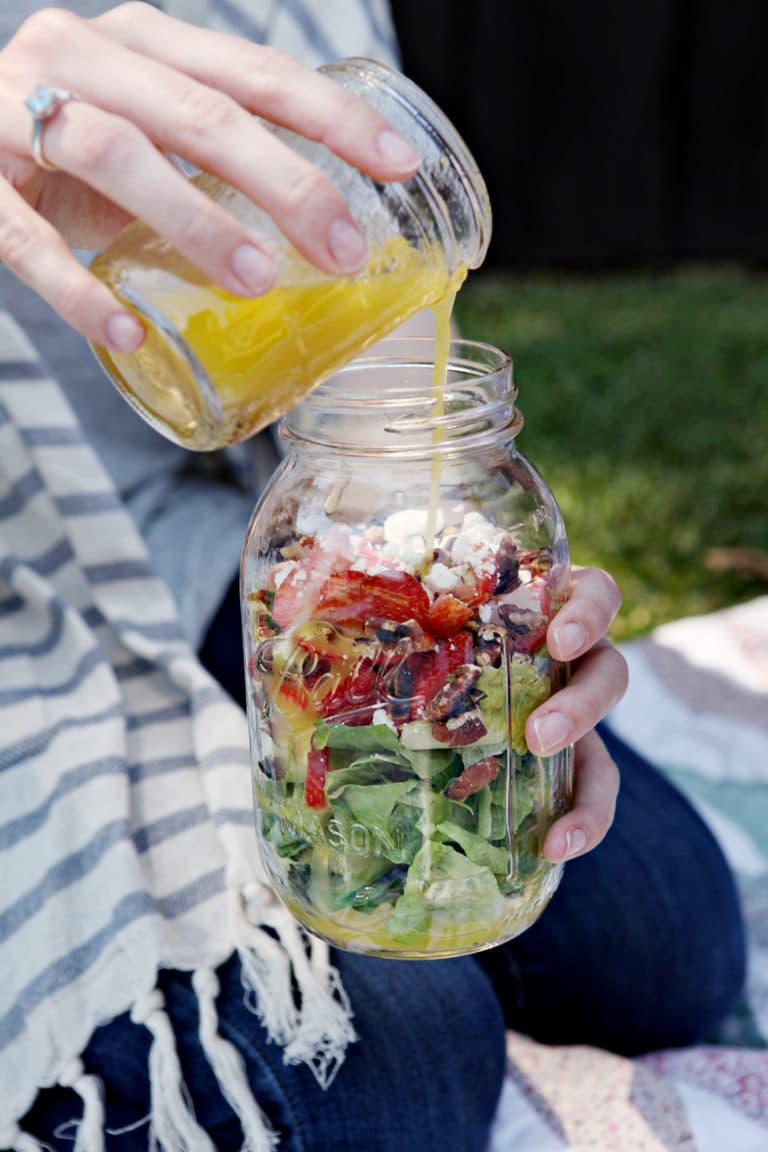 Planning to picnic this spring and summer? Bring Strawberry Romaine Salad in a Jar along as a tasty, seasonal side dish. Romaine lettuce is layered into a mason jar, followed by fresh, sliced strawberries. The lettuce and fruit are topped with toasted pecans and feta cheese, then tossed in a homemade lemon vinaigrette to complete the dish. These salads in a jar travel well, store well, and are easy to enjoy at any warm-weather outdoor event you might be attending!

Enjoy the fruits of the season with this delightfully delicious Blueberry Pecan Feta Salad. Tossed in a homemade Blueberry Vinaigrette, this bright salad works beautifully as a starter or an entree. A spring and summertime favorite, Blueberry Pecan Feta Salad is also perfect for entertaining because it adds such beautiful brightness to a meal.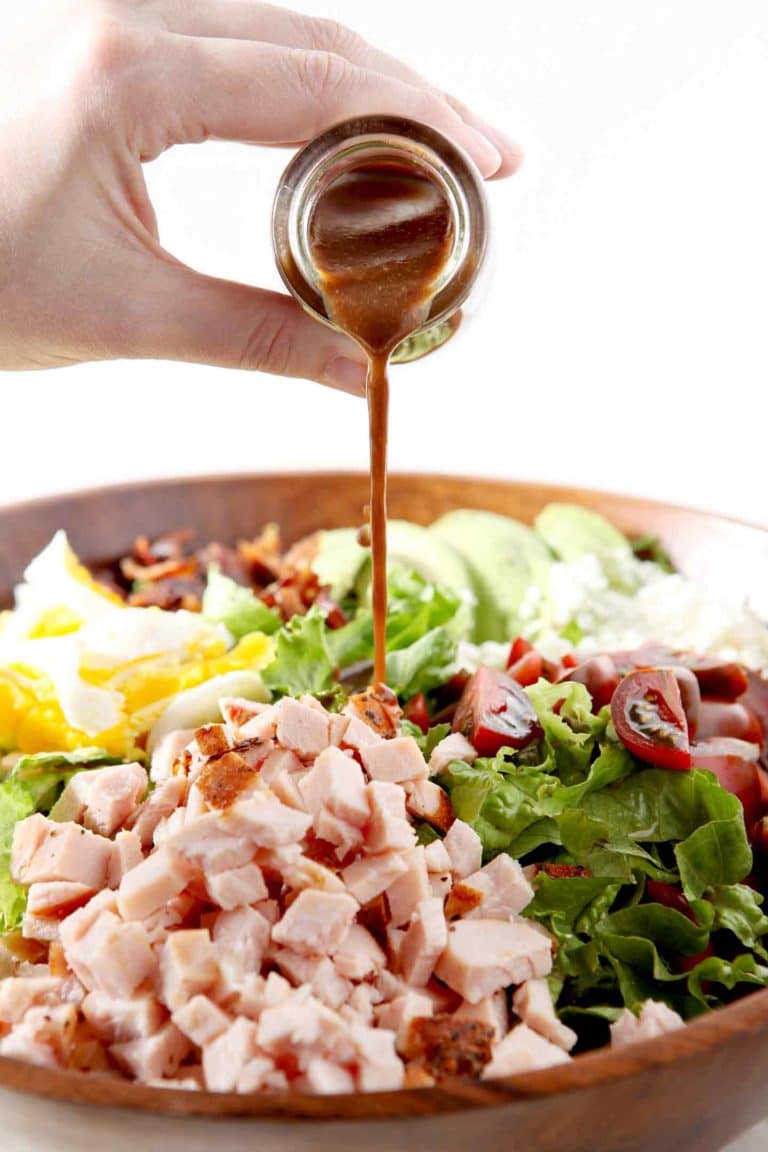 Lunchtime shouldn't be a struggle, and this Cajun Cobb Salad makes a flavorful meal that will carry you through the afternoon! On a bed of shredded romaine, layer diced Hickory Smoked Cajun Style Turkey Breast, hardboiled eggs, bacon, avocado, cherry tomatoes and feta cheese. Drizzle with a creamy balsamic vinaigrette before tossing and enjoying. This Cajun Cobb Salad can be made ahead for a quick lunch, too!
Monthly Meal Plan: St. Patrick's Day Desserts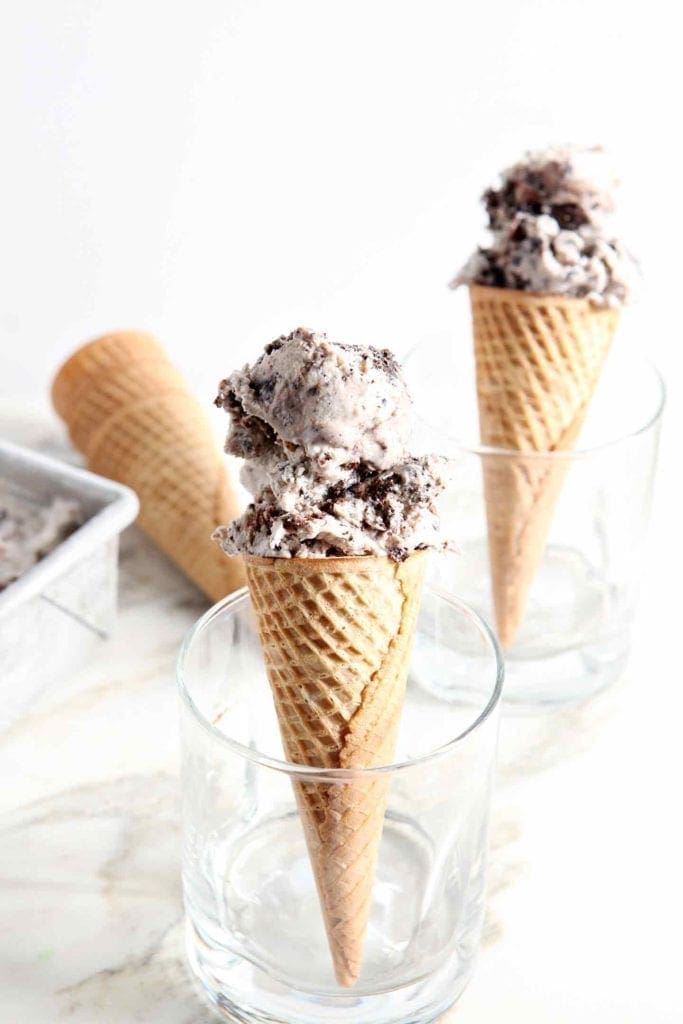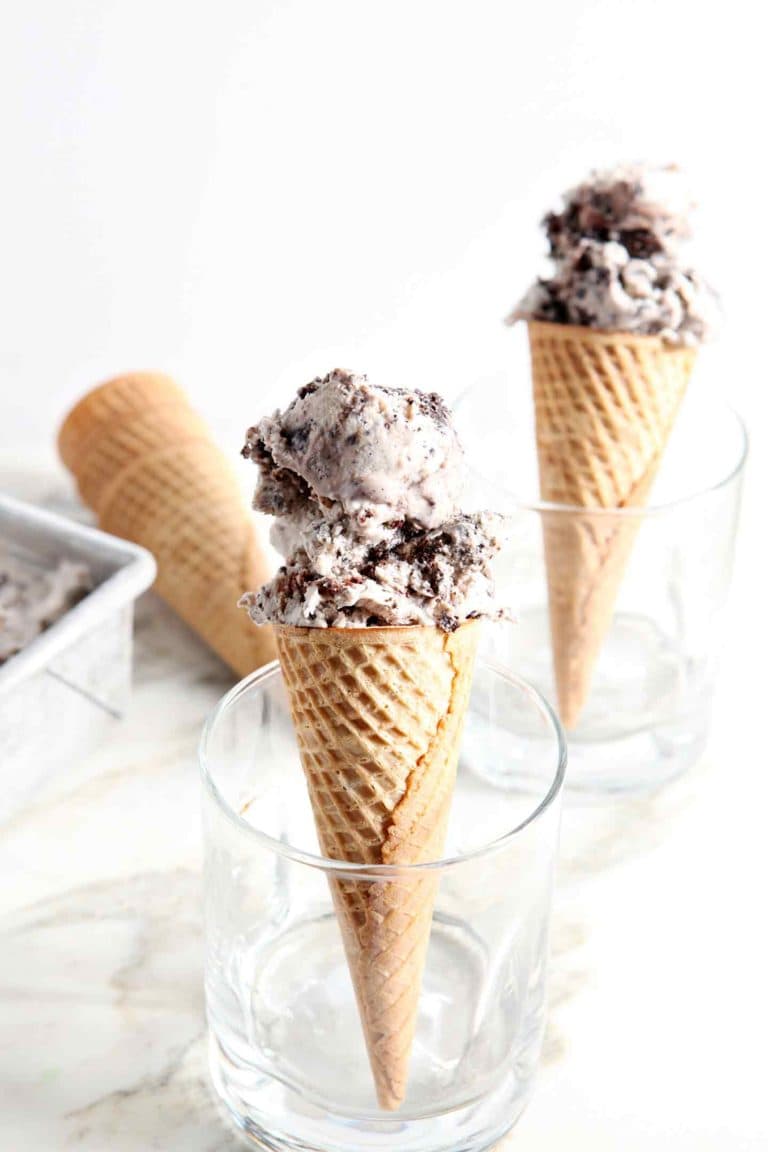 Whether you're celebrating St. Patrick's Day, a birthday or any regular day, this rich No Churn Guinness Brownie Ice Cream is sure to become a new favorite! Bake homemade brownies, made extra chocolatey and decadent with Guinness and dark chocolate. Once baked, cut the brownies into bite-sized pieces and stir into the simple no churn ice cream base before freezing overnight. Scoop this creamy, flavorful ice cream into cones, and enjoy!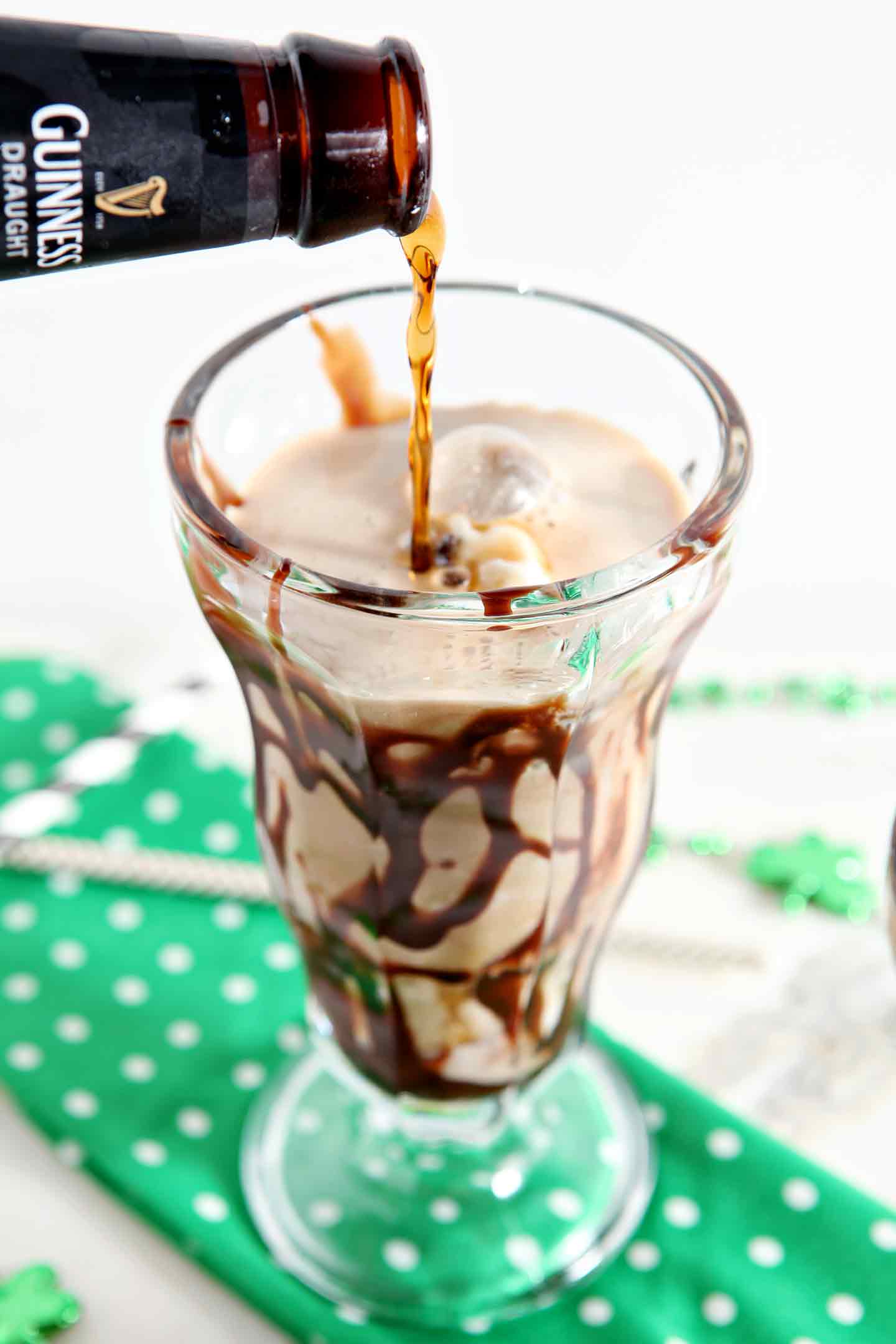 Combine two springtime favorites: mint chocolate chip ice cream and Guinness Draught into decadent Mint Chip Guinness Floats! These adult ice cream floats are the perfect dessert beverages to sip while celebrating St. Patrick's Day! Drizzle your favorite hot fudge sauce into the glasses, and then scoop in the ice cream. Pour in the Guinness, and finish with more hot fudge sauce and whipped cream. Enjoy these sweet, stout boozy floats immediately!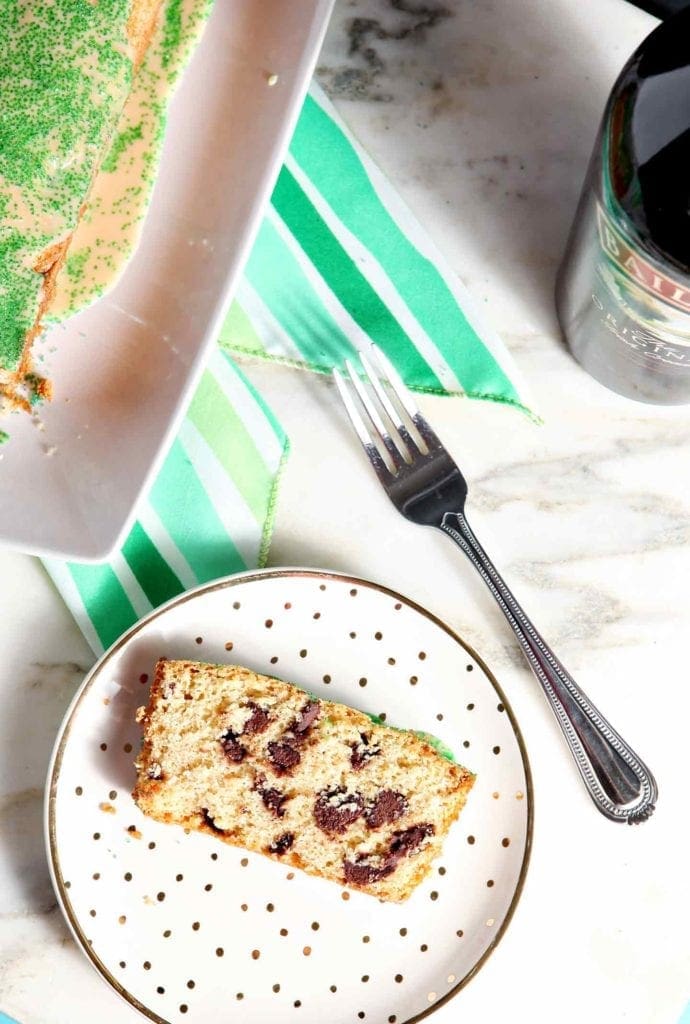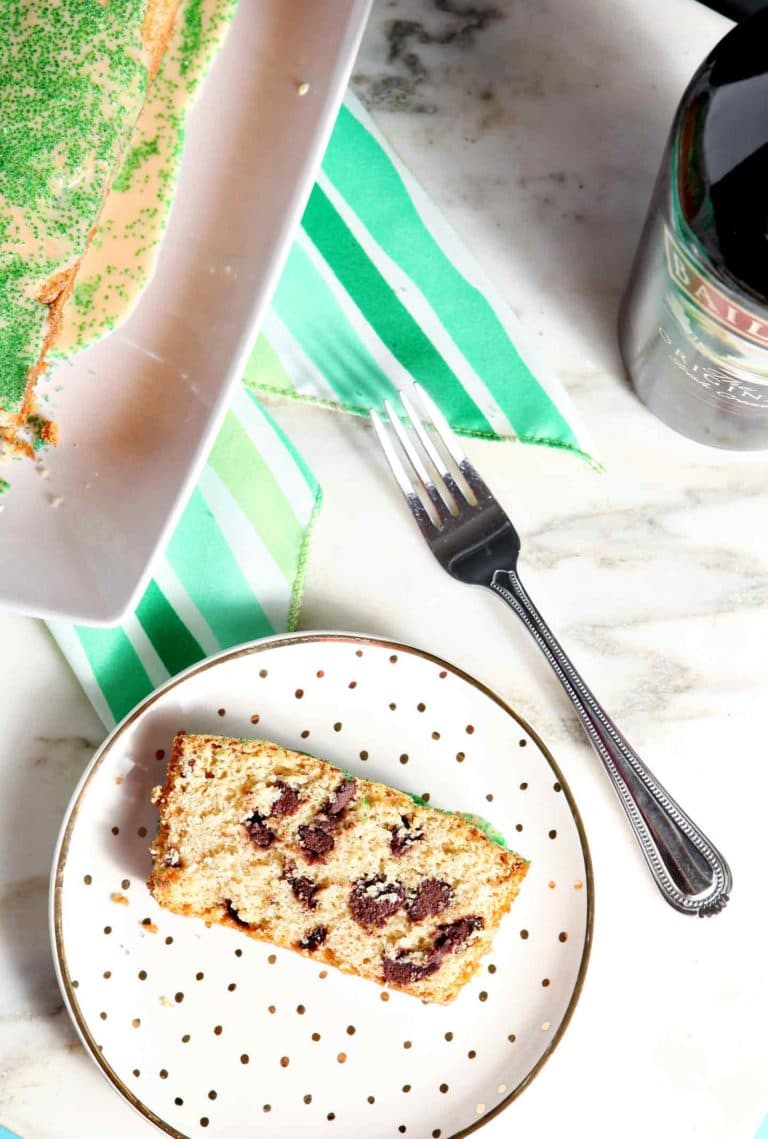 Show up to this year's St. Patrick's Day festivities or BRUNCH with a Chocolate Chip Irish Cream Pound Cake! This decadent cake, made with a large pour of Bailey's Irish Cream, is studded with dark chocolate chips. Dense and moist with a fluffy interior and a crunchy exterior, finish this Chocolate Chip Irish Cream Pound Cake with a drizzle of Bailey's Irish Cream Glaze. This boozy pound cake makes a sweet treat for any given day!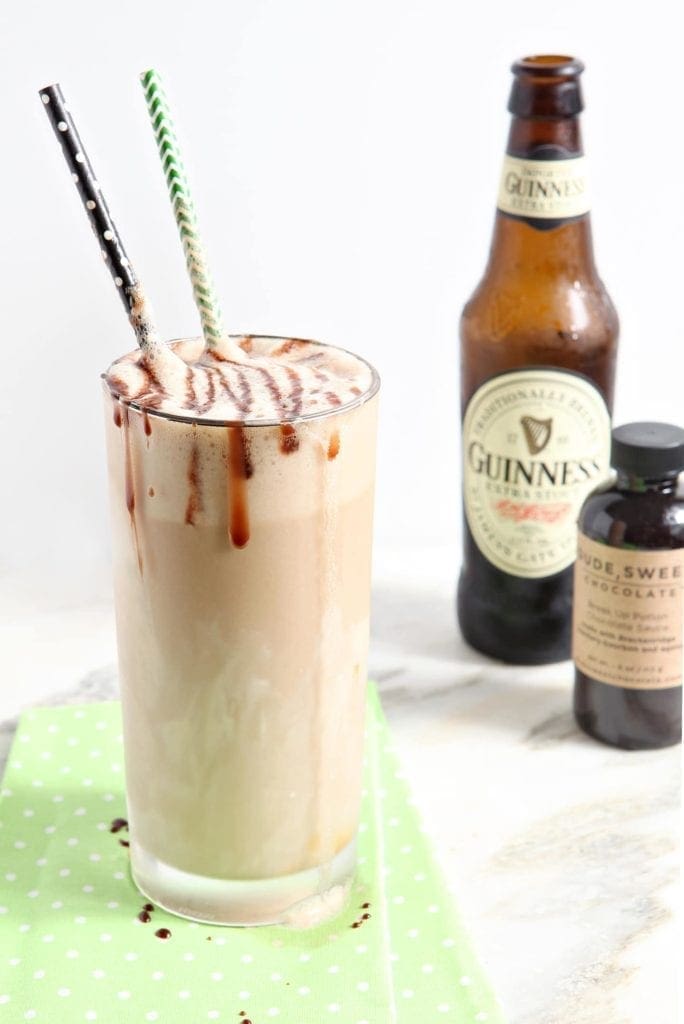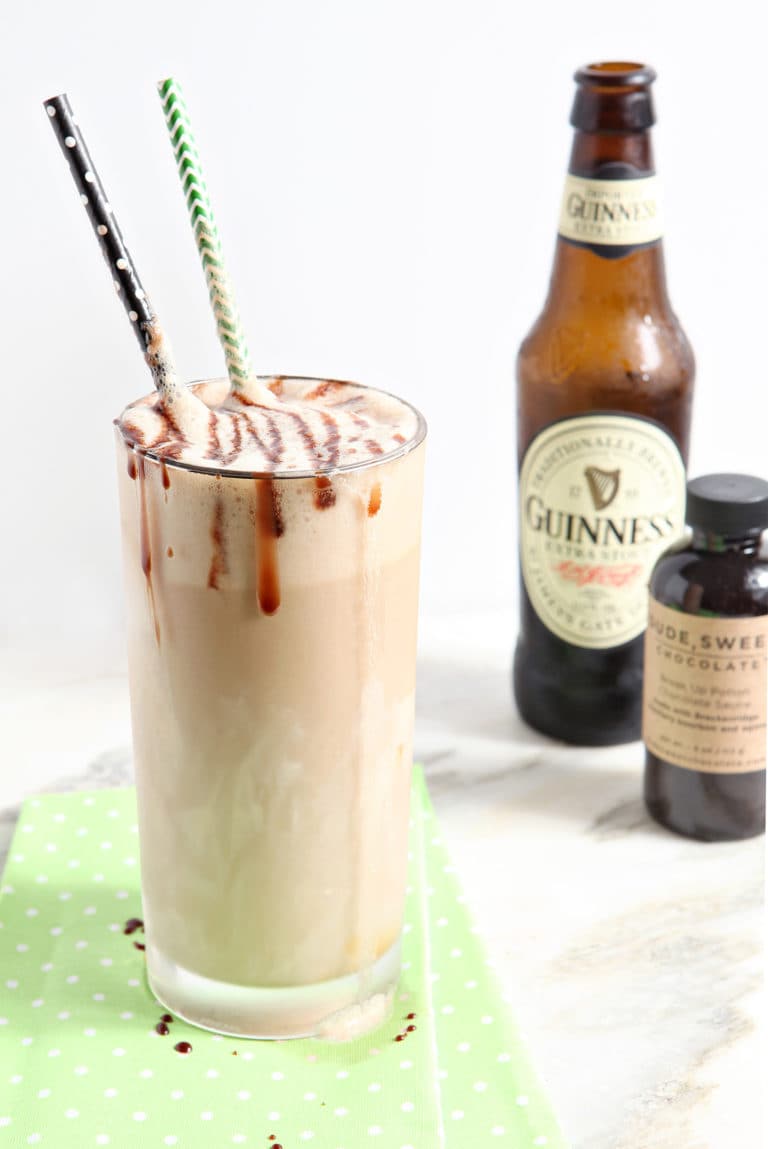 Move over, Guinness Float! There is a new Guinness dessert in town! Instead of using plain vanilla ice cream in your Guinness Float this St. Patrick's Day, consider adding salted caramel ice cream instead for a sweet and salty twist. This Salted Caramel Guinness Float is guaranteed to be a favorite adult dessert!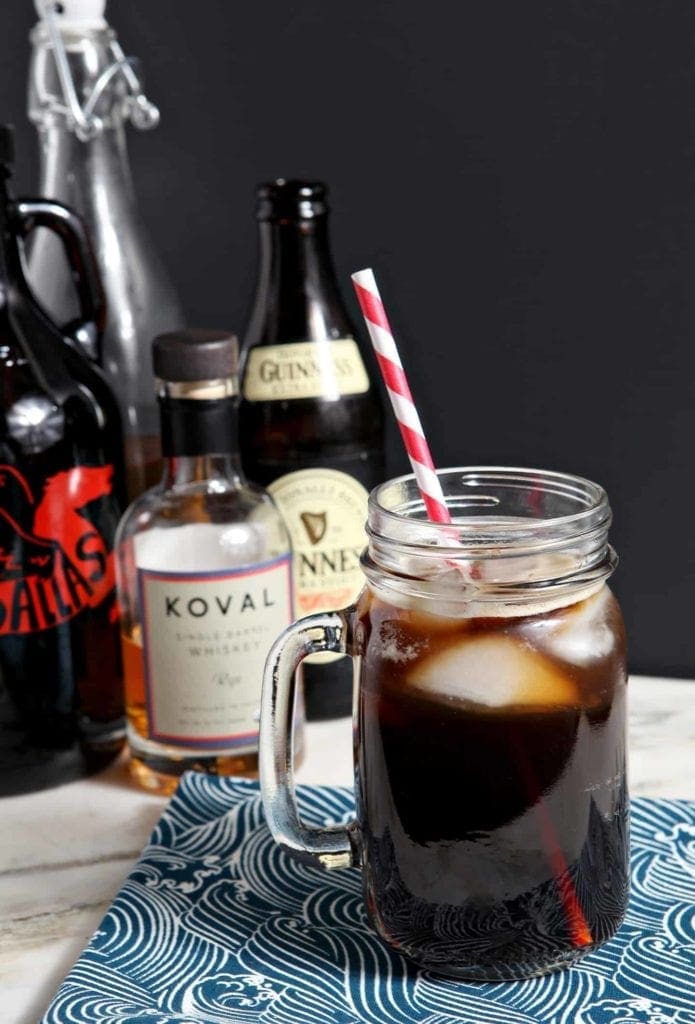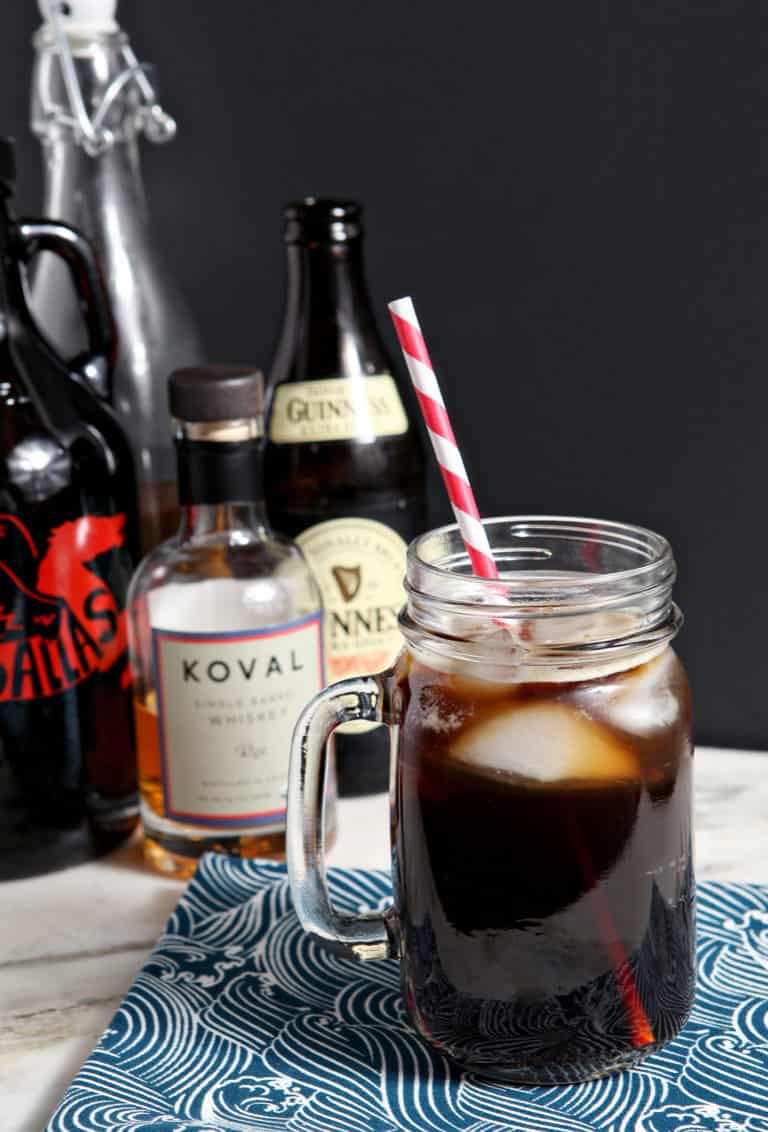 The Boyfriend Irish Coffee
A take on traditional Irish coffee, the Boyfriend Irish Coffee is dark, heavy and masculine. Chocolate sings in this coffee cocktail, and every ingredient–the Guinness, cold brew coffee, Irish whiskey and simple syrup–can be tasted. Perfect for St. Patrick's Day or National Coffee Day!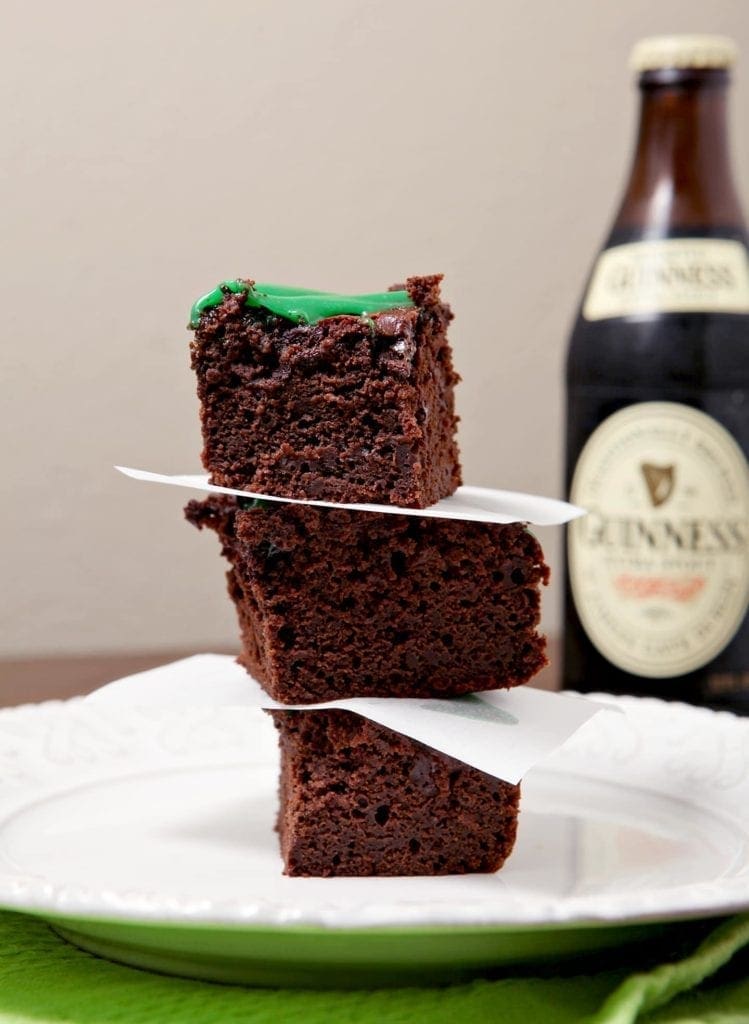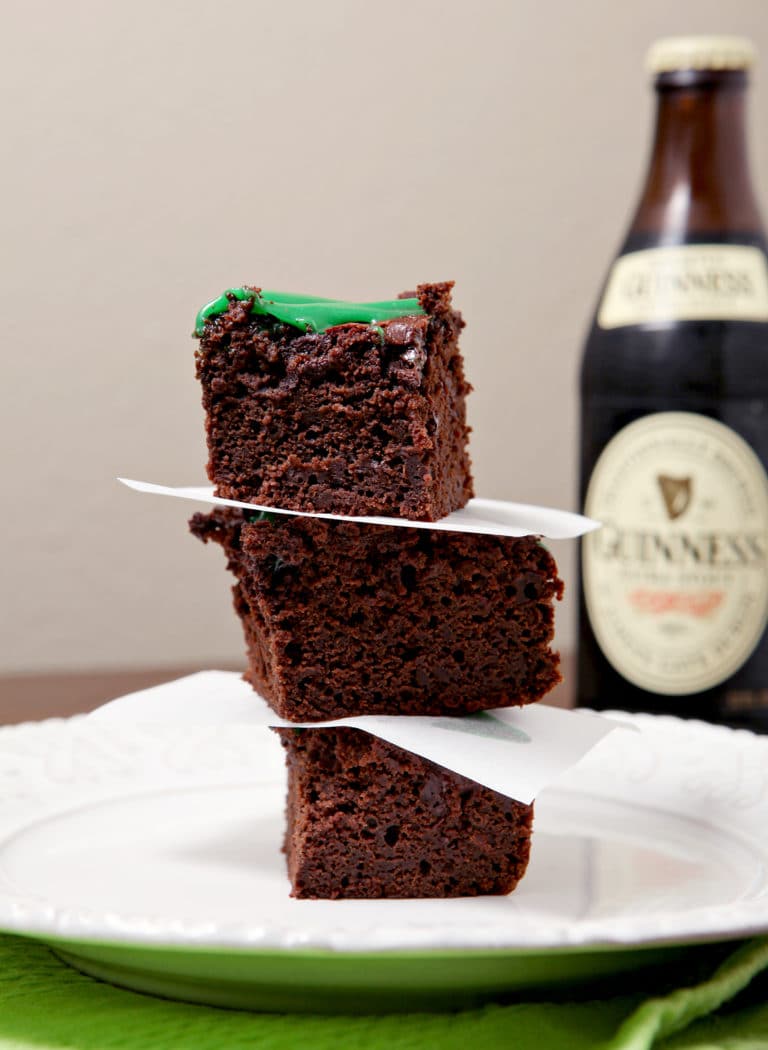 These decadently rich Guinness Brownies with Cream Cheese Frosting Drizzle are the perfect dessert to bake for your St. Patrick's Day celebration. Dense, dark chocolate brownies topped with a festive green cream cheese frosting drizzle… what's not to love?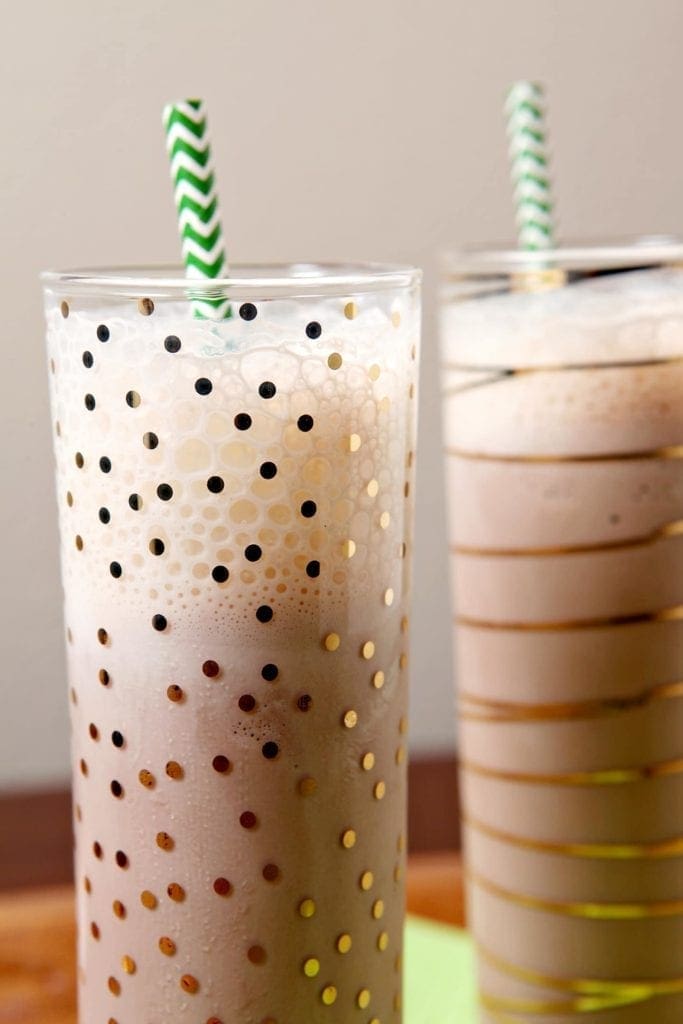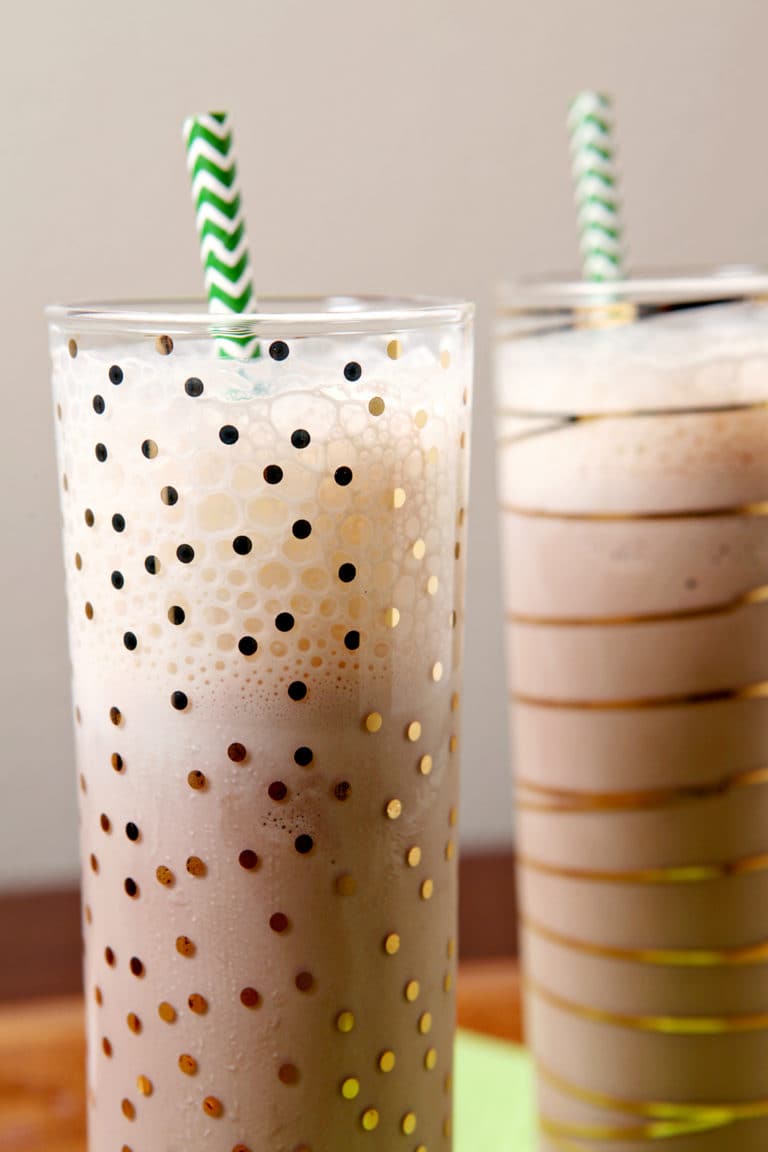 Prepare to celebrate St. Patrick's Day in style with these dessert shooters: Guinness and Chocolate Milkshakes with Jameson Cream.
Monthly Meal Plan: Delicious Easter Brunch Recipes
Easter is April 1! So technically, it's not in March, but since it's the first day of the next month, I wanted to arm y'all with some favorites.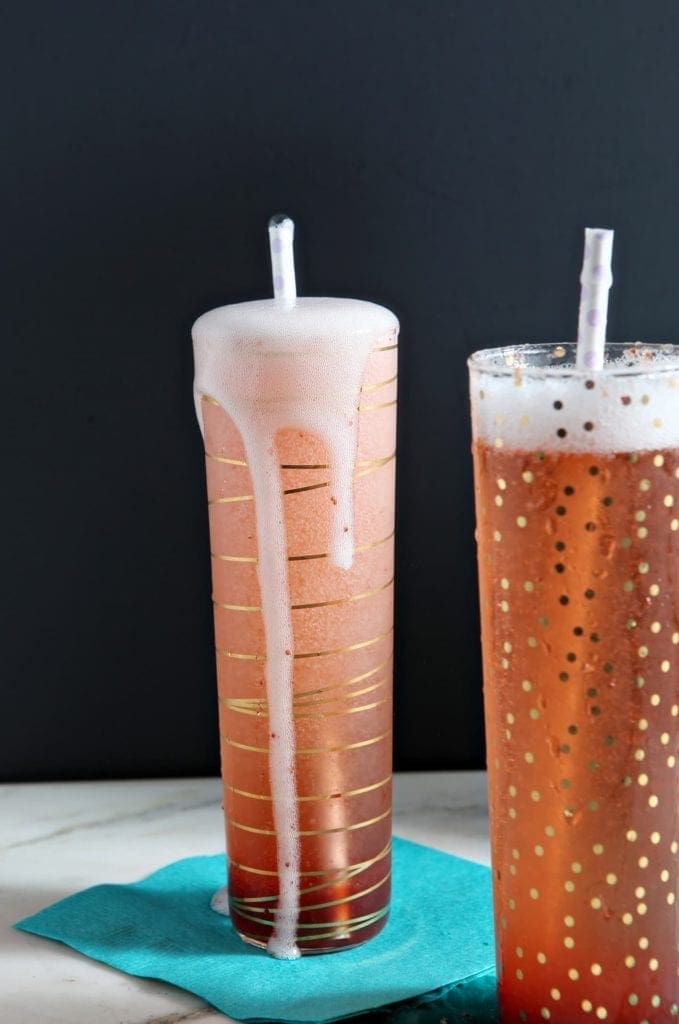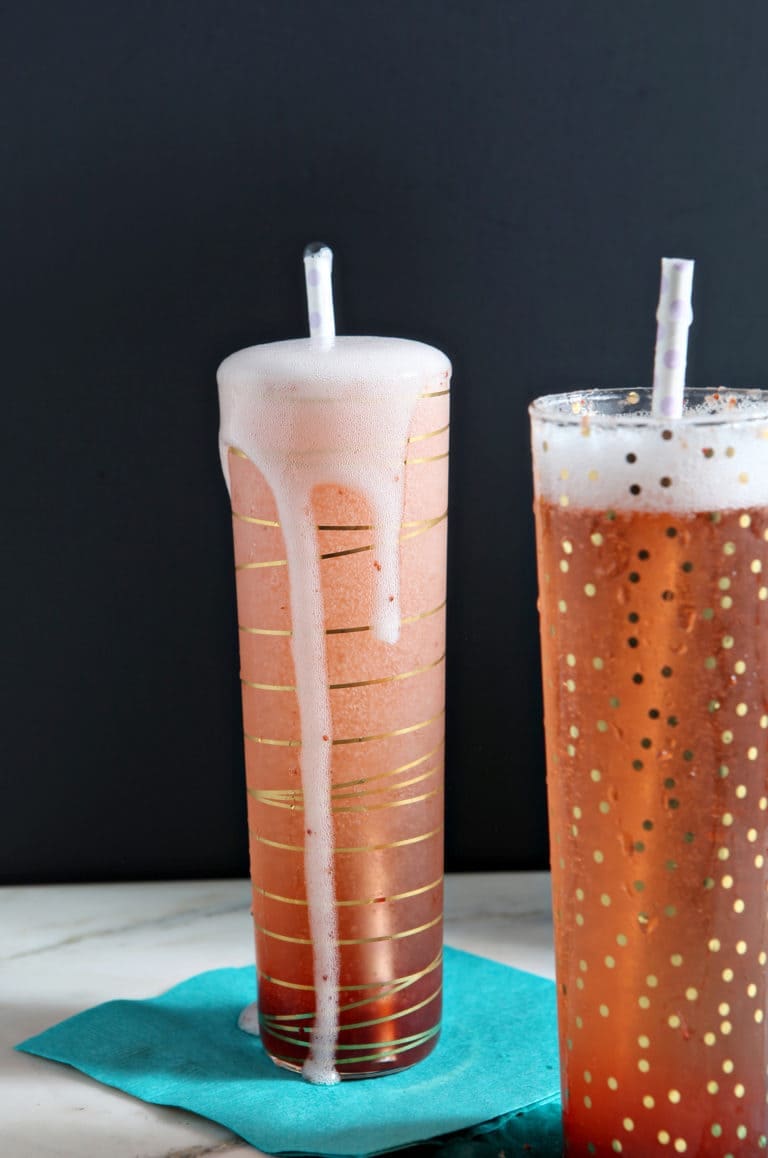 Easter brunch never looked so good! Dazzle your guests with this simple, sweet, delightful brunch cocktail. Prepare the strawberry simple syrup the night before, then on the day of Brut Rosé Champagne is combined with the simple syrup to create these brilliantly pink Easter Strawberry Champagne cocktails. Serve 'em up in your favorite champagne glasses, and you're good to go! Easy to make and even easier to imbibe, these cocktails are sure to be a hit at this year's gathering!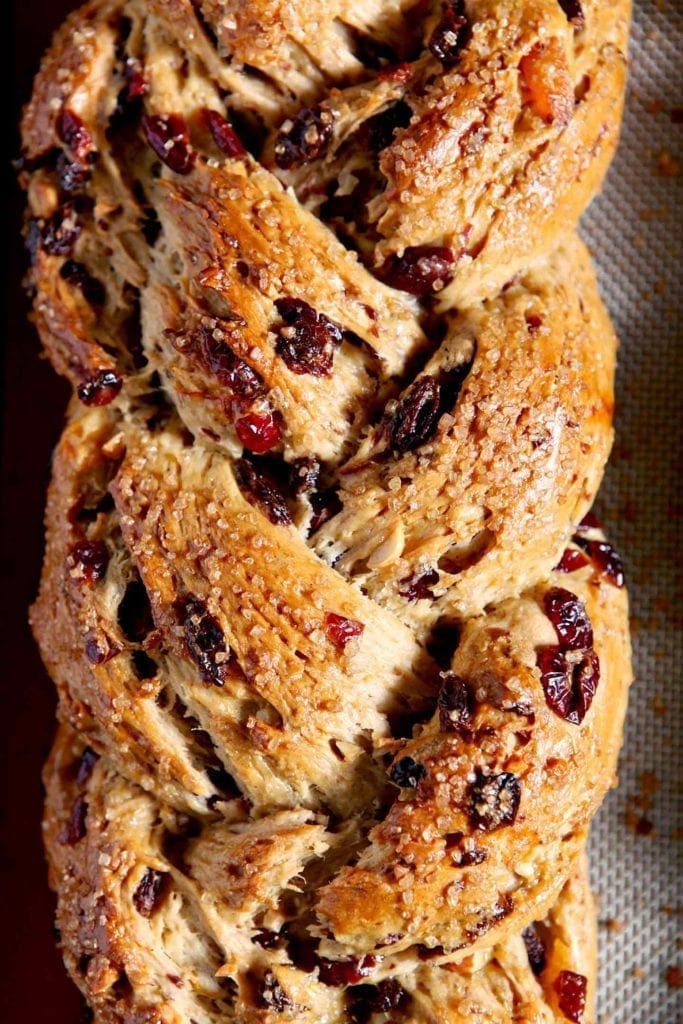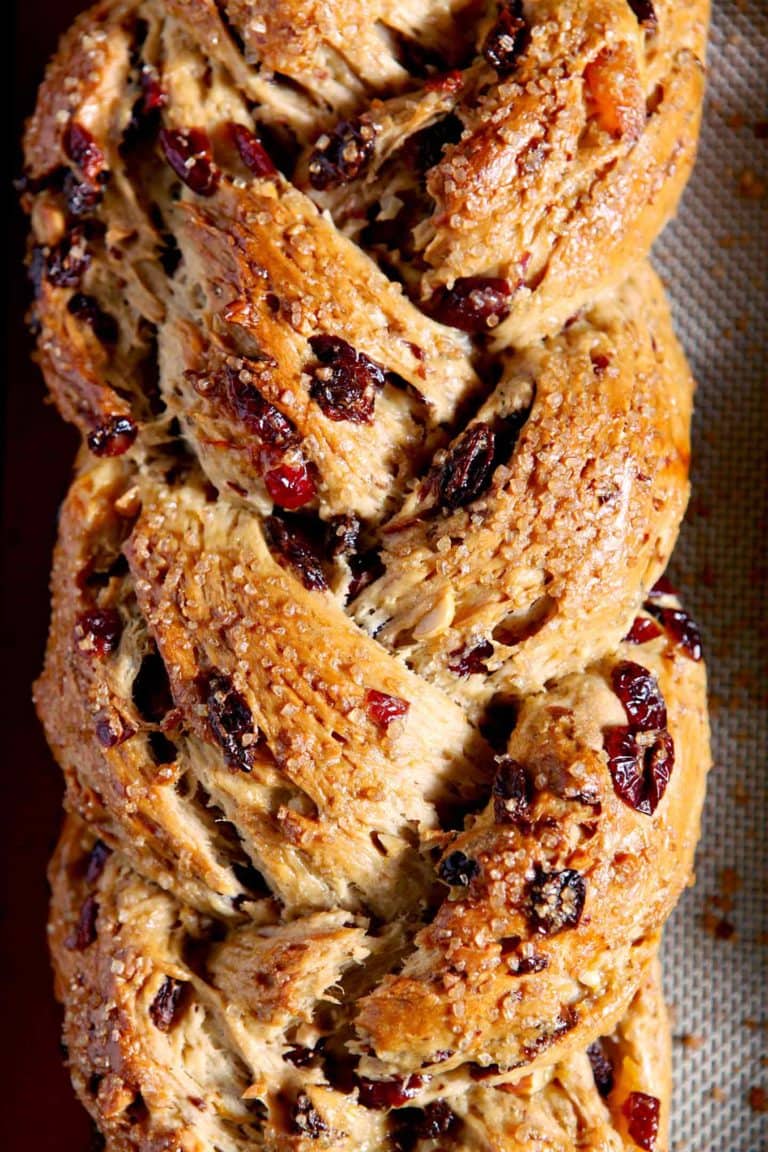 Celebrate Easter by baking this sweet, decadent Fruit-Studded Holiday Bread. Studded with currants, raisins, apricots and cranberries, this bread is the perfect breakfast for Easter Sunday and a great way to spread love to family members, neighbors and friends during Holy Week.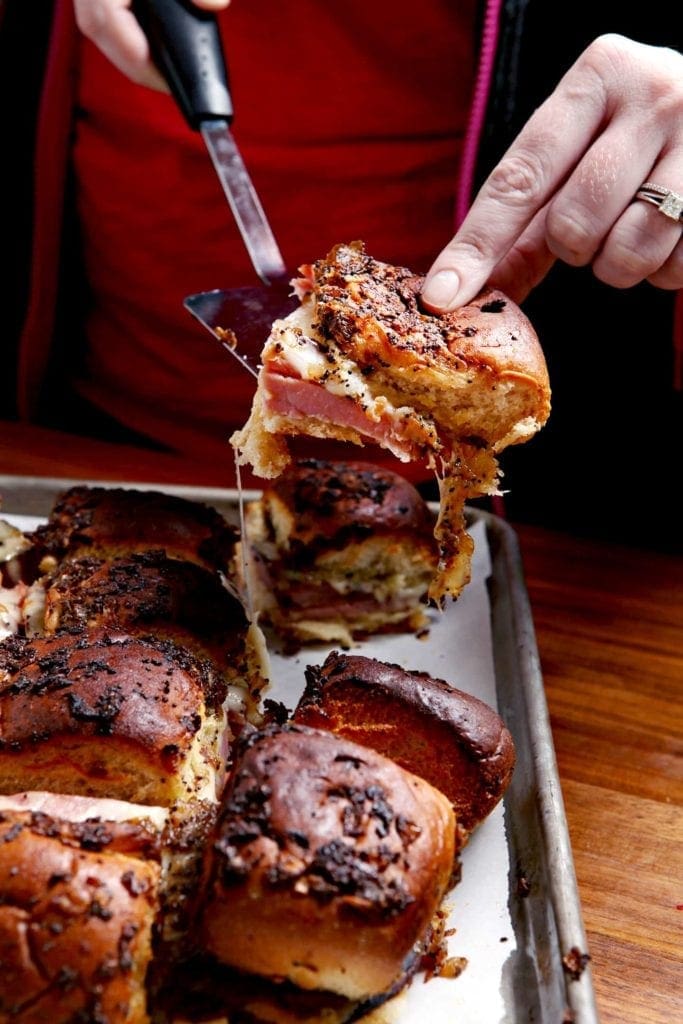 Leftover ham from Easter? Put it to good use in these Ham Goo sandwiches! Stack ham, Swiss cheese and a decadent onion-poppyseed dressing in prepared buns then bake for an out-of-this-world party appetizer or lunch!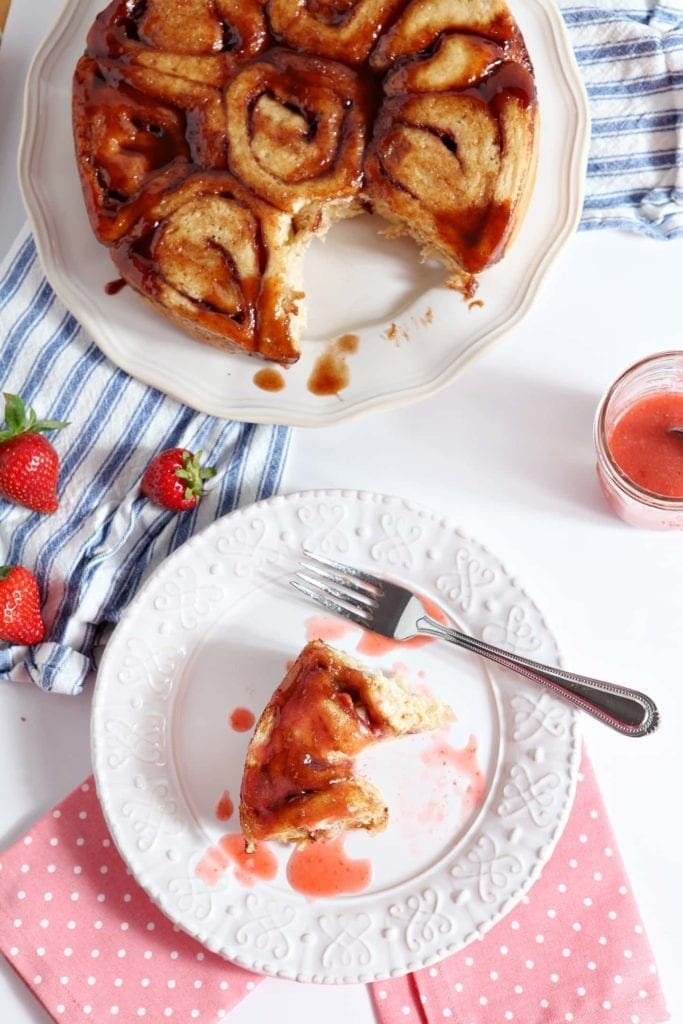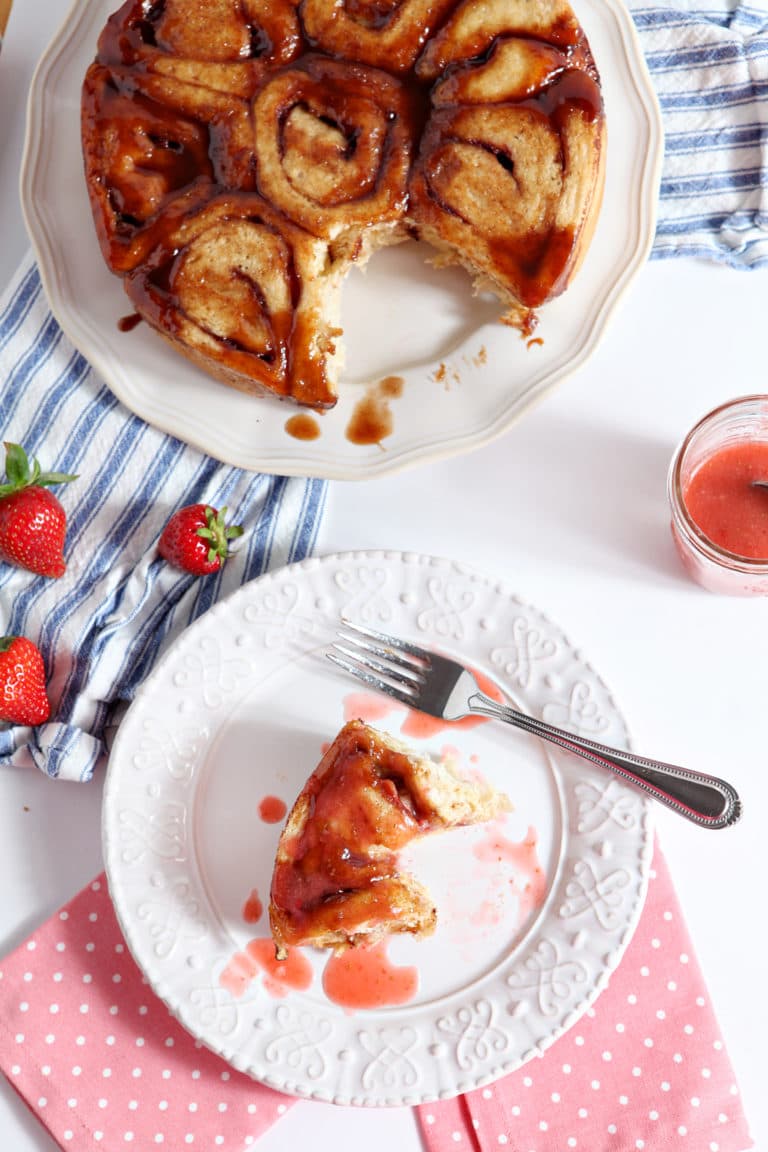 Strawberry Cinnamon Breakfast Buns are the perfect baked good for Easter or Mother's Day! This dairy-free adaptation of a classic cinnamon roll takes on seasonal flavors with the addition of fresh strawberries. This treat is drizzled with a strawberry glaze as a final touch. Serve these buns up with a mimosa, and brunch is served!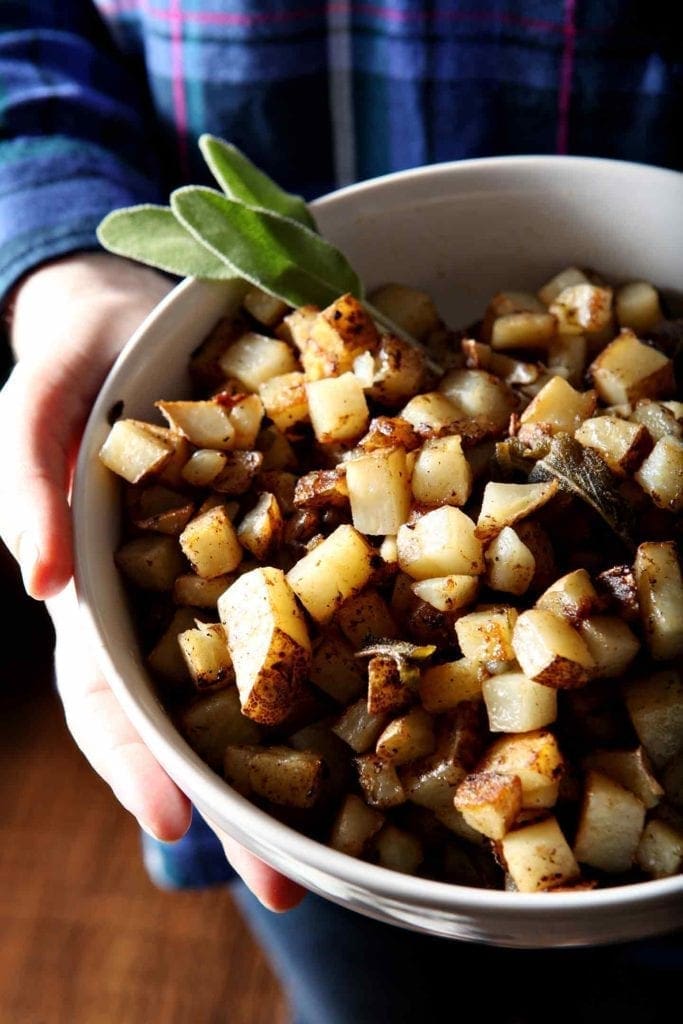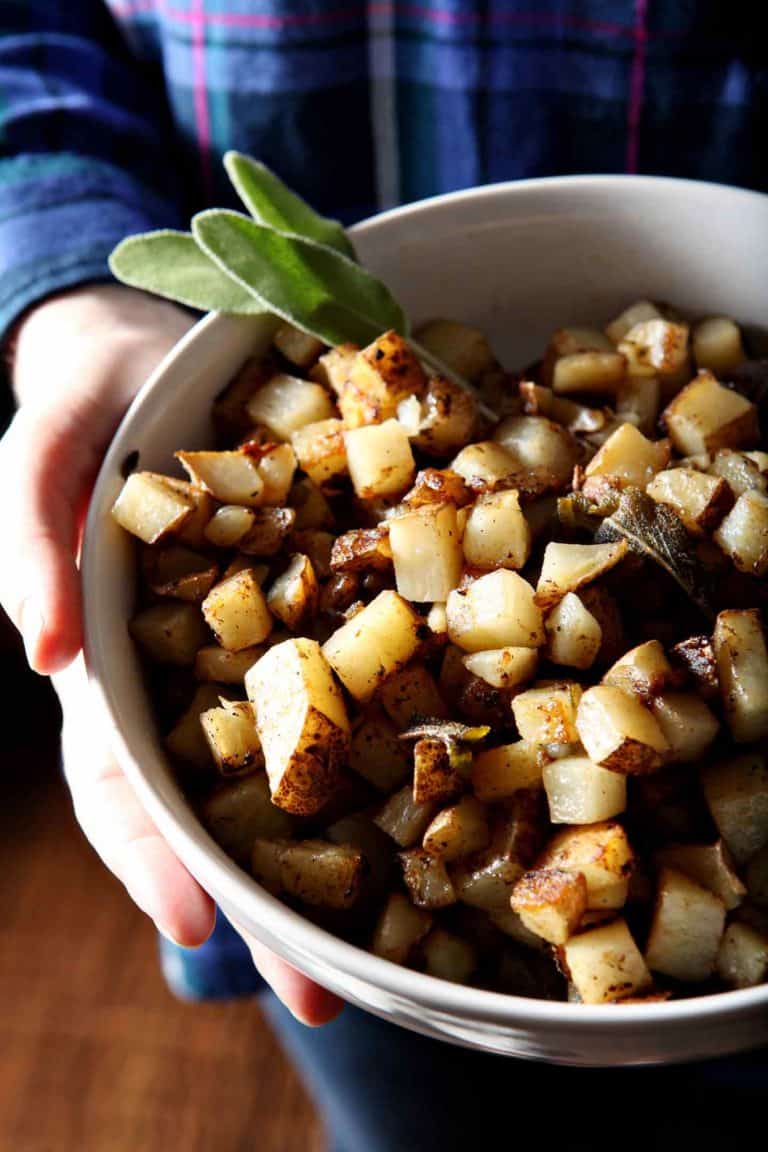 Make any brunch a little fancier by serving decadent Sage Browned Butter Homemade Home Fries! This twist on classic home fries makes for the perfect side dish, can be made in advance and is super delicious for a crowd! Brown butter with fresh sage in a skillet. When the sage has crisped, break it apart, then add diced russet potatoes. Cook until fork tender and crisp on the outside. Serve warm as the perfect holiday (or anytime!) brunch side!
Pin for later.
Monthly Meal Plan: Springtime Sippers

Stay cool with this refreshing Strawberry Sweet Tea! Singing of strawberries and summertime sweetness, this tea is perfect to sip during a warm afternoon. Made with just four simple ingredients, this tea stays on rotation throughout the hot months of the year in our house.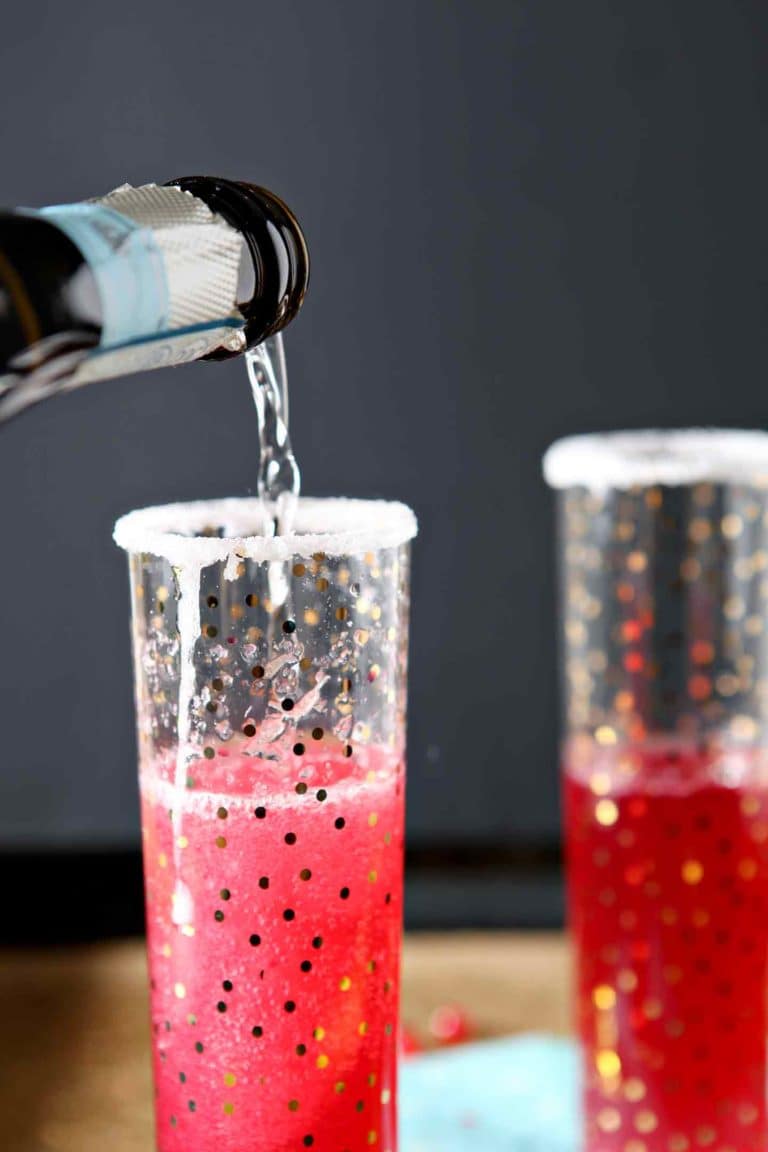 The Pomegranate French 75 makes a perfect celebratory cocktail to sip for any occasion! A twist on a classic French 75, this recipe calls for prosecco or champagne, gin, freshly squeezed lime juice and Pomegranate Italian Soda. The resulting drink is light, herbaceous and slightly sweet and a little tart. The effervescent Pomegranate French 75 would be a beautiful mixed cocktail to serve at any party!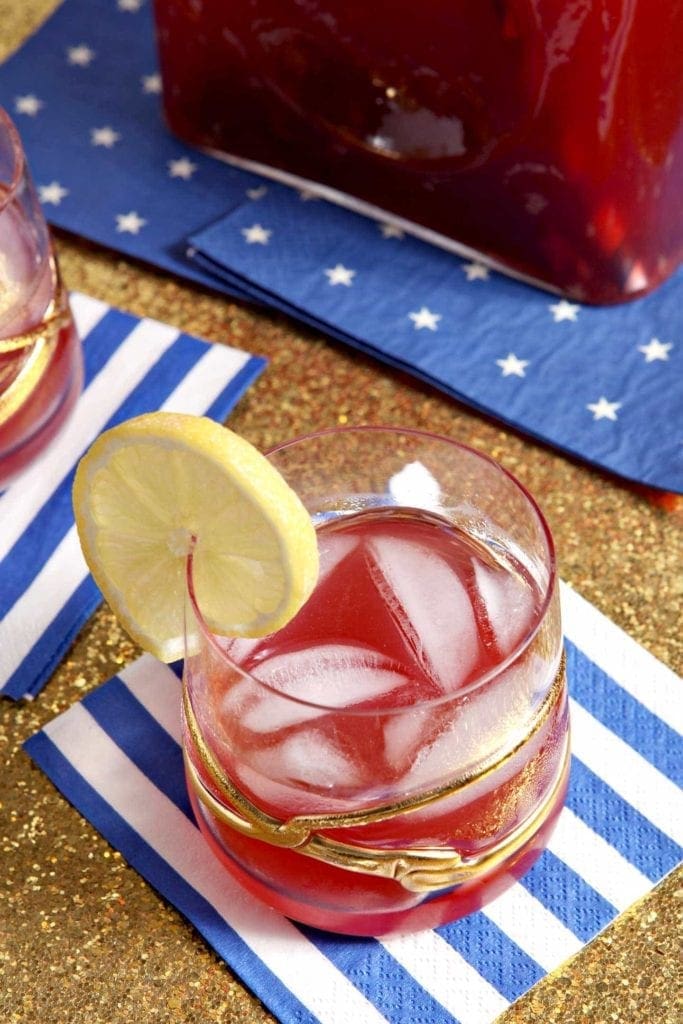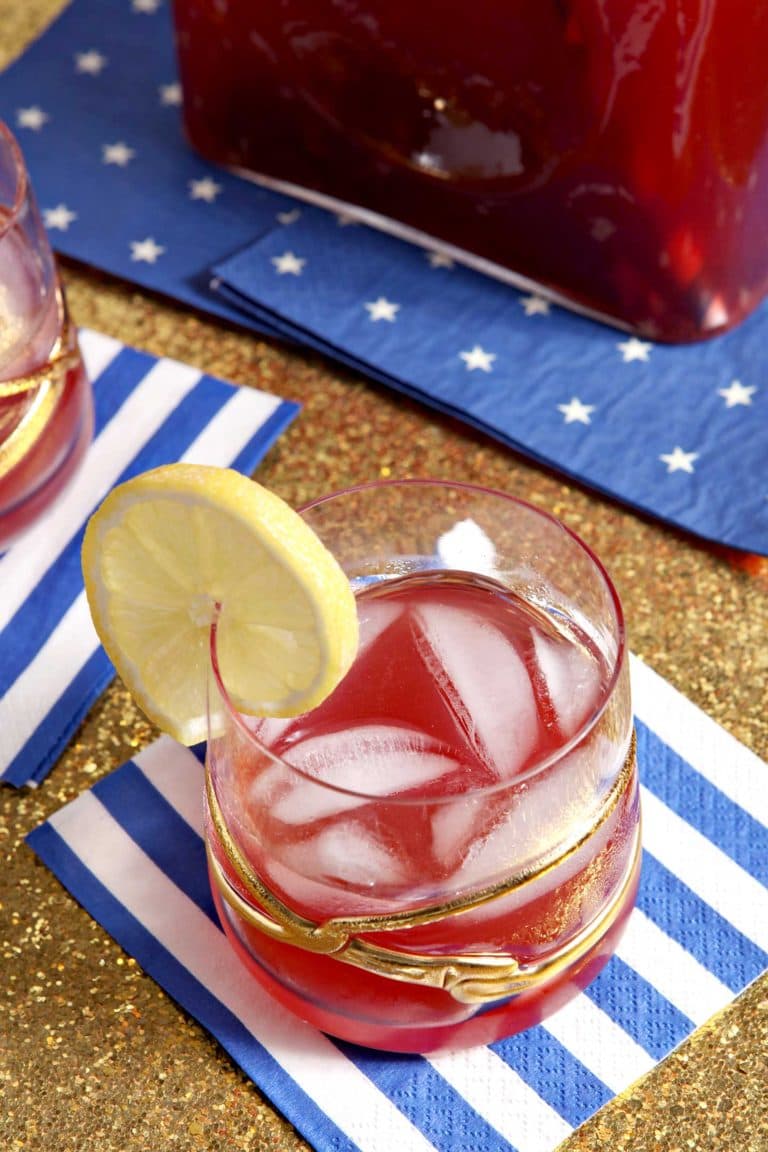 Instead of making traditional and well-loved Southern Sweet Tea, cool down this summer with naturally sweetened Cherry Lemon Tea! Made with water, three of your favorite tea bags, frozen or fresh cherries, agave nectar and freshly squeezed lemon juice, this summertime flavored tea takes little hands-on time and stores beautifully in the refrigerator for days. This bright, slightly sweet and slightly tart iced tea is the perfect refreshment to sip on a hot summer's day!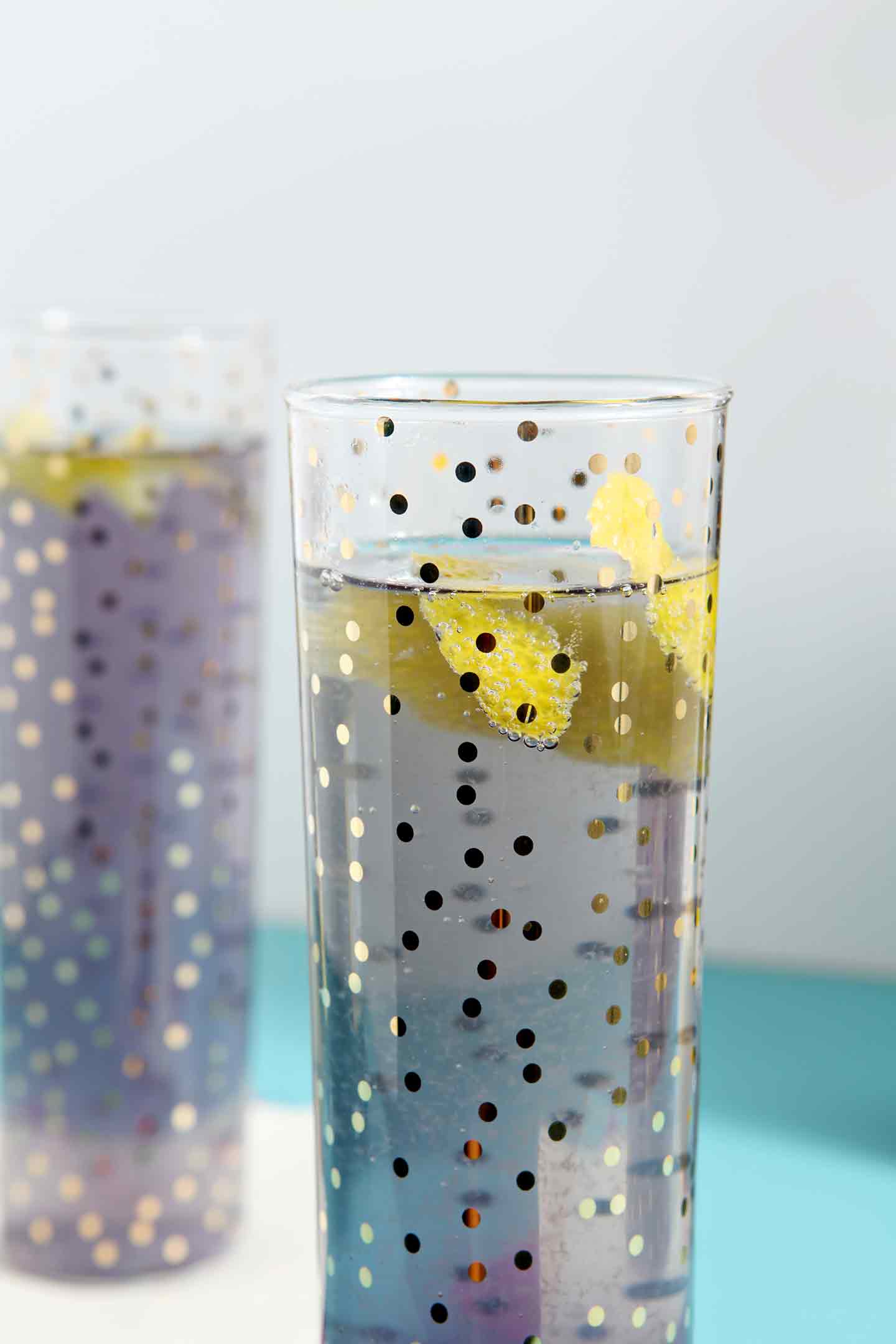 The Princess Violette Cocktail makes the PERFECT warm weather brunch drink with its bubbliness and lemon zing! The color of lavender, this combination of exotic creme de violette, champagne and lemon juice is invigorating and slightly sweet. Inspired by a libation at a Dallas brunch mainstay and born out of the love of champagne, this cocktail is sure to be well-loved during hot months when a bubbly drink is equally refreshing and delicious!

Cool down with a Blackberry Mint Spritzer! Made with simple, fresh ingredients, this will become a fast favorite. Muddle fresh blackberries with mint before pouring in simple syrup and topping with ginger ale. A favorite spring, summer and fall drink, this Blackberry Mint Spritzer is refreshing and flavorful!
…
What Are Some Of The Foods You Plan To Enjoy This Month?
Is there anything on this list that you would like to try?
Other monthly meal plans: January 2018 / February 2018 / April 2018 / May 2018 / June 2018 / July 2018 / August 2018 / September 2018 / October 2018 / November 2018 / December 2018