Strawberry Cinnamon Breakfast Buns are the perfect baked good for Mother's Day! This dairy-free adaptation of a classic cinnamon roll takes on seasonal flavors with the addition of fresh strawberries. This treat is drizzled with a strawberry glaze as a final touch. Serve these buns up with a mimosa, and brunch is served!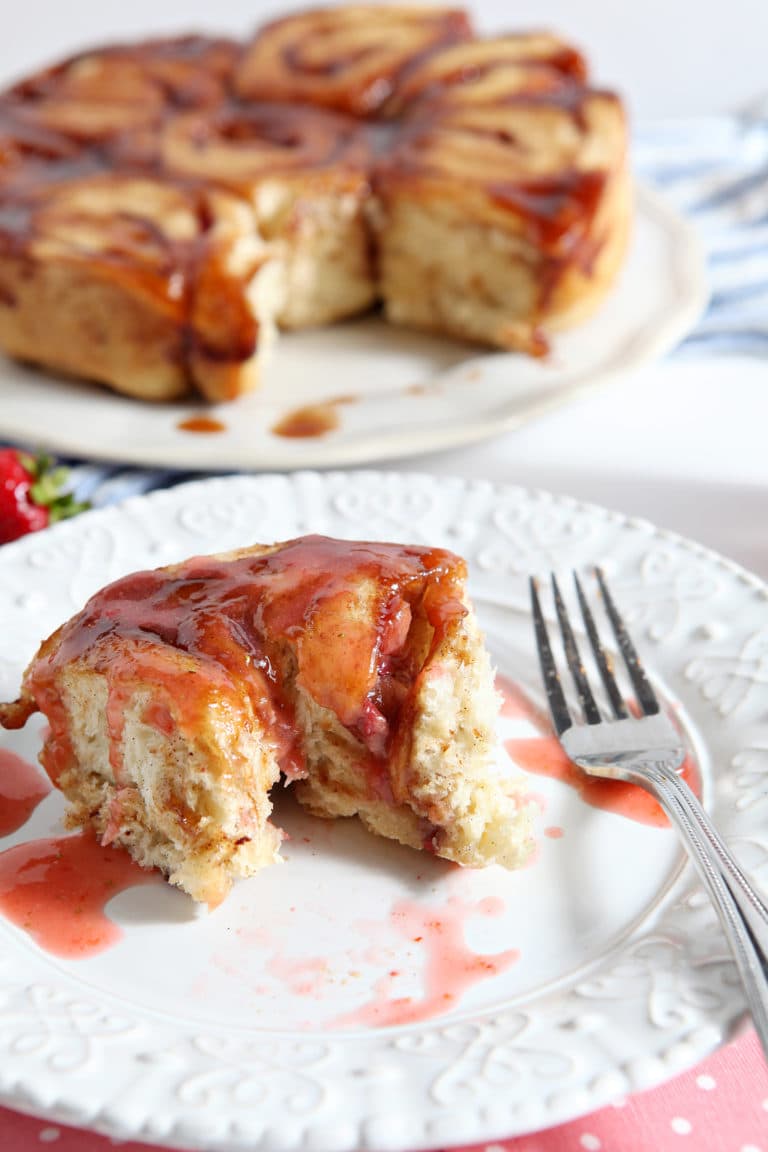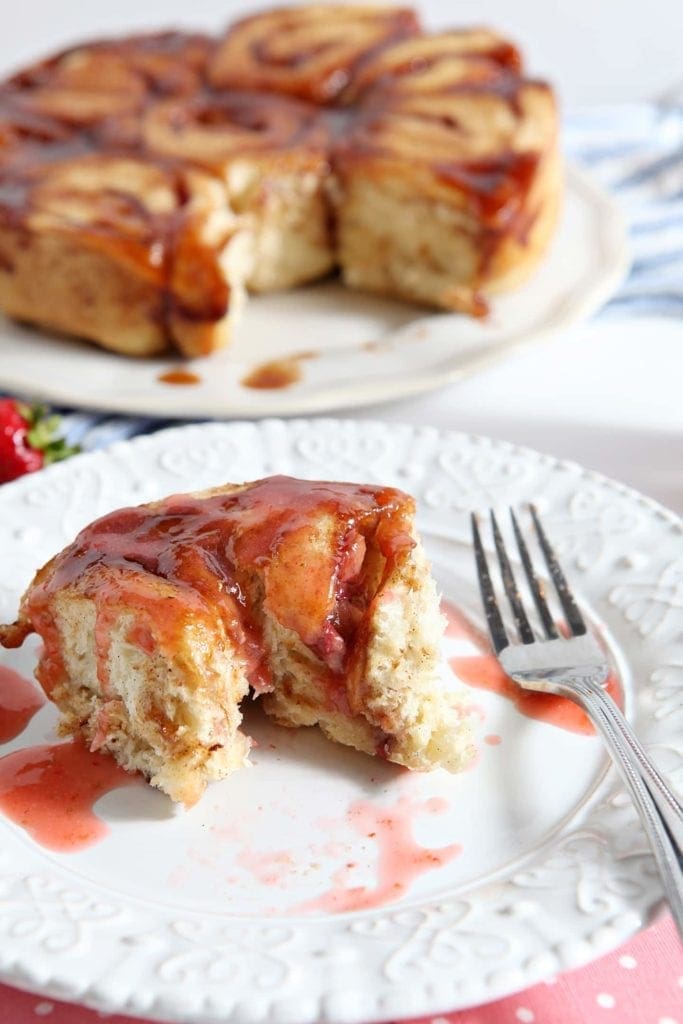 I don't like to say my opinion is the be-all-end-all… because I know that's not true. We were all made differently for a reason, and that's something to be celebrated! After all, we don't all have the same personalities, looks, tastebuds, etc., and life would be really boring if we all liked/hated the same things.
Also, I don't like to be the person who makes blanket statements because I know I don't know everything. (However, thanks to my journalism background, I'd like to think I know a little something about a lot of things.)
Also because I know someone out there in the Internet land will be sure to list all the reasons I'm wrong.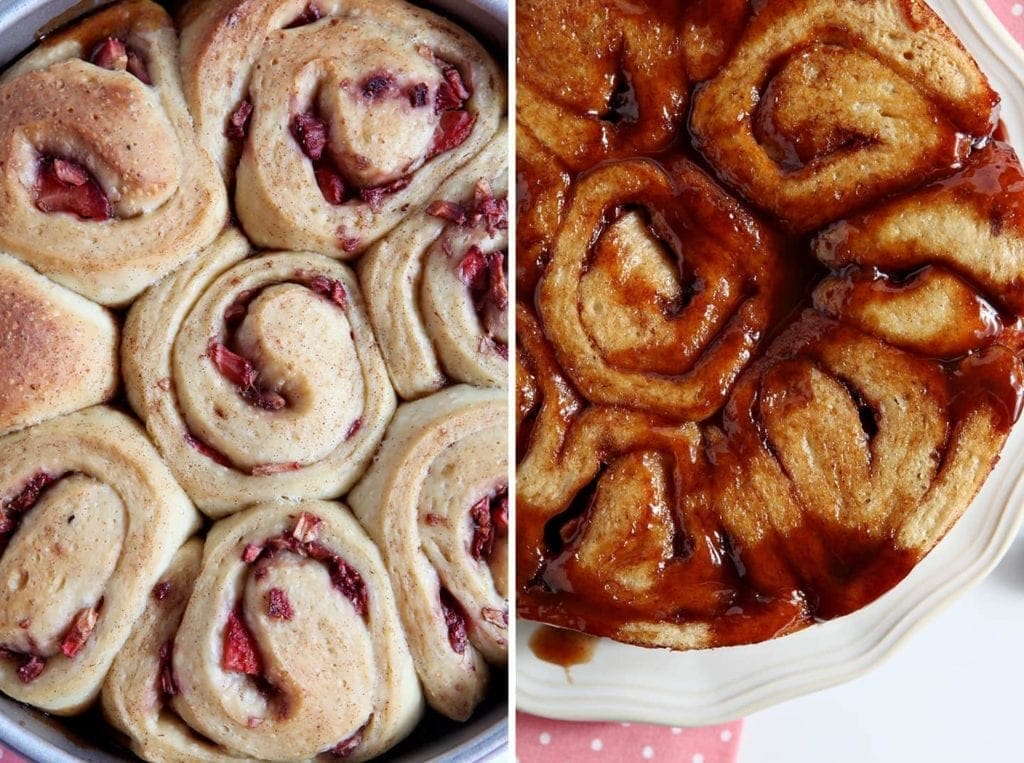 However, today is one of those instances where I feel like I know what's up.
Maybe it's because I'm a mom.
Maybe it's because I'm going on day three of a nasty virus and/or sinus infection. (The doctor I saw this morning said it could be either and suggested "toughing it out" without antibiotics since I was already this far in.)
Maybe it's because I've eaten these breakfast buns for the last two mornings and absolutely cannot get enough of them.
Whatever the case, I'm gonna go there. I'm gonna make a blanket statement. And I'll be damned if it's not (mostly) true.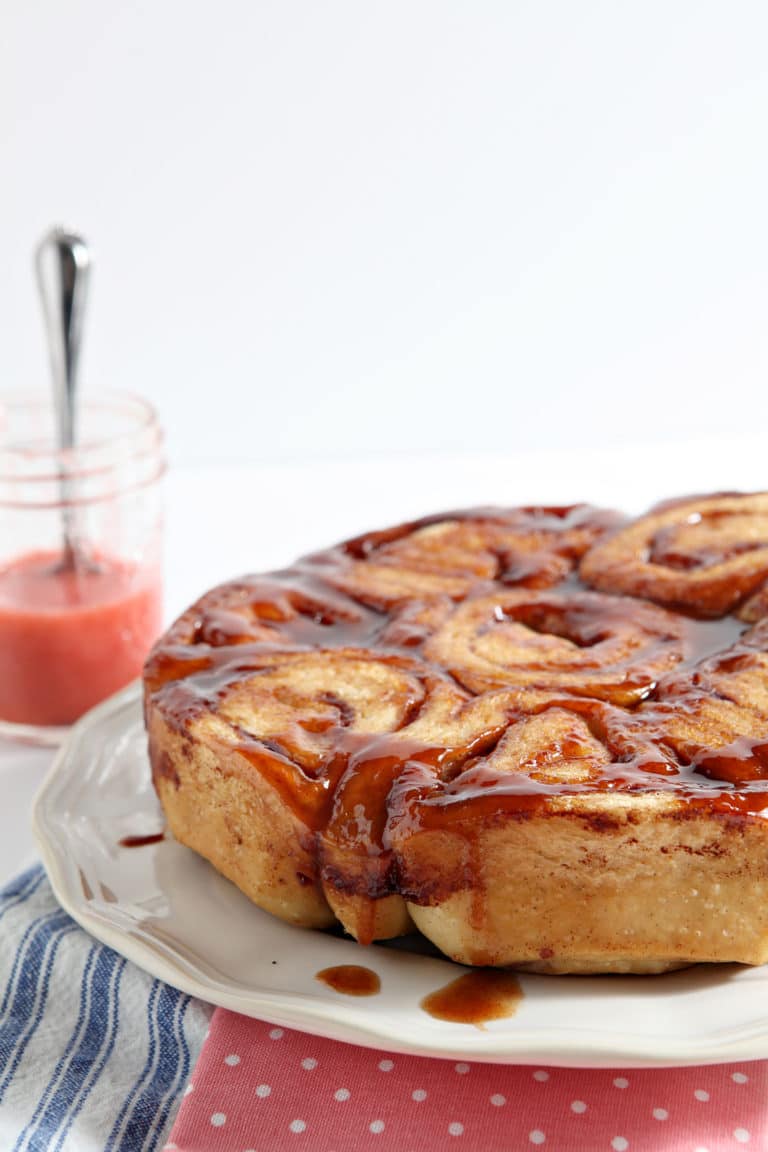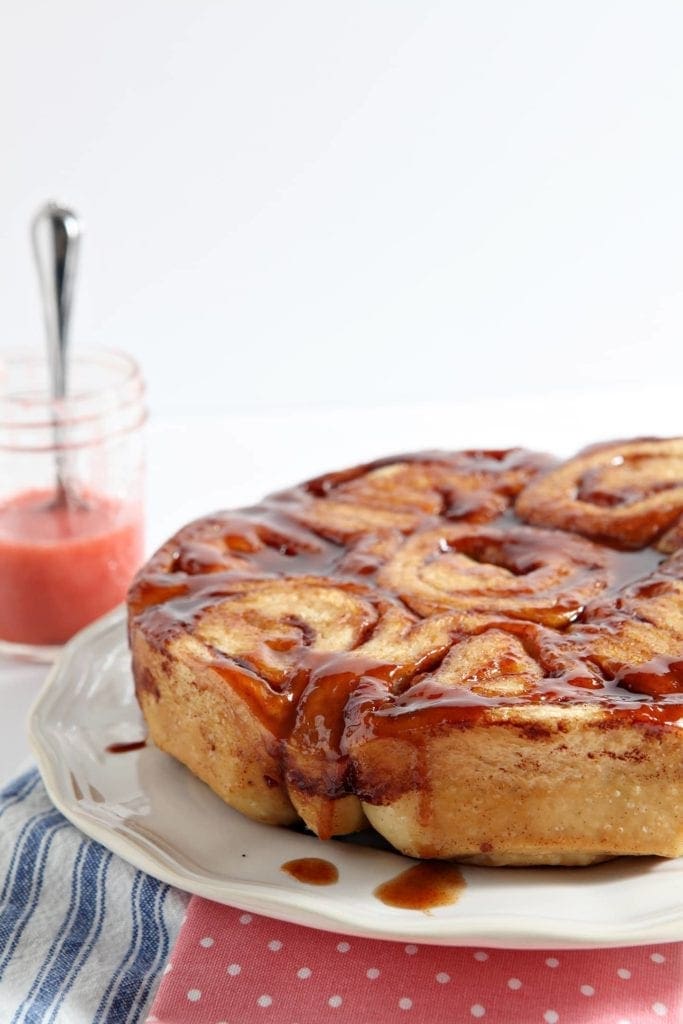 Here goes: You know what moms (and most people) like?
BRUNCH.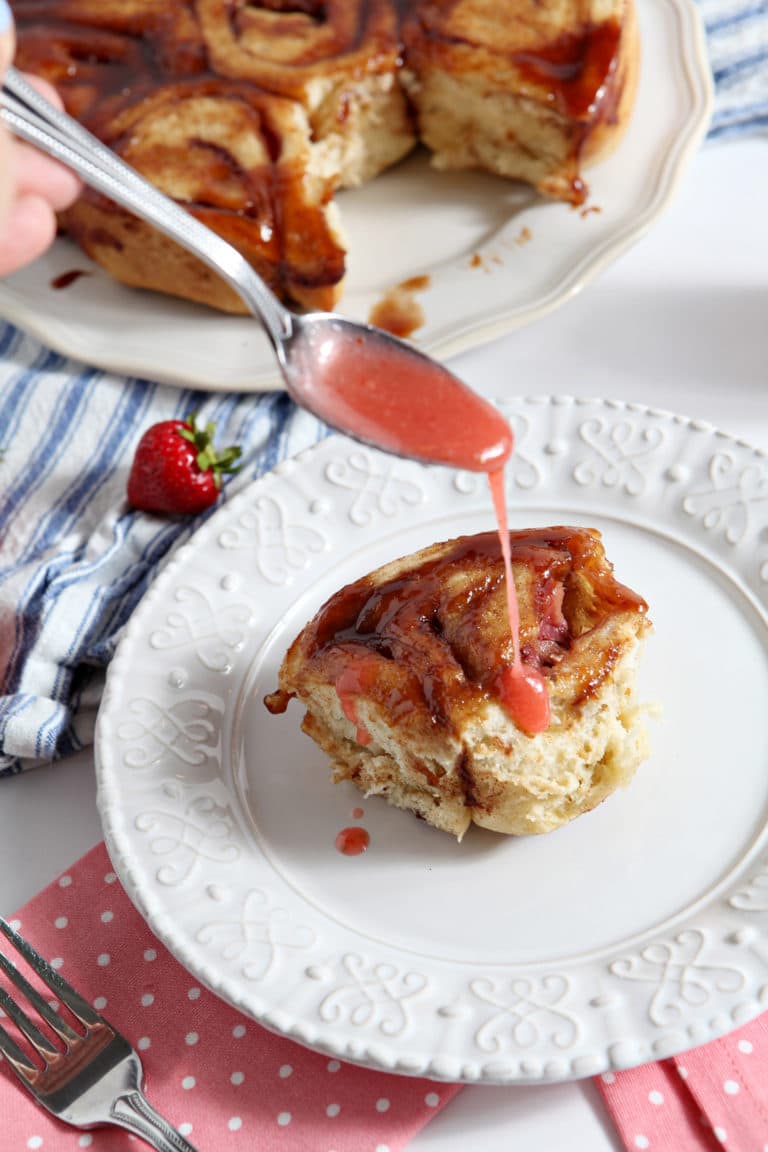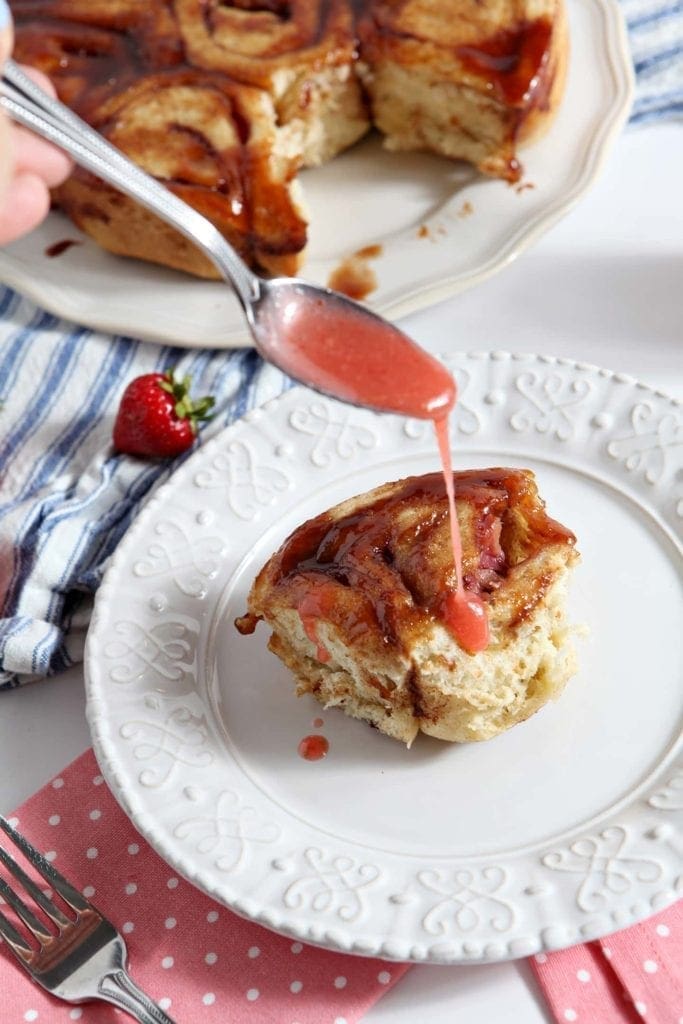 I can definitively tell y'all that brunch is my jam. I honestly wished we brunched more. And I look forward to future brunches because breakfast foods — sweet and savory — are so darn tasty.
And if somebody *cough, cough* made me these Strawberry Cinnamon Breakfast Buns for Mother's Day, I would be over the moon.
They combine a few of my favorite things: Fresh strawberries. Yeasty cinnamon rolls. A sweetness that's not sickeningly sweet. And no dairy products! (Sadly, I've had to hop back off the large quantities of dairy bandwagon because my magical/mysterious pregnancy non-lactose intolerance has gone away.)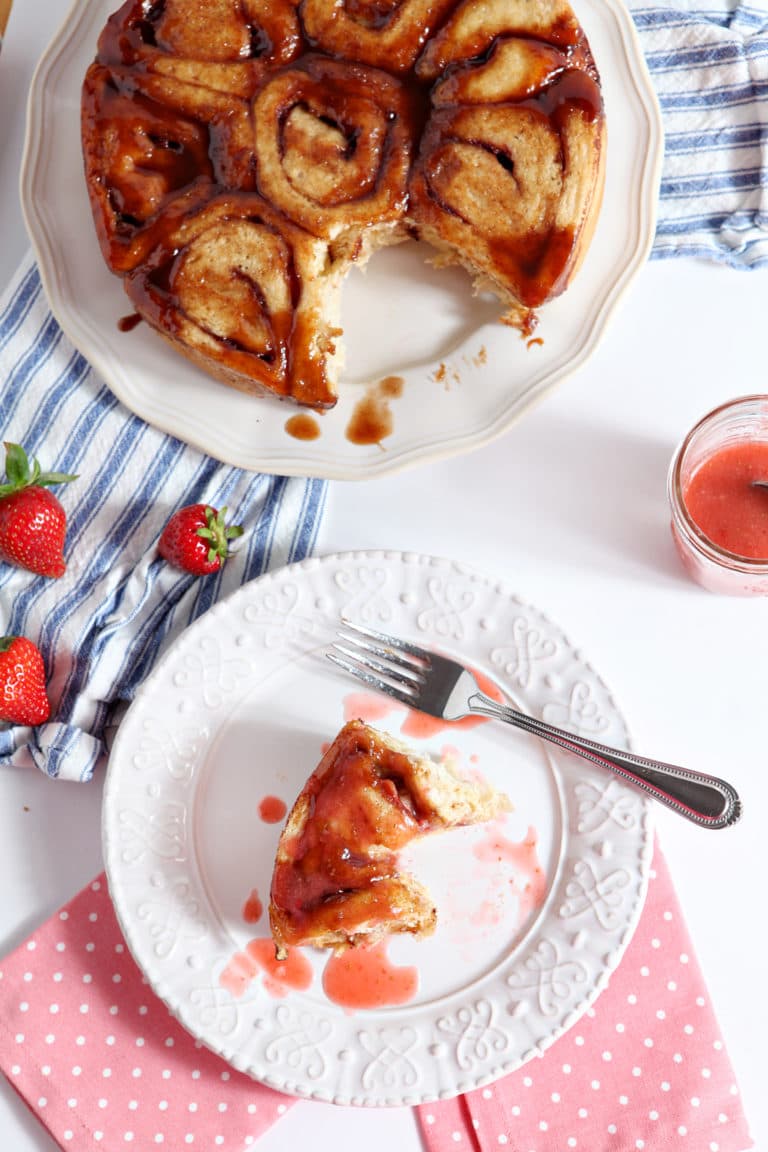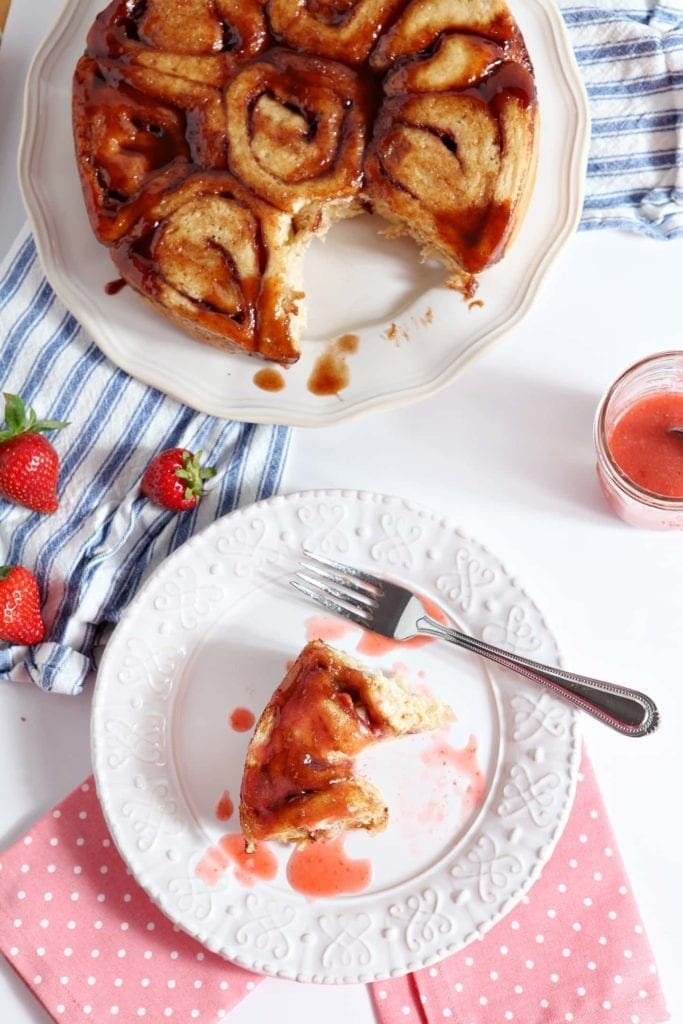 These buns are definitely a labor of love, but when you make them, consider your mom labored — probably a lot harder than you're laboring on these baked goods, mind you — to bring you into the world.
So. Perspective. And maybe a wee bit of inspiration?
Whatever the case, I recommend baking these buns for your mama (or any special lady in your life who you think needs a treat!) if she happens to be a sweet breakfast fan and a strawberry lover. If she's anything like me, she'll love them!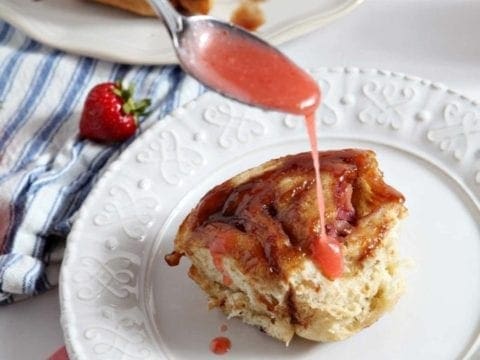 Yield:

18 rolls
Strawberry Cinnamon Breakfast Buns
Prep Time:
3 hours
30 minutes
Total Time:
3 hours
55 minutes
Strawberry Cinnamon Breakfast Buns are the perfect baked good for Mother's Day! This dairy-free adaptation of a classic cinnamon roll takes on seasonal flavors with the addition of fresh strawberries. This treat is drizzled with a strawberry glaze as a final touch. Serve these buns up with a mimosa, and brunch is served!
Ingredients
Dough
1 cup cashew milk (or another non-dairy milk)
3 tablespoons coconut oil
1 tablespoon pure vanilla extract
1 vanilla bean, split
3½ cups unbleached all-purpose flour, divided
½ cup granulated sugar
1 egg
2¼ teaspoons active dry yeast
1 teaspoon kosher salt
Filling
½ cup dark brown sugar
¼ cup pure maple syrup
1 ½ teaspoons ground cinnamon
½ teaspoon kosher salt
1 ½ cups strawberries, chopped
Strawberry Icing
10 small strawberries
1 cup powdered sugar
Instructions
Make the Dough
Measure the milk and coconut oil in a glass measuring cup. Microwave until the oil has melted.
Pour the warm milk/oil mixture into the bowl of stand mixer fitted with paddle attachment.
Add 1 cup of the flour, as well as the vanilla extract, vanilla bean caviar, sugar, egg, yeast and salt. Beat on low for around 3 minutes, stopping occasionally to scrape the sides of bowl.
Add the rest of the flour to the dough. Mix on low until the dough comes together and feels tacky. If dough is extremely sticky, add flour by the tablespoon until the dough comes together and pulls away from sides of bowl.
When it is of the right consistency, turn the dough onto a lightly floured work surface. Knead until the dough is smooth and elastic, adding more flour if sticky. (This should take around 8-10 minutes.) Form into ball.
Spray a large glass bowl with nonstick spray, and transfer the dough into the bowl. Cover the bowl with plastic wrap, then a kitchen towel, and move to a warm place in your house.
Let the dough rise until doubled in volume. (This took my dough around 2 hours.)
Make the filling
In a medium-sized bowl, combine the brown sugar, maple syrup, cinnamon and salt. Stir until combined. Chop the strawberries and set them aside. (Do not mix them into the filling yet because the mixture will get more watery.)
Once the dough has doubled in size, punch it down in the bowl, then transfer onto a floured work surface.
Roll the dough into a rectangular shape that is about ½" thick rectangle.
Spread the filling mixture evenly on top of the dough, leaving a ½" border.
Sprinkle the chopped strawberries on top of the filling evenly.
Starting on a long side, roll the dough into a log, pinching gently to keep it rolled. Be gentle with the dough, and keep in mind that this part can get messy. (You've been warned! But it's totally worth it.) Pinch the seal closed gently.
With the seam side down, cut the dough crosswise with a sharp knife into 18 slices. I've found that making a cut in the middle, then making cuts in the middle of those (and so on and so forth) is the easiest way to get evenly-cut rolls.
Let the dough rise for another 1-2 hours, or until doubled in size. (The filling will get gooey during this stage. Don't fret if a lot of it is in the bottom of the pan! Also, if you want to make these buns in advance, transfer them to the fridge at this point. Bring them out 1-2 hours before baking, let them come to room temperature and complete their second rise)
Bake the Breakfast Buns
Preheat the oven to 375°F.
When the oven has preheated, place the baking dishes in the oven. Bake for 25-30 minutes, or until the tops are golden, then remove from the oven.
Invert the rolls onto a plate (so the sticky topping is front and center!), and let cool for 10 minutes.
While the rolls are cooling, make the Strawberry Icing.
In a blender, mix the strawberries and powdered sugar together until smooth.
When rolls have cooled slightly, serve individually, and drizzle the icing on top of the rolls. Enjoy!
Notes
Recipe adapted from my Walnut Sticky Buns with Cream Cheese Icing (which was adapted from Epicurious and Joy the Baker.)
Note that the prep time includes rising time and rest time.
If you make these the night before, put them in the refrigerator in the baking dishes BEFORE the second rise. The morning of, be sure to pull them out of the fridge in time to do their second rise. This will take a little longer, as they'll be cold, so allot about an hour and a half for them to sit out and rise, then bake as directed.
Nutrition Information:
Yield:
18
Serving Size:
1 roll
Amount Per Serving:
Calories:

202
Total Fat:

3g
Saturated Fat:

2g
Trans Fat:

0g
Unsaturated Fat:

1g
Cholesterol:

10mg
Sodium:

183mg
Carbohydrates:

41g
Fiber:

1g
Sugar:

21g
Protein:

3g
Nutrition facts are an estimate and not guaranteed to be accurate.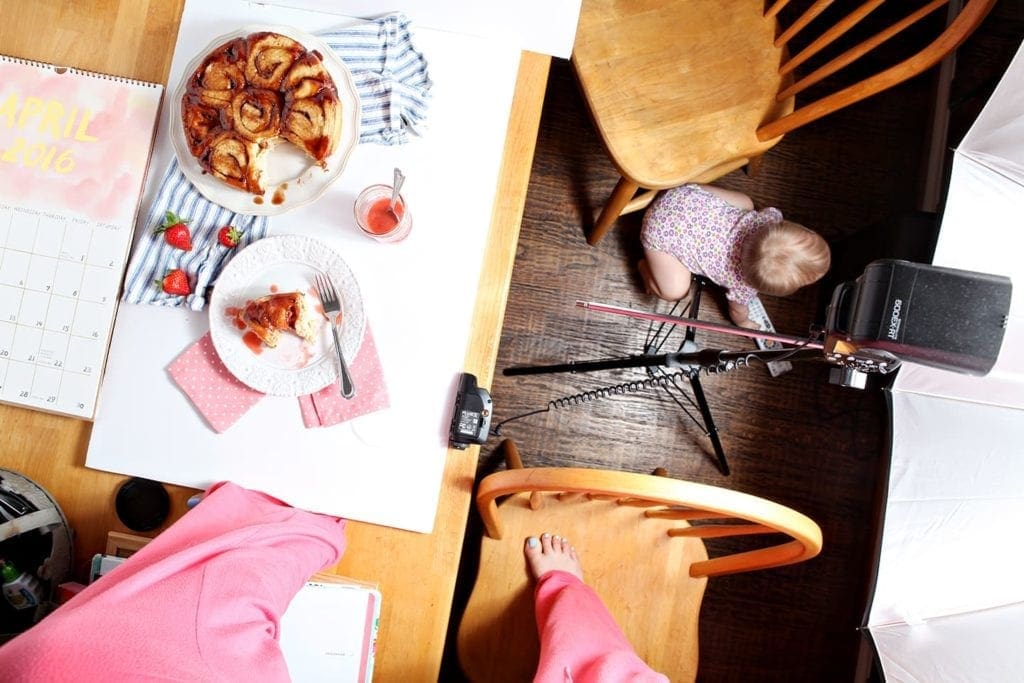 A little behind-the-scenes from this shoot, which took place yesterday morning. We're always keeping it exciting around here, as evidenced by this image. Yes, that's my daughter walking around with a remote. Yes, that's me standing partially on a chair and partially on a table. And yes, I'm shooting on my super messy desk. This is how we roll, y'all!
And now, who's ready for some MORE brunch recipes to inspire your Mother's Day morning… or just for a fancy weekend breakfast, in general?!
Some of my bloggy friends and I have come together to bring you a fantastic list of brunch recipes!
1. Toasty Breakfast Casserole
2. Cream Cheese Zucchini Bread with Browned Butter Struesel
3. Beermosa
4. Western Omelette Frittata
5. Fresh Berry Meringue Tarts
6. Panettone French Toast
7. Hash Brown Potato Pie
8. Strawberry Dark Chocolate Pancakes
9. Raspberry Cream Cheese Coffee Cake
10. Crunchy Pear and Brie Crepes
11. Huevos Chiles Rellenos
12. Fresh Strawberry Scones
13. Sausage and Egg Stuffed Twice Baked Breakfast Potatoes
14. Drunken Monkey Banana Rum Jam
15. Blueberry Lemon Crumble Muffins
16. Eggs in Purgatory
17. Chocolate Chip Muffins
18. Strawberries and Cream Skillet Roll
19. Pineapple Sunshine Smoothie Bowl
20. Lemon Blueberry Bundt Cake
21. Peach White Wine Slushies
22. Cheddar Cheese Tea Biscuits
23. Easy Creme Puff Swans
24. Crock Pot Hash Browns
25. Eggs Benedict Tarts
…
What do you plan to do for Mother's Day?