Last Updated on
Fluffy, delicious Vanilla Bean Coffee Cake Muffins, filled and topped with a pecan streusel. These muffins are the perfect sweet addition to any weekend breakfast or brunch!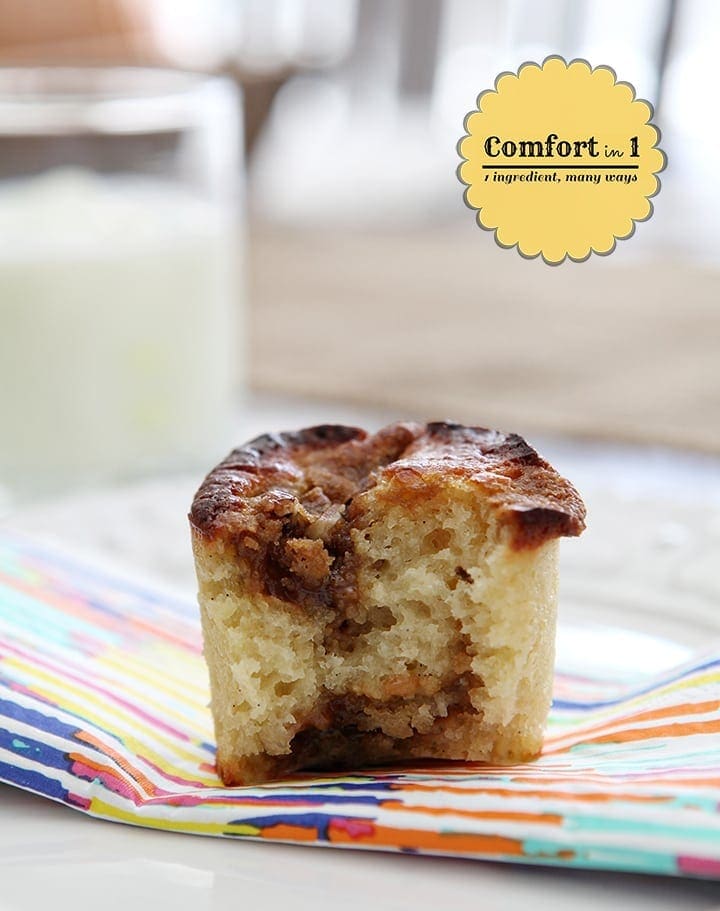 We continue our monthly Comfort in 1 feature today, and I'm stupid excited to be sharing this recipe with y'all. Rachel and I chose Greek yogurt for the month of January since this tends to be the time of year when everyone wants to cut back and be a bit healthier.
While this recipe calls for Greek yogurt, I'm doubtful that we could classify it as "healthy." However, I can say it's healthier than a coffee cake that is chock full of butter.
Small wins. That's what the new year is all about, right?
Interested in joining us this month? Create your own dish using Greek yogurt, post it on your blog from now until the end of January, and share it with us! Easy peasy!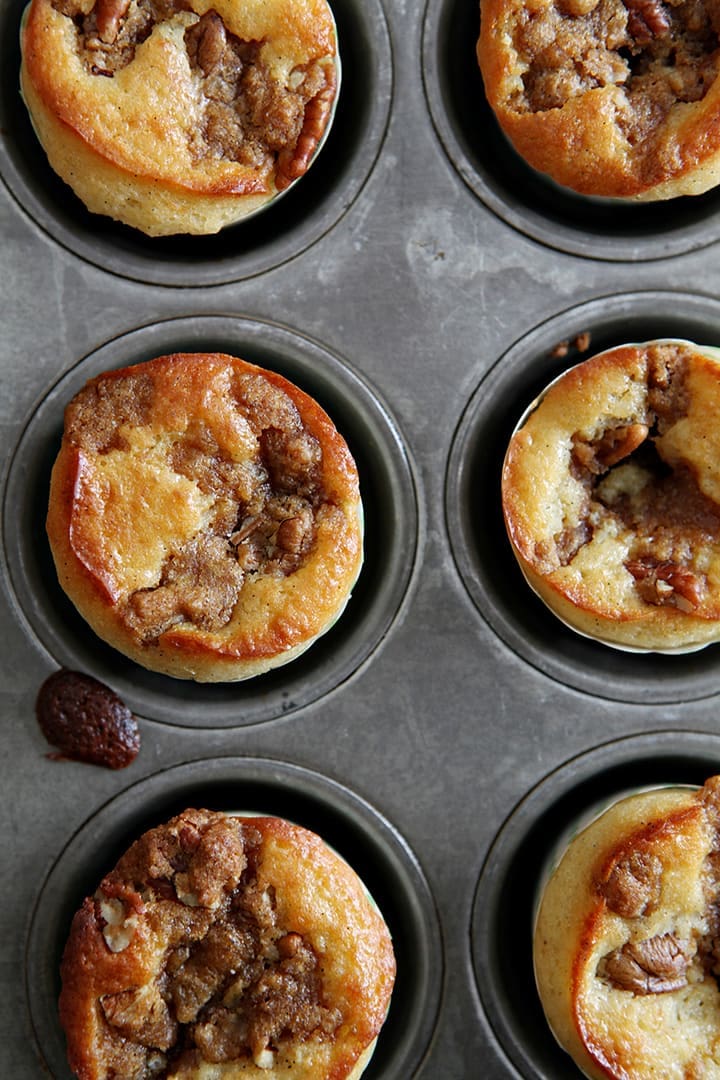 Coffee cake has always been one of my guilty pleasures.
When I was a kid, the members of my parents' Sunday school class rotated bringing breakfast to their class weekly, and I always loved when my parents were tapped because my mother usually whipped up a coffee cake, complete with a crumbly topping and swirled goodness throughout the breakfast treat.
She'd bring the whole cake to their class, and I always found myself hoping there would be leftovers.
However, I never understood why it was called a coffee cake. This was, obviously, waaaaaaaaaaaay before I was introduced to the comforts of a hot mug of coffee and how delightful coffee cake is with a morning latte.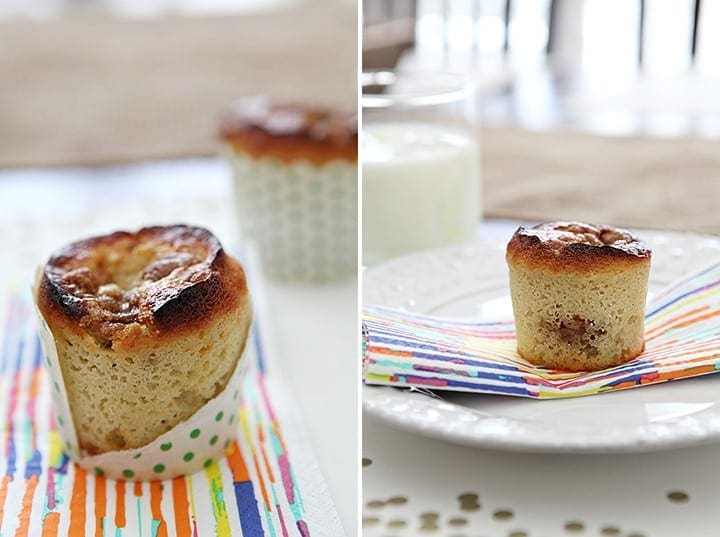 When my mom was in town after New Year's, I wanted to make a nod to these coffee cakes of years past, and we whipped up these muffins.
They're super easy to pull together, they don't take too long to bake, and they taste delicious.
What's not to love?
Here's how you can make your own at home: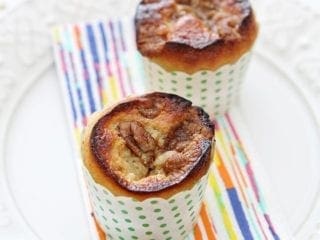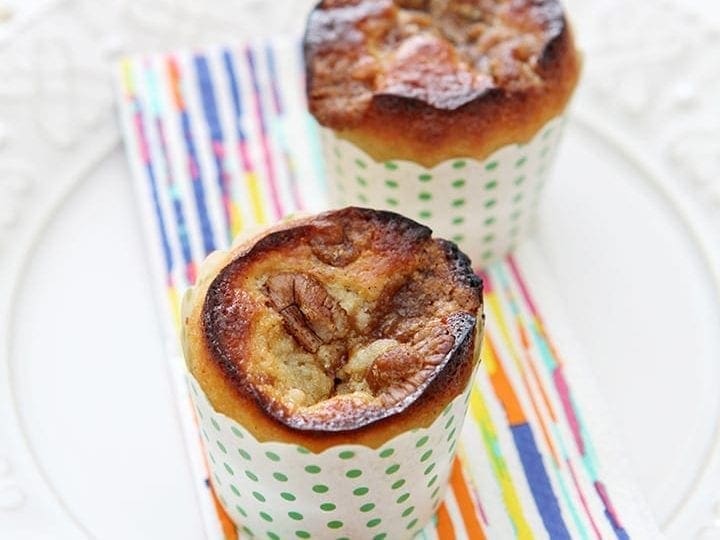 Yield: 18 muffins
Vanilla Bean Coffee Cake Muffins
Prep Time: 15 minutes

Cook Time: 20 minutes

Total Time: 35 minutes

Fluffy, delicious Vanilla Bean Coffee Cake Muffins, filled and topped with a pecan streusel. These muffins are the perfect sweet addition to any weekend breakfast or brunch!
Ingredients
Muffins
½ cup unsalted butter, softened
¼ cup vanilla sugar
½ cup granulated sugar
1 vanilla bean, split and scraped
1 teaspoon pure vanilla extract
¾ cup Greek yogurt
2 eggs
1 ¼ cups unbleached all-purpose flour
1 teaspoon baking powder
¼ teaspoon baking soda
¼ teaspoon kosher salt
Pecan Streusel
6 tablespoons dark brown sugar
1/3 cup unbleached all-purpose flour
¼ cup unsalted butter, melted
½ cup pecans, roughly chopped
1 teaspoon pure vanilla extract
Instructions
Preheat oven to 350°F. Place paper muffin baking cups on a muffin tray, and spray with nonstick spray. Set aside.
Make the muffins
In a large bowl, whip together the applesauce, coconut oil and sugars until smooth and fluffy using a hand mixer (or stand mixer).
Add the eggs, vanilla bean caviar, vanilla extract and Greek yogurt, mixing until smooth.
In a separate bowl, sift together the flour, baking powder, baking soda and salt.
Slowly pour the dry ingredients into the wet, mixing until just combined.
Prepare the streusel topping
In another bowl, combine the brown sugar, flour, butter, pecans and vanilla extract. Mix until combined.
Prepare the muffins
Fill each baking cup halfway to the top, then sprinkle on some of the streusel topping. Top with additional batter and finish that with a sprinkling of the streusel topping. Repeat until all muffins have been completed.
Transfer the muffin tin to the preheated oven, and bake for 20-25 minutes, or until the muffins have risen, are golden brown and are cooked through. (Be sure to test them by inserting a toothpick and checking the pick when removed to confirm the muffins are not raw in the middle.)
Allow 5-10 minutes to cool, then enjoy warm!
Nutrition Information:
Yield:
18
Serving Size:
1 muffin

Amount Per Serving:

Calories: 189 Total Fat: 10g Saturated Fat: 5g Trans Fat: 0g Unsaturated Fat: 5g Cholesterol: 41mg Sodium: 88mg Carbohydrates: 21g Net Carbohydrates: 0g Fiber: 1g Sugar: 12g Sugar Alcohols: 0g Protein: 3g

Nutrition facts are an estimate and not guaranteed to be accurate.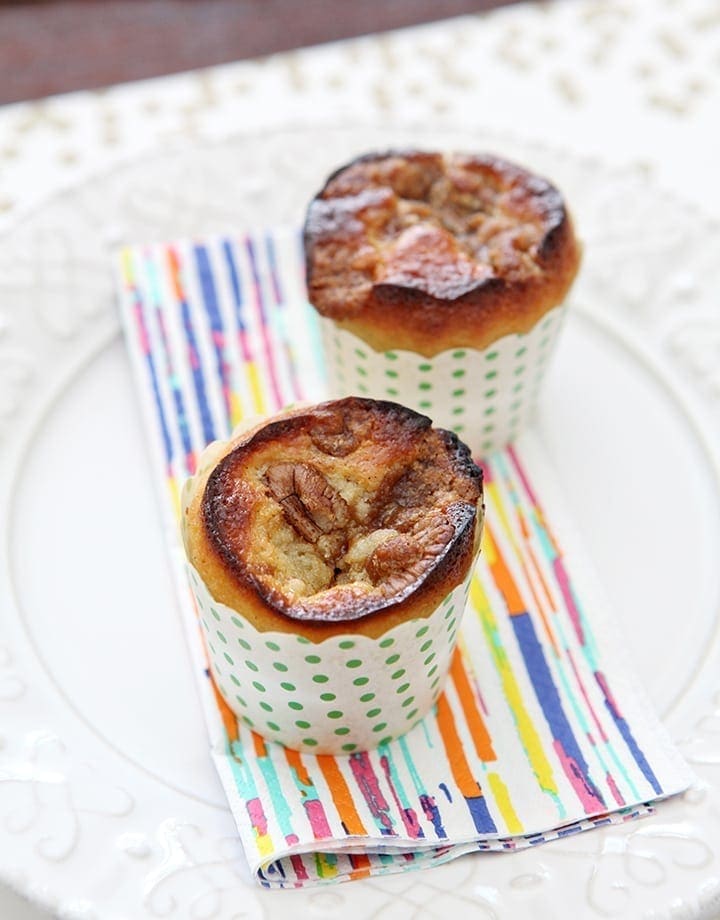 What breakfast/brunch foods are guilty pleasures for you?
Are you a huge coffee cake fan like I am?