Treat yourself to Butterscotch Pudding, lightened up with 1% milk and Greek yogurt. A nod to Gone Girl, this dessert is a sweet treat for awards season!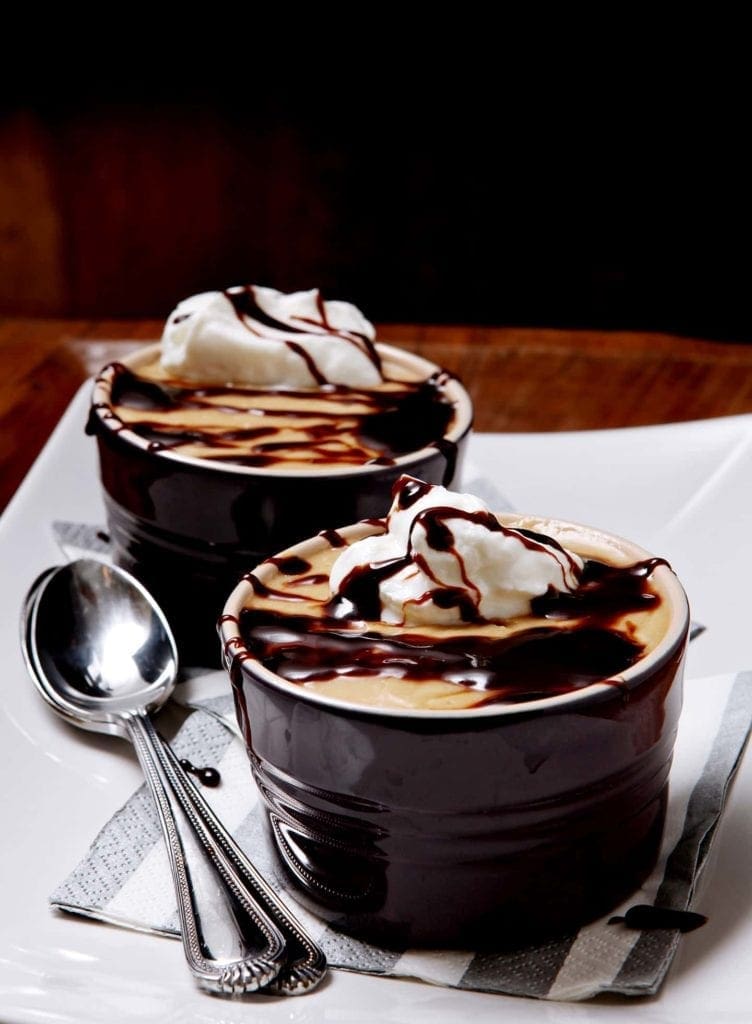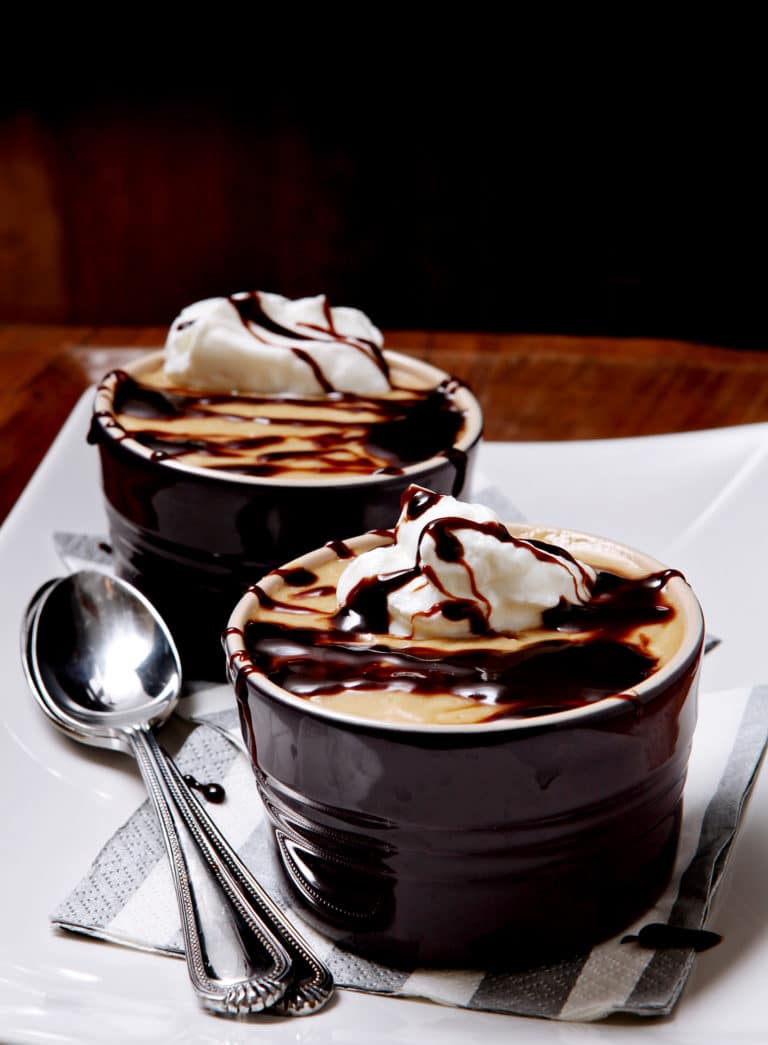 I'm so excited to be participating in the #OscarNomsParty today with several of my blog friends. We've all made recipes inspired by films nominated for this year's Academy Awards, and we're hosting a pretty sweet giveaway! More information on that in a bit, as well as our wonderfully decadent menu, too.
Real talk: I'm nowhere near as good about seeing movies as I once was.
In 2006, my roommate and I saw all the films nominated for Best Picture, and we created a running list on the chalkboard wall in our kitchen of who thought which movie was going to win in what categories.
This year, I've seen one film nominated for Best Picture and a few others that picked up various nods.
One of those is Gone Girl.
Like a good student, I read the book before I watched the movie, and while the two were relatively similar, I enjoyed the book better. (Question: Has anyone ever liked the movie more than the book?)
That being said, I appreciated the movie for what it was. It just didn't capture the characters as fully as the novel did, even though it was artfully done.
Winston, who didn't read the book, enjoyed the film, too, and was on the edge of his seat most of the time. When it first got started, he kept shooting me questioning glances as something new would come to light.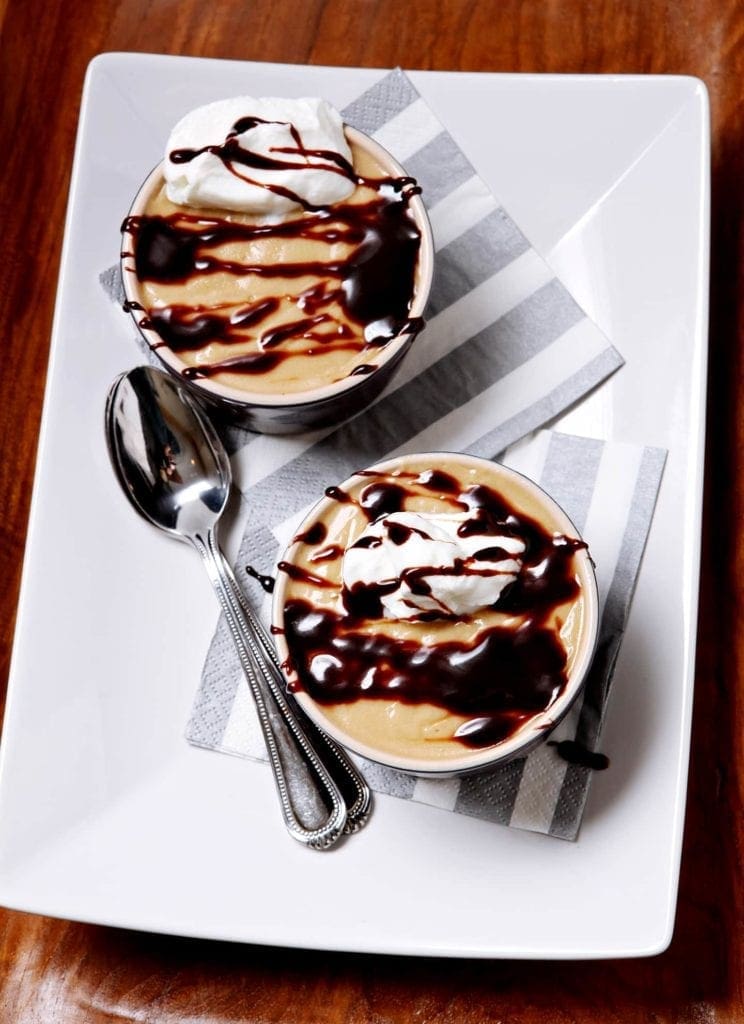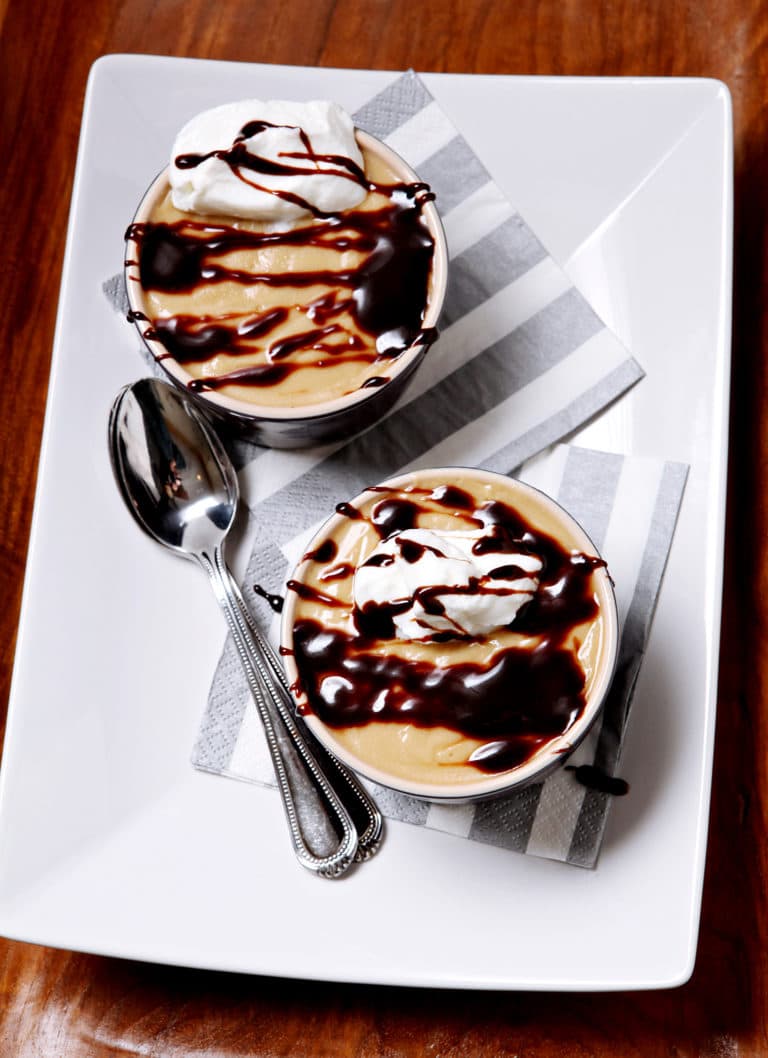 Rosamund Pike, the actress who plays Amy Dunne, is nominated for Best Actress, and I wanted to tip my hat to both the movie and book with a recipe. But… the initial thought I had for food didn't make it into the film. (It was a scathing statement that made me laugh out loud as I listened to the novel, and it was referenced a few times when certain information came to light.)
Since Gone Girl was one of the only nominated films I saw this year, I asked if I could bend the rules a little to create this dish that's more about the book than the movie.
Because it stars butterscotch.
(If you've read the book, please tell me you know what/who I'm referencing here.)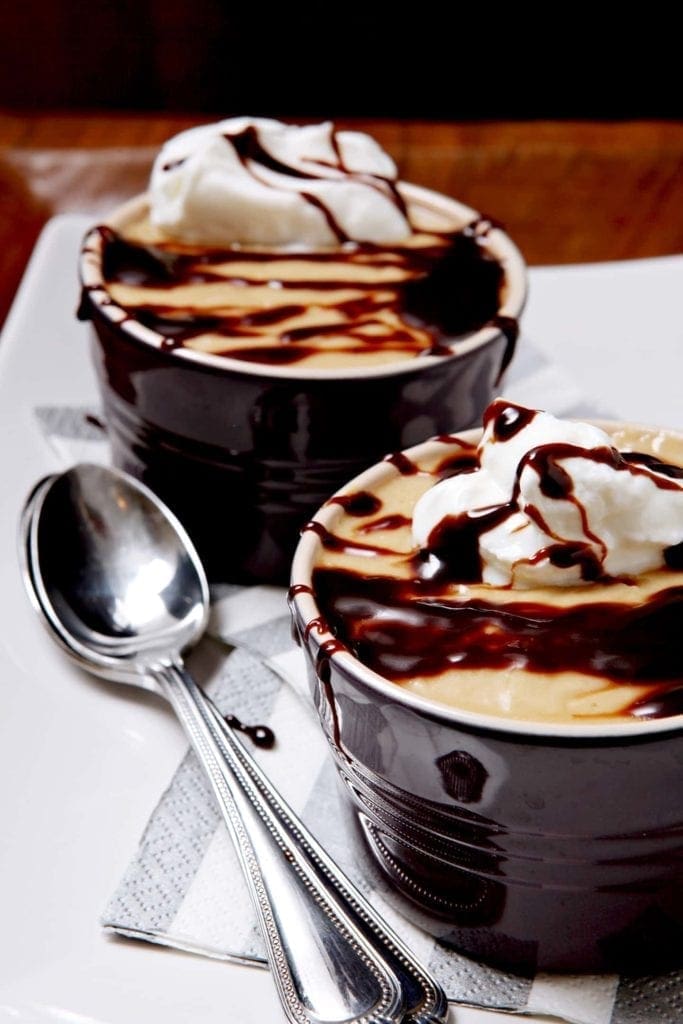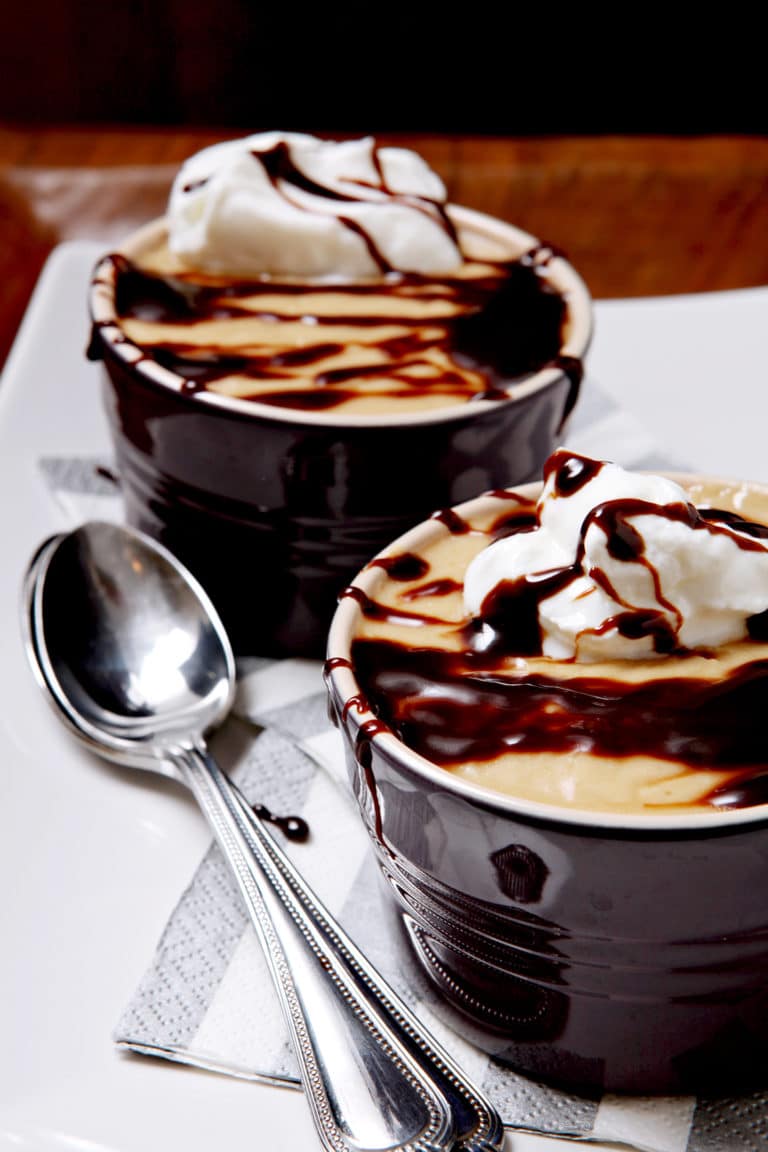 Butterscotch Pudding is a super simple dessert to pull together, and it's absolutely delicious once chilled for a few hours. I'm sure it would be delicious straight off the stovetop, too, but since pudding needs additional time to thicken in the fridge, it might be best left alone for a bit.
This pudding is creamy, slightly sweet and decadent. And it's totally worth cheating (on a diet) for.
In honor of the Academy Awards on Sunday, Feb. 22, I've teamed up with 15 incredible bloggers to bring you an awesome menu!
Each of the participating bloggers has prepared an Oscar-themed recipe!
The Oscar Noms Party
Menu & Movies
Appetizers
Aged Cheddar & Apple Grilled Cheese – Boyhood
Pull-Apart Pepperoni Pizza Bread – Whiplash
Asparagus Rolls – Into the Woods
Magic Garbanzo Beans – Into the Woods

Desserts
Rocket Raccoon Cake – Guardians of the Galaxy
Texas Peach Cobbler Skillet – American Sniper
Chocolate-Covered Cherry Granola – Wild
Cocktails
Pink Lady Cocktail – Grand Budapest Hotel
Oscar Chambord Royale – The Theory of Everything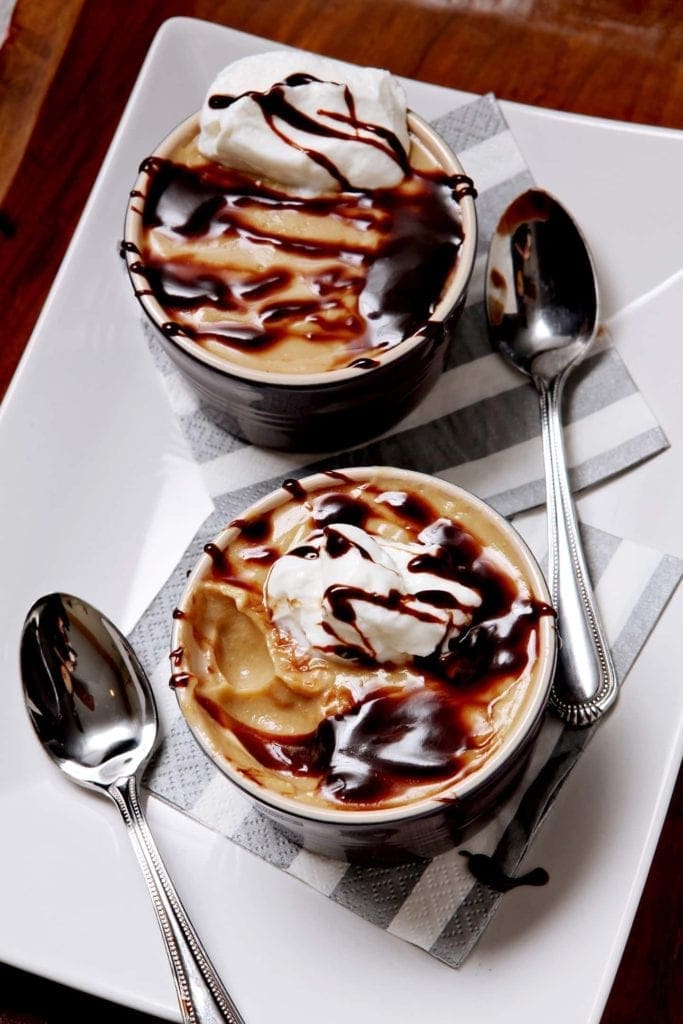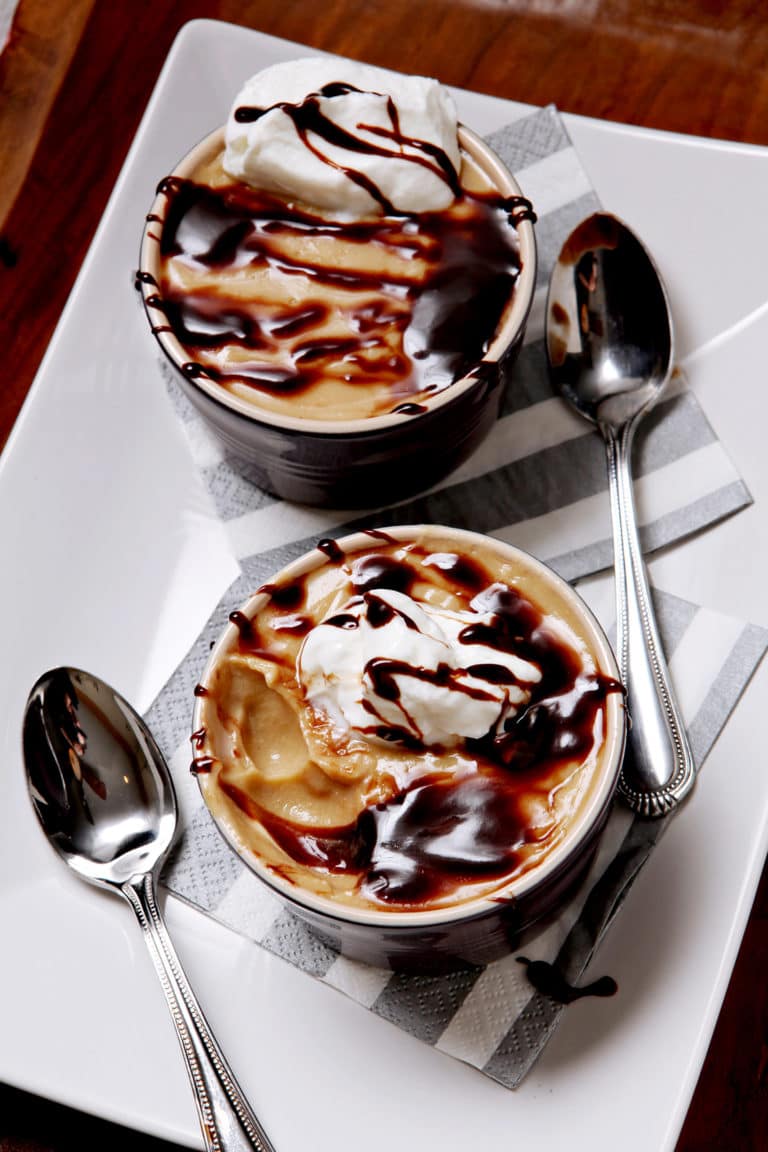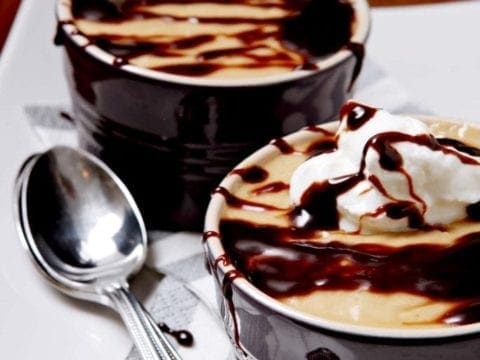 Yield:

2 large servings
Butterscotch Pudding
A nod to the "Gone Girl" book, even if the butterscotch reference didn't make the movie, which Rosamund Pike is nominated for Best Actress at this year's Academy Awards. Treat yourself this Sunday to some decadent Butterscotch Pudding, lightened up with 1% milk and Greek yogurt.
Ingredients
1 tablespoon unsalted butter
¼ cup dark brown sugar
A pinch of good sea salt
2 tablespoons cornstarch
1 cup 1% milk
½ cup Greek yogurt
1 teaspoon pure vanilla extract
Instructions
In a saucepan over medium heat, melt the butter, and let it brown slightly.
While the butter is browning, combine the milk and greek yogurt. Whisk until smooth and no lumps visible. Set aside.
Once the butter has browned, add the brown sugar. Reduce the heat to medium-low. Let the brown sugar cook and bubble for 1 to 2 minutes, stirring frequently so the sugar doesn't burn. Reduce the heat to low.
Add the pinch of salt and measure in the cornstarch, stirring until combined until the combination forms a paste.
Slowly pour in the milk/Greek yogurt mixture, whisking vigorously.
Once the milk/yogurt mixture is completely added, cook the pudding over low heat, stirring frequently with a spoon, until the mixture gently simmers. While continually stirring, let the mixture simmer for a minute. It will thicken during this stage.
Remove the saucepan from the heat, and measure in the vanilla extract.
Pour the pudding into ramekins, and cover with plastic wrap. Transfer to the refrigerator, and chill for 1-2 hours, until set.
Enjoy chilled with a dollop of whipped cream (or more Greek yogurt) and with a drizzle of chocolate sauce.
Nutrition Information:
Yield:
2
Serving Size:
1 serving
Amount Per Serving:
Calories:

259
Total Fat:

7g
Saturated Fat:

4g
Trans Fat:

0g
Unsaturated Fat:

2g
Cholesterol:

24mg
Sodium:

148mg
Carbohydrates:

38g
Fiber:

0g
Sugar:

31g
Protein:

10g
Nutrition facts are an estimate and not guaranteed to be accurate.