Let's celebrate Valentine's Day with these gooey, decadent and delicious Dark Chocolate Soufflés, which come together quickly and bake up nicely. The perfect dessert if you're holding a stay-at-home Valentine's celebration this year!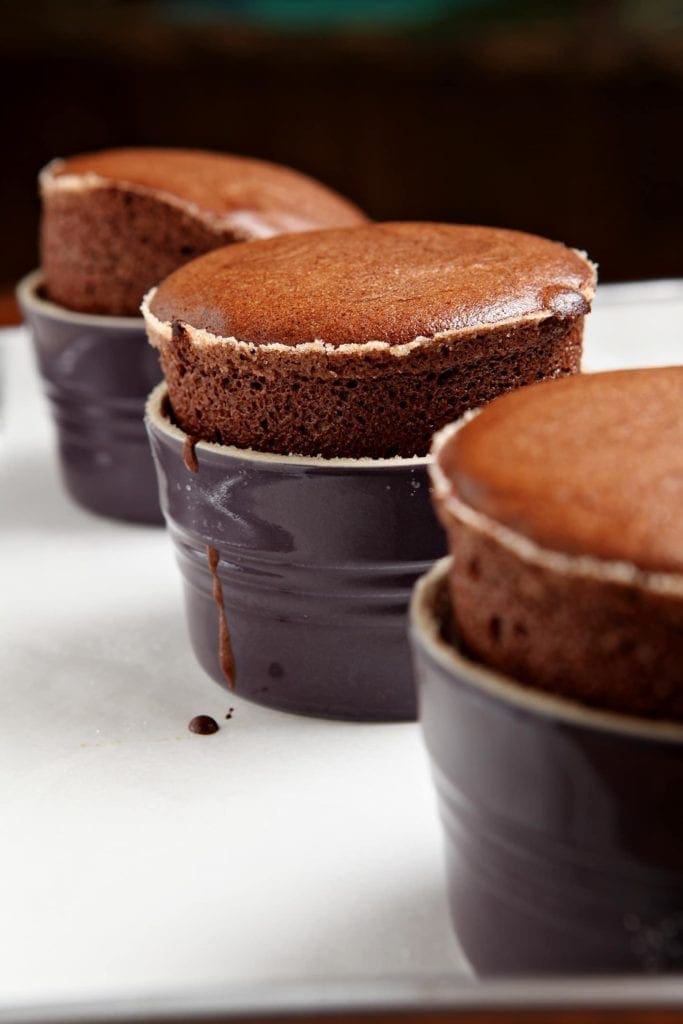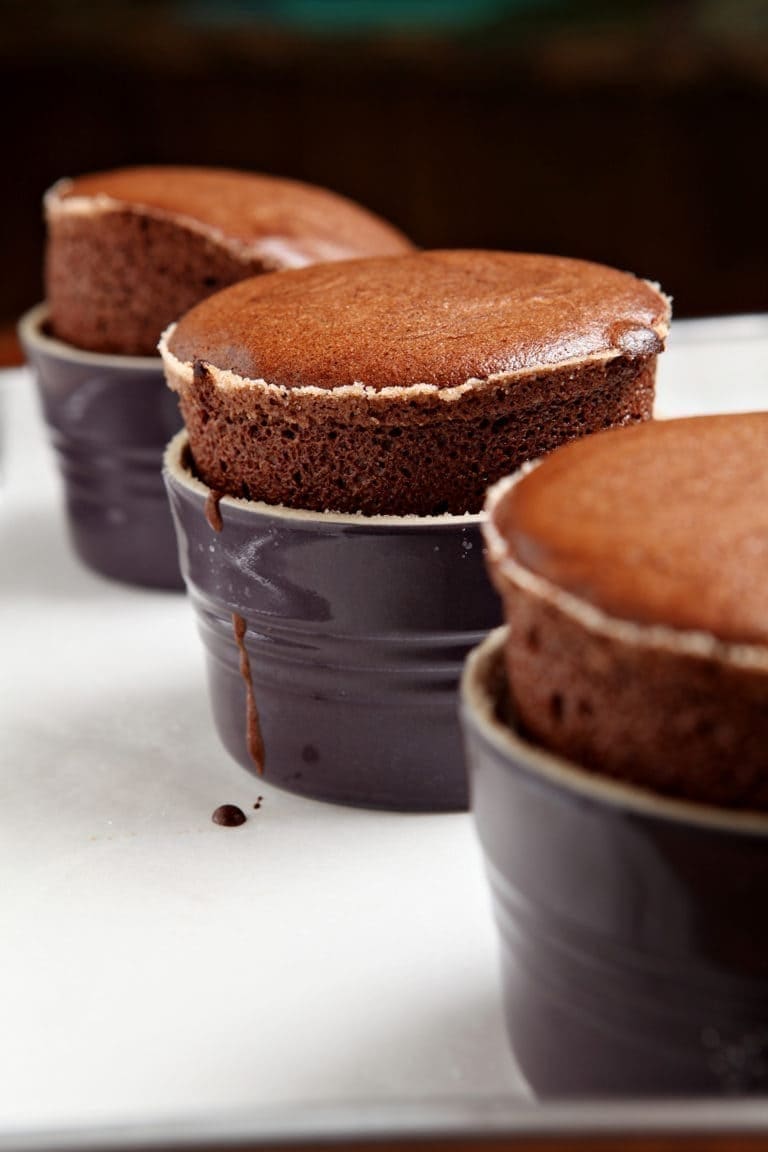 My husband gave me the prettiest pink flowers for Valentine's Day yesterday, and I spent the rest of the afternoon swooning over them.
I'm such a girl. And I'm totally OK with this.
In the seven-and-a-half years we've been together, Winston has sent me flowers once before. And those fateful roses preceded our engagement.
Apparently, he does flowers before big important events in our lives, and since flowers are not an every day (or every year!) occurrence, yesterday's bouquet was even more special.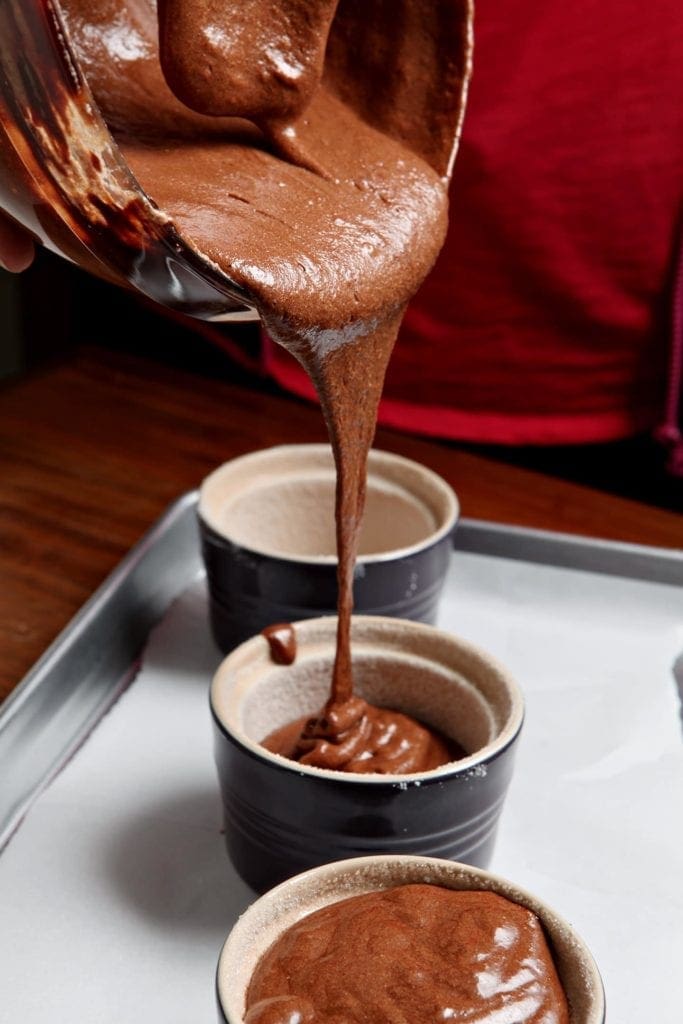 We're (obviously) a low-key Valentine's Day couple. We don't normally exchange gifts, opting for heartfelt cards and homemade presents. ("Presents" meaning "baked goods.")
We prefer cooking at home instead of braving the restaurant dinner crowds. We spend the evening taking it easy and enjoying time together in the comfort of our own home.
And most years, I bake soufflés to finish off our homemade Valentine's dinner.
This year is no different… assuming we're not at the hospital and/or having a baby at the time of our dinner.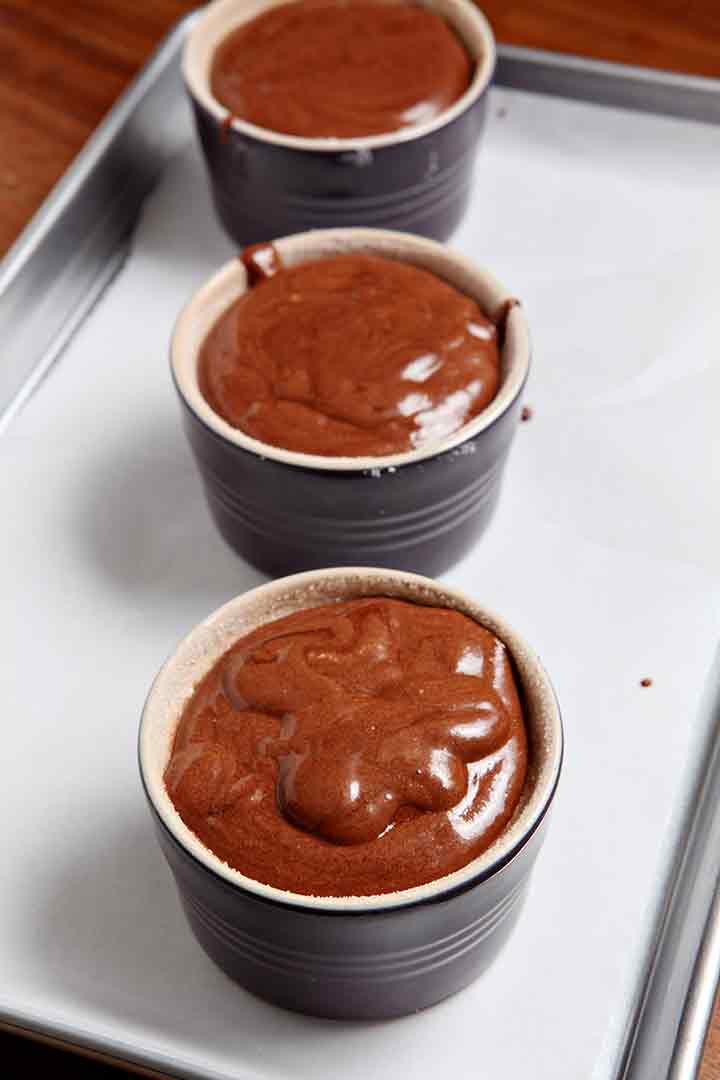 How do you ensure your soufflés rise and are light and fluffy?
There are a few things that go into making the perfect soufflé!
Have the right equipment. That means having a solid ramekin for the soufflés to bake in, a hand mixer to whip up the egg whites, a spatula to fold all the ingredients together.
Make sure the egg whites are at room temperature! I like to separate my eggs an hour in advance, refrigerate the yolks to go into scrambled eggs the next day, and let the egg whites hang out on the counter in a bowl. (It's harder to get lift out of a cold egg white!)
If you're having trouble getting the egg whites to rise, you can add a pinch of cream of tarter or a squeeze of lemon juice. This isn't required, but it could help the meringue be a little more stable.
Don't overfold the batter. You want it to just come together, dollop it into the ramekins and bake!
Serve and enjoy immediately. A soufflé will fall as it sits after baking and won't be nearly as airy or fluffy as it is straight out of the oven.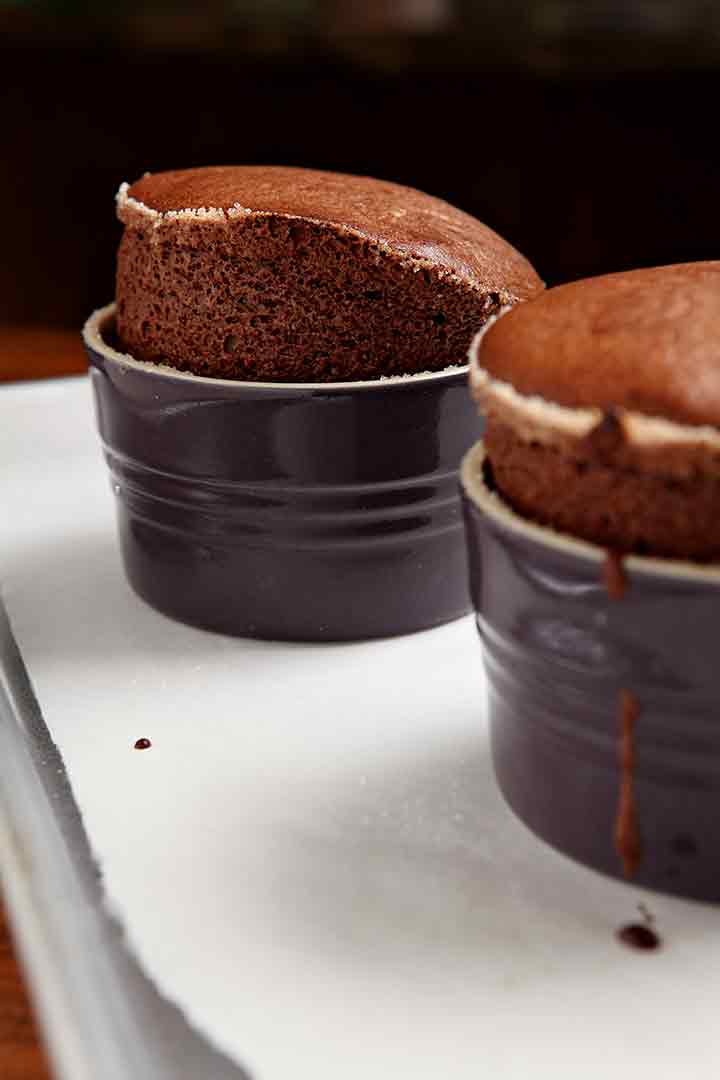 Can I make the soufflé batter ahead of time?
Yes! You can whip the batter up to a day or two in advance, cover with plastic wrap and refrigerate. When it's time to bake your dessert, preheat the oven, then prepare the ramekins, add the batter and bake until ooey gooey and delicious!
How do you know when a soufflé is done?
I like to go by look. If the soufflé has risen well out of its ramekin, it's probably done.
If you want to stick a toothpick or a cooking needle into it and pull it out, you'll want it to come out clean… but I don't mind my soufflé being a little gooey straight out of the oven.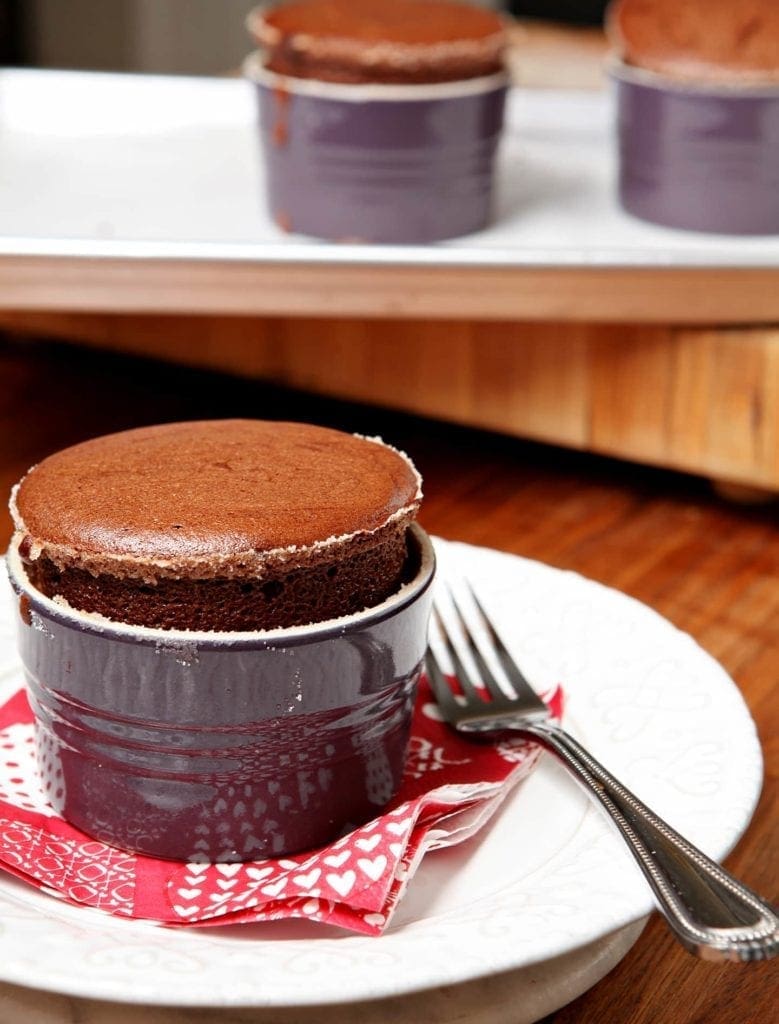 I've been making a rendition of these soufflés for years, and this might just be my favorite version yet because the chocolate is so rich and intense.
So, if you're looking for a dessert on the lighter side? These Dark Chocolate Soufflés probably aren't your thing.
But trust me when I say they are absolutely decadent and the perfect way to end a Valentine's Dinner with the person(s) you adore most in the world.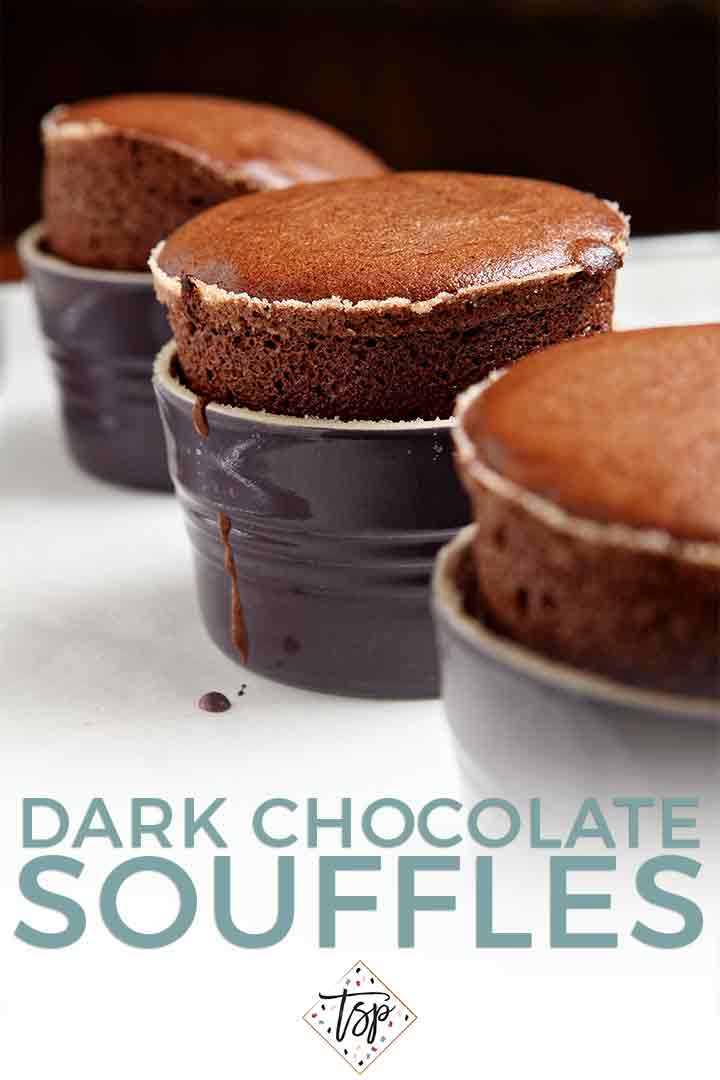 Other Chocolate-y Desserts for Valentine's Day
Now who's ready for these gorgeous souffles? Scroll on down to get the recipe!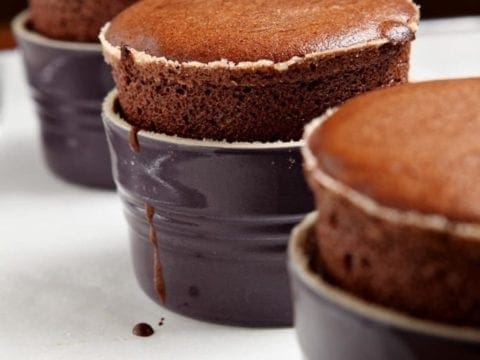 Yield:

3 7 oz. soufflés
Dark Chocolate Soufflés
Celebrate Valentine's Day with these gooey, decadent and delicious Dark Chocolate Soufflés, which come together quickly and bake up nicely. The perfect dessert if you're holding a stay-at-home Valentine's celebration this year!
Ingredients
6 oz. dark chocolate
1/4 cup half-and-half
1 large egg yolk
Pinch Kosher salt
3 egg whites, at room temperature
1 tablespoon granulated sugar (and additional sugar for prepping the baking dishes)
Instructions
Preheat the oven to 400°F, and position a baking rack in the middle of the oven.
Spray three 7 oz. soufflé dishes with baking spray and sprinkle with sugar, tilting the dishes to coat all surfaces completely, then tapping to remove excess sugar. Arrange the prepared baking dishes on a baking sheet, and set aside.
Heat a saucepan over high heat, filled halfway with water, and bring to a simmer.
Combine the chocolate and half-and-half in a large glass bowl that fits over the saucepan. When the water is simmering, set the bowl over the saucepan to create a double boiler. Stir until the chocolate has melted and the mixture is smooth. Remove the bowl from the heat, and set aside.
Using a hand mixer (or stand mixer), beat the egg whites until they have formed soft peaks. Sprinkle in the sugar until the egg whites form hard peaks. Set aside.
Stir the egg yolk and salt into the chocolate mixture.
Using a rubber spatula, fold a quarter of the beaten egg whites into the chocolate mixture. Gently fold the rest of the egg whites into the mixture, stirring until just combined. (This is very important because if you overmix, your soufflés won't rise as much!)
Divide the batter among the prepared soufflé dishes, and fill them completely.
Bake the soufflés on a baking sheet until they have puffed considerably and the tops feel firm, about 14-16 minutes. (If you can peek at your soufflés without opening the oven door, do this around the 10-11 minute mark to check the rise.)
Serve the soufflés immediately, sprinkling with powdered sugar, whipped cream, fresh fruit or simply by themselves!
Notes
Adapted very slightly from Bon Apetit's Milk Chocolate Soufflés with Nougat Whip.
This recipe can be made into FOUR smaller souffles. I just happened to use my 7 oz. souffle dishes, and it worked beautifully. That said, they are VERY rich, and a smaller serving might be a good idea if you aren't a chocoholic.
Recommended Products
As an Amazon Associate and member of other affiliate programs, I earn from qualifying purchases.
Nutrition Information:
Serving Size:
1-7 oz. souffle
Amount Per Serving:
Calories:

415
Saturated Fat:

15g
Cholesterol:

74mg
Sodium:

72mg
Carbohydrates:

31g
Fiber:

6g
Sugar:

17g
Protein:

9g
What are your Valentine's Day plans? Will you be baking for your loved ones like I will be?
Have you tried this recipe? Leave a comment and star rating below to let me know what you thought!