A spin on the Southern pie, but in cookie form! These Mississippi Mud Cookies are studded with pecans and marshmallows and perfect for the chocolate lover in your life.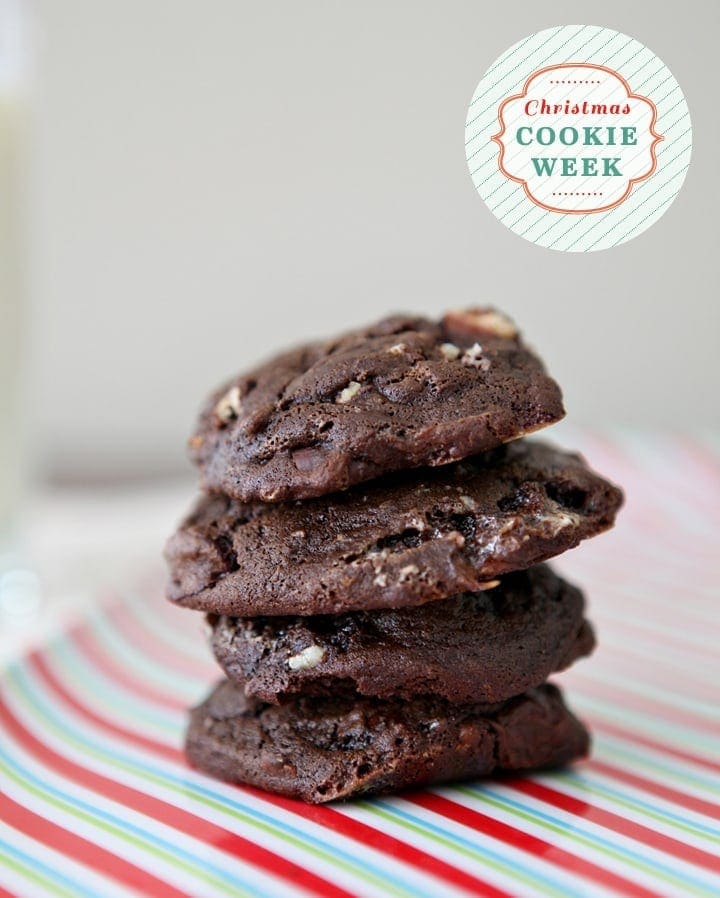 Monday night, I joined some friends for a showing of Love Actually at a local theater. Embarrassingly, it had been a few years since I'd watched that movie, and I found myself falling in love with it all over again as we watched.
It's not often that a film accurately portrays the beauty and the sadness of life in one fell swoop. More often than not, I find myself watching stories that wrap up so neatly at the end of the film, and while that's perfect for many occasions, that's generally not how life always is.
Sometimes, things work out. Other times, it's incredibly messy and heartbreaking. And we all have experienced both in our own lives.
That being said, I thoroughly enjoyed the various stories told in this movie, and I also came out of it with many new observations.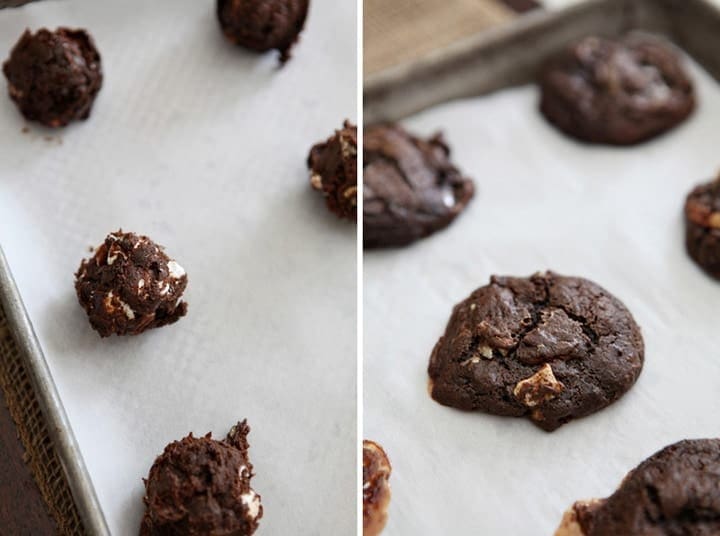 First and foremost, I'm totally on Team Karl.
Secondly, Karl and Sarah's storyline makes me incredibly sad. I felt like crying for them both when their night turned super awkward after the Christmas party. And once he left, she went to spend time with her brother, who attacked her. Life just isn't fair sometimes, and it broke my heart for both of them.
Third? I forgot Martin Freeman, Billy Bob Thornton and Liam Neeson were in this film.
Fourth? Billy Mack makes me stupidly happy. (I've definitely got "Christmas is All Around" on a few holiday-themed playlists.)
And finally, I love the idea of speaking the truth, especially this time of year. As Mark puts it, "And at Christmas, you tell the truth."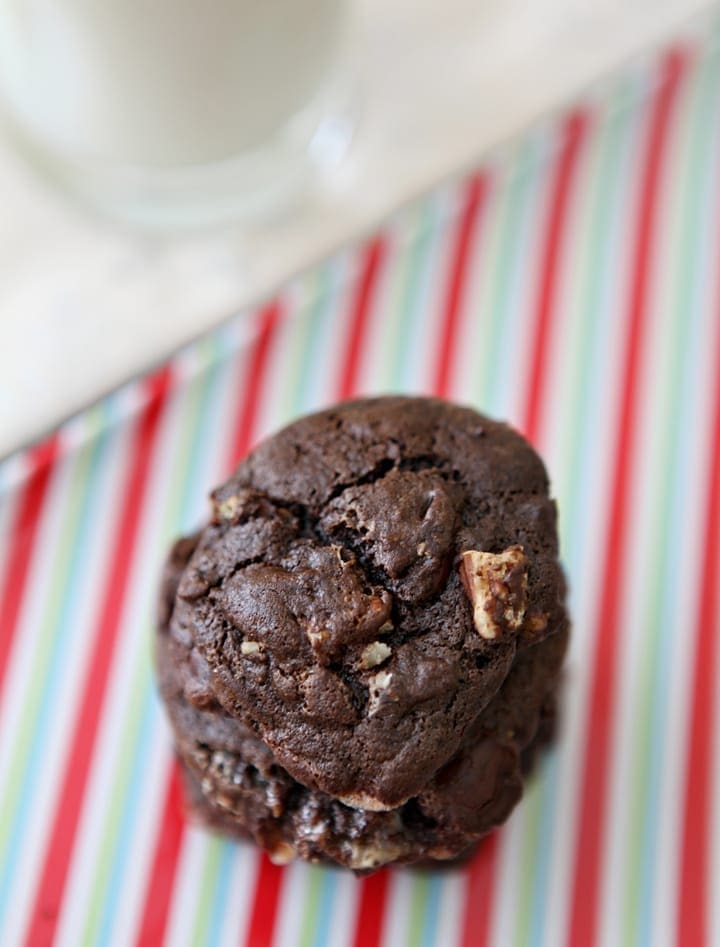 I've got a truth today for y'all about these cookies: They were supposed to be something else and were hijacked by a pregnancy craving.
Because of this, they sound like a weird addition to Christmas Cookie Week. I know.
The original thought was to create a cookie that tasted like hot cocoa — full of chocolate-y goodness and studded with marshmallows. But then I got to thinking and realized that pecans sounded amazing.
So I added them to the batter…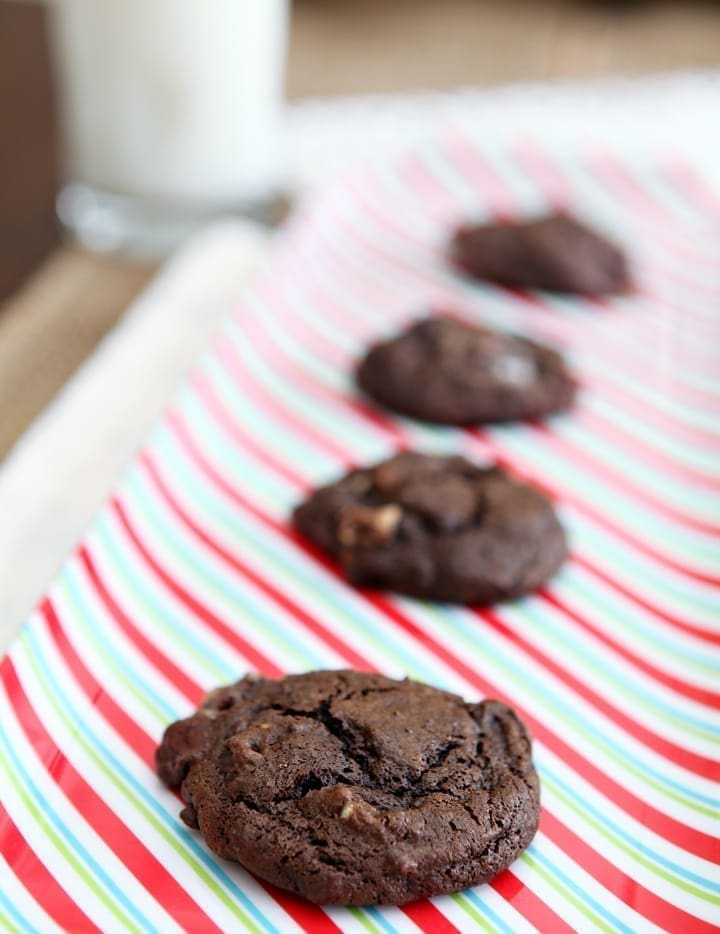 Another truth: These cookies are awesome.
I was set to call these chewy chocolate-y treats Rocky Road Cookies when Winston commented, "These taste like a Mississippi Mud Pie. I think you should call them that."
Noted, husband dearest. And it's true. So their name changed to Mississippi Mud Cookies. And while they might not sound like a recipe for the holidays, I promise they're absolutely, decadently wonderful.
Here's how I made them and how you can make your own: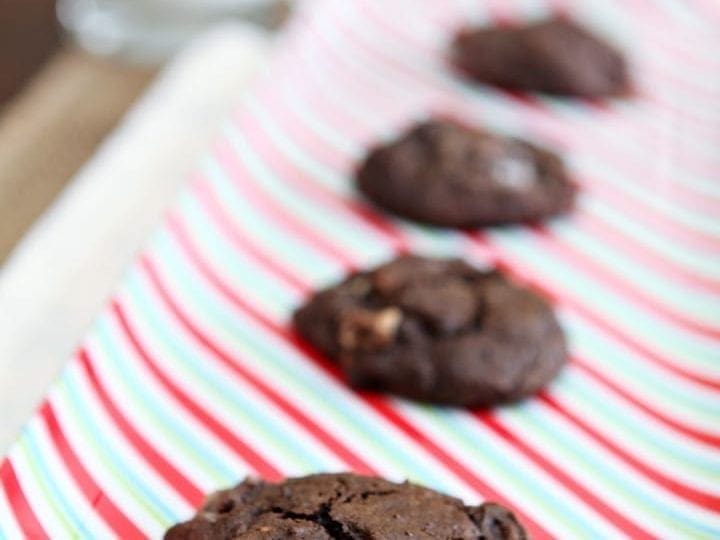 Yield:

3 dozen cookies
Mississippi Mud Cookies
Prep Time:
1 hour
15 minutes
Total Time:
1 hour
27 minutes
A spin on the Southern pie, but in cookie form! These Mississippi Mud Cookies are studded with pecans and marshmallows and perfect for the chocolate lover in your life.
Ingredients
1 3/4 cup unbleached all-purpose flour
1 1/4 cups unsweetened cocoa powder
2 teaspoons baking soda
3/4 teaspoon kosher salt
1/2 cup unsalted butter, , softened
1/2 cup unsweetened applesauce
1 cup granulated sugar
3/4 cup dark brown sugar
2 eggs
2 teaspoons pure vanilla extract
1 cup dark chocolate chips
1 cup mini marshmallows
1 cup pecan halves, , roughly chopped
Instructions
Preheat oven to 350°F. Line two baking sheets with parchment paper, and set aside.
In a medium-sized bowl, sift together the flour, cocoa, baking soda, and salt. Set aside.
In the bowl of an electric mixer with the paddle attachment, cream together the butter, applesauce and sugars until fluffy.
Add the eggs and vanilla extract. Mix until combined.
Add the flour mixture, and beat on low speed, until just combined. Do not overmix.
Using a plastic spatula, fold in the chocolate chips, marshmallows and pecans. Stir until just combined.
Cover the finished cookie dough with plastic wrap, and transfer to the refrigerator. Chill for at least an hour.
Using a greased cookie scooper, form dough balls and place on the baking sheet about 3" apart from one another.
Bake for about 12 minutes or until puffed and slightly cracked.
Transfer to a wire rack to cool completely before eating with a chilled glass of milk.
Notes
Adapted from last year's Peppermint Dark Chocolate Cookies.
Makes around 3 dozen cookies, depending on the size you decide to make them. (I used a 1" cookie scoop for mine.)
Do you adore Love Actually, too?
What's your favorite storyline?

Want to take part in this sugar, butter and baked goodness celebration? Head over to the intro post to Christmas Cookie Week 2014 to get all the details about this week and share your new cookie post, and I'll see y'all back here tomorrow for another gorgeous holiday-themed sweet recipe!