This post is sponsored by Imperial Sugar, Dixie Crystals and Bob's Red Mill. I received free product as a part of The Sweetest Season Cookie Exchange. As always, all opinions, thoughts and recipes are my own.
Like the classic winter drink, but in cookie form, these Hot Cocoa Cookies are chock full of chocolate-y goodness and topped with a toasted marshmallow. These dairy-free cookies are the perfect companion for a mug of hot chocolate or a glass of milk.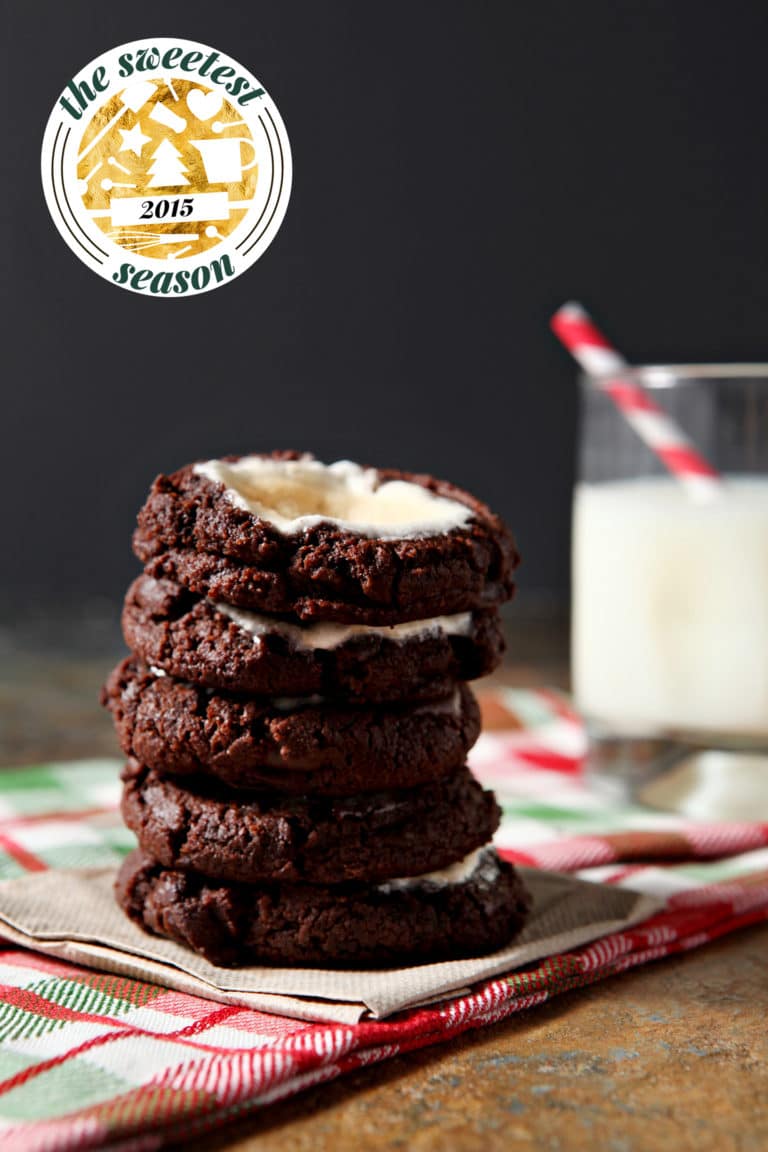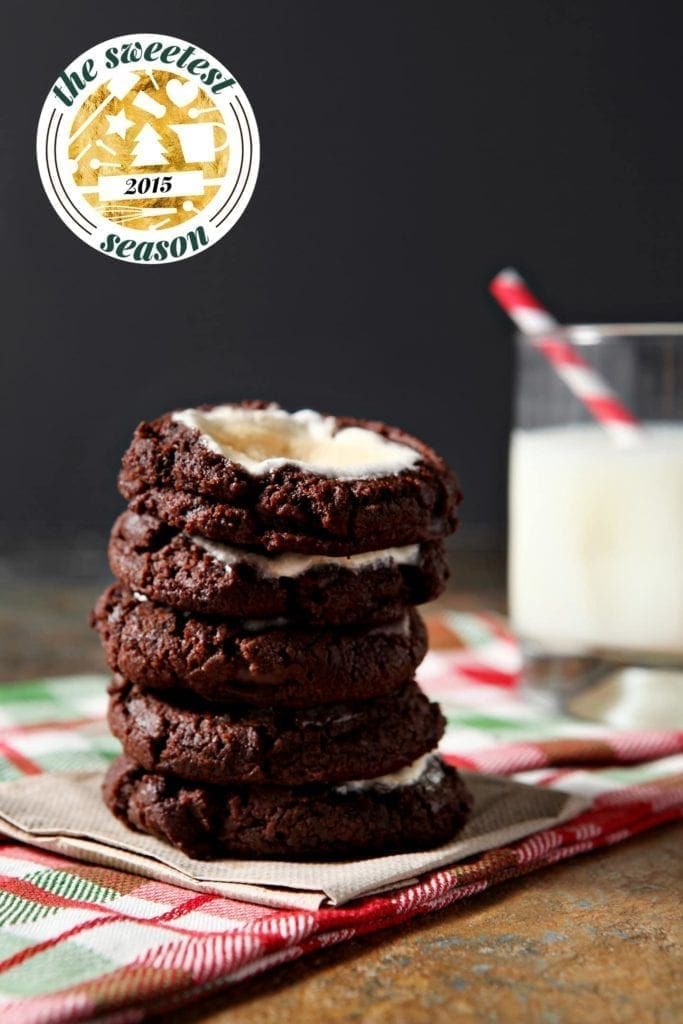 Whenever someone mentions Hot Cocoa, I'm transported back to one chilly winter evening when my family was visiting Ohio.
We were at my aunt and uncle's house for a long weekend. My grandmother, who lived in West Virginia, had come in town, too, and we were all spending time together at their home.
I don't remember the specifics of evening other than it was cold enough that Memother decided we all needed hot cocoa. Not the boxed kind that's incredibly easy to mix up.
Nope. She wanted to make hot cocoa from scratch.
So she did.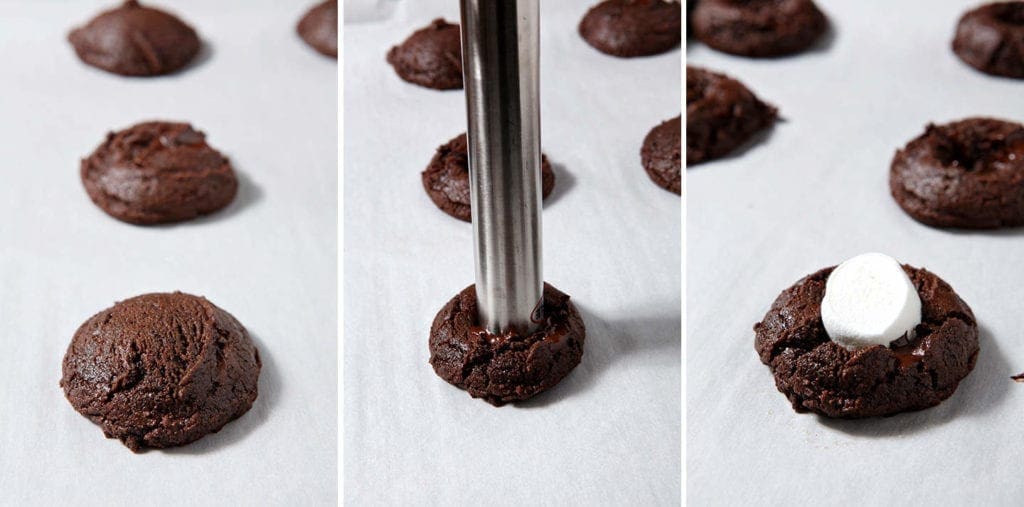 I couldn't have been older than 10 or 12, but I remember standing next to the stovetop as she carefully explained the method to her madness. She measured milk and cream into a large saucepan before adding some cocoa powder, sugar, cinnamon sticks and vanilla.
Then we stood around, chatting while we waited for the cocoa to simmer, even though we all know a watchpot never boils. And then when it did simmer, we let it go for a long while, making sure it never boiled or bubbled over.
It felt like it was taking forever, but Memother assured me it was well-worth the effort.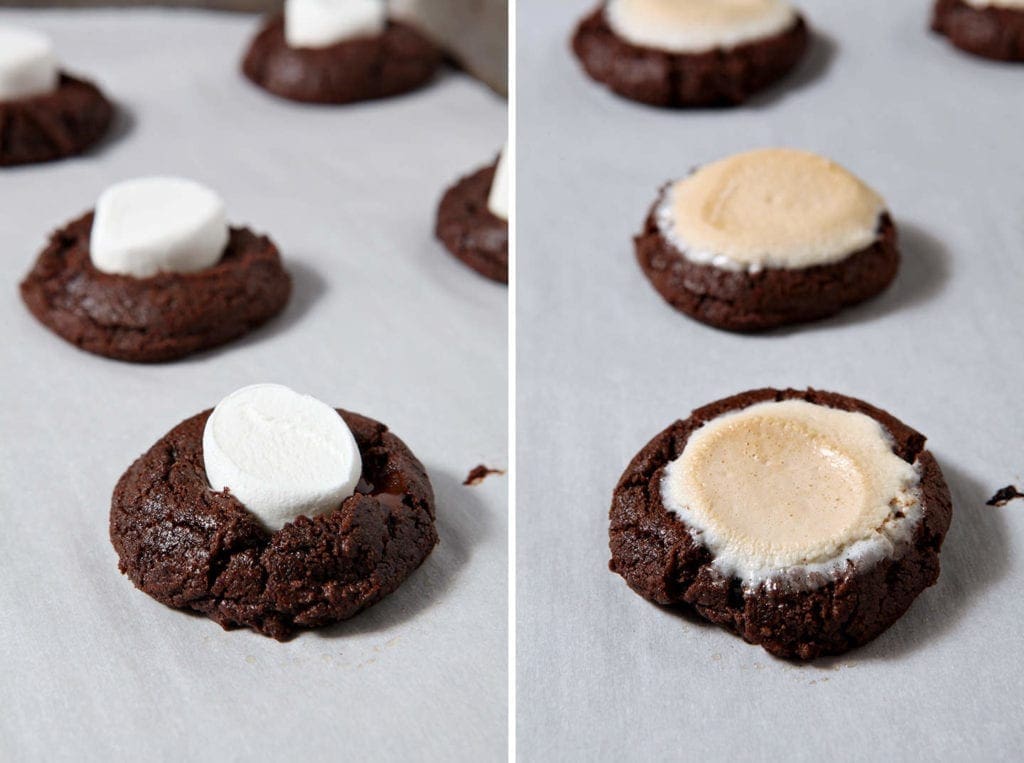 Unsurprisingly, Memother was right.
The cocoa was absolutely worth the wait.
When she deemed it perfect, we removed the saucepan from the heat, then we carefully ladled the steaming liquid into mugs. We topped them with marshmallows, then we shared the hot drinks with our family members.
We settled in for some quality time on the screened-in porch, and I still remember the first sip of Memother's hot cocoa. It was nothing short of magical, and I savored that entire mug as we all spent time together that evening.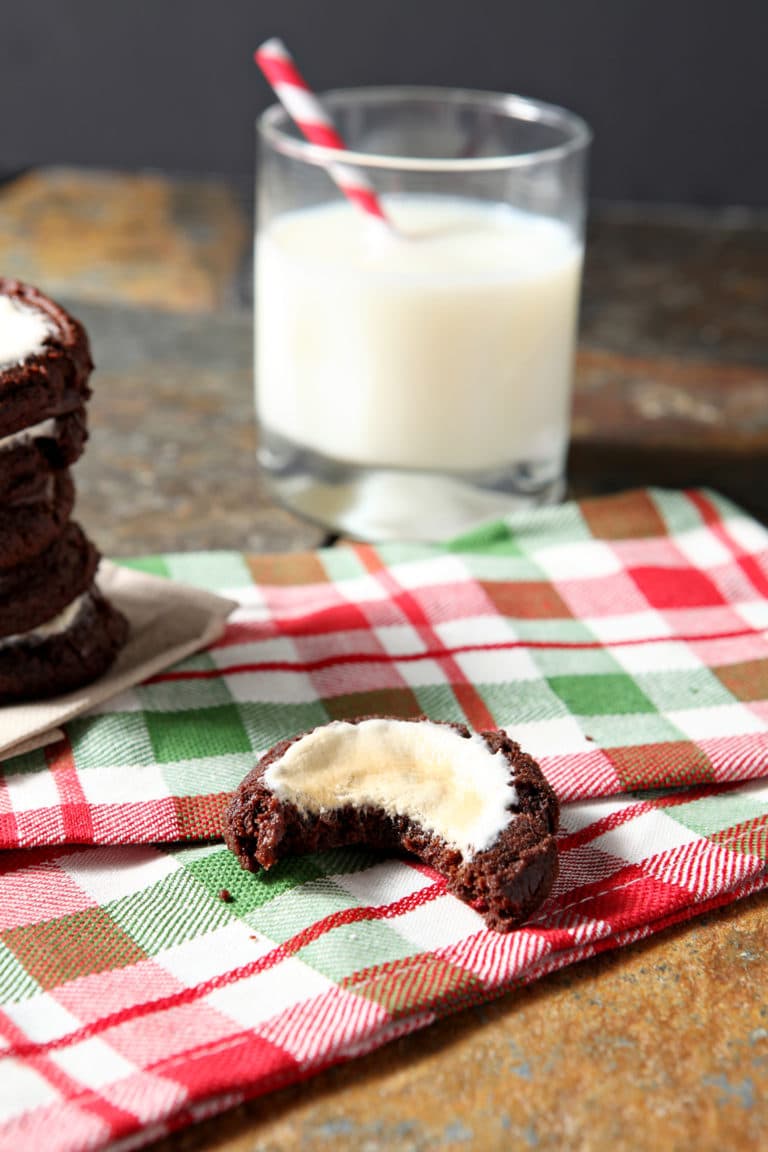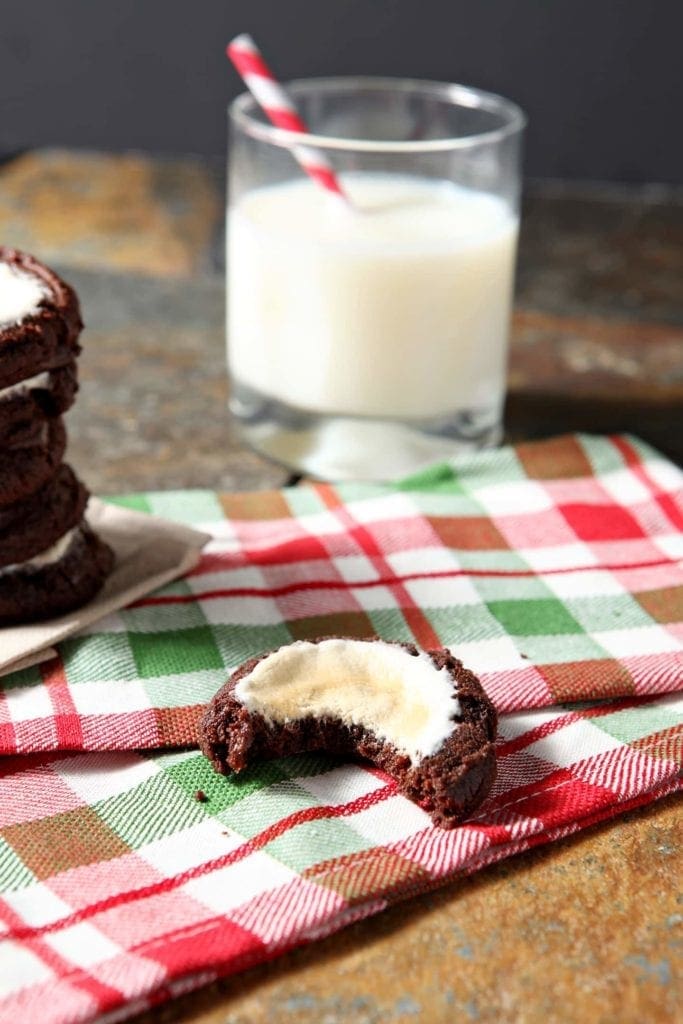 That trip was a long time ago, but every time hot cocoa is mentioned, I remember the time I spent with Memother in my aunt and uncle's kitchen.
And for today's recipe, I wanted to create a riff on cocoa… in cookie form.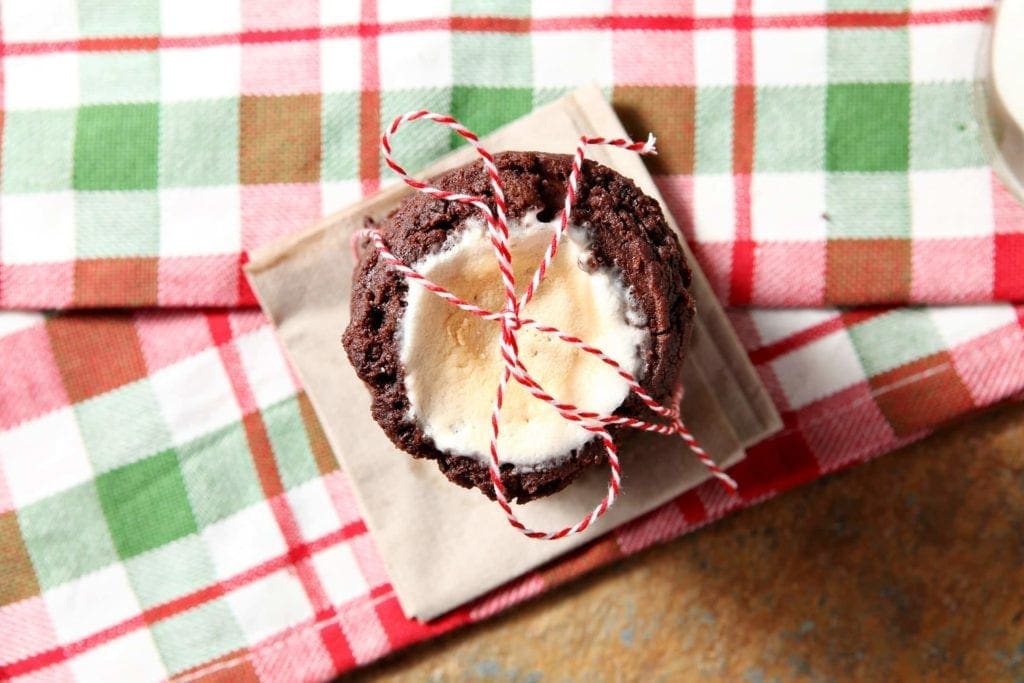 This cookie is quite simple and straightforward. It requires no time for chilling, which means you can immediately pop the cookies in the oven once the batter is made.
And the end result? The cookies are ridiculously delicious and the perfect consistency: crunchy on the outside and gooey on the inside. The chocolate is dense and rich, and the marshmallows add a lovely fluffiness.
They are, quite shortly, hot cocoa in cookie form.
And it makes me so happy to share this recipe with y'all today because it brings back a lovely memory with Memother.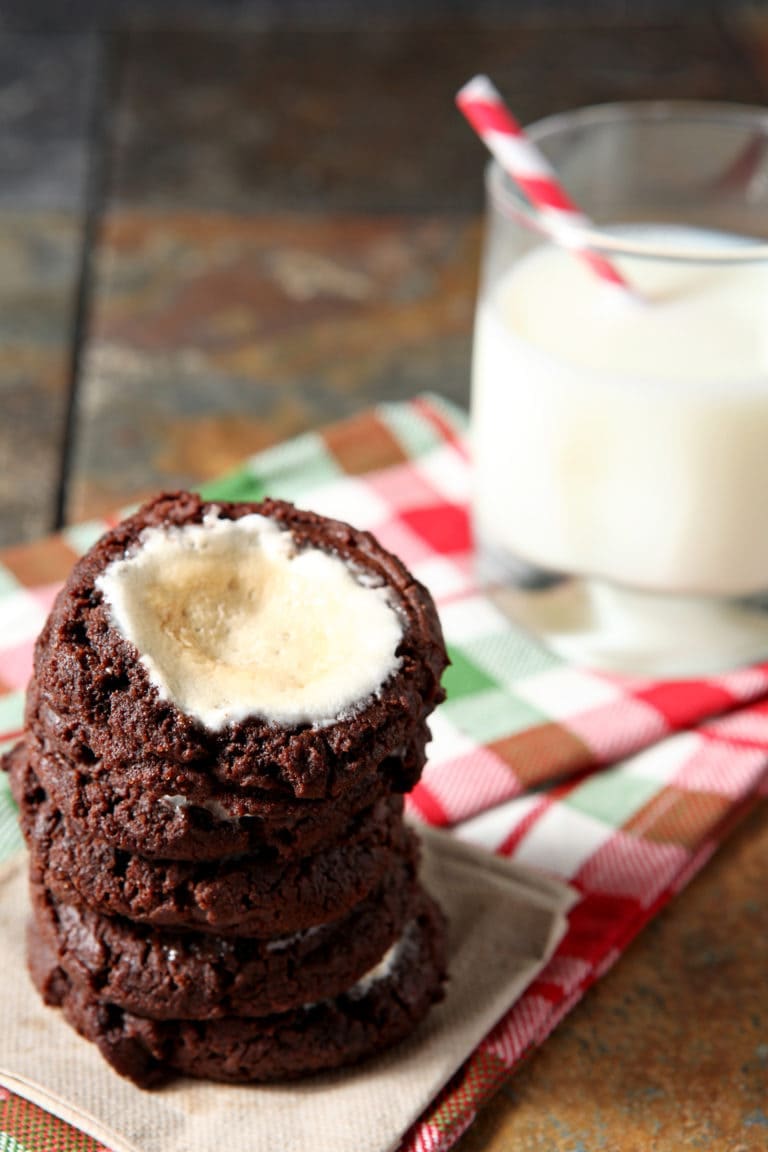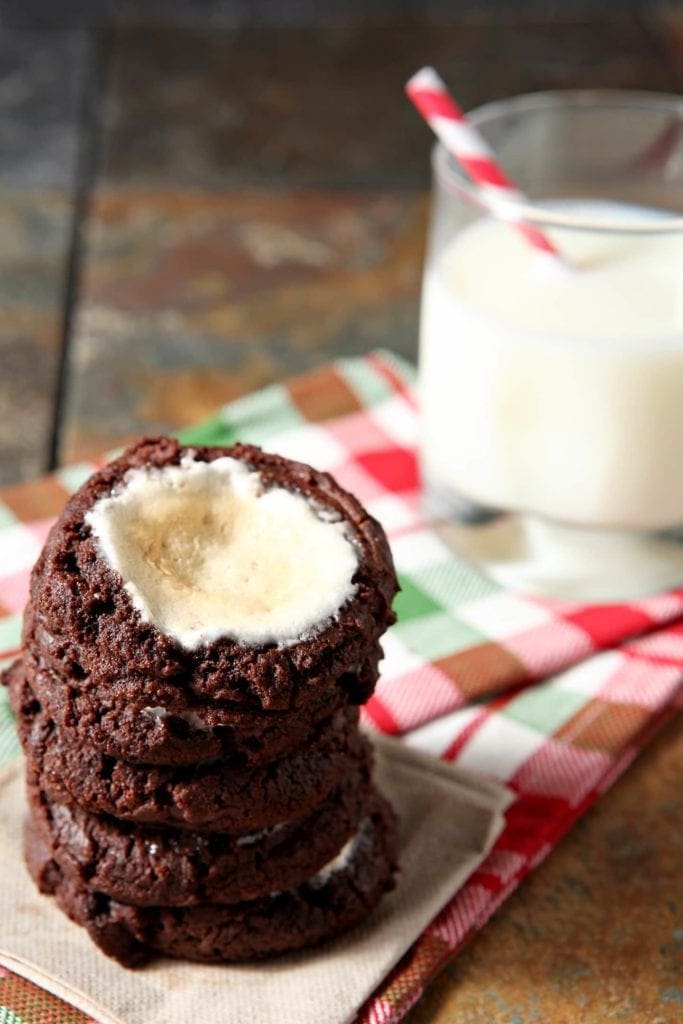 Erin's Recommended Tools/Products for Hot Cocoa Cookies
Disclaimer: Some of the links below are affiliate links. If you click through and take action, I will receive a small commission. Please refer to my disclosure page. for more information about the affiliate programs The Speckled Palate participates in.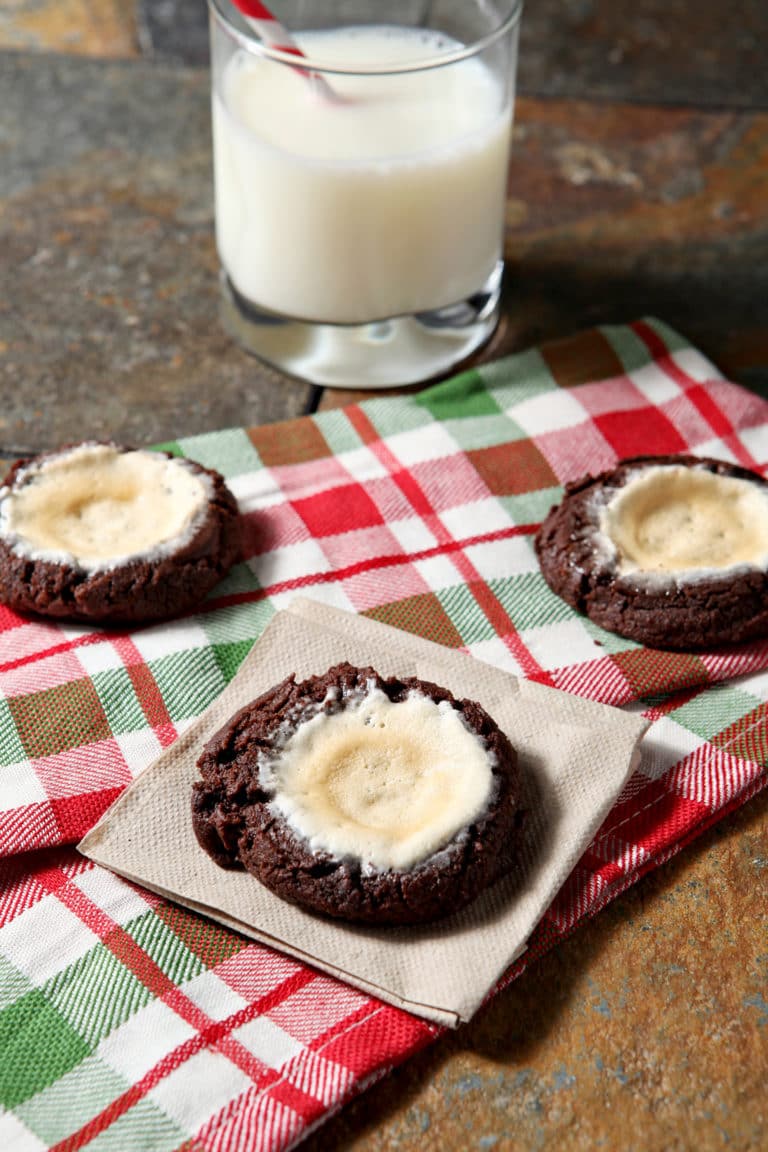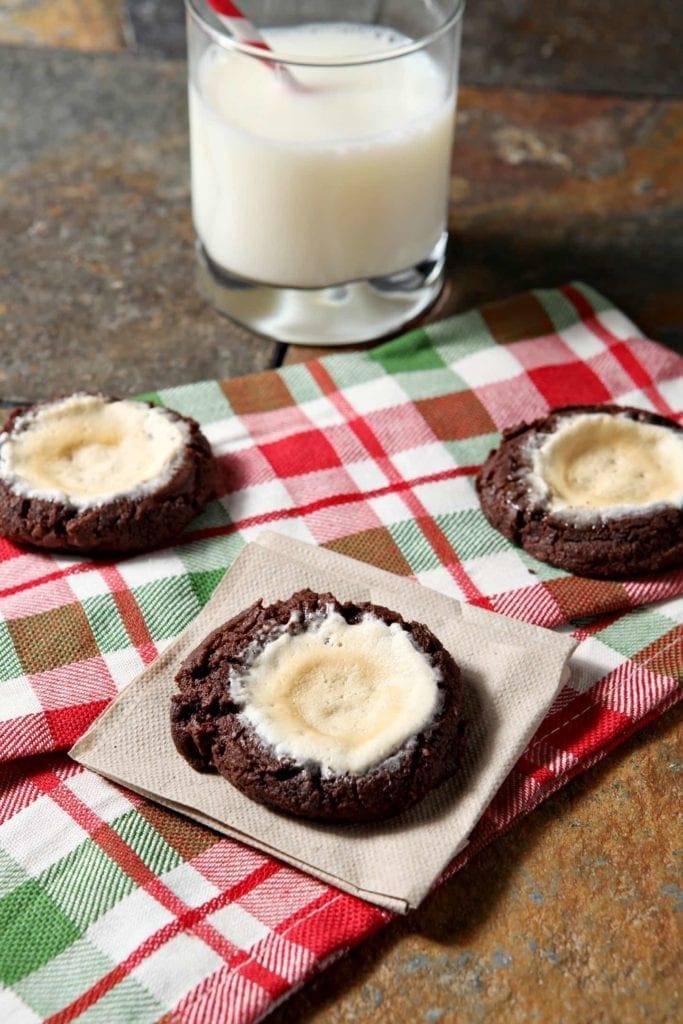 Interested in making these for you and yours?
Here's how you can do that this winter…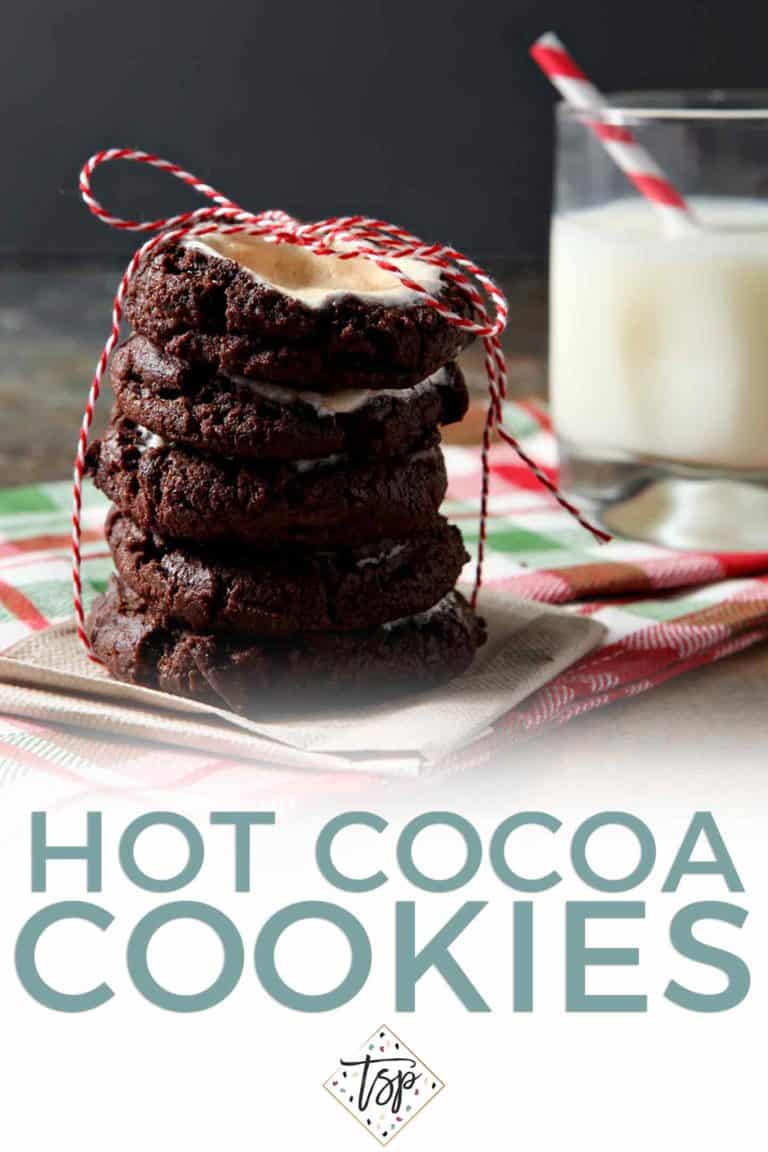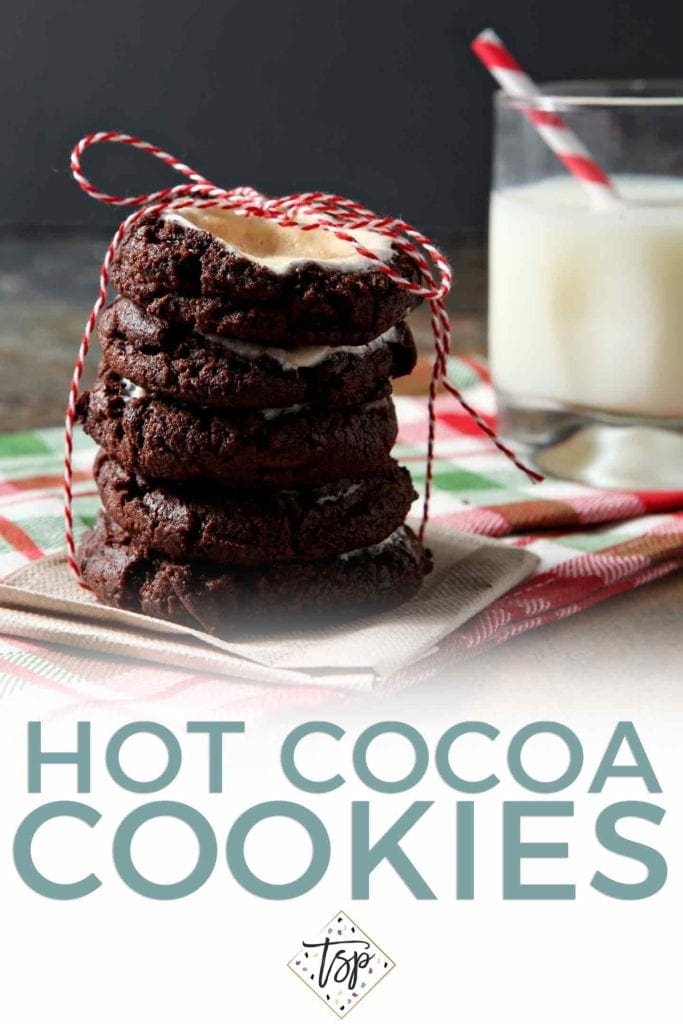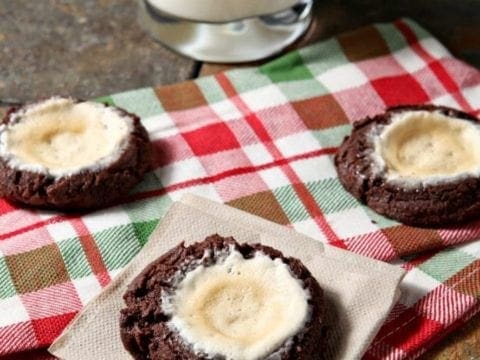 Yield:

24 cookies
Hot Cocoa Cookies
Like the classic winter drink, but in cookie form, these Hot Cocoa Cookies are chock full of chocolate-y goodness and topped with a toasted marshmallow. These dairy-free cookies are the perfect companion for a mug of hot chocolate or a glass of milk.
Ingredients
½ cup coconut oil, , melted
1 ½ cups granulated sugar
2 eggs, at room temperature
1 teaspoon pure vanilla extract
4 oz. dark chocolate, melted and cooled slightly
1 cup unbleached all-purpose flour
½ cup unsweetened cocoa powder
½ teaspoon baking soda
½ teaspoon kosher salt
½ cup dark chocolate chunks, (62% works beautifully here)
12 regular-sized marshmallows, cut in half
Instructions
Preheat the oven to 375°F. Line a baking sheet with parchment paper, and set aside.
In a large glass bowl, mix the coconut oil and sugar together until smooth.
Add the eggs and vanilla extract. Stir until well combined.
Pour in the melted (and slightly cooled) chocolate, and stir until the chocolate is mixed in.
In another bowl, measure in the flour, cocoa powder, baking soda and salt. Whisk together.
Measure the dry ingredients into the wet, stirring until just combined.
Measure in the dark chocolate chunks, and gently fold them into the batter.
Using a cookie scoop, scoop 1" balls of dough onto the prepared cookie sheet.
Bake the cookies for 10 minutes, then remove from the oven.
Using the end of a spatula (or something round like a muddler), press rounds into the half-baked dough.
In the rounds, place the halved marshmallows.
Transfer the baking sheet back into the oven and bake for an additional 6-9 minutes, or until the marshmallows have browned.
Remove from the oven, and cool slightly, then enjoy!
Notes
Do not chill the batter. The coconut oil will firm up and make it very hard to scoop the cookies, even when the batter comes to room temperature.
The marshmallows get a little hard when these cookies come to room temperature. To get the same gooey texture as the just-out-of-the-oven cookies, pop in the microwave for 5-10 seconds.
Recipe adapted from Martha Stewart's Cookies.
Nutrition Information:
Yield:
24 cookies
Serving Size:
1 cookie
Amount Per Serving:
Calories:

184
Total Fat:

8g
Saturated Fat:

6g
Trans Fat:

0g
Unsaturated Fat:

2g
Cholesterol:

16mg
Sodium:

82mg
Carbohydrates:

26g
Fiber:

1g
Sugar:

19g
Protein:

2g
Nutrition facts are an estimate and not guaranteed to be accurate.
Do you have any cookie recipes that remind you of a loved one?
Want to join in on this celebration of butter, sugar, flour and holiday ingredients? We'll be baking and sharing our new cookie recipes until Saturday! Head on over to The Sweetest Season landing page to get the details, and I'll see y'all back here tomorrow for another new cookie!