Last Updated on
Today's recipe always makes me think of my grandmother, Memother because this recipe was passed down to all of us from her. These were her specialty cookie, and members of my father's family are skilled in making these because we all spent time with Memother in the kitchen.
The recipe I'm sharing with y'all has been edited a little bit by me, though, because I have tinkered with the recipe over the years. I'd like to think that Memother would approve of my riffs.

Today's participant in the cookie carnival: Renee shared her Cranberry Orange Cookies! Cait blogged about her family's Chocolate Chip Cookie tradition! And Lacey shared Chocolate Nutella and Sea Salt Fudge! Are you thinking of participating in the Cookie Week? If so, post your favorite recipe(s) and send them my way so I can share them with everyone! Tomorrow, I'll be writing a roundup of the recipes from this week, so come back to check that out!

Word to the wise before we start this recipe. This calls for a lot of butter. I mean, like a TON of butter. So if you're disgusted by that, a health nut or someone who tries to limit their butter consumption, you should probably skip on down to the next post or head on over to the next blog because this recipe isn't for you.
However, if you like to indulge every once in a while, give these a try.
I know the name makes them sound kind of weird, but they are the best kind of sweet-salty treat.
First, you'll cream the butter with the sugar together. (Photo on the left.) And then you add the flour and vanilla extract, mixing until batter has come together.
And then you'll stir in the pecans and crushed potato chips. You can do this by hand, or you can use your mixer. Whatever floats your boat.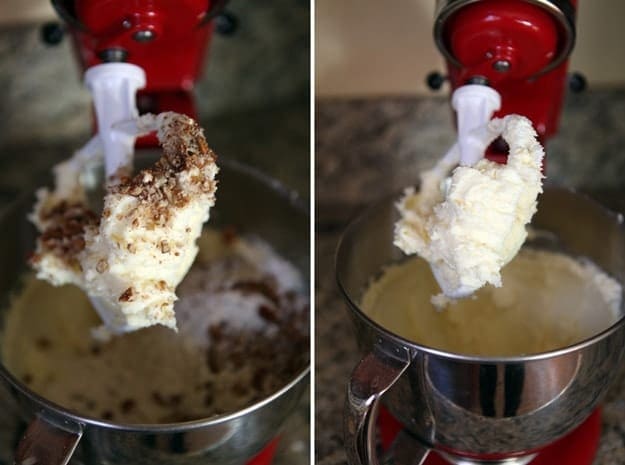 Once mixed, the dough will look like this. It's thick and sticky, chunky and delicious.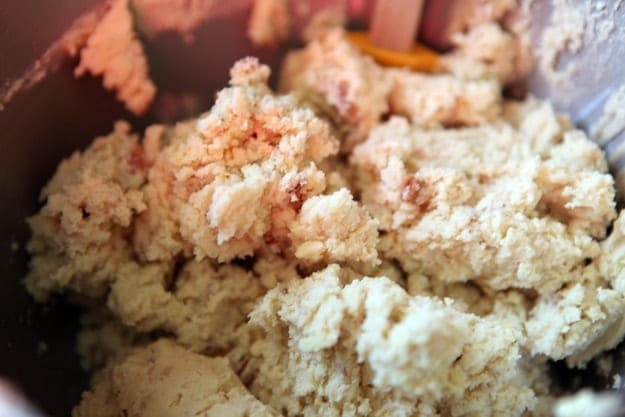 To form the cookies, use a spoon to drop the batter on a greased cookie sheet.
The cookies won't expand too much, so you can put a lot on the baking sheet at the same time.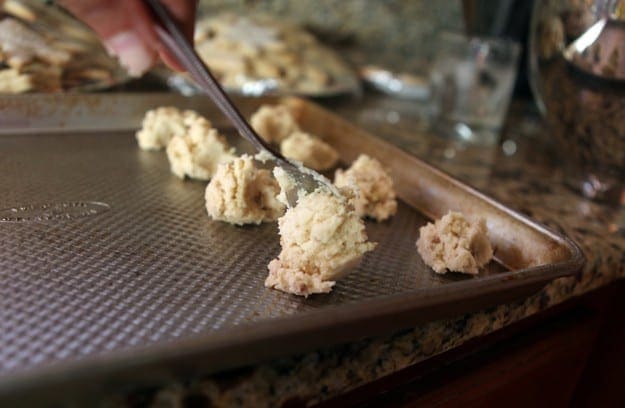 Fill up a small glass of water and throw a few ice cubes in it.
Do it.
And get out a fork.
Now, you're going to dip your fork into the ice water and then press down on each cookie with the fork, making a criss-cross on each one. (I criss cross each cookie twice.)
Make sure to continue dipping your fork in the water so it doesn't stick to your cookies!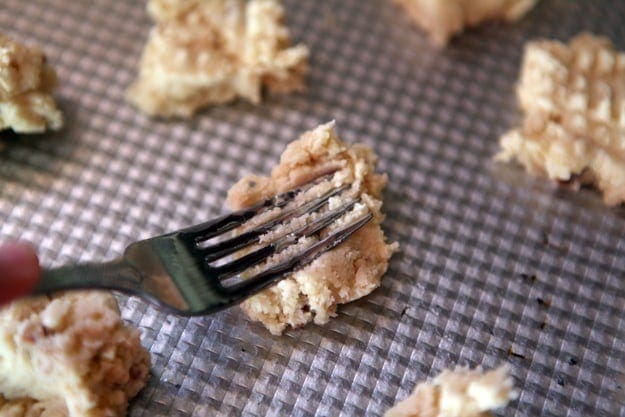 The cookies won't be perfectly round when you finish them, but that's part of their charm.
You'll bake them in a 350 degree oven for 10-12 minutes.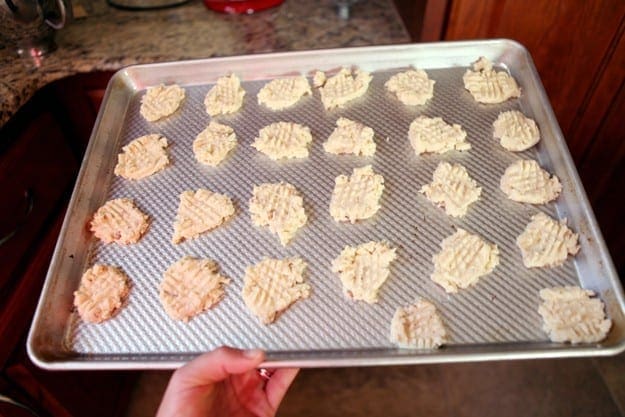 Pull them out of the oven when they've browned just slightly on the top.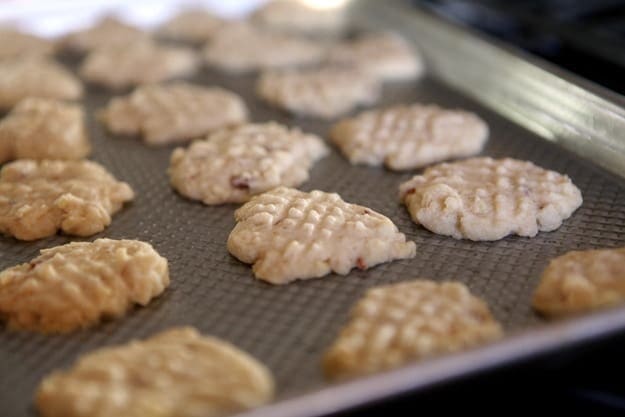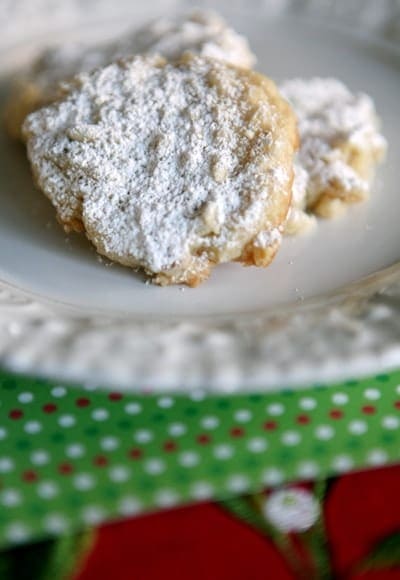 Then you'll transfer them to a cooling rack and immediately sprinkle them with powdered sugar. The more, the better. (In my opinion. However, my husband disagrees.)
We use our sifter to lightly spread the powdered sugar on top of the cookies, and it works well. However, this is not a must in making these cookies. All that really matters is getting the sugar on top of the cookie.
Then let the cookies cool for at least 30 minutes before doing anything with them even though it's really tempting to eat them all after they have been covered in the sugar.
Resist, my friends. (Because these cookies will fall apart if you don't.)
And once the cookies have cooled (and hardened, as one of my friends used to say), then you can enjoy them. And package them up to give to your friends and family. And then eat all the leftovers and feel semi-bad about yourself because of all the butter this recipe calls for. And then accept it because you only make them once a year. And then smile because the cookies are so delicious.
Happy Christmas Eve's Eve, y'all!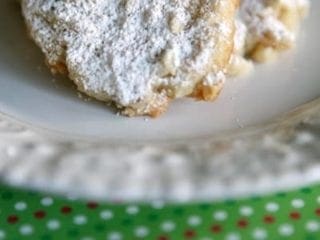 Yield: 4 dozen cookies
Potato Chip Cookies
Prep Time: 5 minutes

Cook Time: 10 minutes

Total Time: 15 minutes

Sweet and salty, all rolled into one cookie. This delightful butter and potato chip cookie is topped with loads of powdered sugar to create the much-needed balance.
Ingredients
4 sticks butter, softened and at room temperature
1 cup sugar
3 ½ cups all-purpose flour
2 teaspoons vanilla extract
1 ½ cups potato chips, crushed
½ cup chopped pecans
Powdered sugar, for dusting
Instructions
Preheat the oven to 350°F.
Line a baking sheet with a nonstick baking mat or parchment paper. Set aside.
In the base of a stand mixer (or with a hand mixer), cream butter and sugar together, beating for several minutes until they have turned a very light yellow and are well-combined.
Measure in the flour and vanilla extract, mixing until batter has come together.
Using a spatula, stir in the crushed potato chips and pecans.
Drop batter onto a greased cookie sheet with a teaspoon scooper or a very small cookie scoop.
Pour water into a glass and add ice cubes. You'll use this for the next step.
Dip a fork into the cold water, and criss cross the tops of the cookies. (Dipping the fork in the cold water will ensure that it doesn't stick to the super sticky cookie dough.)
When the cookies have been flattened, transfer the baking sheet to the oven, and bake for 10 to 12 minutes.
Remove when golden brown, and let cool.
Transfer the cookies to a cooling rack.
Sprinkle with powdered sugar, then enjoy.
Notes
What is the best way to crush the potato chips? I like to grab a few handfuls of them and place them in a plastic bag. Seal the bag, then crunch them up until they're in smaller pieces.
Recommended Products
As an Amazon Associate and member of other affiliate programs, I earn from qualifying purchases.

Do you have a favorite Christmas cookie recipe? Has it been shared somewhere on the blogosphere? Send it my way! I'd love to see it.