I know many of y'all have probably tried this recipe before and loved it (if you like peanut butter and chocolate together baked.)
This is one of my family's favorite holiday recipes, and I figured I'd share my rendition of it here for y'all in case you didn't already have the recipe.

As a child, I was tapped to unwrap the dozens of Hershey's Kisses for this recipe. My sister always joined me in that job, as well, and when we got a little older, we were assigned rolling duty. And then mixing duty. And then the actual baking duty.
It's a fun cookie to make with a crowd, especially since the more hands you have, the faster the rolling and unwrapping of Kisses will take. It'll even take less time to put the Kisses on the cookies.
So, gather your friends, and let's get to baking these cookies!
First, you will cream together the butter and the peanut butter.

Then, add the granulated and brown sugars to the mix, slowly combining them.
Once together, they should look like this: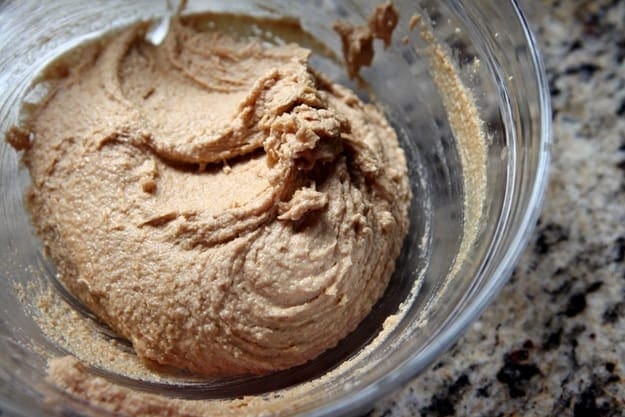 If you want to taste the batter, now would be the time to do it. Because it it delicious.
Then add the egg and vanilla extract.
And then, once those are incorporated into the batter, add the flour slowly, stirring until it is just mixed.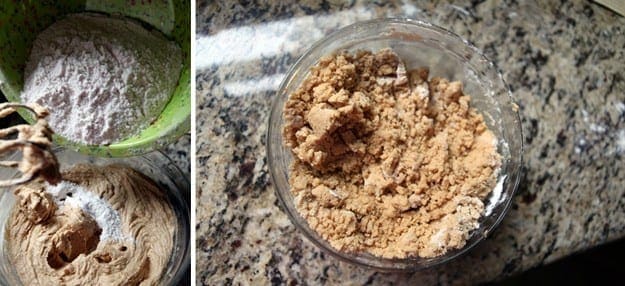 It's OK if the dough looks a little lumpy, like mine does above. It looks wonky, but it will pull right together when you start making the cookies themselves.
To make the cookies, you are going to shape them into balls with your hands.
Each cookie should fit in the palm of your hand like this…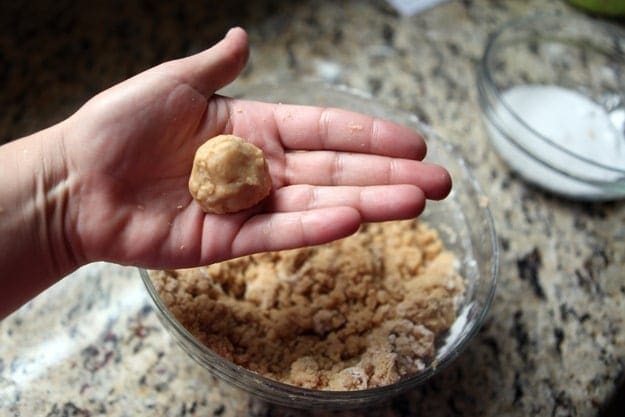 Anything bigger, and you've got too much dough for your cookie. Anything smaller, and the Hershey's Kiss won't fit on top. So make sure the cookies are shaped and sized accordingly!
Once you shape the dough into balls, throw them into a bowl of granulated sugar and coat them.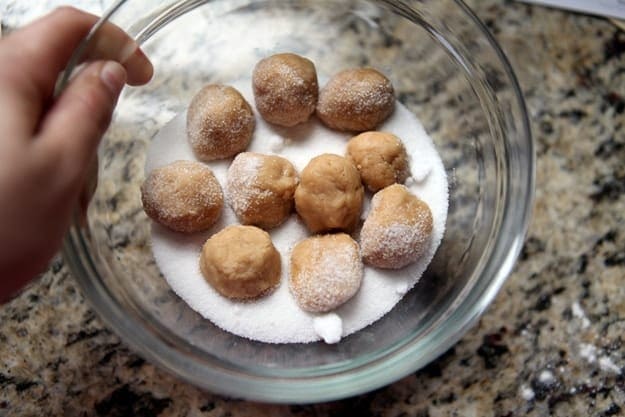 I personally prefer the shake method when it comes to coating the cookies, but you could also turn the cookies with your hand if that works.
And then, once the cookies are coated in sugar, place on a greased cookie sheet.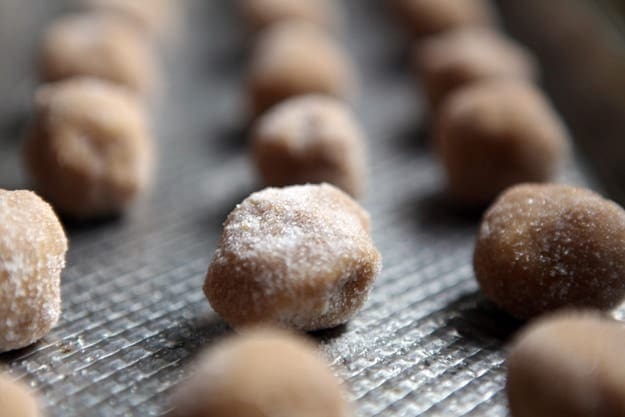 Pop the cookies in a 375 degree oven for 8 minutes.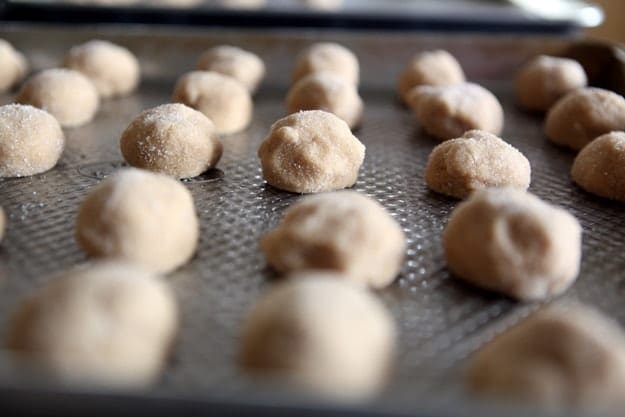 Remove the cookie sheet from the oven and place a Hershey's Kiss in the center of each cookie. Push each Kiss down firmly so the cookie cracks around the edge.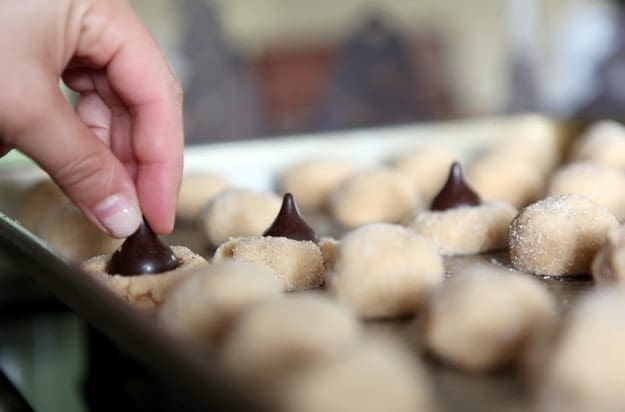 (Sidenote: Check out that sah-weet scar on my thumb!)
Then return the cookies to the oven for 4 minutes and the Kisses are slightly melty.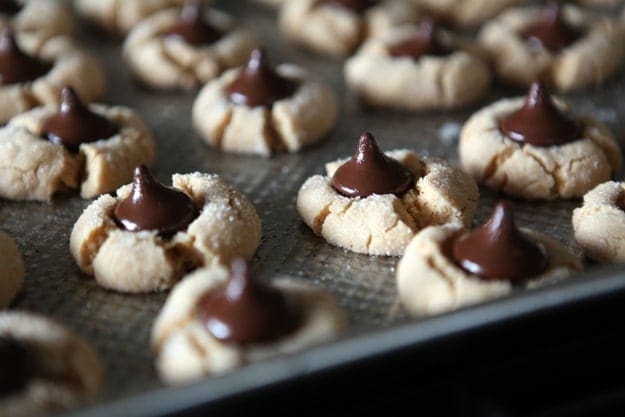 Once finished, place on cooling racks and then enjoy!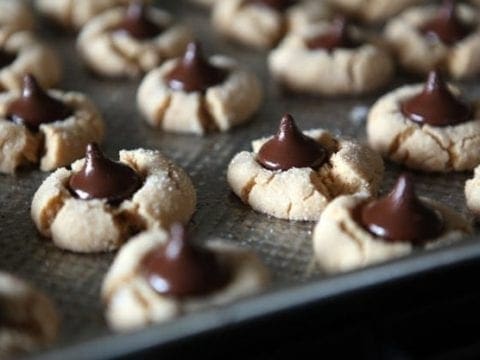 Yield:

46 cookies
Dark Chocolate Peanut Blossoms
Peanut Blossoms are one of my favorite cookies around the holidays, so I've jazzed them up with dark chocolate kisses. A stellar recipe for Christmas Cookie Week!
Ingredients
½ cup unsalted butter, softened
¾ cup creamy peanut butter, unsalted if possible
½ cup granulated sugar (plus an additional ½ cup for rolling the dough in before baking)
½ cup dark brown sugar
1 egg
1 teaspoon pure vanilla extract
1 ¾ cups self-rising flour
1 Hershey's Special Dark Kisses
Instructions
Preheat the oven to 375°F. Line a baking sheet with parchment paper or a nonstick baking mat, and set aside.
Pour ½ cup of granulated sugar into a wide bowl. Set aside. (This sugar will be used to coat the dough balls before they go onto the baking sheet.)
In a large mixing bowl with a hand mixer (or in the stand mixer), cream the butter and peanut butter together until mixture is whipped together, a lighter yellow and smooth.
Gradually sprinkle in the granulated sugar and brown sugar, and beat until well combined.
Add the egg and the vanilla extract to the mixture. Beat until incorporated.
Blend in the self-rising flour, mixing until smooth.
Use a cookie scoop or a tablespoon cookie scoop to evenly distribute the dough.
Use your palms to shape the dough into 1" balls.
After you've formed them into dough balls, place in the sugar bowl and coat with sugar.
Transfer the sugared dough balls to the prepared baking sheet.
Bake for 9 minutes. (You don't want to get any color on the dough at this point, and you still want it to be soft!)
Remove the baking sheet from the oven.
Place a Kiss in the center of each cookie, pressing down firmly so cookie cracks around the edge.
Return cookies to the oven and bake for 2-3 more minutes or until golden brown.
Notes
You can certainly use milk chocolate Hershey's Kisses in these cookies, as well. I've shortened the second baking time because the dark chocolate melts faster than milk chocolate, necessitating a shorter bake the second go 'round.
If you don't have self-rising formula, use the following ingredients to make your own:
1 ¾ cups all-purpose flour
2 ¾ teaspoons baking powder
½ teaspoon kosher salt
Recommended Products
As an Amazon Associate and member of other affiliate programs, I earn from qualifying purchases.
Nutrition Information:
Yield:
42 cookies
Serving Size:
1 cookie
Amount Per Serving:
Calories:

93
Total Fat:

5g
Saturated Fat:

2g
Trans Fat:

0g
Unsaturated Fat:

2g
Cholesterol:

11mg
Sodium:

88mg
Carbohydrates:

11g
Fiber:

0g
Sugar:

6g
Protein:

2g
Nutrition facts are an estimate and not guaranteed to be accurate.