Chocolate Crinkle Cookies
Chocolate Crinkle Cookies are a classic cookie for a reason. Rolled in powdered sugar, these fudgy chocolate cookies melt in your mouth. They're perfect for holiday gatherings, cookie swaps, cookie gift boxes and more. What's not to love about this chocolate cookie recipe? Makes 36 cookies.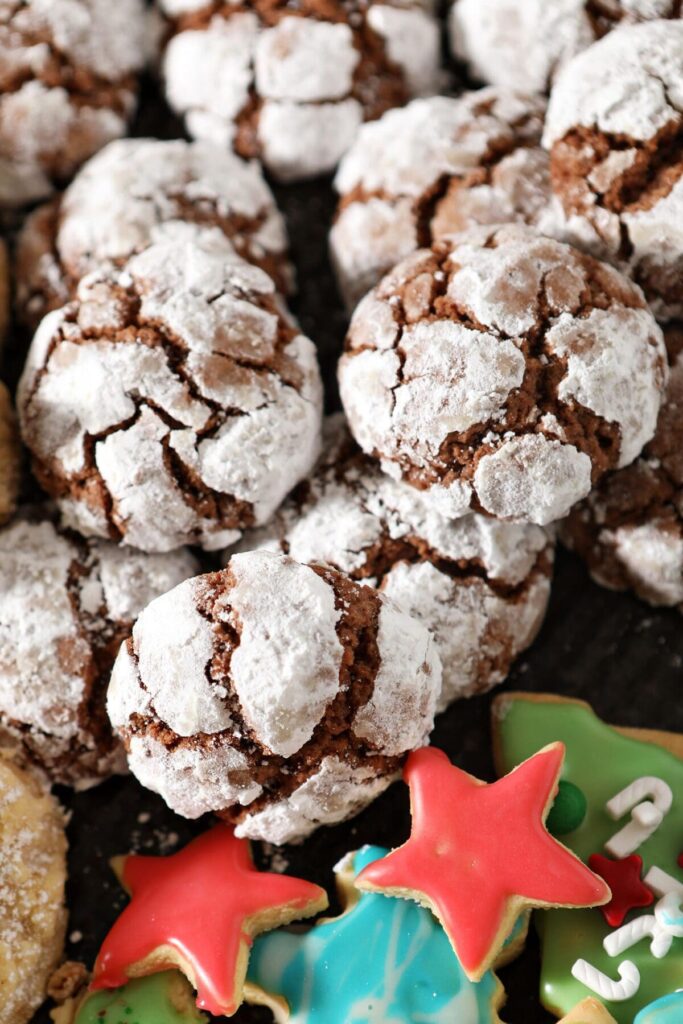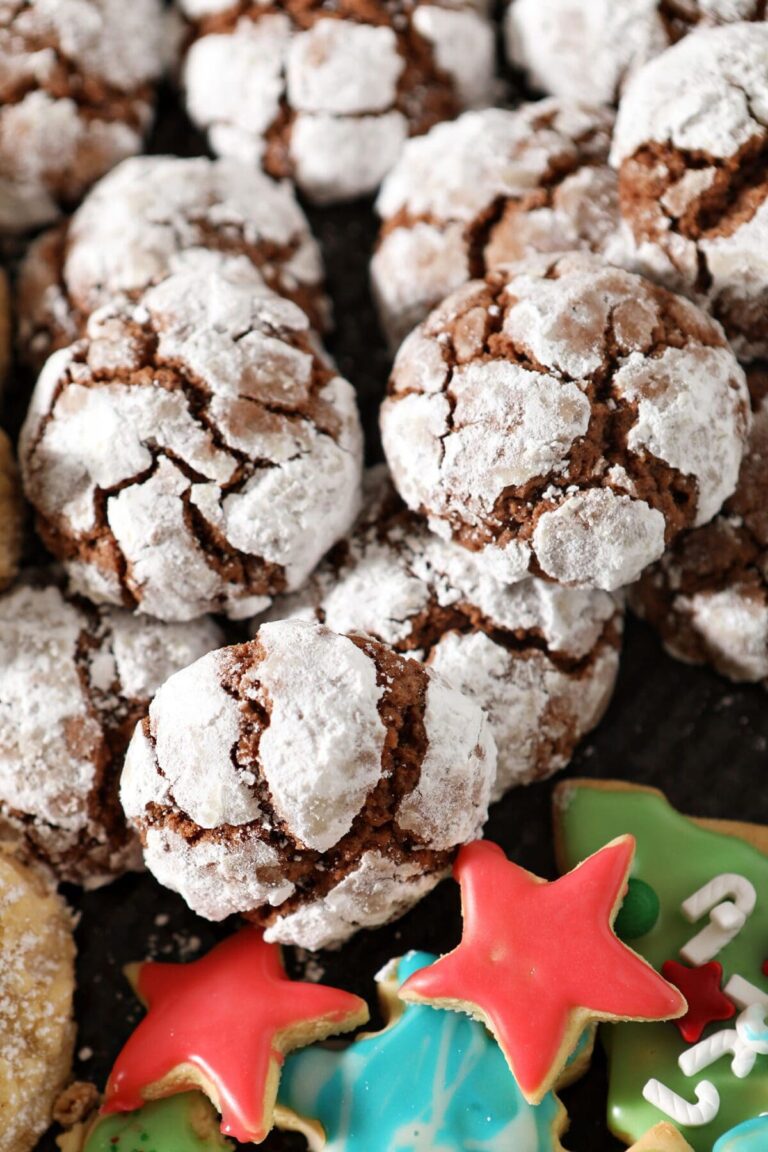 Get excited for a week of butter, sugar and pure awesomeness, y'all! It's Christmas Cookie Week, and I hope you're planning on joining in.
Today's cookie recipe is one of my personal favorites, and it is a recipe I have perfected after baking 28 dozen with my friends Lauren, Candice and Meki in preparation for my wedding reception's Cookie Table.
It was a little intense, ha.
This recipe does not make 28 dozen, so no fear.
Why I love this recipe:
Aside from Chocolate Crinkles being a recipe my family baked every year, one of the reasons I love this recipe is yields cookies that are wonderfully chocolatey.
They are the perfect Christmas cookie for the holiday season, but honestly, they work year round if you're a chocolate lover.
Here are some more reasons I love them:
This is the quintessential chocolate cookie recipe. The cookies melt in your mouth.
They are a family favorite Christmas cookie, and for good reason. The dense, wonderfully chocolatey cookie rolled in a powdered sugar coating.
These are fabulous for sharing with friends, family, neighbors, teachers and more. (Just wrap 'em up in a cookie gift box, and you're set!)
All you need are a handful of simple ingredients… and you might already have them in your pantry.
You can freeze the cookie dough to bake later OR freeze the baked cookies. (More on this in the body of the post below.)
Also, these are great to make with kids and other kitchen helpers. Since they require some hands-on attention, prepare to get messy… but also prepare to have a LOT of fun!
More cookie recipes to bake this season: Dark Chocolate Peanut Butter Blossom Cookies | Classic Snickerdoodle Cookies | Potato Chip Cookies | Ginger Rosemary Shortbread Cookies | All-Butter Tea Cake Cookies
Need more baking inspiration? Check out my Cookie Recipe Index for some ideas!

What you need to make this recipe:
The Speckled Palate participates in affiliate programs. As an Amazon Associate, I earn a commission from qualifying purchases. Please refer to my disclosure page for more information about these affiliate programs.
Let's talk ingredients!
In addition to the tools above, you're going to need some ingredients to make this recipe, too! Chances are, you might already have some of them in your fridge or pantry. Scroll down to the recipe card for the full measurements and instructions.
Here's what you'll need:
Unsalted butter — this is the fat for our cookie recipe. I like to bake with unsalted butter so I can control the amount of salt used. Set it out the butter 30-45 minutes before you plan to mix the batter so it blends easily.
Granulated sugar — also known as white sugar, this adds a nice sweetness to our cookie dough.
Eggs — not only do they give our cookies some structure, but they also help give the cookies a little rise, too.
Vanilla extract — if you can afford it, the real deal kind is where it's at!
Unsweetened chocolate — I really like Guittard baking chocolate bars for this, but you can use another brand if you want. Just make sure it's unsweetened since we have sugar already in our dough. This is not unsweetened cocoa powder.
All–purpose flour — we keep unbleached AP flour at our house, but you can use the regular kind, too.
Baking powder — this is our leavener and will cause our cookies to be fluffy. Be sure that yours are fresh. It is not the same as baking soda.
Kosher salt — I like to use a medium grain kosher salt here. You could also use a similar size of sea salt, too.
Milk — we keep whole milk at our house, but you can use whatever type of milk you have at your house in this recipe. You don't need much!
Pecans — or other chopped nuts, if desired. I really like the crunch the pecans add to the cookie dough, but you can make the cookies without, too.
Powdered sugar — also known as confectioner's sugar or icing sugar. We'll need this to roll the cookie dough in before baking. You may sift yours if there are chunks in it.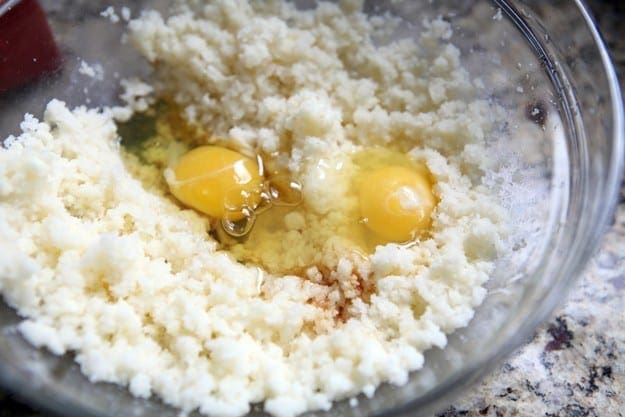 How to make this Chocolate Crinkle Cookies recipe:
You'll start with softened butter. To get the butter to where it needs to be, remove it from the fridge 30-45 minutes before you plan to make the cookie dough.
Measure sugar to the softened butter into a large bowl. Cream the two together until light and fluffy with a hand mixer or a stand mixer.
Add the two eggs and vanilla extract, and blend until just combined. It will smell divine.
While the butter, sugar, eggs and vanilla are mixing together, melt the unsweetened chocolate in the microwave in a small bowl.
Pro tip!
Chocolate burns easily. Proceed with caution when melting it in the microwave. I recommend microwaving the chocolate in 30-second increments until it is melted and smooth. Do not heat for longer than 30-second increments because the chocolate can bubble and burn.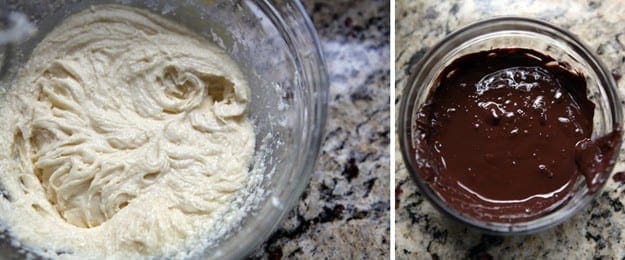 Add the melted chocolate to the other wet ingredients. Whip it until combined.
Sift the dry ingredients (flour, baking powder, salt) into a separate bowl.
Mix the dry ingredients into the wet ingredients. Start your mixer on a low speed initially so the flour doesn't fly all over your kitchen.
Mix until the flour has been completely incorporated into the cookie dough.
If you want to add pecans, now is the time to do it. Sadly, I didn't have any readily available at my house when I was photographing these, so I held off. But these cookies are really tasty with the nuts if you like that kind of thing.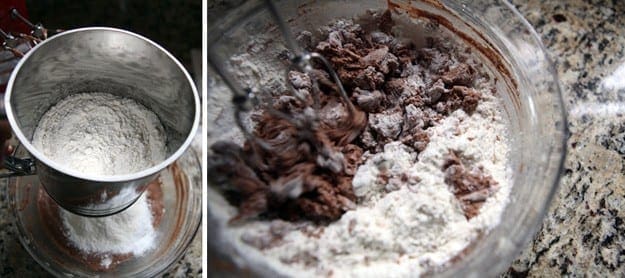 Cover the bowl with plastic wrap, and refrigerate for at least an hour. This chilling time is really important.
Pro tip!
It's important to chill the batter because this affects the texture of the cookies. If the cookie dough is too warm when it goes into the oven, the tops of your cookies will not be crackly. You'll get the best results if your cookie dough is cold.
Once the cookie dough is chilled, now's the fun part… if you like getting your hands dirty.
Take off any rings you're wearing now. Also, if you're working with kids on this part, prepare for a mess. This is a sticky dough, and it will stick to your hands.
I like to spritz my hands with nonstick baking spray before rolling the cookie dough balls.
Preheat the oven, and line two baking sheets with nonstick baking mats or parchment paper. Set aside.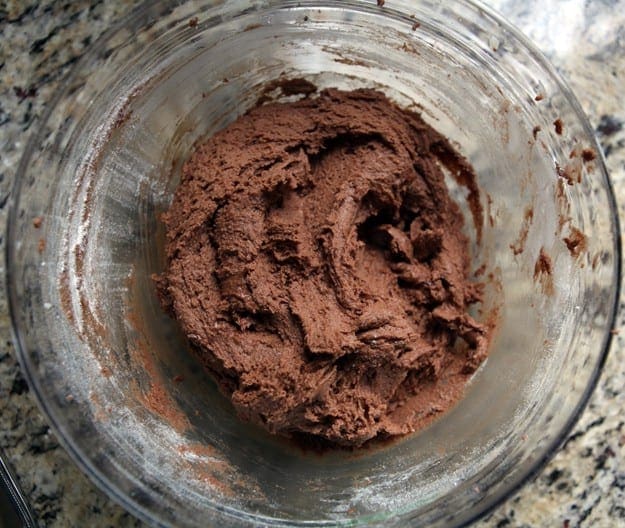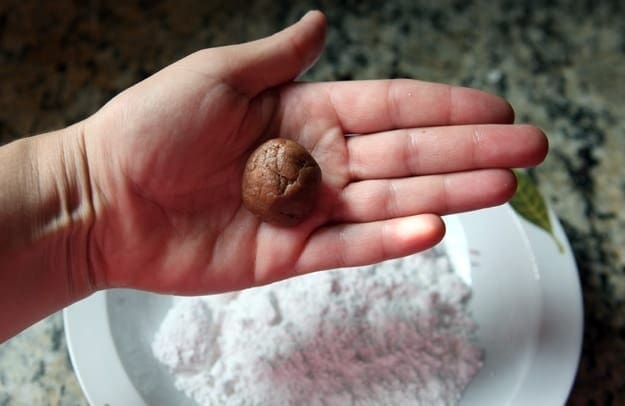 Use a cookie scoop to scoop a round of cookie dough. You can also eyeball them and make 1-inch balls.
Roll it into a ball between your palms.
Plop the dough ball into a bowl of powdered sugar. The wider the bowl, the more dough balls you can roll before getting your hands sugary.
Roll the dough around until it is coated, then transfer it to a prepared cookie sheet in a single layer, leaving a little space between the cookie balls.
Bake for 15 minutes.
The balls will flatten slightly as they bake, but will be partially rounded when they are done.
Let them cool on a wire rack before enjoying and sharing!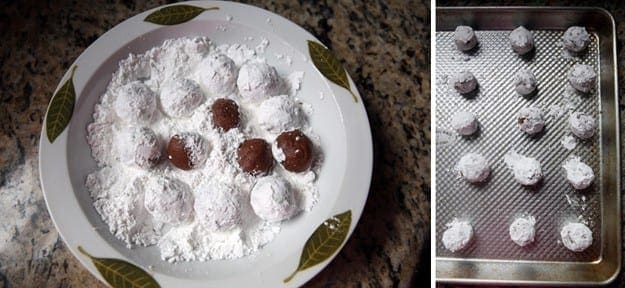 Erin's Easy Entertaining Tips
There's nothing like homemade cookies for the holidays… or any kind of gathering, especially ones that involve kids.
I love these Chocolate Crinkle Cookies because they're fun to bake and also a more unique treat to share with friends and family.
Here are some tips and tricks to making the best crinkle cookies for any type of gathering:
Bake the cookies in advance. These cookies are delicious at room temperature, so bake them early and don't fret!
Double or triple the recipe for a crowd,. You can always send friends home with extra cookies if you don't want them in your house.
Serve them a cookie exchange. You could also serve them as a little sweet treat at a cookie decorating party or as a chocolate bite in a cookie tin or a cookie platter.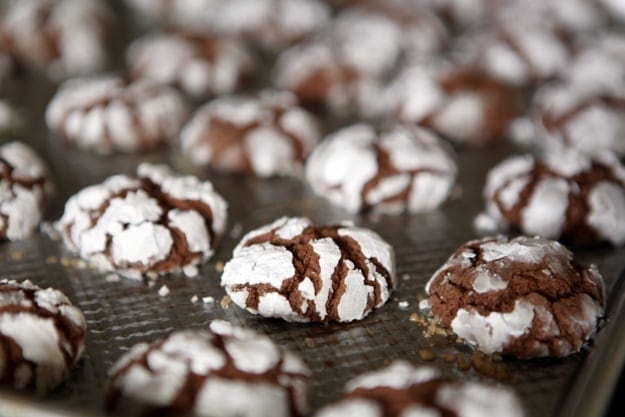 Frequently Asked Questions
Can you freeze chocolate crinkle cookies after baking?
Yes! These cookies freeze like a dream. Let them cool completely before sealing in an airtight freezer bag (or a vacuum-sealed bag). Freeze for up to 3 months.
Why don't my cookies have crinkles?
The chill helps the crinkles. If your dough is too warm, it will spread too quickly and the texture will be lost. Also, if you work the dough in your hands for too long, the same result will happen.
Why are my crinkle cookies flat?
You might have measured the ingredients incorrectly or your dough might be too warm.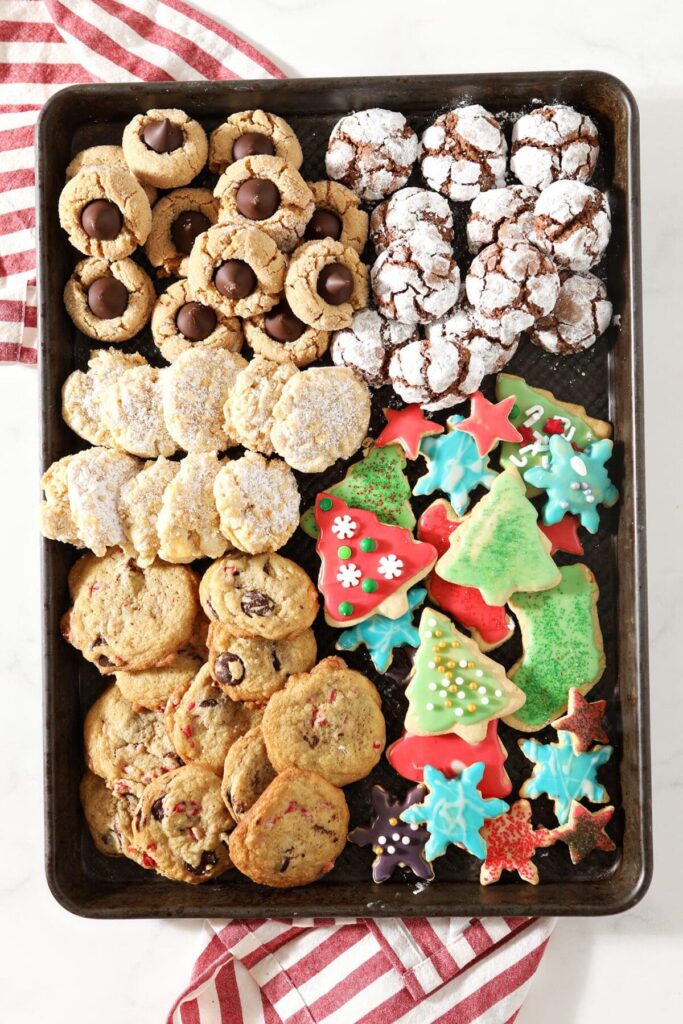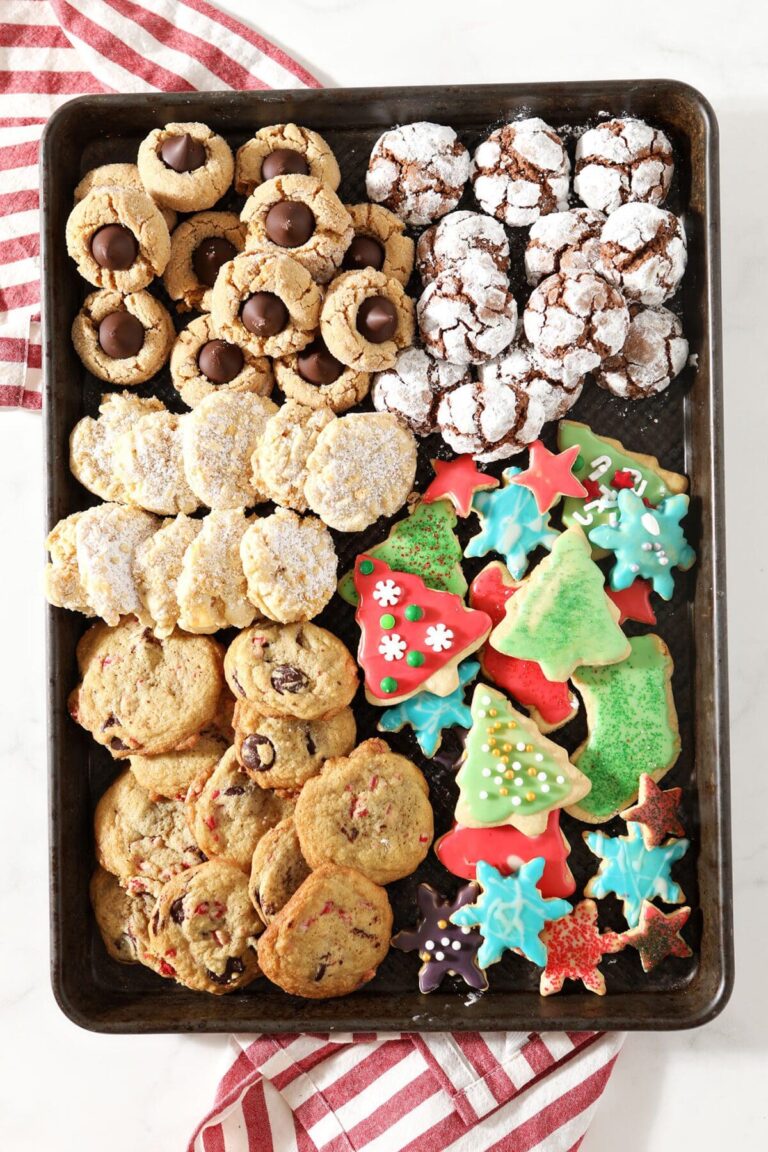 Quick tips and tricks for making the best Chocolate Crinkle Cookie recipe
Let the cookie dough chill. This allows the flour a chance to hydrate. These two will affect cookie's texture. Chilled cookie dough leads to fluffier cookies that spread less and also helps the texture.
Use a cookie scoop. Your cookies will be a more uniform size, and your hands will be less messy.
How to store: Once completely cooled, place in an airtight container. Keep on the countertop for up to a week. Do not store with other cookies, as this will keep their flavors the best and truest.
More crinkle cookie recipes to try: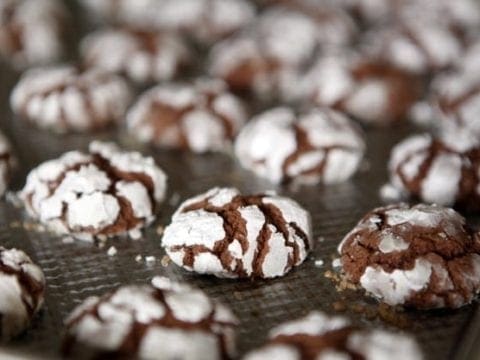 Yield:

3 dozen cookies
Chocolate Crinkle Cookies
Total Time:
1 hour
30 minutes
Chocolate-y, wonderful cookies rolled in powdered sugar that melt in your mouth. What's not to love about these Chocolate Crinkle Cookies?
Ingredients
2 ¾ cups all-purpose flour (330g)
2 teaspoons baking powder (10g)
½ teaspoon kosher salt (3g)
2 oz. unsweetened chocolate, chopped
½ cup (1 stick) unsalted butter, softened (113.4g)
1 ½ cup granulated sugar (300g)
2 teaspoons pure vanilla extract
2 eggs
2 tablespoons milk (46ml)
½ cup chopped pecans, optional
1 cup powdered sugar (125g)
Instructions
Sift the flour, baking powder and salt together into a medium bowl. Set aside.
Melt the chocolate in the microwave. Set aside to cool.
Cream the butter and sugar until light yellow using a hand mixer or a stand mixer in a large glass bowl, about 3-4 minutes.
Add vanilla extract and eggs to the butter/sugar mixture. Mix until combined and fragrant.
Pour in the melted (and slightly cooled) chocolate, stirring until mixture is an even light brown.
Stir in sifted flour mixture, alternating with the milk.
Stir in pecans, if adding.
Cover the bowl with plastic wrap, and refrigerate for at least an hour. This cookie dough needs to be cold so that the crinkles will look right.
Preheat the oven to 350°F. Line a sheet pan with parchment paper or a nonstick baking mat. Set aside.
Use a cookie scoop to scoop the rounds of cookie dough, then roll between your palms. Roll the cookie dough balls in a bowl of powdered sugar until coated.
Place the cookie dough balls on the prepared sheet pan, giving each one about 1.5" of space around it to spread in the oven.
Bake for 15 minutes (or until cookies are set.)
Cool on a wire rack and then enjoy!
Notes
How to store: Once completely cooled, place in an airtight container. Keep on the countertop for up to a week. Do not store with other cookies, as this will keep their flavors the best and truest.
Recommended Products
As an Amazon Associate and member of other affiliate programs, I earn from qualifying purchases.
Nutrition Information:
Yield:
36
Serving Size:
1
Amount Per Serving:
Calories:

106
Total Fat:

2g
Saturated Fat:

1g
Trans Fat:

0g
Unsaturated Fat:

1g
Cholesterol:

11mg
Sodium:

51mg
Carbohydrates:

19g
Fiber:

1g
Sugar:

11g
Protein:

2g
Nutrition facts are an estimate and not guaranteed to be accurate.