Smooth and flavorful with a bit of spice, this Irish Mule recipe is a perfect St. Patrick's Day mixed drink. This classic cocktail is made with simple ingredients that get a twist from Irish whiskey. Makes 1 drink.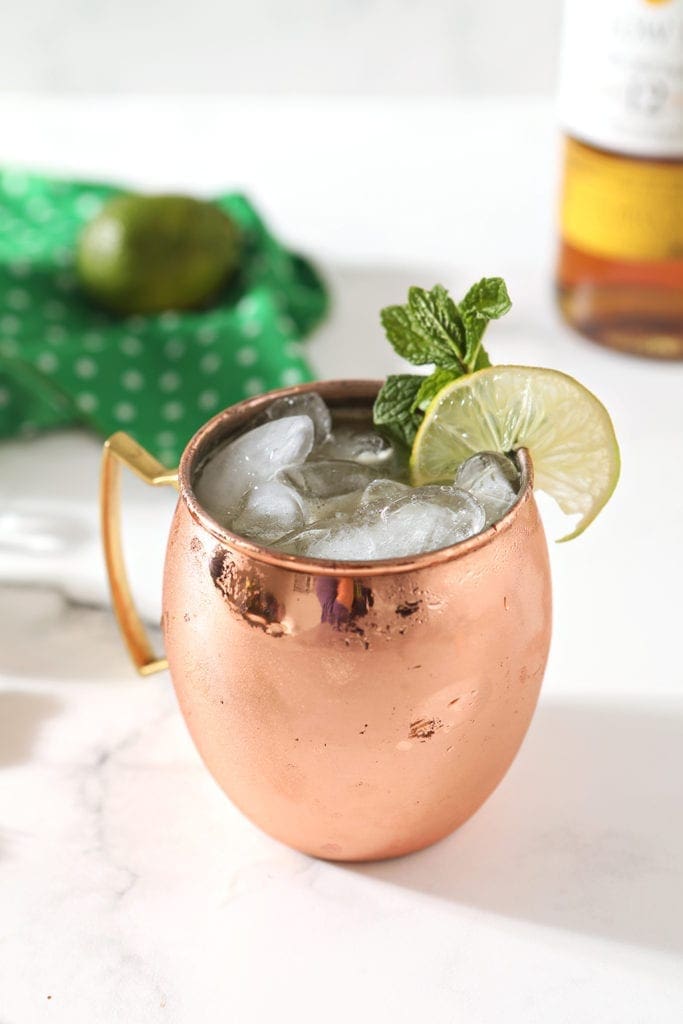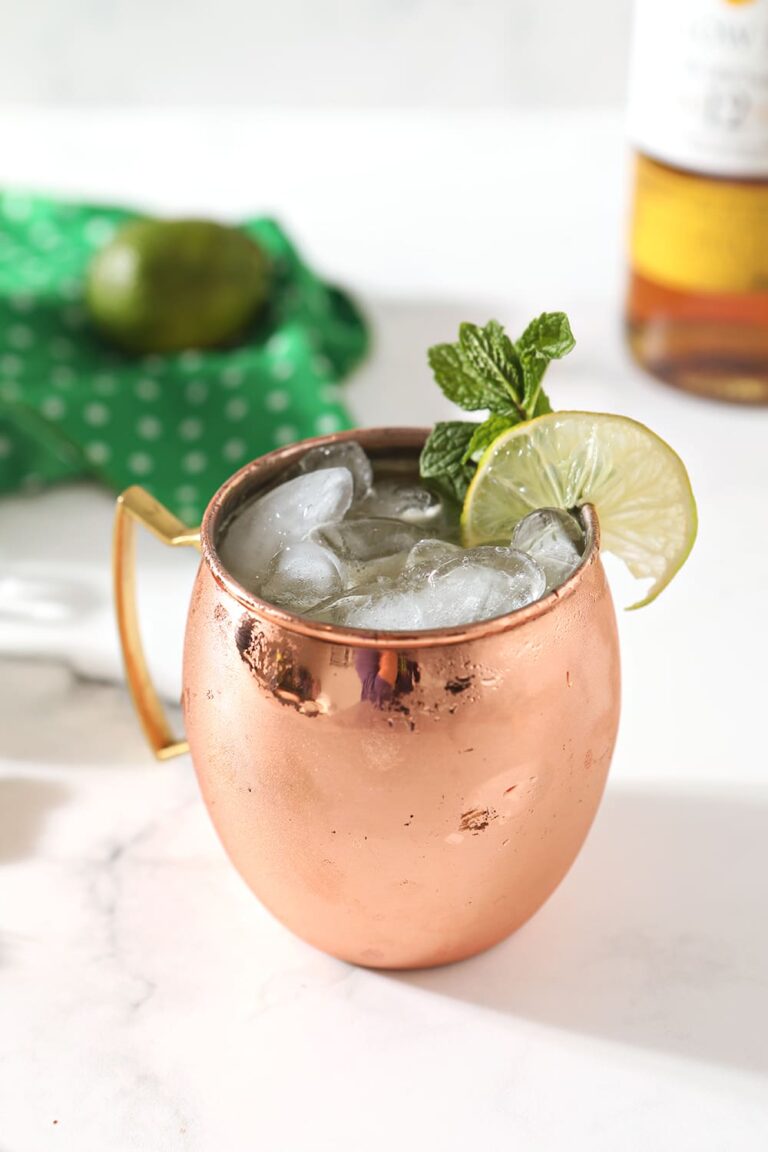 The Year of the (Moscow) Mule rolls on with a St. Patrick's Day rendition of our favorite cocktail: the IRISH Mule.
What does this mean? Instead of using vodka, which is what we'd mix into a regular Moscow Mule, we're using Irish whiskey instead.
This mixed drink is perfect for upcoming festivities, and it's sometimes known as a Jameson Mule. (Since, you know, Jameson is an Irish whiskey.)
You could easily serve this mixed drink alongside Mashed Potato Beef Hand Pies, Irish Cream Biscuits with Boozy Chocolate Ganache and No Churn Guinness Brownie Ice Cream for a festive St. Patrick's Day spread.
More Moscow Mule recipes: Classic Moscow Mule / Raspberry Moscow Mule / Blood Orange Mocktail Mule / Strawberry Moscow Mule / Peach Moscow Mule / Kentucky Mule / Gin Gin Mule / Cranberry Moscow Mule (Yule Mule)
Looking for some more St. Patrick's Day recipes? Check out my St. Patrick's Day recipe index.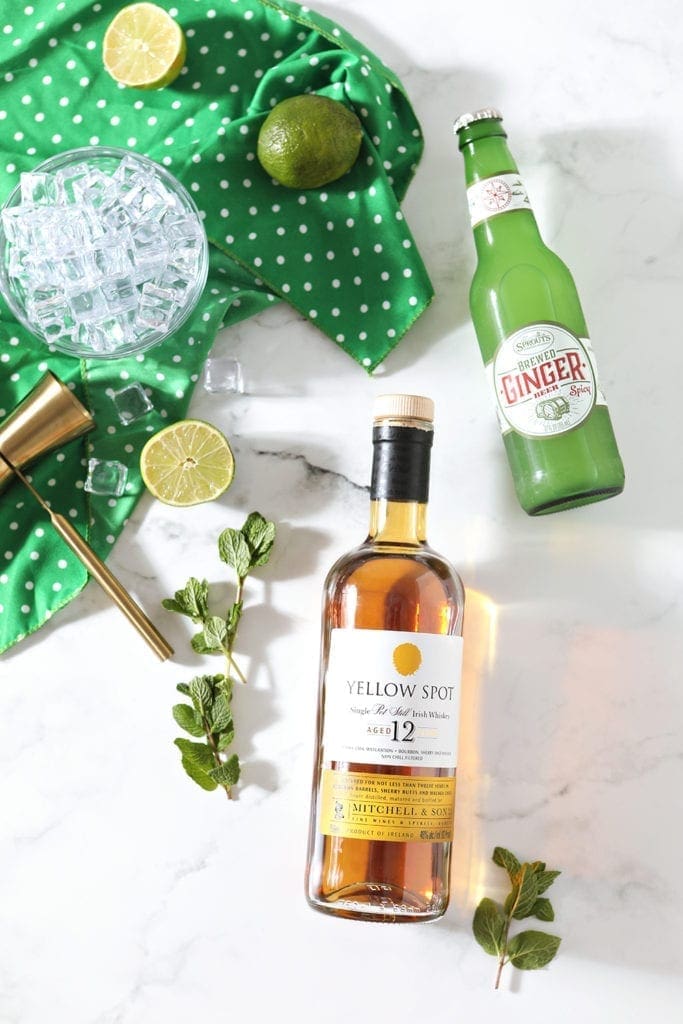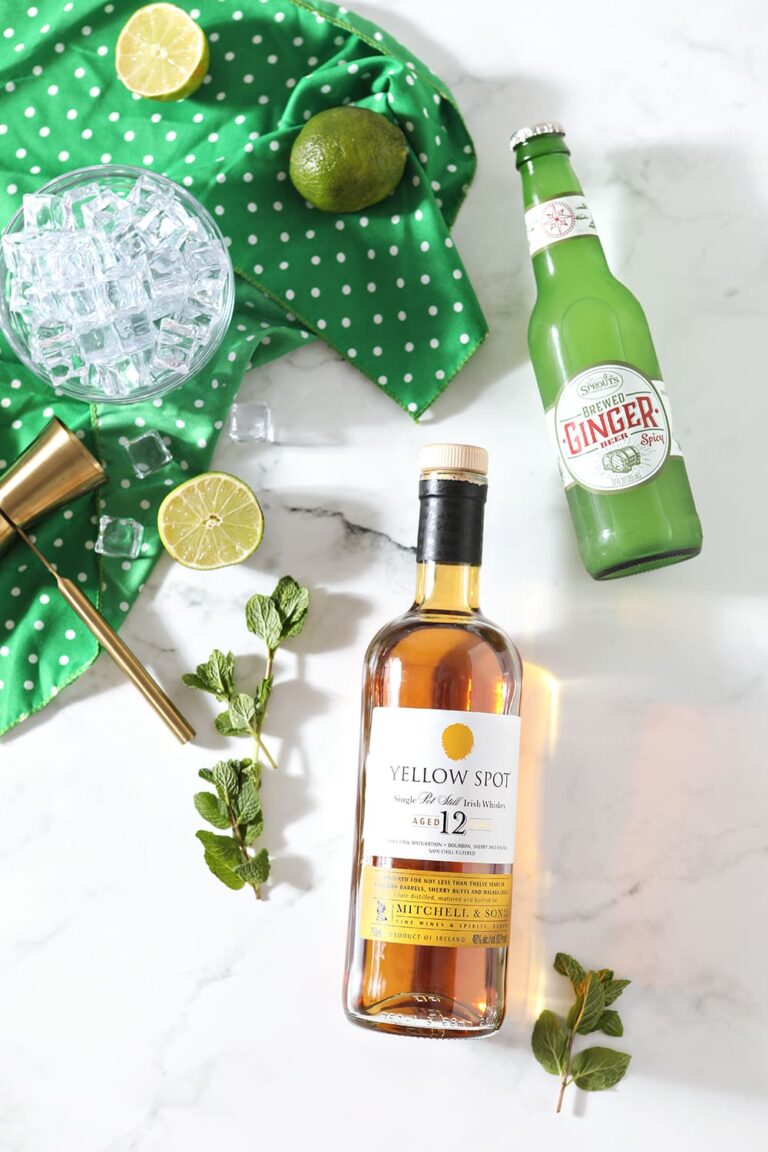 What you'll need to make an Irish Mule
The Speckled Palate participates in affiliate programs. As an Amazon Associate, I earn a commission from qualifying purchases. Please refer to my disclosure page for more information about these affiliate programs.
Let's talk ingredients!
In addition to the tools above, you're going to need some ingredients to make this recipe, too! Chances are, you might already have some of them in your fridge or pantry. Scroll down to the recipe card for the full measurements and instructions.
Here's what you'll need:
Irish whiskey — use your favorite brand and one that you enjoy drinking. You'll taste it here, so you want to enjoy the taste of the whiskey itself.
Lime juice — please, please, please squeeze your own or grab a bottle of freshly squeezed stuff from the refrigerator aisle of your grocery
Ginger beer — you may use your favorite brand. This is not the same thing as ginger ale and should have a kick.
Fresh limes — for garnish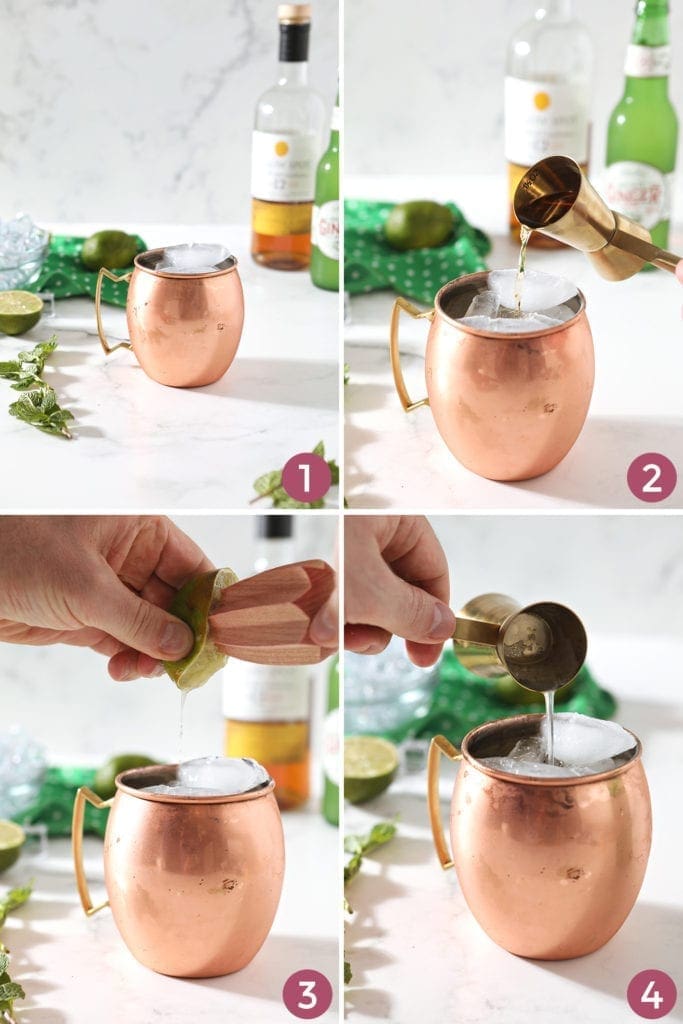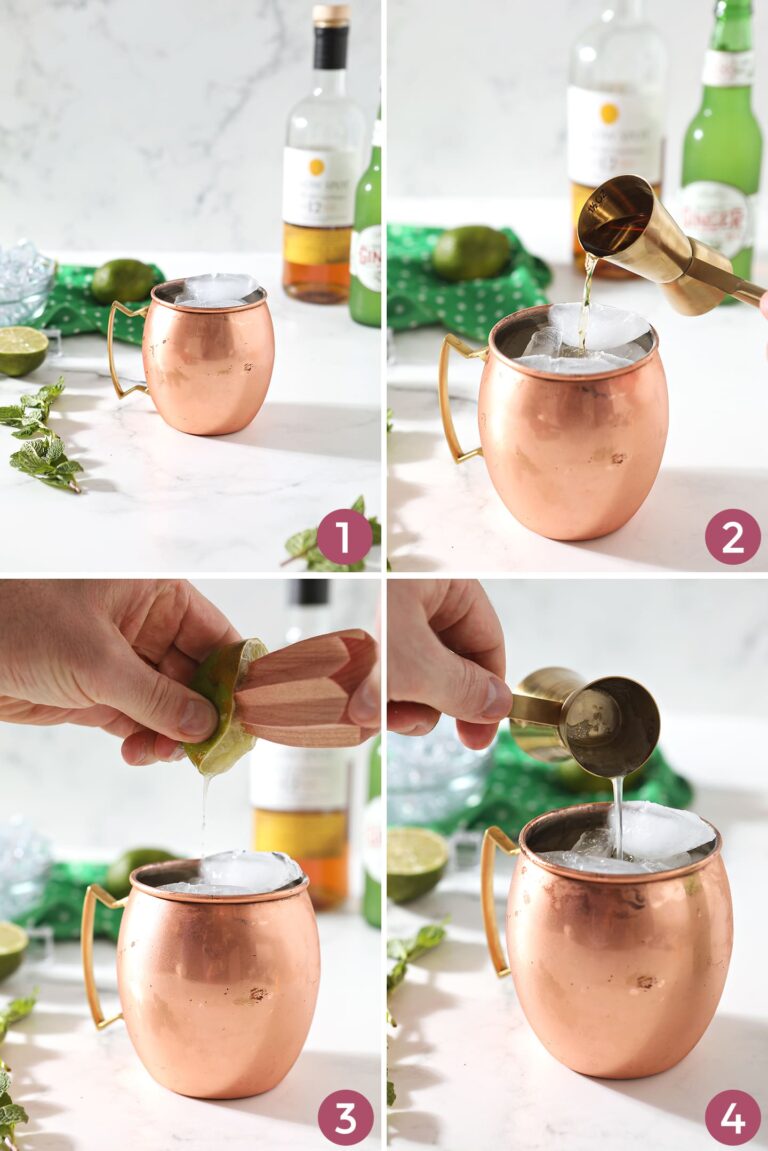 How to make an Irish Moscow Mule
Place ice into a copper mug (or a cocktail glass of your choosing).
Measure out the Irish whiskey and ginger beer with a measuring cup or a jigger.
Squeeze in the lime juice, and stir with a cocktail spoon.
Serve with a sprig of mint and a round of lime, and enjoy immediately.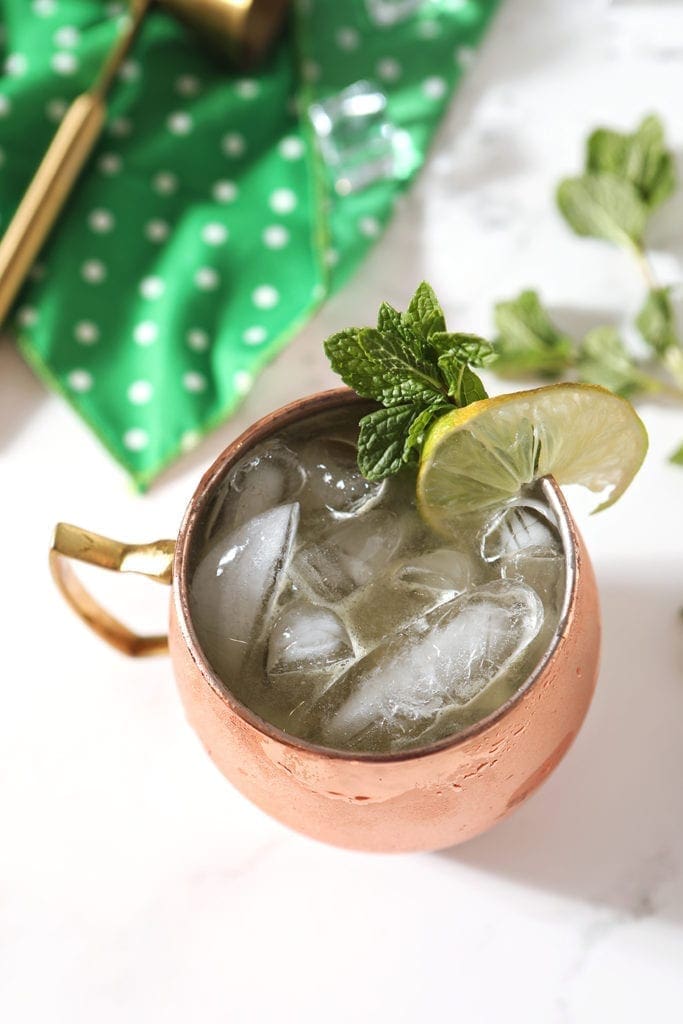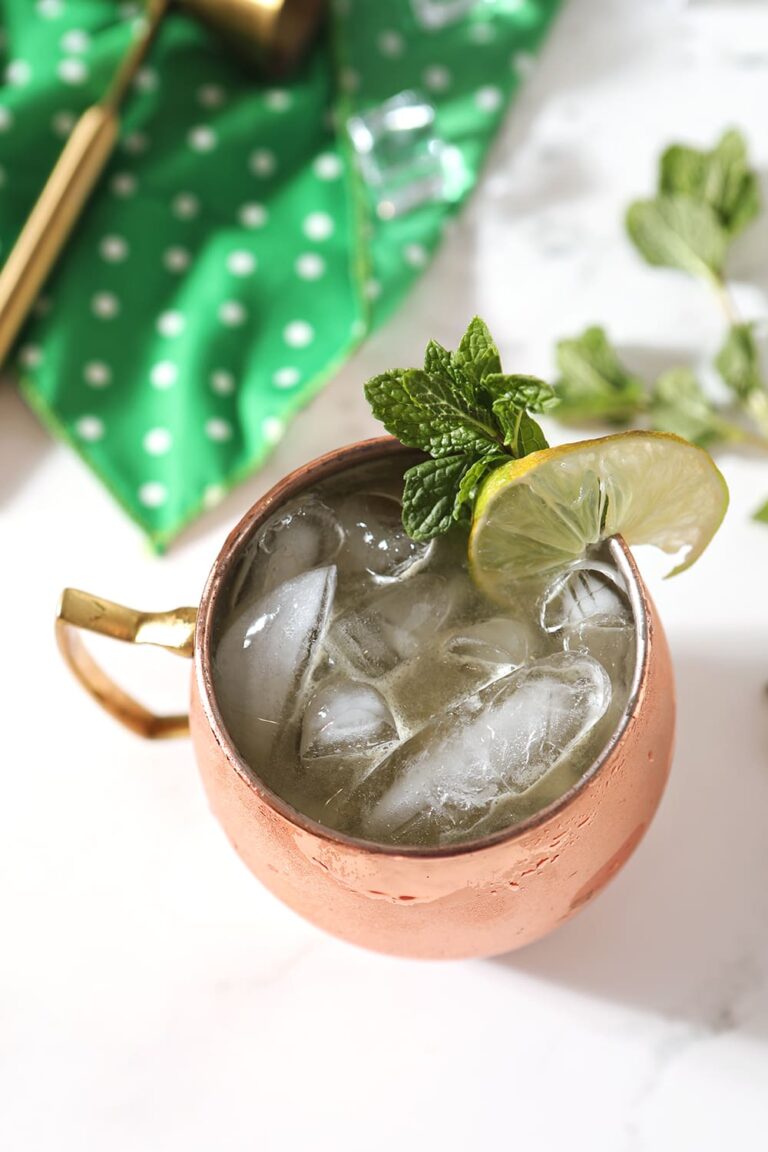 Erin's Easy Entertaining Tips
Moscow Mules are the perfect party drink because they require few ingredients, and those ingredients are pretty easy to prep.
If you're going to host people (maybe for St. Patrick's Day since this drink would be perfect for then) and offer Moscow Mules, I suggest making a "Mule Bar" on a surface in your kitchen or living room.
Why? This makes it simple for guests to measure their ingredients and stir up their drinks without needing your assistance!
And since this cocktail is so simple to make, your guests can definitely do this, too.
Here are a few things to do to make it easier:
One to two hours before the party, squeeze the limes and get that lime juice ready. I don't recommend using jarred lime juice, as it's not nearly as fresh-tasting.
Slice the limes in advance, too. Keep 'em in a food storage container in the fridge for a few hours. Guests can use these as garnish.
Place your mint in a mason jar of water. Guests can pluck their garnish from the bunch!
Set out measuring tools for your guests on the Mule Bar.
Print out the ingredients and measurements, and place them in a frame (or in a place on the bar where spilled ingredients won't bother them.)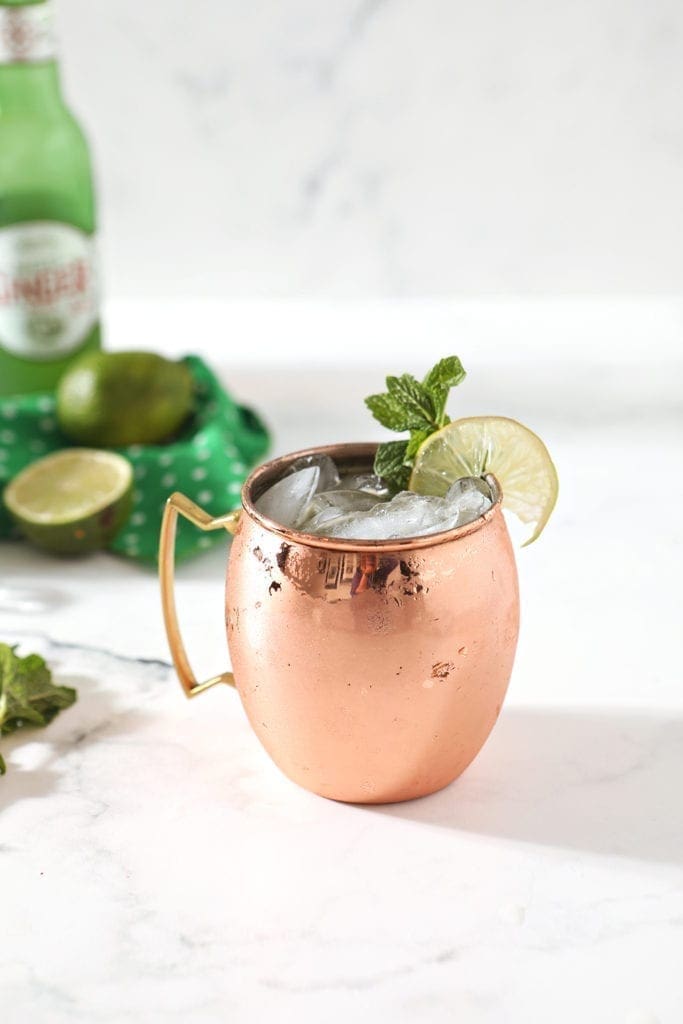 Frequently Asked Questions
What makes this called a Moscow Mule Irish?
We're swapping out vodka, the traditional alcohol of a mule, for Irish whiskey.
What is Irish whiskey?
Irish whiskey is whiskey that's made in Ireland. The main ingredient of Irish whiskey is barley, as opposed to its American cousin, which could be made with corn, rye or wheat.

To me, Irish whiskey is lighter tasting than an American whiskey or a bourbon.
Is there a specific brand of Irish whiskey I should use?
No! While Jameson is an extremely well-known brand of Irish whiskey, you can use another brand if you like it better. We used my husband's "fancy" Yellow Spot to make ours, and they were so incredibly smooth and delicious!

You do not want to use bottom shelf Irish whiskey for this drink because you want to taste the alcohol (and you want it to be smooth!)

Learn more about Irish whiskey at Irish Whiskey 101.
Can I make this into a pitcher drink?
Absolutely! To make a pitcher to serve six, combine 24 oz. ginger beer, 9 oz. Irish whiskey and 3 oz. lime juice in a pitcher with ice. Pour over ice to serve and garnish with limes and mint.
What is the best brand of ginger beer?
Our family really likes Sprouts' brand ginger beer, as well as Fever Tree. Be forewarned if you purchase the Fever Tree that it is spicy and that it could be overwhelming for some.
Is ginger beer alcoholic?
Look at the label of your ginger beer, but generally speaking, it is not. That said, there are trace amounts of alcohol in ginger beer due to how it's brewed, but the levels are similar to that of kombucha.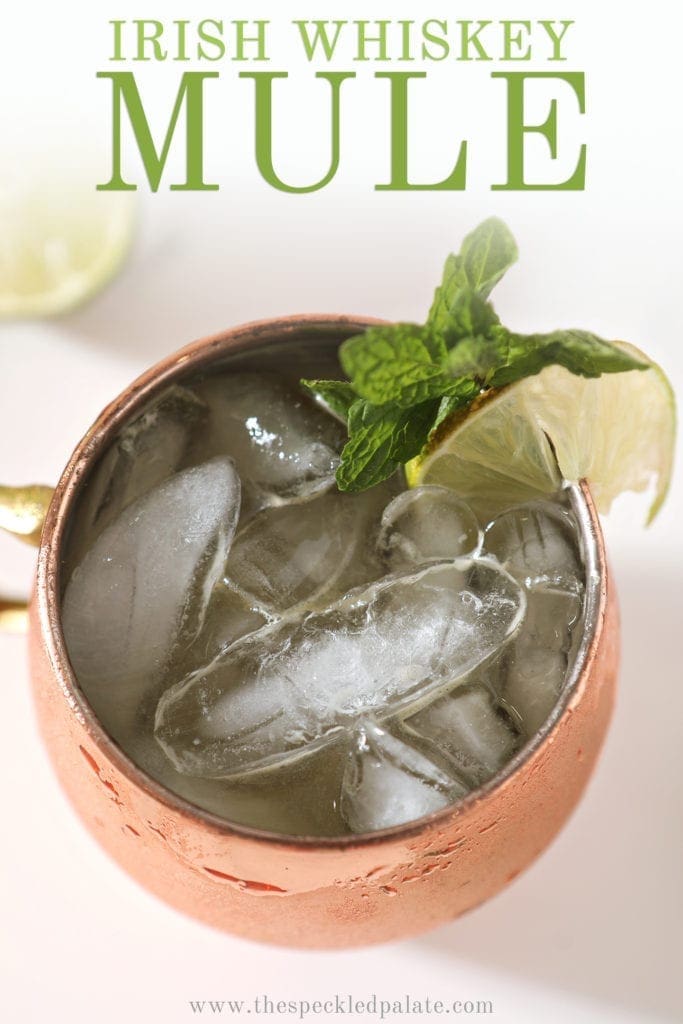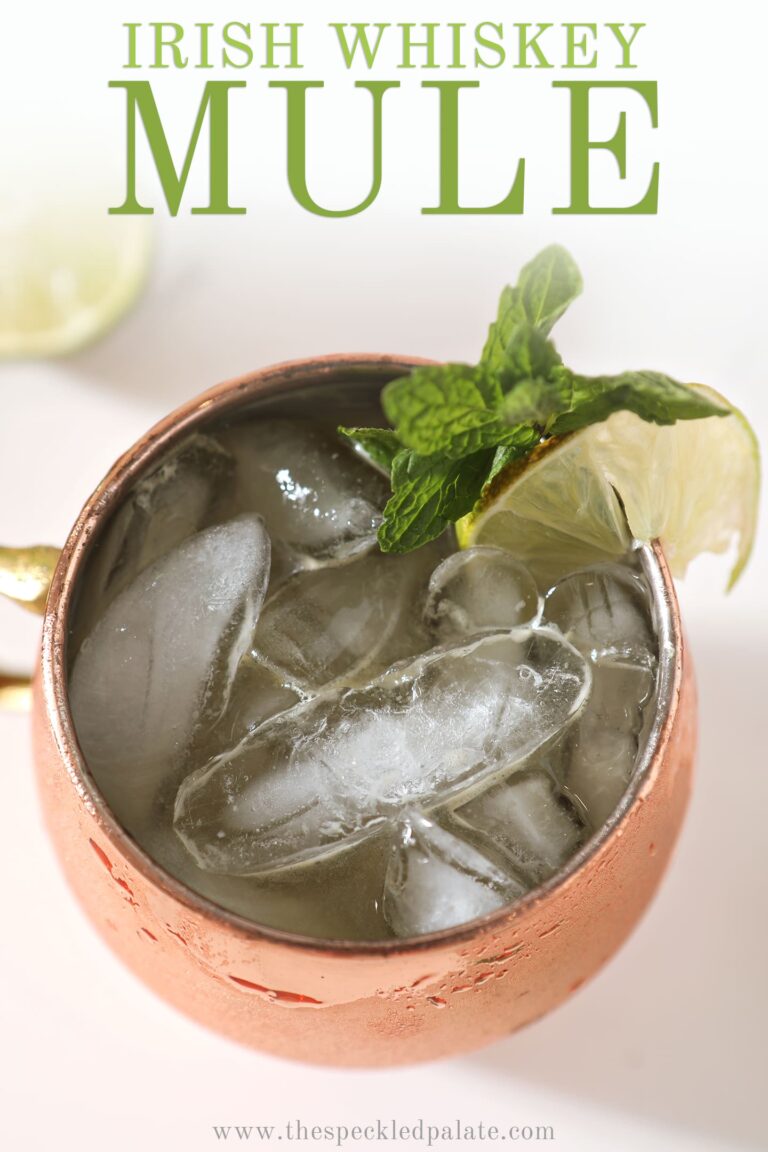 Quick tips for making an Irish Mule
If making a batch of mules, prep your ingredients before you start mixing 'em.
Turn it into a pitcher drink! Quadruple the recipe (or multiply it by six) to turn this festive mule into an Irish Mule Pitcher.
If you don't like mint, garnish the drinks with lime rounds or wedges.
Ready to make this one? Here's how you do it…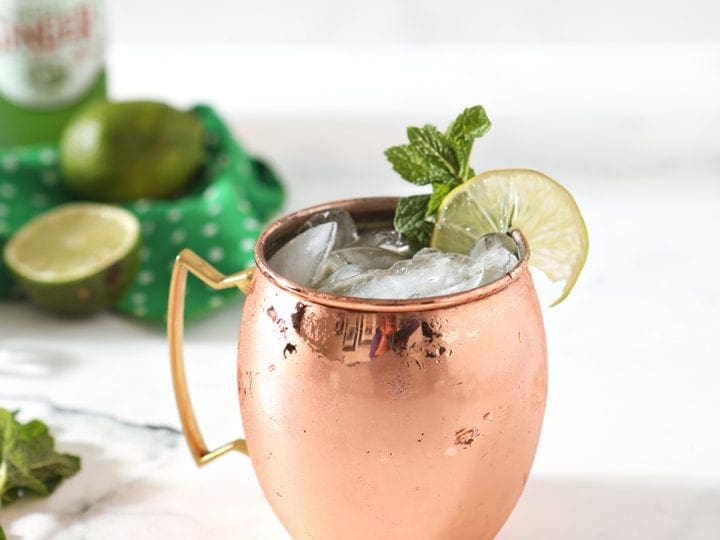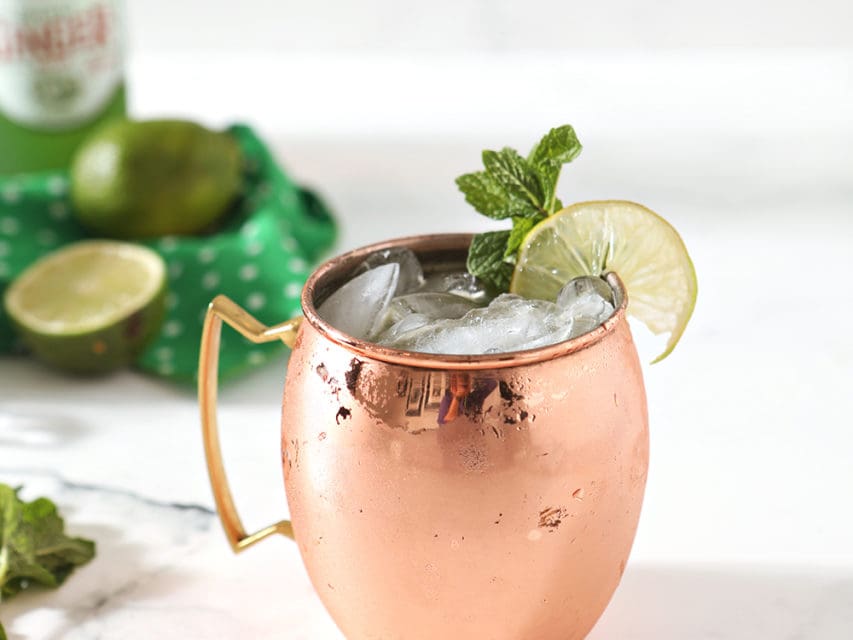 Yield:

1 drink
Irish Whiskey Mule
Smooth and flavorful with a bit of spice, this Irish Mule recipe is a perfect St. Patrick's Day mixed drink. This classic cocktail is made with simple ingredients that get a twist from Irish whiskey.
Ingredients
4 oz. ginger beer
1 ½ oz. Irish whiskey
½ oz. lime juice, freshly squeezed
Ice, for serving
Fresh mint, for garnish
Lime rounds, for garnish
Instructions
In a copper mug (or your favorite cocktail glass), measure out the ginger beer, vodka and lime juice.
Add ice, and stir with a cocktail spoon.
Garnish with a lime round and a sprig of mint before enjoying immediately!
Notes
If you like your drinks a little stronger, use 3 ½ oz. of ginger
beer instead of 4 to give your drink a little more of a punch!
Recommended Products
As an Amazon Associate and member of other affiliate programs, I earn from qualifying purchases.
Nutrition Information:
Yield:
1
Serving Size:
1
Amount Per Serving:
Calories:

187
Total Fat:

0g
Saturated Fat:

0g
Trans Fat:

0g
Unsaturated Fat:

0g
Cholesterol:

0mg
Sodium:

14mg
Carbohydrates:

25g
Fiber:

3g
Sugar:

17g
Protein:

1g
Nutrition facts are an estimate and not guaranteed to be accurate.