If you're looking for a festive margarita that tastes amazing, this Homemade Pomegranate Margarita is it! Perfectly sweet and tart with a little bitterness, this 5-ingredient margarita recipe is colorful and delicious. Makes 1 drink, but can be turned into a pitcher.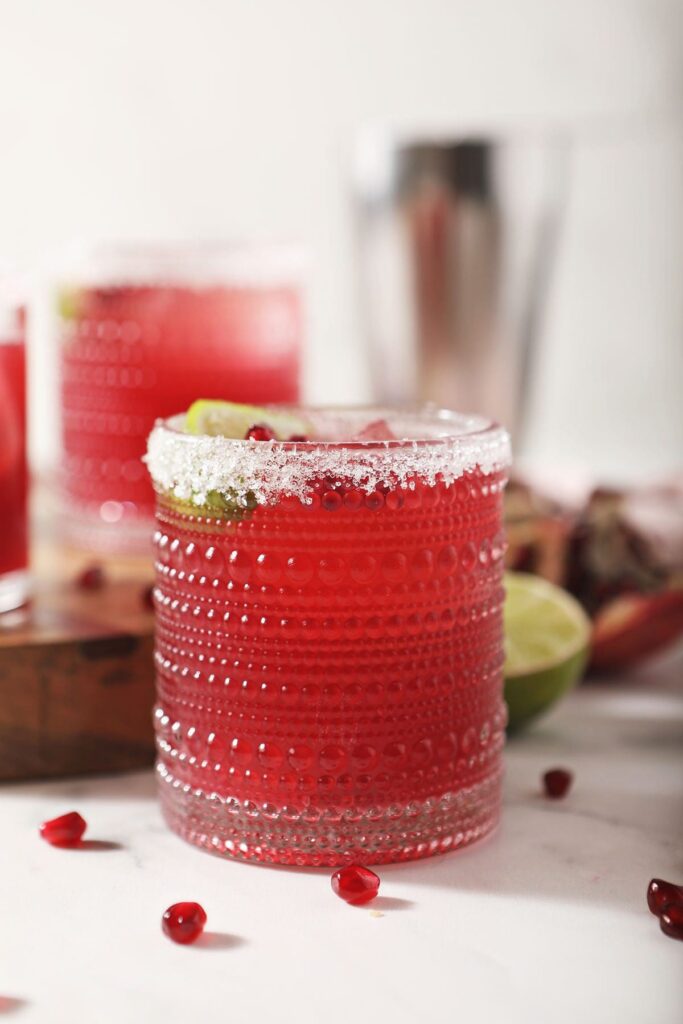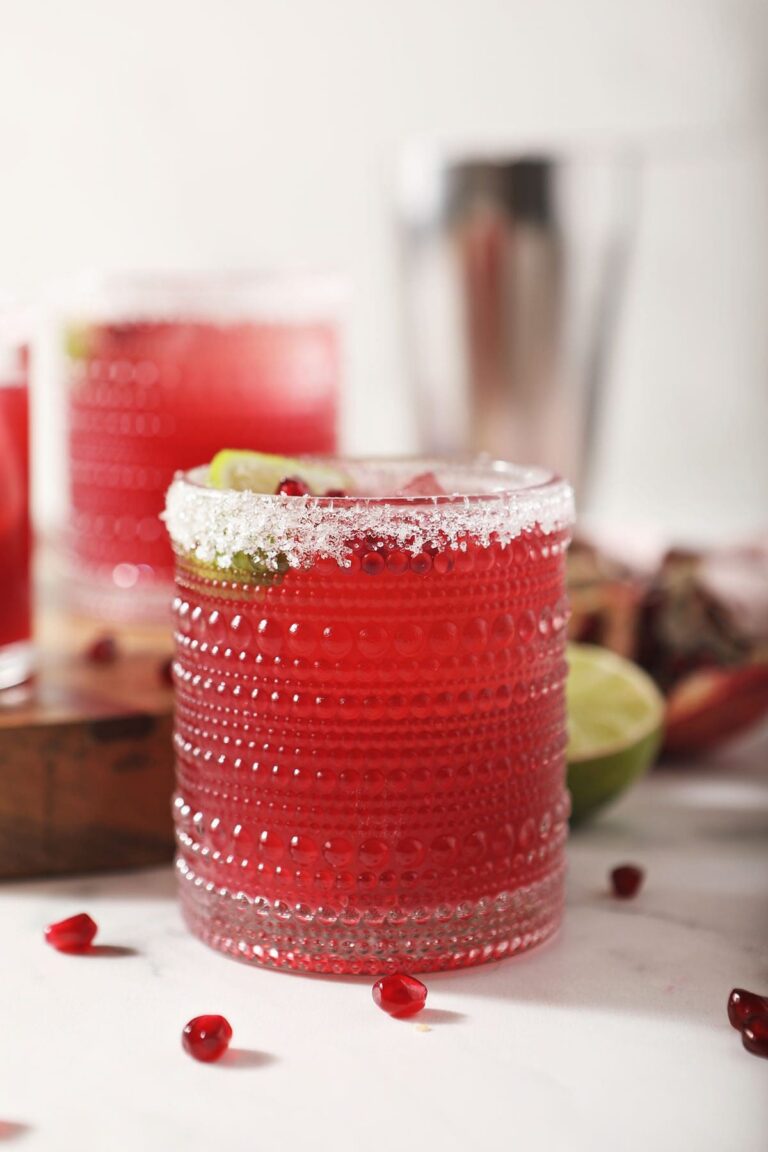 We finalized this drink recipe a month ago when my in-laws were in town and had a big debate over the ingredients to use.
Specifically, the pomegranate liqueur.
Some thought that it was a big ask to include that in a recipe because it's a harder to find ingredient.
Also, it's very likely that you you don't have it in your liqueur cabinet.
But… for me? The flavors the liqueur added made all the difference in taking a tasty margarita and turning it into a top-notch experience.
Why we love this recipe:
Simply put, this pomegranate margarita recipe is perfectly balanced, and it's a perfect way to end our Year of the Margarita. (Check out my Classic Margarita, which started it all.)
It's got sweetness, but isn't too sweet.
There's some tartness, thanks to the pomegranate juice and liqueur, but it's not overwhelming.
And there's a hint of bitterness, too, but it smooths right out, thanks to the sweetness.
It does call for the pomegranate liqueur, which is probably going to require a visit to your local liquor store. It's well-worth the trip because it makes this drink something special.
That said, if you can't or don't want to get it, you can use orange liqueur, triple sec or Cointreau in place of it.
It's a festive cocktail, for sure, and it's something that I look forward to pouring as we have friends over during the holiday season.
Other margaritas recipes to try this season: Italian Margarita | Virgin Margarita (Margarita Mocktail) | Avocado Margarita | Pineapple Margarita | Cucumber Margarita | Apple Cider Margaritas
In the market for a new drink? Check out my Cocktail Recipe Index for inspiration!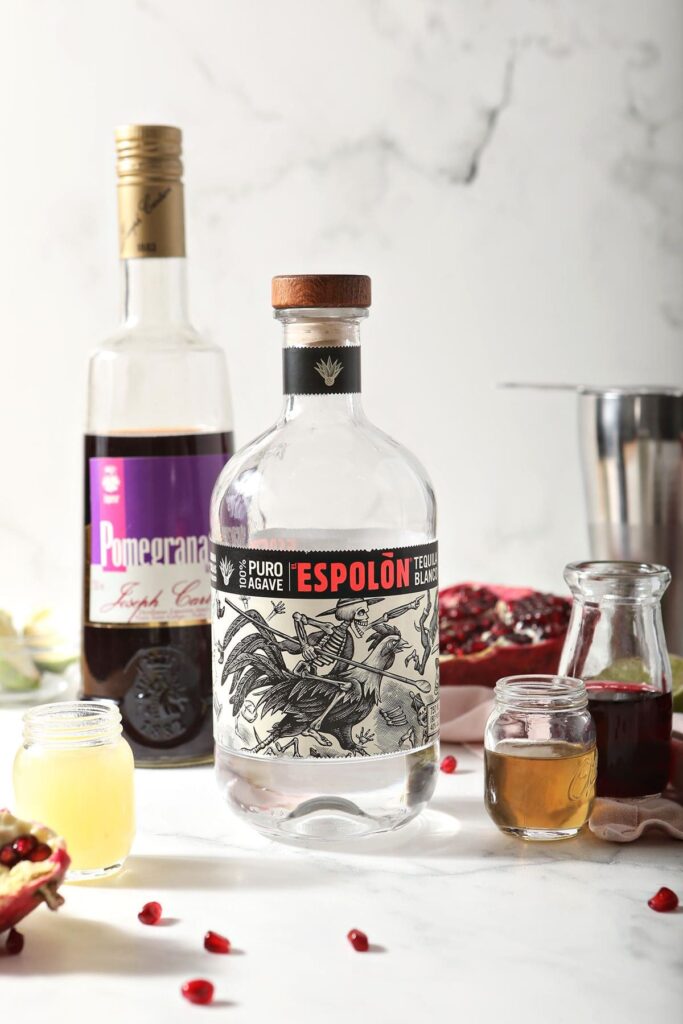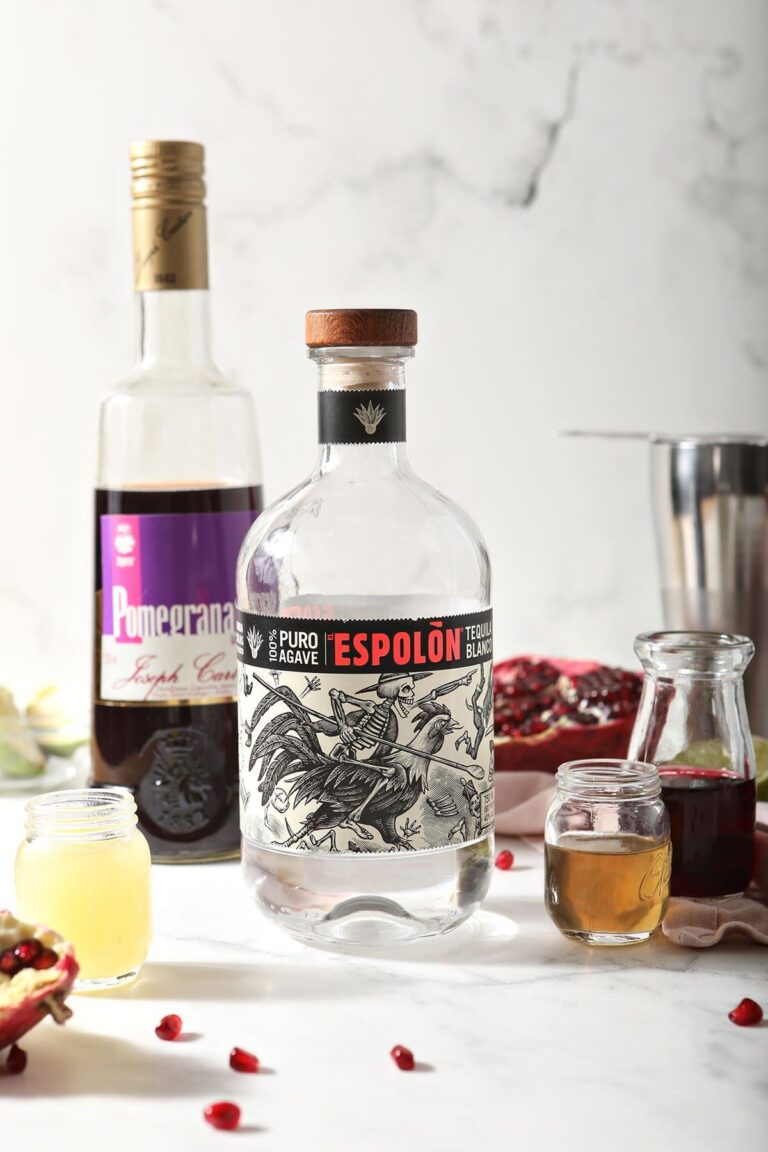 What you'll need to make this recipe:
The Speckled Palate participates in affiliate programs. As an Amazon Associate, I earn a commission from qualifying purchases. Please refer to my disclosure page for more information about these affiliate programs.
Let's talk ingredients!
In addition to the tools above, you're going to need some ingredients to make this recipe, too! Chances are, you might already have some of them in your fridge or pantry. Scroll down to the recipe card for the full measurements and instructions.
Here's what you need:
Pomegranate juice — the pure, unsweetened kind. You can find it in the juice aisle or in the refrigerated section of the store—either works! Just make sure that it's pure pomegranate.
Silver tequila — a 100% blue agave brand is what you want here.
Limes or fresh lime juice — I purchase the squeezed kind from the refrigerated section at the grocery. It's with the pre-chopped fruit and totally worth the splurge. However, you can purchase limes and squeeze 'em yourself.
Simple syrup — you can make it at home or you can purchase it from the store or online.
Pomegranate liqueur — or a triple sec, if you can't find it locally. We funnily had two bottles in our house and were able to consolidate them, thanks to this drink. This is an alcoholic liqueur, not something like grenadine, which is a nonalcoholic syrup.
Pomegranate arils (seeds) and lime wheels or wedges as garnishes
Also, if you've got some homemade margarita mix at your house, you could use that in place of the lime juice and simple syrup. I have notations on how to do that below, too.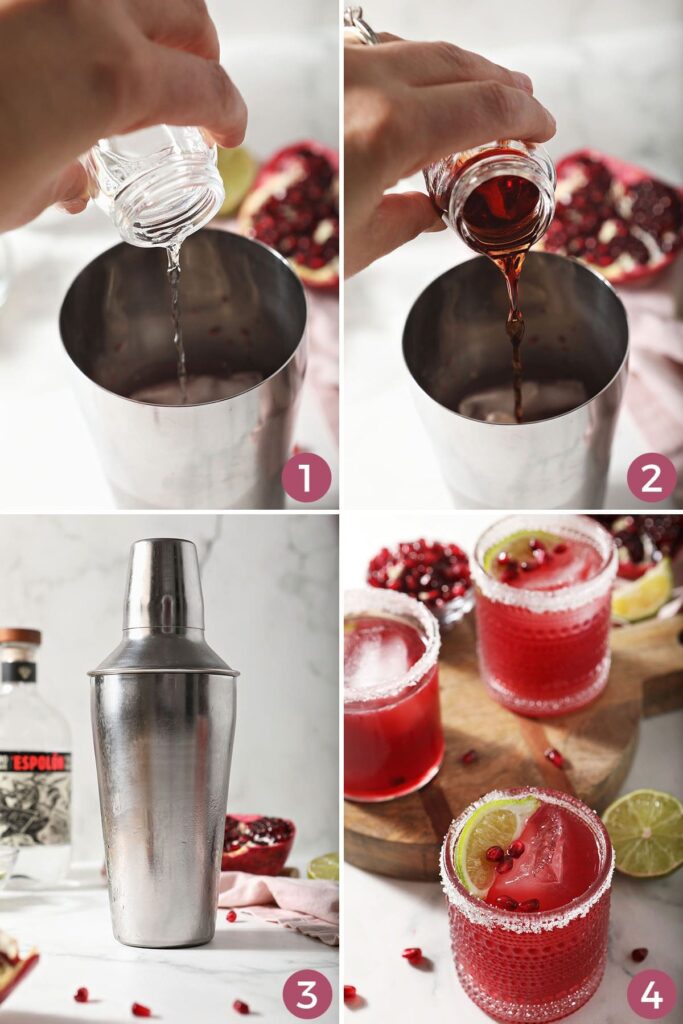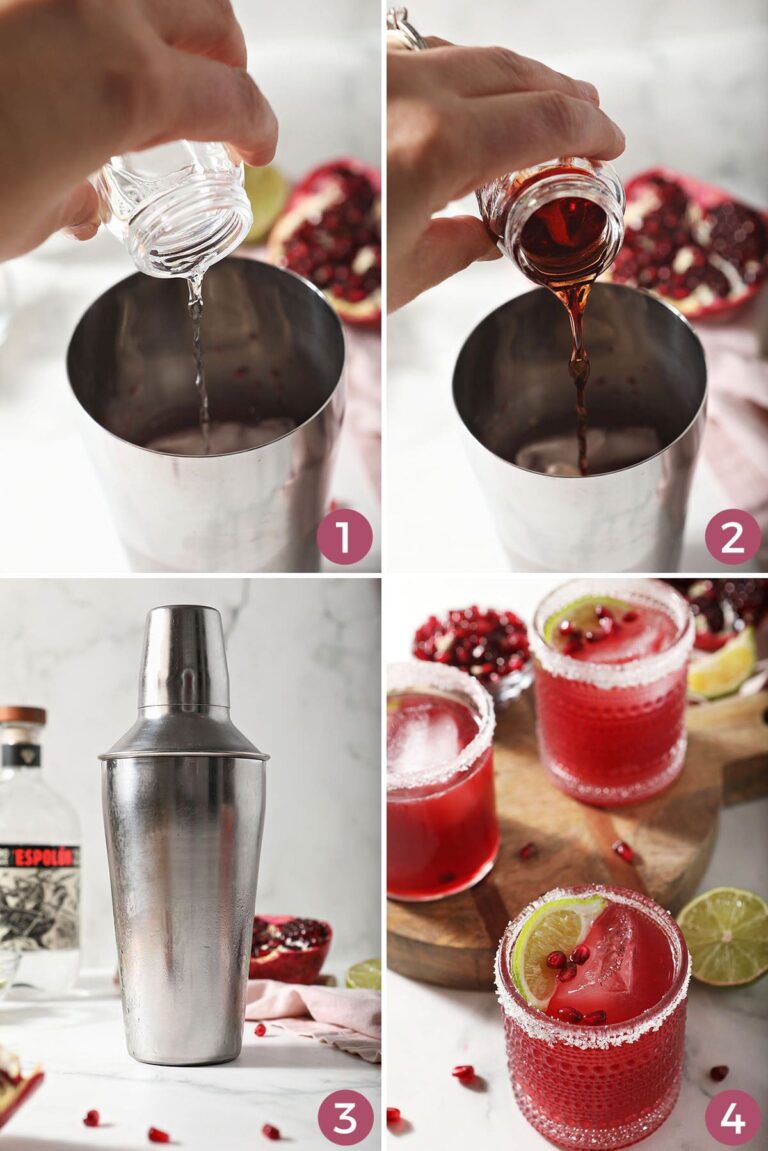 How do you make a pomegranate margarita?
First and foremost, juice your limes. I do this over a liquid measuring cup with a fine mesh strainer to keep pulp and seeds out of the juice.
You'll get more juice from your limes if they're room temperature. If you keep 'em in the fridge, pop them into the microwave for 20-30 seconds to get those juices flowing!
Also, rim your glass with sugar to add a bit of sweetness to the mix. You may also salt the rim.
Once the glass has a sugar rim, carefully measure in ice cubes.
Once your limes are juiced, measure the pomegranate juice, tequila, lime juice, simple syrup and pomegranate liqueur into an ice-filled cocktail shaker.
Shake vigorously until the ingredients are combined, about 30 seconds.
Strain and pour into your prepared glasses.
Garnish with a lime wedge and fresh pomegranate seeds (which are called arils) before enjoying immediately.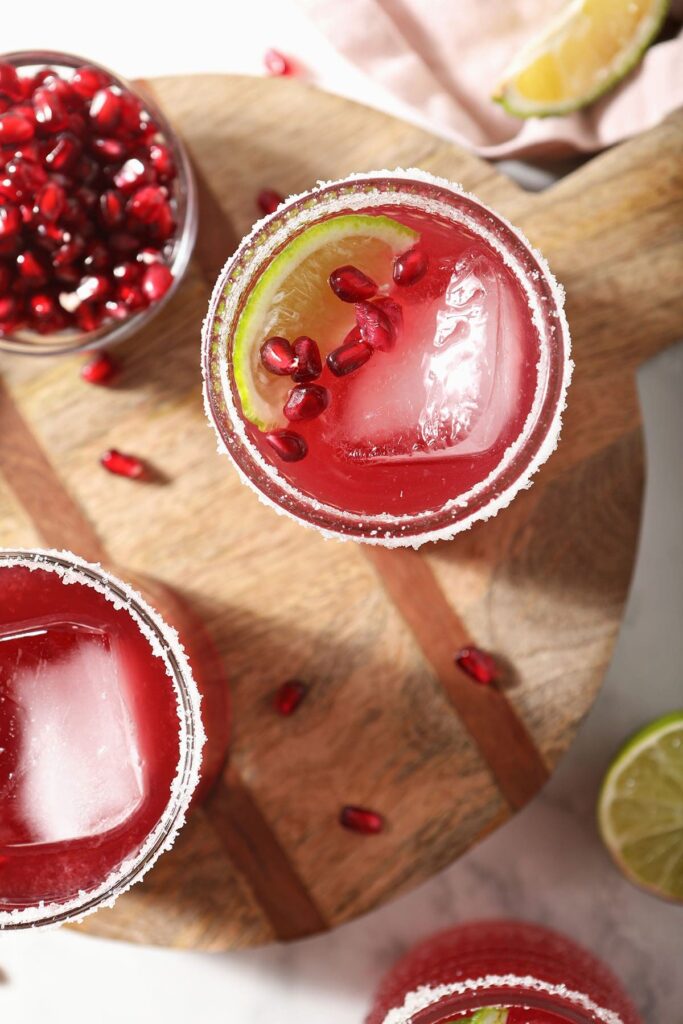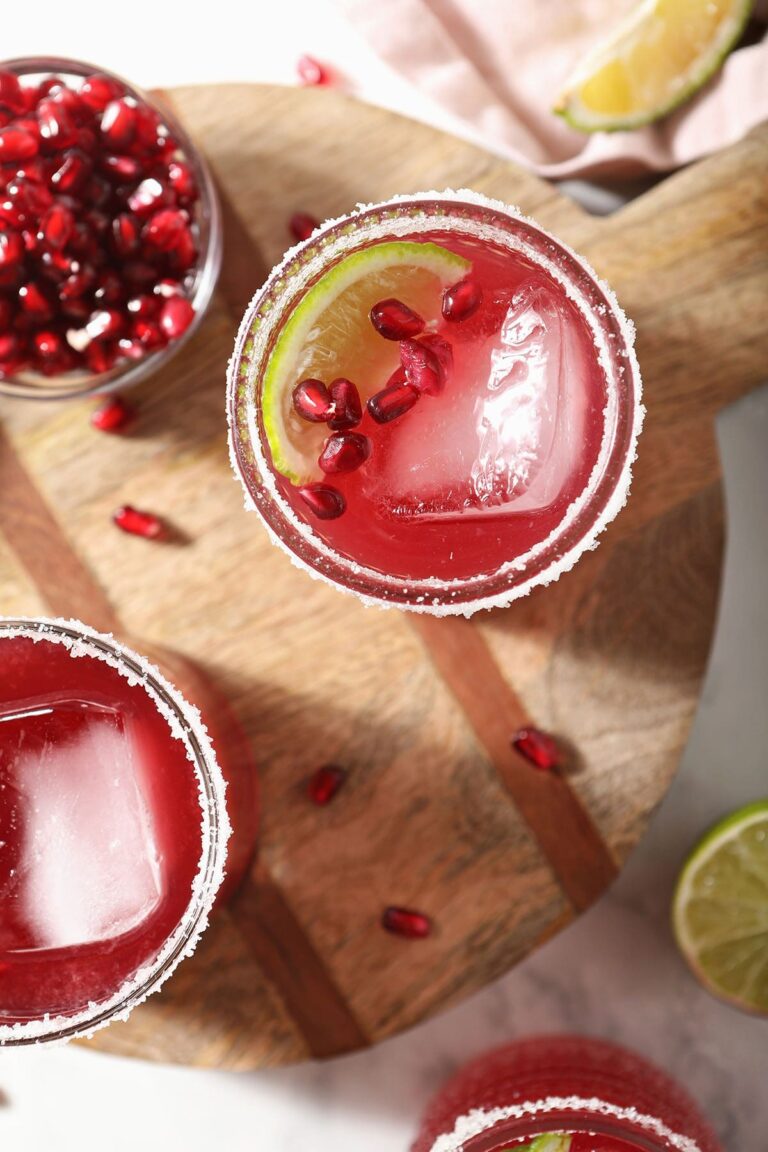 Erin's Easy Entertaining Tips
Pomegranate Margaritas are such a gorgeous color! I think they'd be perfect for holiday festivities, whether you're hosting Friendsgiving, Thanksgiving Day or even a holiday party.
This drink is excellent to share, simply put, because it's so festive.
Margaritas at home are simple because they require few ingredients and even less time to put 'em together! And this margarita recipe is absolutely worth mixing up to share.
Here are a few tips and tricks to make it as easy as possible:
Make it a pitcher. After all, if you're hosting friends, you might as well double or triple the recipe so you're not mixing margaritas by request throughout the evening.
Make your simple syrup 1-2 days in advance… or make a big batch so you've always got some in the fridge. Let it hang out in the fridge, and make a lot of it, depending on how many friends are joining you.
Squeeze the limes an hour or so before guests arrive — or take the store-bought shortcut. Just be sure to get the fresh-squeezed lime juice instead of the shelf-stable kind. It makes all the difference, promise.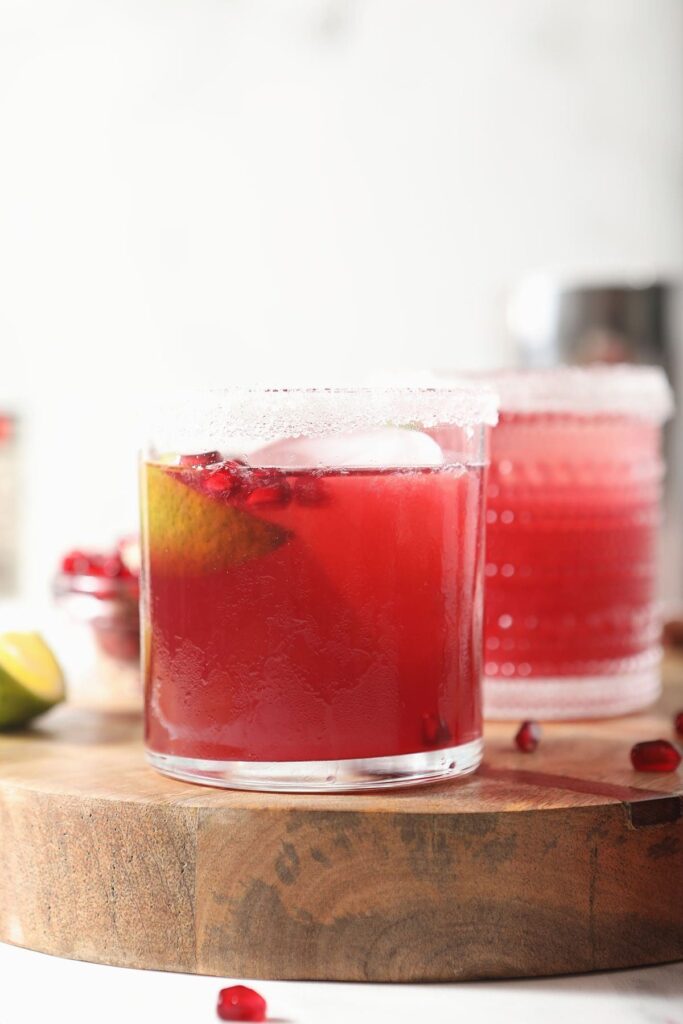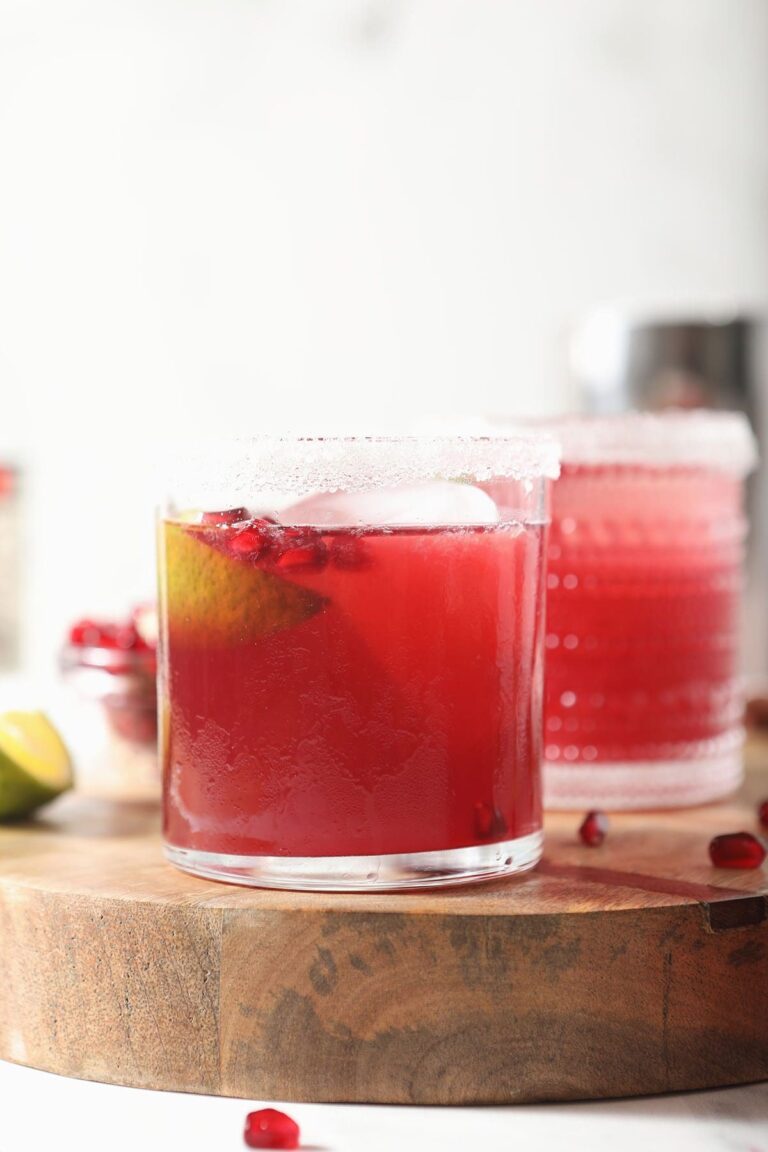 Frequently Asked Questions
How can I use margarita mix in this recipe?
If you've got margarita mix (homemade margarita mix or store-bought), omit the lime juice and simple syrup. Add 2 ½ oz. of the margarita mix.
How do you rim a glass with sugar?
Run a lime wedge around the edge of the glass. You want there to be enough liquid so the sugar will stick, but that the juice doesn't run down the side of your glass. (If it does, no big deal—that'll just add a little extra lime juice to your margarita.)

Pour sugar onto a small plate, and gently press the glass into the sugar and swirl gently until the sugar coats the rim.
Can we drink alcohol with pomegranate?
Yes, you can! This margarita recipe celebrates pomegranate flavors combined with alcohol.
How do you get juice from a pomegranate?
While you could juice your own pomegranate, I do not recommend it. I like to purchase pomegranate juice in a bottle from the store to make my life easier (and way less messy.)
Can I use Cointreau instead of triple sec in a margarita?
Yes. If you can't find the pomegranate liqueur mentioned in this recipe and don't want to use regular triple sec, you can certainly use Cointreau. It's actually my choice ingredient to add to any margarita.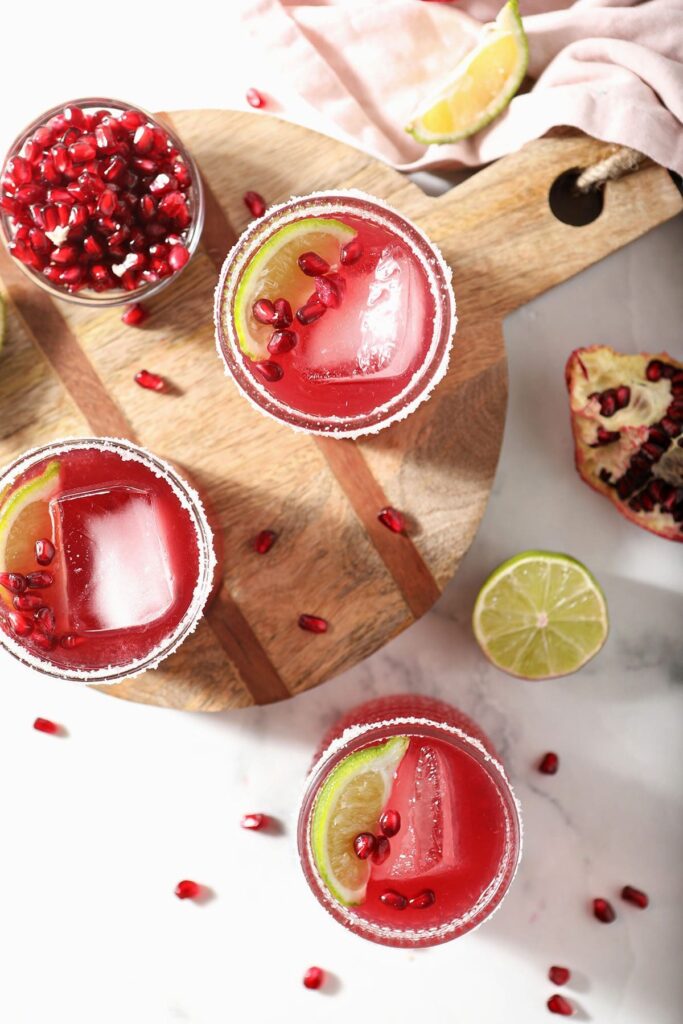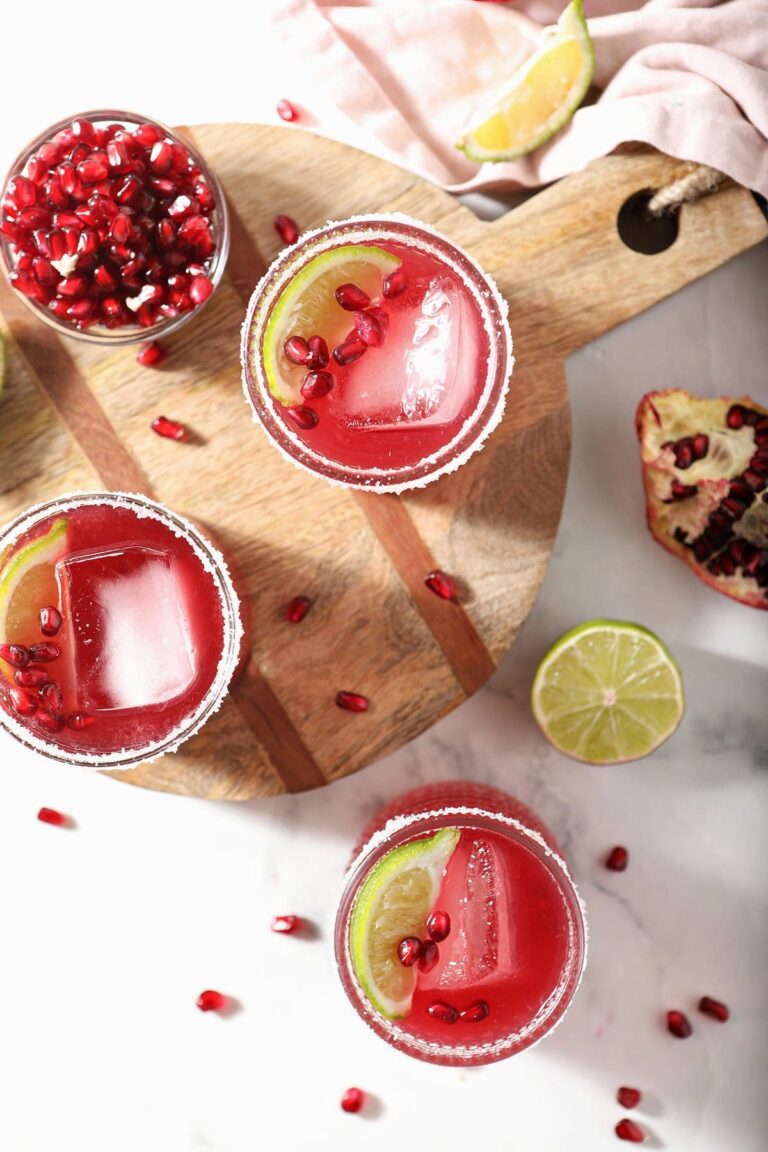 Quick tips and tricks for making the best pomegranate margarita
Double or triple the recipe! While this recipe makes a single drink, you might want to mix more to share. Do the math and throw them in a pitcher!
Purchase good lime juice or squeeze your own. The shelf stable bottled stuff won't cut it for this drink.
Don't skip the pomegranate liqueur. It might be a hassle to run to the store, but the pomegranate flavor is that much greater when you use it!
More pomegranate drinks to try: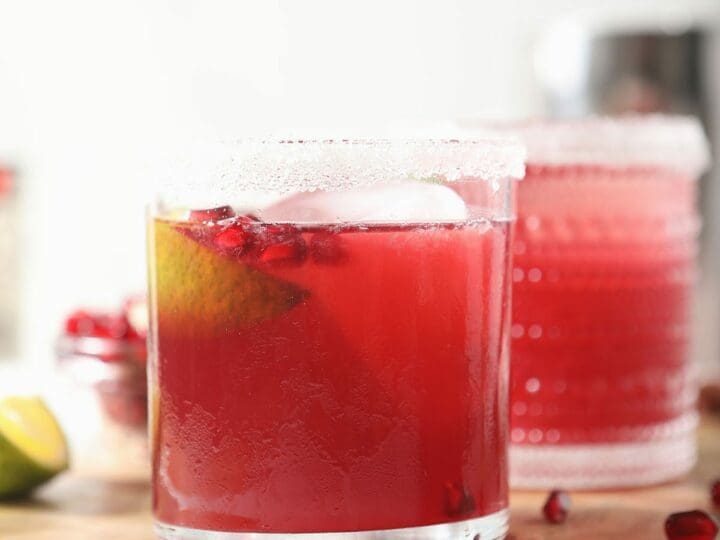 Yield:

1 drink
Pomegranate Margarita
If you're looking for a festive margarita that tastes amazing, this Homemade Pomegranate Margarita is it! Perfectly sweet and tart with a little bitterness, this 5-ingredient margarita is festive and delicious.
Ingredients
2 oz. pomegranate juice
1 ½ oz. silver tequila
1 ½ oz. lime juice, freshly squeezed
1 oz. simple syrup
1 oz. pomegranate liqueur
Lime wedges or twists, for garnish
Pomegranate arils, for garnish
Instructions
Rim a margarita glass (or a regular cocktail glass) with sugar. Fill with ice, and set aside.
Fill a cocktail shaker with ice, too.
Measure the tequila, lime juice, simple syrup and pomegranate in the cocktail shaker.
Shake until the ingredients are cold and combined.
Pour into the prepared margarita glass.
Garnish the margarita with a wedge of lime and a few fresh pomegranate arils.
Enjoy immediately.
Notes
This recipe makes one margarita, but it can easily be doubled or tripled if you're pouring margaritas for a crowd.

Ingredient swap: If you cannot find pomegranate liqueur, you may use the same amount of triple sec or Cointreau in its place to make this margarita recipe.

How to make this a pitcher drink: For a 6-drink pitcher, combine 12 oz. pomegranate juice, 9 oz. silver tequila, 9 oz. lime juice, 6 oz. simple syrup and 6 oz. pomegranate liqueur in a pitcher. Stir to combine, then pour over ice with garnishes.

How can I use margarita mix in this recipe? If you've got margarita mix (homemade margarita mix or the store-bought kind), omit the lime juice and simple syrup with 2 ½ oz. of the margarita mix.

My favorite margarita store-bought shortcuts:

• Cold press freshly squeezed lime juice: It sounds silly, but if you can find this refrigerated lime juice that's good to go, it's worth the cost, especially if you're entertaining.
• Simple syrup: If you're unsure if you'll have time to make and then cool simple syrup, they sell this bottled stuff in stores, too!

Recommended Products
As an Amazon Associate and member of other affiliate programs, I earn from qualifying purchases.
Nutrition Information:
Yield:
1
Serving Size:
1
Amount Per Serving:
Calories:

563
Total Fat:

4g
Saturated Fat:

0g
Trans Fat:

0g
Unsaturated Fat:

1g
Cholesterol:

0mg
Sodium:

20mg
Carbohydrates:

101g
Fiber:

13g
Sugar:

75g
Protein:

5g
Nutrition facts are an estimate and not guaranteed to be accurate.