Grilled Zucchini Rollatini
Grilled Zucchini Rollatini are the perfect finger food for a picnic! Grilled zucchini picks up the flavor of the grill, then is brushed with a ricotta cheese mixture before being rolled. These Grilled Zucchini Rollatini make for a scrumptious vegetarian appetizer or entree!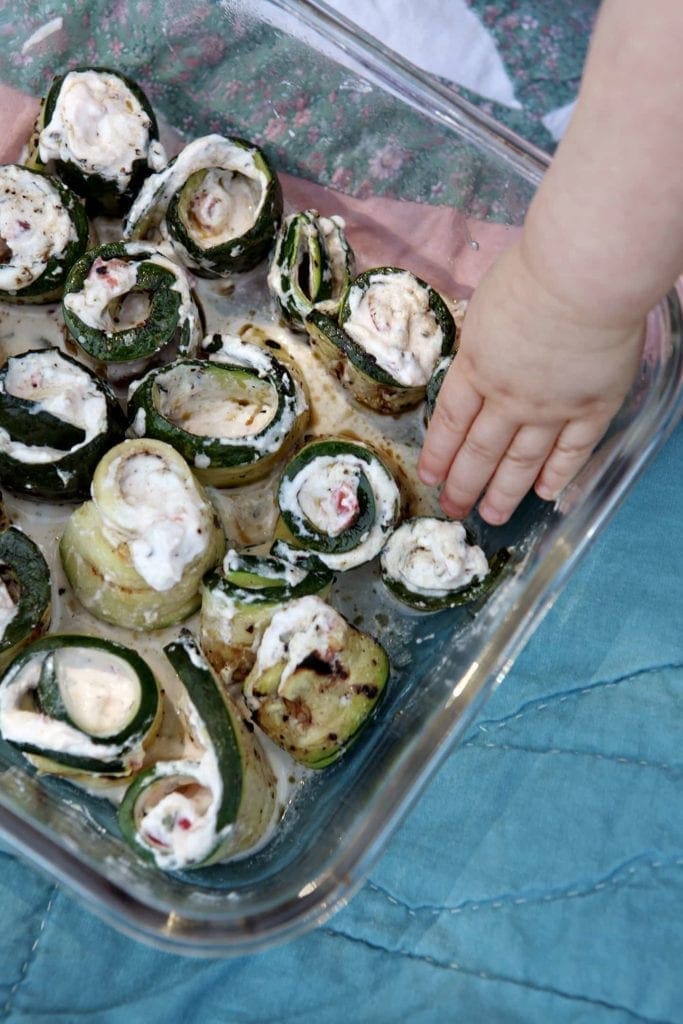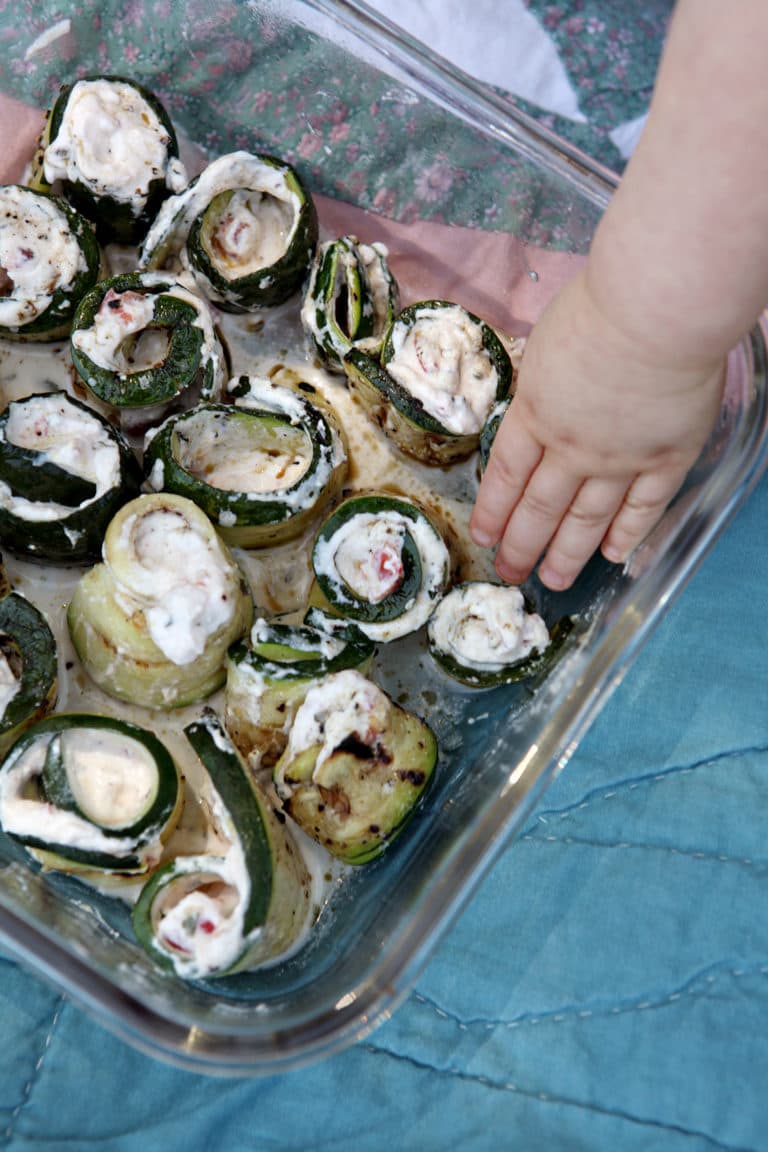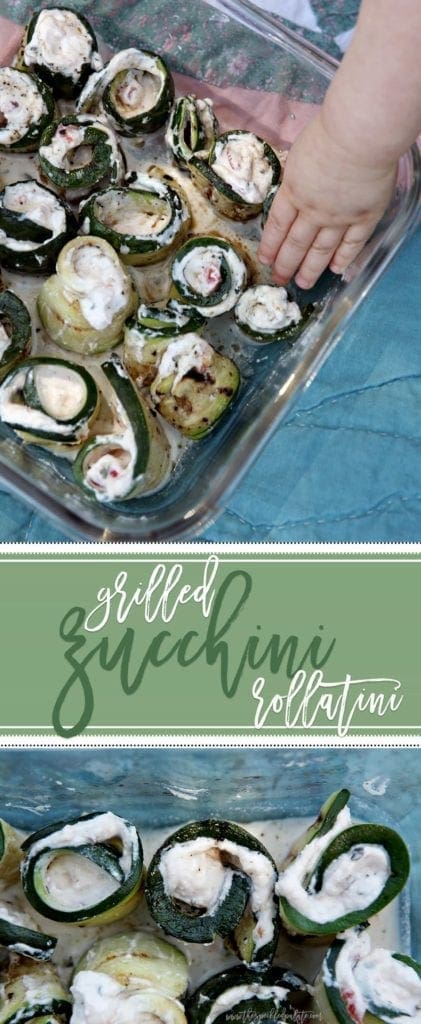 Zucchini has been one of my favorite vegetables since I studied abroad in Italy almost 10 years ago. While living in Tuscany, we ate it all the time.
Zucchini is traditionally a summer vegetable, but I've noticed some popping up in stores recently. I couldn't myself when I was planning this picnic.
It was too beautiful not to add to my basket, and I am so happy I did!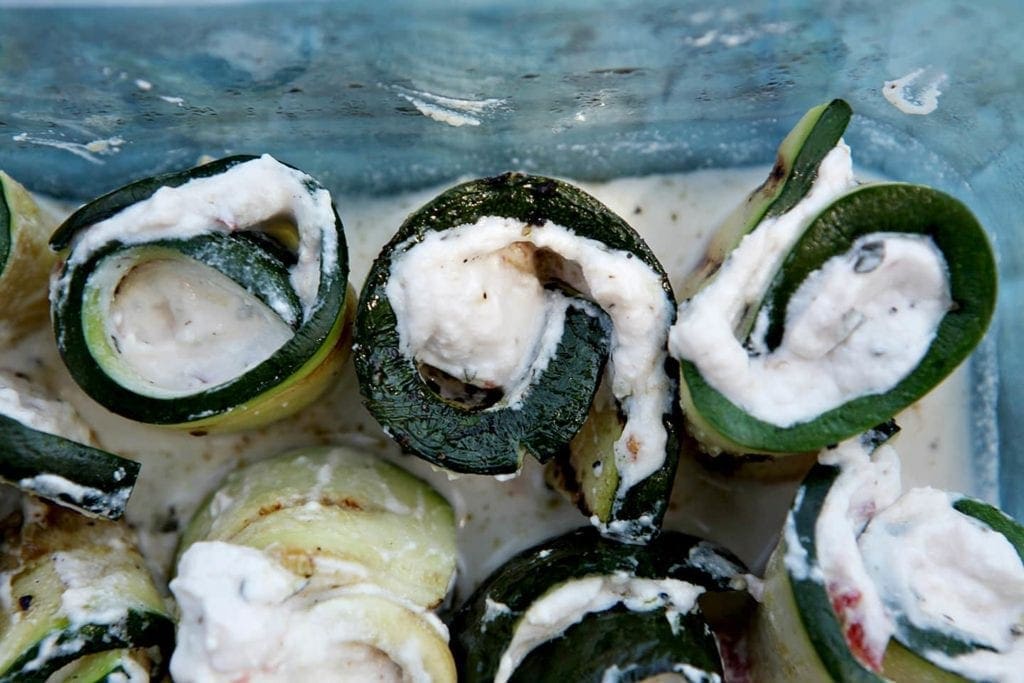 One of my friends from Nashville once served me rolled lasagna noodles, stuffed with all kinds of veggies and soaked in a delightful homemade tomato sauce. Another friend in Baton Rouge made lasagna using zucchini as the noodles.
When I spotted this beautiful zucchini in the market, I wondered… is there a way to make a finger food that involves rolled zucchini that tastes like lasagna without the mess?
Turns out, there absolutely is!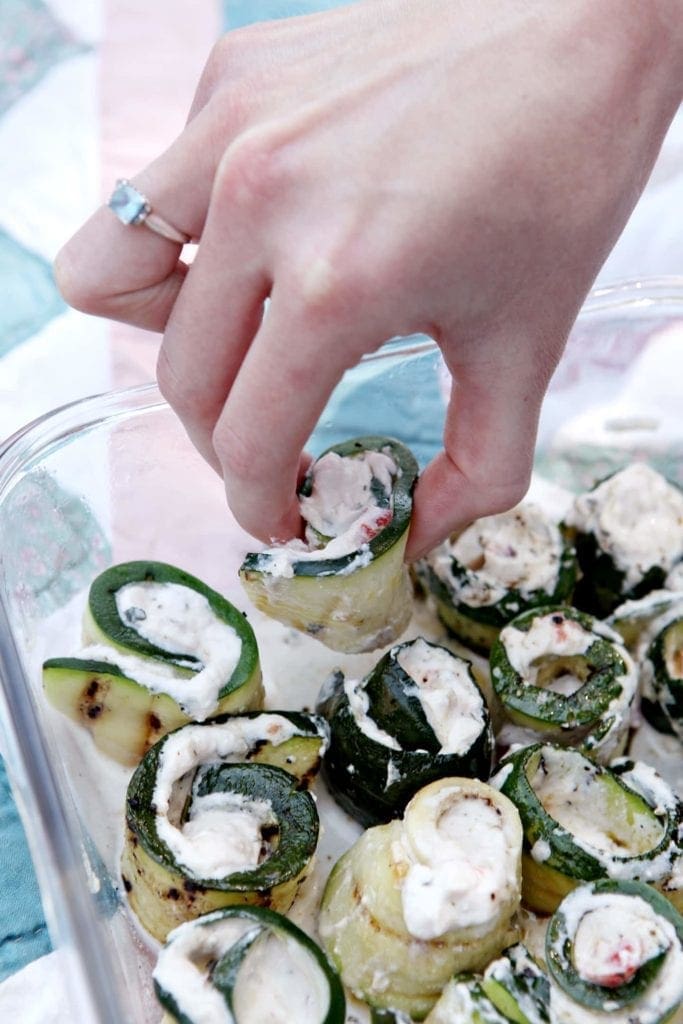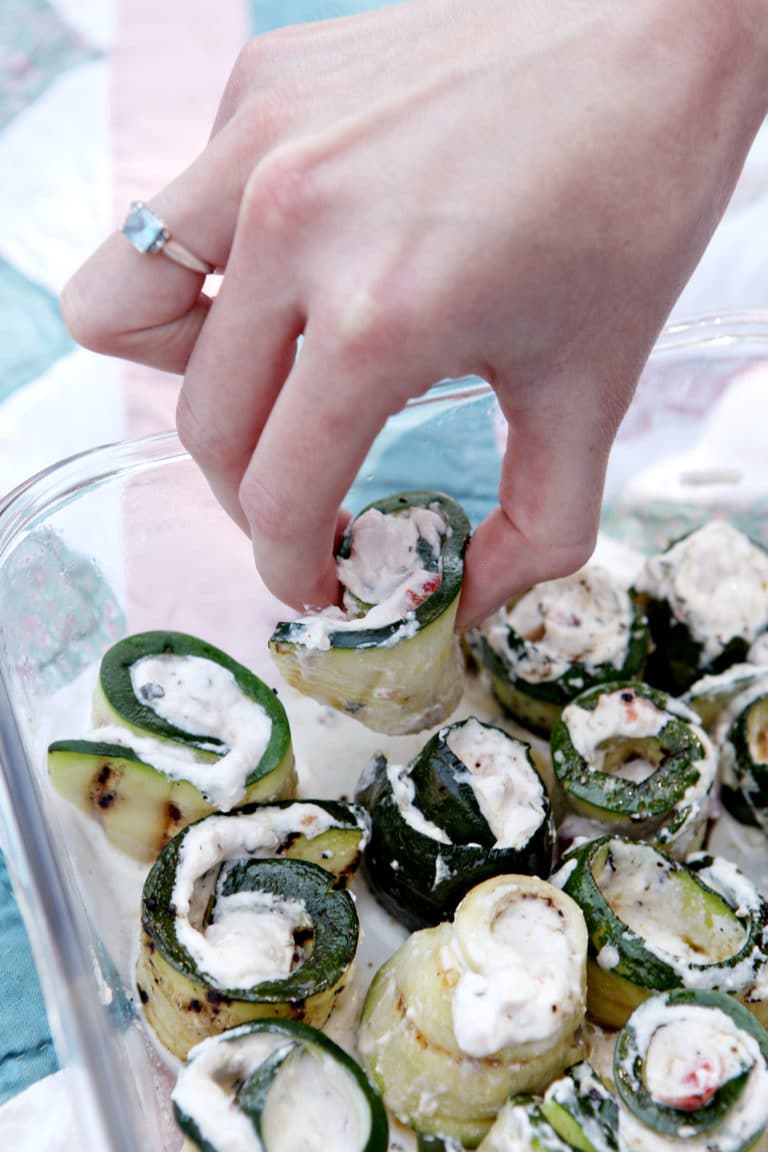 This Grilled Zucchini Rollatini is going to be my new go-to zucchini recipe.
The zucchini picks up a roasted quality from the grill (or the grill pan, if that's what you use)… and then the creamy ricotta cheese mixes so well with the grilled flavor.
When we had our picnic, we ate the entire plate… even though I know it could feed four people easily. It's that tasty.
And isn't that what we all want in a dish: for it to be so good that we can't stop eating it? And even though it's a little messy as a finger food, the mess is totally worth it since the taste is on-point!
More zucchini recipes to try:
Here's how we made this one: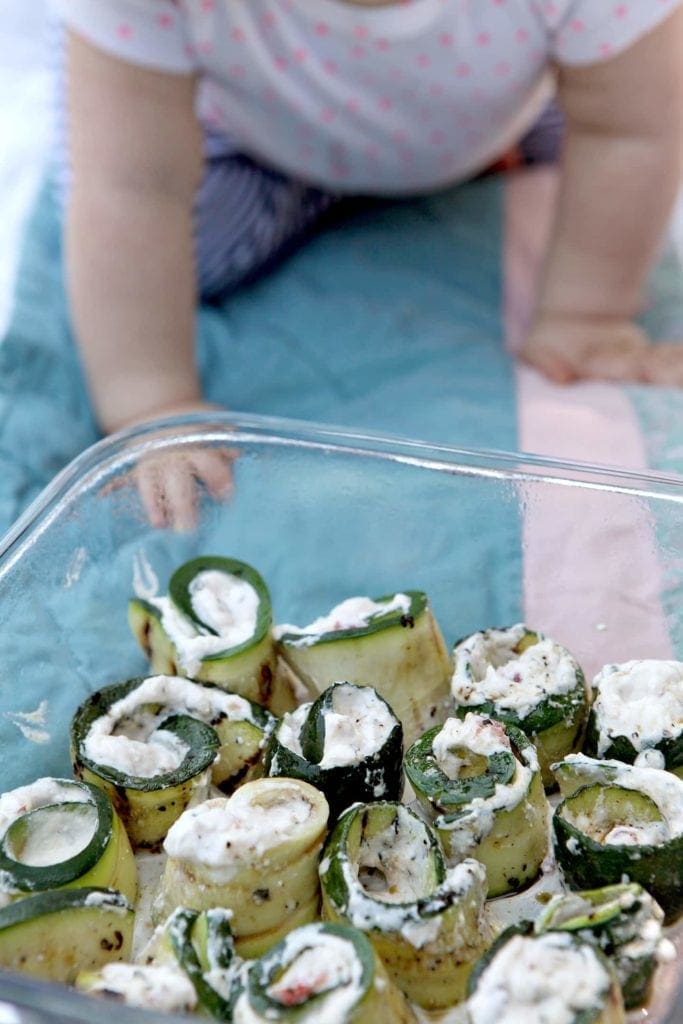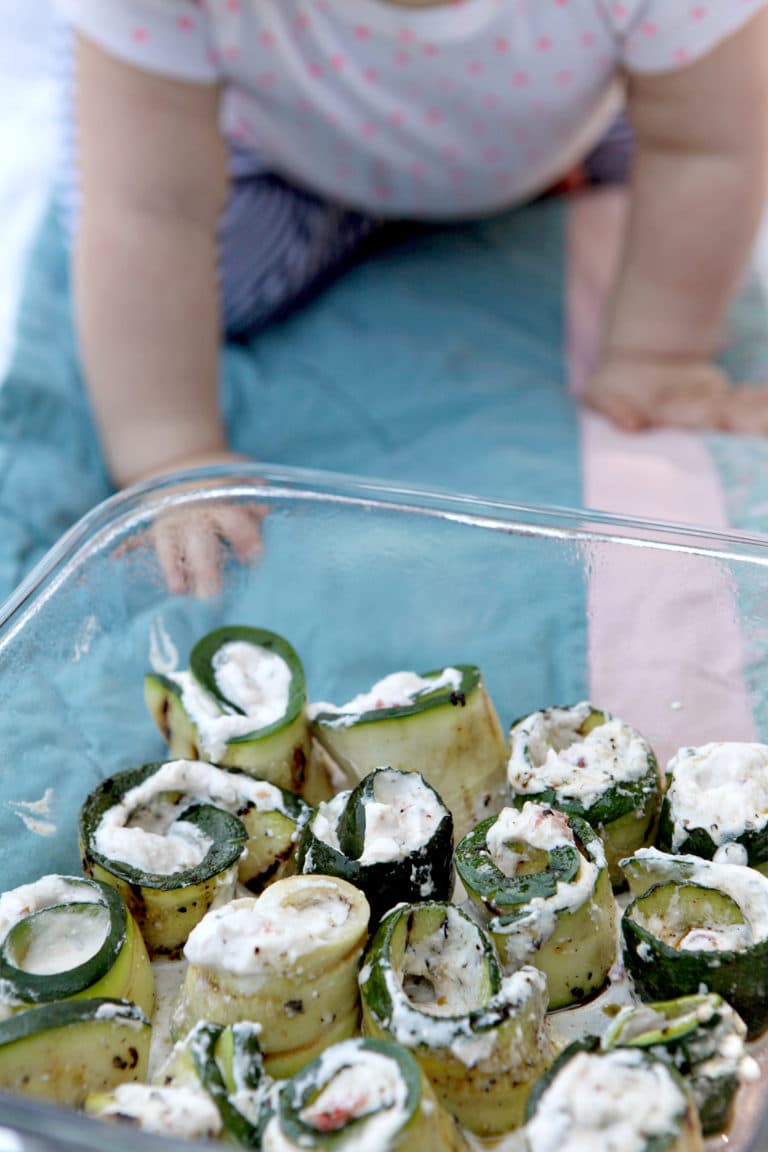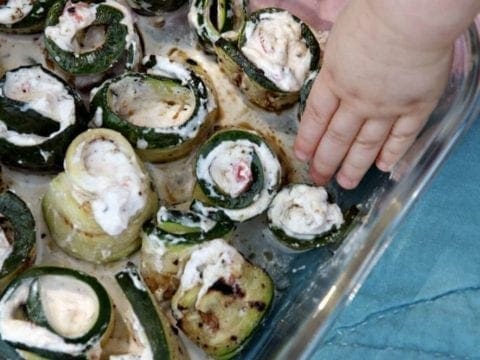 Yield:

4 servings
Grilled Zucchini Rollatini
Grilled Zucchini Rollatini are the perfect finger food for a picnic or outdoor soiree! Zucchini is sliced thin and grilled after being brushed with olive oil and seasoned with salt and pepper. Once grilled, the zucchini is chilled. Brush on basil-seasoned ricotta cheese with tomatoes, then roll the zucchini up into bite-sized pieces. Chill until it's time to eat, then enjoy. These Grilled Zucchini Rollatini make for a scrumptious summertime vegetarian appetizer or entree!
Ingredients
3 medium zucchini
2 tablespoons extra virgin olive oil
Salt and pepper, for seasoning
Ricotta Filling
½ cup ricotta cheese
¼ cup tomatoes, chopped
¾ teaspoon dried basil or 1 ½ teaspoons fresh basil, chopped
½ teaspoon black pepper
½ teaspoon kosher salt
Instructions
Prepare and cook the zucchini
Using a mandoline or a very sharp knife, cut the zucchini into 1/4" slices. Brush with olive oil and season lightly with salt and pepper on both sides, then set aside.
Heat up the grill (or a grill pan) over medium-high heat.
Place the seasoned zucchini onto the grates, cooking until grill marks appear on the zucchini. Flip, then cook the other side.
The zucchini is done whenever it is soft (but not falling apart.) Remove from the grill, place on a plate, and let come to room temperature.
Make the ricotta filling
While the zucchini cools, mix up the ricotta filling.
In a small bowl, combine the ricotta, chopped tomatoes, basil, salt and pepper.
Stir until well-combined, then set aside.
Prepare the rollatini
When the zucchini has cooled down, lie them out in a row on a flat surface.
Dollop a little of the ricotta mixture on one end of the zucchini. Using a butter knife, smear the ricotta down the zucchini.
Once the ricotta is in place, roll the zucchini into a little roll.
Continue until all the zucchini has been prepared.
Keep chilled until it's time to eat, then serve!
What is your favorite way to prepare zucchini?