How to Host Friendsgiving
Excited to invite friends to celebrate Friendsgiving this fall? This guide for How to Host a Friendsgiving offers eight tips and tricks to hosting this celebration with ease.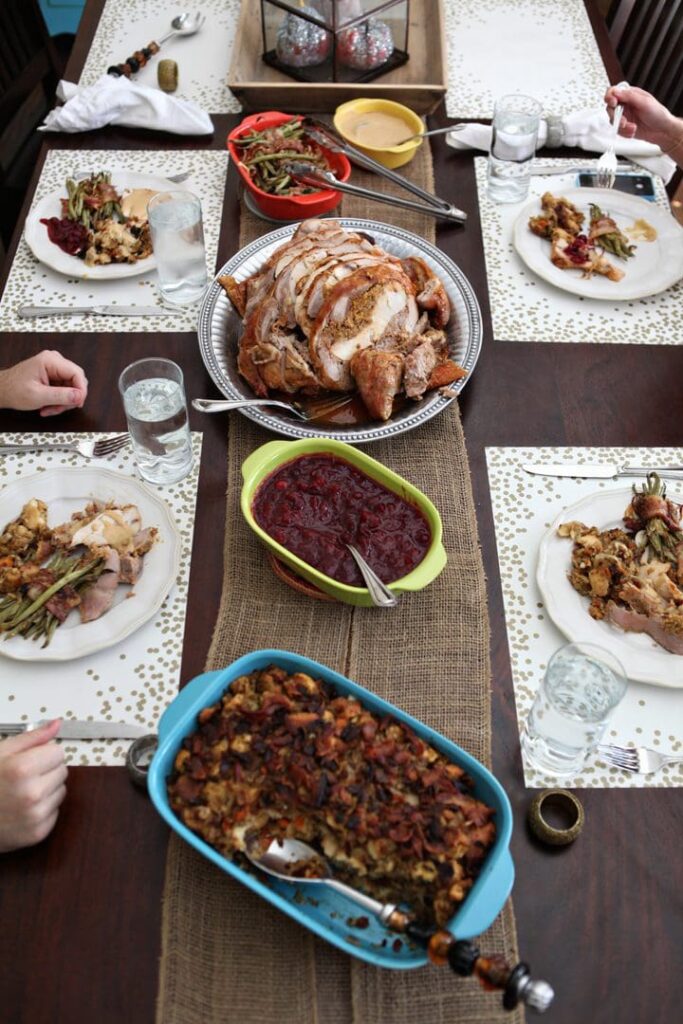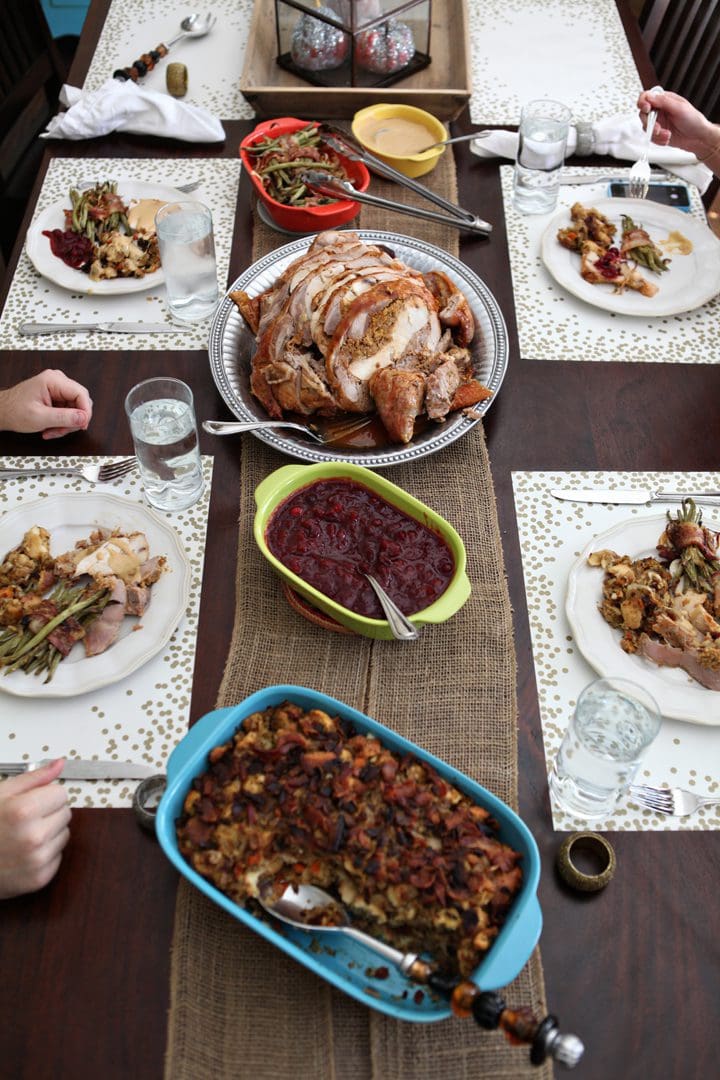 This post was originally published in November 2014. It was rewritten and republished in November 2021.
'Tis the season for gathering with our friends and making a special meal we call Friendsgiving!
love Friendsgiving because it does what I love best about entertaining—it brings together friends over an awesome meal.
As someone who has never shared holidays with her friends before adulthood, there's something fun about having one for yourselves before everyone disperses and celebrates with their families.
And the best part about hosting a Friendsgiving party is that everyone gets to participate in the meal and enjoy different dishes from their friends' lives.
So today, we're going to talk about hosting a Friendsgiving, what you need to do to make it happen and then how you execute it so that it can be the best Friendsgiving ever!
1. Choose your Friendsgiving date and put together your guest list.
Friendsgiving is about—shocker—friends! The first thing you need to do in order to host a Friendsgiving is to choose your date and then invite friends.
Obviously, you need to do what works best for you here, so…
Choose your date. I suggest picking a day where you and your guests have plenty of time to cook.
Some thoughts on when to host Friensdgiving:
Any weekend in November.
The weekend after Thanksgiving! You might be Thanksgiving-ed out at this point, but if you have a hard time connecting earlier in the month, this might be a great option.
At work. Since Friendsgiving is technically a Thanksgiving potluck situation, it would be fun to have a work Friendsgiving gathering! For that, you will need to plan ahead since everyone will need to bring their dish to a central location.
Invite friends. You can send out an evite with the details or a printed out design… you do you!
Friendsgiving Invitation Ideas
The Speckled Palate participates in affiliate programs. As an Amazon Associate, I earn a commission from qualifying purchases. Please refer to my disclosure page for more information about these affiliate programs.
You can invite your friends however you like to your event. If you want to send an invite, great. If you'd rather invite via text or a simple email, have at it! The key here is making it easy on yourself.
If you're looking for something to make your Friendsgiving to feel a little more special, here are a few ideas of how to step up your invite game.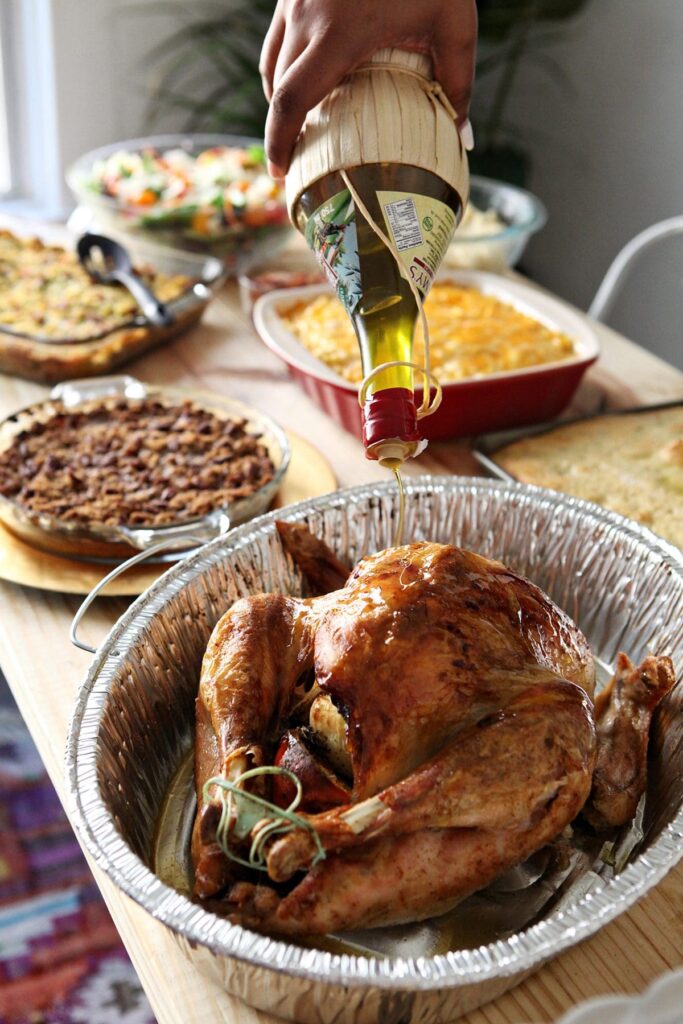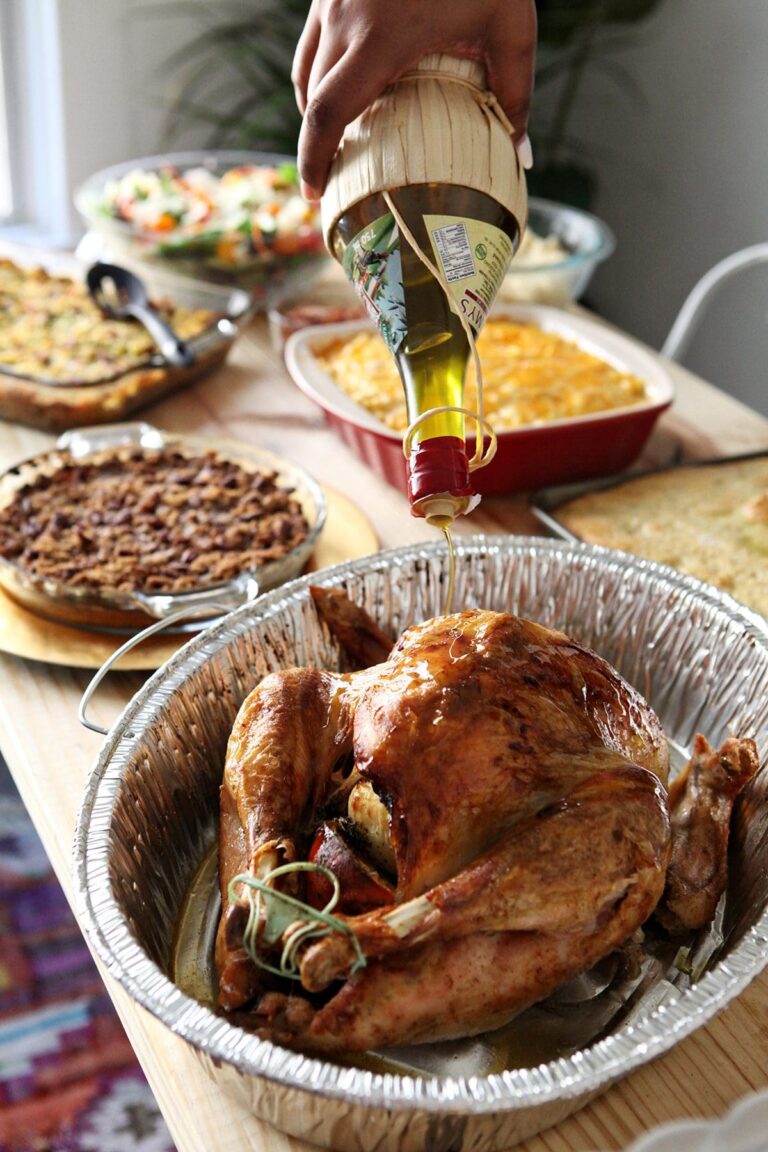 2. Plan a menu.
Once invitations have gone out, it's time to plan the menu.
While you're not the only person who is going to be cooking for Friendsgiving, you're the one who is planning this… which means you're coordinating.
Here's what you should do:
Write out a list of ideal dishes.
Decide what you're going to cook.
Assign other dishes to guests or have guests run their dishes by you. I realize this might sound a little controlling, but it's best to do this so you don't have three Green Bean Casseroles at your Friendsgiving and no classic mashed potatoes.
Obviously, you need to take into account the number of guests that you're hosting to ensure there is enough food. And since every guest is going to be bringing a food or drink item, you can ensure you're going to have enough.
Friendsgiving Food Ideas and How Much Food to Serve
I've written out a whole post that includes Friendsgiving food inspiration, including items like turkey (and turkey breast), brussels sprouts, butternut squash, mac and cheese, cranberry sauce, mashed potato casserole, apple pie, pumpkin pie and more. I also share how much food to serve in this post, too.
Also, while you're thinking of your menu, consider what tools you'll need to make the dishes.
Obviously, you don't want to go into debt while hosting, so plan your menu around tools you already have. So if you don't have a roasting pan* (affiliate link), plan to borrow one from a friend, ask someone else to make the turkey or order a pre-cooked one from a grocery store or a local restaurant.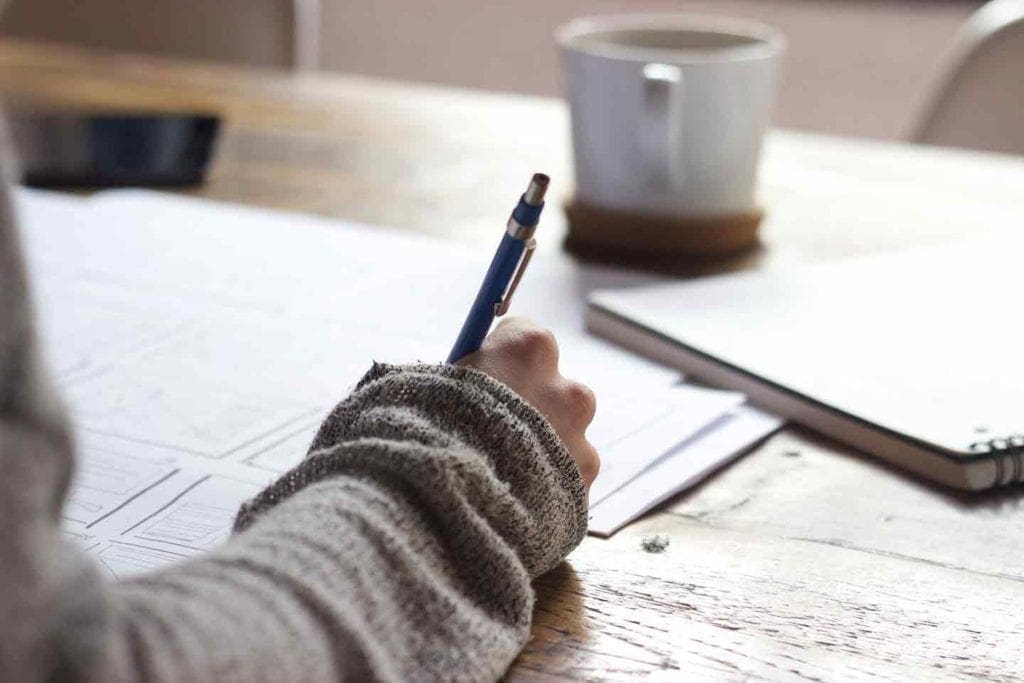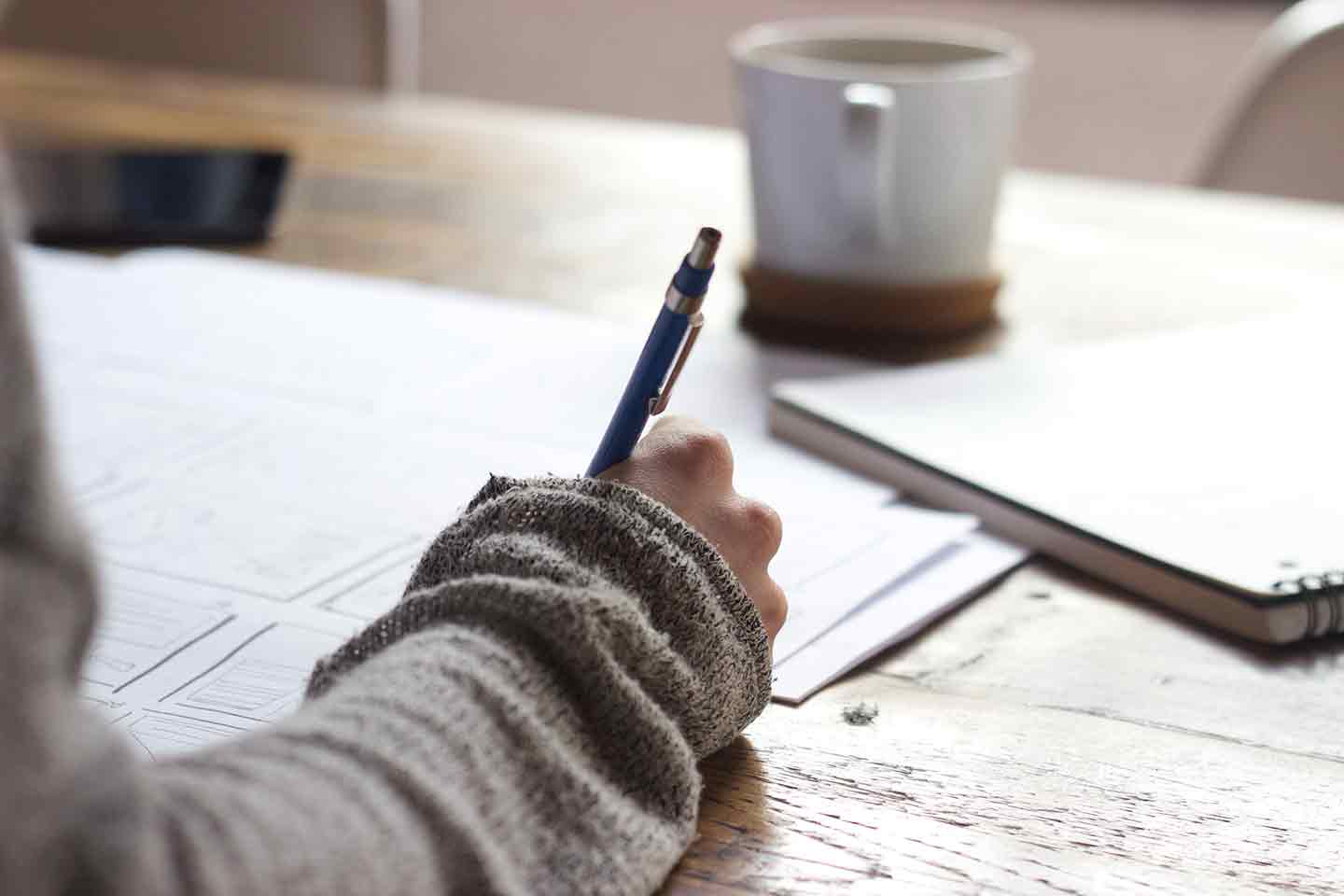 3. Once your menu is planned, nail down your cooking timeline.
Every event I host, I write a timeline for the cooking so I know when I need to start cooking and can ensure that my dishes are ready at the time I want to serve them.
How do I do this?
First and foremost, print out any recipes. Open up the cookbook(s) you are using, too.
Take out a pen and a sheet of paper. Alternately, you could do this digitally.
Write down how long every recipe takes to cook, INCLUDING times for brining, chilling, etc.
Make notes of anything that needs to be made the day of vs. dishes (or parts of dishes) that can be made in advance.
Decide on your food serving time (which should be about 45 minutes to an hour after guests arrive) and work backwards to know when everything needs to start cooking.
Build in wiggle room. I like to leave 30-45 minutes of this for myself before serving, so I start a little earlier just in case something takes longer.
Once you know your start time, write out a detailed list of what goes into the oven (or on the stovetop/slow cooker/etc.) and when so you can stay on top of it on Friendsgiving day.
Keep this list on your refrigerator or somewhere in your kitchen that is very obvious so you can check it as you prepare.
Build in time for you to get ready, too! And add it to your cooking timeline so you're showered, fresh and happy when guests arrive.

How can you squeeze in this time? Look and see if you've got any swath of time when food is cooking and doesn't need babysitting. For example, I like to shower once the food is prepped and in the oven, assuming it doesn't need constant watching. If you're roasting a whole turkey, there is more than enough time to shower, do your hair, makeup, etc.
4. Know what you're going to serve your dishes on/in.
The Speckled Palate participates in affiliate programs. As an Amazon Associate, I earn a commission from qualifying purchases. Please refer to my disclosure page for more information about these affiliate programs.
Once your menu is planned, decide what you're going to serve your dishes in. I like to get out my dishes and label them with a sticky note to say what is going in them so I don't forget or have the panicky moment when something comes out of the oven. (Yes, those happen.)
Heck, you can label and put them back in the cabinets until the day of.
Here are some of my favorite dishes to use while entertaining:
Large Bowl in any color of your choosing
Pottery serving bowls
That said, feel free to use whatever you have on hand and get creative! Your dishes don't have to all be the same shape or pattern. Mix and match patterns to add some color and fun.
Also, remind your guests bring their own serving platters for their dishes—and remember to tell them to bring tongs and servingware, too! This comes in handy if you don't have a ton of serving items at your house.
You can learn about My Favorite Easy Entertaining Tools and Products, too!
5. Grocery shop.
Depending on when you're hosting Friendsgiving, you can do this up to a week in advance. You can also place a grocery order for pickup or even delivery, too, if that makes life easier.
In fact, you'll want to shop in advance, especially if you're roasting a turkey, because they normally come frozen, and you need to give your turkey time to defrost in your fridge. (More on defrosting a turkey from the USDA.)
Get everything you could possibly need when you're at the store, too.
This means grabbing paper plates, cups and cutlery if you don't want to use your actual plates, cups and silverware at the event. (Which, let's be real, makes cleanup a lot easier. Also, if you're hosting more than 4/6/8/10 guests, do you really have enough plates for everyone? Probably not.)
We are big fans of these compostable HarvestPack plates, Repurpose clear cups and GreenWorks biodegradable cutlery* affiliate links for parties, but you can use plastic or melamine reusable plates, cups and cutlery, too.
Need beer, wine or spirits? Add that store to your list (if your state requires you to go to a specialty store), and purchase what you need in advance so you don't have to run out the day-of. Alternately, you can assign 1-2 friends this job and let them have fun with it!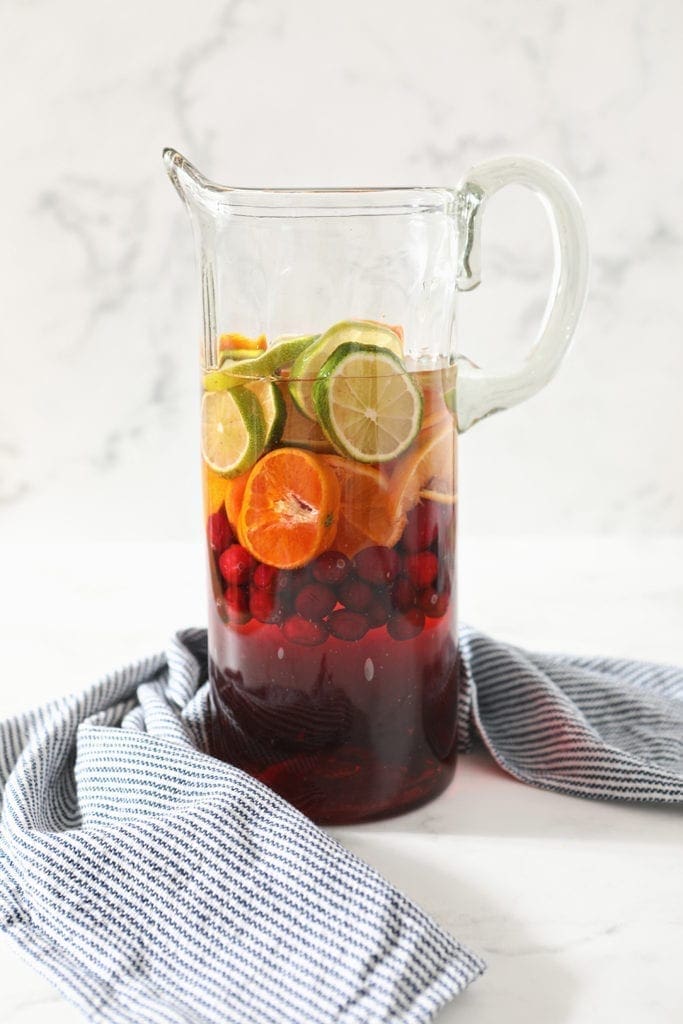 6. Make anything you can in advance.
This step obviously depends on your menu and what you're cooking. It also depends on what you can prep in advance, but not cook.
Whenever I host a holiday gathering like Friendsgiving, I like to include as many dishes as possible that can be made in advance—partially or all the way—because it makes my life a lot easier and less stressful.
Obviously, this doesn't work for every recipe, but getting out ahead of the cooking is a great way to be less stressed when entertaining.
Here are some examples of things you can prepare ahead of time:
Chop fruits and veggies the day before. Obviously, some fruits and veggies will keep better than others, so use your discretion. For example, chopping an apple or a banana one day in advance is a bad idea. Strawberries are OK if you want them to have tons of juices, but otherwise, hold off.
Purchase pre-chopped veggies at the store, like onions or even a bag of salad greens. Do what you need to do to make it easy on yourself!
Mix the salad dressing in a mason jar. Set it aside until guests have arrived to pour on top of the salad. Alternately, just get a jar of your favorite salad dressing at the store and don't fret about this.
Make a casserole. Wrap in plastic and store in the fridge before baking the day-of.
Make a drink (like a Citrus Cranberry Sangria) the day before. Let it hang out in the fridge!
Bake your dessert one to two days before your event. Many desserts can be kept on the countertop. Just be sure to wrap it in plastic wrap once it's cooled completely!
Obviously, these are all dependent on your menu, but think it through and see what can be done.
Really sit with your menu and decide it intentionally so that you can give yourself as much wiggle room as possible.
7. Decorate (if you want to.)
I am of the mindset that we do not need our homes decorated to the hilt with decorations that we will set out for just a few days a year.
Let it be known: You don't have to decorate your whole house for Friendsgiving. You can make this gathering as fancy (or non-fancy) as you'd like. So if you run out of time, no one is going to judge you on your lack of flower arrangements or cutesy pumpkin decor.
That said, you can definitely consider adding the following decorations quite easily:
Pumpkins and fresh gourds are your friends! I like to grab a bag or two at the store and use them as the centerpiece on my table. Toss them into a bowl or set them on a wooden serving board. They're easy and seasonal… they also last a long time.
Another centerpiece idea: Fresh cut greenery from your yard (or your neighbor's) in a vase.
Festive paper (or fabric) napkins that match your gathering can add a pop of color to the tablescape! Chances are, you've probably got 'em at home already.
Make a bar! Turn a buffet table or another unused table in the dining room into a bar and offer up different mixers for friends and family to make their own cocktails! Or set out the ingredients for one specific drink, print out the recipe and let everyone mix up their own. Learn how to stock your bar for $100 or less.
Add a pitcher or two of water or tea to the table. Add mint leaves, lemon slices and more things (like other citrus or even fresh herbs, like rosemary) to both water and tea, so have fun with it! This will add both height and color, as well as allow your guests to stay hydrated.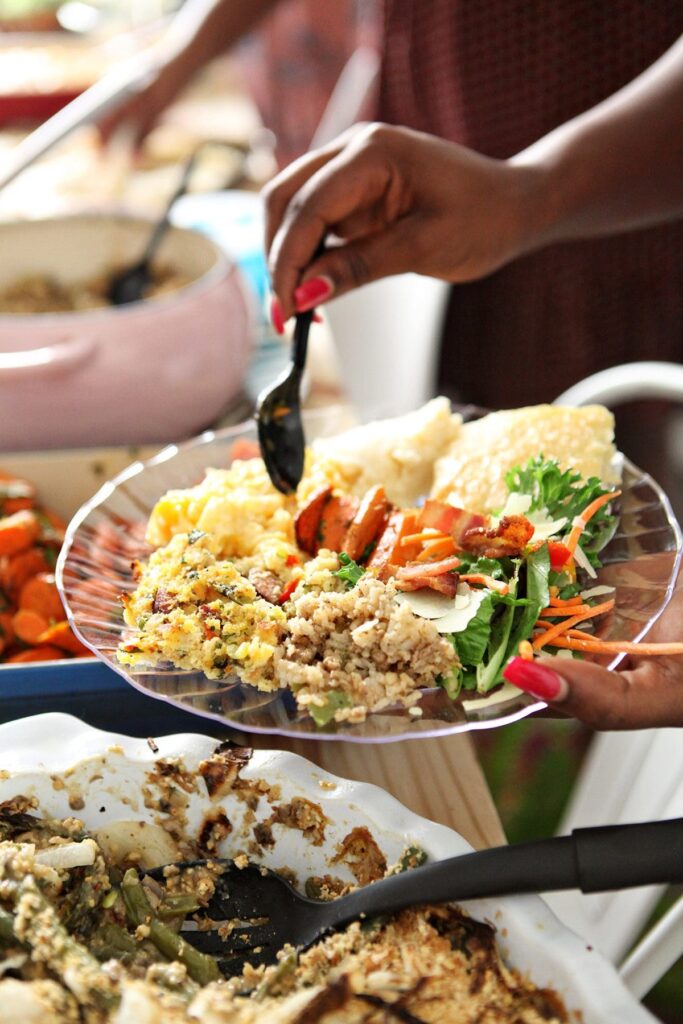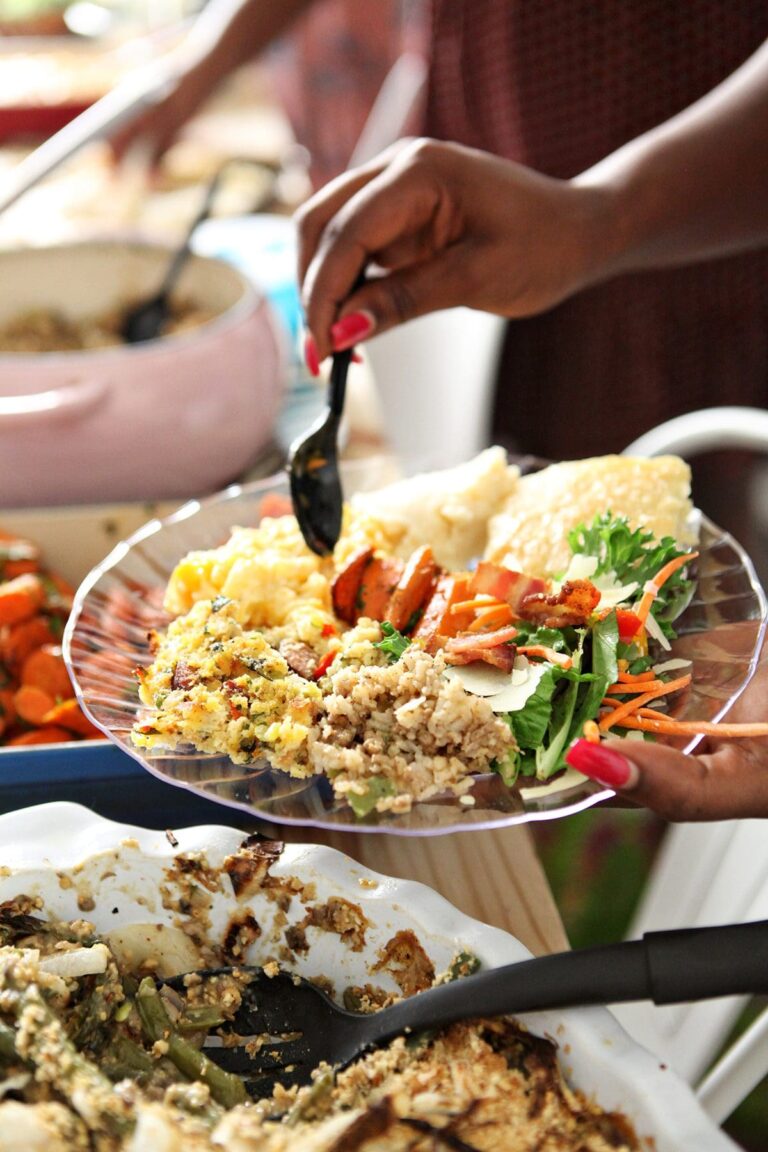 8. Take a deep breath, keep your cool and have fun!
The morning of your Friendsgiving, take a deep breath. The reason you're doing this is because it'll be fun.
Here's how I like to fashion the start of any entertaining day:
Drink a cup of coffee and collect my thoughts.
Choose what I'm wearing, if I haven't already. (Honestly, this is great to decide days or even weeks in advance.)
Go over my cooking timeline. Make note of when I'm going to get ready.
Empty my dishwasher. This way, I won't have dishes in the sink when guests arrive.
Get started with m first task.
Hosting and entertaining can be stressful. Things can (and probably will) go awry. But you can control how you respond to things.
Some ways to combat the stress when things aren't going as planned:
Deep breaths. My older daughter's teacher taught her all kinds of breathing exercises, and I like to use these to this day.
Enlist help. There is nothing wrong in asking for assistance!
Serve appetizers early. (This list of The Best Thanksgiving Appetizers has a lot of fabulous ideas for you!)
Let guests mingle for a little longer than planned.
You can do this. Promise.
Don't let entertaining keep you from interacting with your guests. Whenever we host, we've found everyone tends to gather in the kitchen as we finish whatever we are serving, and it's a lot of fun to chat as you finish cooking.
When you're hosting Friendsgiving, this line of thinking applies, too. Also, your friends might be in the kitchen with you finishing up their dishes, too. And if your guests offer a hand, let them help.
Make this fun for everyone—and everyone includes YOU. Your friends are celebrating with you because they like you, so spend time with them!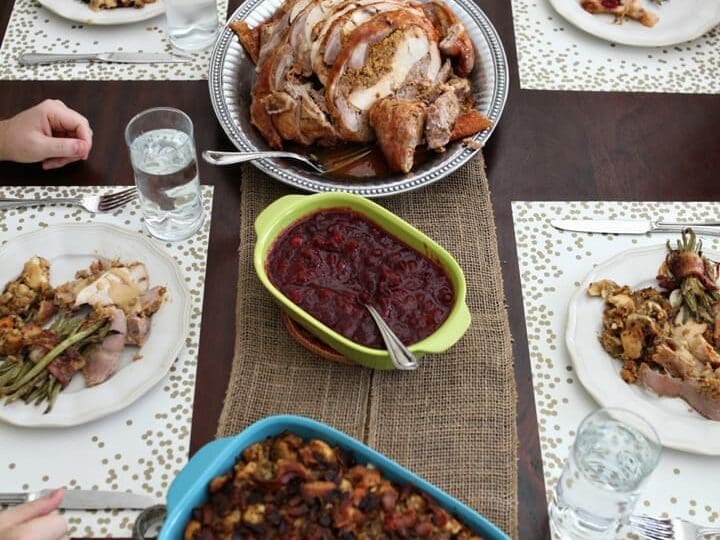 Yield:

1 Friendsgiving Gathering
How to Host Friendsgiving
Excited to invite friends to celebrate Friendsgiving this fall? This guide for How to Host a Friendsgiving offers tips and tricks to hosting this celebration with ease.
Materials
Various food items, depending on your menu
Wine or cocktail ingredients
Various Friendsgiving decor, if desired
Tools
Serving platters
Serving utensils, like spoons, forks and tongs
Dinner plates
Salad plates
Water glasses
Wine (or drink) glasses
Pitcher
Silverware
Instructions
Choose a date for Friendsgiving. (Consider choosing a day when you have plenty of time to prepare and cook, if you're planning on cooking for your gathering.)
Put together a guest list.
Invite friends. You can create your own invitation in a free program like Canva or create a virtual invitation through Evite. You could also design and print out an invitation to send in the mail.
Plan your Friendsgiving menu. Oftentimes, friends are invited to bring their own dishes to Friendsgiving. You can assign a dish to your friends or have a virtual signup so that you know what's going to be brought and confirm there are no duplicate recipes.
Once your menu is planned, create your cooking timeline. Take the recipe that's going to take the longest time and build your timeline around that.
Grocery shop. Preferably do this a few days before your event, but up to a week in advance if you're making a whole turkey because those take a few days to defrost in the refrigerator.
Decide upon serving pieces before you cook. I will label mine with a sticky note and pop them back into the cabinets so I know what I'm using well before I'm cooking and then searching for something to place my final dish in.
Prep as much as you can in advance. If you want to take the stress off yourself the day-of your Friendsgiving event, chop veggies and fruits in advance. Also consider making anything that can be made-ahead and stored in the fridge, like most casseroles or homemade cranberry sauce recipes.
The day of, have your cooking timeline printed out and a plan. Also, keep your cool. It can be stressful cooking for your people, but at the end of the day, this is about spending time together, not the perfect meal.
Interact with your guests and have fun!
Notes
Please note that the time and cost will vary depending on menu decisions, as well as the decisions you make into Friendsgiving invites, decor and other items.