Slightly tart and sweet with a hint of cinnamon, this Citrus Cranberry Sangria is perfect for the holidays! Whether you're making a batch for Thanksgiving, Christmas, holiday parties or anything in between, this winter sangria is wonderful for sharing. Makes 6 servings.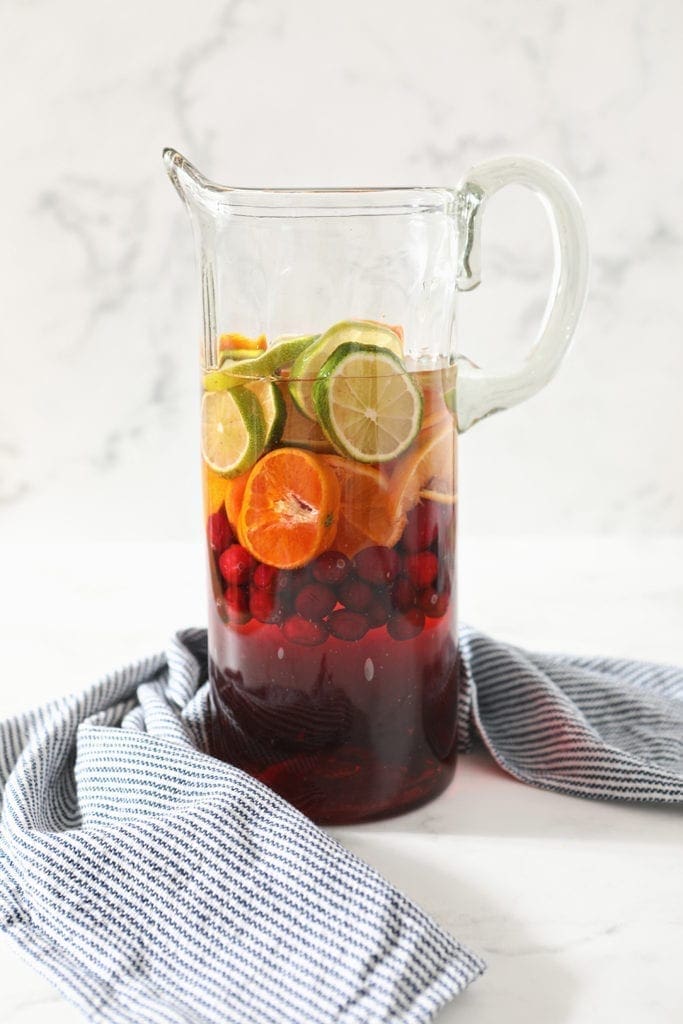 My philosophy on entertaining is this: we should do it often, and we should make it easy on ourselves.
Which explains why I volunteered to host Friendsgiving for my moms club.
I'm all about seeing my friends — especially when we have the opportunity to gather when our little ones are in bed — and was happy to open up my home.
Last year, I attended with a 6-week-old baby, and I was excited to continue the tradition.
So nine of my mama friends came over, and we had an amazing time.
I ended up making this sangria on a whim, thinking it would be nice to have on my site for the holidays. After seeing the other mamas' response, I figured that posting this Citrus Cranberry Sangria before Thanksgiving would be good.
You know, in case you'd like to make it for your people this holiday.
More recipes that are great for sharing this time of year: Apple Chutney Bruschetta | Caprese Skewers | Grilled Steak Flatbread Pizza | Vegetarian Taco Cups | Baked Brie in Puff Pastry with Cranberry Chutney
Want to entertain, but don't know where to begin? Check out my Entertaining recipe index for inspiration!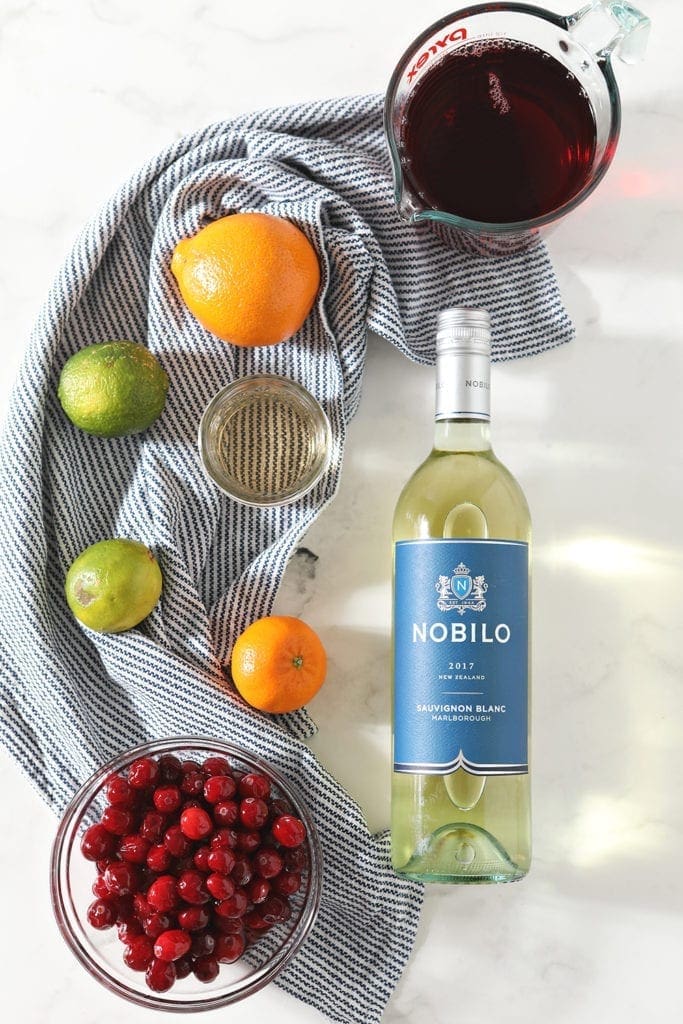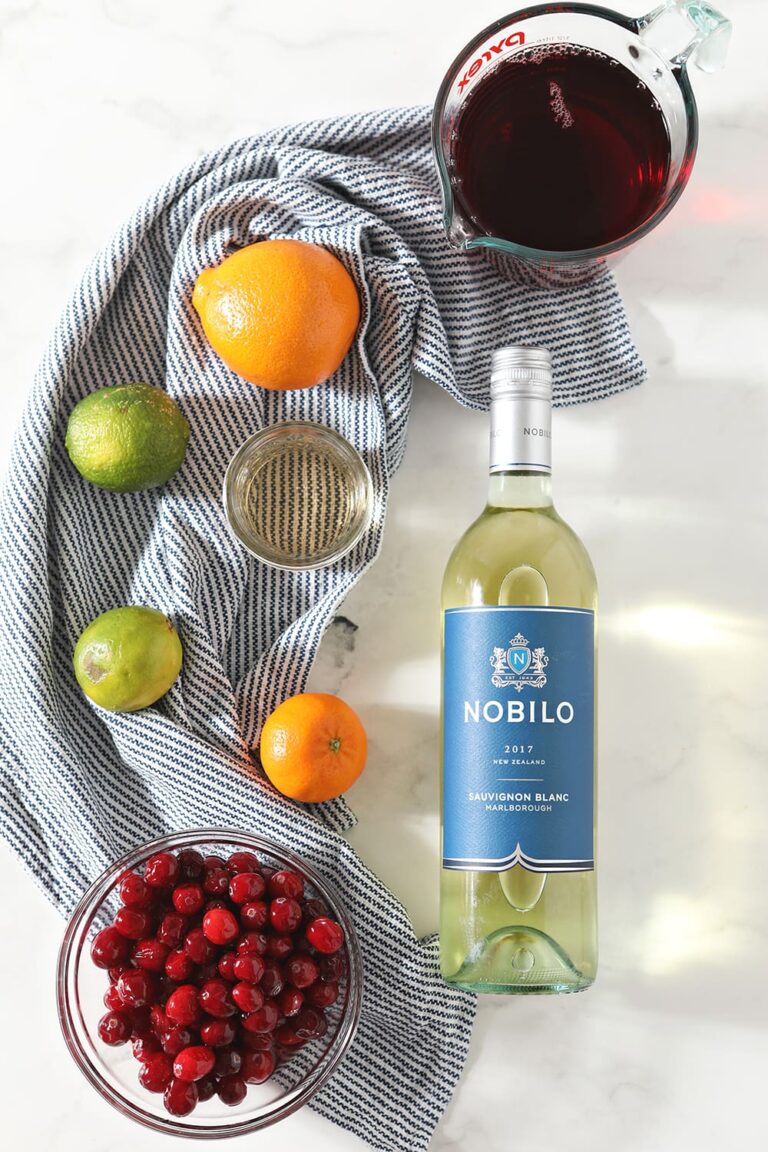 What you'll need to make this recipe:
The Speckled Palate participates in affiliate programs. As an Amazon Associate, I earn a commission from qualifying purchases. Please refer to my disclosure page for more information about these affiliate programs.
Saucepan to make the Cinnamon Simple Syrup in
Let's talk ingredients!
In addition to the tools above, you're going to need some ingredients to make this recipe, too! Chances are, you might already have some of them in your fridge or pantry. Scroll down to the recipe card for the full measurements and instructions.
Here's what you need:
Cranberries — you may use fresh or frozen. This is mostly for garnish IN the sangria. I do not recommend using dried cranberries.
Oranges — you'll slice these thinly and they go into the pitcher as a garnish, but also provide some awesome orange flavor undertones to the sangria.
Limes — like the oranges, these are sliced thin. They serve as a garnish, as well as give tartness to the sangria.
Unsweetened cranberry juice — this is where we get our cranberry flavors. I really like using unsweetened juice because it's bolder and stronger than cranberry cocktail.
Cinnamon simple syrup — this will give us some cinnamony sweetness. It's easy to make at home!
Sauvignon blanc — or another crisp, dry white wine like a pinot grigio. Do not use a sweet white wine, like a Riesling, or an oaky chardonnay.
Many cranberry sangrias call for dry red wine, but I really like the lightness that white wine brings to this drink.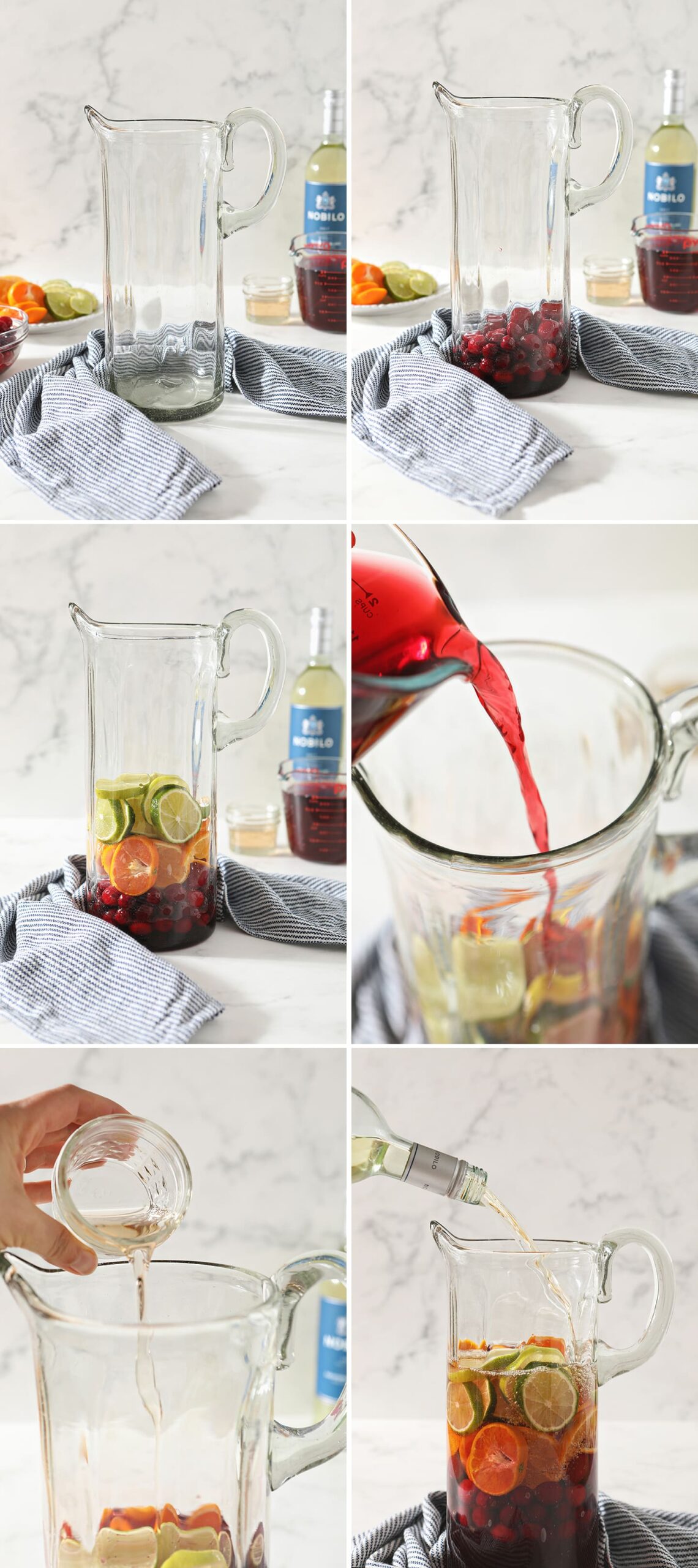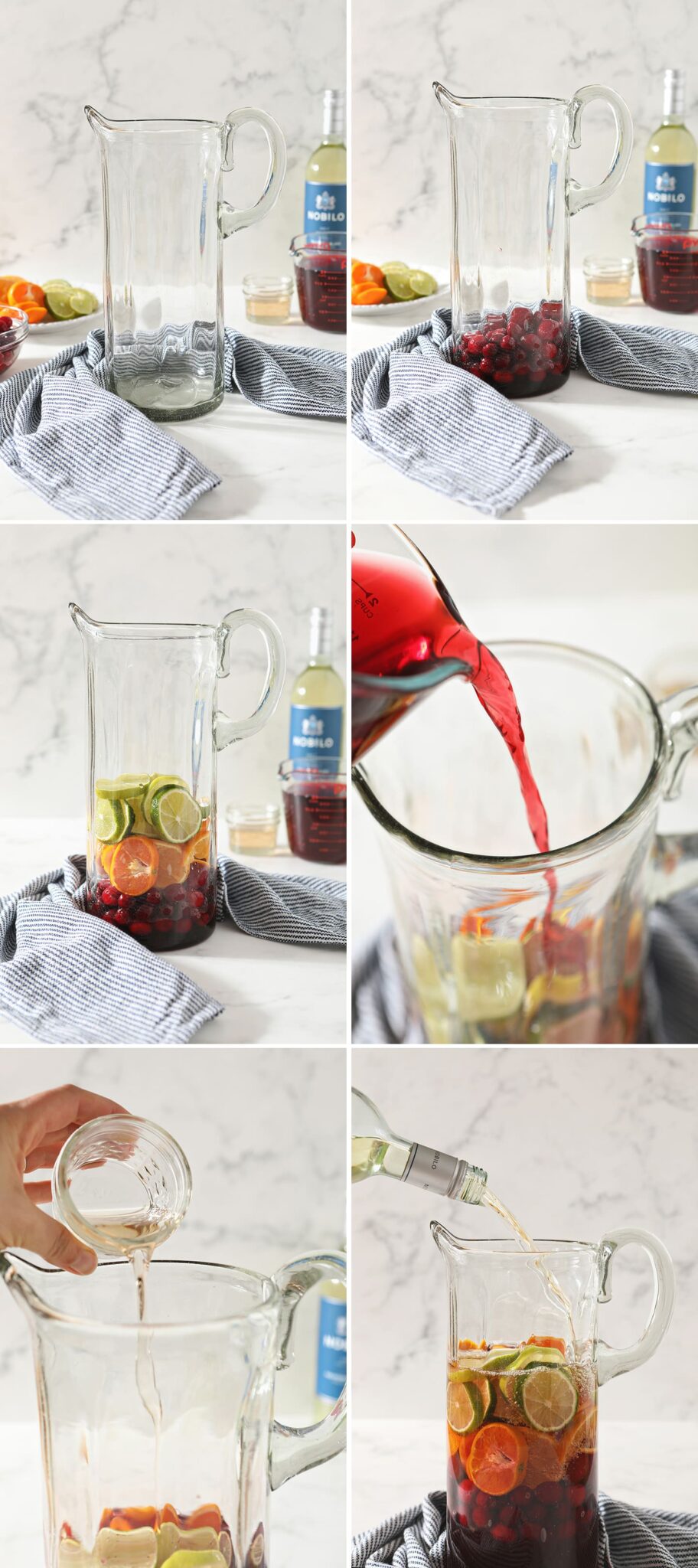 How to make Citrus Cranberry Sangria for the holidays
Make the Cinnamon Simple Syrup
In a small saucepan over medium-high heat, add equal measurements of water and granulated sugar. (For me, I like to go 1 cup of each, but you do you!)
Bring the ingredients to a gentle simmer, and turn off the heat once the sugar has completely dissolved in the water.
Add a stick of cinnamon, and let it steep for 30 minutes to 3 hours.
Pro tip!
The longer you let the cinnamon hang out in the simple syrup, the more intense the flavor it will have. Personally, I enjoy cinnamon, so I leave mine in for as long as possible. But if it's not your jam, infuse for less time.
Once the infusion has finished, remove the cinnamon stick from the simple syrup. Pour the syrup into a glass jar, and transfer to the fridge, where it will keep for a few weeks, or until it's time to make your holiday sangria.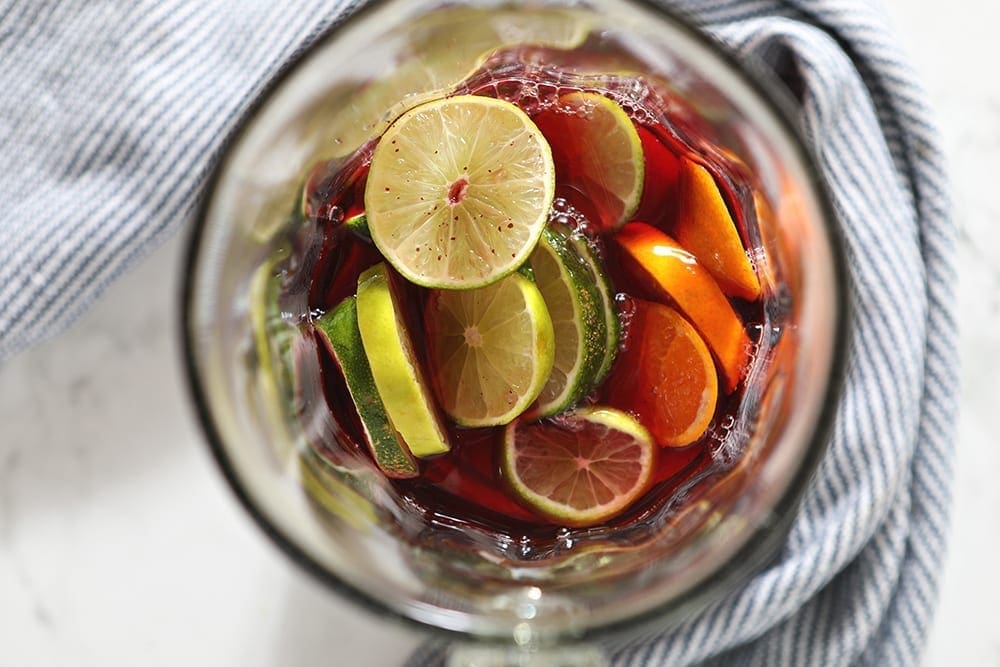 Make and Infuse the Sangria
Slice the limes and oranges using a sharp knife.
In a large pitcher, measure out the cranberries, lime and orange slices.
Next, pour in the cranberry juice and simple syrup.
After that, pour in the bottle of wine, and stir it well so everything is mixed together.
Refrigerate for 8-12 hours (or overnight) to let the flavors meld, and then enjoy!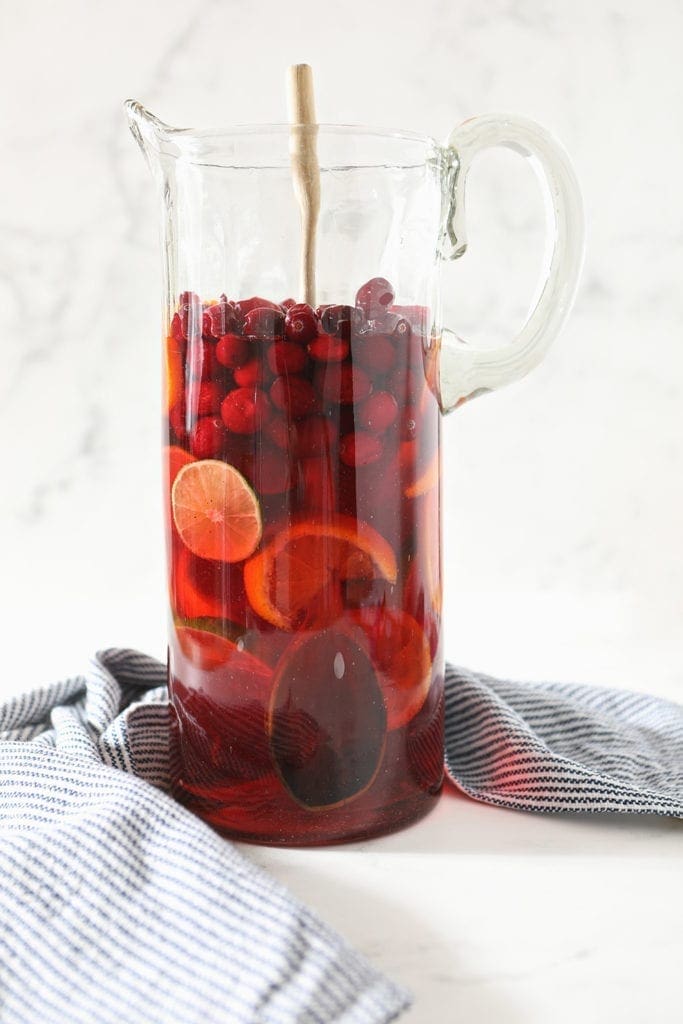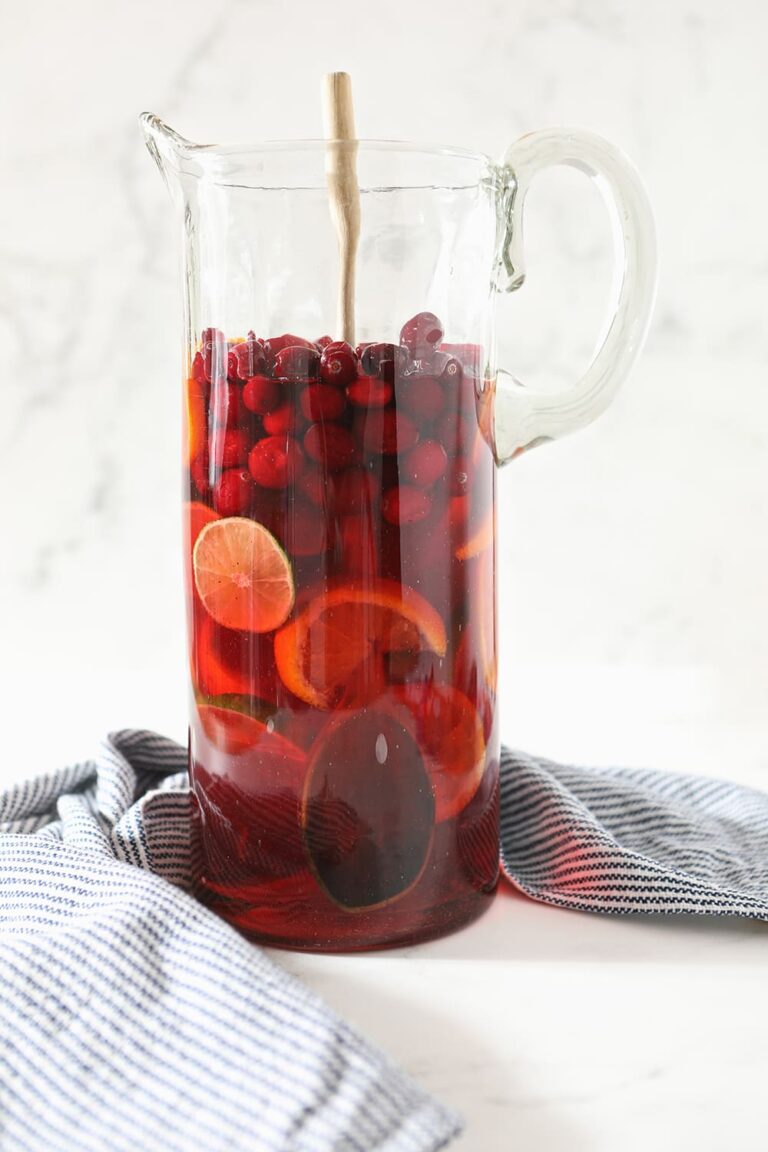 Erin's Easy Entertaining Tips and Tricks
The best thing about any sangria — whether it's the holiday season or not — is that you have to make it in advance for it to have the most flavor.
The worst thing about any sangria is that you have to plan ahead to make it in advance. 😉
Here are some things you can do to make it as easy as possible on you:
Double the recipe! If you're hosting more than 6 people, I highly suggest making a double batch of this sangria. You won't be able to fit it into one pitcher (unless you have a huge pitcher), so make two and store in the fridge.
Make the cinnamon simple syrup early. Since it keeps for a few weeks, you could make and steep the simple syrup any given day that you have the time before your get-together.
Serve 'em with the fruit! One of my friends ate the fruit out of her glass as we were all hanging out during Friendsgiving. Offer guests a spoon to scoop fruit out for themselves into their glass, if they so choose.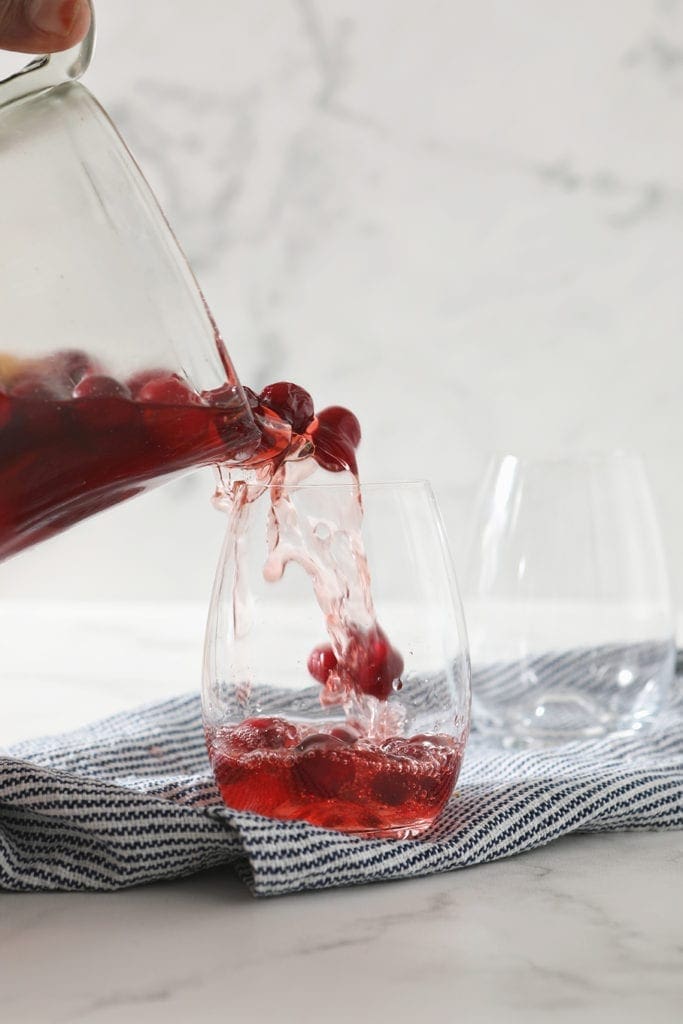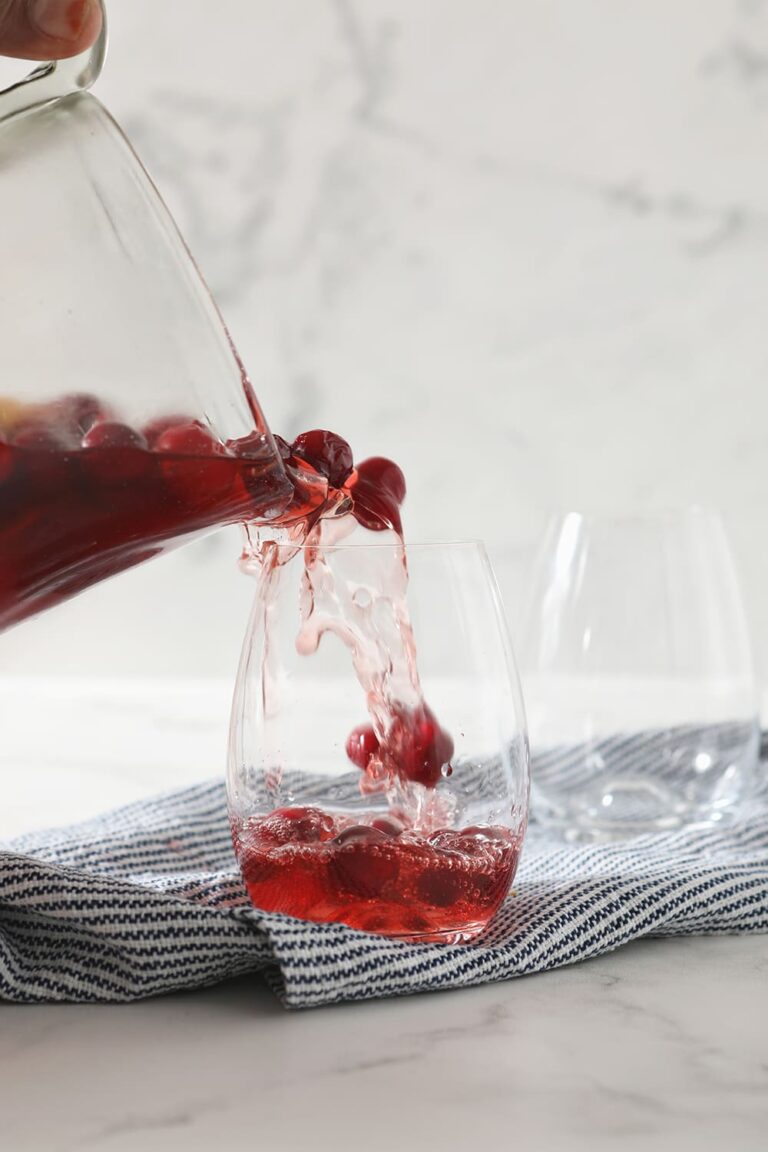 Frequently Asked Questions
What kind of wine should I use in this holiday sangria?
Personally, I like a dry and crisp white wine to add to this Cranberry Sangria, so I enjoy a sauvignon blanc.

If you're looking for something that's not sauvignon blanc, I recommend a pinot grigio.

I do not recommend Riesling (because it's incredibly sweet) or chardonnay (because it has oaky flavors, which are delicious on their own, but don't jive with the flavors here.)
How long do I have to refrigerate my sangria before it can be enjoyed?
While this sangria could be enjoyed right away, the fruit won't have time to infuse the liquid.

Because of this, I recommend letting your sangria hang out in the fridge for at least 6 hours before serving. That said, you can refrigerate it overnight, too, if that's better for you.
Can I use frozen cranberries instead of fresh?
Yes, you can use frozen cranberries if you can't find the fresh variety, but I do not recommend using dried (and sweetened) cranberries.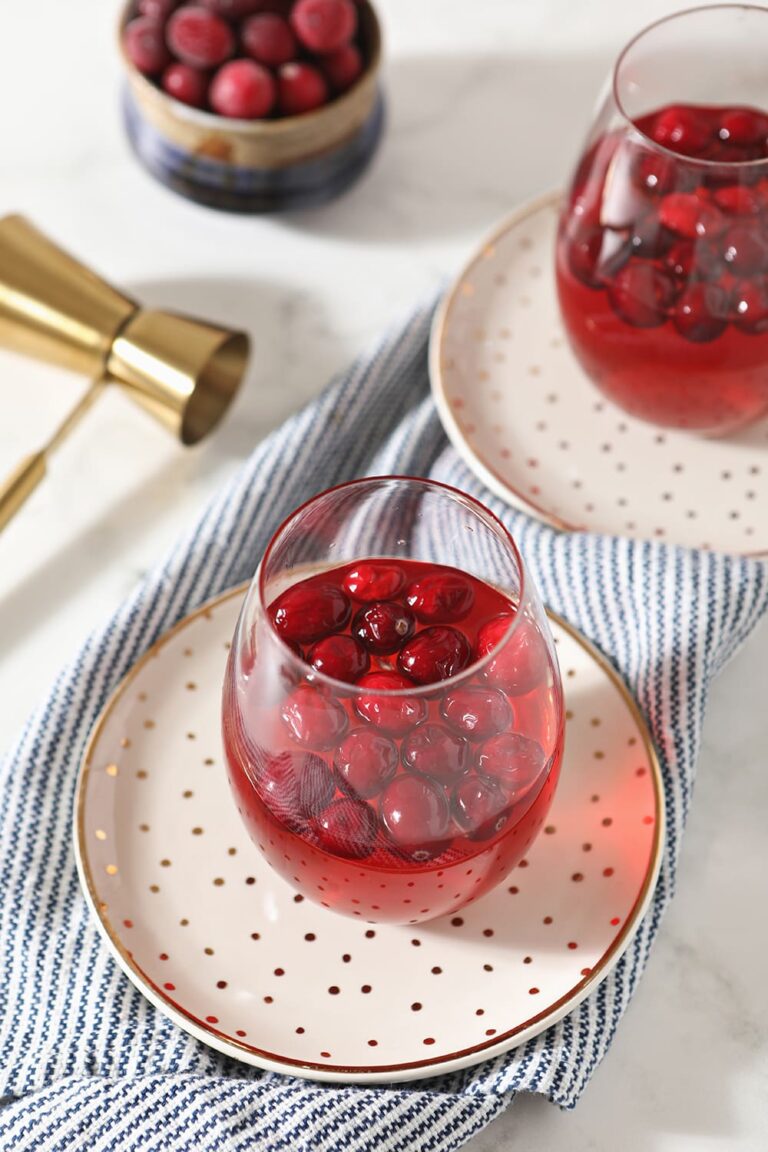 Quick tips for making the best Cranberry Sangria recipe
Give it time to infuse! While you can drink the sangria immediately after it's mixed, the flavors are more pronounced and delicious after they've melded together. Build in time for this!
Store your sangria in the fridge for up to a day! I recommend placing a sheet of plastic wrap over the top of the pitcher, though, so it doesn't soak up any random scents from the fridge.
Substitution alert: Use lemons instead of limes if those are more your speed. The overall flavors of this recipe will still shine, but the tart citrus element will be a little different.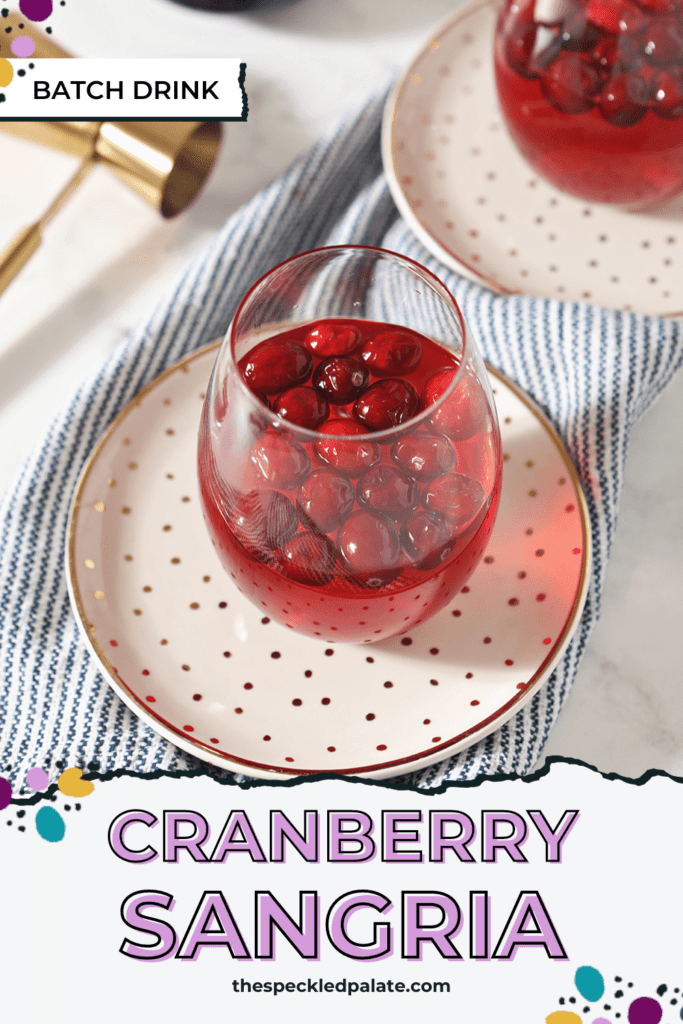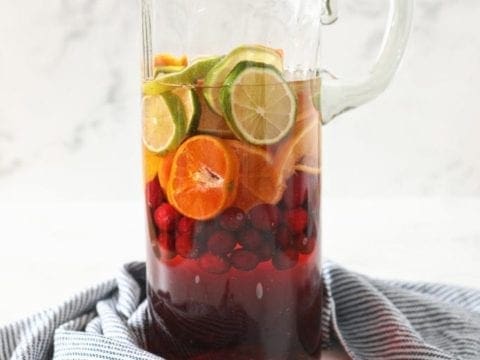 Yield:

6 servings
Citrus Cranberry Sangria
Total Time:
8 hours
10 minutes
Slightly tart and sweet with a hint of cinnamon, this Citrus Cranberry Sangria is perfect for the holidays! Whether you're making a batch for Thanksgiving, Christmas, holiday parties or anything in between, this winter sangria is wonderful for sharing.
Ingredients
1 cup cranberries, fresh or frozen
2 oranges, sliced thin
2 limes, sliced thin
2 cups cranberry juice
6 oz. cinnamon simple syrup
750 ml. sauvignon blanc
Instructions
In a large pitcher, measure out the orange and lime slices. Add
in the cranberries, too.
Pour in the cranberry juice, simple syrup and sauvignon blanc.
Stir until combined.
Refrigerate for 8-12 hours, or overnight, then serve cold!
Notes
If you're making this for a larger crowd, double or even triple the recipe to have more than enough sangria!
Recommended Products
As an Amazon Associate and member of other affiliate programs, I earn from qualifying purchases.
Nutrition Information:
Yield:
6
Serving Size:
1
Amount Per Serving:
Calories:

340
Total Fat:

1g
Saturated Fat:

0g
Trans Fat:

0g
Unsaturated Fat:

0g
Cholesterol:

0mg
Sodium:

9mg
Carbohydrates:

69g
Fiber:

17g
Sugar:

38g
Protein:

2g
Nutrition facts are an estimate and not guaranteed to be accurate.