Toasted bread topped with goat cheese and sweet and sour apple chutney makes this Apple Chutney Bruschetta appetizer the perfect fall nibble. It is quick, easy and full of flavor. This fall-flavored makes a great bite for any seasonal gathering or even an at-home date night!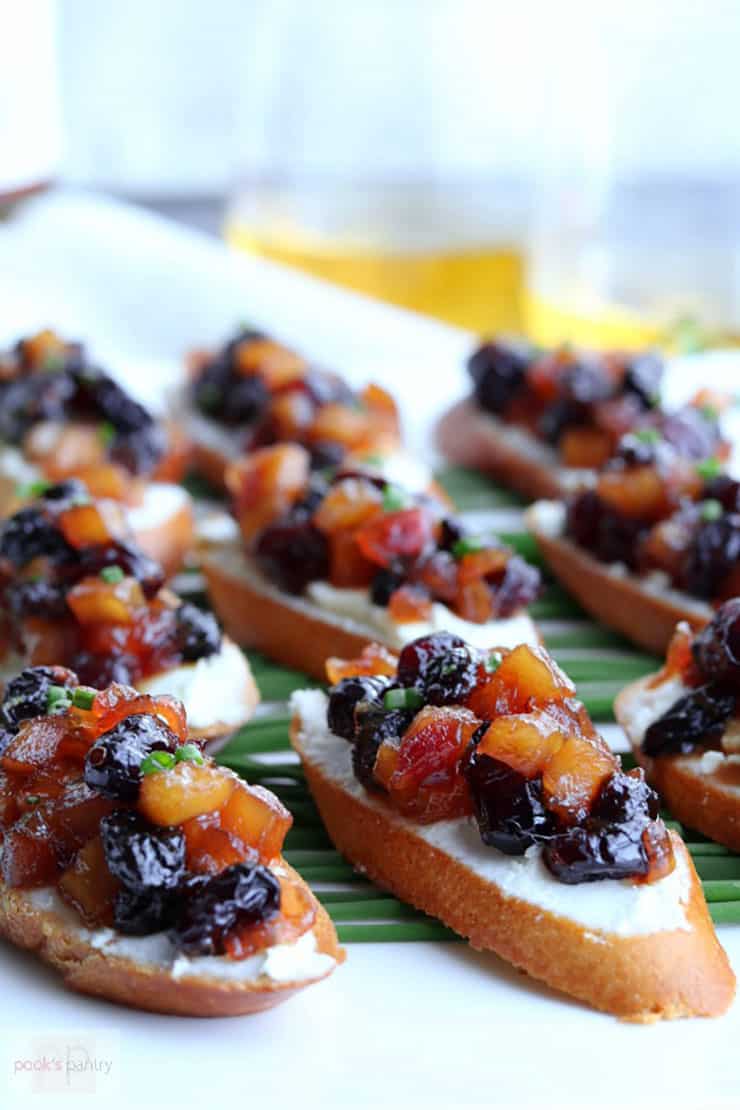 Hi, friends! Today, Cheryl from Pook's Pantry is taking over TSP. Last December, Cheryl and I were paired up for a cookie exchange. Unsurprisingly, it was a delicious way to meet, and we were fast friends! We've been in touch ever since, and when she visited Dallas this past summer, we met up at the Farmer's Market. Unsurprisingly, we had a fabulous time, and I look forward to seeing her face again later this year when they are visiting again!
Cheryl and I share an affinity for easy finger foods and serving them at home to guests and our families, too. So today, that's what she's bringing to the table. Without further ado, here's Cheryl! Be sure to swing by her blog to give her some love there, too. – Erin
Greetings, fellow lovers of TSP! My name is Cheryl and I blog about—you guessed it—food over at Pook's Pantry.
I am honored and tickled pink to be helping out here while Erin is enjoying sweet snuggles and inhaling that new baby smell.
Making a big batch of crostini piled high with tasty toppings is my go-to appetizer. This is something Erin and I have in common. I absolutely love having friends over, and everyone knows if you're coming to my house, you'll leave full.
This doesn't mean that I have to spend all day in front of the stove. I do this already for my job—I'm a private chef—so I like to have casual, easy nibbles when I'm hosting friends.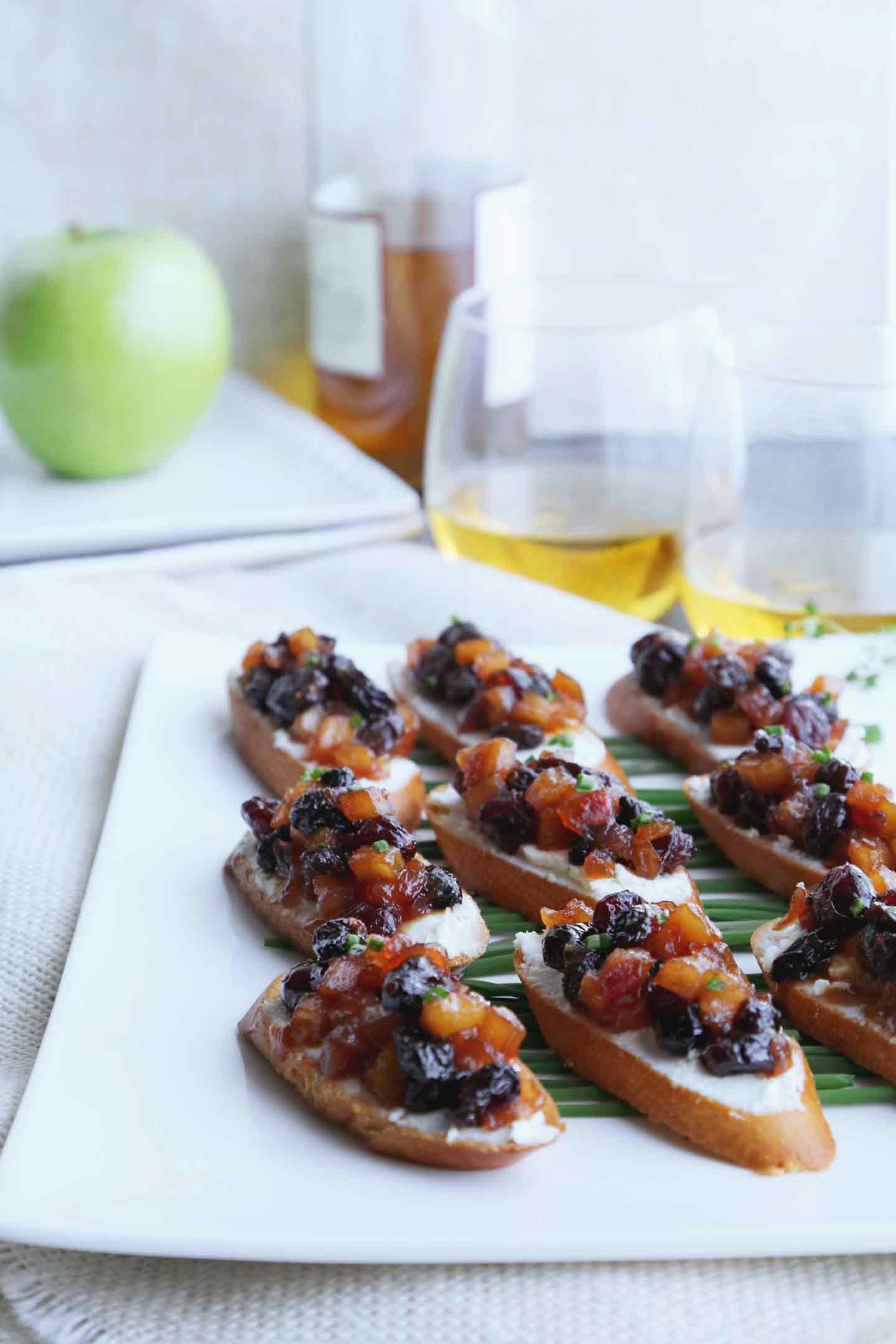 Working in the restaurant, we used to make crostini by the tens of dozens, especially around the holidays!
For this particular recipe, I prefer to do the bread in the oven instead of the grill. It's personal preference, but the grill will impart a smokiness that I don't want.
Now, if we're talking fresh mozzarella and perfectly ripe summer tomatoes, then absolutely grill it!
Toasting the bread on a sheet pan for a few minutes is as easy as it gets. A little brush of olive oil and a sprinkle of salt, and you're in business.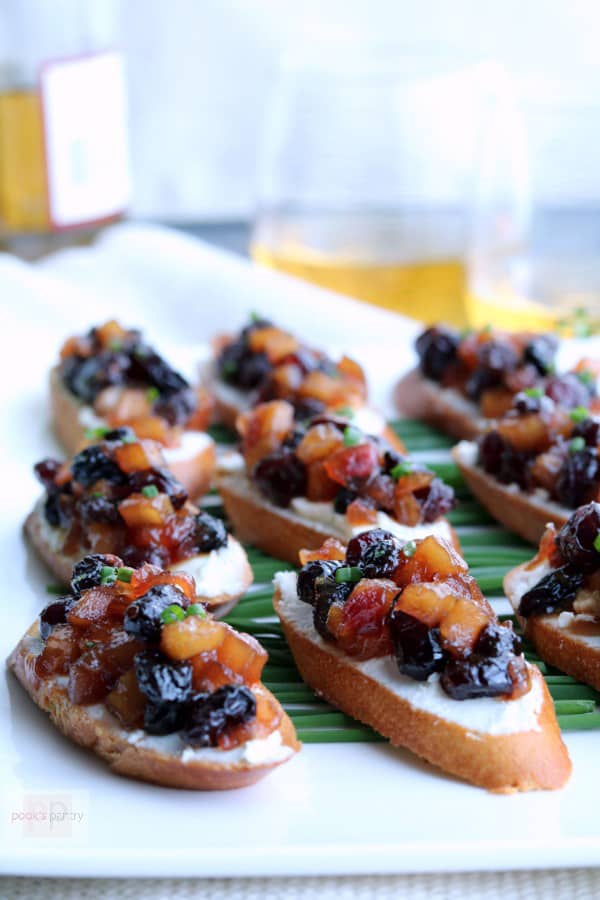 Let's talk about bruschetta!
Bruschetta is a simple Italian appetizer that is toasted bread, rubbed with garlic and drizzled with extra virgin olive oil. The bread can be toasted in either the oven or on the grill.
Traditionally, it's this toasty bread (with the garlic and EVOO) is topped with fresh tomatoes (if they're in season) and a pinch of salt. Since the bread is toasted/grilled, it holds up to the juiciness of the fresh tomato.
This classic Italian recipe hails from Tuscany, though bruschetta is made all over Italy with fresh, seasonal ingredients! (Want to learn more? I loved reading about bruschetta from La Cucina Italiana.)
Now, obviously, this bruschetta recipe strays from the classic, but I hope that the celebration of a seasonal ingredient on a delicious slice of bread speaks to you and your tastebuds.
What exactly is chutney?
Chutney is a condiment that usually has the consistency of jam. It has both sweet and sour elements to it, most often from sugar and vinegar. It commonly has fruit and also onions to balance out the sweet and savory.
In this apple chutney, I've used red onions to balance the green apples, along with brown sugar and vinegar.
I'm a big fan of sweet and sour. It's all about hitting your tongue with that "zing" of flavor that's not too sweet, nor too sour, but definitely packs a punch.
If you like sweet and sour, try my Sicilian Eggplant Caponata recipe. It makes a very tasty topping, too!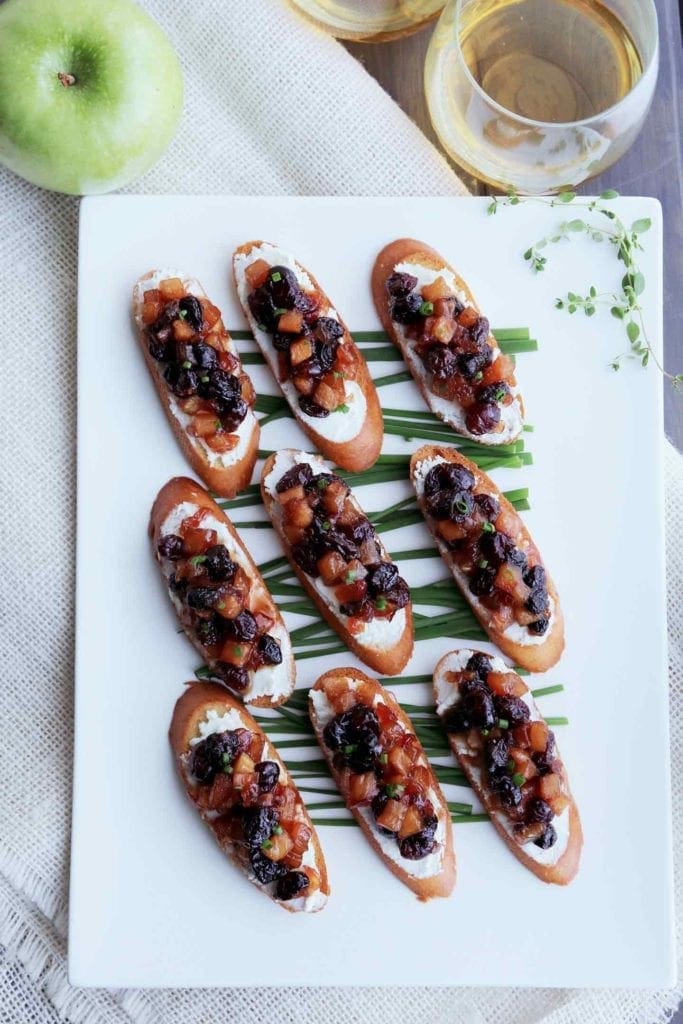 Why does this Apple Chutney Bruschetta work?
The buttery, crunchy bread is topped with creamy goat cheese and piled high with sweet and sour apple chutney. All of these components work together to give you a delicious bite!
If you aren't a fan of goat cheese, you could certainly swap out ricotta or even cream cheese.
Do you hate raisins? Leave them out and double the dried cranberries!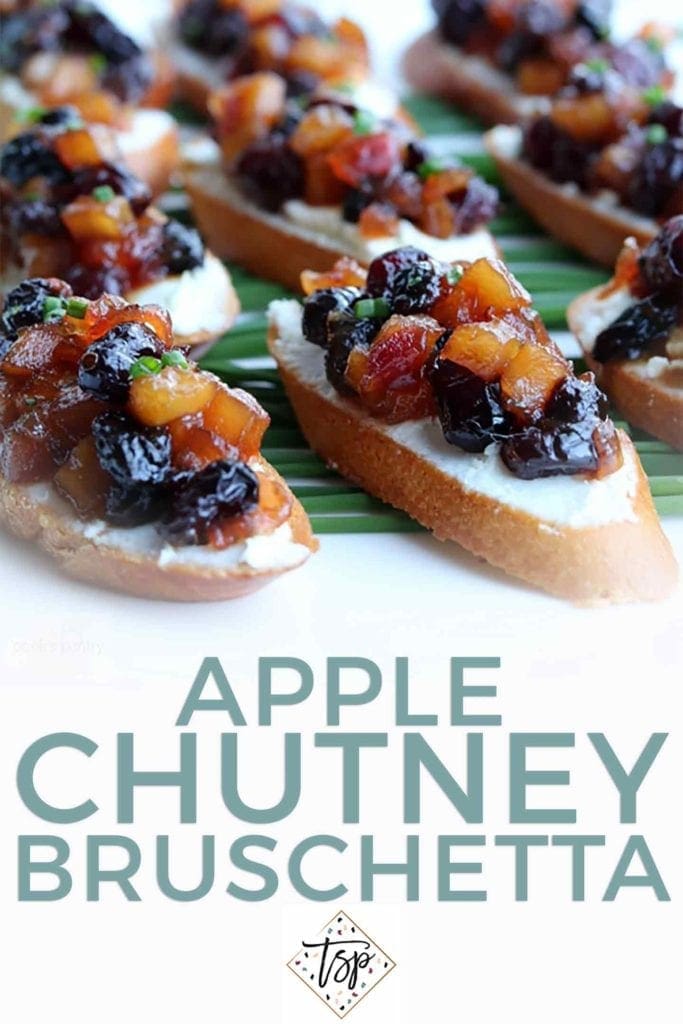 What can I serve with this Apple Chutney Bruschetta?
Now who's ready for some fall-flavored bruschetta?
Scroll on down to learn how to make 'em…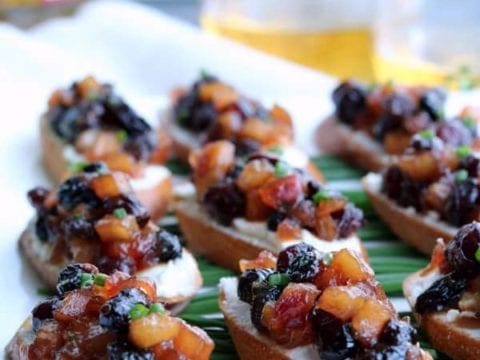 Yield:

12 servings
Apple Chutney Bruschetta
Total Time:
1 hour
45 minutes
Toasted bread topped with goat cheese and sweet and sour apple chutney makes this Apple Chutney Bruschetta appetizer the perfect fall nibble. It is quick, easy and full of flavor. This fall-flavored makes a great bite for any seasonal gathering or even an at-home date night!
Ingredients
Apple Chutney
2 Granny Smith Apples, medium; peeled, cored and ¼" diced
1 red onion, small; ¼" diced
1 tablespoon fresh ginger, minced
2 cloves garlic, minced
½ cup apple cider vinegar
½ cup light brown sugar, lightly packed
½ cup raisins
¼ cup dried cranberries , (can substitute currants or golden raisins)
2 teaspoons kosher salt
½ teaspoon black pepper
2 tablespoons olive oil
½ lemon, juiced
½ lemon, zested
Bruschetta
1 loaf ficelle or a baguette, sliced thinly
2 tablespoons olive oil
4 oz. goat cheese
Apple Chutney, recipe above
Instructions
Make the Chutney
In a medium pot, heat olive oil over medium heat. Add red onion and cook until translucent (about 6 minutes). Add ginger and garlic, cook until fragrant (about 3 minutes).
Add vinegar, brown sugar, raisins, cranberries, salt and pepper. Simmer for 20 minutes, stirring occasionally. Add apples and lemon juice/zest (if using) and cook for an additional 10 minutes until apples are soft, but not mushy and falling apart.
Chutney should be fairly thick and not runny. It will thicken a little as it cools, but if you have too much liquid at this point, increase heat to medium high and let it boil for a few minutes to cook off the liquid.
Remove from heat and let it cool to room temp before storing.
Make the Bruschetta
Preheat the oven to 375°F.
Slice the ficelle thin with a serrated knife, and brush with olive oil.
Brush the sliced bread with olive oil. Place on a baking sheet, and toast for 10 minutes.
When the bread has been toasted, remove from the oven.
Smear the bread with goat cheese, then add the chutney on top.
Serve immediately, and enjoy!
Nutrition Information:
Yield:
12
Serving Size:
1 serving
Amount Per Serving:
Calories:

258
Total Fat:

8g
Saturated Fat:

2g
Trans Fat:

0g
Unsaturated Fat:

5g
Cholesterol:

4mg
Sodium:

634mg
Carbohydrates:

42g
Fiber:

2g
Sugar:

20g
Protein:

6g
Nutrition facts are an estimate and not guaranteed to be accurate.