Celebrate seasonal produce by whipping up Blackberry Peach Hand Pies! These made-from-scratch individual desserts combine summer flavors with a decadent Bourbon Whipped Cream. Makes 10 hand pies.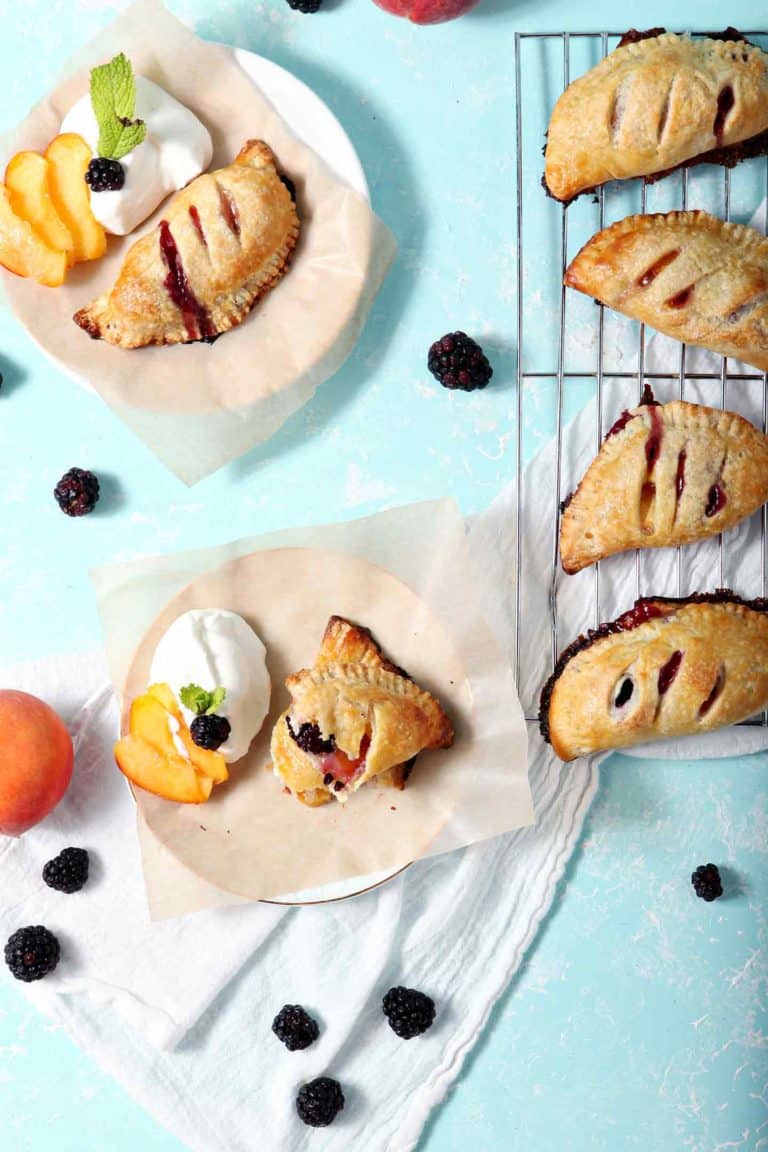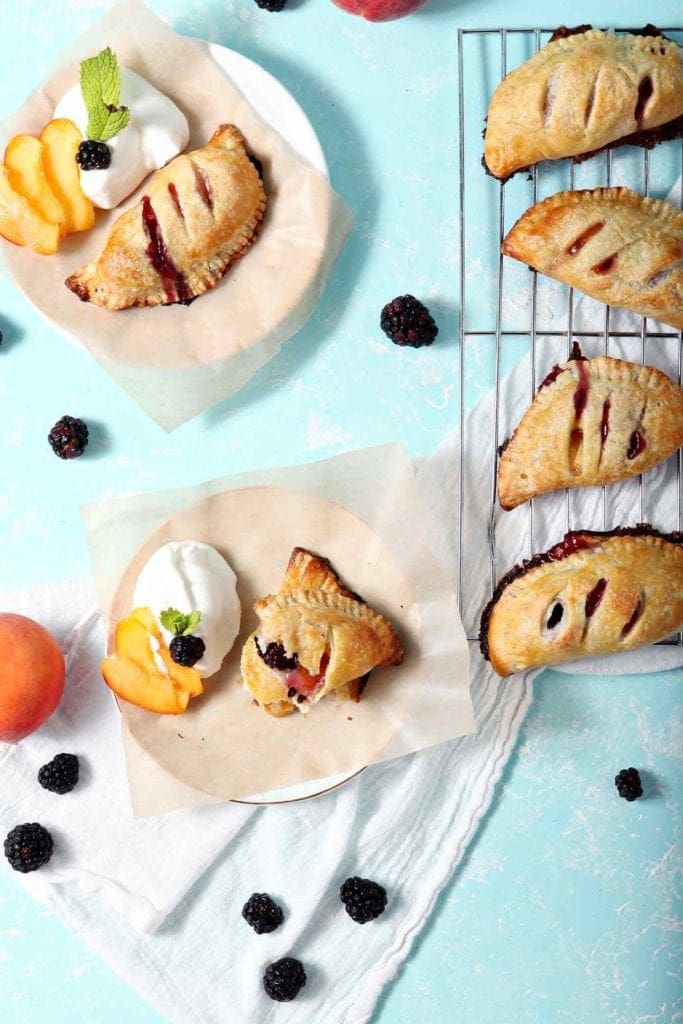 Things that I'm grateful for, in no particular order, this Wednesday morning:
While the house is still a mess, many of our boxes are unpacked!
Croissants. (Like, real, authentic croissants from my favorite bakery.)
Good friends who drop everything to be with you in a time of need.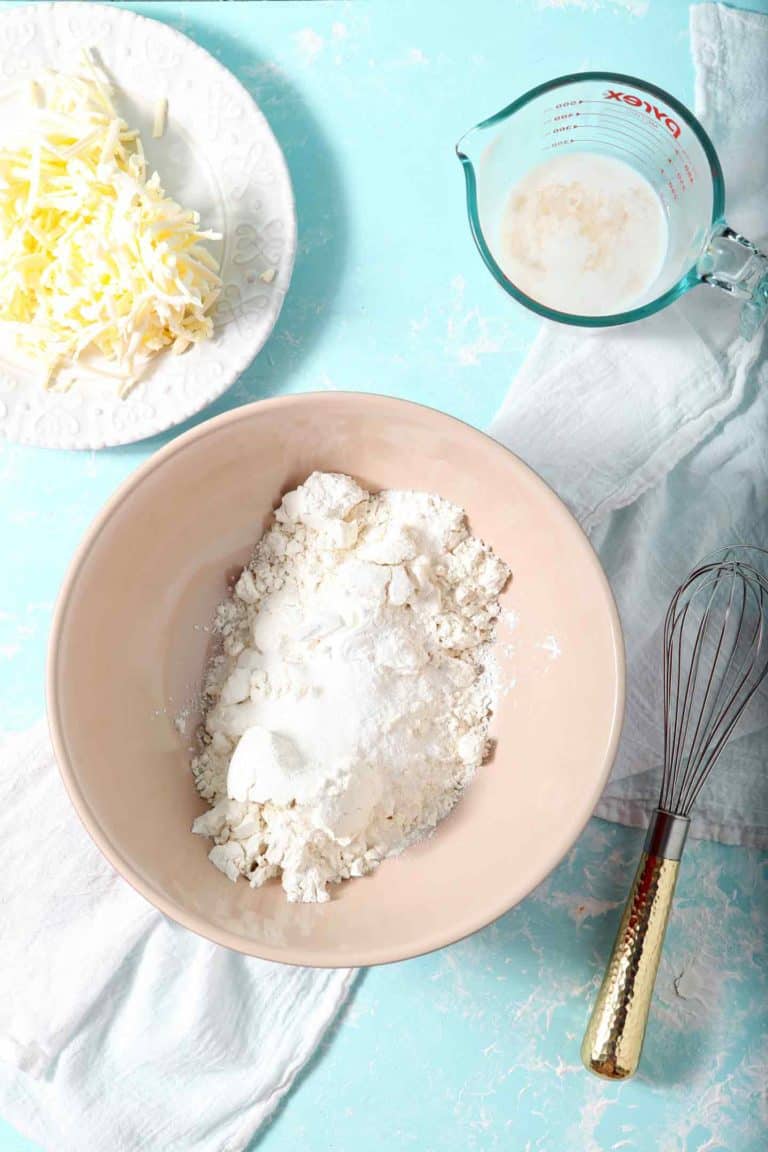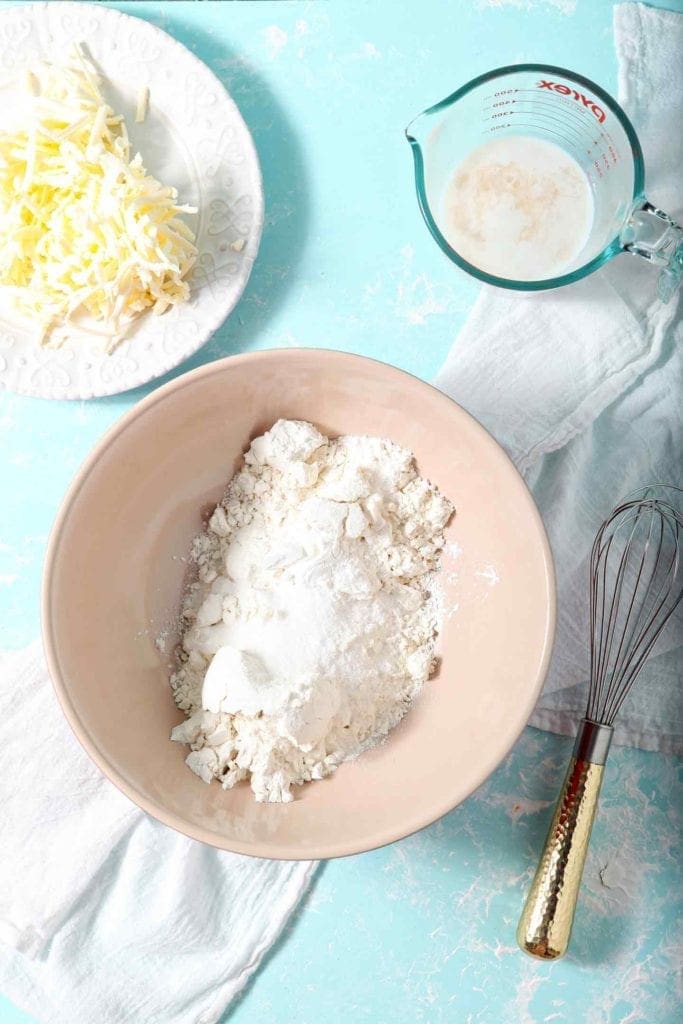 A week and a half ago, Lady A and I were in a minor fender bender.
Obviously, we're doing just fine, and so is Baby Speckle, but it made for an eventful evening. Not only was it the one night Winston was out of town for the month, but it also occurred two days after our move.
And since I was 35 weeks pregnant at the time, my doctor sent me to the hospital to confirm we were all A-OK.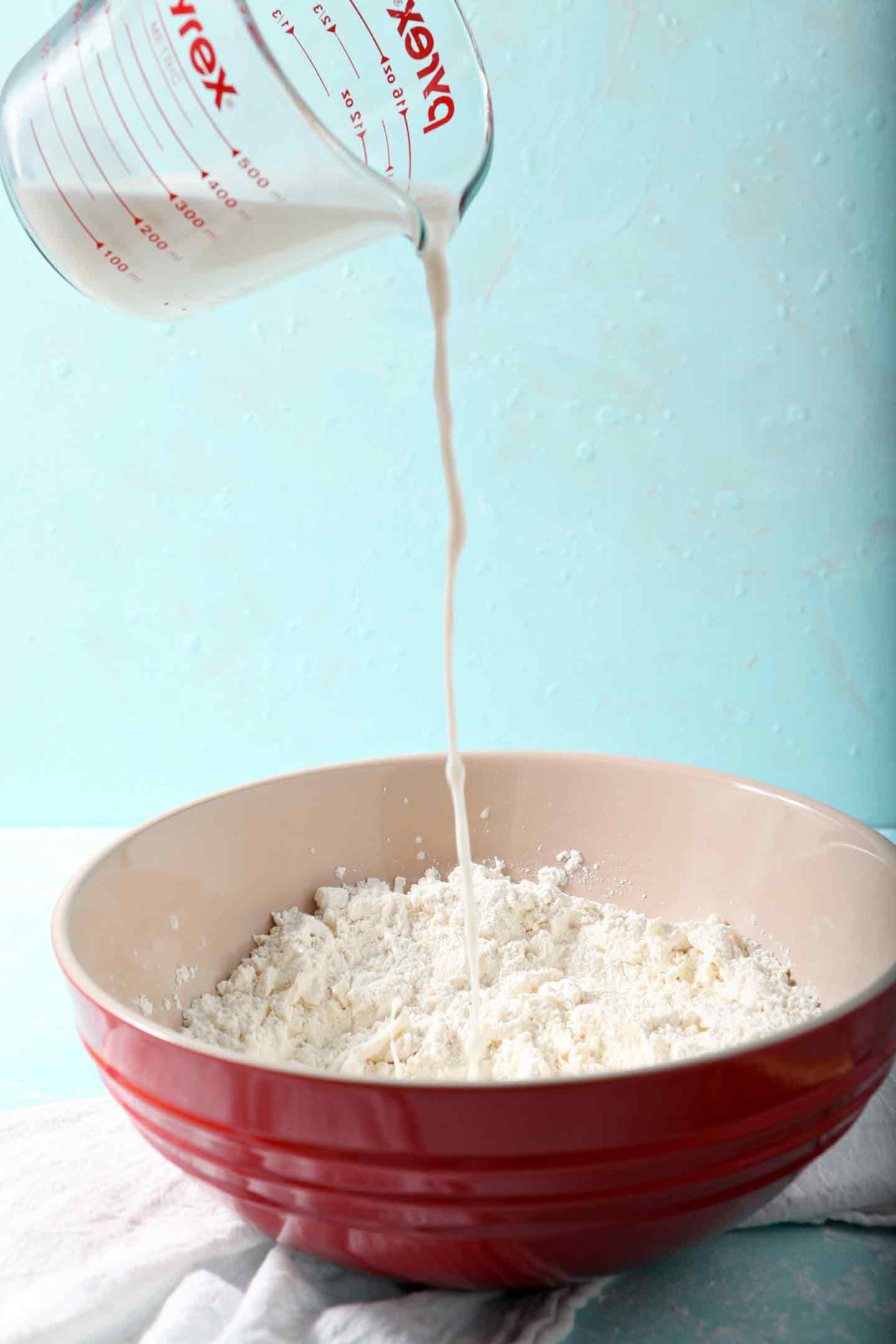 I left two friends voicemails—one to cancel our dinner plans and the other to potentially request help if I somehow had to stay in the hospital overnight.
Upon hearing my messages, these sweet friends showed up at L&D with snacks and toys to keep Lady A amused while we waited for news on Baby Speckle's condition.
Three and a half hours later, we were discharged with a clean bill of health. Needless to say, Lady A thought our hospital adventure was the best because she got to paint her legs with special face paints, ate a snack dinner and was given all the attention.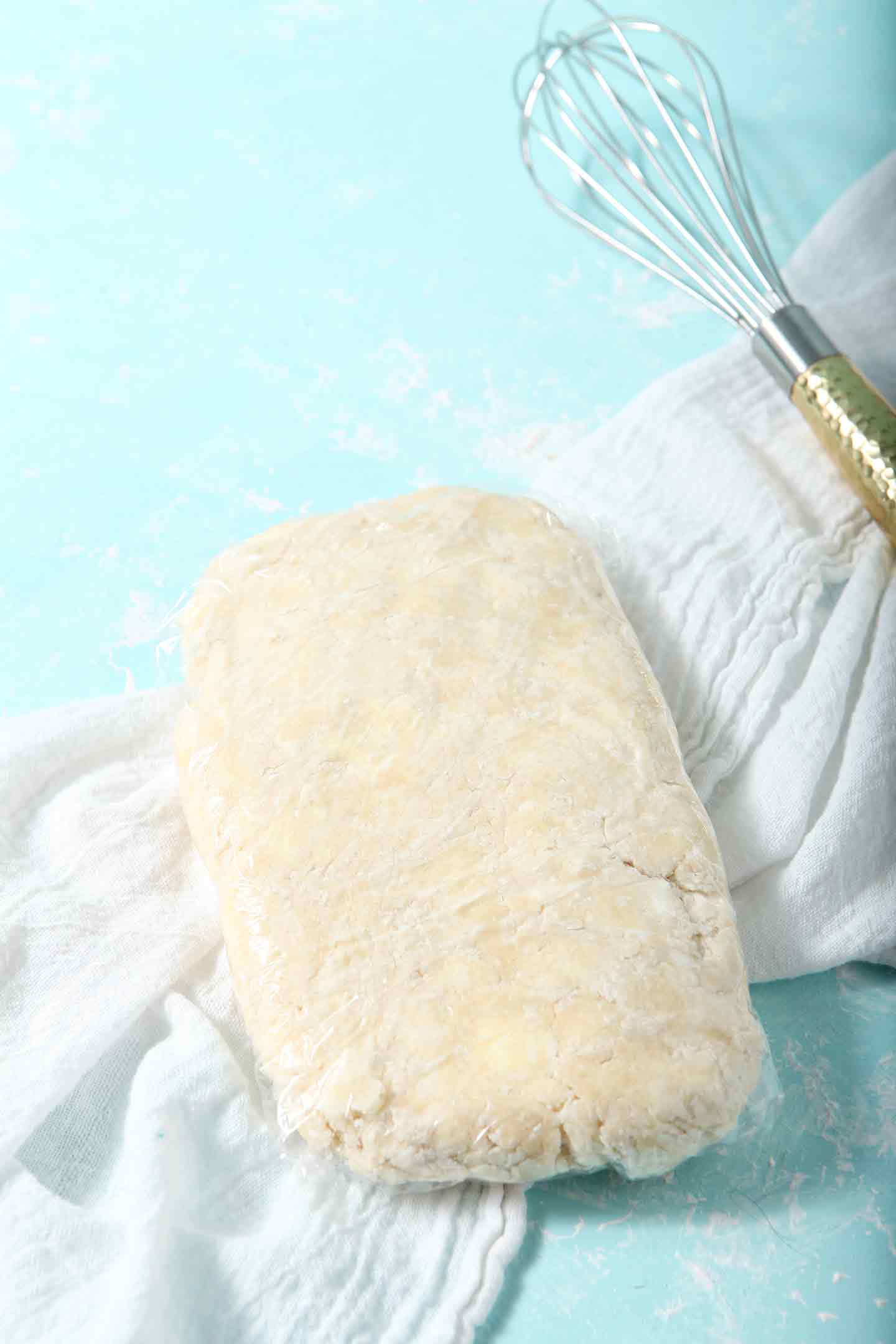 Words cannot express how grateful I am to have found our people here in Dallas. And I totally want to bake these friends some hand pies as a giant THANK YOU.
I think these Blackberry Peach Hand Pies with Bourbon Whipped Cream would fit the bill perfectly. (Meg, we can enjoy the boozy whipped cream after our girls arrive soon!)
These hand pies are naturally sweet—meaning they're sweetened just enough because the fruit is more than enough—and utterly delicious. The first time we made 'em, we had a hard time stopping at one.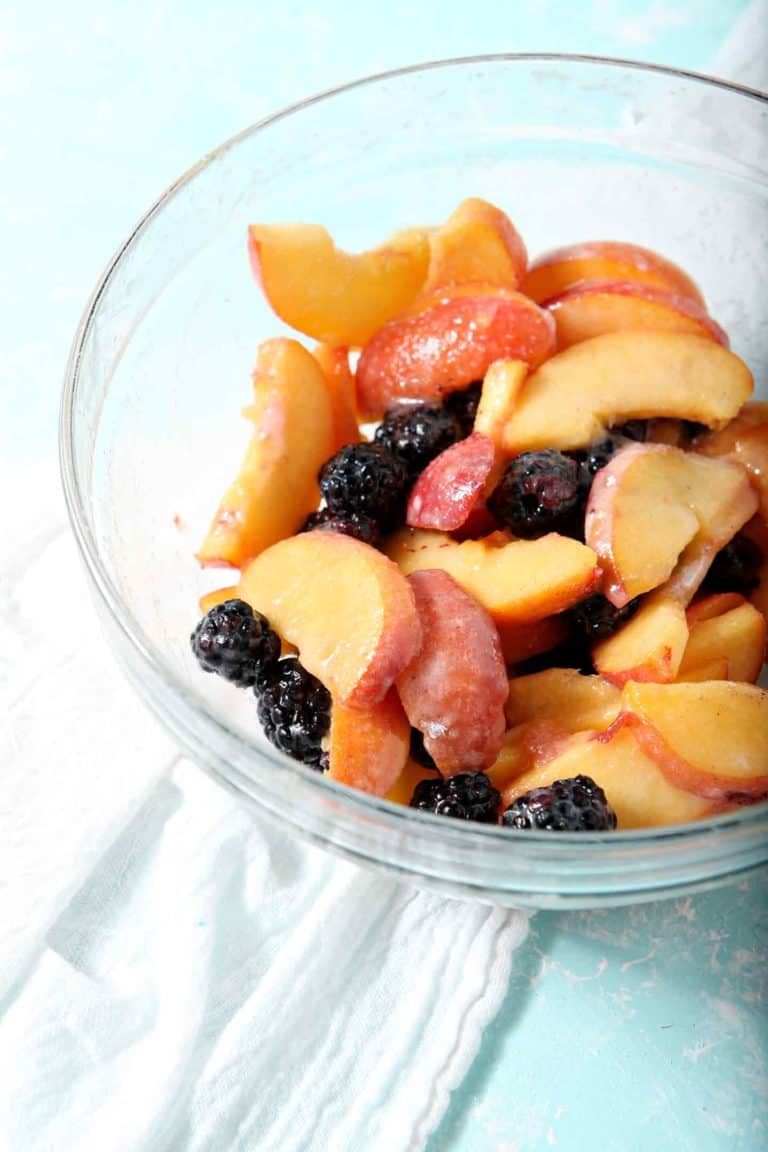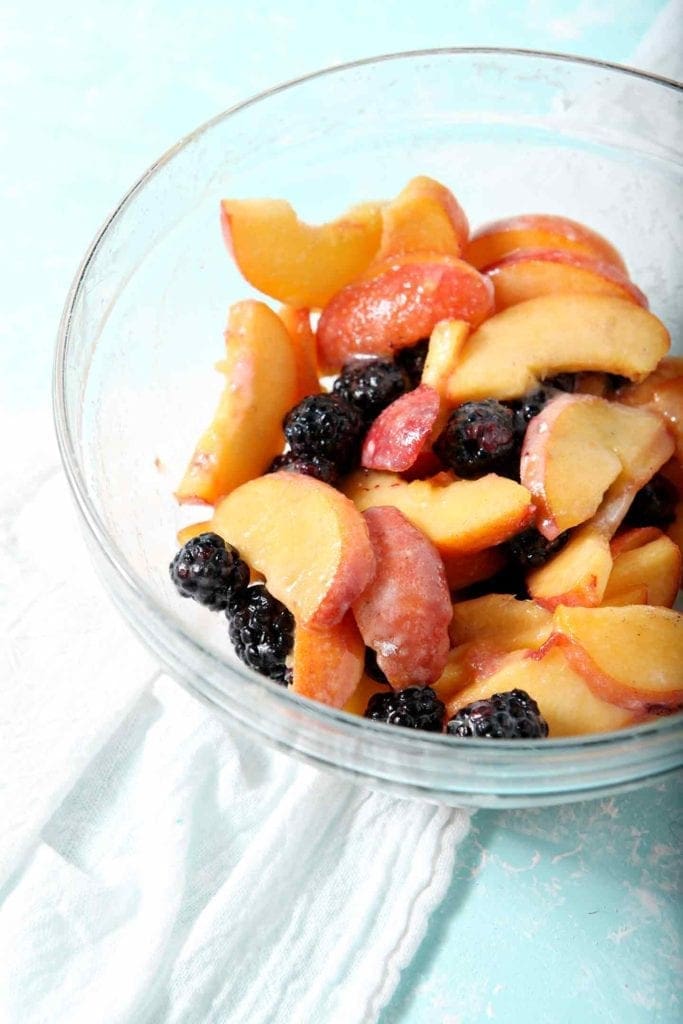 What is a hand pie?
Simply put, it's a hand-held pie! It can be sweet or savory, baked or fried… but the key here is that it's an individual serving.
Also, they're totally delightful and perfect for all kinds of entertaining because you don't have to worry about slicing up a full-sized pie or about needing plates. All you need with a hand pie is a napkin, and you and your guests are good to go!
Can I make these hand pies with store-bought crust?
Absolutely! I love making homemade crust because I know what exactly goes into the dough, but I know that it's time consuming and some folks don't enjoy the pie crust making process.
If that's you, purchase 2-3 rounds of pie dough at your local grocery in the freezer section. Let them thaw, then roll out into rounds to make the hand pies.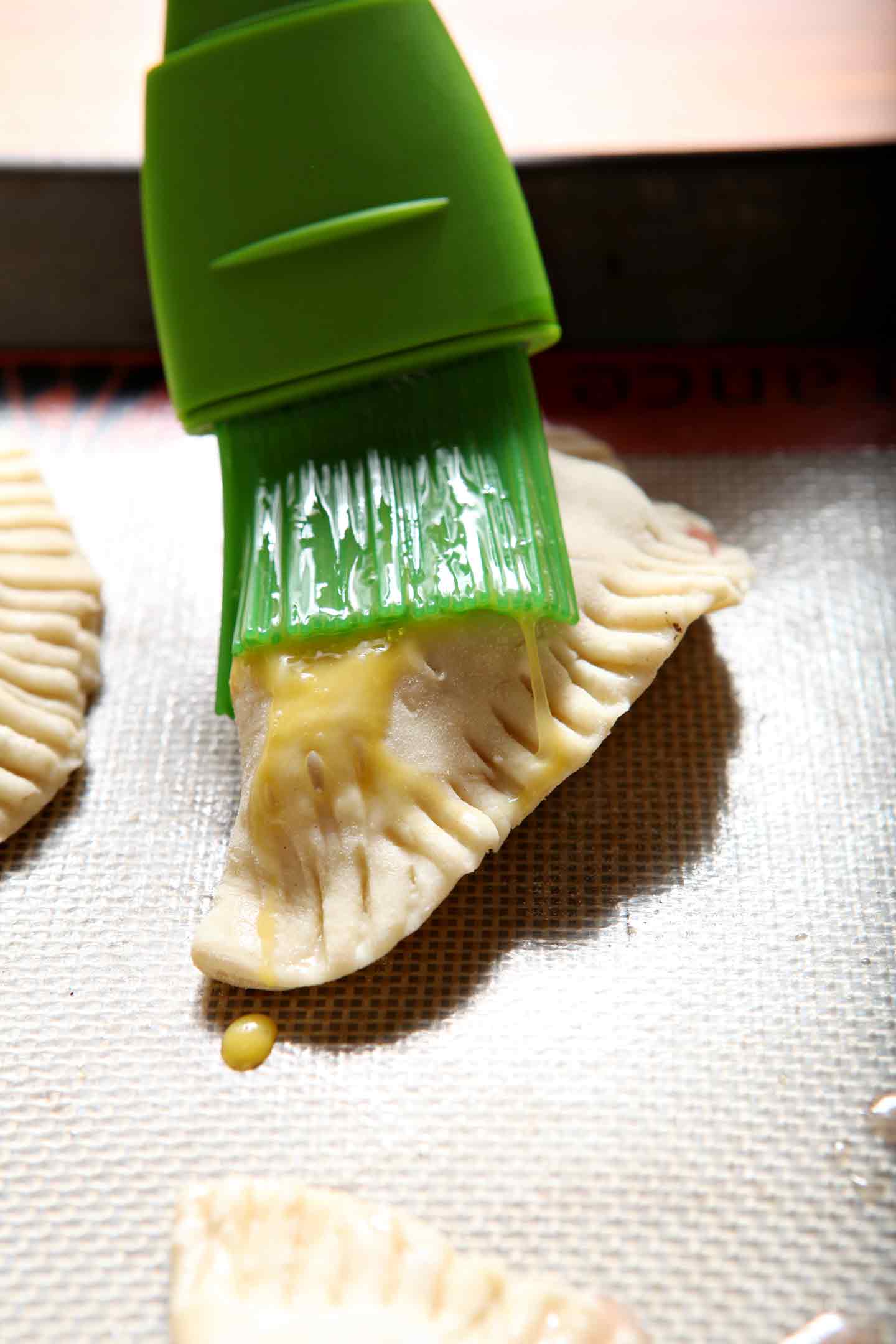 I don't like blackberries. Can I use a different fruit or just stick with the peaches?
Sure! I threw blackberries into these delightful little hand pies because we had them on hand, and because I like a not-too-sweet dessert.
If you use a different berry, strawberries, raspberries or blueberries would be lovely paired with the peaches.
If you want to just stick with peaches, knock yourself out!
Whatever you decide to do, just sweeten lightly before tasting the fruit. Peaches alone will be sweeter than peaches and blackberries combined. Test the fruit, then sweeten accordingly so they're not too sweet. (Unless that's your thing. And then, well, go wild.)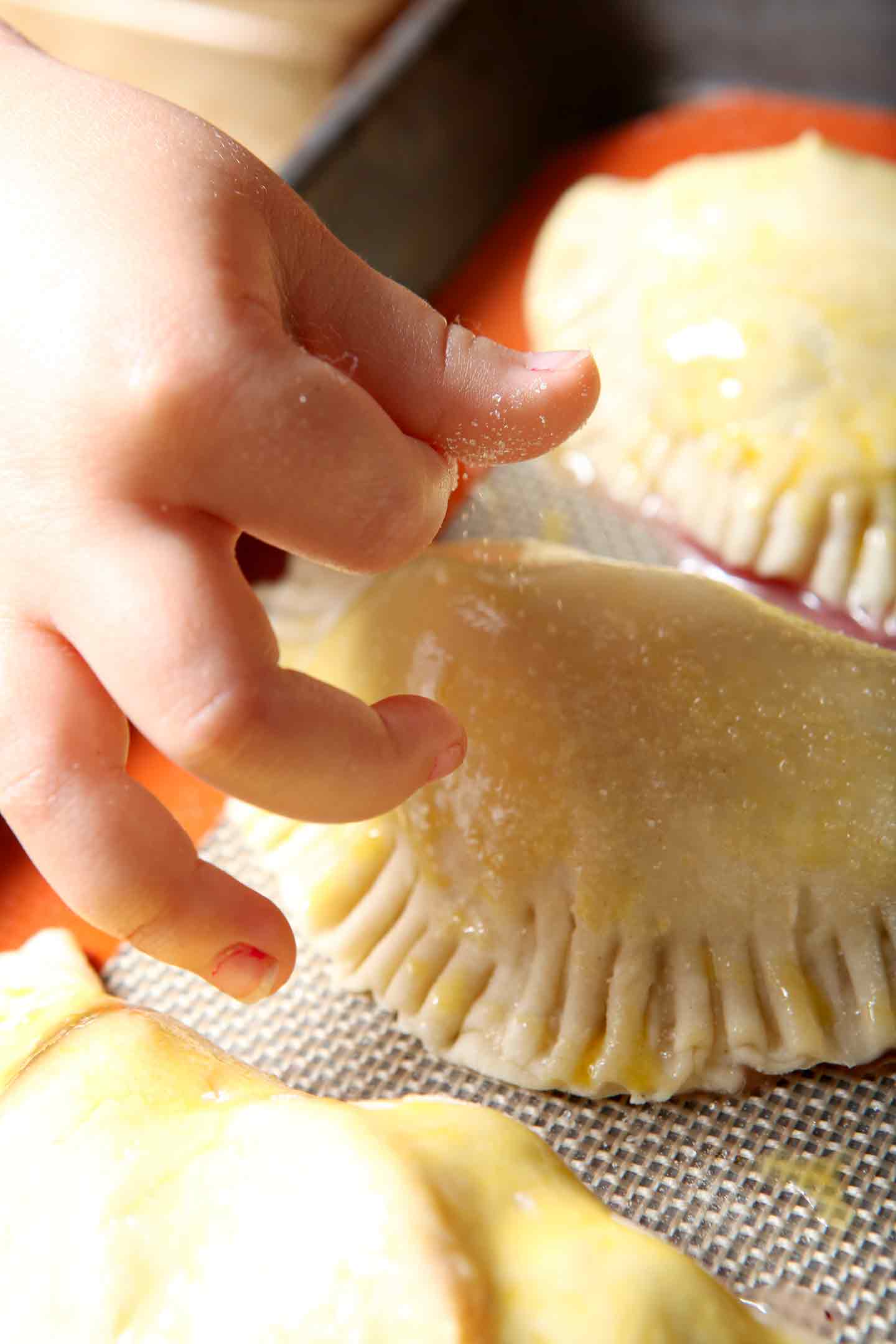 How do I get the pies into shape?
You can use a cookie cutter or a small dessert plate to shape the actual rounds of pie crust. If using the dessert plate, trace its outline with a knife in the dough before removing the plate. It should work like a charm!
To crimp the edges, I like to use the tines of a fork. Using your fingers, press the ends of the pie dough together. Then place them on the baking sheet and crimp closed with the fork. This will seal the pies AND give them that pretty edge, too!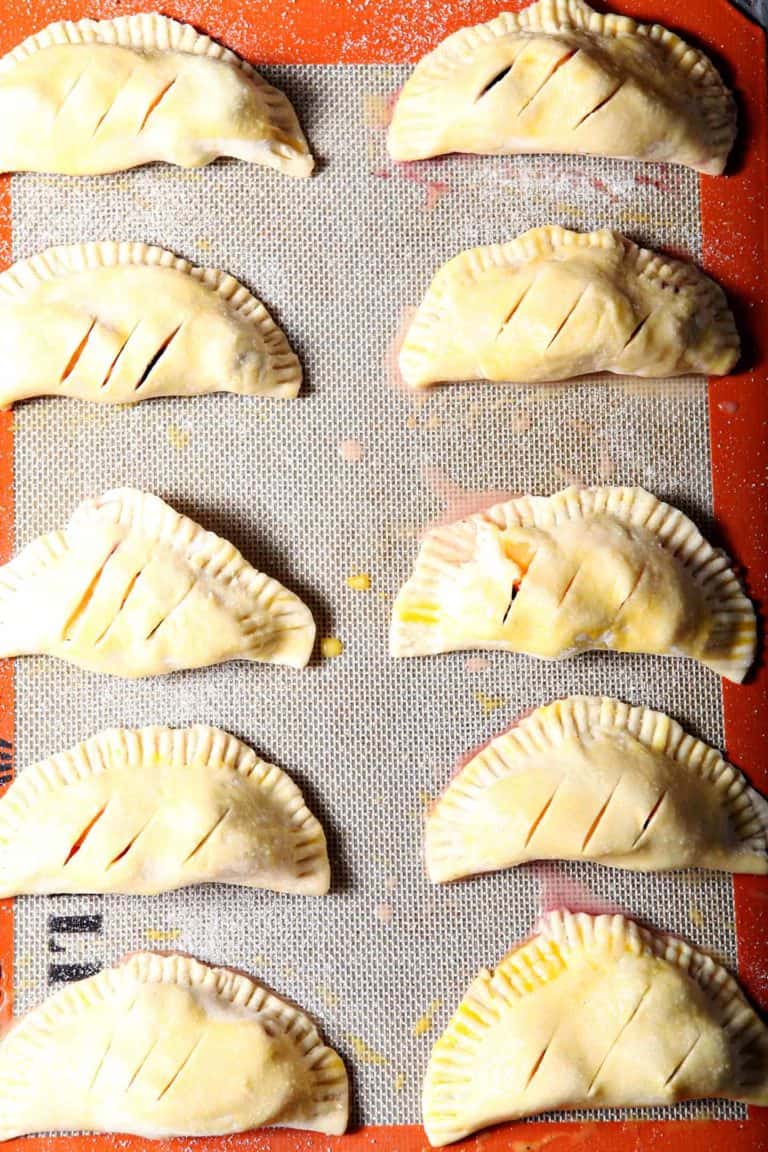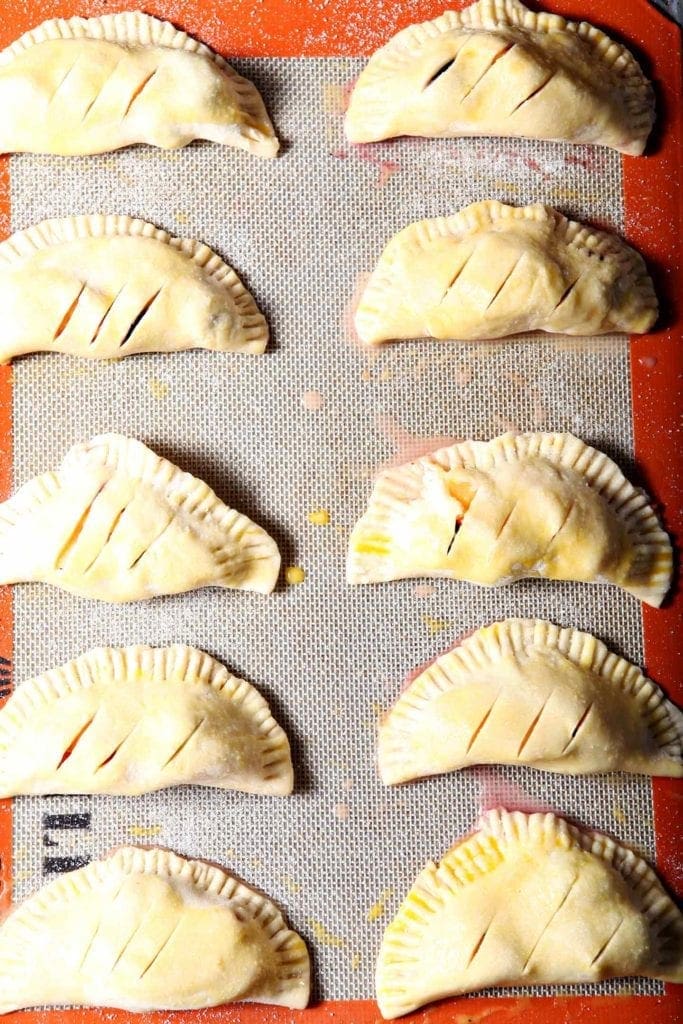 What do I need to make these Peach Hand Pies?
Disclaimer: The links below are affiliate links. If you click through and take action, I will receive a small commission. Please refer to my disclosure page for more information about the affiliate programs The Speckled Palate participates in.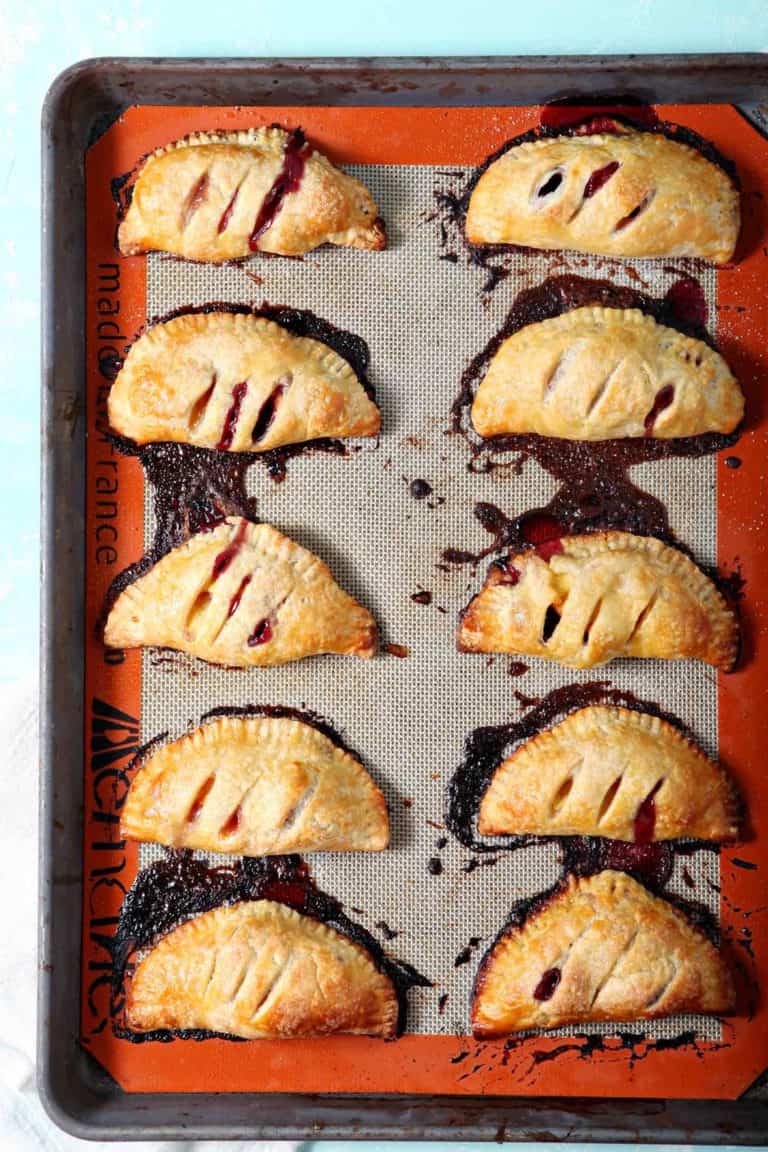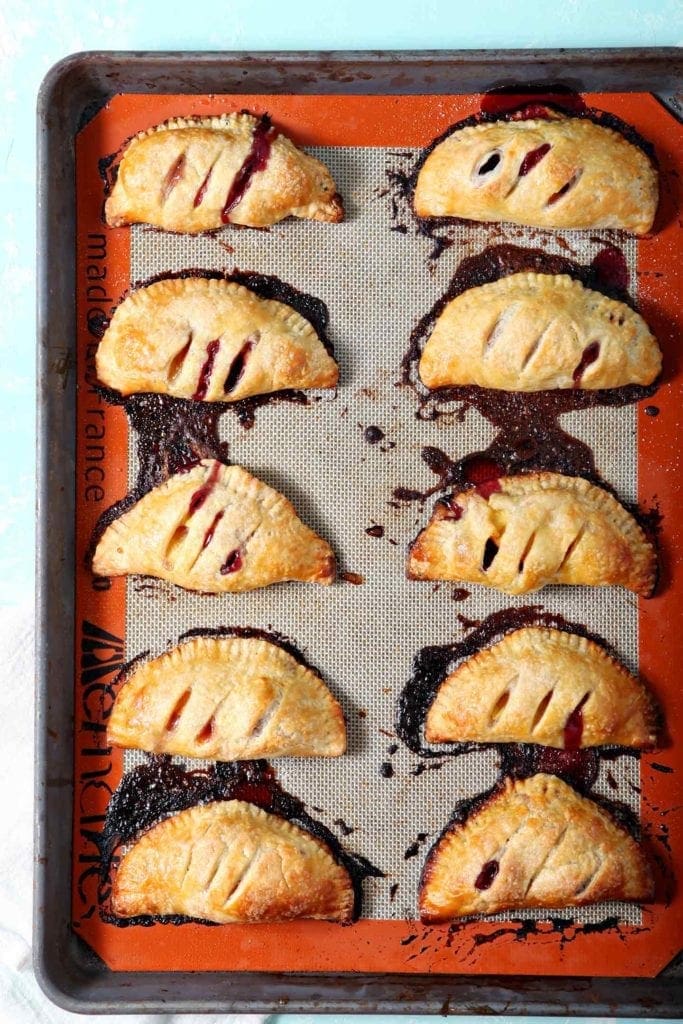 What are some other peach dishes I might like?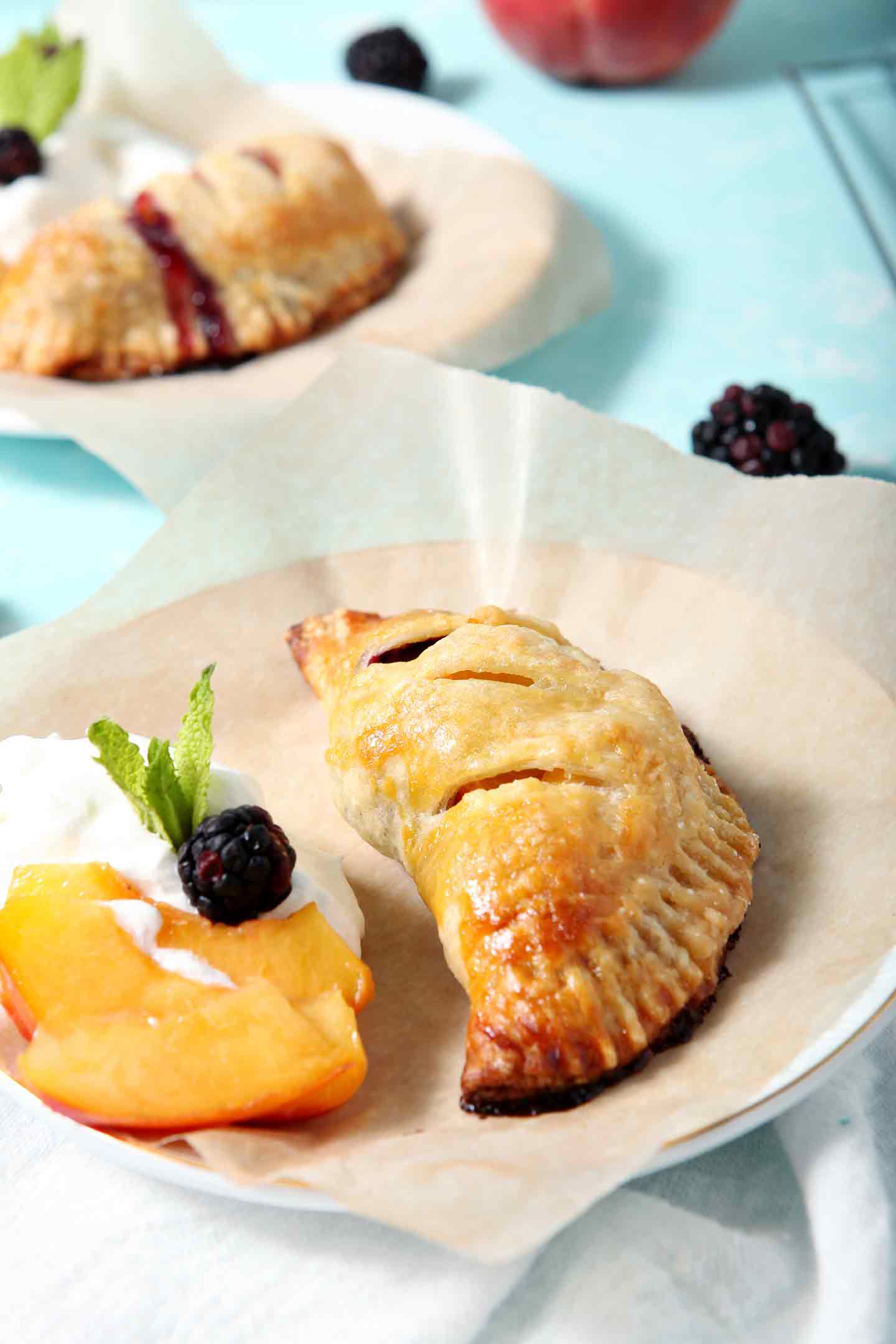 Do you have any more hand pie recipes?
I sure do! They are as follows…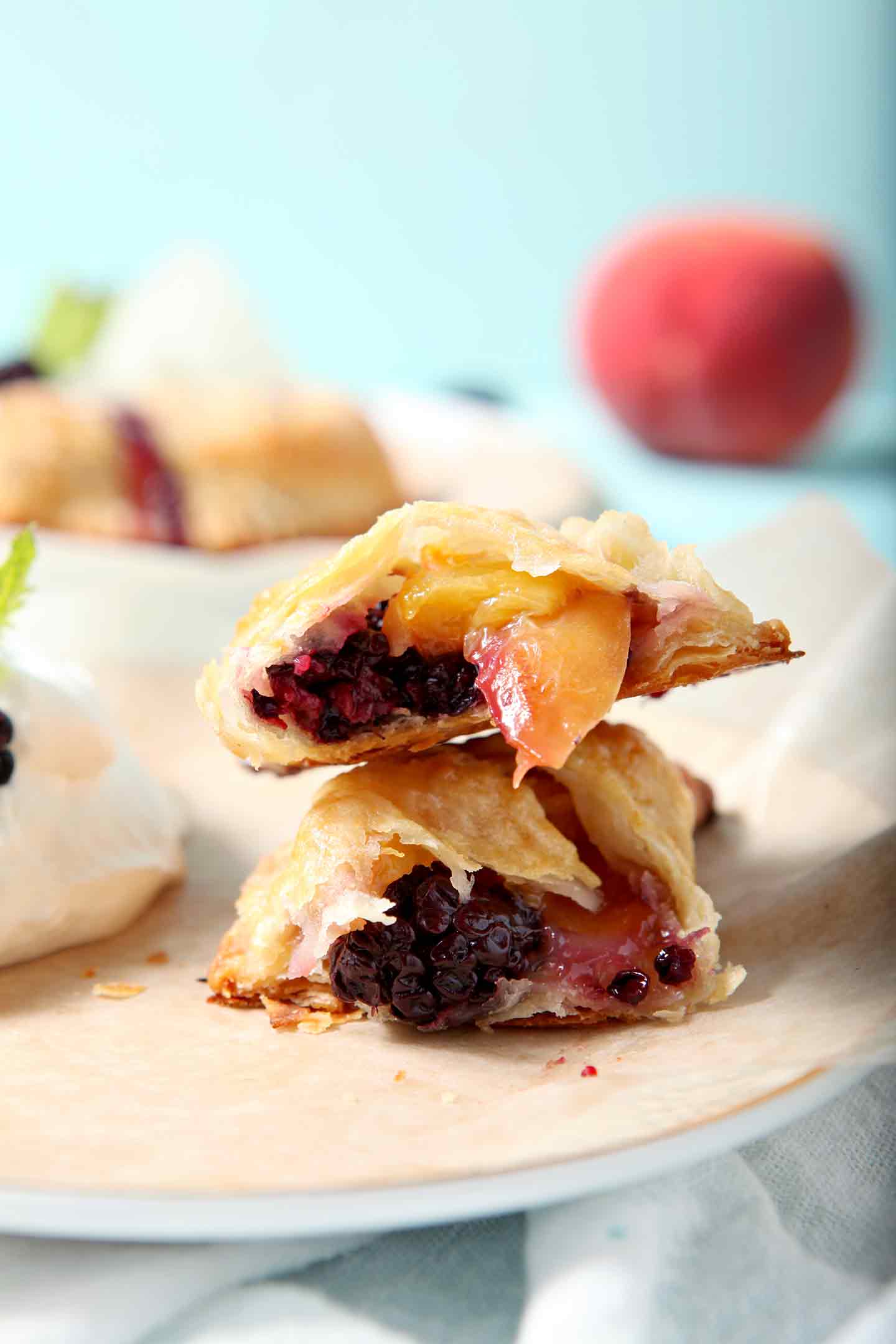 Now who's ready to make some hand pies?
Scroll on down to learn how you can make 'em for you and yours…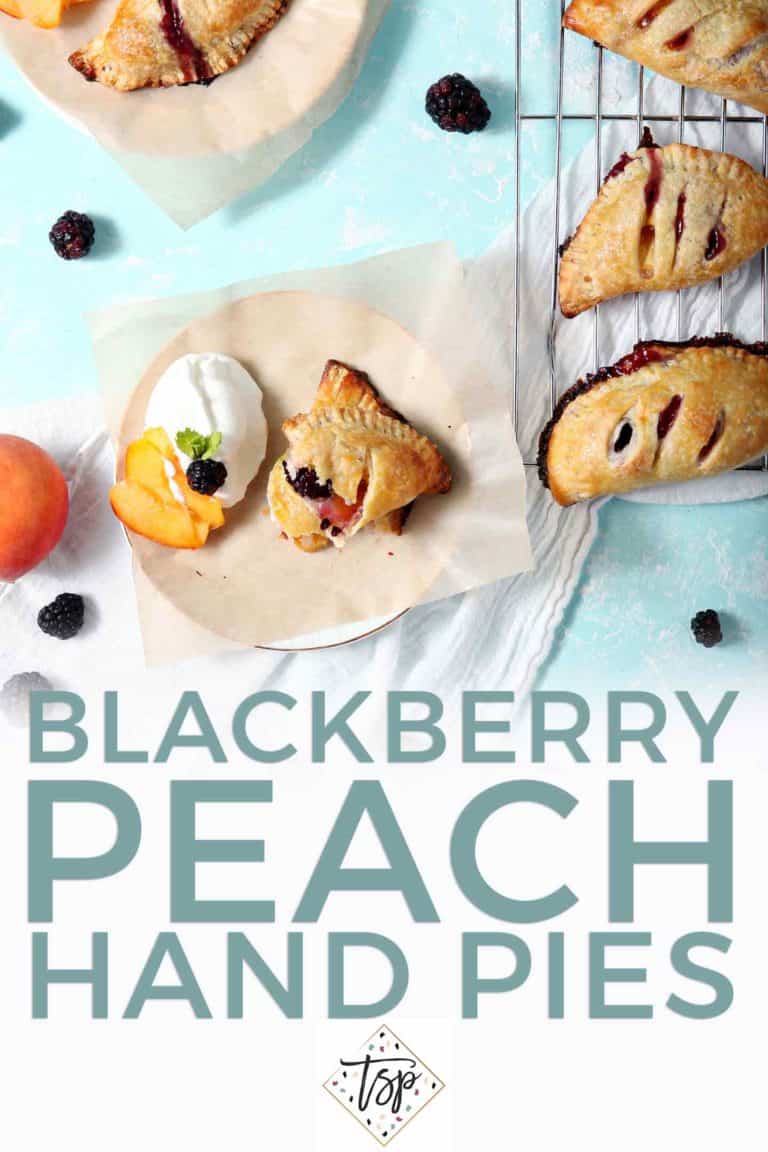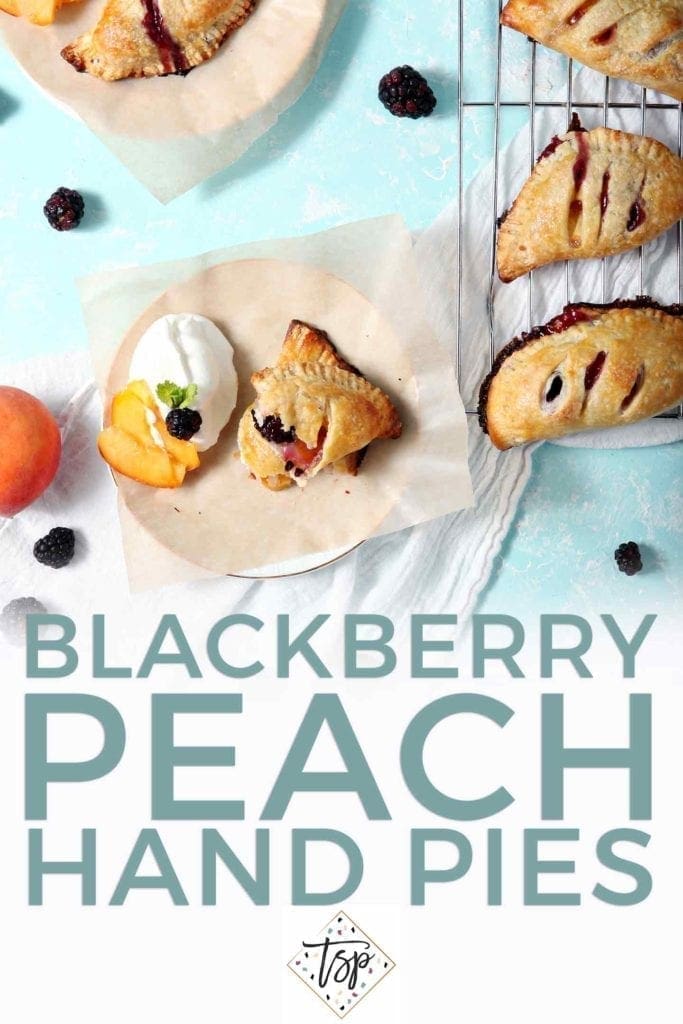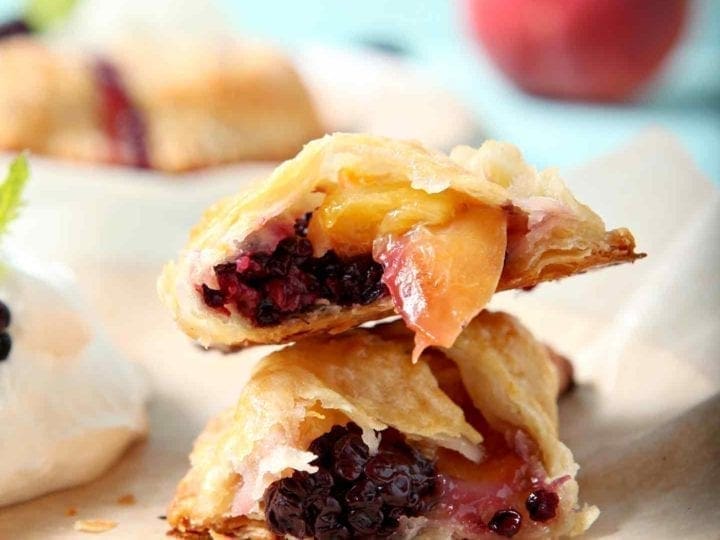 Yield:

10 hand pies
Blackberry Peach Hand Pies
Total Time:
1 hour
50 minutes
Celebrate seasonal produce by whipping up Blackberry Peach Hand Pies! These made-from-scratch individual desserts combine summer flavors with a decadent Bourbon Whipped Cream. Fill buttery pie crust rounds with fresh peach slices and blackberries before folding into hand pies and baking until perfect. Whether you're playing host, surprising a friend or baking for yourself, Blackberry Peach Hand Pies make the perfect warm weather dessert!
Ingredients
Pie Crust
½ cup unsalted butter , (1 stick)
1/3 cup milk, (whole, 2%, 1%, skim OK)
1 ½ teaspoons apple cider vinegar
1 ½ cups unbleached all-purpose flour
1 tablespoon granulated sugar
1 ½ teaspoons cornstarch
¾ teaspoon kosher salt
Filling
1 ½ cups peaches, sliced (about 3 small peaches)
½ cup blackberries
3 tablespoons granulated sugar, plus additional for topping the pies
1 tablespoon cornstarch
1 egg
Bourbon Whipped Cream
1 cup heavy whipping cream
2 tablespoons bourbon
3 tablespoons powdered sugar
Instructions
Make the Pie Crust
Shred the unsalted butter using a cheese grater. Place on a plate, cover with plastic wrap, and transfer to the freezer until time to use.
Combine the milk with the apple cider vinegar in a liquid measuring cup. Refrigerate until ready to use.
In a large bowl, whisk together the flour with the sugar, cornstarch and salt until incorporated.
Remove the shredded, frozen butter from the freezer and add it to the flour mixture. Stir gently until the ingredients are well-combined, and the butter appears to be the size of peas and the texture of wet sand.
Drizzle half of the milk mixture over the dry ingredients. Using a plastic spatula, lightly mix the flour with the liquid. Repeat the process by drizzling a bit more in, repeating until the dough holds together when pressed against the side of the bowl. (You should still be able to see chunks of butter in it.) If necessary, add additional cold milk, 1 tablespoon at a time, until you find the desired consistency.
Form the dough into a disk, wrap tightly in plastic wrap and refrigerate for at least 1 hour.
Make the Filling
When the dough is done refrigerating, measure out the sliced peaches and blackberries in a medium-sized bowl.
Add the sugar and cornstarch. Toss until combined, then set aside.
Make the Hand Pies
Preheat the oven to 350°F. Line a large baking sheet with parchment paper or a nonstick baking mat. Set aside.
Lightly flour a clean, flat surface, and roll out the pie crust. Using a 4½" to 5" round cookie cutter (or a plate of a similar size), cut rounds into the dough for the individual pies.
Transfer the dough rounds to the prepared baking sheet, then measure out about 2 tablespoons of the filling into them.
Brush egg around the edges of half the round, then seal with your fingers or a fork.
Repeat the process until all 10 pies have been made.
Brush the tops of the hand pies with the egg, then gently cut two vents in the top of each.
Transfer the baking sheet to the oven, and bake for 30-40 minutes, or until the tops are golden brown.
When cooled, remove from the oven, and let cool for 5 minutes before devouring!
Make the Whipped Cream
In a bowl, combine the whipping cream with the bourbon.
Using a hand mixer, whip the cream and bourbon together until they start solidifying.
Sprinkle in the powdered sugar, and continue whipping until the desired whipped cream consistency.
Serve with the warm hand pies!
Notes
Recipe adapted from my Strawberry Blueberry Hand Pies.
Store bought shortcut: Purchase pie dough from the freezer section at your local grocer to cut down on the time this pie and the crust take to make. While I'm a fan of this buttery homemade dough, store bought varieties work, too!
The pie dough can be made days in advance and kept cold in the fridge. I only recommend keeping it in the fridge for a week. However, I've frozen discs of pie dough for up to a few months without issue and defrosted them in the refrigerator until they were ready to use.
If you don't have a rolling pin, use a wine bottle or a similarly shaped bottle.
If you don't have a large round cookie cutter, use a small dessert plate. Place it on the rolled out dough and circle the edges with a knife for the same effect.
Recommended Products
As an Amazon Associate and member of other affiliate programs, I earn from qualifying purchases.
Nutrition Information:
Yield:
10
Serving Size:
1 hand pie with whipped cream
Amount Per Serving:
Calories:

330
Total Fat:

20g
Saturated Fat:

12g
Trans Fat:

0g
Unsaturated Fat:

7g
Cholesterol:

71mg
Sodium:

214mg
Carbohydrates:

32g
Fiber:

1g
Sugar:

13g
Protein:

5g
Nutrition facts are an estimate and not guaranteed to be accurate.
What would you bake for a friend who is simply amazing?
Would you like to try a hand pie?