Looking for a show stopping dairy free dessert? Look no farther than Dairy Free Peach Cobbler! This cobbler is the perfect dairy free dessert to serve family or a crowd during the summer. Makes 6 servings.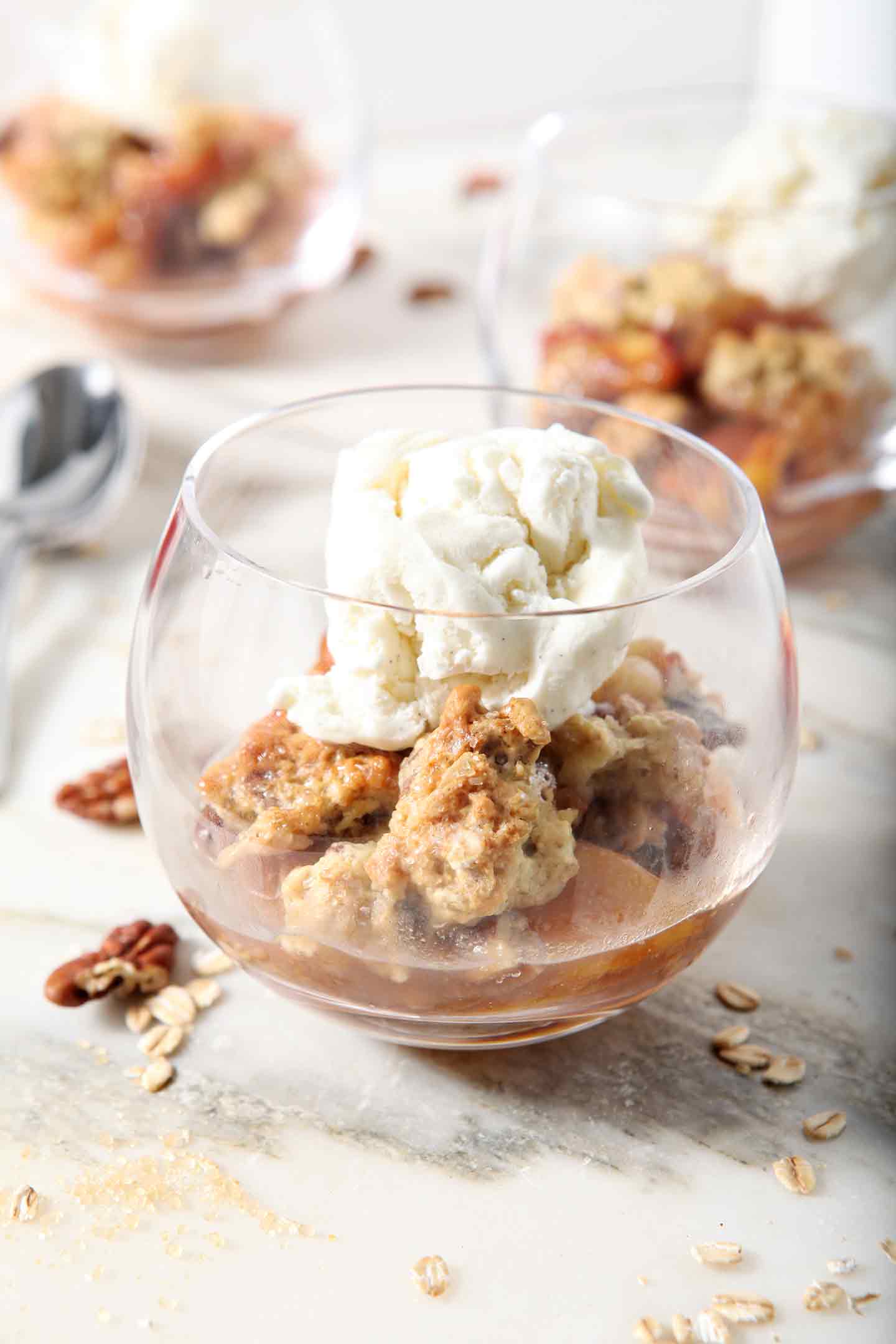 When I was younger, I have a vivid memory of eating fresh sliced peaches on top of my Cheerios while sitting on a family friend's patio at their lake house in Hardy, Arkansas.
Why I remember this, I haven't a clue.
But I remember sitting with my friend, her brother and my sister in the deck, overlooking the river, and gobbling down our breakfast.
Those peaches were so good and sweet and perfect when paired with simple cereal and milk… and whenever I eat a good peach, I'm brought back to that morning.
More peach desserts: Blackberry Peach Hand Pies / Peach Julep Popsicles / Mini Peach Pies / Peaches and Cream Popsicles / Balsamic Peach Compote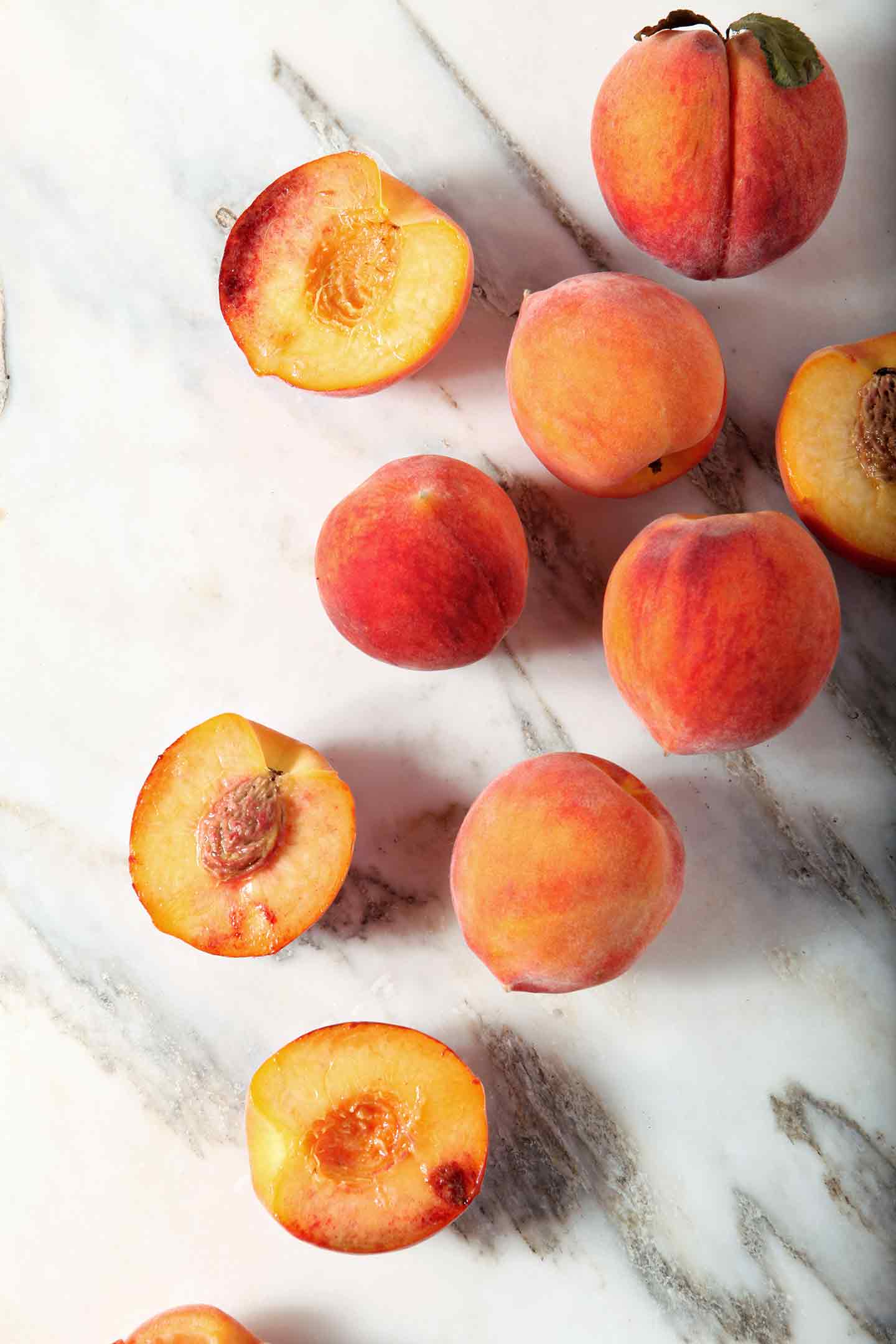 A few months ago, Lady A, friends and I visited a local peach orchard. And I, of course, brought home a 20+ lb. box of peaches for us to enjoy and consume.
While those peaches are gone now, my goodness, they were delightful in every possible combination.
And I made this cobbler a few times, just for funsies.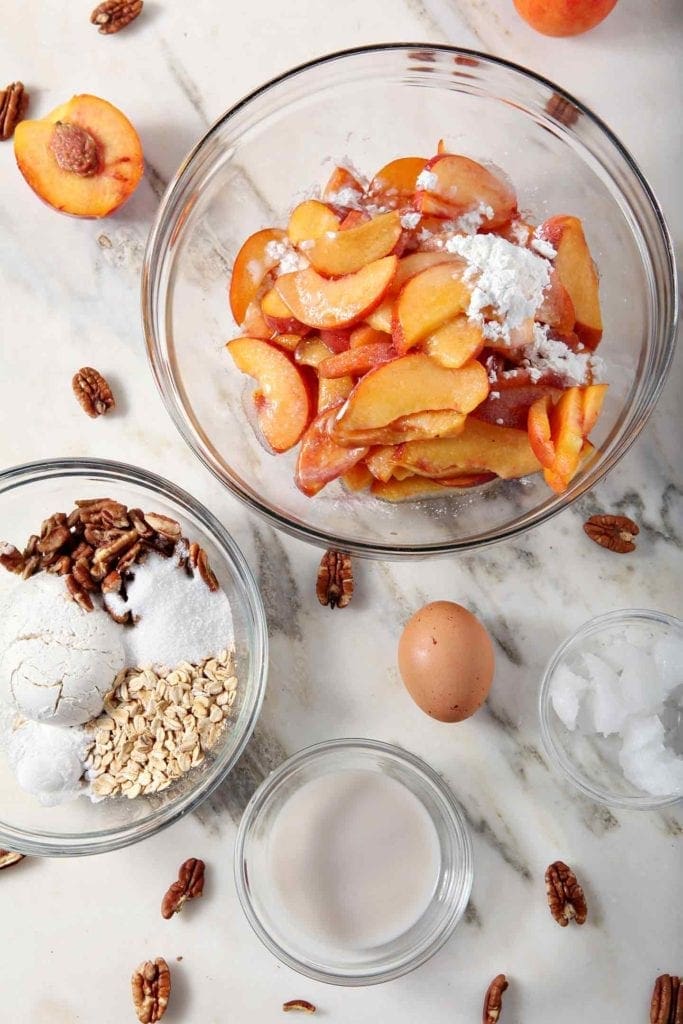 Summertime is the time for cobbler.
Every year around this time, my Dairy Free Blackberry Cobbler recipe goes bonkers. And for good reason—it's easy to make for a crowd, it doesn't call for weird dairy substitutes, and it's absolutely delicious, whether or not you eat a dairy free diet.
I figured that since I had a toooooooon of peaches hanging out in my kitchen, a Dairy Free Peach Cobbler was in order. #duh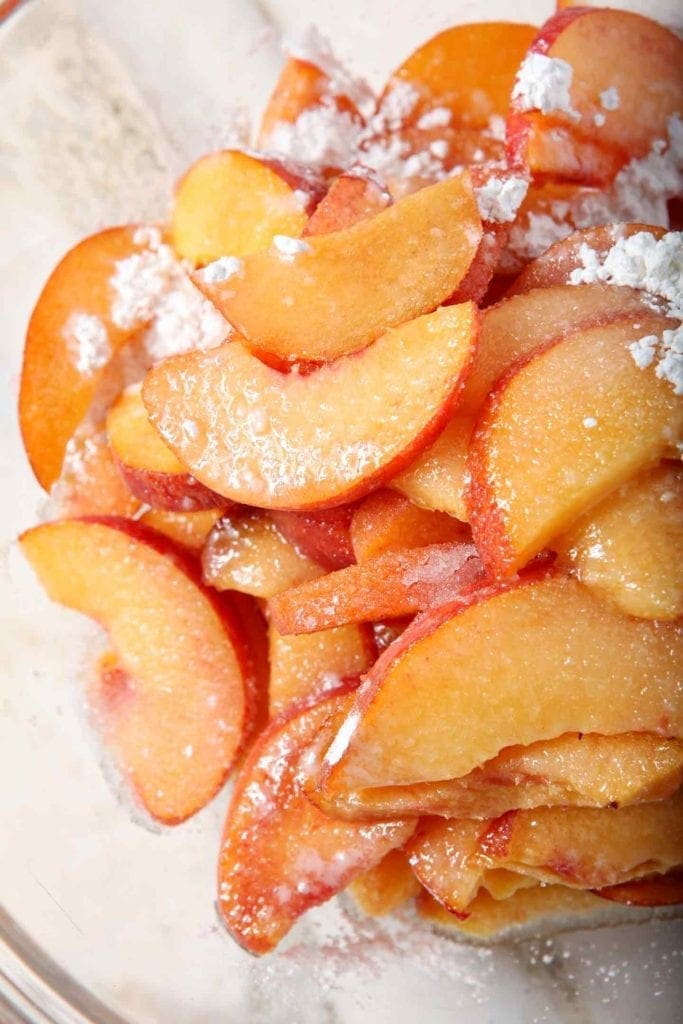 What is a cobbler?
It's traditionally a fruit-based dish (though it can apparently be savory, too!) with a crumbly/biscuit-esque topping.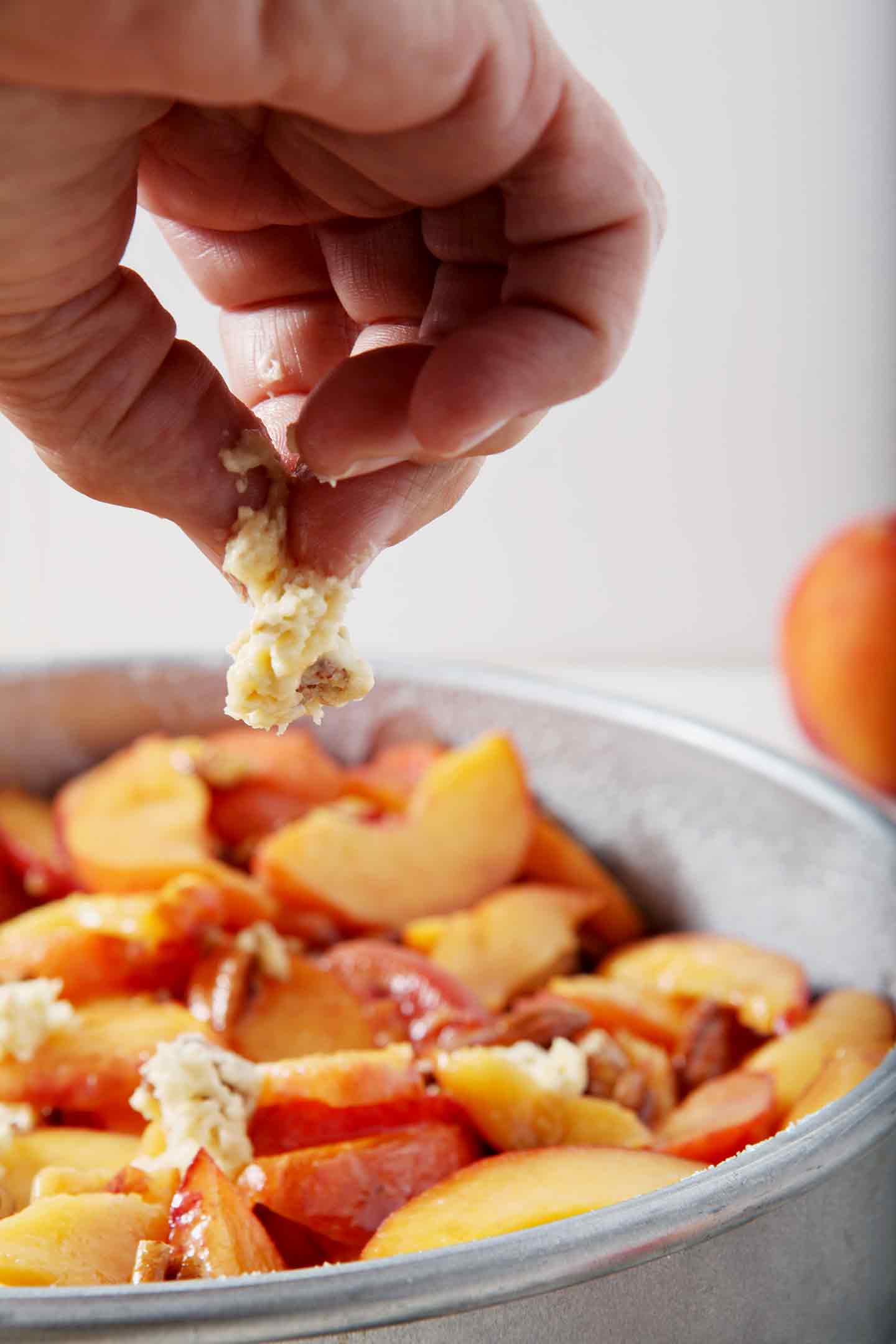 How do I make a cobbler dairy free?
Traditionally, cobblers call for butter and milk, in both the filling and topping. My dairy free version of a classic cobbler calls for non-dairy milk and coconut oil in the biscuit topping.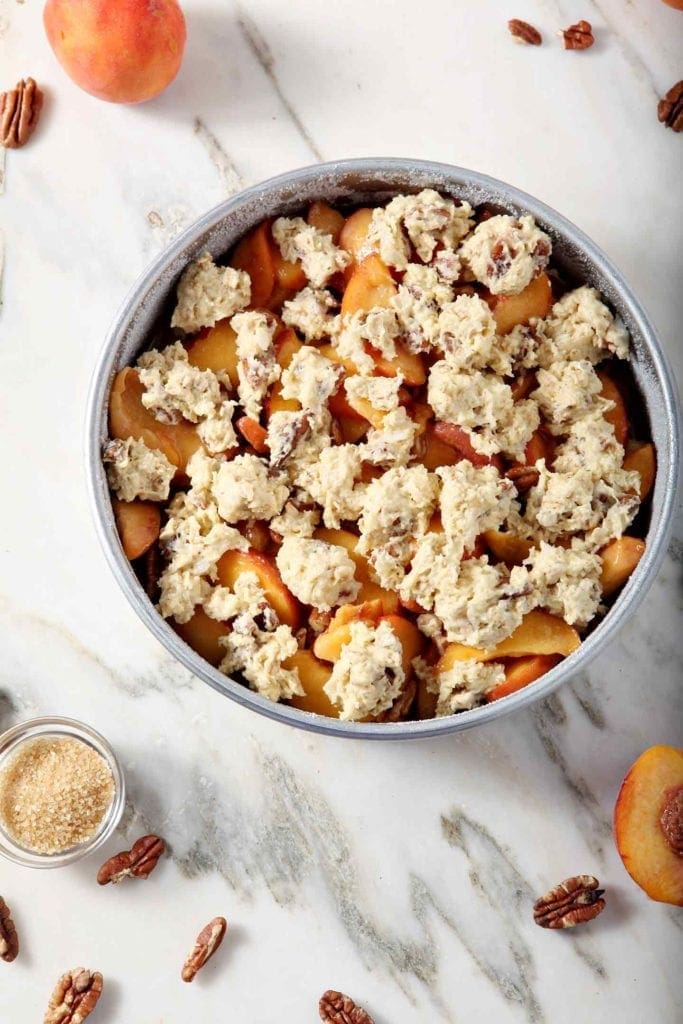 What is the difference between a streusel and a cobbler?
The topping! A streusel topping is generally made with flour, oats, sugar, etc., and is more crumbly. (My Apple Buddy recipe has an awesome streusel topping.)
A cobbler's topping is closer to that of a biscuit. A thicker dough is dropped onto the fruit before baking.
Both, obviously, are delicious!
Can I make this cobbler with canned peaches?
I highly recommend making this cobbler with fresh sliced peaches, but I know those are hard to come by, especially out of season.
If you can't find quality fresh peaches, you can definitely use the canned variety. Just be sure to drain them before tossing into your baking dish.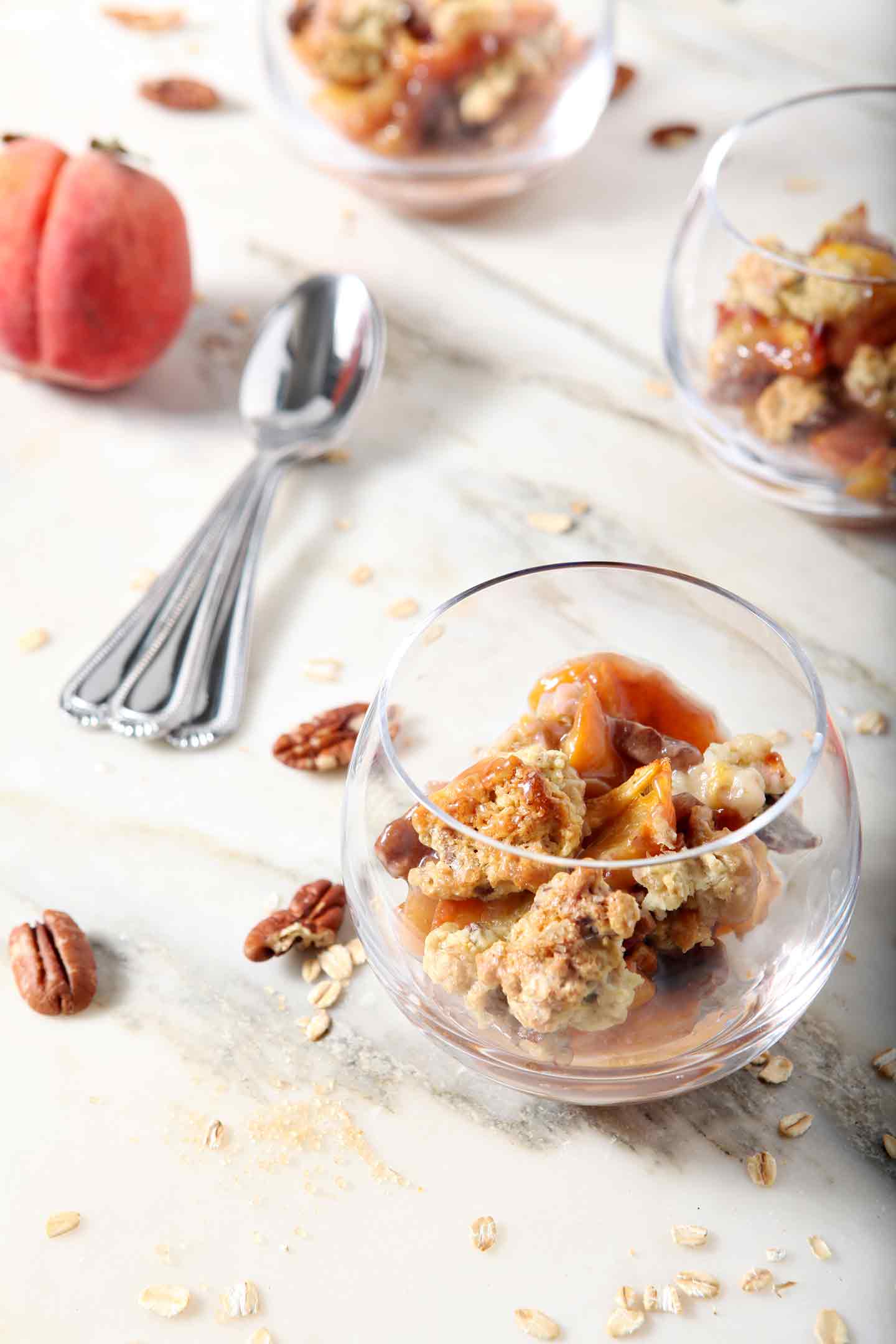 Why not just use yellow cake mix instead of this homemade topping?
Y'all know I'm all about homemade.
While I love a peach cobbler with a yellow cake topping (hello, college years and baking!), this rendition is delightful because it's from-scratch and from the heart.
If the yellow cake rendition makes you happy, make that. But if you're looking from a from-scratch dish, give this one a try.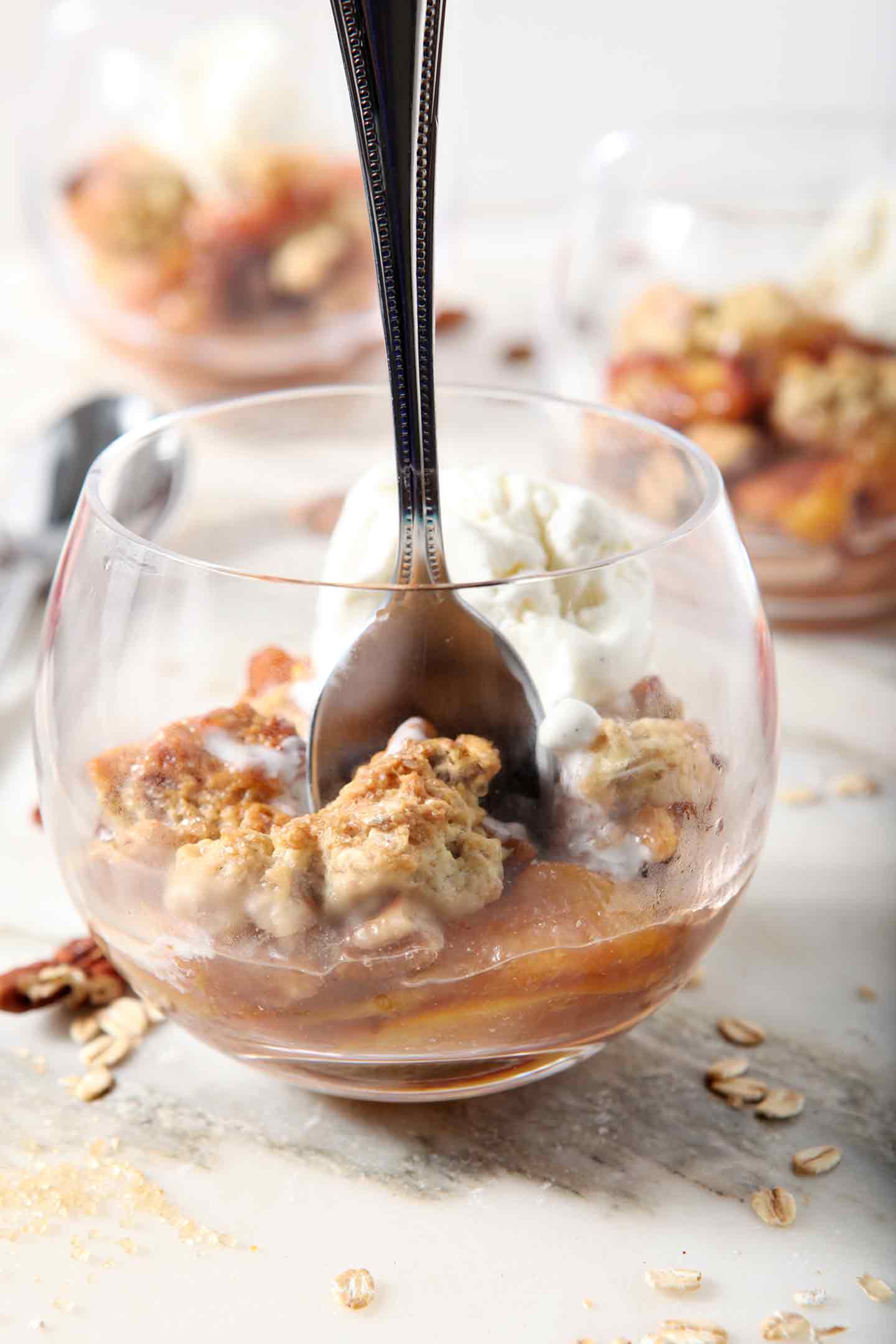 Why should I try a dairy free cobbler?
I can't tell you what you should or shouldn't do, but I can tell you that this Dairy Free Peach Cobbler is—to me—equally as good as a traditional, dairy-filled cobbler.
It's sweet. It's comforting. It tastes like the summertime… and chances are, you wouldn't know it was dairy free if you didn't make it. (Also, if you're already dairy free, why would you NOT try a dairy free cobbler?)
I always like to have dishes in my back pocket to share with friends who have dietary restrictions.
That's why you'll find recipes on The Speckled Palate that are vegan, vegetarian, gluten free, Whole30 and paleo-friendly and more.
Entertaining doesn't have a hassle, and having various recipes to be able to prepare for friends who have different diets than you isn't nearly as challenging as you'd think. It can also be delicious!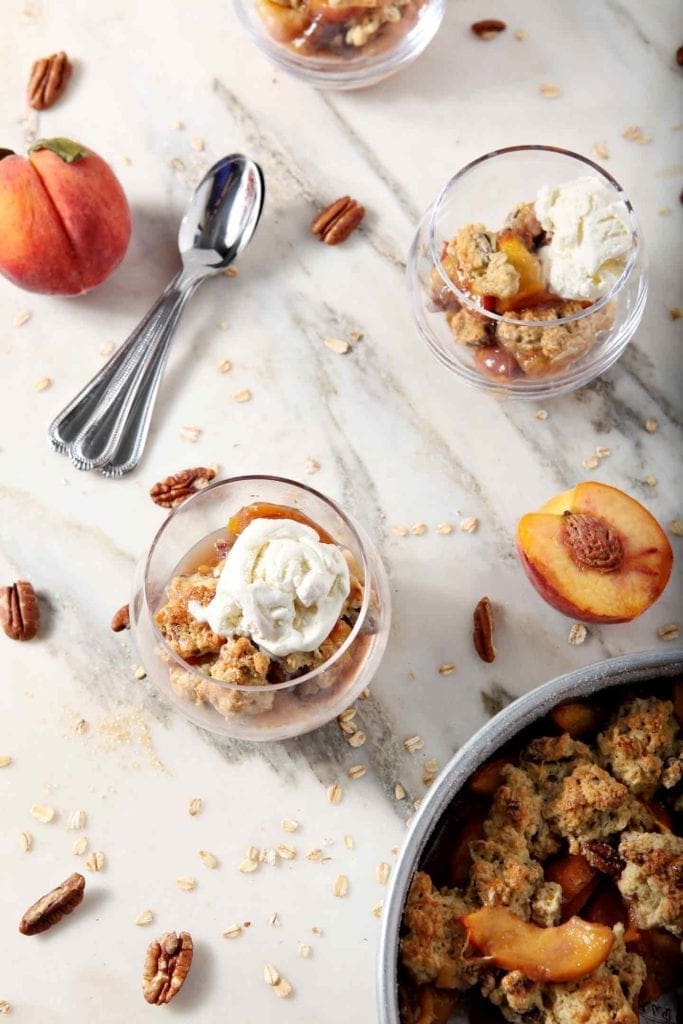 Can this dairy free cobbler be made VEGAN?
Yes. The biscuit topping will be more similar to that of a crumble if you don't use the egg it calls for, but it still can work!
You may need to add 1-2 more tablespoons of the non-dairy milk to make sure the mixture is wet enough.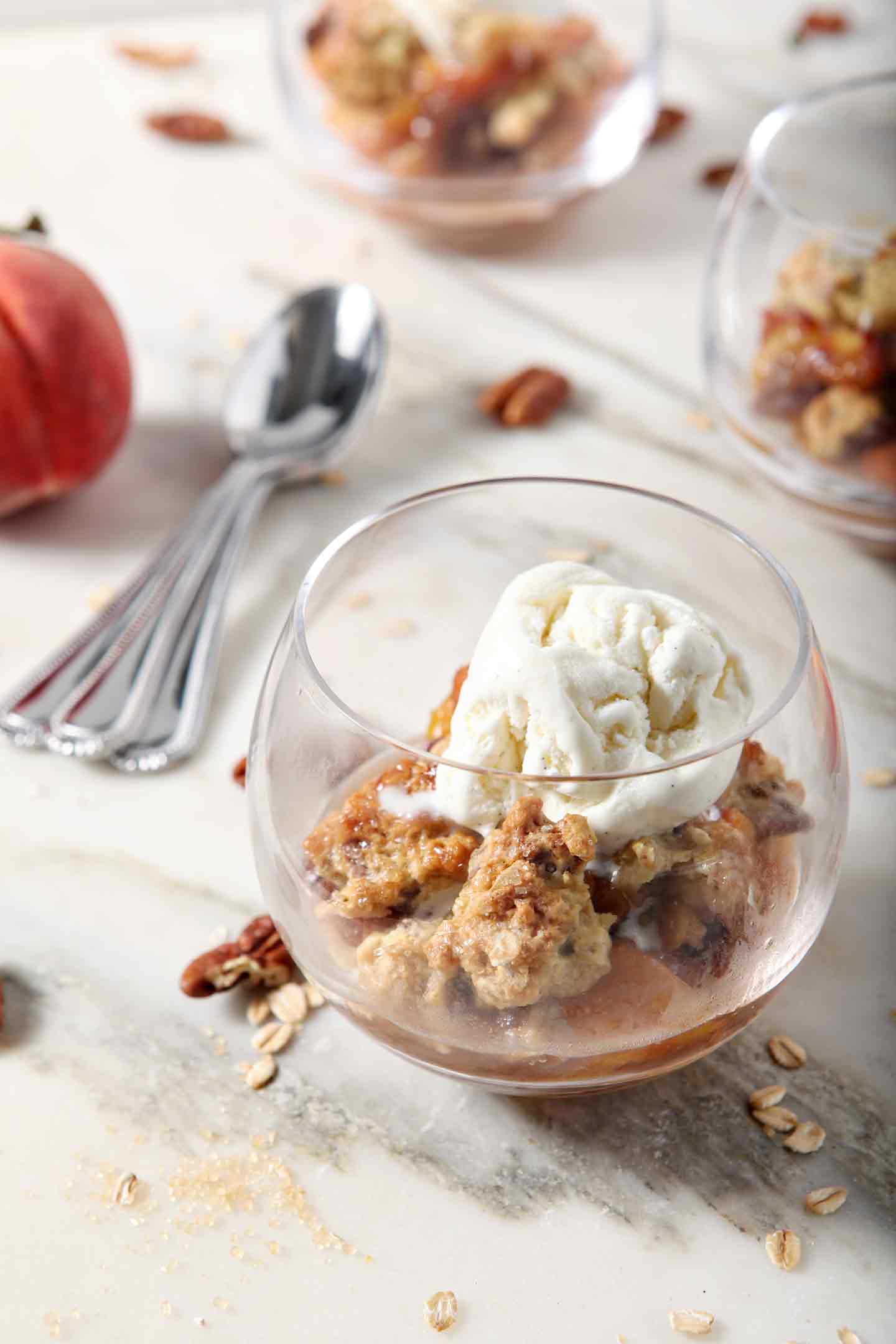 What do I need to make this Dairy Free Peach Cobbler?
Disclaimer: The links below are affiliate links. If you click through and take action, I will receive a small commission. Please refer to my disclosure page for more information about the affiliate programs The Speckled Palate participates in.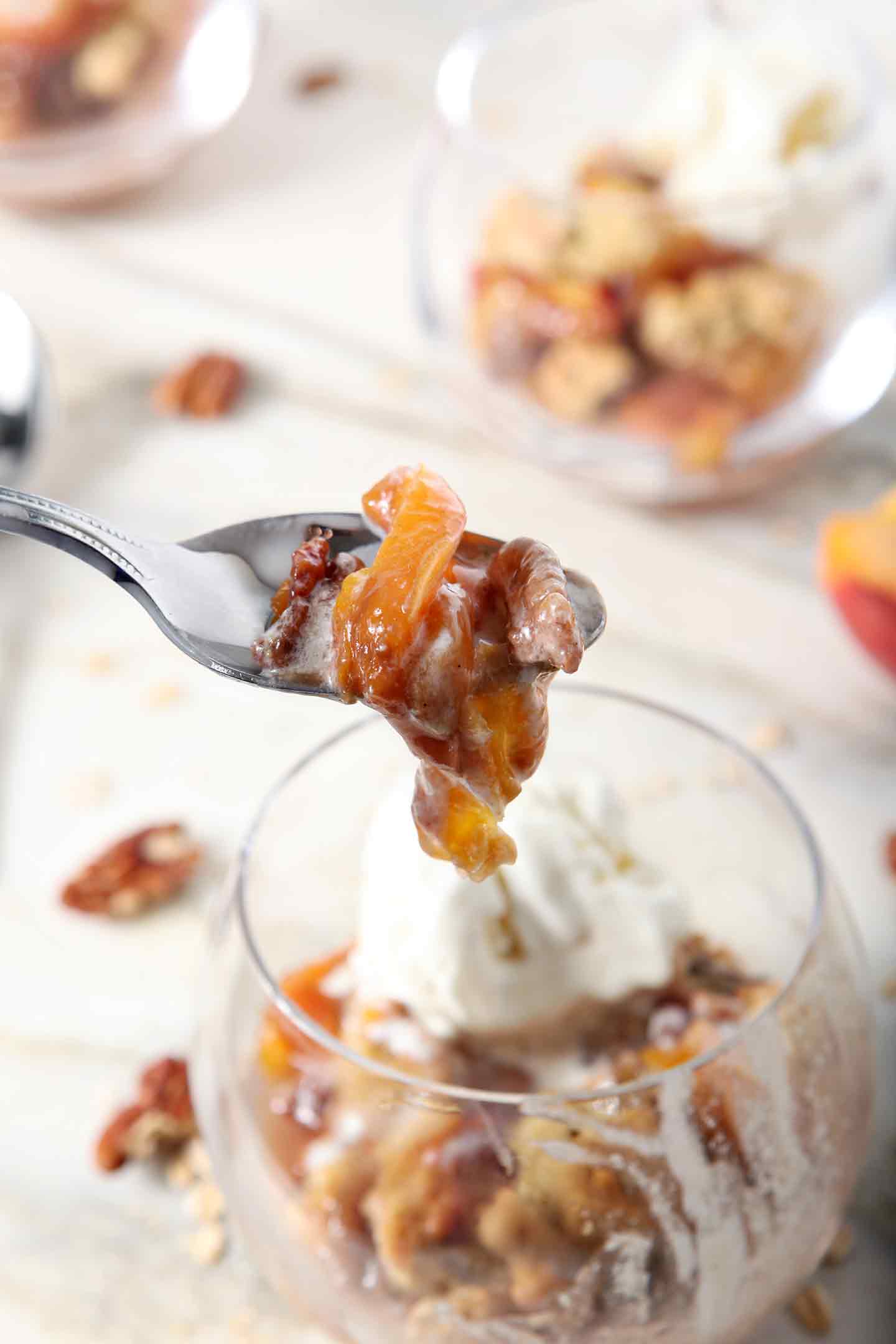 What are some other dairy free dishes I can serve at a gathering?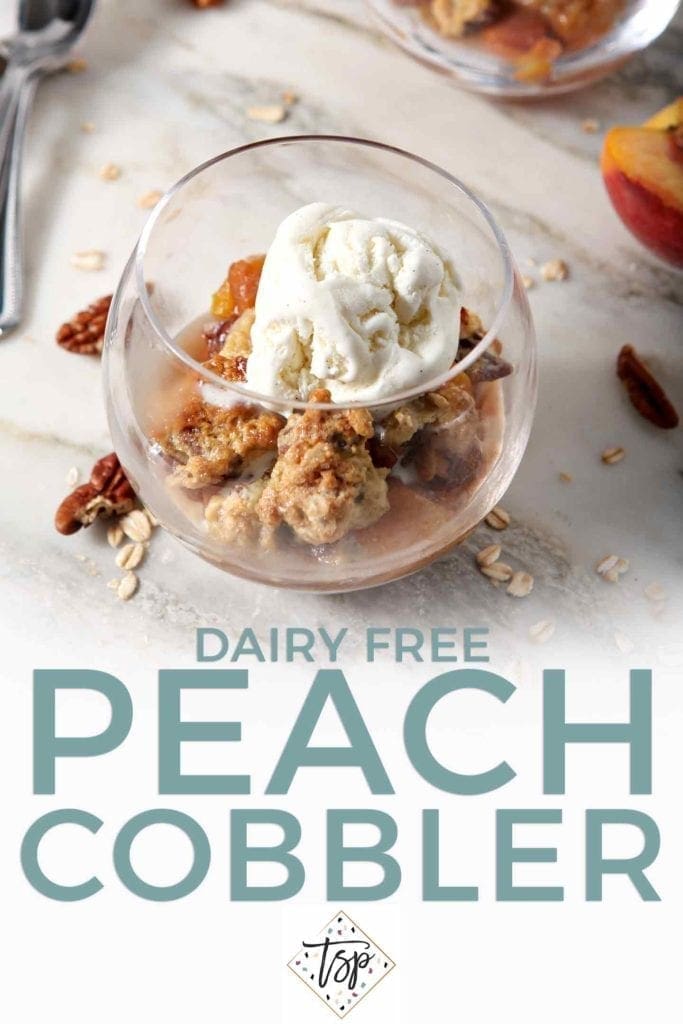 Now who's ready for some of this gorgeous dairy free cobbler? Scroll on down to learn how you can make it at home!
Trust me: It's easy and it's delicious!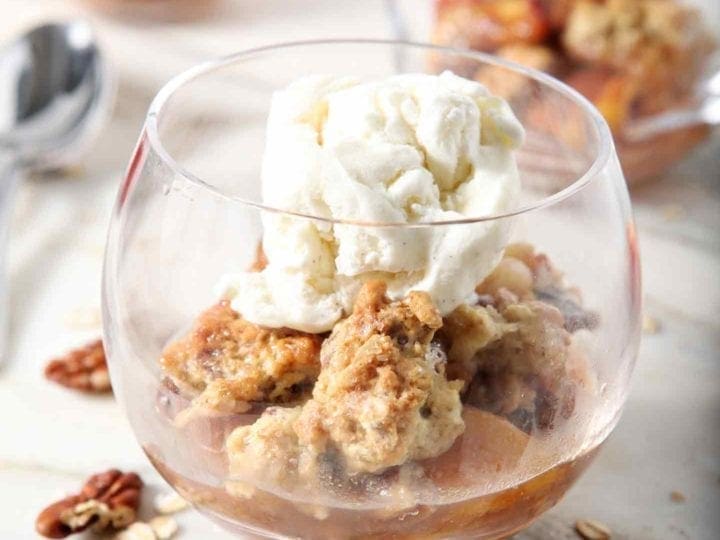 Yield:

6 servings
Dairy Free Peach Cobbler
Looking for a show stopping dairy free dessert? Look no farther than Dairy Free Peach Cobbler! This cobbler is the perfect dairy free dessert to serve family or a crowd during the summer. Toss fresh peach slices with corn starch, a little sugar and pecans before dropping nutty, slightly sweet biscuits on top and baking until golden. Served with a scoop of dairy free ice cream, Dairy Free Peach Cobbler makes the ultimate summertime dessert.
Ingredients
Filling
6 peaches, (about 4 cups, sliced)
½ cup pecans, chopped
3 tablespoons granulated sugar
1 tablespoon corn starch
Cobbler Topping
½ cup unbleached all-purpose flour
¼ cup rolled oats
¼ cup pecans, , chopped
1 tablespoon granulated sugar
1 teaspoon baking powder
A pinch of Kosher Salt
2 tablespoons coconut oil
1 egg
2 tablespoons cashew milk, unsweetened (or your favorite non-dairy milk)
Turbinado sugar, for sprinkling
Top with...
Dairy Free Ice Cream
A pinch of ground cinnamon
Instructions
Preheat the oven to 450°F. Spray a baking dish with nonstick baking spray.
In a small bowl, combine the sliced peaches, pecans, sugar and corn starch. Let sit together while the cobbler topping is made.
In a large bowl, combine the flour, rolled oats, pecans, sugar and baking powder. Stir until combined.
In a smaller bowl, stir together the coconut oil, egg and non-dairy milk.
Pour into the dry topping ingredients. Use a fork to mix until just combined.
Transfer the peach mixture to the prepared baking dish.
Dollop small scoops of the cobbler topping on top of the peaches. Sprinkle turbinado sugar on top.
Transfer the baking dish to the oven. Bake for 20-25 minutes, or until the cobbler topping is golden brown.
Serve warm with dairy-free ice cream and a sprinkle of ground cinnamon, and enjoy.
Notes
This recipe calls for lightly sweetening the peaches because the ones I was using were so ripe and sweet already. If yours are a bit more tart, feel free to add 1-2 more tablespoons of sugar to them. Taste them before putting them in the pan to ensure they are sweet enough to your liking.
If you, your family or your guests are nut free, you can easily leave the pecans out of this cobbler.
Recommended Products
As an Amazon Associate and member of other affiliate programs, I earn from qualifying purchases.
Nutrition Information:
Yield:
6
Serving Size:
1 (without the ice cream)
Amount Per Serving:
Calories:

282
Saturated Fat:

5g
Cholesterol:

27mg
Sodium:

14mg
Carbohydrates:

35g
Fiber:

4g
Sugar:

21g
Protein:

4g
Do you have any specific memories of eating peaches as a kid?
Could I interest you in a bowl of this delightful dairy free cobbler?