Jazz up plain French toast, pancakes or waffles this weekend by adding a gorgeous Balsamic Peach Compote! This sweet-tangy compote makes the perfect warm month topping for your favorite breakfast. Makes 4 servings.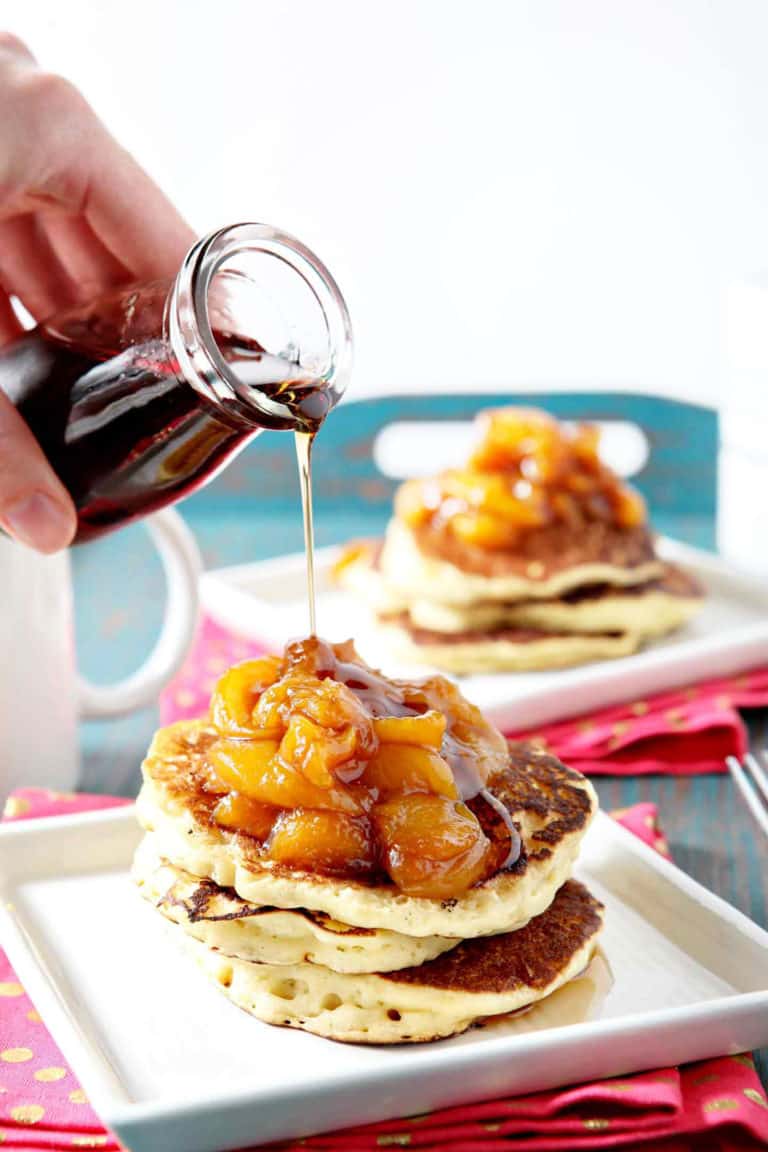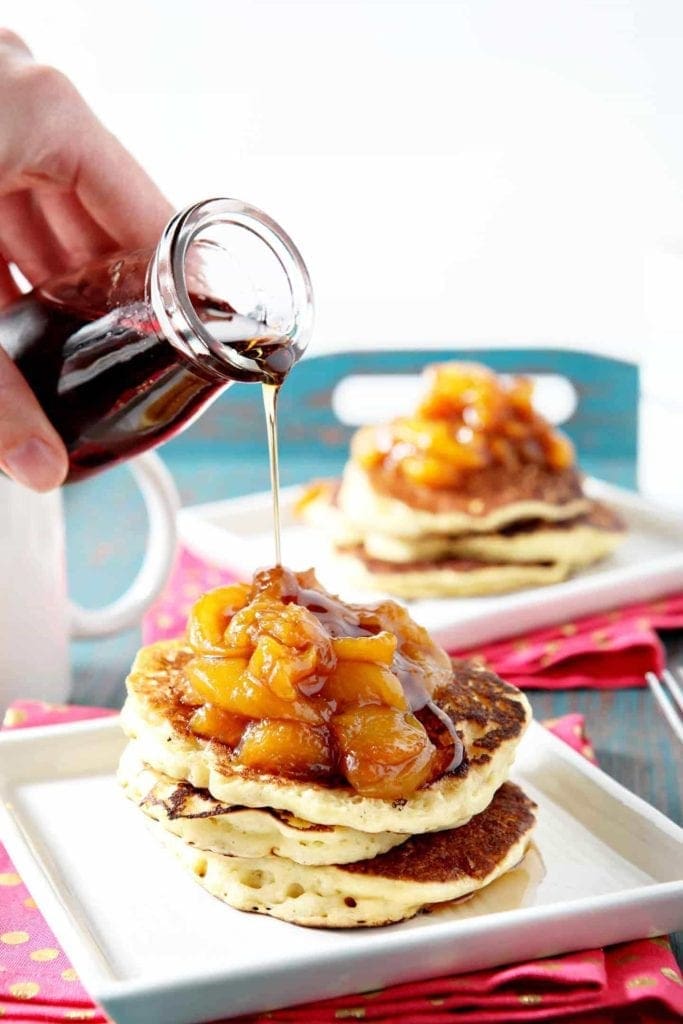 I've been thinking a lot about weekend traditions recently, mostly because my husband spent a month away from us, and he's back again… so we're back to our lazy weekend breakfasts.
Our laid back weekend morning tradition harkens back to the days when we were dating in college. I never knew being in the kitchen with someone could be so enjoyable, and it's been our thing ever since.
This particular recipe came into being one of those lazy Saturday mornings. That morning, we were making waffles, and when Winston realized we had peaches in the freezer, he made a suggestion.
"Why don't we just make some kind of compote and put it on top of our waffles?"
With that simple question, I immediately threw the frozen peaches into a sauce pan, adding a little sugar and water as I turned on the heat, smiling back at him.
The rest, as they say, is history.
Other breakfast recipes we adore: Sweet Potato Pancakes | Yogurt French Toast | Vegan Banana Muffins | Double Chocolate Pancakes | Chocolate Raspberry Overnight French Toast Casserole
Want more breakfast inspo? Check out my Breakfast Recipe Index.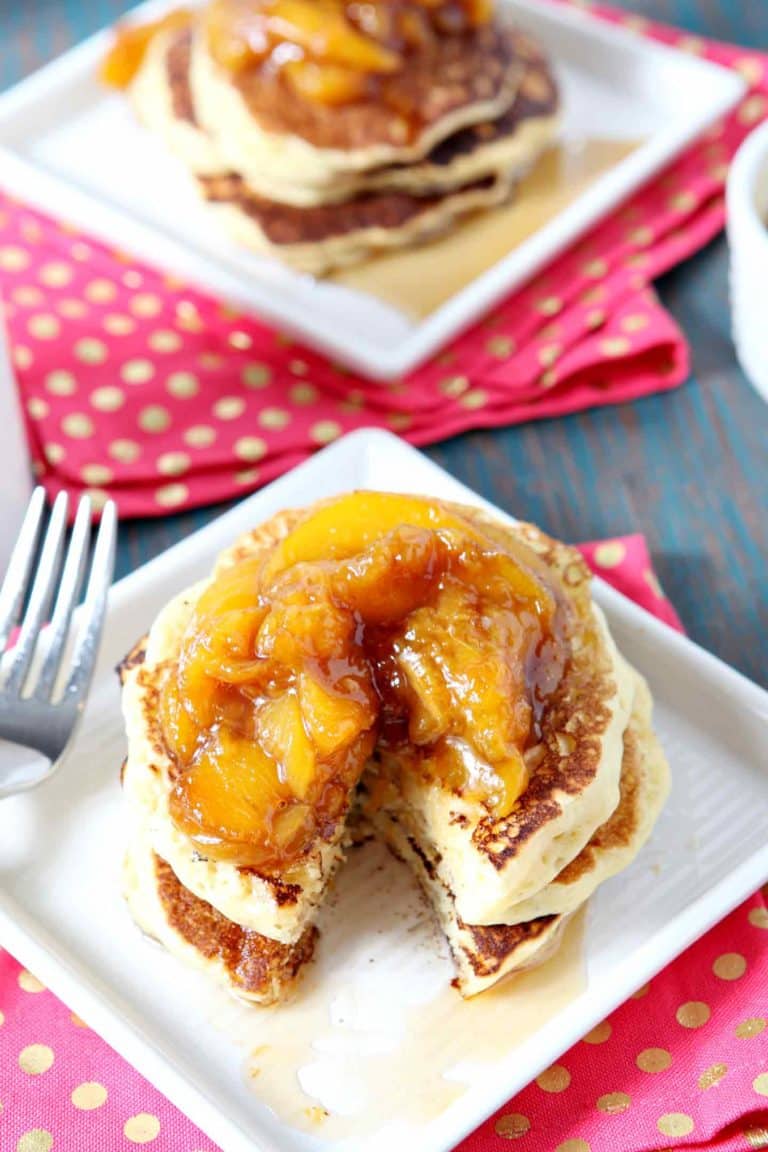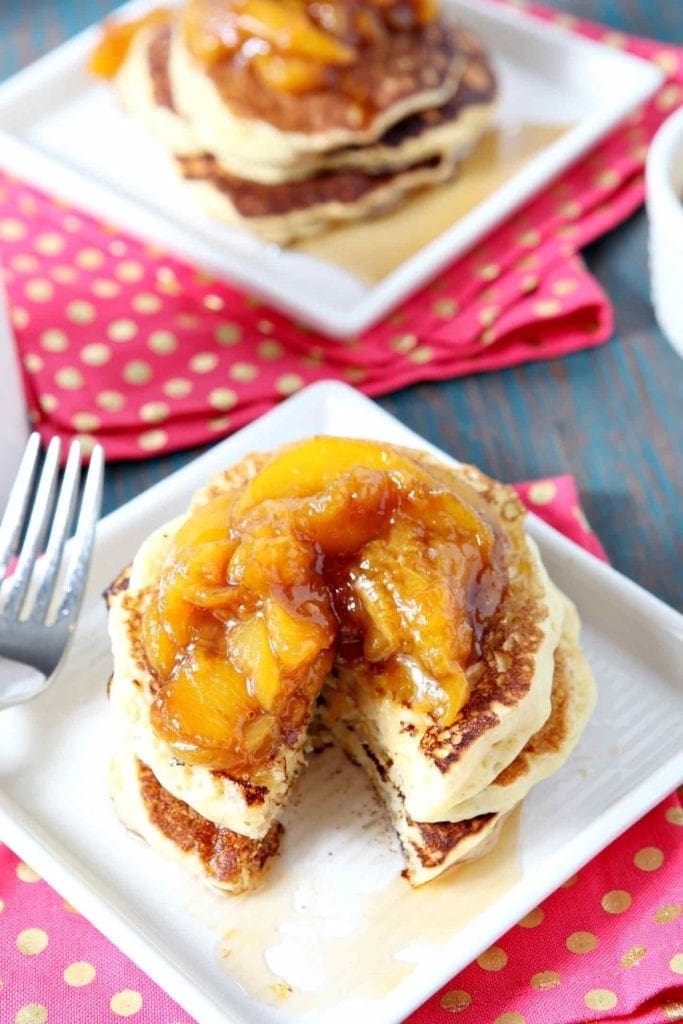 What you'll need to make this Homemade Peach Compote
Disclaimer: The links below are affiliate links. If you click through and take action, I will receive a small commission. Please refer to my disclosure page for more information about the affiliate programs The Speckled Palate participates in.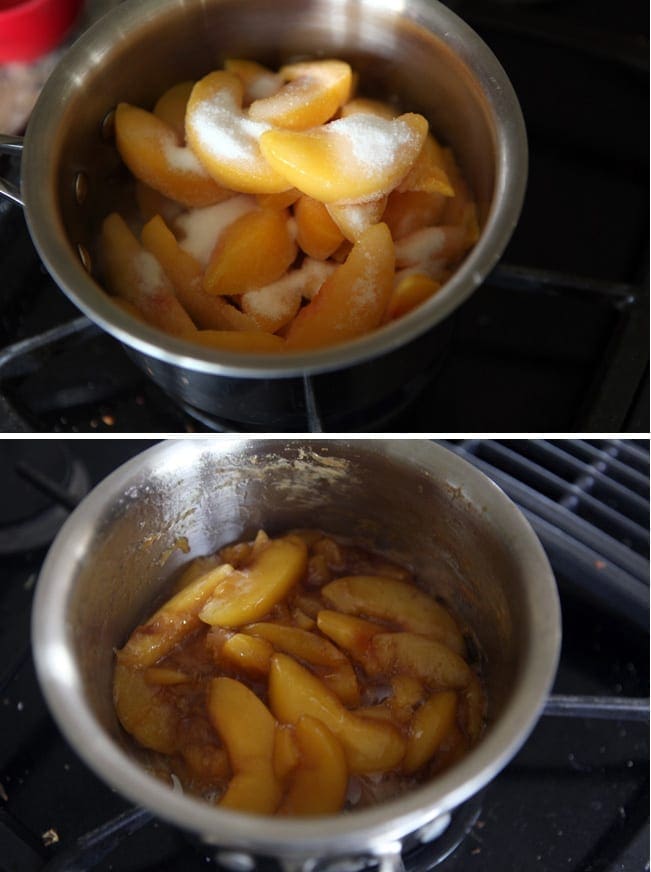 How to Make Peach Compote
Place your saucepan on the stovetop, and turn on the heat to medium-high.
Next, you'll measure out the peaches. My original recipes calls for frozen peaches, but you can use fresh or canned. Just make sure they're sliced before you measure them out, as you want TWO cups of 'em.
Add the peaches to the saucepan with water and sugar, and bring 'em to a boil. We want them to heat and cook until the peaches begin to break apart and break down.
When the peaches start falling apart, drizzle in the balsamic vinegar. Cook for an additional 5-10 minutes. This will ensure that the flavors really meld beautifully.
Serve warm over your favorite breakfast or over dessert.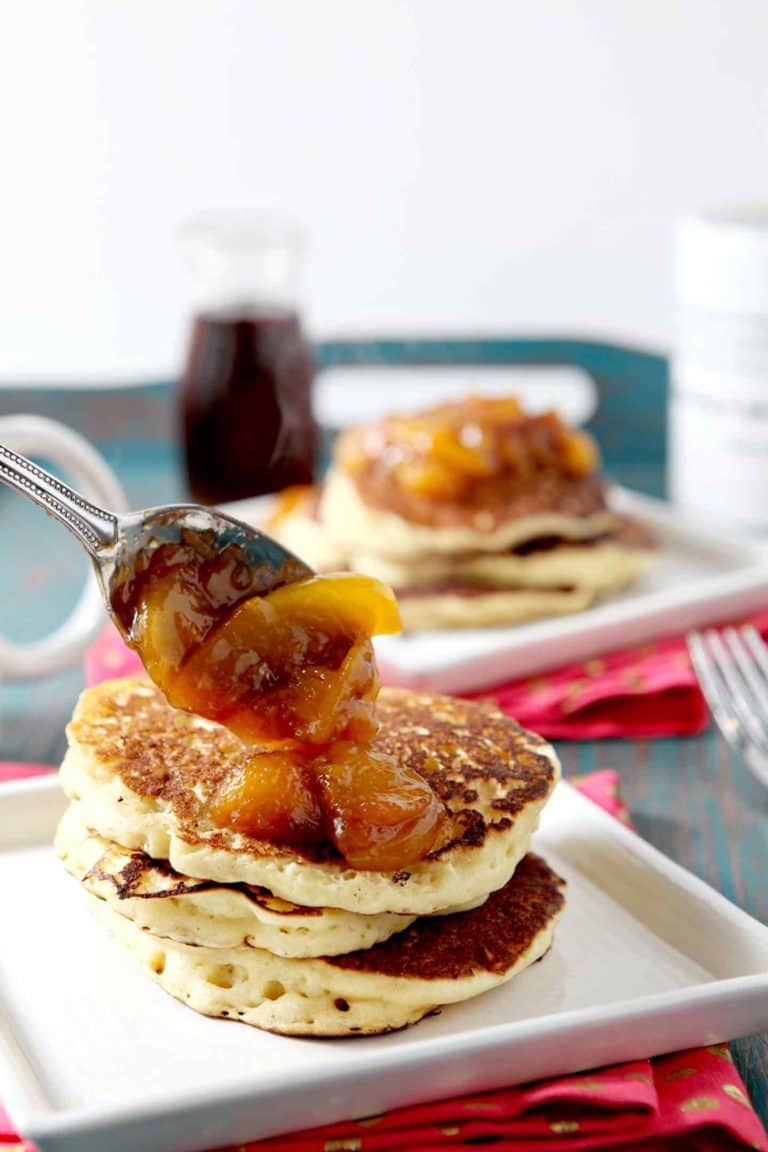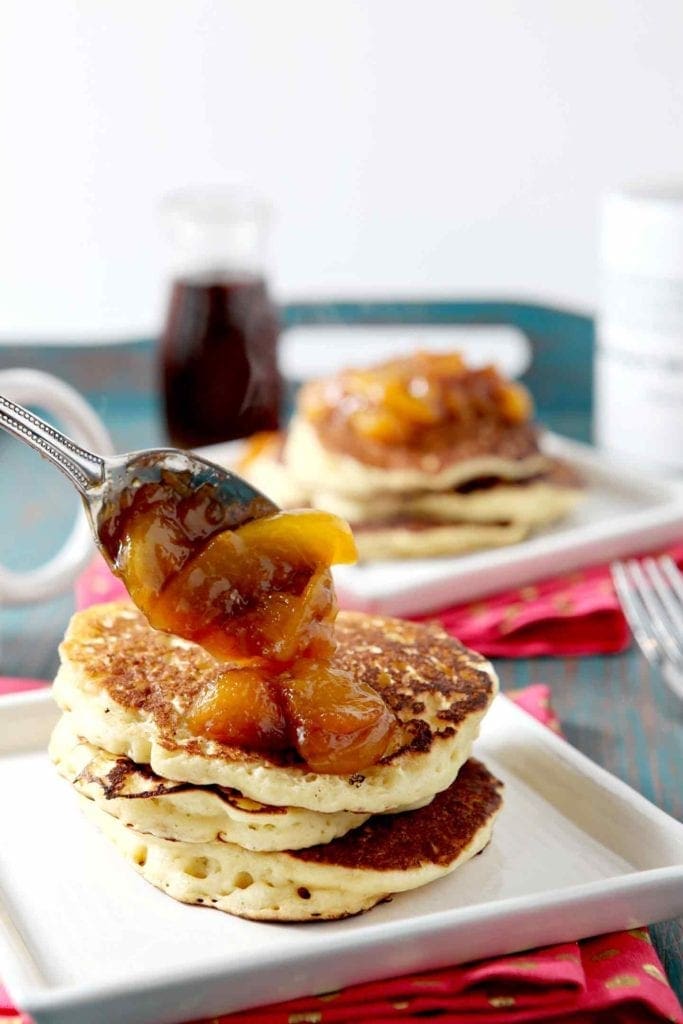 Erin's Easy Entertaining Tips and Tricks
We love, love, love to host friends for brunch. Whether it's a holiday-centric brunch or a regular 'ol weekend one, it's a good time had by all.
The best way to do brunch at home is have it be low stakes but to have a plan to execute it since brunch happens earlier in the day than a dinner party. As someone who's been known to scramble, I like to make things easy on myself, and to do this with brunch, I want to have a PLAN to stick to.
Here are some tricks for preparing for brunch with this compote:
Make it in advance. The beauty in this compote is that it keeps in the fridge, so all you have to do when you've finished cooking it is to transfer it to a mason jar or another food-safe storage container. Let it cool, then transfer it to the fridge.
If you're hosting a lot of folks, double or triple the recipe. This compote is always a smash, so you'll want to make sure to have enough.
Reheat the compote in the microwave just before it's time to eat.
Give your brunch a theme! Since these peaches are summery and delicious, consider serving other summery foods to compliment the compote.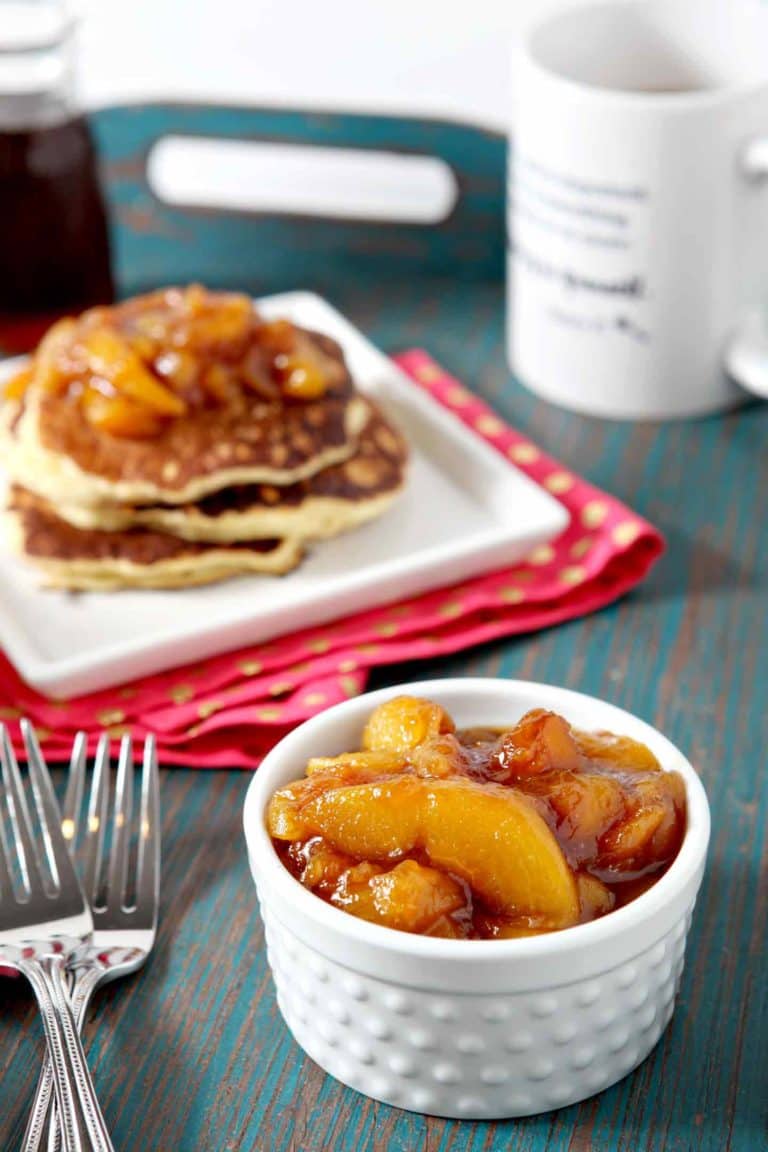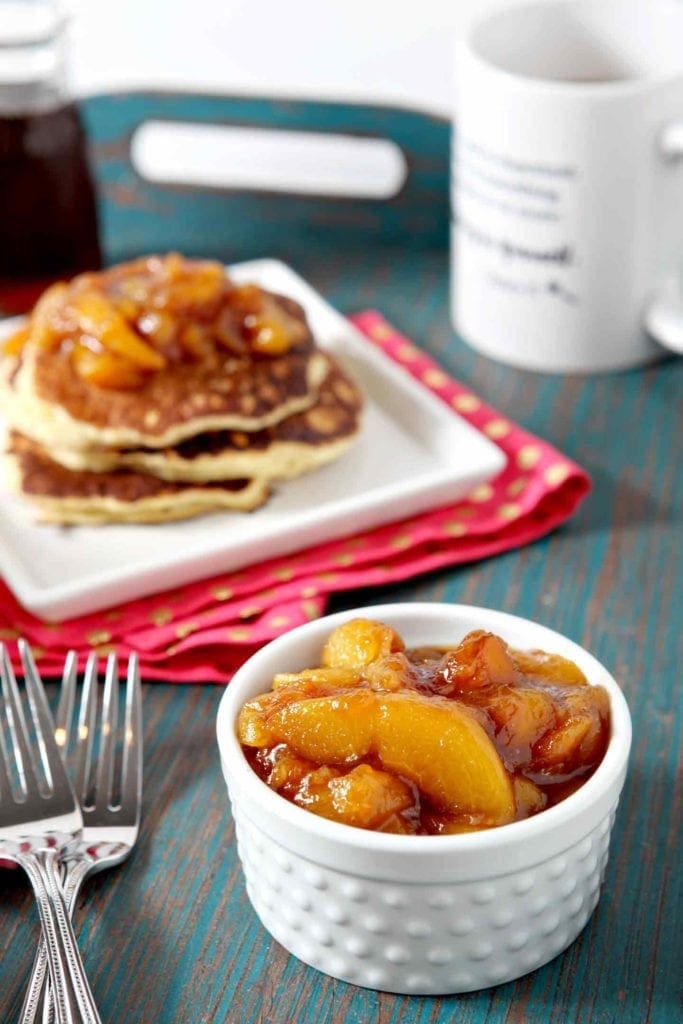 Frequently Asked Questions
Why does this peach compote call for a little bit of balsamic vinegar?
The peaches are super sweet, as is the sugar. We need something to balance out the flavors a bit, which is why we're using balsamic vinegar. This is the same theory you'd use for throwing a pinch of salt into a sweet dish.
Can I use fresh peaches in this compote? Can I use canned peaches?
Of course, you can! For the fresh peaches, slice them, then measure in two cups of the slices before following the same directions.
Measure out the sliced canned peaches the same way you would for the other two, and follow the instructions.
The peaches will cook for less time because they're not frozen, but they'll be equally as delicious.
What can I use this compote on?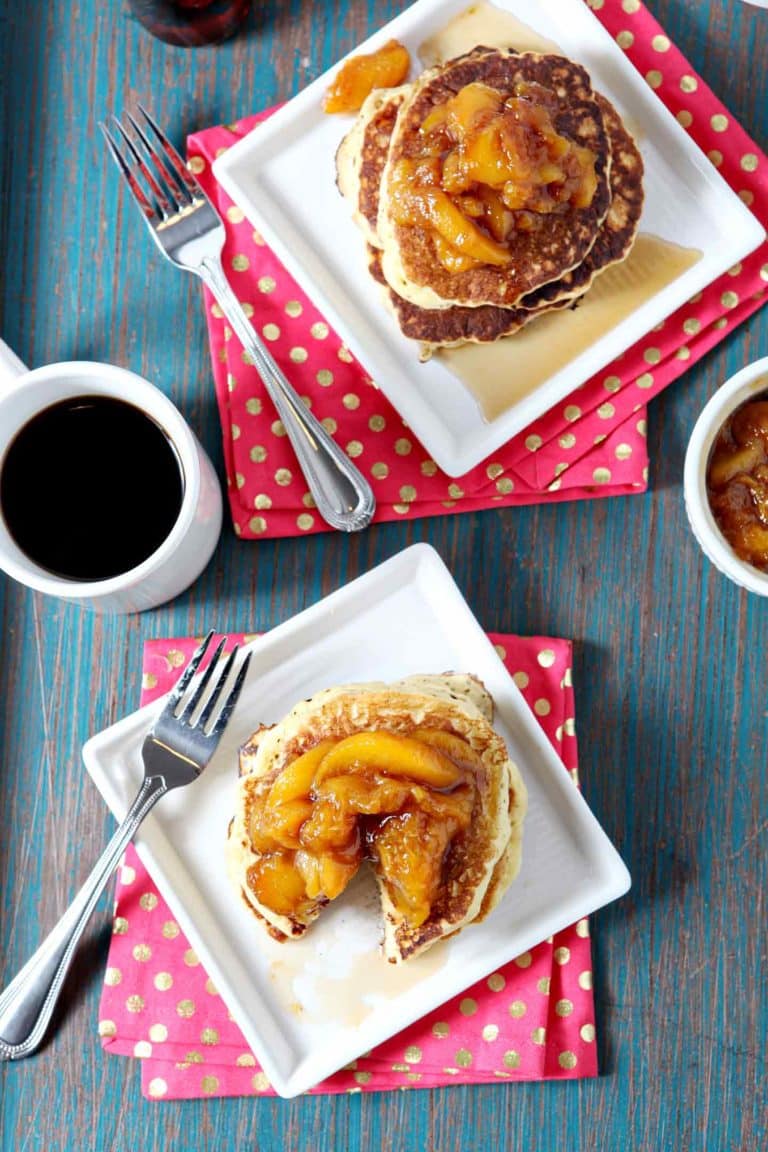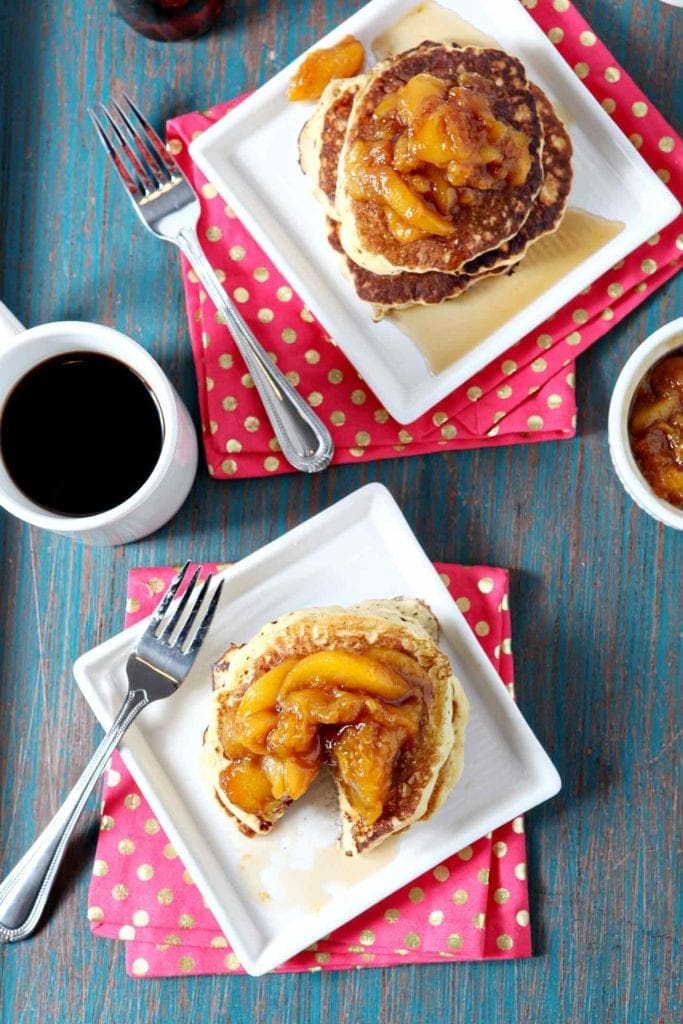 Quick Tips and Tricks for the BEST Homemade Peach Compote
If you don't have frozen peaches, you can use fresh or canned instead. If you're using canned, make sure they're no longer in the syrup.
Don't skip the balsamic vinegar. It really brings out the peachy flavors while balancing out the sweetness.
Swap out the granulated sugar for brown sugar for a more molasses-y sweetness to this fresh fruit compote.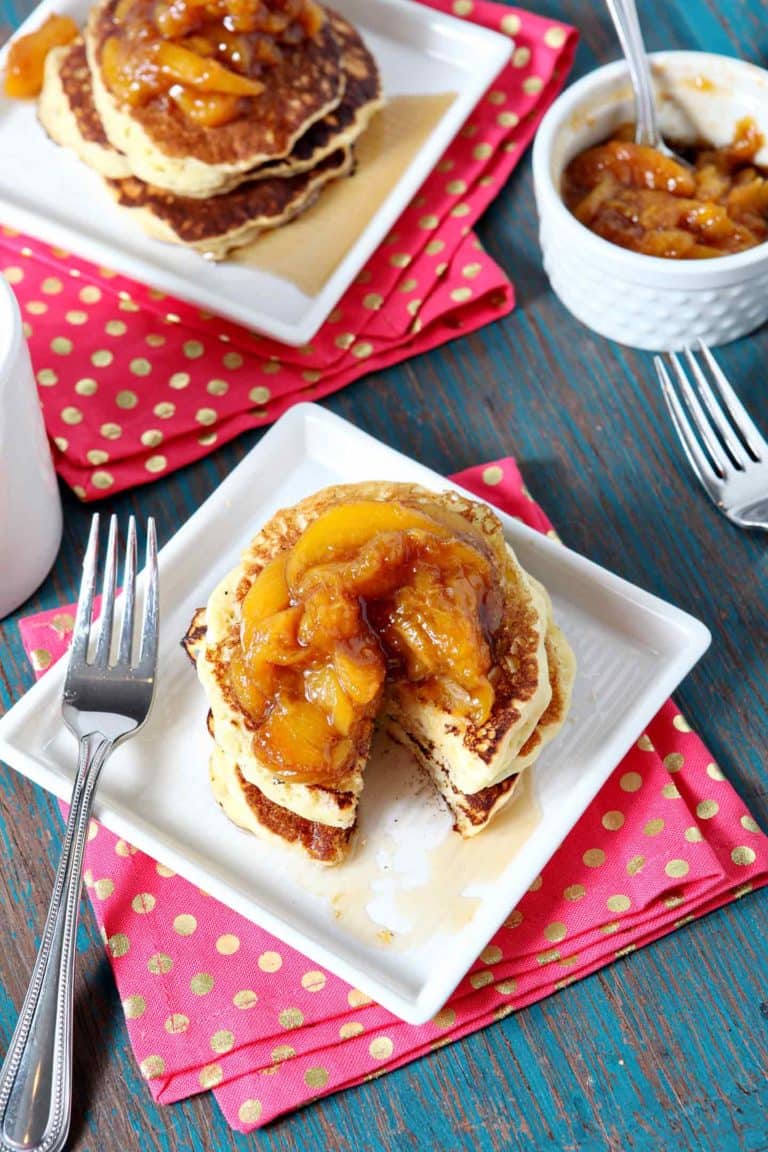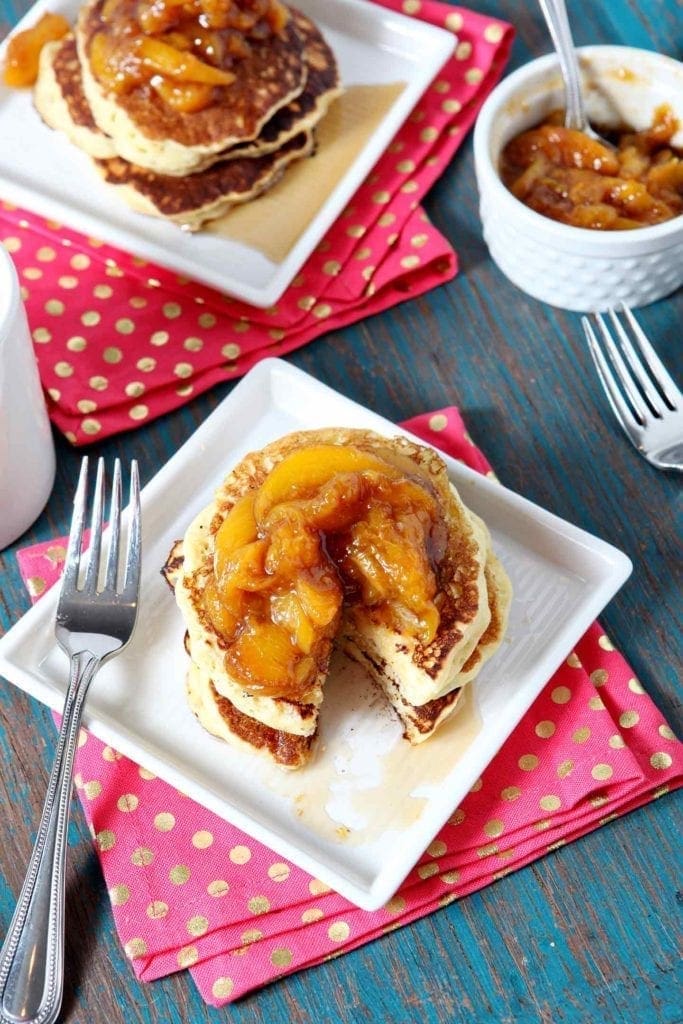 Now who's ready for some Balsamic Peach Compote?
I am, I am!
Scroll on down to learn how to make this goodness…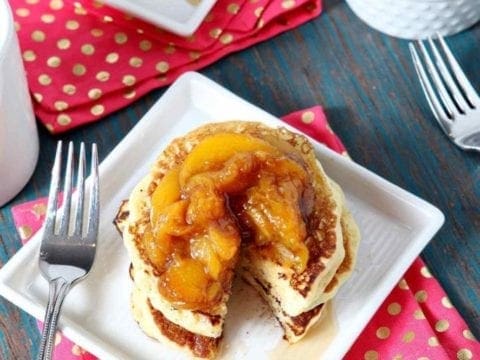 Yield:

4 servings
Balsamic Peach Compote
Jazz up plain French toast, pancakes or waffles this weekend by adding a gorgeous Balsamic Peach Compote! This sweet-tangy compote makes the perfect warm month topping for your favorite breakfast. Frozen peaches cook down with a little sugar and water, then when they're fall-apart delicious, add a little balsamic vinegar for tanginess. Serve the compote warm warm atop any favorite carb-based breakfast to add peach sweetness to breakfast or brunch!
Ingredients
2 cups frozen peach slices
2 tablespoons granulated sugar
¼ cup water
1 teaspoon balsamic vinegar
Instructions
Place a medium-sized saucepan over medium-high heat.
Measure out the peaches, and add them to the saucepan. Add the water and sugar to the pan, too.
Bring the ingredients to a boil, heating until the peaches start to break apart.
When peaches begin breaking down into smaller pieces, add the balsamic vinegar and cook for another 5-10 minutes.
Serve warm on top of French Toast, Waffles or Pancakes (or even DESSERT!), and enjoy!
Notes
Fresh peaches or canned peaches can be used in this recipe, too. Slice them before measuring into the saucepan. The cook time will be a little shorter, so keep an eye on the texture of the compote as it cooks down.
Recommended Products
As an Amazon Associate and member of other affiliate programs, I earn from qualifying purchases.
Nutrition Information:
Yield:
4
Serving Size:
1 serving
Amount Per Serving:
Calories:

55
Total Fat:

0g
Saturated Fat:

0g
Trans Fat:

0g
Unsaturated Fat:

0g
Cholesterol:

0mg
Sodium:

1mg
Carbohydrates:

14g
Fiber:

1g
Sugar:

13g
Protein:

1g
Nutrition facts are an estimate and not guaranteed to be accurate.
…
The photos and recipe for this Peach Compote were originally published on March 21, 2012. The photographs, along with the text of this blog post, were updated on June 27, 2017.