How to make Homemade Taco Seasoning
Making your own Homemade Taco Seasoning is easier than you think! This 10-ingredient taco seasoning recipe calls for ingredients that are probably already in your spice cabinet AND is significantly less salty than the store-bought taco spice blends. Makes 16 servings.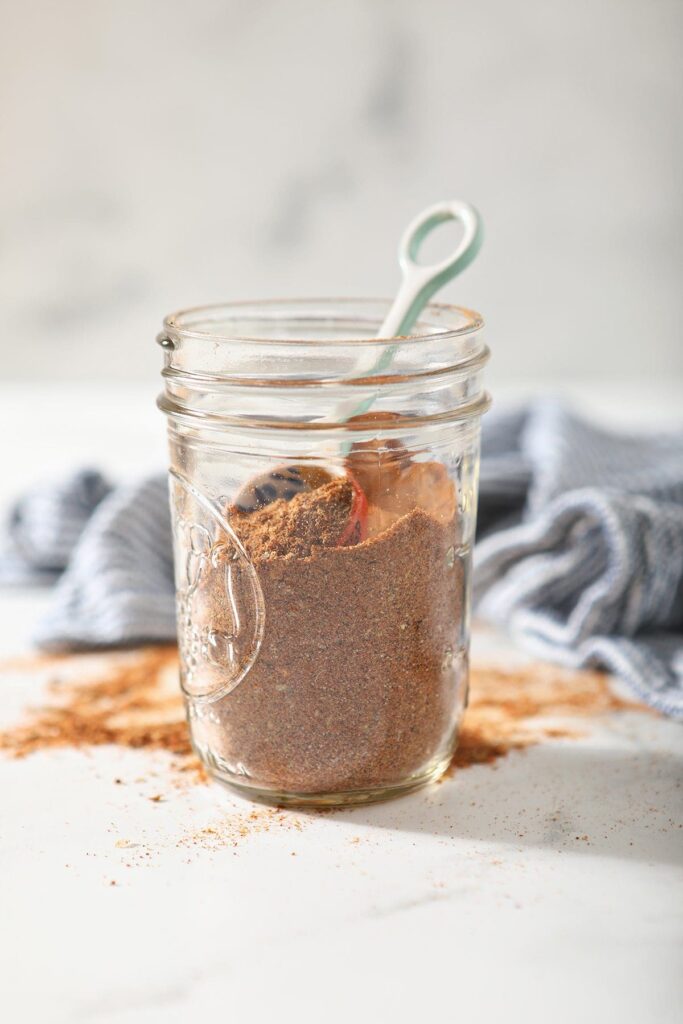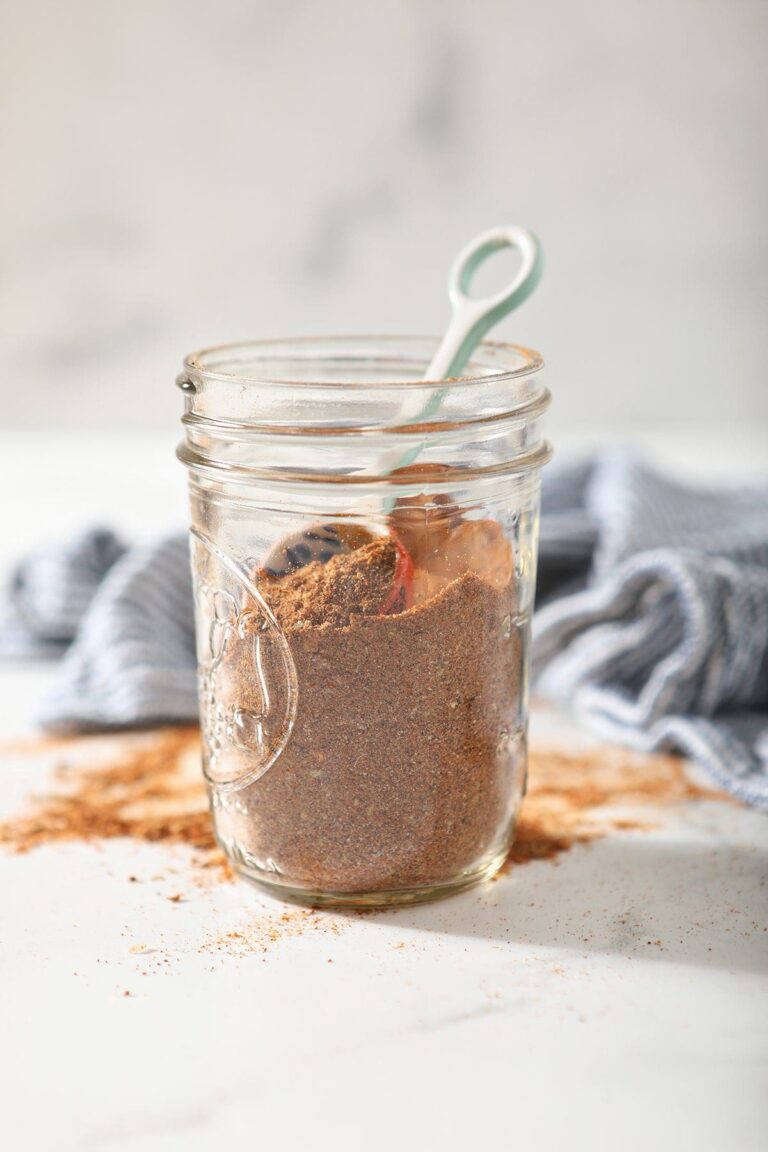 I never thought I'd become the cook who makes everything myself. As a matter of fact, I always found those people kind of annoying.
We've all been there: You go over for dinner, and you are munching on a delicious something that usually seems incredibly intimidating to make at home, and you ask the cook where they got it… and they say in a proud tone, "Oh, I made it myself." Like it's no big deal that they whipped up phyllo dough for their grandmother's baklava recipe, then put it all together successfully, and it was the most delicious thing you ever ate.
It's frustrating but kind of awe-inspiring, right?
Let's be clear: I'm not making fun of these people. I am one of these people. And as much as I've fought it, I have finally given in and jumped on the most-everything-from-scratch bandwagon. And while it certainly takes more TLC, I'm enjoying it, assuming I have the time to pull it all together.
The more I learn about food, the more I want to make everything at home. The food industry scares me, y'all, and I'd rather be 100% certain what is going into my meals by controlling how I make them from scratch. Which basically means I'm going to eventually be that mom who tells her children that she'll make them their own WonderBread instead of saving myself time and stress by just buying a damn loaf at the store. I'm calling it now. (And should my future children someday read this post, I'm sorry I'm not sorry, kiddos.)
Why I love this recipe:
This taco seasoning recipe is one of those seemingly hoity-toity made-from-scratch ones.
And even though you'll feel a little obnoxious telling your friends you made the seasoning when they come over for a fiesta, this mix is good enough to feel a little obnoxious.
The bonus is that it's super simple to pull together, doesn't require any complex kitchen skills (or even a set of knives), and it comes together in 10 minutes or less. It's a lower sodium spice blend recipe, so you don't have to worry about your tacos (or whatever you're cooking) being too salty. ALSO, you're saving a little money because making your own DIY taco seasoning is cheaper than the mixes sold in the stores.
That's a win-win in my book!
Other recipes that call for this taco seasoning recipe: Turkey Taco Soup | Guacamole-Stuffed Fajita Burgers | Homemade Loaded Queso
Looking for more dishes to add this homemade seasoning mix to? Head on over to my Dinner Recipe Index for some ideas.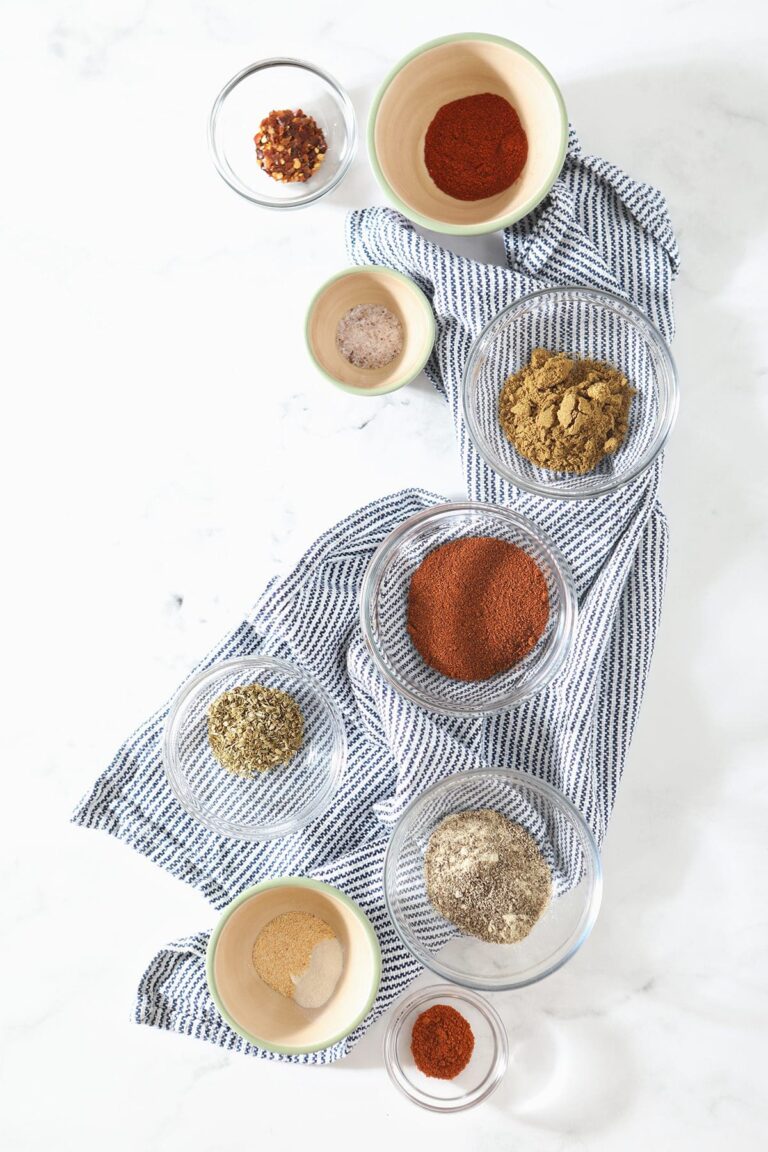 What you need to make this taco seasoning recipe:
The Speckled Palate participates in affiliate programs. As an Amazon Associate, I earn a commission from qualifying purchases. Please refer to my disclosure page for more information about these affiliate programs.
Homemade taco seasoning ingredients:
You just need 10 simple jarred spices and herbs to make this recipe.
Chili powder—we keep the Organic Chili Powder Blend from Whole Foods Market at our house, and I like the balance of it. It doesn't have a ton of heat and plays nicely with the other ingredients in this spice blend recipe.
Ground cumin
Black pepper
Paprika—I use sweet paprika (which is usually just labeled "paprika") in this recipe, though smoked paprika would add some smokiness to this DIY taco seasoning. I don't recommend using hot paprika because it'll make this spice blend a bit too pepper-heavy.
Dried oregano
Garlic powder—or you can use granulated garlic, which has a coarser texture but adds the same flavor
Onion powder—or you can use granulated onion, which has a coarser texture but adds the same flavor
Crushed red pepper flakes
Coarse sea salt—or a coarse kosher salt. We don't use a ton of salt in this recipe because I want the peppers and other ingredients to shine. Also, you can always add more salt to your dish once the taco spices are in.
Ground cayenne pepper—this packs some heat, so please use it carefully!
To me, this spice blend recipe isn't too hot, but provides a ton of flavor. If you're concerned that it's going to be too spicy for you, I suggest leaving out the cayenne pepper and the crushed red pepper flakes. Give it a taste and add a little shake of them if it's not flavorful enough.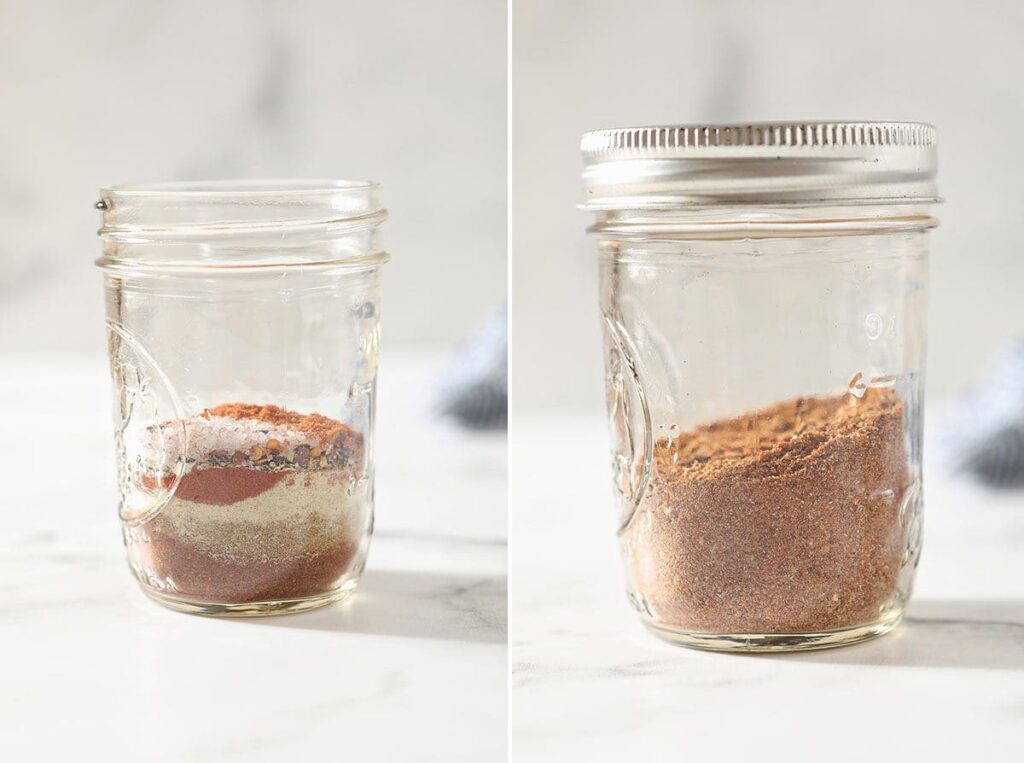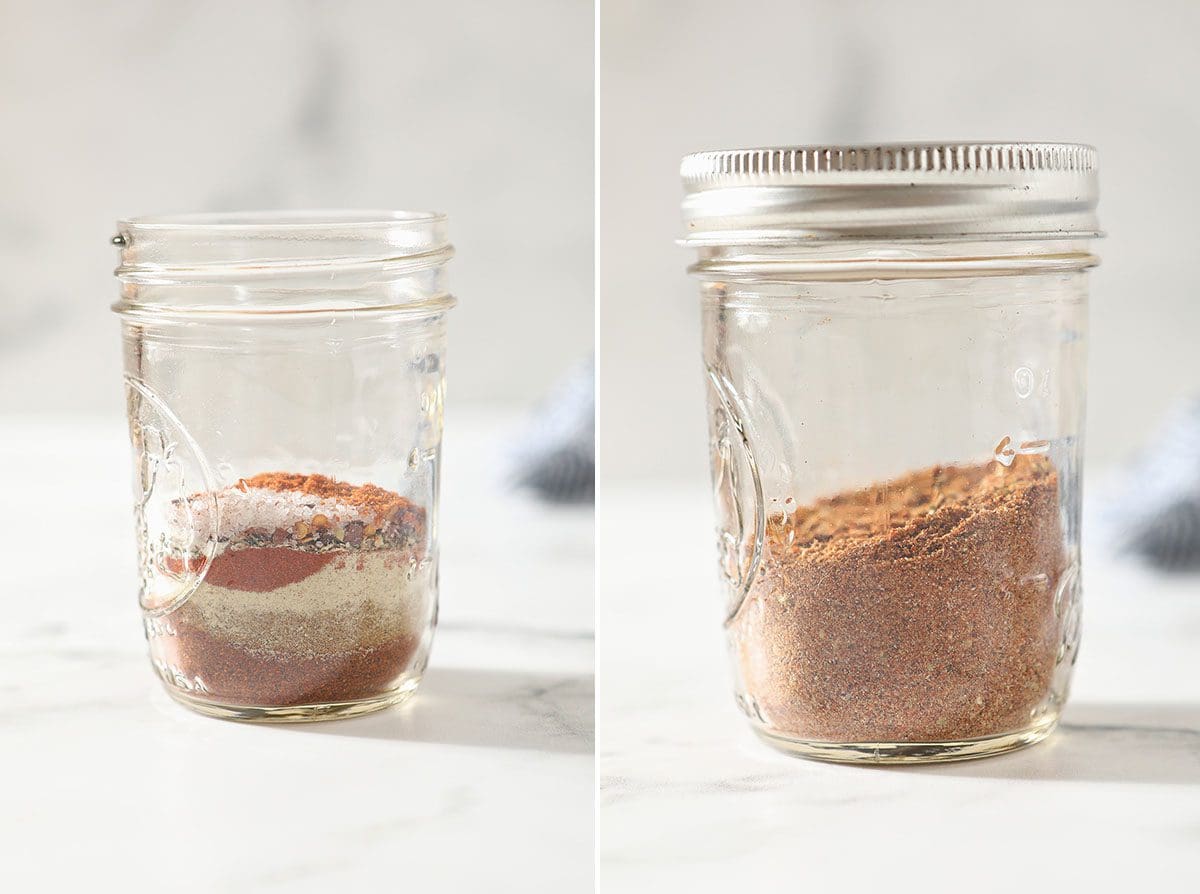 How to make Homemade Taco Seasoning
Measure all the ingredients into a bowl or a pint-sized mason jar. When everything is in the jar, cap it, and shake until combined. (You can also whisk these together if you're using a bowl.)
Store in an airtight container (like a mason jar or an empty spice jar) for up to 6 months in a dry, cool cabinet. Use on Ground Beef Tacos, Pork Carnitas Enchiladas, Crispy Taco Spiced Chickpeas and more!
How to use Homemade Taco Seasoning in Ground Meat Tacos
Brown a pound of ground meat in a skillet with 2-3 tablespoons of taco seasoning mix. Drain the meat, if necessary, and serve.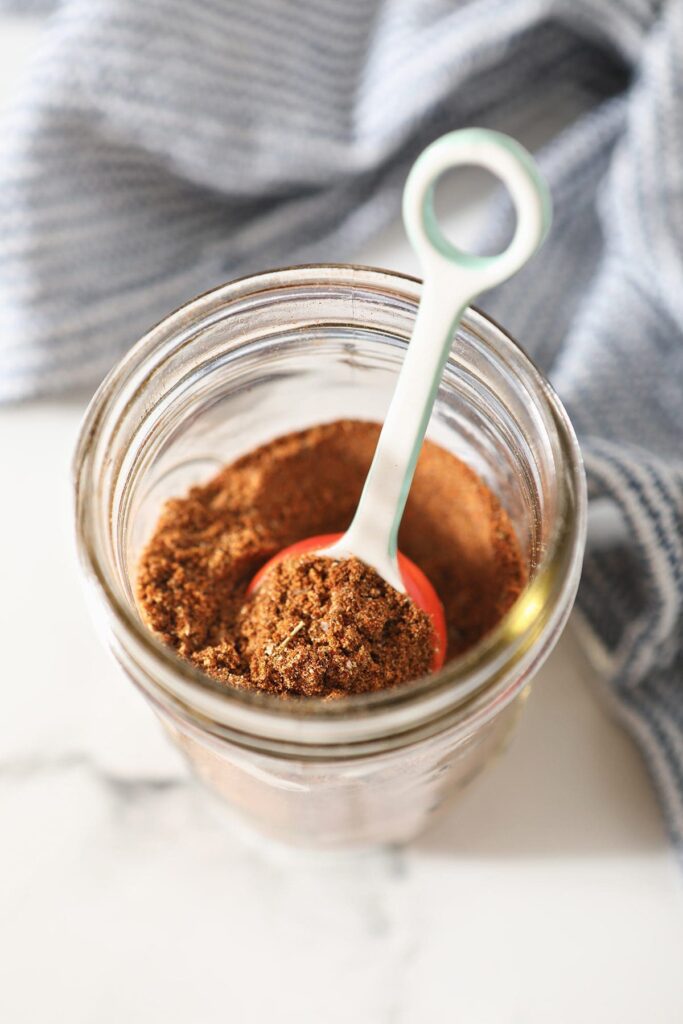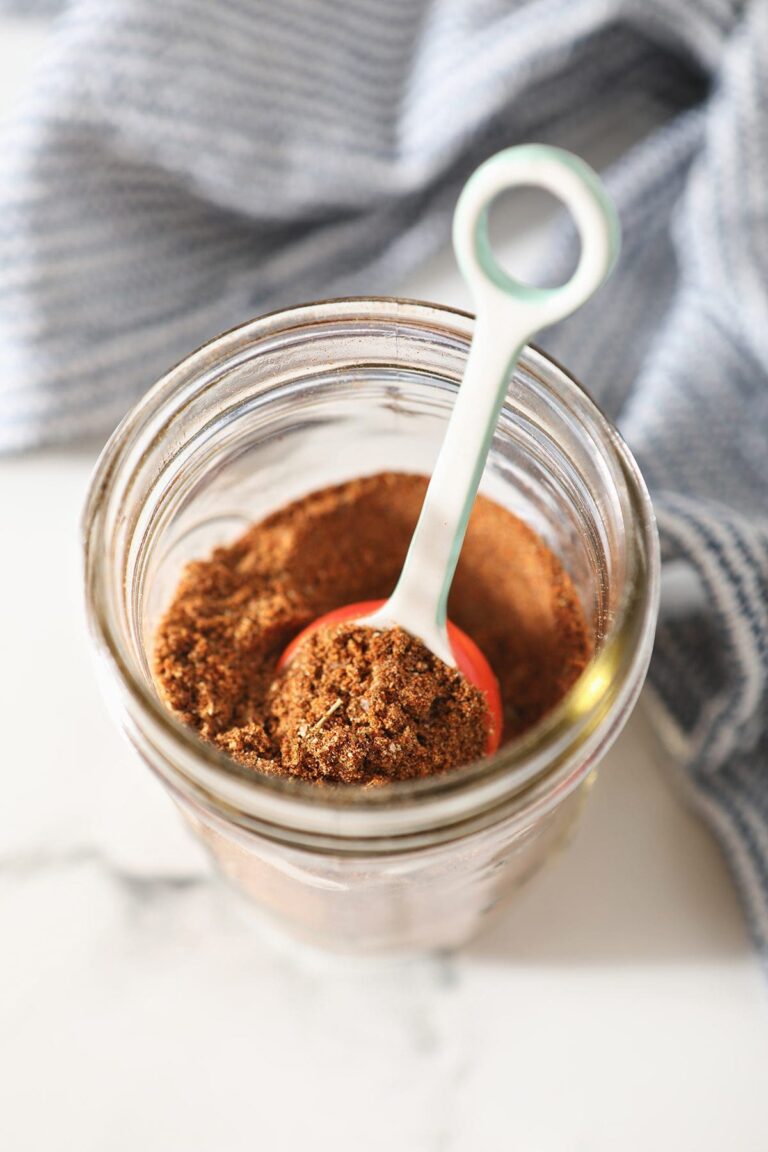 Frequently Asked Questions
What can I use if I don't have taco seasoning?
You can make this homemade taco seasoning if your spice cabinet is stocked!
How much taco seasoning mix is in a packet?
The taco seasoning packets come in different sizes, but many come in 1-2 oz. size packets, which translate to about 2-4 tablespoons per packet.
Do you drain meat before adding taco seasoning?
It depends on the recipe and what you're cooking. Typically, I throw my taco seasoning into the meat as it cooks and then drain once the meat is fully cooked through.
Is this taco seasoning gluten free?
Yes, it should be gluten free. Check your spice jars to confirm none were packaged in a facility with gluten, but the spices themselves should be free of gluten, making this recipe a gluten free one.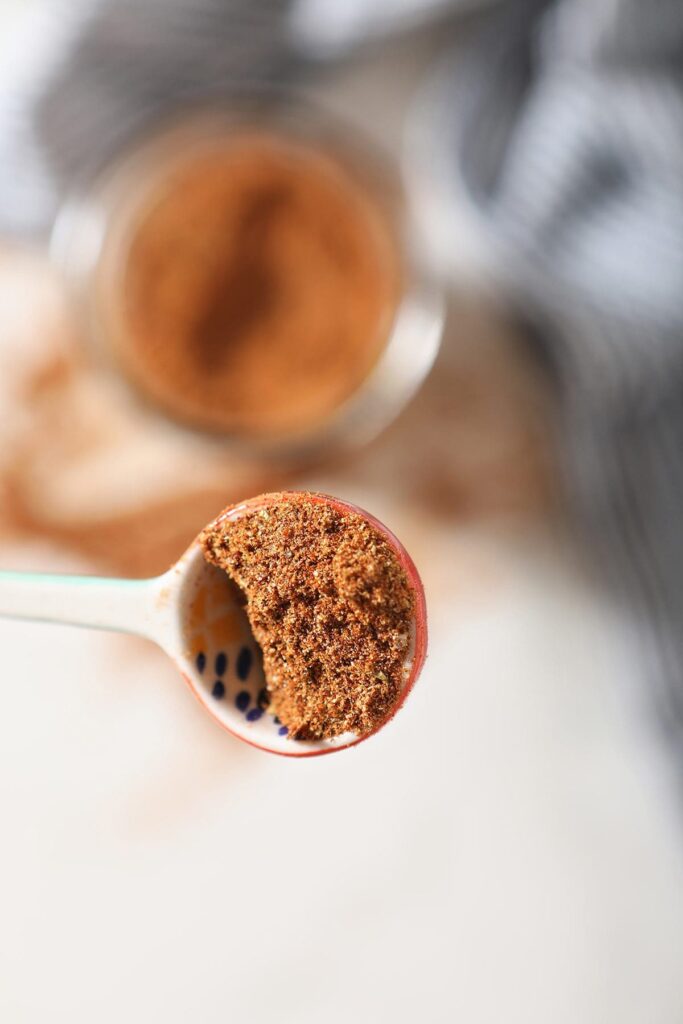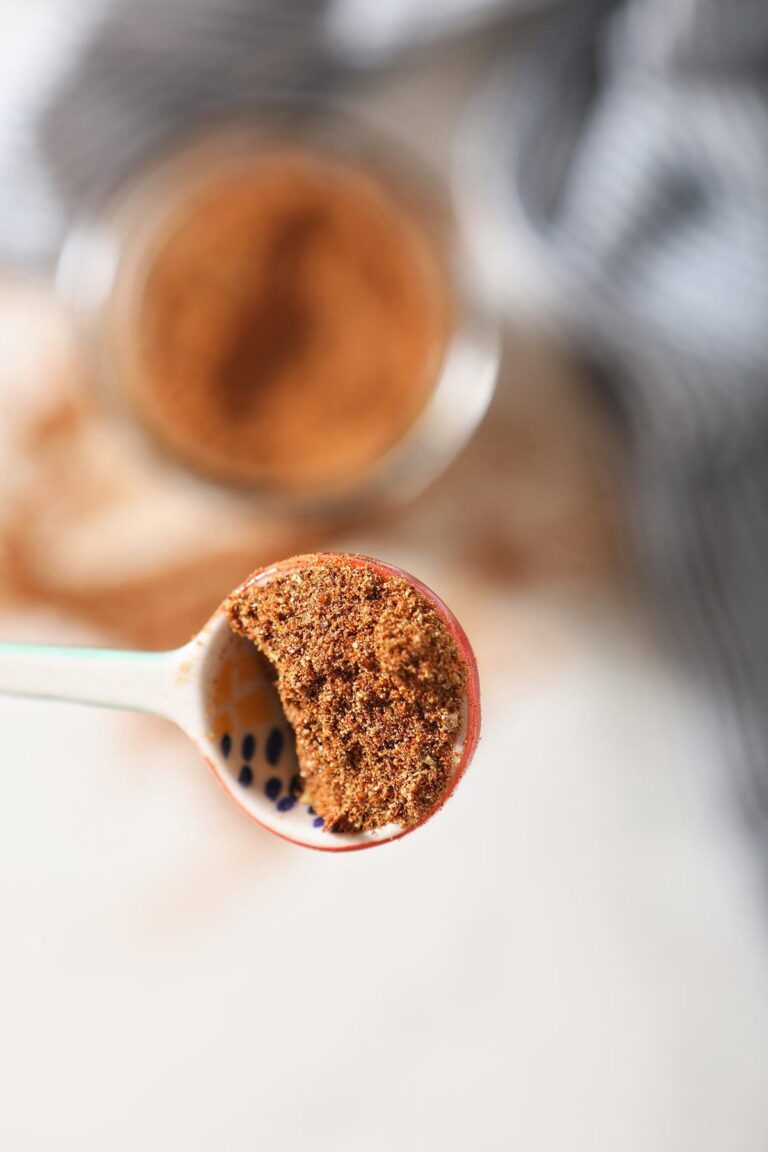 Quick tips and tricks to the best DIY taco seasoning mix recipe
Make sure your spices and herbs are fresh. The garlic and onion powders, especially, will crystalize and make the measuring challenging. Also, the older an herb or spice is, the less potent it will taste, and we want this taco spice blend to taste amazing!
Make a double batch, and keep it for various taco nights! Since this keeps so well, this is an easy recipe to make a larger amount of, assuming you'll actually eat it all!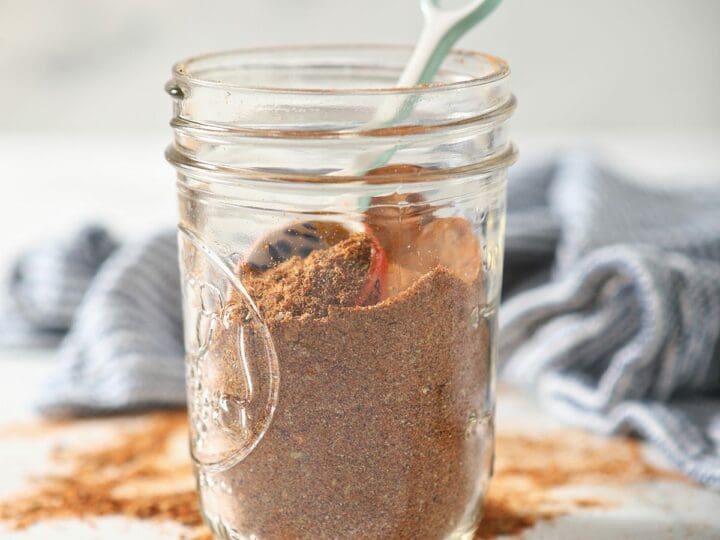 Yield:

16 servings
Homemade Taco Seasoning
Everybody loves tacos and fajitas, but store-bought spice blends are so salty. Make your own Homemade Taco Seasoning today! Simple, delicious and less salt!
Ingredients
2 tablespoons chili powder
1 tablespoon cumin
2 teaspoons black pepper
1 teaspoon paprika
1 teaspoon dried oregano
½ teaspoon garlic powder
½ teaspoon onion powder
½ teaspoon crushed red pepper flakes
½ teaspoon sea salt
¼ teaspoon cayenne pepper
Instructions
Measure ingredients into a small bowl.
Combine ingredients thoroughly.
Enjoy on top of meat or veggies!
Notes
Recipe can be doubled or tripled. Store in a mason jar for up to 6 months.
Recommended Products
As an Amazon Associate and member of other affiliate programs, I earn from qualifying purchases.
Nutrition Information:
Yield:
16
Serving Size:
1
Amount Per Serving:
Calories:

6
Total Fat:

0g
Saturated Fat:

0g
Trans Fat:

0g
Unsaturated Fat:

0g
Cholesterol:

0mg
Sodium:

96mg
Carbohydrates:

1g
Fiber:

1g
Sugar:

0g
Protein:

0g
Nutrition facts are an estimate and not guaranteed to be accurate.