Celebrate Cinco de Mayo at home with this delicious Turkey Taco Salad. Sautee ground turkey, onions and black beans, then place on a bed of spinach with toppings. Finish with a drizzle with a homemade Catalina dressing. Easy to personalize, this Turkey Taco Salad is well-loved and perfect for a weeknight meal.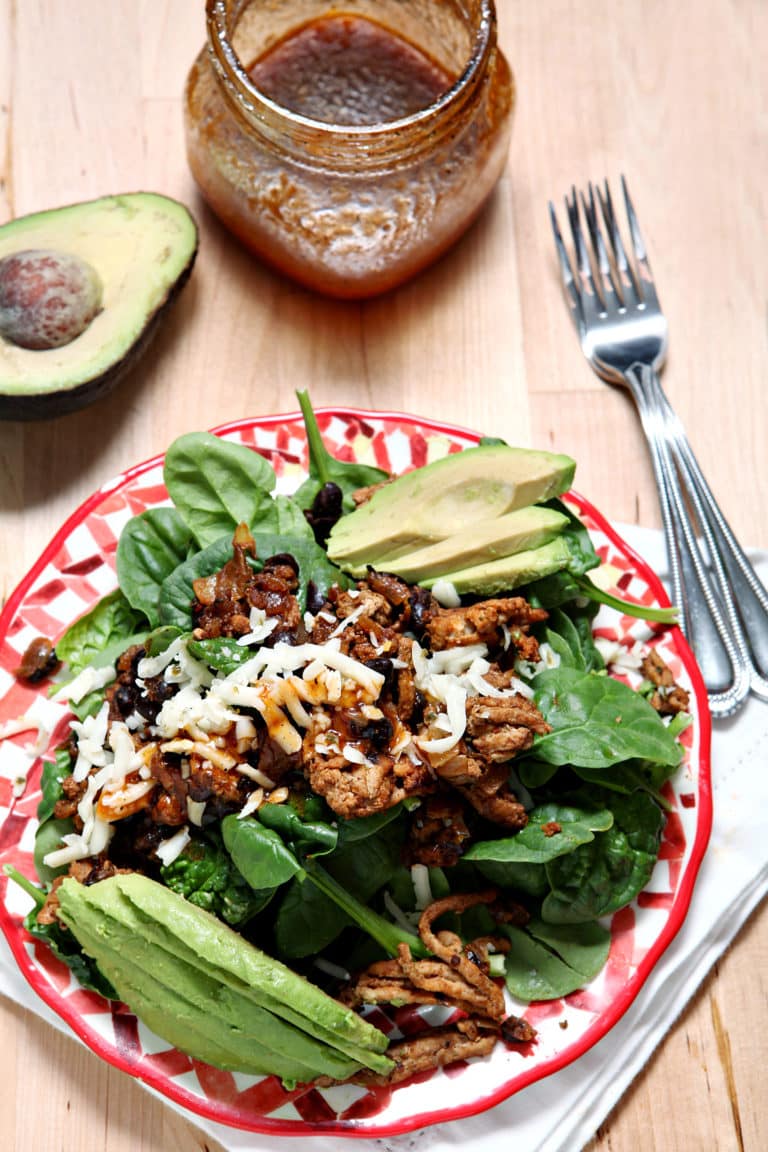 Happy Cinco de Mayo, y'all!
Today has been a quiet one, and I'm remembering previous Cinco de Mayos that were a bit more… rambunctious.
When I was in college, friends and I went out on the town, party hopping with our margaritas in go cups. It seemed like those nights always ended with horrible fast food, lots of laughter and an impromptu slumber party. They were so much fun.
The tradition of TexMex and margaritas continued after graduation, though the nights were nowhere near as late or generated quite as many stories.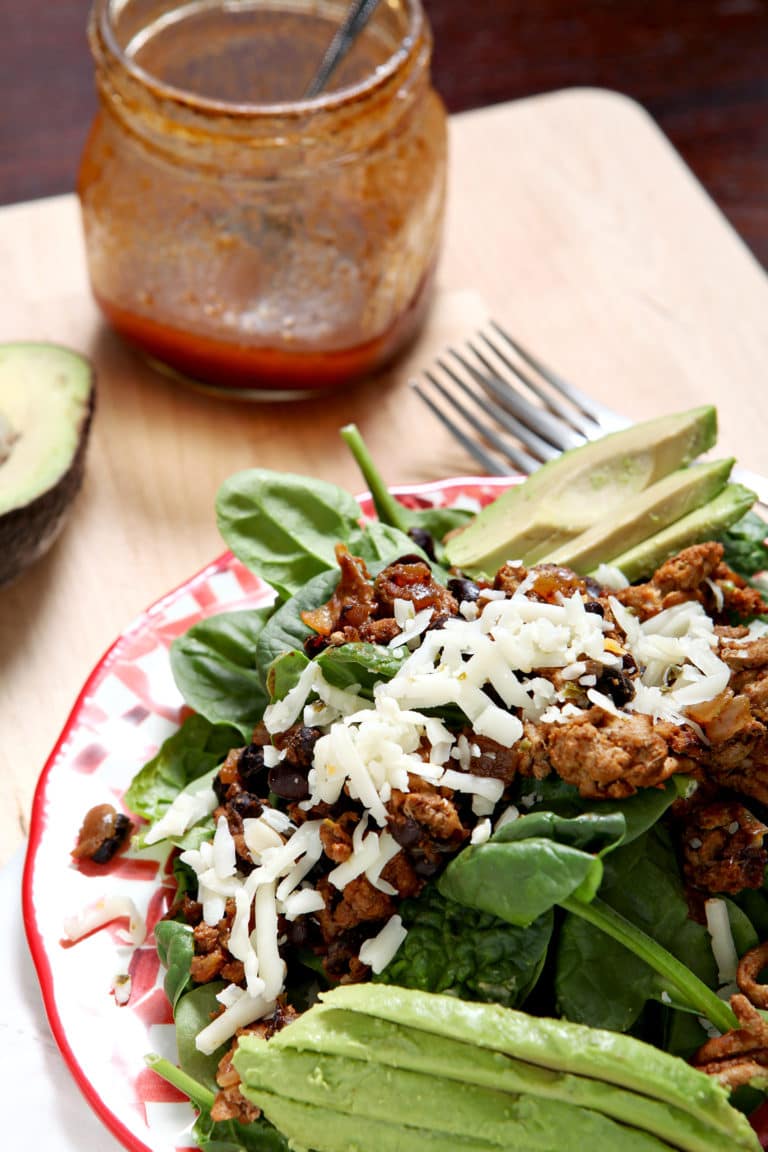 This year, obviously, is a little different.
We're no longer college students. Yes, I realize we haven't been in years, but still. This year is really different because we're new parents. And that doesn't even go into the fact that Cinco de Mayo falls today, a Tuesday.
There will be no party hopping. There will be no fast food. And there might not even be margaritas, depending on how our little noisemaker feels this evening.
But tonight? We're absolutely celebrating with this Turkey Taco Salad.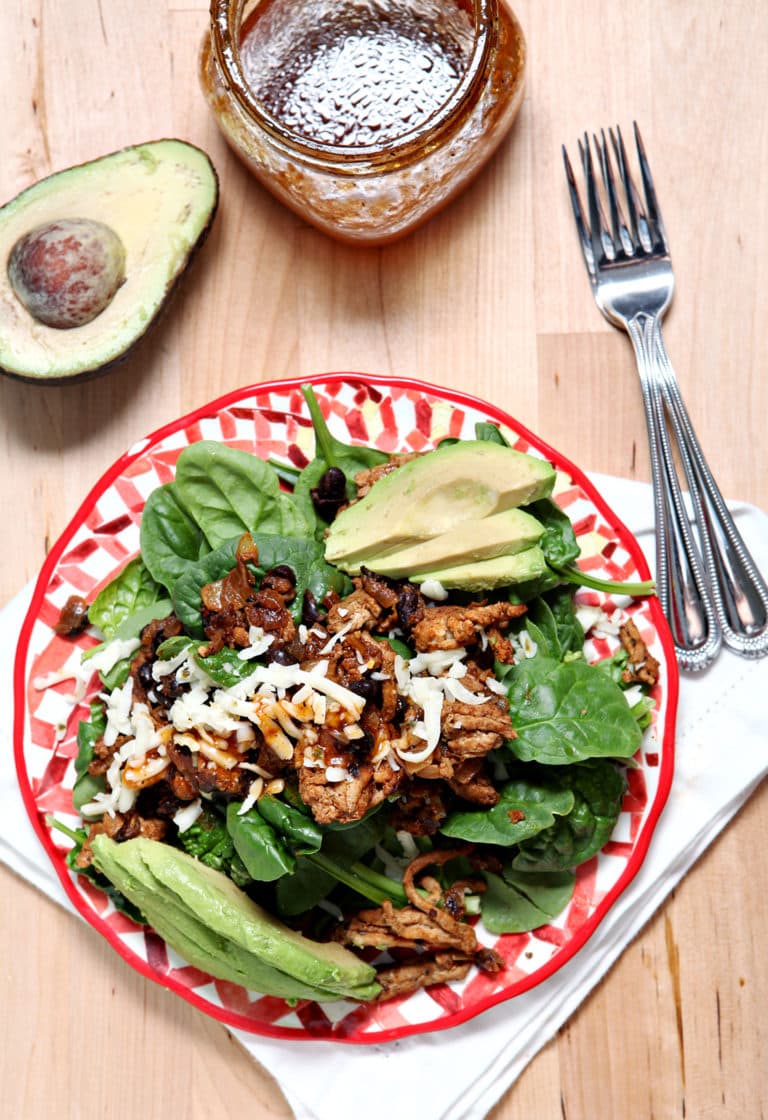 You can dress this salad up however you like.
When I was a kid, I remember loving taco salad night because we got to crush tortilla chips on top of our salads after piling the lettuce, meat and onions high with cheeeeeese.
Basically, it was a kid's dream. And I'm realizing rightthisverymoment that taco salad was a brilliant way to get us to eat salad. Nice job, Mom. Also? I'm making note of this for future reference…
So. Anyway.
Dress this salad up. Add some avocados or maybe even guacamole if you're feelin' fancy. Sprinkle on your favorite cheese. Add a bit more because taco salad is awesome with a decadent amount of cheese. Don't forget the tortilla chips, and be sure to crush them up good.
Also? I realized I forgot the tortilla chips after I'd eaten the salad I photographed for this here post. So don't follow my example. Because I totally have new mom brain and strongly recommend adding the tortilla chips.
Dollop on that sour cream if that's your thing, too. And maybe add some salsa because everyone knows salsa makes everything better… even if this salad comes with an awesome homemade Catalina dressing that balances out the spiciness of the meat/onion/black bean mixture.
Yeah. We're totally going there. And it's all kinds of delish.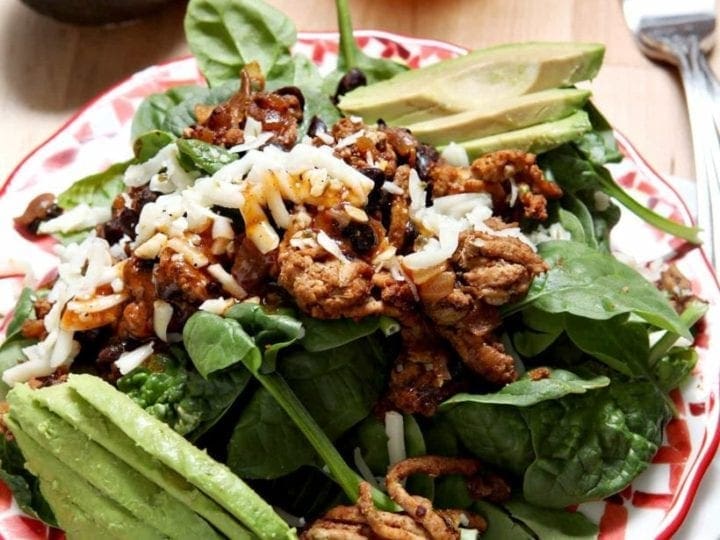 Yield:

4 servings
Turkey Taco Salad
Celebrate Cinco de Mayo at home with this delicious Turkey Taco Salad. Ground turkey, onions and black beans are sautéed together, then placed on a bed of spinach with various other toppings to make a tasty TexMex meal. Drizzle with a homemade Catalina dressing to finish. Easy to personalize, this Turkey Taco Salad is well-loved and perfect for a weeknight meal.
Ingredients
Taco Salad
2 tablespoons extra virgin olive oil
1 lb. ground turkey
1 ½ tablespoons taco seasoning
1 onion, minced
15 oz. black beans, drained
½ cup chicken stock
4 cups baby spinach
Optional Toppings
Avocado or guacamole
Sour cream
Shredded cheese (Pepperjack and Sharp Cheddar are my favorites)
Salsa
Crushed tortilla chips
Homemade Catalina Dressing
½ cup extra virgin olive oil
¼ cup ketchup
¼ cup honey
¼ cup red wine vinegar
1 teaspoon Worcestershire sauce
½ teaspoon kosher salt
½ teaspoon freshly ground black pepper
½ teaspoon paprika
½ teaspoon onion powder
Instructions
Cook the Meat
In a large skillet, heat the olive oil over medium-high heat. When shimmering, add the turkey, onion and taco seasoning. Cook until browned and cooked through.
Deglaze the pan with the chicken stock, and add the black beans, stirring into the turkey and onion mixture. Cook until the beans are warmed through, and the chicken stock has been absorbed into the mixture. Remove from the heat.
Make the Dressing
Pour the olive oil, ketchup, honey, red wine vinegar, Worcestershire, salt, pepper, paprika and onion powder into a mason jar. Shake thoroughly until well combined. Set aside.
Prepare the Salads
In a large bowl, prepare the salads. Measure out the spinach, then top with the turkey mixture and desired toppings. Pour the dressing on top of the salads, and enjoy immediately.
Notes
This recipe can easily be adapted to use beef or chicken.
Nutrition Information:
Yield:
4 servings
Serving Size:
1
Amount Per Serving:
Calories:

988
Total Fat:

66g
Saturated Fat:

13g
Trans Fat:

0g
Unsaturated Fat:

49g
Cholesterol:

130mg
Sodium:

962mg
Carbohydrates:

60g
Fiber:

15g
Sugar:

24g
Protein:

43g
Nutrition facts are an estimate and not guaranteed to be accurate.
Do you have big plans for tonight?