Grilled Shrimp Salad with Homemade Lime Vinaigrette
Filled with colorful vegetables, perfectly grilled shrimp and topped with homemade lime vinaigrette, Grilled Shrimp Salad is an excellent lunch of dinner. This easy salad recipe comes together in less than 20 minutes. Makes 2 servings.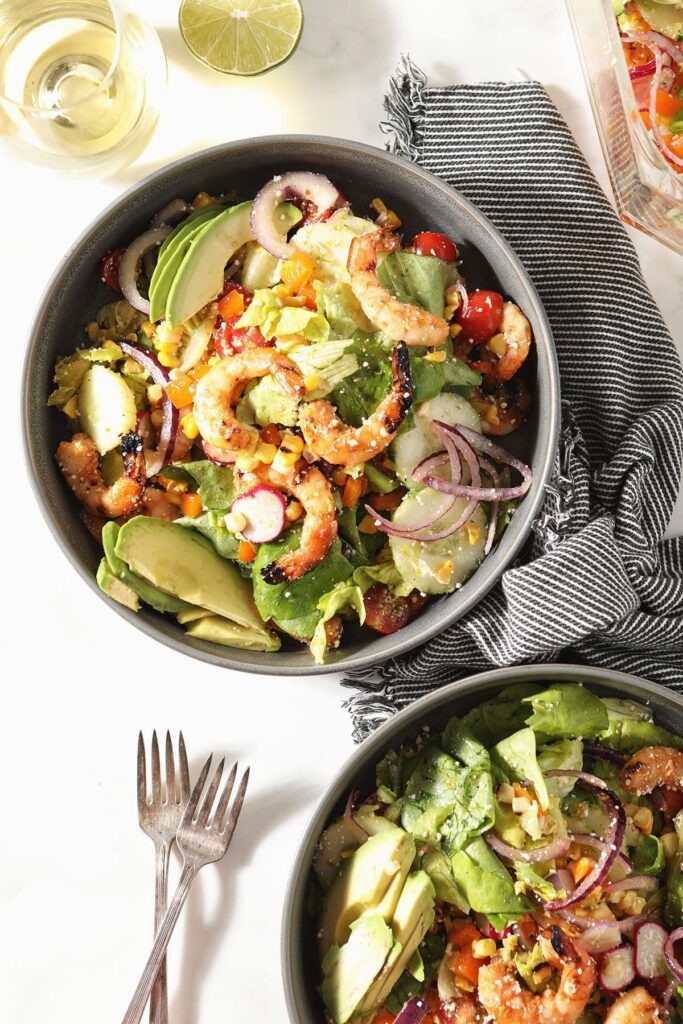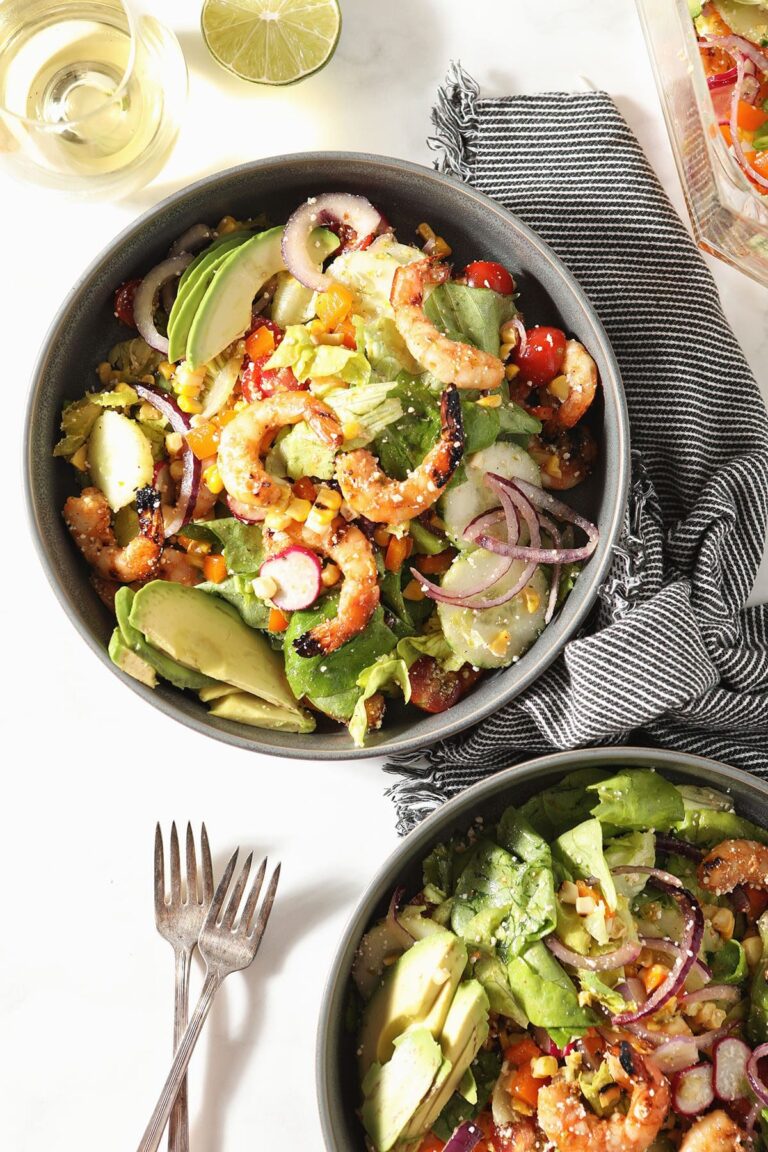 Building off our Grilled Shrimp Skewers recipe from earlier this summer, we're making a salad with 'em! Because if you've ever had leftover shrimp, THIS is the recipe you want to make with it.
Or, you know, if you just want a salad with your shrimp instead of eating it off the skewer. 😉
Grilled Shrimp Salad is so incredibly easy to put together and customize. It also has a bit of a TexMex flair, which we really dig, too!
Why we love this recipe:
What's NOT to love about this Grilled Shrimp Salad with its homemade lime vinaigrette recipe?
It's quick to make! Literally, we're chopping, peeling and tossing this together to make a flavor bomb recipe.
You can use leftover shrimp.
It makes a really fast, colorful, flavorful lunch.
You can customize what goes into the salad based on your tastebuds!
Basically—there's a ton to love about this easy salad recipe, and it's something we should all make before too long.
Other salad recipes to try: Grilled Peach Salad with Burrata | Chicken Spinach Salad with Apples and Strawberries | Cranberry Feta Brussels Sprout Salad with Candied Pecans and Warm Bacon Vinaigrette | Ramen Noodle and Clementine Salad | Summer Quinoa Salad
Need dinner inspiration? Check out my Dinner Recipe Index for some ideas!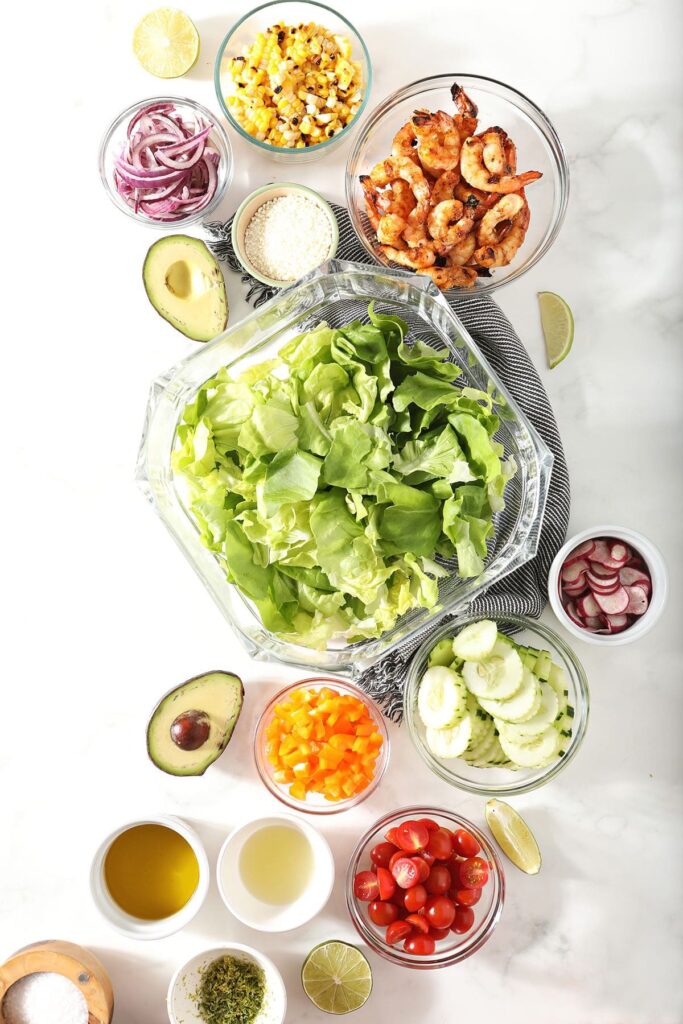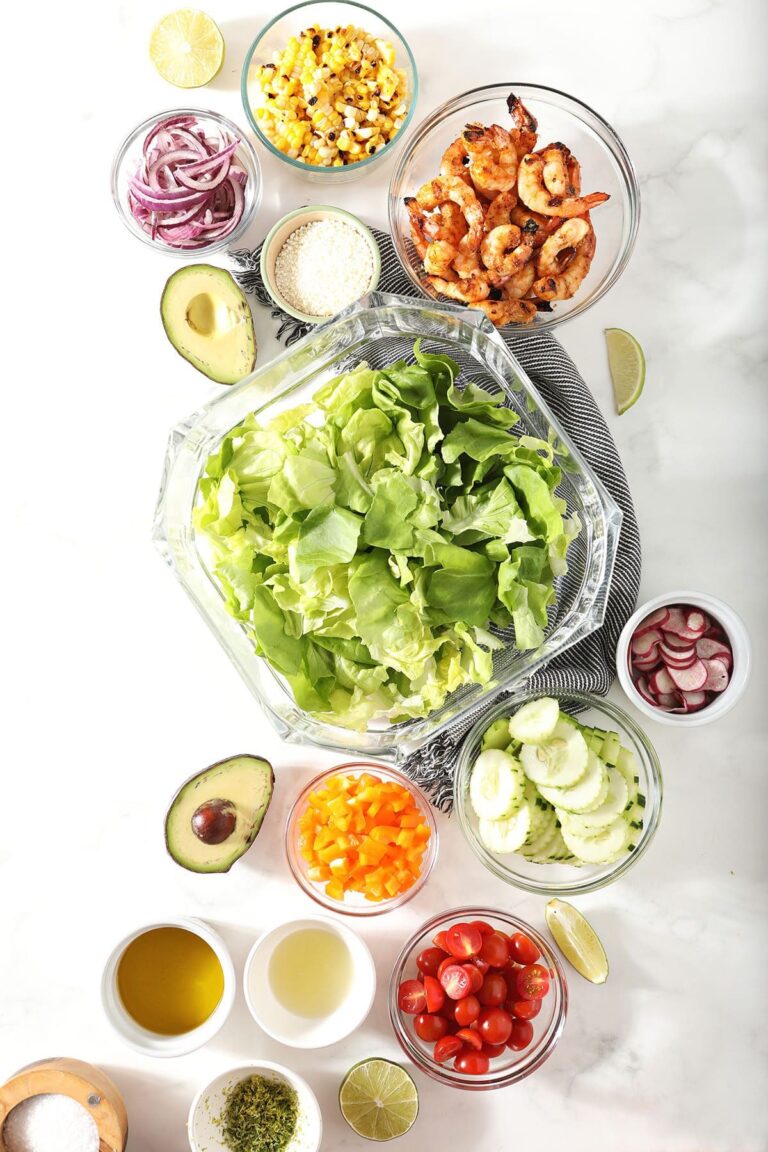 What you'll need to make this salad recipe
The Speckled Palate participates in affiliate programs. As an Amazon Associate, I earn a commission from qualifying purchases. Please refer to my disclosure page for more information about these affiliate programs.
Sharp knife and cutting board
In addition to these tools, you'll need a handful of ingredients. Since this salad calls for so many fresh ingredients, you're probably going to need to run to the store to grab everything you need, but it's all easy to find.
Grilled shrimp—whatever grilled shrimp you've got is perfect for this salad, though I'm partial to the flavors of these Grilled Shrimp Skewers, which combine butter with lime juice and zest, onion powder, garlic powder, paprika, salt and pepper.
Butter lettuce
Cucumber—you can use a regular cucumber or an English one
Red onion—also known as purple onion
Whole corn—just a single ear! I peeled mine and threw it on the grill when I grilled the shrimp. You can also blister the corn kernels on the stovetop over an open flame
Avocado
Cherry tomatoes
Orange bell pepper—you could also use a red bell pepper, if you'd rather
Radishes
Cotija cheese—this aged Mexican cheese is salty and delicious. It reminds me a little bit of feta cheese in its crumbles and saltiness. You can usually find it in the specialty cheese section at your grocery store.
Lime—we need both the juice and the zest of one
Salt and pepper
A note on substitutions:
Homemade salads are easily customizable since you can add or take away things that you don't like.
This Grilled Shrimp Salad was made to look like a rainbow and be super colorful, but if you're not into some of these ingredients, feel free to leave them out and only add the ones you like.
A quick and easy substitution is to turn the Lime Vinaigrette into a Lemon Vinaigrette. Swap the lime for lemon in the recipe. Combine the olive oil and lemon juice with the lemon zest, salt and pepper in the mason jar.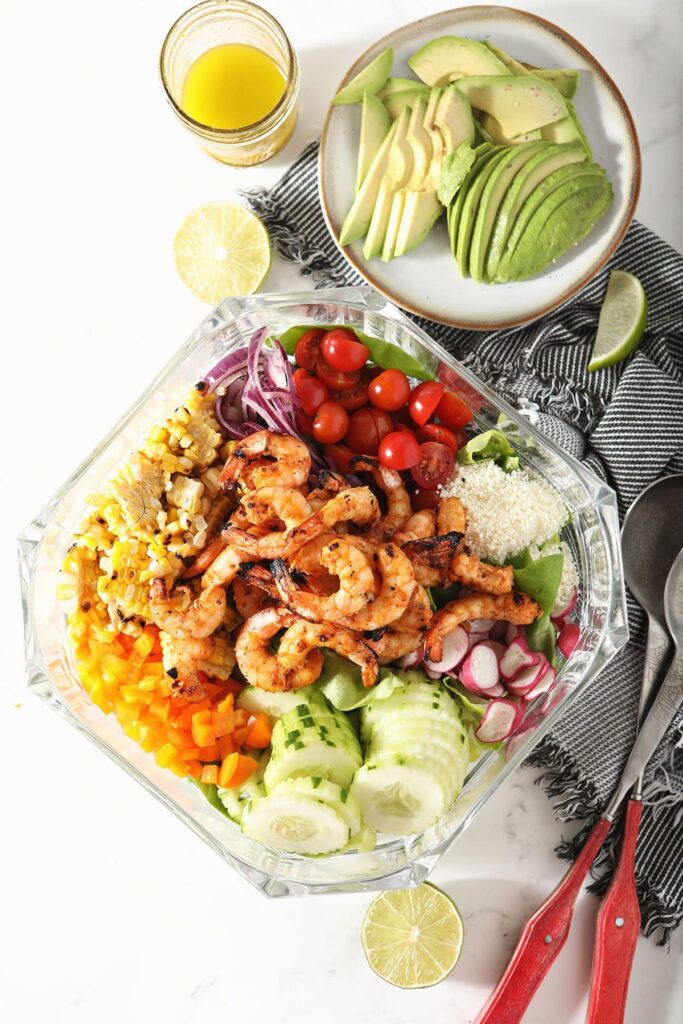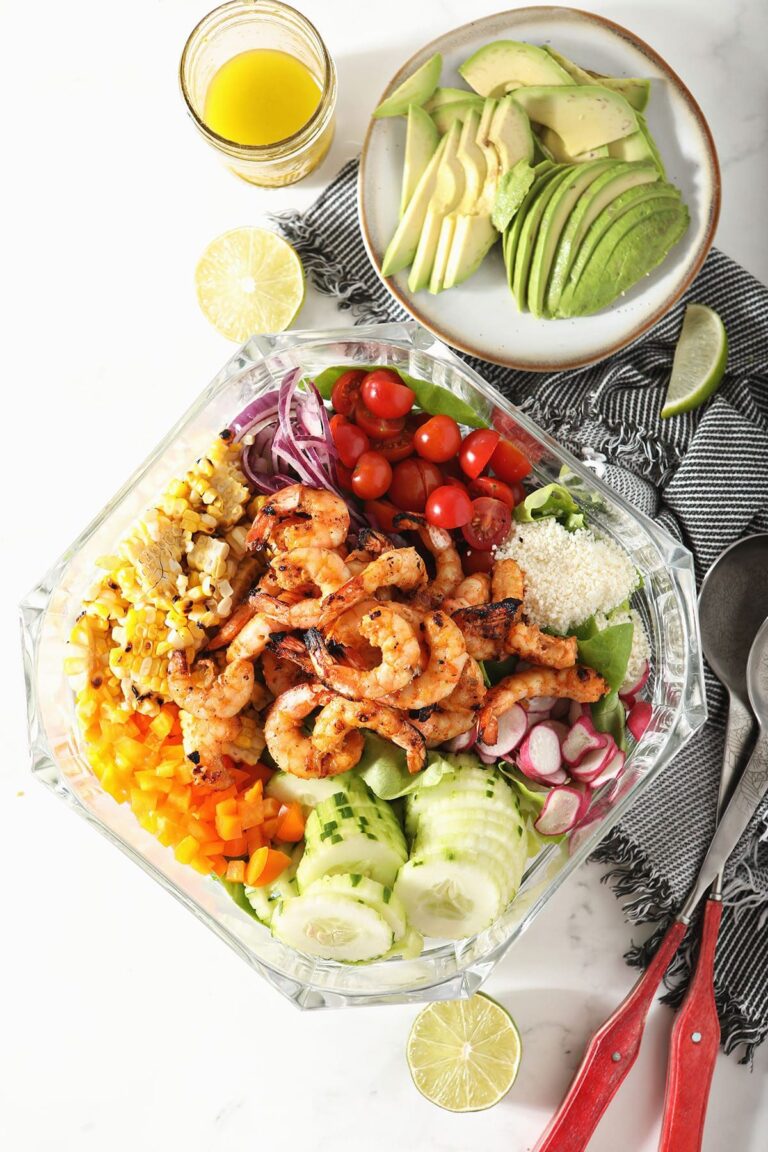 How to make Grilled Shrimp Salad with Lime Vinaigrette
Grill the shrimp! If you haven't already, follow the instructions found in my Grilled Shrimp recipe. Make sure your wooden skewers are soaked, the shrimp are peeled and seasoned before you toss them on the grill.
No grill? You can make these shrimp skewers on a grill pan on the stovetop or under the broiler (between 500-550°F). Just be sure to keep an eye on 'em because they cook quickly—in 2-3 minutes per side, just as fast as the grill.
Grill the corn. This is great to cook while the shrimp are on the grill, too. Just roll it when you check on the shrimp. It'll be done when the corn kernels have char marks on them. Remove and let cool before cutting the kernels from the ear.
Prep the salad ingredients. When the shrimp are done and cooling, prep the ingredients. Clean and chop the butter lettuce. Dice the cucumber, red onion, bell pepper and radishes. Remove the corn kernels from the ear. Slice the avocado. Rinse off the cherry tomatoes.
Make the salad dressing. Combine the olive oil, lime juice and lime zest in an 8 oz. mason jar. Give them a shake, taste and season with salt and pepper. Set aside.
Make the salad. Throw all the ingredients together in a bowl. Drizzle on the salad dressing, and toss to perfection.
Enjoy immediately!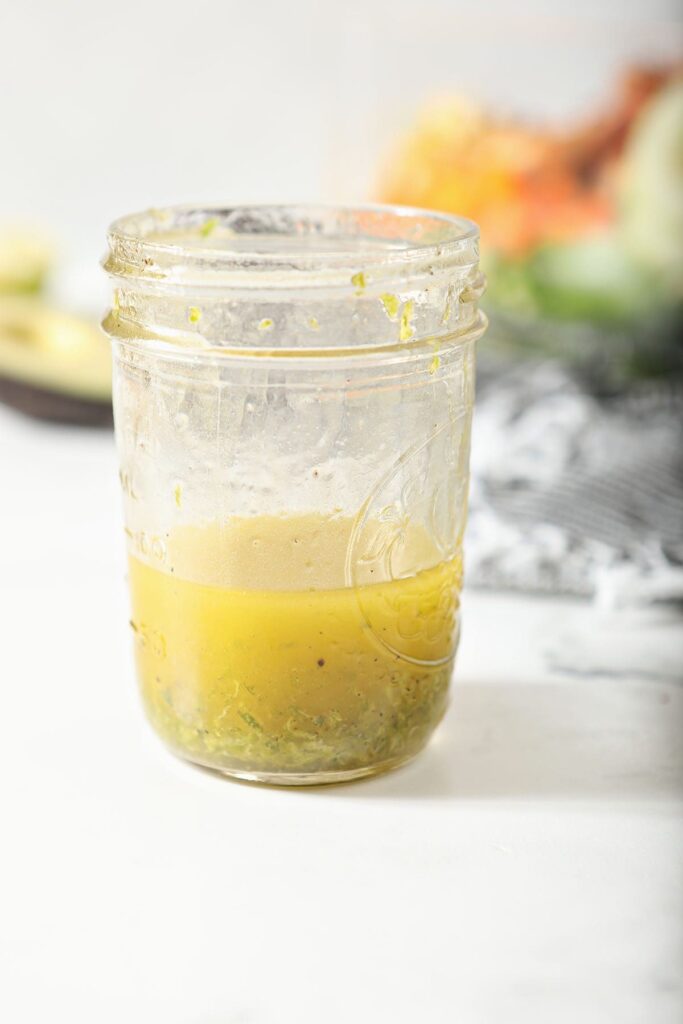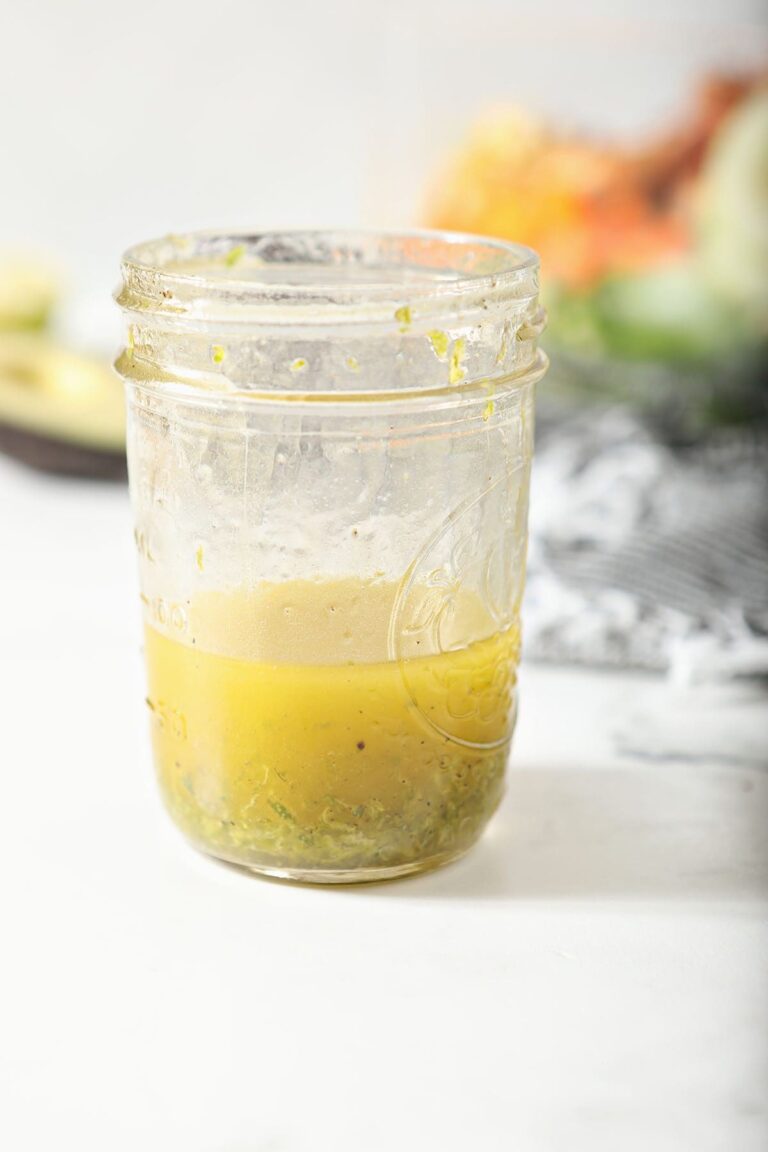 Erin's Easy Entertaining Tips
This Grilled Shrimp Salad makes an excellent side dish or even centerpiece for a dinner with friends. (I think this would be particularly lovely to have at a backyard barbecue or even an at-home tailgate because it's easy to throw together once you're there.)
Here are a few tips and tricks to make it as easy as possible:
Double or triple the recipe. This original recipe makes a salad for 2-3 people, but if you're feeding a crowd, you should have more on hand.
Prep everything. That means chopping everything (minus the avocado) as well as making the dressing in advance so all you have to do is toss these together when it's time to eat.
Leave off the tails. While they make for a gorgeous visual, the tails will make for a bit of a mess with guests, so when you're peeling the shrimp, remove the tails, too.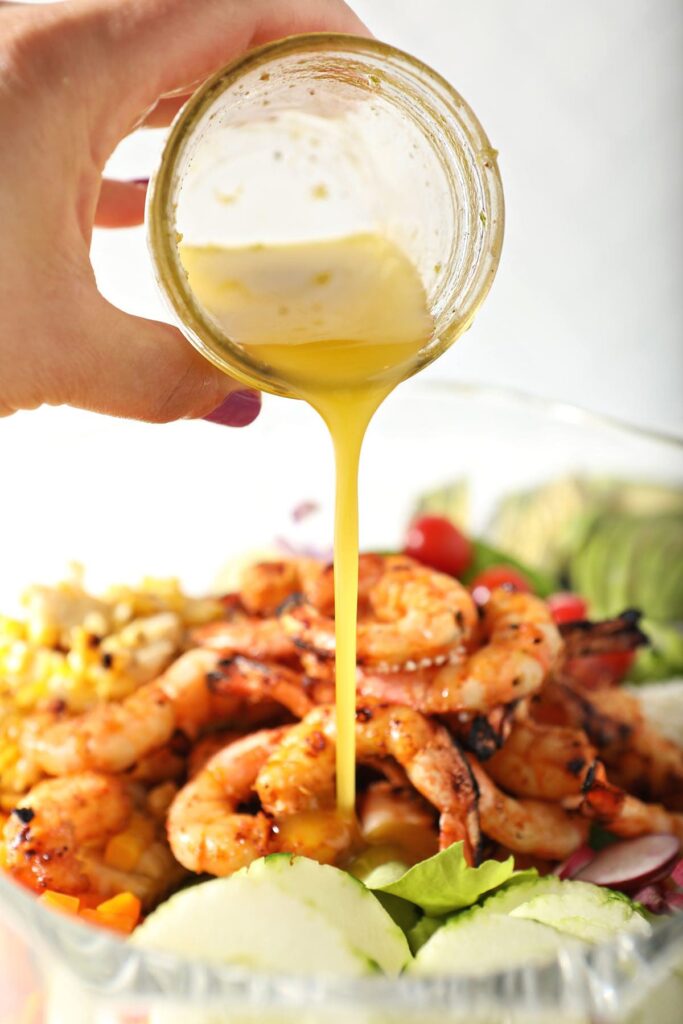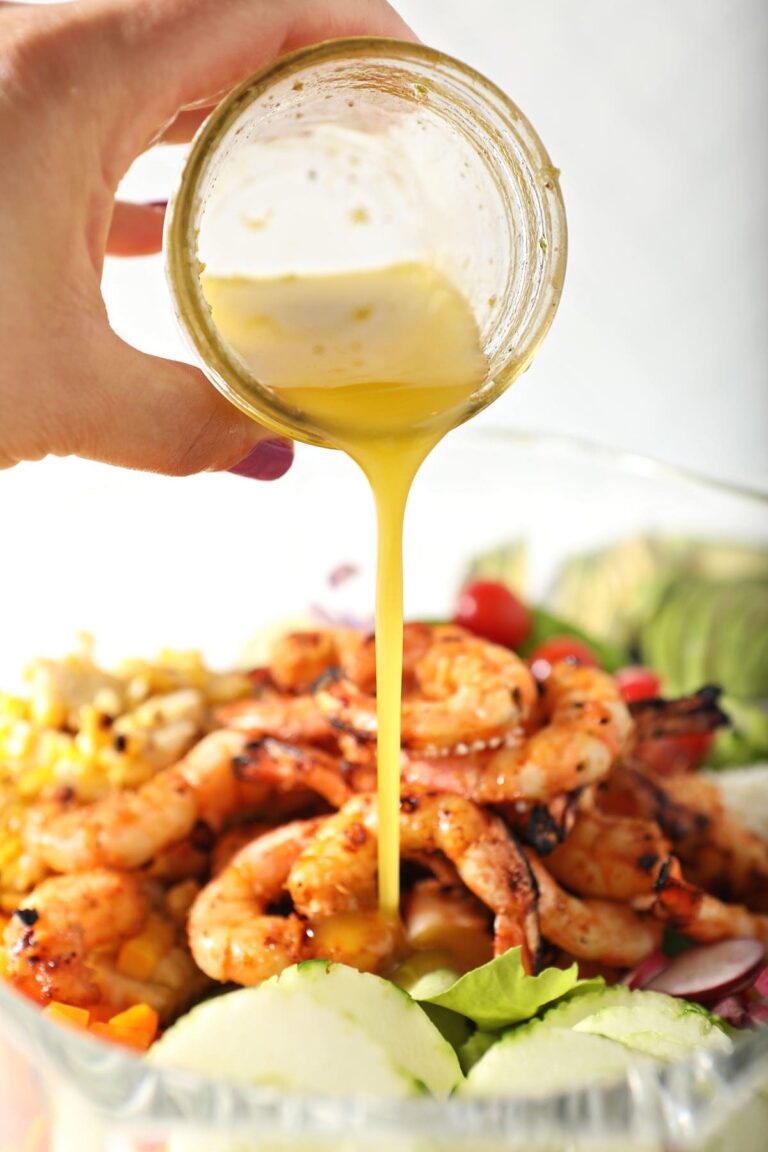 Frequently Asked Questions
How do I choose shrimp at the grocery store?
This is going to depend on where you live. Unless you're in a coastal area that sells fresh caught shrimp, you're going to want to grab shrimp from the freezer aisle. I'm partial to wild caught Gulf shrimp because we lived close to the Gulf for years and they, in my opinion, are superior to the farm-raised shrimp because of their flavor, sweetness and size.
How long does shrimp take to grill?
Since the grill is so hot and the shrimp are so small, it takes 2-3 minutes per side to grill these shrimp skewers when they're cooking over direct heat. The shrimp will turn pink when they are done.
Should I thaw shrimp before grilling?
Yes, please thaw the frozen shrimp before grilling. I like to place mine in the refrigerator and thaw there before tossing with spices for this recipe.
Can I change the ingredients of this salad?
If there's an ingredient in this shrimp salad recipe that doesn't sit well wit you, feel free to leave it off or swap it out for something else you like. Just make sure that the shrimp remain the centerpiece!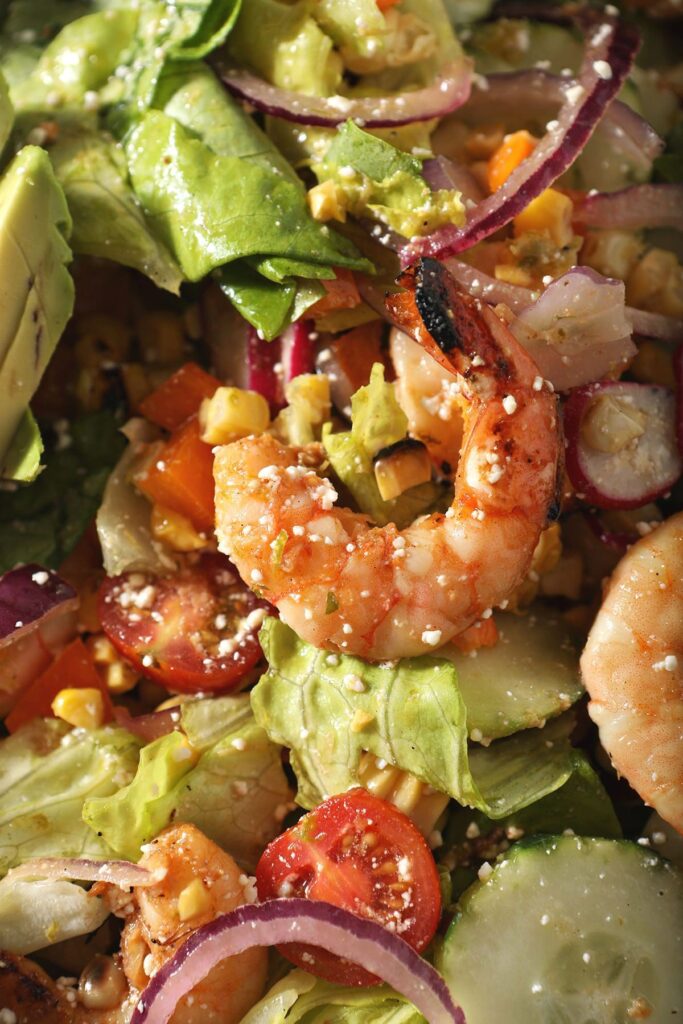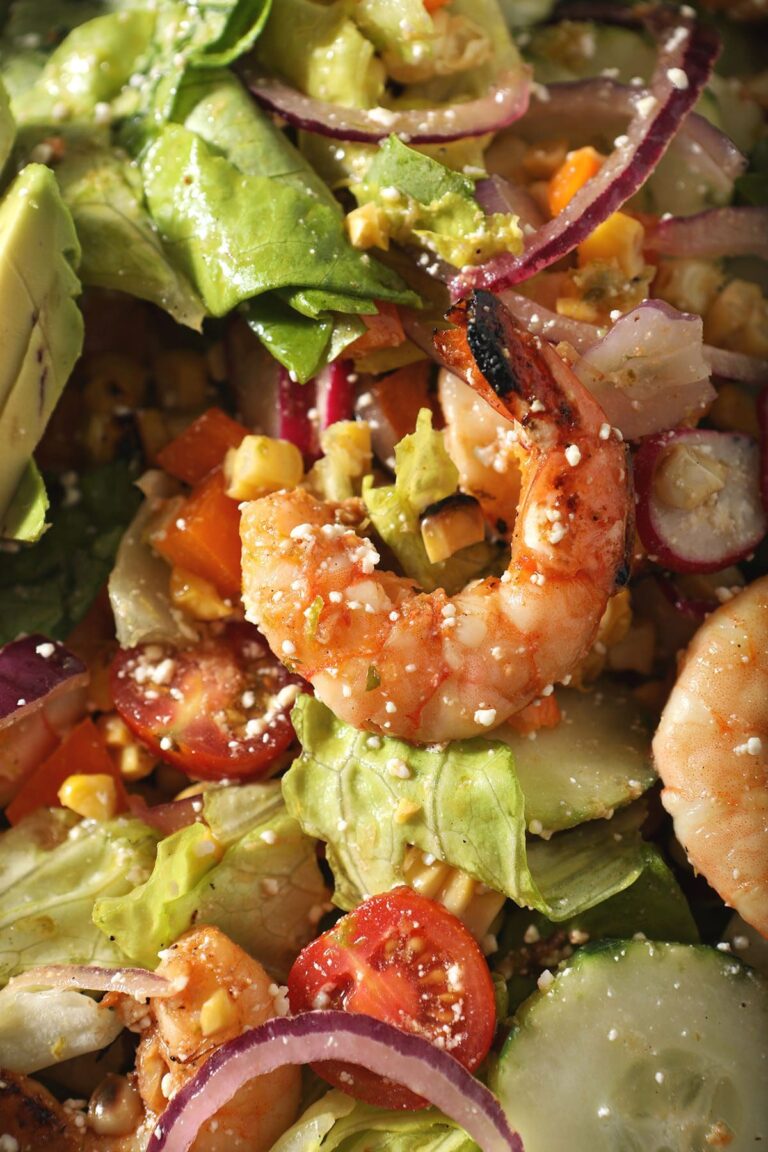 Quick tips and tricks for making the best grilled shrimp salad
Double or triple the recipe! If you're feeding a crowd, you definitely want to do this because this salad will be gobbled up quickly!
Cook your shrimp in advance. I like cooking mine over medium high heat on an outdoor grill. You can use warm shrimp or cold shrimp to toss into this salad, so if it's easier for you to make it earlier, then do that and store in the fridge in an airtight container.
Make ahead. Prep, chop and cook your ingredients in advance, but keep them separate until it's time to eat. You can also mix the lime vinaigrette early and store in the fridge. Let it come to room temperature and shake to combine the ingredients when it's time to eat.
How to store leftovers: Store in an airtight container in the refrigerator for 1-2 days. The lettuce will wilt, but the other ingredients should keep their crispness.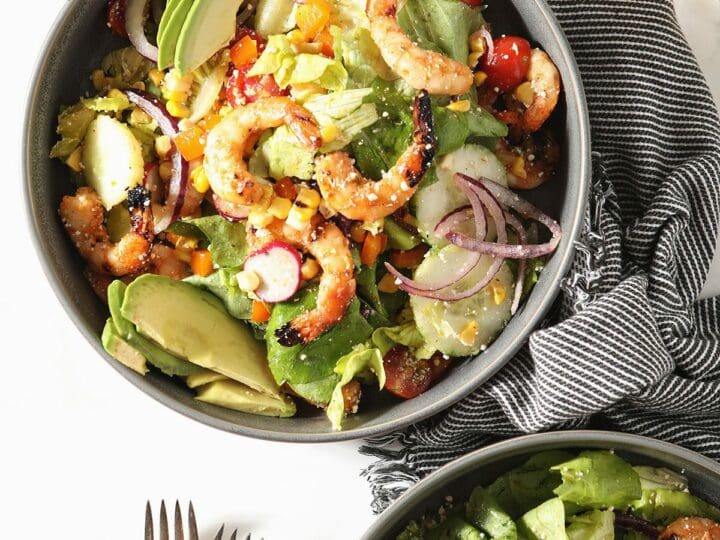 Yield:

2 servings
Grilled Shrimp Salad with Homemade Lime Vinaigrette
Filled with colorful vegetables, perfectly grilled shrimp and topped with homemade lime vinaigrette, Grilled Shrimp Salad is an excellent lunch of dinner. This easy salad recipe comes together in less than 20 minutes.
Ingredients
1 head butter lettuce, chopped
1 lb. grilled shrimp
1 cucumber, peeled and diced
¼ large red onion (about ½ cup sliced thin)
1 ear corn, grilled, with kernels removed
1 avocado, sliced
¾ cup cherry tomatoes, halved
½ orange bell pepper (about ½ cup sliced thin)
2-3 radishes (about ¼ cup sliced thin)
¼ cup cotija cheese
Lime Vinaigrette
¼ cup extra virgin olive oil
2 tablespoons lime juice, freshly squeezed
Zest of 1 lime
Salt and pepper, to taste
Instructions
Make the salad. In a large bowl, place the chopped butter lettuce.
Layer the shrimp, cucumber, red onion, corn kernels, avocado slices, cherry tomatoes, orange bell pepper, radishes and cotija cheese.
Make the vinaigrette. In a mason jar, measure in the olive oil, lime juice and lime zest. Season with a pinch of salt and pepper. Place the lid on, shake and taste, adding more salt or pepper if necessary.
Pour the lime vinaigrette over the salad ingredients, and toss gently using salad tossers or tongs.
Serve immediately, and enjoy!

Notes
This recipe makes a large salad for two people to split, but it could be divided among four if it's served as a salad course and not a main dish. The recipe can also be doubled or tripled for a crowd.
Recommended Products
As an Amazon Associate and member of other affiliate programs, I earn from qualifying purchases.
Nutrition Information:
Yield:
2 servings
Serving Size:
1
Amount Per Serving:
Calories:

840
Total Fat:

51g
Saturated Fat:

10g
Trans Fat:

0g
Unsaturated Fat:

39g
Cholesterol:

494mg
Sodium:

2657mg
Carbohydrates:

40g
Fiber:

12g
Sugar:

10g
Protein:

62g
Nutrition facts are an estimate and not guaranteed to be accurate.