BBQ Baked Turkey Burgers are a delicious anytime weeknight dinner or main dish for a summer barbecue. Top them with your favorite slaw or pickles and serve on a big fluffy bun, alongside your favorite barbecue side dishes.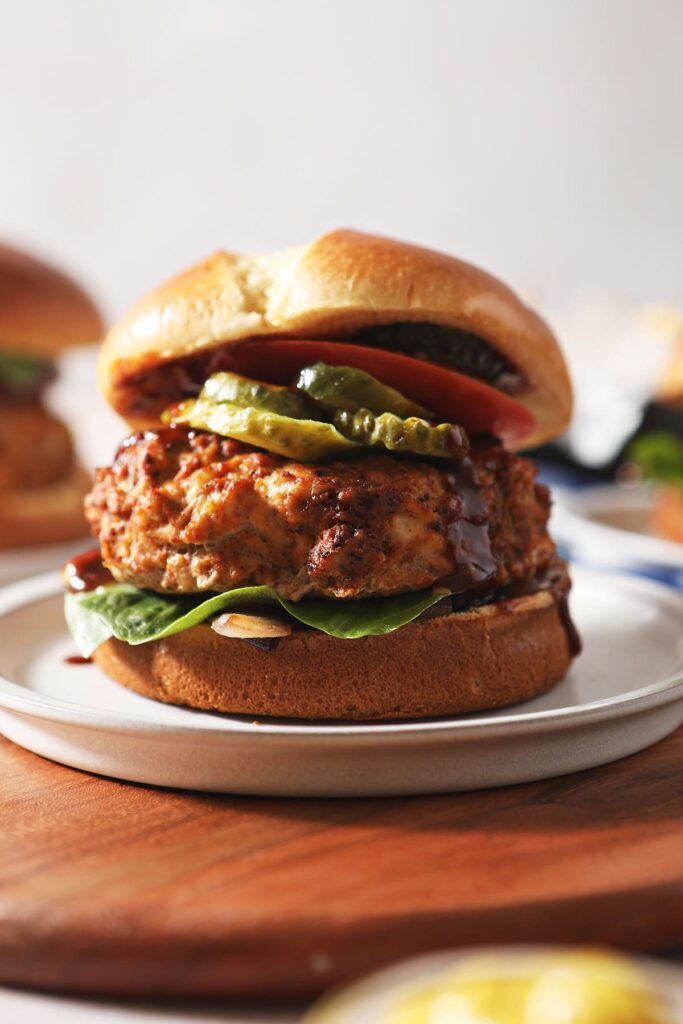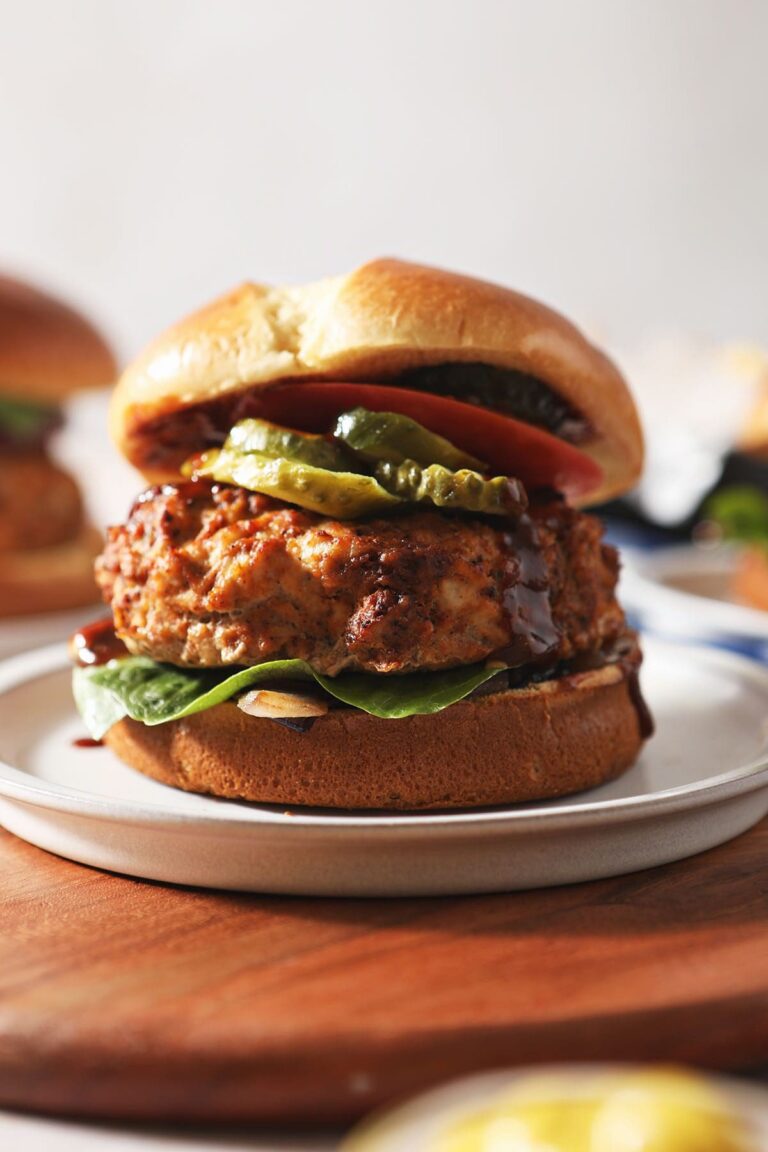 This post contains affiliate links.
2023 Update: This recipe was originally shared in June 2013. I have updated the recipe to make several (instead of one.) It also now includes measurements by weight. The post has been updated to include new photos, as well as more tips and tricks. I hope you love these burgers!
BBQ Baked Turkey Burgers Recipe
Summertime… it's almost here.
While I don't look forward to the sweltering days this Texas summer will no doubt bring, I'm thrilled that it's the time of the year where I can step outside and be engulfed by the smell of a grill firing up and cooking all kinds of delightful meats and veggies.
I'm also thrilled that it's now acceptable to hang out outdoors for unspecified amounts of time, sipping your summer drink of choice (hello, lemonade) as you hear the ice clinking against the side of your glass.
It's a fabulous time of year, and this recipe fits right in for the summertime. It combines two of my favorite things: barbecue and burgers.
A great thing about these burgers is that they're made in the oven. I can understand wanting to grill them, but the burgers are so sticky that they will fall apart and stick to the grill.
I don't mind that they're made in the oven, though, and this is one of my favorite ways to get these flavors. That makes them great for rainy days, busy evenings and winter nights when I crave summer barbecue.
Honestly, this is the best burger recipe that's NOT made on the grill.
Why I love this recipe:
If you've never had a BBQ baked turkey burger, you are going to love this recipe!
Truly, this is the PERFECT burger recipe because this recipe makes for the juiciest burgers. (No dry burgers here!)
Here are some more reasons I love 'em:
This BBQ burger recipe is a great, easy weeknight dinner made right in the oven.
It is also perfect for warm weather entertaining and backyard BBQs. Everyone loves a burger.
You can make a batch of these ahead of time and pop them in the fridge (or freezer) and then bake them off, so they're a great choice for parties.
These juicy burgers are truly the best BBQ burgers around!
More burger recipes to try: Pan Fried Hamburgers | Classic Salmon Burgers | Cajun Turkey Burgers | Juicy Lucy Burgers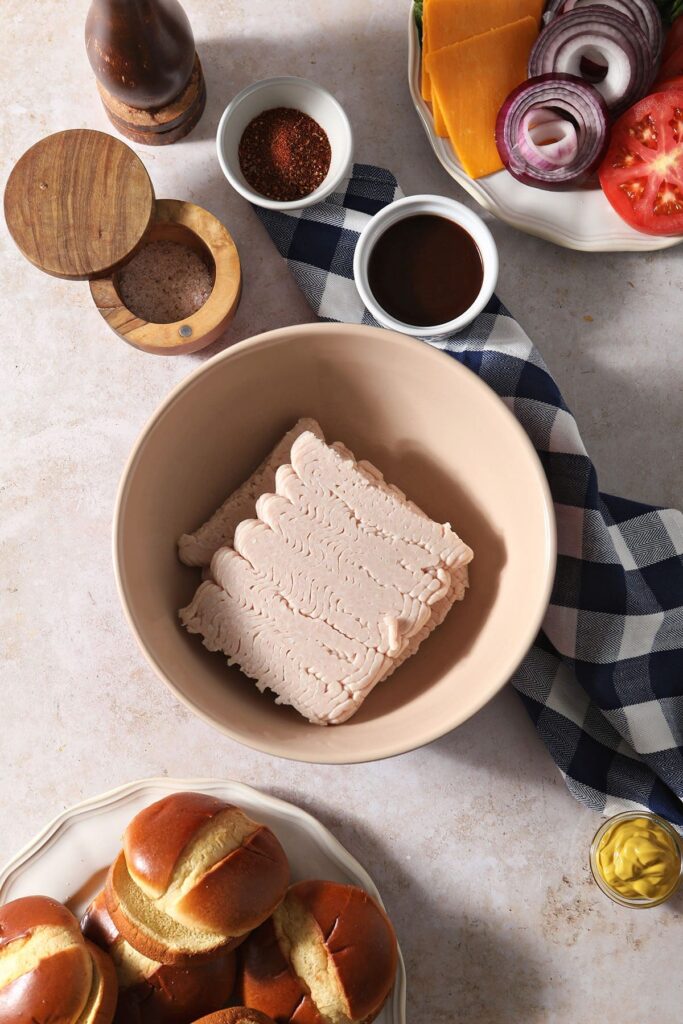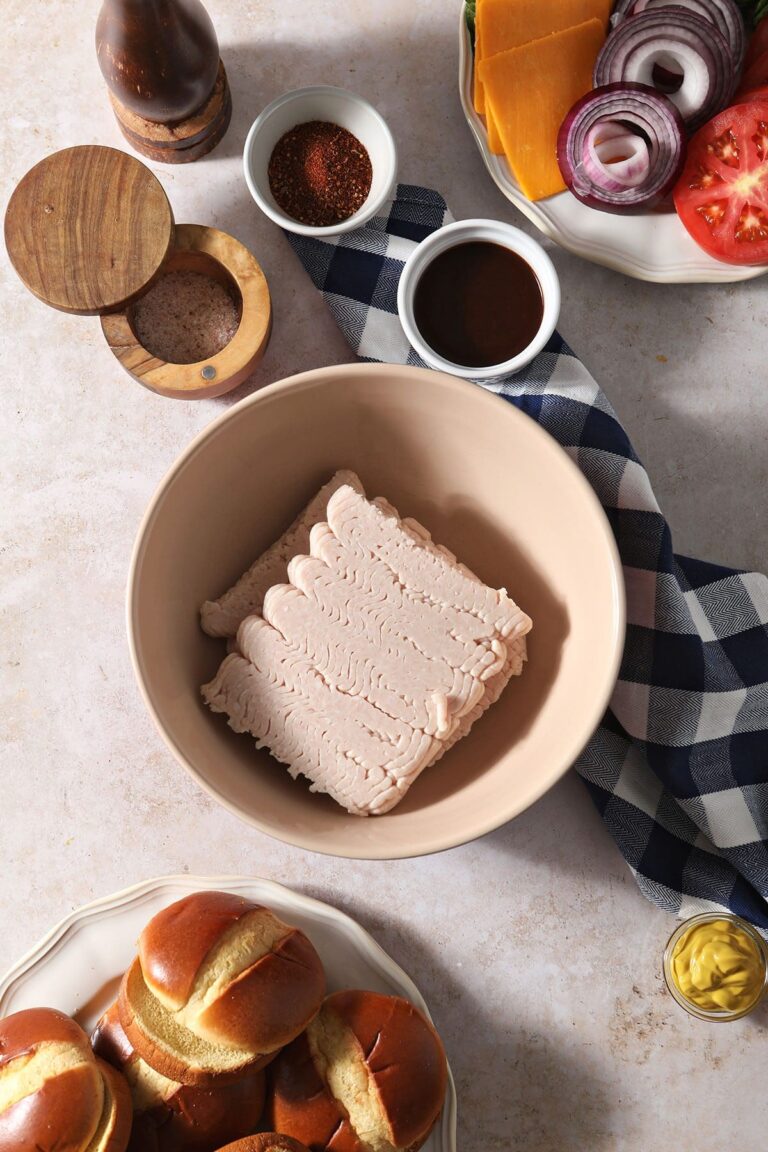 What you need to make this recipe:
The Speckled Palate participates in affiliate programs. As an Amazon Associate, I earn a commission from qualifying purchases. Please refer to my disclosure page for more information about these affiliate programs.
Let's talk ingredients!
In addition to the tools above, you're going to need some ingredients to make this recipe, too! Chances are, you might already have some of them in your fridge or pantry. Scroll down to the recipe card for the full measurements and instructions.
Here's what you'll need:
Ground turkey breast — I recommend getting a leaner meat for these. You can also use frozen meat that's been fully thawed.
Barbecue sauce — use your favorite BBQ sauce here or make your own. This homemade barbecue sauce is my fave and makes for the most flavorful burger.
Dry rub for barbecue — I like to make my own Memphis-style BBQ rub but you can also find dry rubs in the spice aisle of your grocery store.
Salt and pepper — Kosher or sea salt plus freshly-cracked black pepper will send these over the top.
Hamburger buns — get your favorite or use the best you can afford. Brioche hamburger buns are delicious. Gluten-free buns work, too. And I won't judge you if you want to skip the bun and enjoy this burger over a salad or as a lettuce wrap. (Though it's a little messy!)
If you don't want to use turkey, you can swap it with ground chuck or a lean ground beef and follow the same method. I still recommend baking the burgers instead of throwing them on a grill, since the barbecue sauce makes these burgers sticky.
Barbecue Sandwich Toppings
If you're serving barbecue, you're going to need lots of toppings. Take it from a Memphis girl who now lives in Texas.
Here's what I suggest adding to your barbecue baked turkey burger:
BBQ sauce: A classic sauce is always good, or you can try different flavors like pumpkin barbecue sauce.
Pickles: Use your favorite here, or skip if you're not a pickle person. Dill pickles, bread and butter pickles or even fried pickles are all worth trying.
Melted cheese: These are burgers, so it's okay to use burger toppings. A slice of cheddar cheese is classic, or go for American, pepper jack, monterey jack, goat cheese, white cheddar, blue cheese or whatever your favorite is.
Crispy onion strings: You could also use baked onion rings on the burgers, too.
Lettuce: A leaf of butter lettuce or iceberg lettuce will work well here.
Tomatoes: Highly recommend homegrown or farmers market tomatoes! Otherwise a slice of roma or beefsteak tomato works well.
Onions: Go for slices of white onion or red onion, or step it up a notch with pickled onions, fried onion straws or caramelized onions.
Ranch: If you like ranch on your burgers, these would be great with homemade ranch dressing.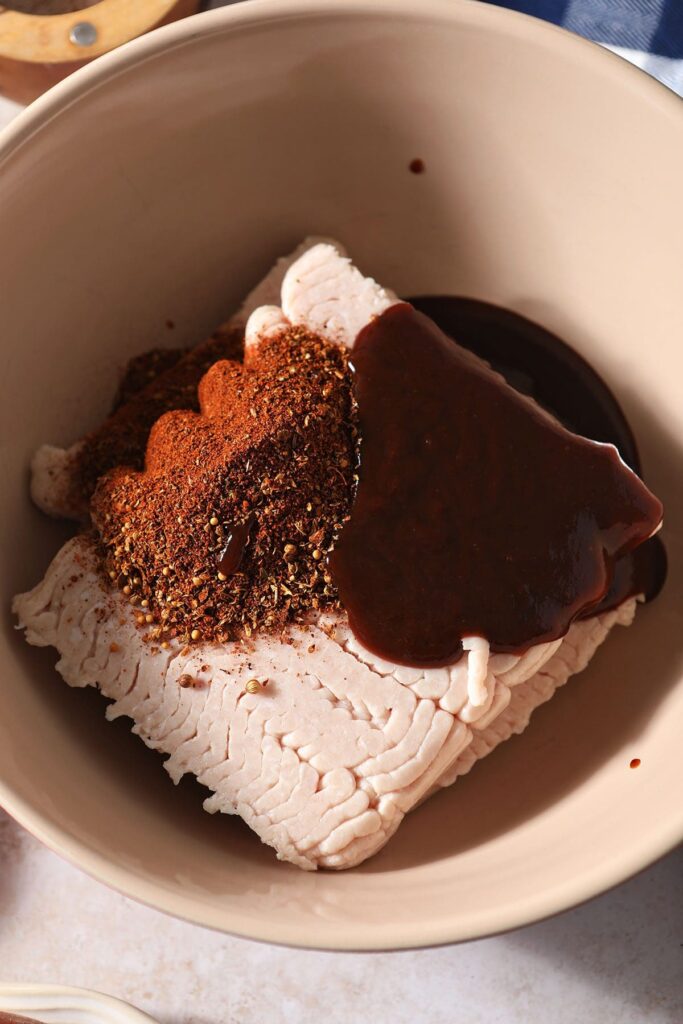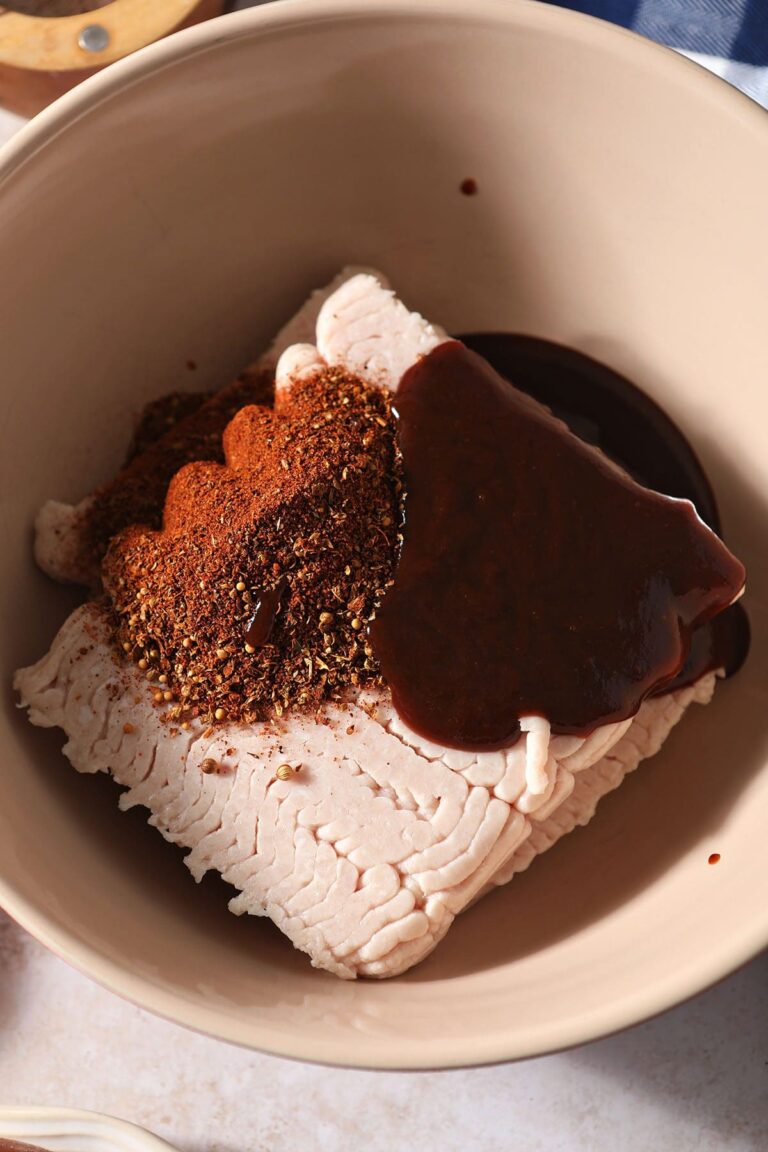 How to make BBQ Baked Turkey Burgers
These burgers are super simple to put together.
Let's take it step by step together:
First, preheat the oven to 425°F. Line a baking sheet with parchment and set aside.
Get out a large bowl. Add the ground turkey along with the BBQ sauce, BBQ dry rub, salt and pepper. Mix them well with your hands. (You might want to use food-safe gloves!)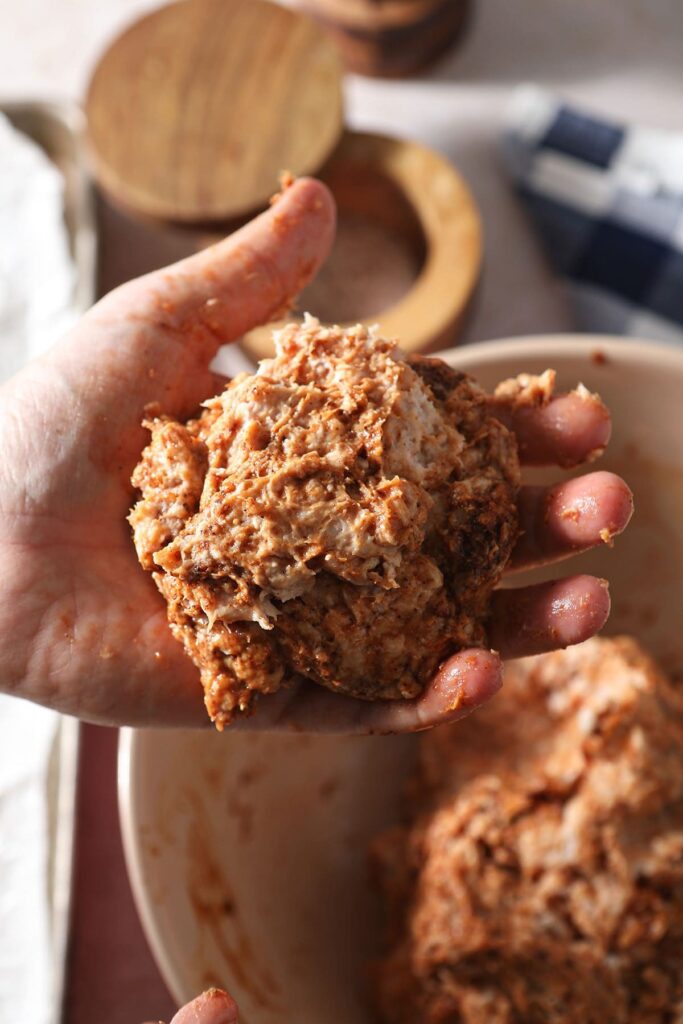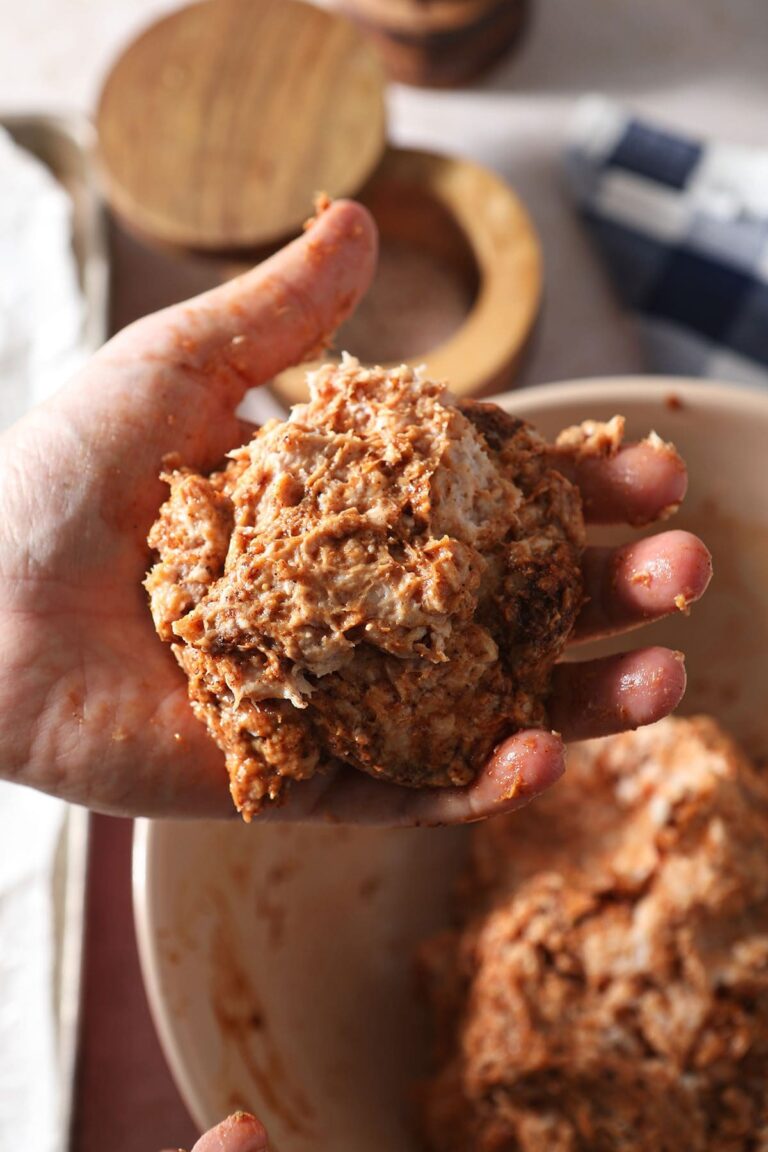 Shape the mixture into big burger patties and place them on the prepared baking sheet.
Use your thumb or a spoon to make a shallow depression in each to prevent the burgers from ballooning as they cook.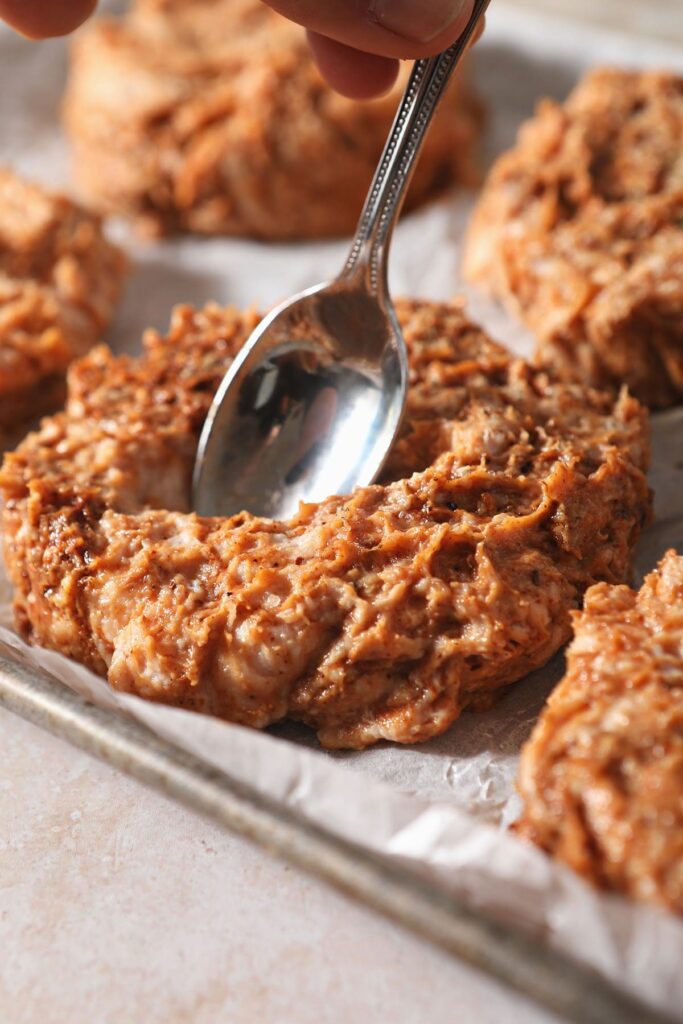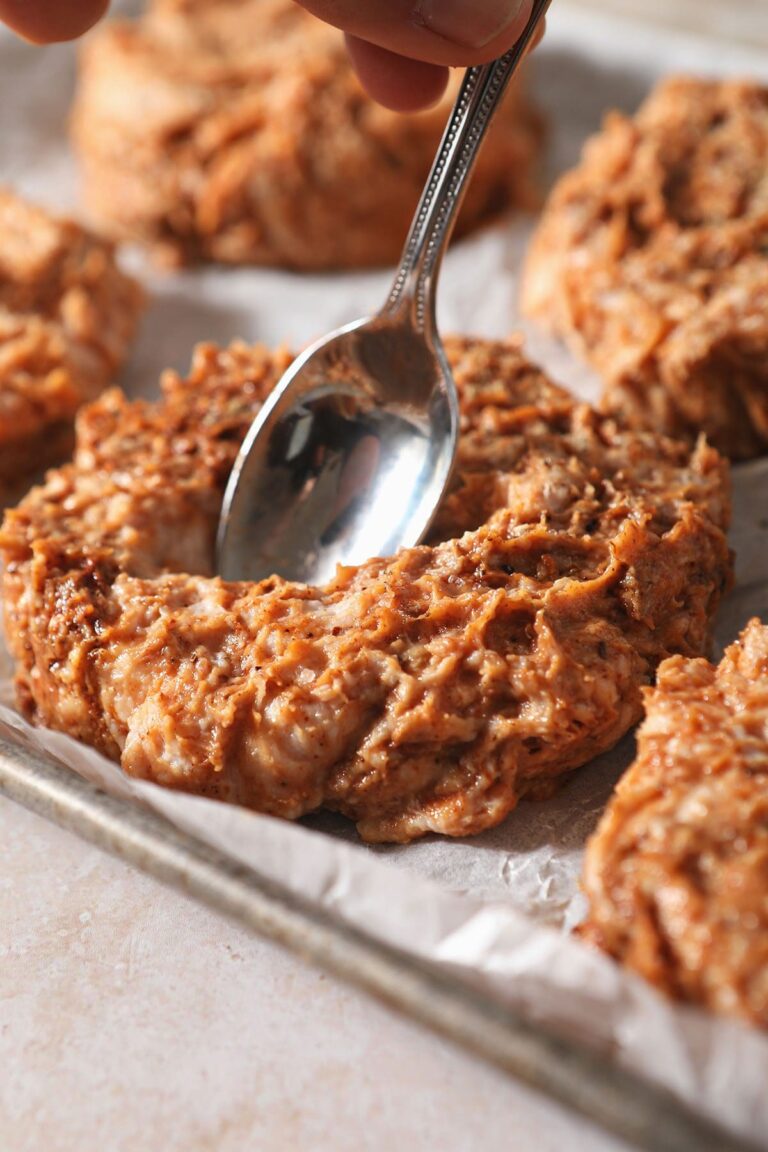 Bake the burgers for 20 minutes or until the burgers are cooked through. (Their internal temperature should reach 165°F.)
Serve on top of a toasted bun with your favorite toppings and enjoy!
Pro tip!
Food safety is key with poultry. These are NOT your regular beef burgers, so medium-rare isn't a thing here. It's gotta hit 165°F to be safe to eat… having it a little underdone is not OK with this.
One thing to note about size: These burgers are pretty thick. We chose to make 'em big for our family.
However, you can easily make smaller portions (like sliders, even) if that suits you and your crowd better. But keep in mind that they will cook faster if they're thinner and smaller, too.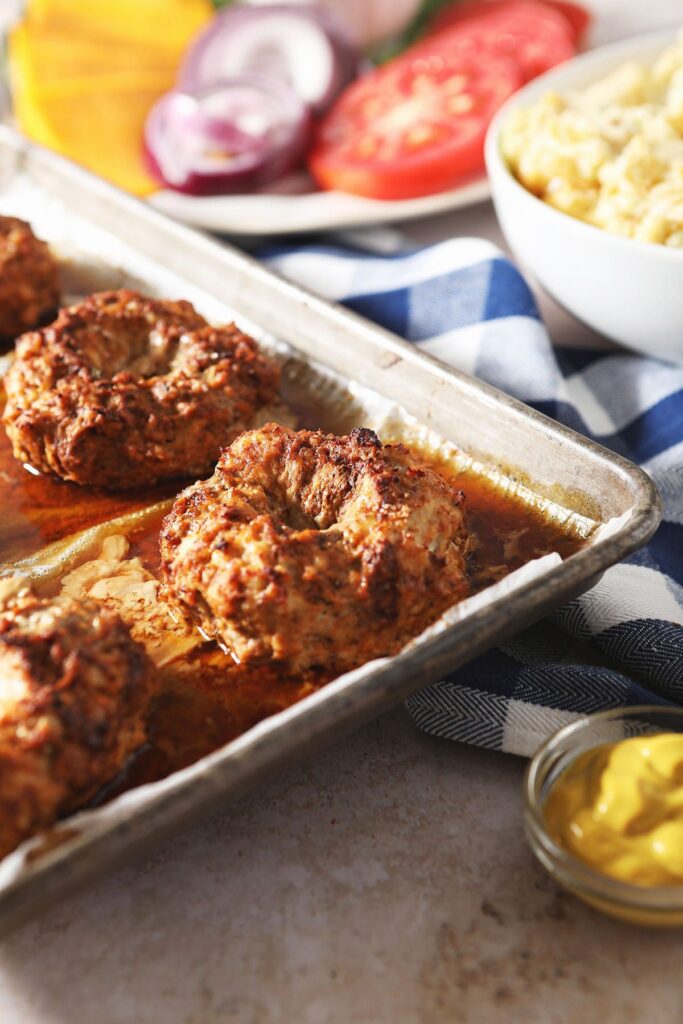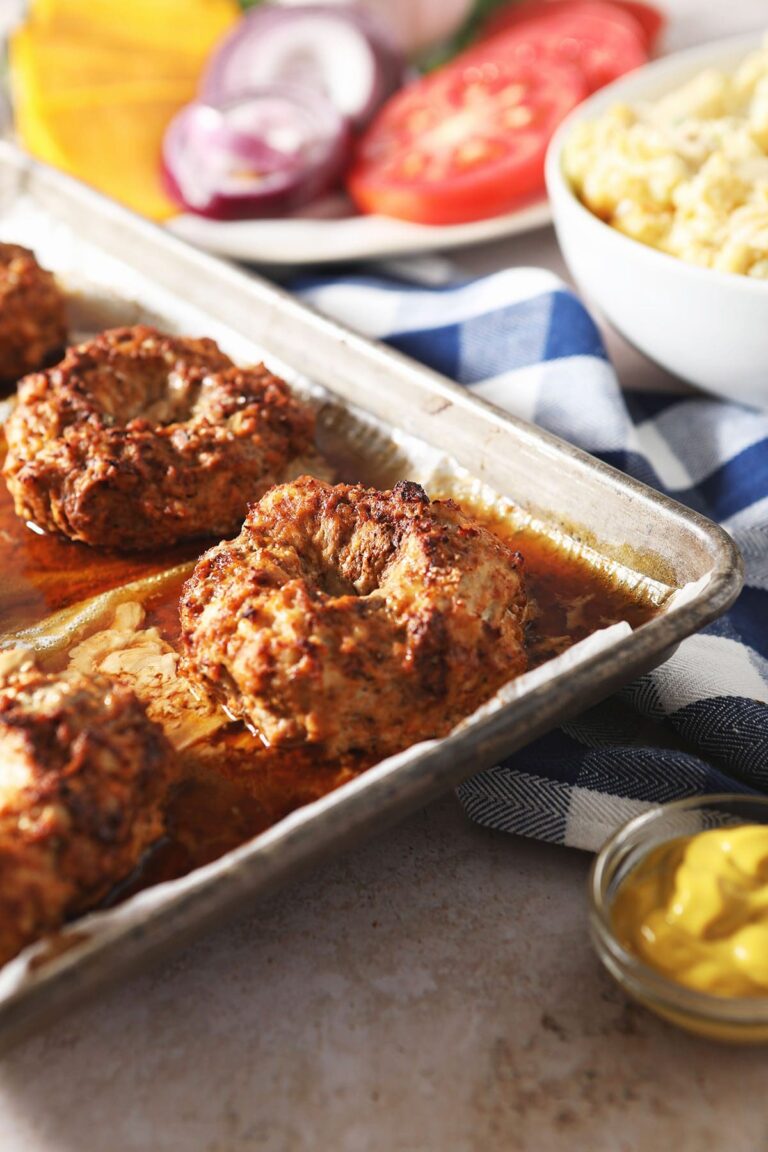 How to store and freeze
There are a few ways to store these burger patties:
Uncooked, in the fridge: Make these burgers ahead of time and stash them in the fridge until you're ready to bake them. Don't assemble them more than a day ahead, though.
Cooked, in the fridge: Store cooled, cooked burgers in a food-safe, airtight container in the fridge for up to 5 days. Reheat them in the oven at 250°F for about 15 minutes.
Uncooked or uncooked, in the freezer: If the meat has never been frozen, you can stash these in the freezer to make in the future. Flash freeze them on a baking sheet, then add them to a freezer-safe bag or container. For best results, thaw them the night before you plan to make them, then cook (or reheat) as directed. If you cook from frozen, they will need to cook longer, about X minutes.
What to serve with barbecue burgers
Whether you are serving these at a potluck or having a weeknight dinner at home, you're going to want some classic burger sides.
Consider a cold salad like potato salad or pasta salad on the side, or even a colorful fruit salad.
Coleslaw is a classic for anything barbecue. You could also make baked beans and mac 'n cheese.
Or you could go true burger night and have a side of french fries and ketchup.
For a healthier option, go for sweet potato fries or zucchini fries.
And don't forget the sweet stuff! For dessert, go for a no-bake dessert, like funfetti ice cream sandwiches, berry yogurt popsicles or a big tray of rice krispie treats.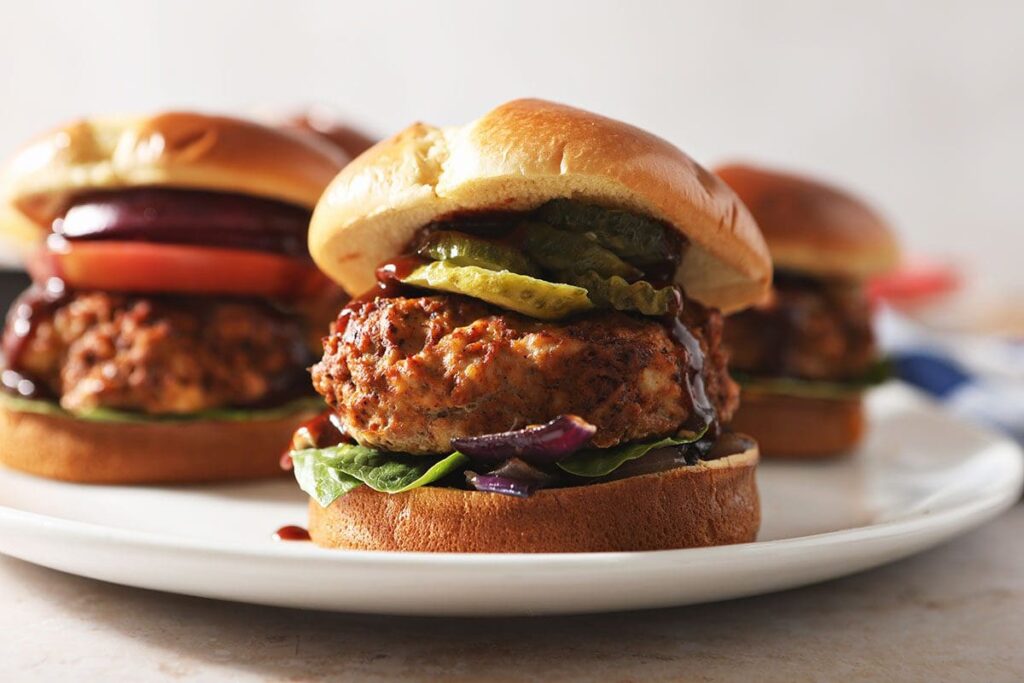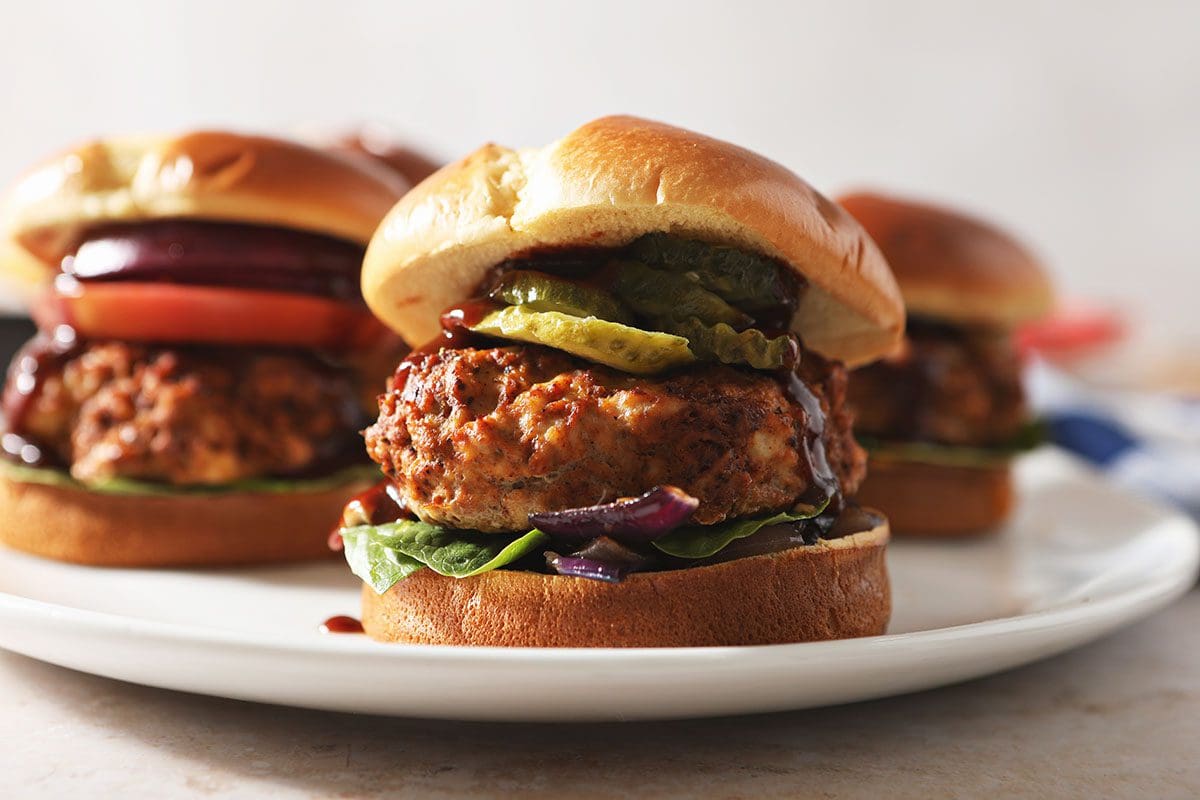 Erin's Easy Entertaining Tips
There's nothing like a great burger and sharing it with friends!
This is an easy recipe to make for entertaining because burgers are pretty darn simple to make and share.
Batch-make these ahead of time and pop them in the fridge (or freezer) so they are ready to bake when guests arrive.
Set up a station with all the toppings for people to build their own burger.
Make them bigger or smaller depending on your crowd. You can easily double or triple the batch, but you may need to bake them in batches.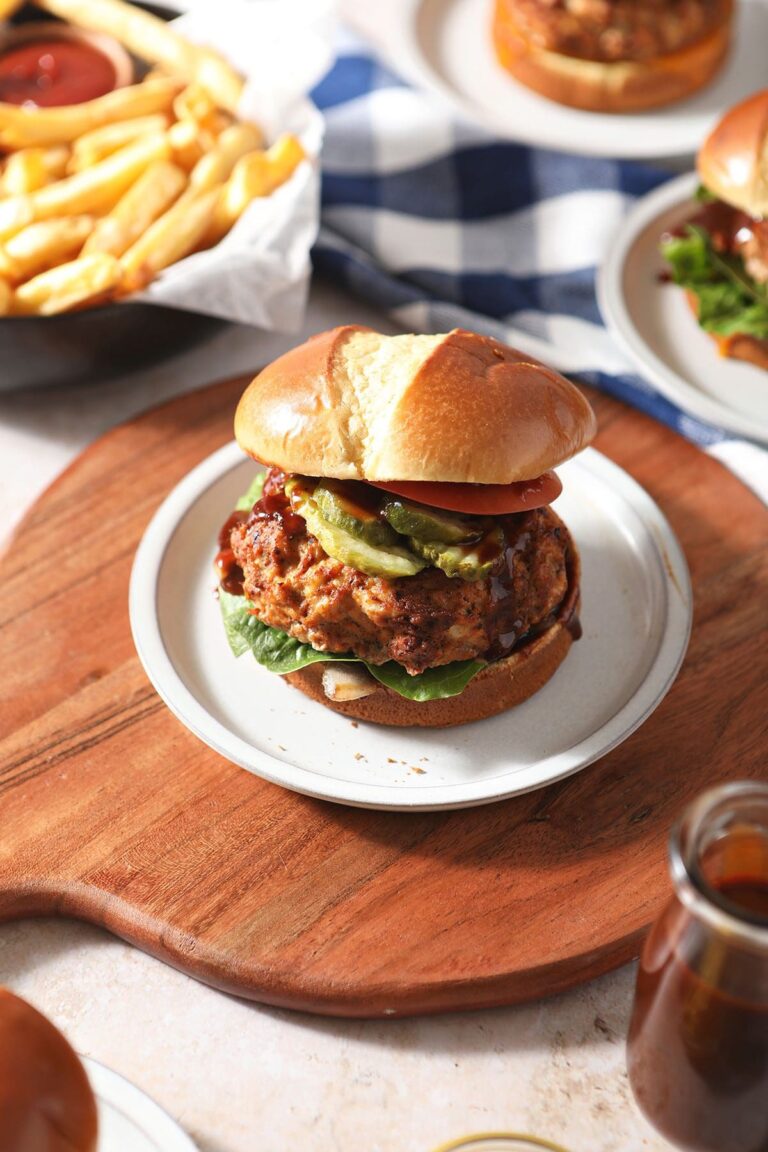 Frequently Asked Questions
What temperature do you cook turkey burgers?
Turkey burgers can be cooked at 425°F for 20 minutes. Use an instant read thermometer to make sure the internal temperature has reached 165°F (74°C).
Should I put BBQ sauce on burgers before cooking?
Barbecue sauce can be brushed on burgers before cooking. You can also add a little to the meat mixture for flavor. Then add more sauce to the burger before topping it with a bun.
Can I grill these burgers?
Since we're adding barbecue sauce to the meat mixture, I do not recommend cooking these on a charcoal grill or a gas grill. The sugar in the barbecue sauce makes the burgers more prone to burning and catching fire on the grill, so I recommend baking them.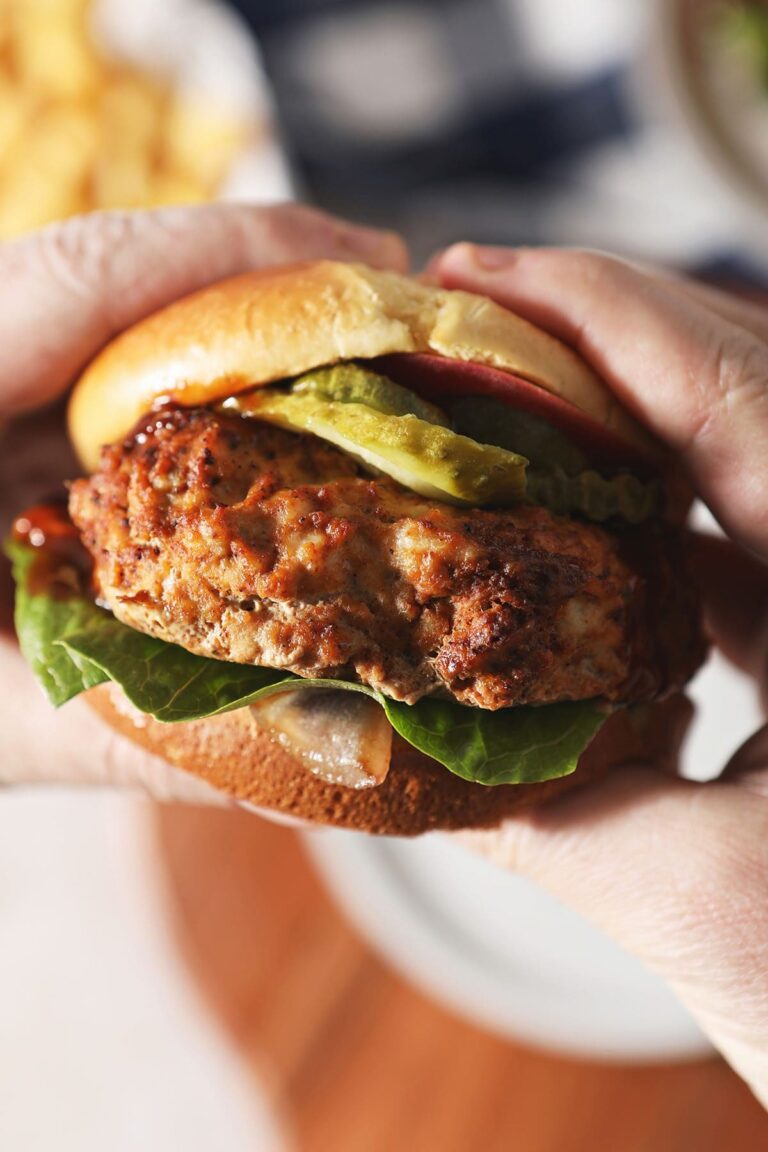 Quick tips and tricks to making the best baked turkey burgers
Don't be tempted to grill them. The burger patties are pretty sticky, so they will stick to the grill and fall apart.
Always use a meat thermometer to check the internal temperature is 165°F (74°C).
Adjust the cooking time for the burger size. Thinner ones won't need as much time, but larger ones will need more time. Use the meat thermometer as your guide.
More cookout recipes: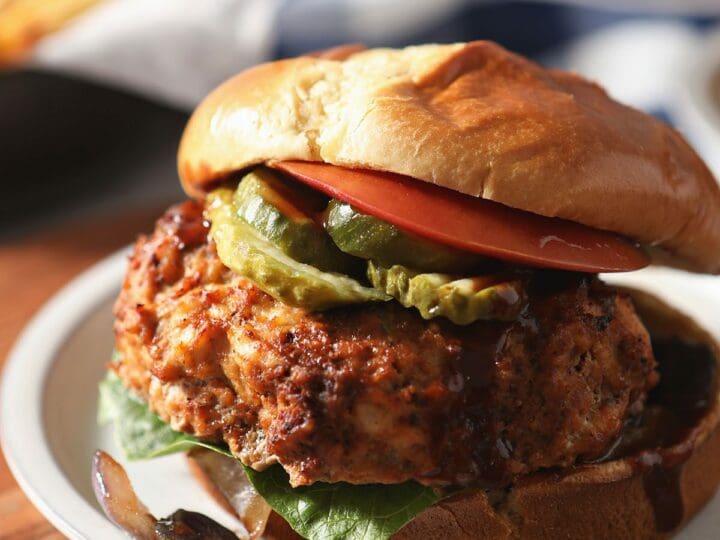 Yield:

6 (1/3 lb.) burgers
BBQ Turkey Burgers
Saucy, delicious BBQ Turkey Burgers are topped with roasted onions and homemade barbecue sauce and served up on a toasted bun. This turkey burger is the perfect more healthy burger option for summertime grilling months.
Ingredients
2 lbs. lean ground turkey breast
6 tablespoon BBQ Sauce
2 tablespoons BBQ dry rub
Salt and pepper, for seasoning
6 hamburger buns, toasted
Burger Toppings
BBQ sauce
Pickles
Cheddar cheese
Lettuce
Tomatoes
Onions
Caramelized onions
Instructions
Preheat oven to 425°F. Line a baking sheet with parchment and set aside.
In a bowl, combine the ground turkey with the BBQ sauce, BBQ dry rub, salt and pepper until well mixed.
Shape the mixture into a burger patty and place on the prepared baking sheet. Use a spoon or your thumb to create a depression in the middle of each burger patty to prevent them from warping as they cook.
Bake for 20 minutes or until the burgers are cooked through. (Their internal temperature should reach 165°F.)
Serve on top of a toasted bun with your favorite toppings and enjoy!
Recommended Products
As an Amazon Associate and member of other affiliate programs, I earn from qualifying purchases.
Nutrition Information:
Yield:
6
Serving Size:
1 burger
Amount Per Serving:
Calories:

457
Total Fat:

9g
Saturated Fat:

3g
Trans Fat:

0g
Unsaturated Fat:

5g
Cholesterol:

118mg
Sodium:

823mg
Carbohydrates:

38g
Fiber:

2g
Sugar:

14g
Protein:

55g
Nutrition facts are an estimate and not guaranteed to be accurate.