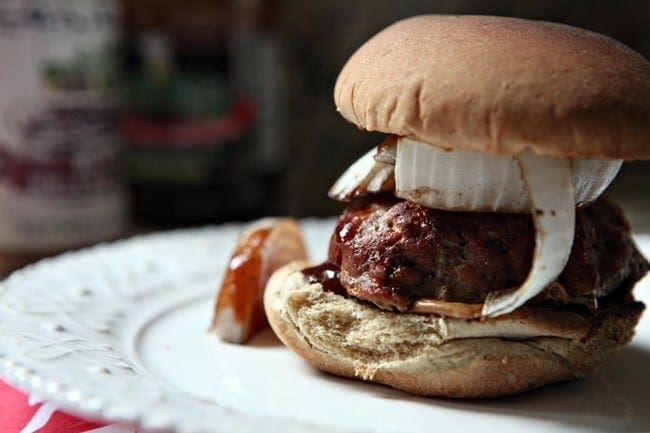 Summertime… it's almost here.
While I don't look forward to the sweltering days this Texas summer will no doubt bring, I'm thrilled that it's the time of the year where I can step outside and be engulfed by the smell of a grill firing up and cooking all kinds of delightful meats and veggies. I'm also thrilled that it's now acceptable to hang out outdoors for unspecified amounts of time, sipping your summer drink of choice as you hear the ice clinking against the side of your glass.
It's a fabulous time of year, and this recipe fits right in for the summertime.
It combines two of my favorite things: barbecue and burgers. And it's pretty darn healthy, too, adapted from Lindsey Catarino's 10-Day Shakeology Challenge from last summer.
Here's how you make an individual burger… and this recipe can be doubled, triples or quadrupled easily: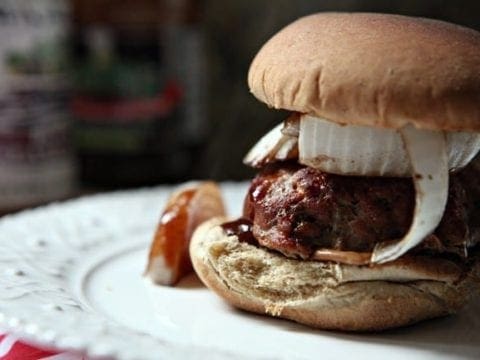 Yield:

1 burger
BBQ Turkey Burgers
Saucy, delicious BBQ Turkey Burgers are topped with roasted onions and homemade barbecue sauce and served up on a toasted bun. This turkey burger is the perfect more healthy burger option for summertime grilling months.
Ingredients
4 oz . lean ground turkey breast
1 tablespoon BBQ Sauce, (or your favorite store-bought kind)
1 teaspoon Erin's BBQ Seasoning, (or your favorite store-bought kind)
2 large slices of onion
2 teaspoons balsamic vinegar
1/8 teaspoon salt
Whole wheat hamburger bun, , toasted
Instructions
Preheat oven to 375.
In a small bowl, combine the turkey, BBQ sauce and seasonings until well mixed. Shape the mixture into a burger patty and place on a greased baking sheet.
On the other end of the baking sheet, lay out the slices of onion. Sprinkle the salt and the balsamic vinegar over the onions.
Bake for 30 minutes or until the burgers are cooked through.
Serve on top of a whole wheat bun and enjoy!
What are you looking forward to the most about this summer?