Summertime calls for fried pickles… but frying pickles at home can be messy. Bake these Oven Fried Pickles for the same tasty effect, but with less mess and grease! This recipe is sure to be a summertime favorite and is wonderful served with a spicy dipping sauce and a favorite beer.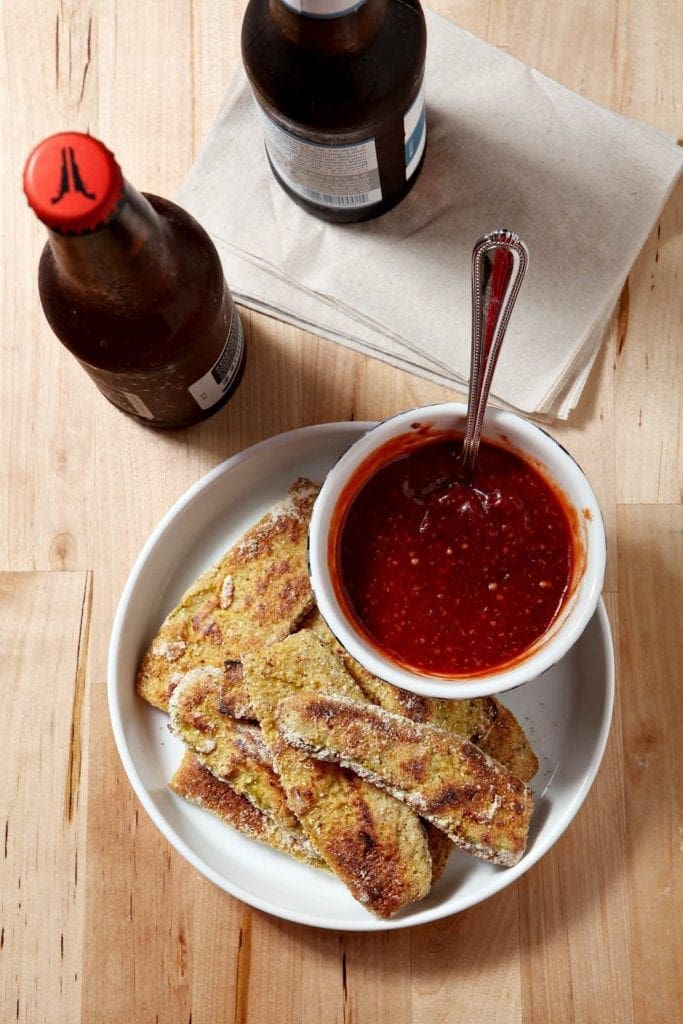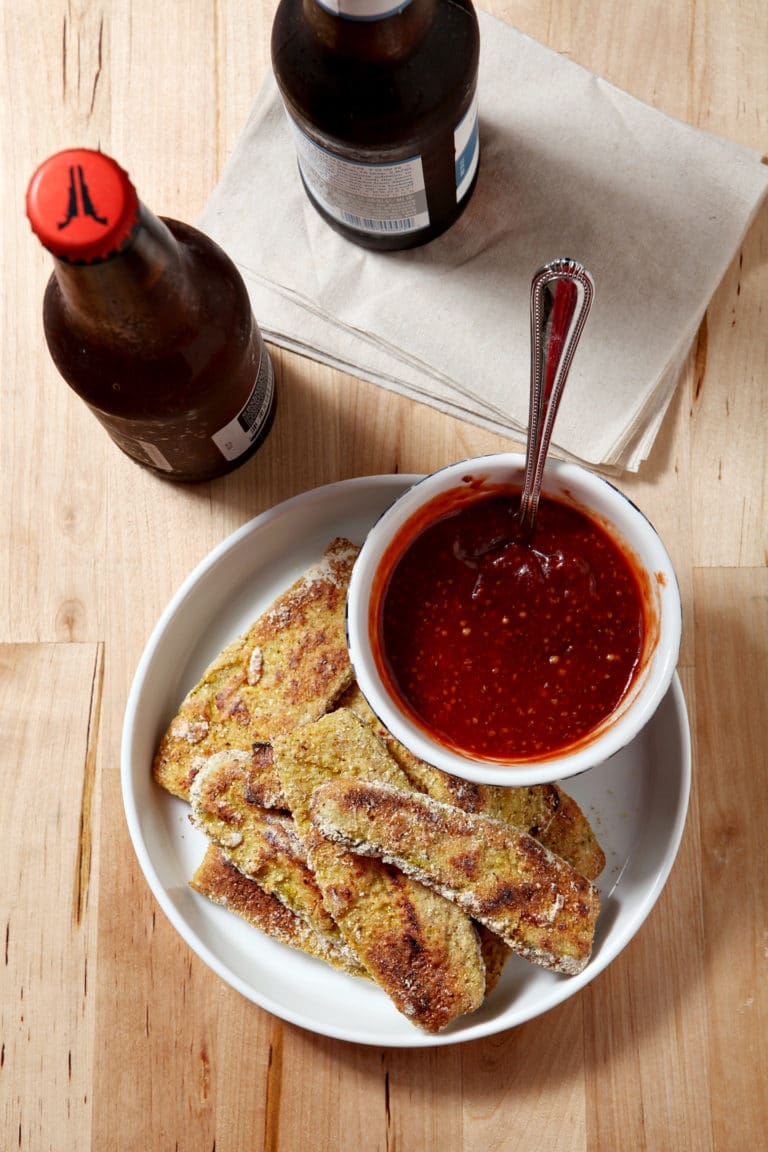 Confession time: I have never been a dill pickle fan. I was that strange kid who preferred sweet gherkins. In fact, I still do, and I all-out avoided dill pickles until a few years ago because I claimed I didn't like the taste.
Yes, I know. We've established that I'm weird time and again on this here blog. I appreciate y'all for sticking around in spite of it.
That being said, I had a basket of fried pickles a few years back that made me rethink my stance, and I've enjoyed an occasional dill pickle ever since. However, I like them best fried.
Because of course I do.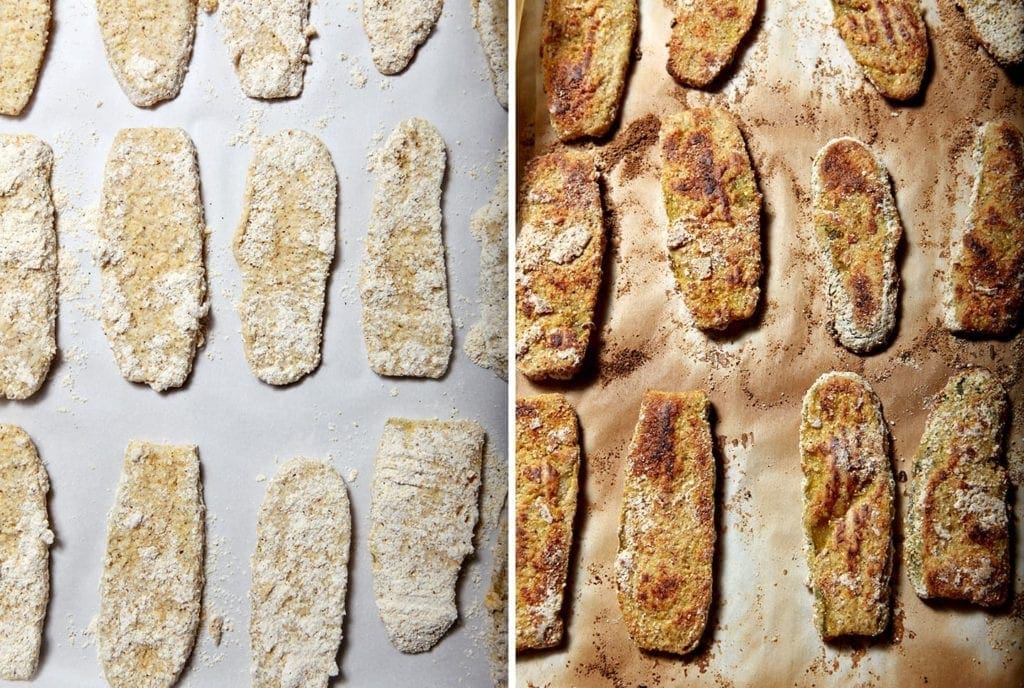 We all know where this is going, right?
I've discussed how I don't like to fry things at home because (a) I'm terrified of burning down my house, and (b) I hate how the house smells like the inside of a greasy spoon days after frying indoors. (Maybe our ventilation just isn't what it needs to be? Eh?)
Since my Oven Fried Okra has been so well-loved for the last few years, I wondered if I could use the same technique with pickles to create a healthier, make-at-home friendly "fried" version.
And, as it turns out, you can. And the pickles are all kinds of delicious.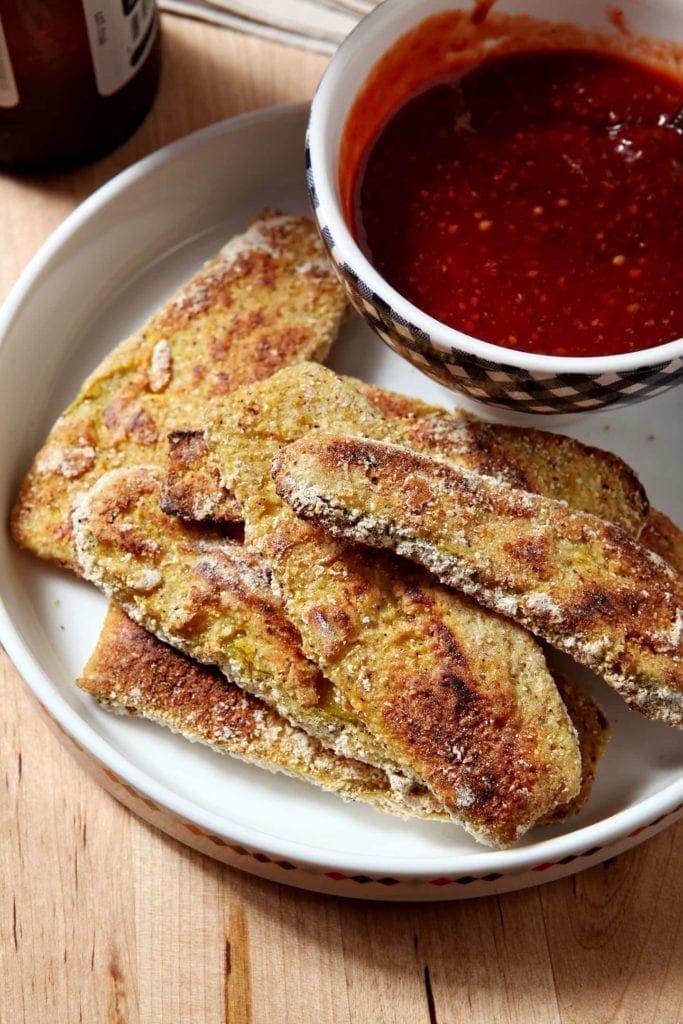 I chose to use thin pickle slices for this recipe — the kind you'd put on a sandwich — but you could easily use pickle chips instead if you have those on hand.
Unlike my okra, I decided to forgo oil completely with this recipe… and it worked! However, I'm sure you could add about 1/4 cup of oil to your pan if you'd rather your pickles actually be "fried" in the oven.
These pickles crisp up nicely as they bake. The key is flipping them halfway and constantly checking to make sure they don't crisp up too much too soon and burn.
And then this dipping sauce? It's wonderfully spicy and the perfect thing to accompany your oven "fried" pickles, along with a bottle of beer (or root beer, if that's your speed.)
Here's how I made them: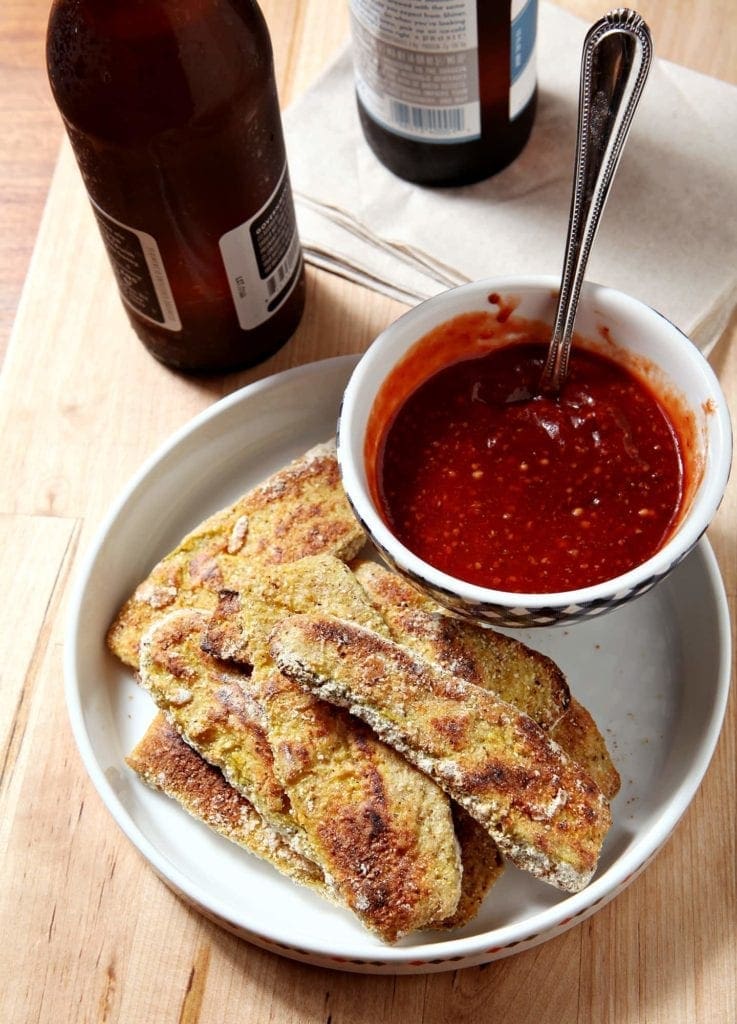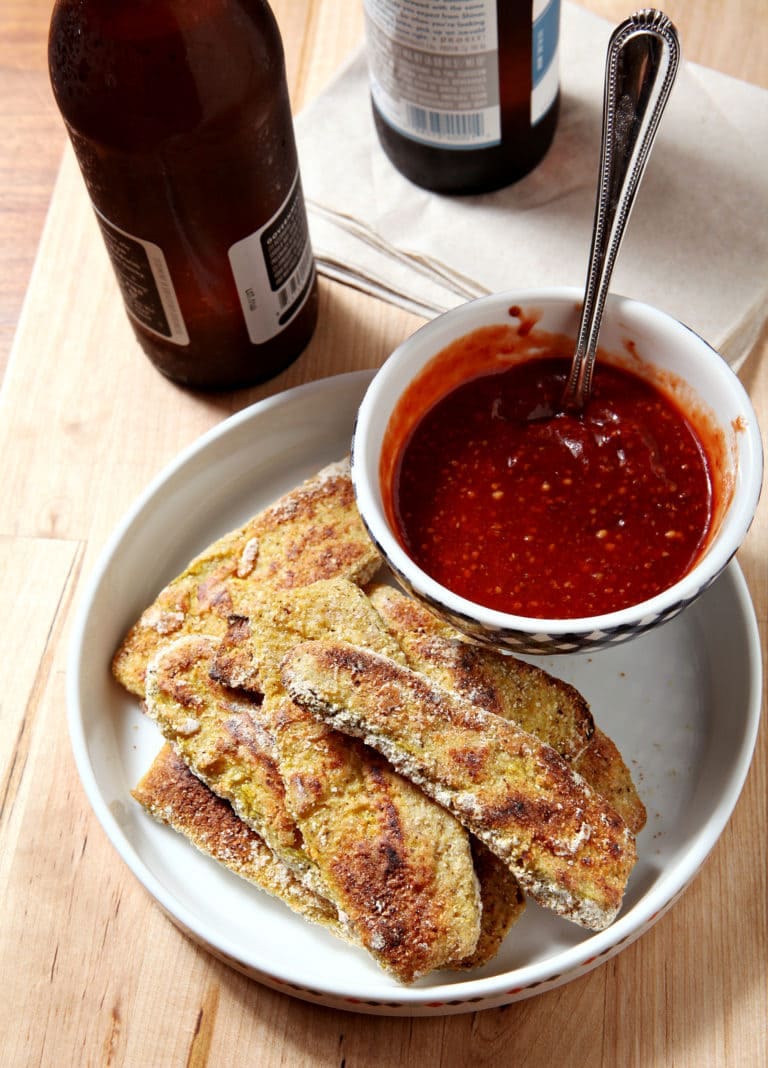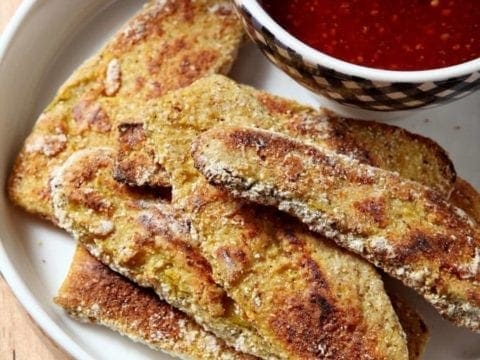 Yield:

4 servings
Oven Fried Pickles
Summertime calls for fried pickles... but frying pickles at home can be messy. Bake these Oven Fried Pickles for the same tasty effect, but with less mess and less grease! This recipe is sure to be a summertime favorite.
Ingredients
Oven Fried Pickles
15 dill pickle slices (about 1 ½ cups pickle chips)
½ cup buttermilk
1 teaspoon hot sauce
½ cup all-purpose flour
½ cup yellow cornmeal
1 teaspoon seasoned salt
1 teaspoon freshly ground black pepper
Spicy Dipping Sauce
1/3 cup ketchup
1 tablespoon grainy dijon mustard
2 teaspoons hot sauce
Instructions
Preheat the oven to 475°F. Line a baking sheet with parchment paper, and set aside.
Combine the flour, cornmeal, salt and pepper in a bowl. Pour the buttermilk into another bowl and add the Sriracha sauce to it, stirring until mixed.
Place the pickle slices in the buttermilk mixture, allowing a few moments to soak before moving into the flour and cornmeal mixture. Coat the pickles completely in the mix, then transfer to the baking sheet.
Continue this process until all the pickles has been breaded and placed on the baking sheet.
Bake for 15 minutes, then remove the pickles from the oven, flipping with a spatula. Bake for an additional 10 minutes (or until cooked through.)
While the pickles bake, make the dipping sauce: Combine the ketchup, grainy dijon and Sriracha in a bowl, stirring until combined. Set aside until ready for use.
When the pickles have browned and are finished baking, transfer to a plate, and enjoy warm with the dipping sauce.
Notes
Keep in mind that my oven is 50 years old, so constantly check on your pickles to ensure they do not burn as they bake.
Recommended Products
As an Amazon Associate and member of other affiliate programs, I earn from qualifying purchases.
Nutrition Information:
Yield:
4
Serving Size:
1 serving
Amount Per Serving:
Calories:

152
Total Fat:

1g
Saturated Fat:

0g
Trans Fat:

0g
Unsaturated Fat:

1g
Cholesterol:

1mg
Sodium:

1031mg
Carbohydrates:

32g
Fiber:

2g
Sugar:

6g
Protein:

4g
Nutrition facts are an estimate and not guaranteed to be accurate.
Are you a pickle fan?
Have you ever fried pickles at home?