Slow Cooker Red Beans and Rice
Slow Cooker Red Beans and Rice is a comforting, delicious meal that's so simple to make. This easy red beans and rice crockpot recipe is take on the Louisiana classic that makes an excellent weeknight dinner. It's great for a gathering, too. Makes 6 servings.
Love Louisiana food? Don't miss Chicken and Sausage Gumbo and Chicken and Sausage Jambalaya, too!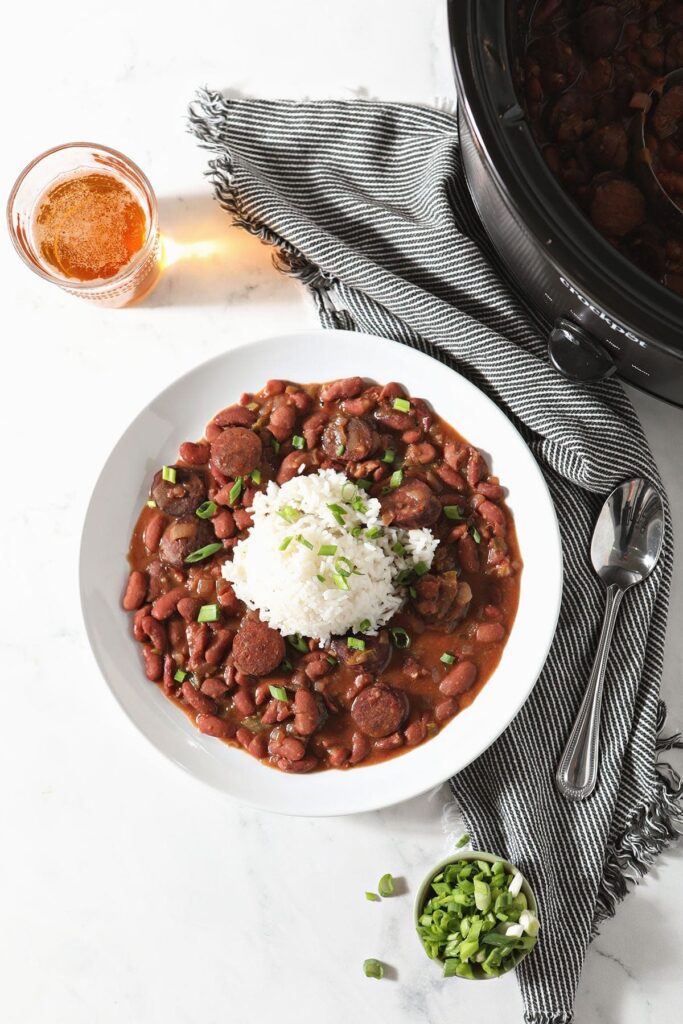 This easy Red Beans and Rice recipe was originally published on February 22, 2017. The photos and text were updated and republished in April 2021.
Red Beans and Rice are a Louisiana classic, and a comfort food loved by many.
Red beans require little hands-on time, so the dish was the perfect meal to make for the whole family to start the week right.
We make this every other week, and my girls ADORE it. They also love helping make it.
Why I love this red beans and rice recipe:
Red Beans and Rice are still well-loved and a delicious recipe to include in any week.
We love it for an easy, hands-off weeknight dinner, but it's also great for sharing for football parties and even Mardi Gras festivities.
Since a lot of people aren't home during the daytime hours and probably don't want to leave a giant pot 'o beans on the stovetop to cook, I decided that a SLOW COOKER rendition of this classic was in order.
And boy, oh, boy, are these Slow Cooker Red Beans and Rice delicious and comforting.
Other Louisiana dishes you might enjoy: Crawfish Etouffee | Instant Pot Red Beans and Rice | Instant Pot Gumbo | Cajun Shrimp and Grits | Ground Beef Meat Pies
Need some make-ahead meal inspiration? Head on over to my Slow Cooker Recipe Index for ideas!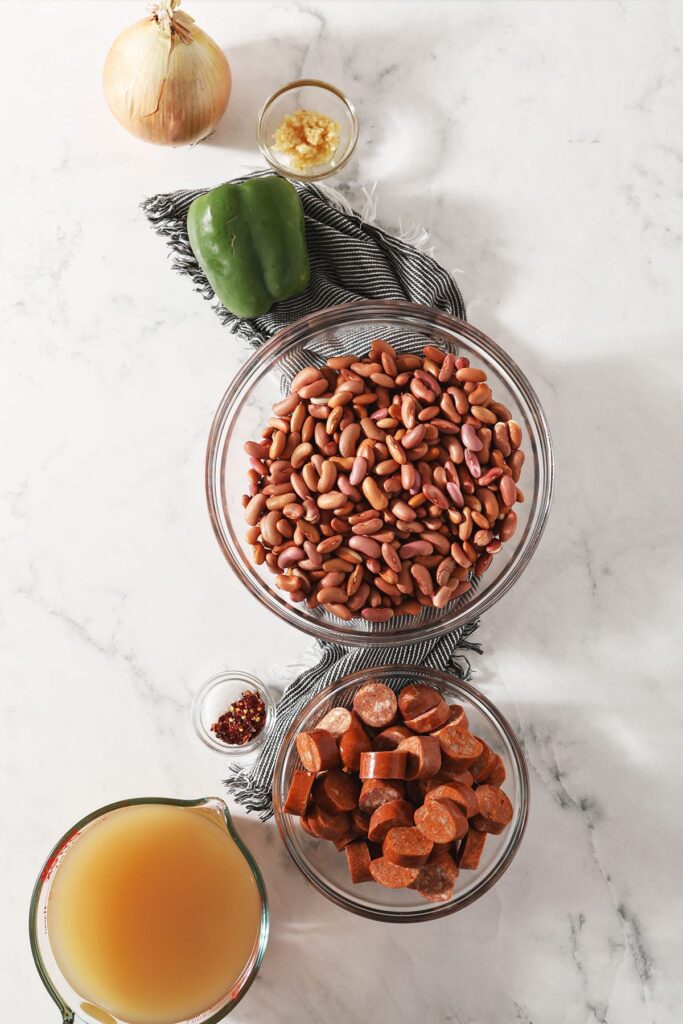 What you need to make easy Red Beans and Rice
The Speckled Palate participates in affiliate programs. As an Amazon Associate, I earn a commission from qualifying purchases. Please refer to my disclosure page for more information about these affiliate programs.
Sharp knife and cutting board
Garlic press (if you don't want to chop your garlic)
A pot with a lid to cook your rice in, unless you want to use a rice cooker
In addition to these tools that you'll want to use, you also need some ingredients that may or may not be in your pantry and fridge:
Andouille sausage—For this recipe, I prefer smoked Andouille, but you can use fresh, as well. It's traditional for red beans and rice. If you can't find it, hot Italian sausage works in its place, and so does mild Italian sausage if you don't like the heat. Keep in mind that every brand and sausage has a different heat level. I've linked to our favorite brands in the recipe card below.
Dried red beans—do not even consider using canned red beans in this dish or it'll be completely mush when you take the lid off. You can use red kidneys if you can't find class red beans at the store.
Garlic—cloves of garlic will be more flavorful than the pre-minced stuff in a jar, but if that's all you've got, it'll work. (I sometimes add in extra if I'm using the pre-minced garlic.)
Onion—yellow or white works in this recipe!
Green bell pepper—there is no substitute for this, so please use a fresh green bell pepper.
Red pepper flakes—you can omit these if you're concerned about the heat level of the red beans.
Kosher salt—I like to use a fine grain kosher salt, but you could also use sea salt here, too.
Unsalted chicken broth—if you only have chicken broth that's been salted, consider not using salt in the recipe and seasoning to taste once the beans are cooked so your red beans aren't too salty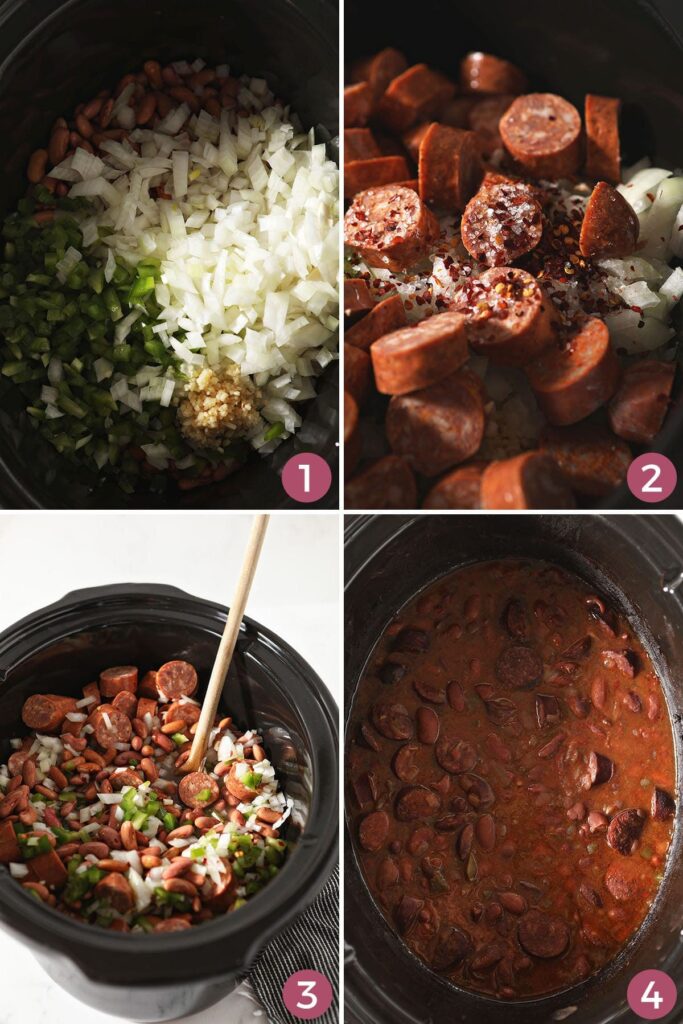 How to make Slow Cooker Red Beans and Rice
Rinse the beans and remove any broken bits (or stones!) from them. Place them in the basin of your slow cooker.
Chop the veggies. This means the onion, bell pepper and garlic.
Slice the sausage, too, if you're using smoked andouille. If you're using fresh sausage, place it into the slow cooker whole. You'll need to slice it once everything has cooked.
Season the dish with red pepper flakes and salt. Pour in the chicken stock, too.
Cover up the crockpot or slow cooker, and let it cook all day long.
If you're home, consider giving the red beans a stir every few hours. However, this is not a must-do in case you're letting this cook while you're out of the house.
At dinnertime, cook some rice. Serve the red beans and rice over it, and enjoy!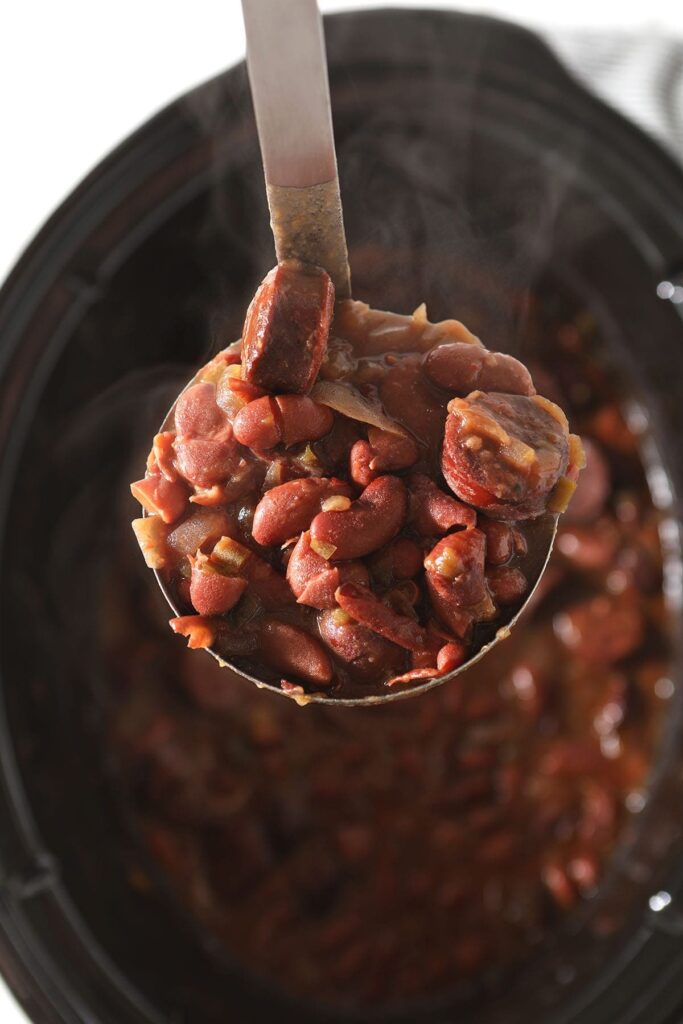 Erin's Easy Entertaining Tips
You're probably going to roll your eyes and/or laugh when I tell you that Red Beans and Rice is an awesome party dish! (Hello, Mardi Gras festivities or even an at-home tailgate party. Also, since Slow Cooker Red Beans and Rice is super cozy, this would be great anytime in the fall or winter when you want something comforting.)
I know, I know. While this dish is historically a comforting Monday night meal, I love a good comfort food to share with friends, and this one is particularly awesome since it's hands-off.
Here are some suggestions for making this dish for your people.
Make your prepwork faster by purchasing pre-chopped onion, green bell pepper and garlic. You could also prep them in advance yourself and store them in the fridge until it's cooking time.
Invest in a rice cooker. If you're cooking rice for a crowd, this is infinitely easier than doing the stovetop method. (My Louisianan husband is nodding his head as he reads this because the rice cooker is probably his favorite kitchen appliance we own.)
Don't sweat the small stuff. When you're entertaining friends, you're supposed to have fun, and since this red beans and rice is hands-off while it cooks all day long, it's a great recipe for hosting.
Double the recipe for a crowd! Because everybody loves red beans and rice, and my family of four can take down an entire pot of this in a night.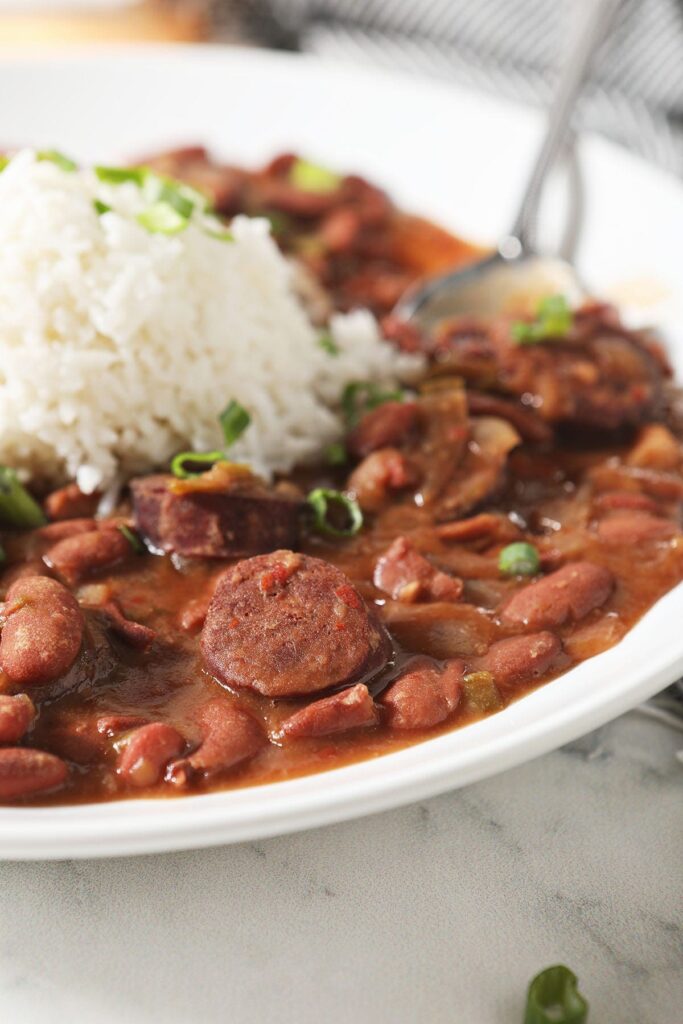 Frequently Asked Questions
I don't have dried Red Beans. Can I make this with canned beans?
No. If you're looking for Red Beans and Rice that call for canned beans, check out Jaylynn Little's Quick Red Beans and Rice.
Can I make this with a different sausage?
Yes! While I recommend using smoked andouille sausage, I realize it's not something everyone can get their hands on. You can also use fresh andouille sausage, if that's available. (Just be sure to leave it whole and slice it once the whole dish has cooked since slicing raw sausage is tough.) You can also use a Chicken Andouille Sausage if you don't eat pork. Hot Italian Sausage is also an acceptable substitution, though it won't have the same heat as an andouille.
Can I make this Slow Cooker Red Beans and Rice vegetarian?
Yes, you can! Simply leave out the sausage and use vegetable stock in place of the chicken stock. You might have to punch up the flavors withHomemade Creole Seasoning or Louisiana Creole Seasoning* (affiliate link) because you won't have the sausage to add some spice.
Are red beans and kidney beans the same?
No. They are two different types of beans. Red beans are smaller and rounder and have a more robust bean flavor.
Can you substitute red beans for kidney beans?
If you ask a Louisianan, they'd tell you no. I'm going to tell you if you can't find red beans anywhere, kidney beans will be an OK substitute to use in this recipe. However, the flavor of the two beans is a little different, so your end result is going to be different than the one originally intended.
How do you thicken red beans and rice?
When my red beans and rice has been a little runny, I'll take my wooden spoon and smash some of the cooked beans to thicken up the sauce. Not only will this make the u0022gravyu0022 a bit thicker, but it'll make for a creamier end result.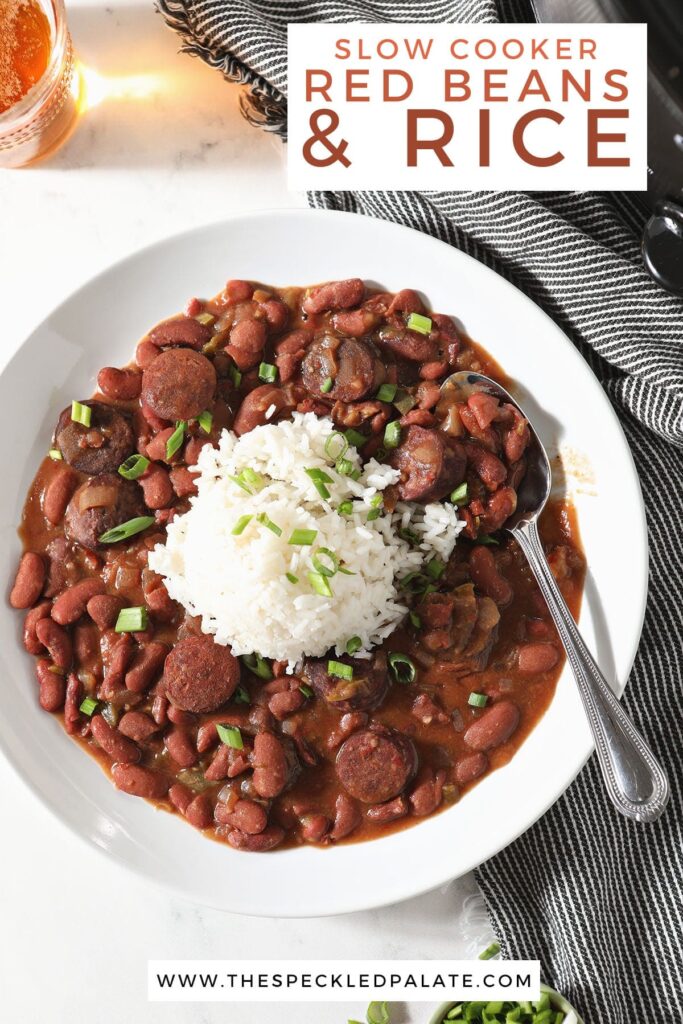 Quick Tips for the best Red Beans and Rice
Give yourself enough time to get it going. While this red beans and rice recipe is pretty hands-off, you still have a portion of time where you're chopping, searing and sautéing vegetables before the pressure cooker lid goes on. Don't forget about it and then panic.
Don't forget to cook the rice! We serve this with our favorite white rice, but you can serve it over brown rice if that's your jam. Just make sure to time it out to where your rice is done around the same time that the beans are.
Make it small batch. You can easily half this recipe if you're feeding two people. Make sure to cook it on LOW all day instead of HIGH since the smaller amount of ingredients will lead to a faster cook time.
Store it in the fridge in airtight food storage containers for 3-4 days. Red beans and rice makes for excellent leftovers. Just be sure to store the beans/sauce and the rice separately. Reheat in the microwave until warm.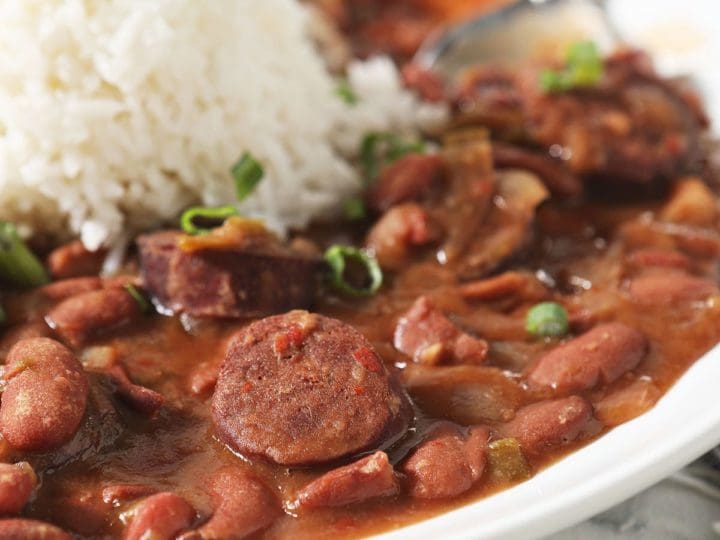 Yield:

6 servings
Slow Cooker Red Beans and Rice
Total Time:
9 hours
15 minutes
Slow Cooker Red Beans and Rice makes a delicious dinner... and this recipe is SO simple! This well-loved Louisiana entree, which calls for dried red beans, Andouille sausage, green bell pepper, onion and spices, is the perfect meal year-round. This recipe, which is perfect for Mardi Gras festivities, football tailgates and while hosting a party, because it requires little hands-on time, cooks unassisted in the slow cooker and feeds a crowd.
Ingredients
1 lb. dried red beans
1 lb. Andouille sausage
4 cloves garlic, minced
1 large yellow onion, chopped
1 green bell pepper, chopped
½ teaspoon red pepper flakes (or less, if feeding kids)
1 teaspoon kosher salt
32 oz. unsalted chicken broth
Cooked white rice, for serving
Instructions
Sort the beans. Remove any broken ones, as well as any plant bits or rocks. Give them a rinse.
Place the beans in the basin of the slow cooker.
Chop the onion and bell pepper. Mince the garlic. Sprinkle them on top of the red beans in the slow cooker.
Season with the red pepper flakes and kosher salt.
Slice the (smoked) Andouille sausage*, and place on top of the other ingredients in the slow cooker.
Give the ingredients a stir to combine them, then pour in the chicken stock.
Cover, and cook on HIGH for 5-6 hours (on LOW for 9-10 hours), or until the red beans are extremely soft.
Serve warm over rice!
Notes
Please do NOT use canned red beans for this recipe. They will become mush by the end of cooking time, and no one wants mushy red beans.
My original recipe calls for soaking the beans overnight. I updated it in June 2022 to omit this step, as I've found that the beans will cook for long enough to not require an overnight soak.
All andouille sausages are a little different. Some have more heat than others while others are more flavorful without the added punch of heat. You're going to have to do some legwork and discover the brands that work for you and yours because they are all so different.
Fresh pork andouille sausage at the Whole Foods meat counter here in Dallas has been both flavorful and a little heat. Central Market's fresh andouille sausage is also good, though we found it to have very little heat.
Silva Naturals Smoked Andouille Sausage* (affiliate link) is also delicious. It's less spicy, but it has a ton of flavor.
A note on ingredients and substitutions:
If you're sensitive to heat, omit the red pepper flakes. We normally leave it out if we're sharing this recipe with our kids. The andouille sausage will provide more than enough flavor without the added heat unless you want it.
Andouille sausage is a popular sausage in South Louisiana. It comes in both smoked and fresh varieties, and depending on where you live, you might not be able to find it or might only be able to find one variety. We prefer the smoked andouille sausage because it slices up easily before you cook the red beans and rice. However, you can use fresh andouille sausage. Add them to the slow cooker whole and slice after the cooking is done.
If you cannot find andouille sausage, you can use hot Italian sausage instead.
If you do not eat pork, some brands sell chicken andouille sausage, and that can be used in this recipe. We've found these to be spicier than the pork variety, for whatever reason.
Recommended Products
As an Amazon Associate and member of other affiliate programs, I earn from qualifying purchases.
Nutrition Information:
Yield:
6
Serving Size:
1
Amount Per Serving:
Calories:

392
Total Fat:

22g
Saturated Fat:

7g
Trans Fat:

0g
Unsaturated Fat:

12g
Cholesterol:

50mg
Sodium:

871mg
Carbohydrates:

30g
Fiber:

6g
Sugar:

3g
Protein:

18g
Nutrition facts are an estimate and not guaranteed to be accurate.