Crawfish Etouffee is a comforting and classic Louisiana dish that highlights peeled crawfish tails and the Cajun trinity. This saucy stew, served over rice, is packed full of flavor and perfect for a crowd. Makes 6 servings, but it can easily be doubled or tripled.
Love Louisiana and Cajun food? Don't miss out on Chicken and Sausage Gumbo, Ground Beef Meat Pies and Chicken and Sausage Jambalaya!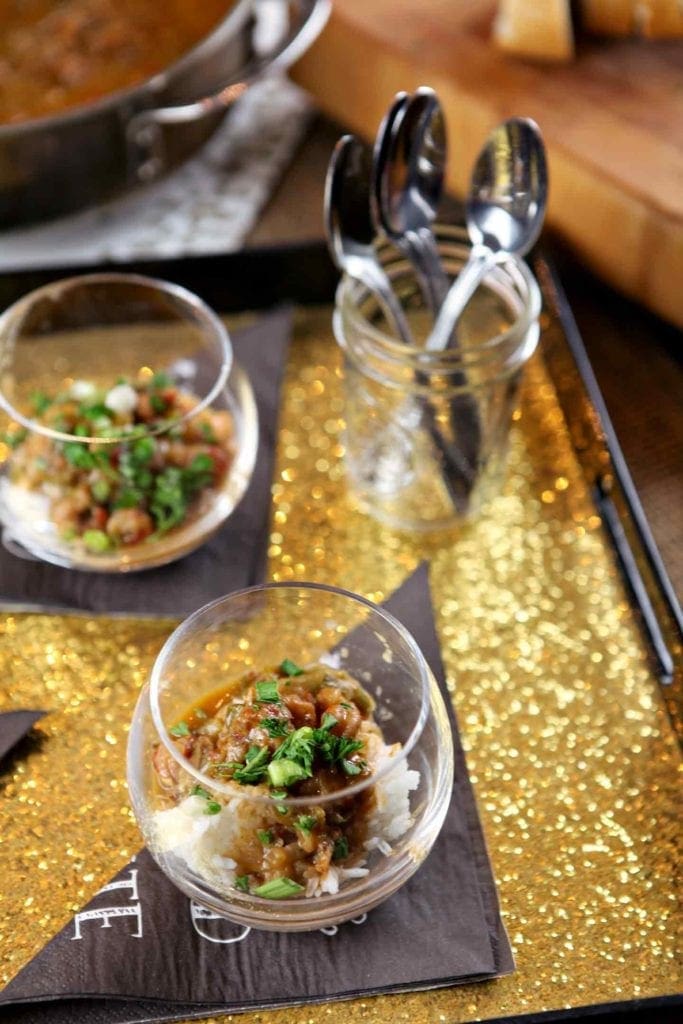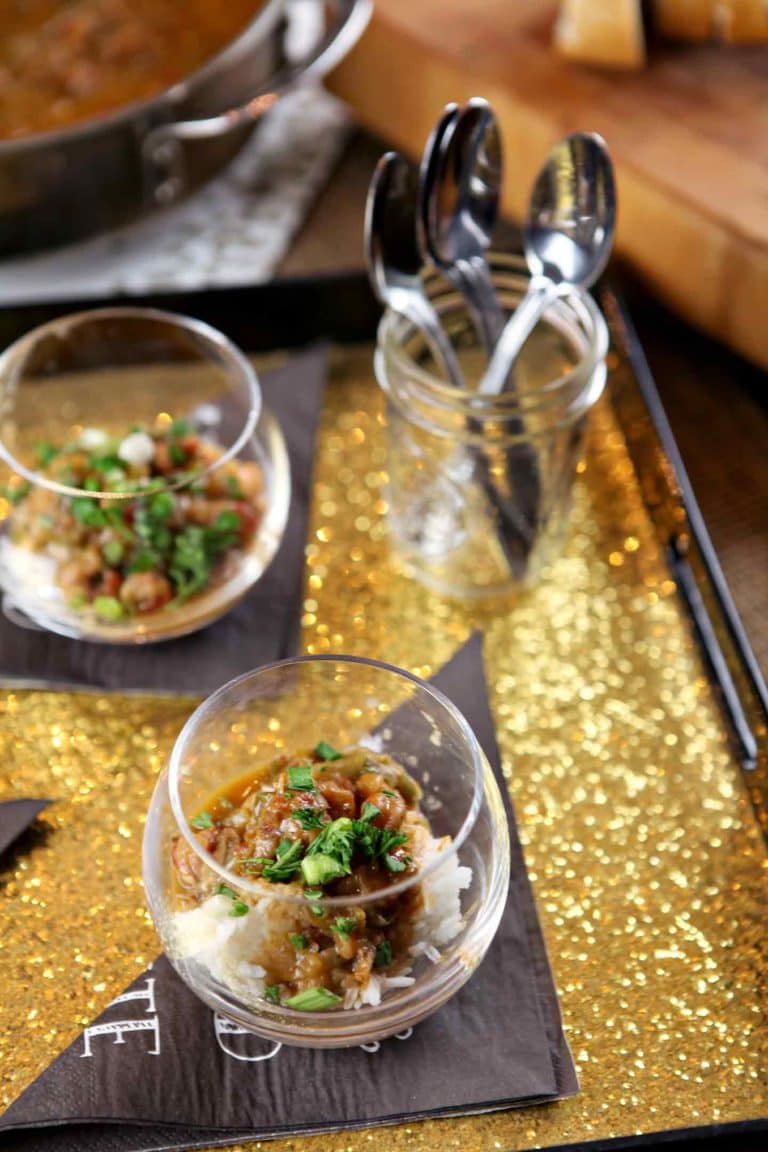 This Crawfish Etouffee recipe was originally published on October 5, 2016, as a part of the #foodiefootballfans collaboration. It was updated and republished on September 2, 2020, with new images and additional instructions, tips and tricks.
It's thinking about cooling off in Dallas. 🙌🏻 🙌🏻 🙌🏻
We could probably attend an outdoor football game without melting, y'all.
And it finally feels like we can make some more traditional gameday dishes because I always associate tailgate food with the fall.
And for those of us who have spent a large chunk of time in Louisiana, we know this means gumbo, jambalaya, etouffee …
Now, for those of y'all who aren't from South Louisiana, let's talk French. From my non-French speaker understanding, "étouffée" translates roughly to mean "smothered" or "suffocated."
Etouffee cooks on lower heat with a small amount of liquid in a covered pan. When done, everything has cooked down to a "gravy" consistency and is served over rice.
This dish, wildly popular in South Louisiana, is traditionally made with crawfish tails or shrimp. I read on the Internet that chicken is also an acceptable etouffee protein, though I've never eaten a chicken etouffee, so…
Why I love this recipe:
Crawfish etouffee is one of my favorite Louisiana dishes… and it can be eaten year round, provided you've got quality Louisiana crawfish tails on hand.
This recipe, which came to us from Winston's mother, has been adapted over the years. While it's not 100% traditional (because I add broth to make the gravy part of the etoufee a little saucier), it's most certainly delicious.
Other fall football food that we adore: Texas Chili | Turkey Sausage Jambalaya | Hatch Chile Mini Cornbread Muffins | Louisiana Cajun Turkey Burgers with Étouffée Relish and Creamy Cajun Sauce | Crawfish Pie
Looking for football-centric food? Check out my Football Food Recipe Index!
Recommended Tools and Products for Crawfish Etouffee
The Speckled Palate participates in affiliate programs. As an Amazon Associate, I earn a commission from qualifying purchases. Please refer to my disclosure page for more information about these affiliate programs.
Sharp knife, for all the chopping
Dutch oven or a large skillet with a lid
If you're tailgating, make sure to bring along essentials, like Compostable Plant-Based Clear Cold Cups with Biodegradable EcoPure Spoons. Not only are these products solid, but they make your tailgate have a smaller environmental footprint.
Let's talk ingredients!
In addition to the tools above, you're going to need some ingredients to make this recipe, too! Chances are, you might already have some of them in your fridge or pantry. Scroll down to the recipe card for the full measurements and instructions.
Here's what you'll need:
Extra virgin olive oil and unsalted butter — you can choose one or the other if you prefer one, but I like using the combination for flavor! This serves as the base for our roux and will be what our veggies cook in, too.
All-purpose flour — we keep the unbleached kind at our house, but classic AP flour works. There is no substitute for this, as it's going to make a blonde roux for the recipe.
Trinity — super common in most Cajun and Creole recipes, you're going to need onion (yellow or white is perfect), green bell pepper and celery, too.
Garlic
Crawfish tails — ask the seafood folks at your grocery to help you find this if crawfish aren't something you normally see at the store! They'll have a recommendation for you. You can also order them online.
Salt-free Creole seasoning — we generally keep Tony's at our house, but any salt-free Creole or Cajun seasoning would work. You could also make your own.
Garnishes — green onions and parsley are the traditional etouffee garnishes
White rice — it's not a garnish, but you need a big 'ol pile of this goodness to smother in your etouffee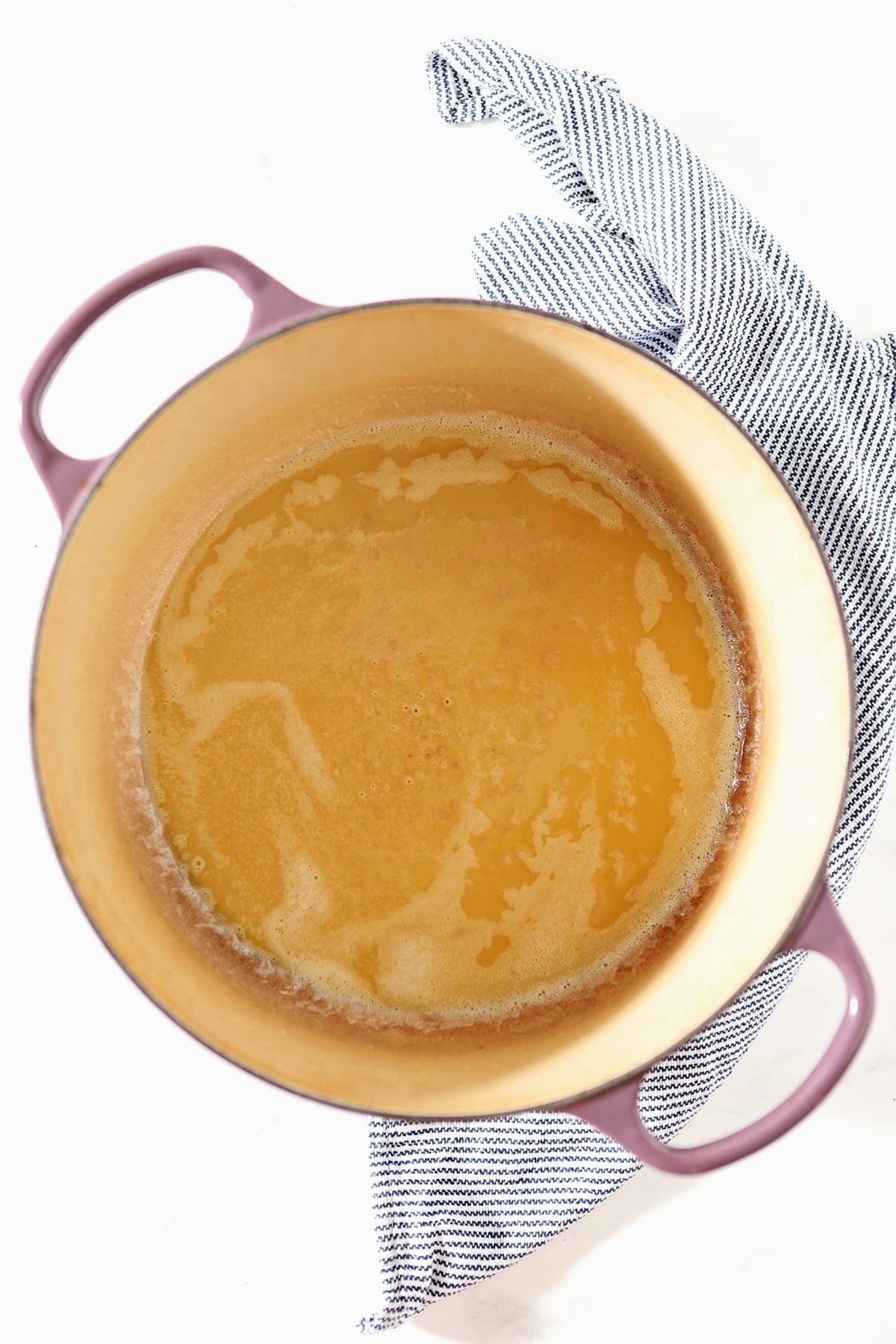 How to make Crawfish Etouffee
First and foremost, drain the liquid from the crawfish packaging into a seaprate container. This is the fat from the crawfish, and it's insanely important, so please, please, please do not toss this. It adds a TON of flavor!
Next, transfer the crawfish tails from their packaging into a bowl. Season 'em up with your favorite salt-free Cajun seasoning, and toss them before setting them aside.
Heat the butter and oil over medium-high heat in a large, heavy-bottomed saucepan or a Dutch oven. When they're hot, hot, hot, toss in the flour.
The combined flour and butter/oil mixture is going to make a roux for us, which is the base of our etouffee. Stir it constantly as it cooks. We want it to go from a light yellow and chalky mixture to a golden/beige color.
Next, add the chopped veggies! Yes, they'll all go into the pan at the same time.
Cook 'em until tender. We're not looking for a ton of color on them, but we do want them to be relatively soft so that you're not getting crunchy bites in your meal.
When the veggies are soft, pour in the reserved crawfish fat and the stock and bring to a boil before lowering the heat. Cook for about 10 minutes, or until the mixture has thickened.
Next, add those crawfish tails, and lower the heat. Season with salt and pepper, too, and simmer for an additional 5-10 minutes tops. Don't cook them too long or the crawfish tails will be overcooked.
Serve the etouffee over rice, and garnish with fresh parsley and green onions. If you like it hot, feel free to add a sprinkling of cayenne pepper or hot sauce before enjoying.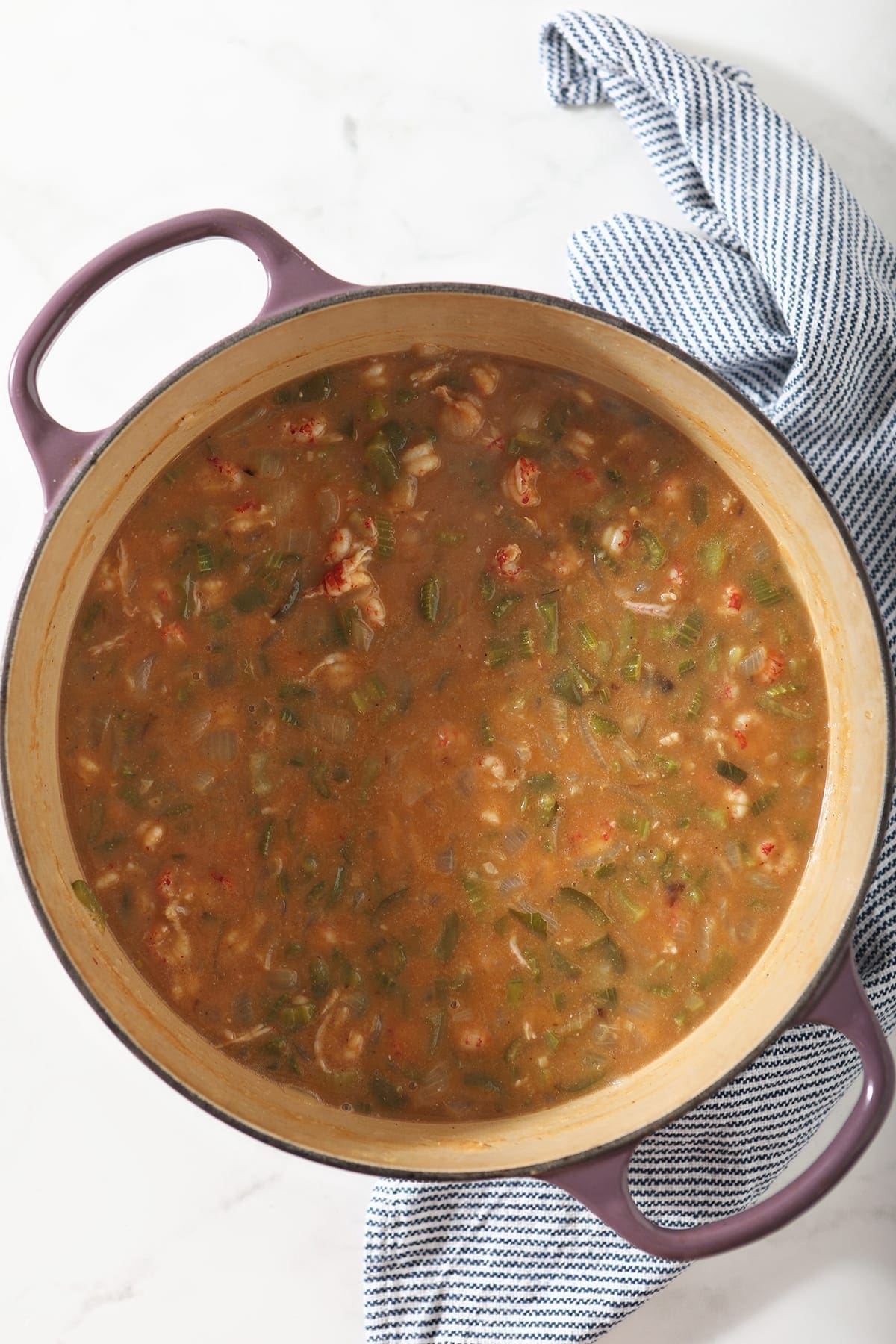 Quick tips and tricks to make an awesome etouffee
If you cannot find Louisiana crawfish tails in the grocery store (they should be marked as 'Certified Cajun' and a product of Louisiana), purchase shrimp instead to make a shrimp étouffée!
Don't drain the crawfish before taking them out of the packaging! The liquid mixed in with the tails is the fat. It is essential flavoring in this recipe!
If you are using shrimp, peel the shrimp shells away from the meat and season with the same amount of creole seasoning. Add an additional 2 tablespoons of butter into the pan as they cook to make up for the lost crawfish fat.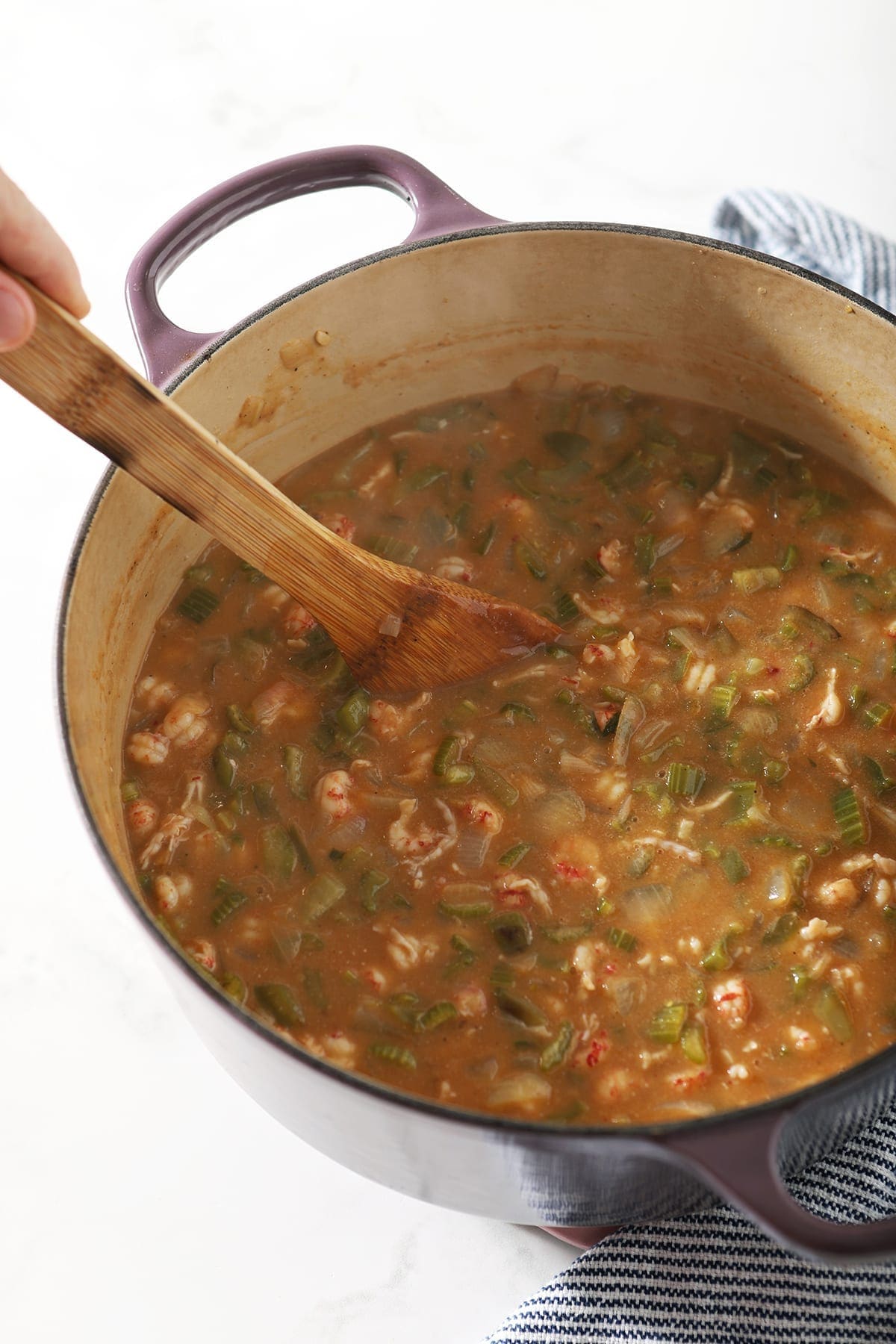 Frequently Asked Questions
Where can I find crawfish?
Grocery stores and specialty seafood shops are your best bet for crawfish tails if you don't live in South Louisiana. We've had good luck at our Dallas-based Whole Foods. Their seafood freezer has oftentimes had frozen Louisiana crawfish tails stocked.
When is crawfish season?
Crawfish season in South Louisiana is from about February through June or July. It all depends on the year and the weather.
What's the difference between crawfish and crawfish tails?
Crawfish are whole crustaceans and are oftentimes cooked at crawfish boils, similarly as you'd do with a low country shrimp boil or a lobster boil.

This crawfish etouffee recipe calls for crawfish tails, which are already boiled and peeled (and make your job a whole heck of a lot easier.)
Do crawfish tails freeze well?
YES! My in-laws oftentimes bring us a few pounds when it's crawfish season, and we'll keep them in our freezer until we have a hankering for crawfish etouffee.
I can't find crawfish. Can I still make this crawfish etouffee?
I suggest using shrimp instead of crawfish if you can't find crawfish tails. Be sure to add an additional 2 tablespoons of butter to the etouffee while it cooks in place of the crawfish fat, which adds gorgeous and wonderful seafood flavor.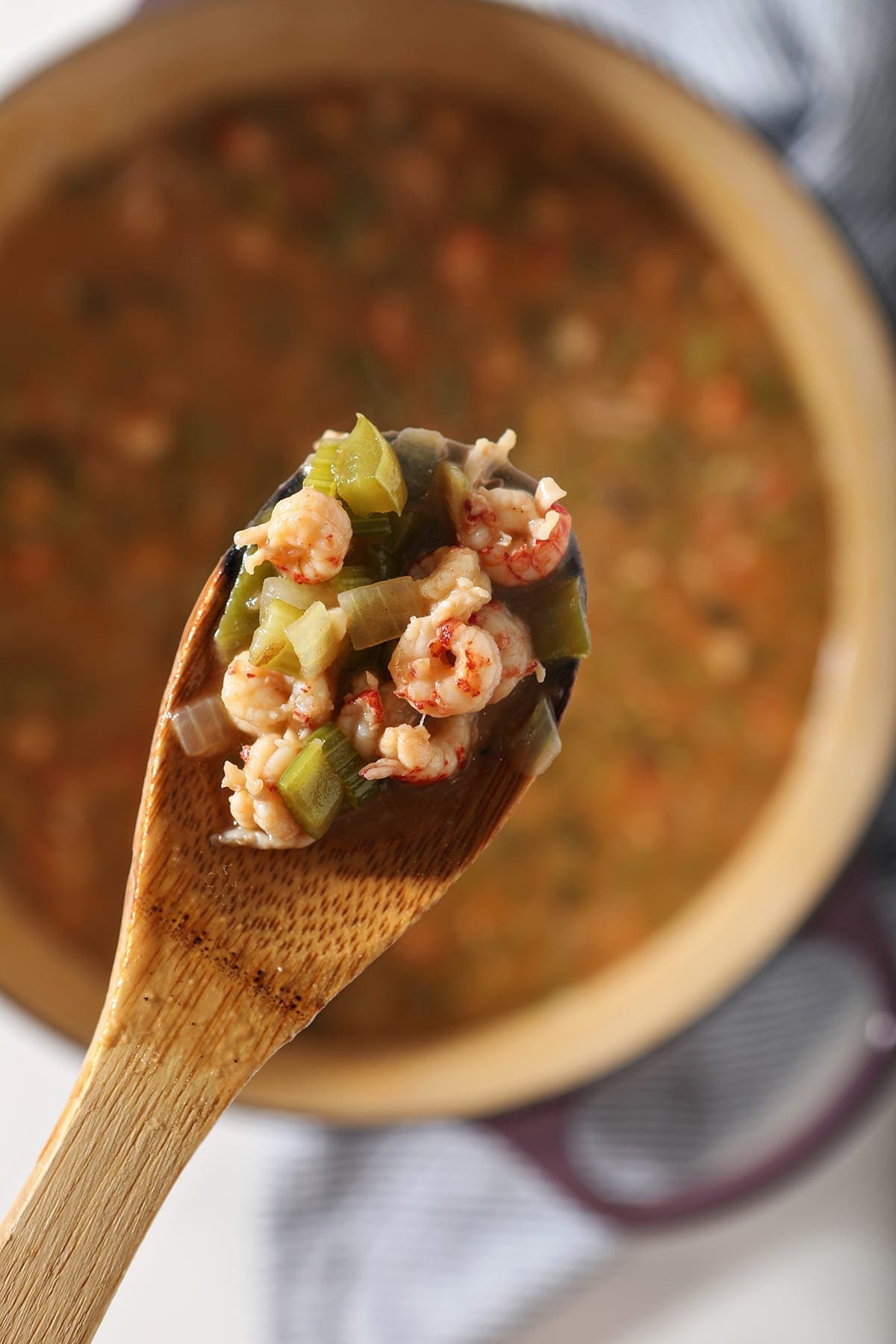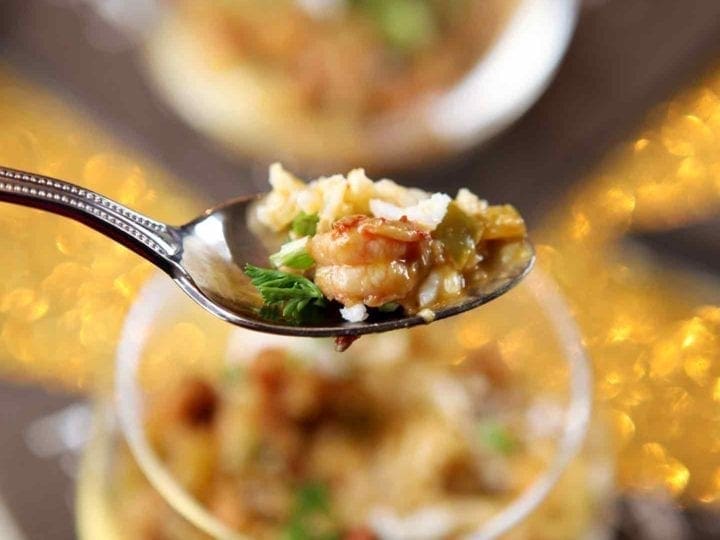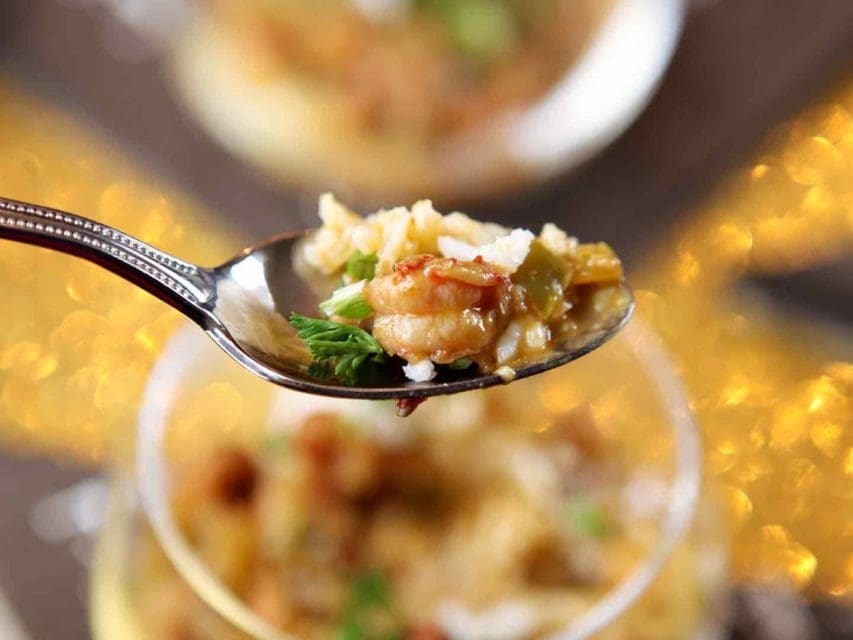 Yield:

6 servings
Crawfish Etouffee
Crawfish Étouffée is a classic Louisiana entree makes a comforting meal for any evening and easily doubles (or triples) to feed a crowd. Served with rice and green onions, this stew-like meal is utterly delicious.
Ingredients
2 tablespoons extra virgin olive oil
2 tablespoons unsalted butter
4 tablespoons unbleached all-purpose flour
1 medium onion (about 1 ½ - 1 ¾ cup chopped)
1 medium green bell pepper (about 1 ¼ cup chopped)
4 ribs celery, chopped
3 garlic pods, minced
1 lb. peeled crawfish tails + crawfish fat
2 cups vegetable stock
¾ teaspoon kosher salt
½ teaspoon black pepper
½ teaspoon Tony Cachere's Salt-Free Creole Seasoning
Green onion tops, chopped
Parsley, chopped
Cooked white rice, for serving
Instructions
Drain the liquid (fat) from the crawfish packaging into a separate small container. Set aside. (Do not get rid of this! It's important for the flavor!)
Remove the crawfish tails from their packaging and place into a medium-sized bowl. Season with the Salt-Free Creole Seasoning, and toss before setting aside.
In a large-bottomed saucepan or a Dutch oven, melt the butter and drizzle in the olive oil over medium-high heat.
When the butter and olive oil are hot, add the flour to the pan.
Stir the flour constantly as it cooks, moving it around the pan. It will begin to darken just slightly to a golden/wheat color. When this happens, it's time to add the vegetables.
Add the onion, bell pepper, celery and garlic to the pan. Cook until tender, about 5-8 minutes.
Add the crawfish fat and vegetable stock, and cook until the mixture has thickened, stirring occasionally, about 10 minutes.)
Add the seasoned crawfish tails. Lower the heat, and cover.
Season with salt and pepper, green onions and parsley, and cover, simmering for 5-10 minutes, or until the crawfish tails have curled.
Serve over rice, sprinkle parsley and green onions on top of the each individual serving, and enjoy.
Notes
This recipe can easily be doubled or tripled for a crowd, though it will require more time to cook.
You can substitute shrimp for the crawfish tails if you cannot find crawfish tails at your grocery. Since the crawfish has fat, I recommend adding an additional 2 tablespoons of butter to the dish as the shrimp cook.
Recommended Products
As an Amazon Associate and member of other affiliate programs, I earn from qualifying purchases.
Nutrition Information:
Yield:
6
Serving Size:
1
Amount Per Serving:
Calories:

223
Total Fat:

10g
Saturated Fat:

3g
Trans Fat:

0g
Unsaturated Fat:

6g
Cholesterol:

113mg
Sodium:

1285mg
Carbohydrates:

17g
Fiber:

1g
Sugar:

3g
Protein:

17g
Nutrition facts are an estimate and not guaranteed to be accurate.
Now who's ready for some football recipes?
Football season is here! In celebration, I've joined a group of bloggers from all over the country — all of whom are big football fans! — to bring you football-inspired recipes this season. Last month we shared our favorite tailgating recipes, and now we are sharing more game day food ideas.
Game Day Drink Ideas
Game Day Appetizer Ideas
Game Day Side Dish Ideas
Game Day Main Dish Ideas
Game Day Dessert Ideas