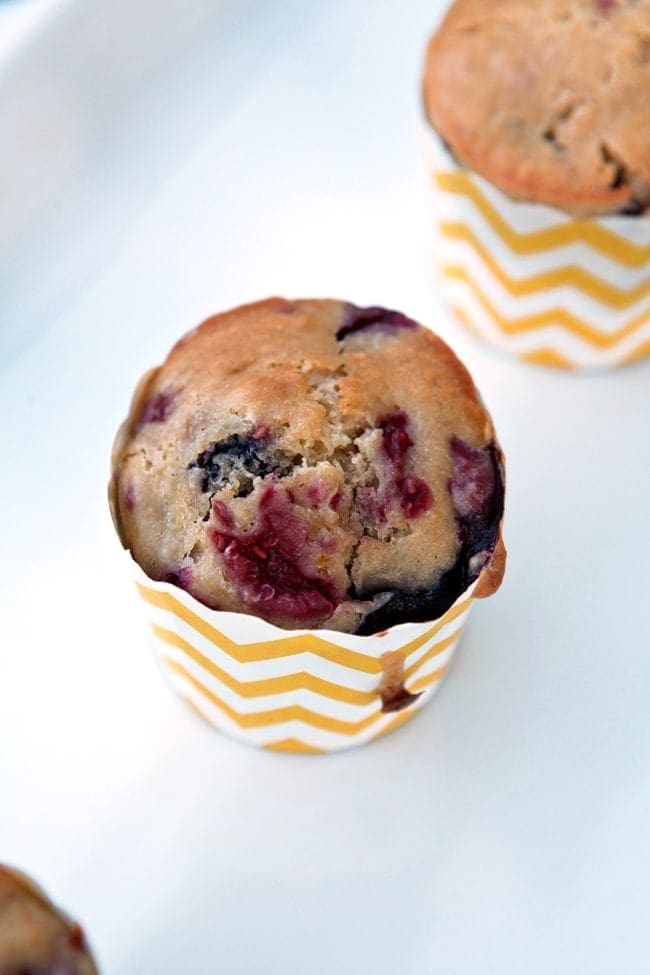 This weekend, I had an allergic reaction to something while my husband and I were playing tennis. My sister says nature and life, I say probably pollen or something on the tennis court that somehow ended up on my face as we were playing. (Poorly on my part, I'll admit.) Either way, it resulted in my eyelids swelling.
It wasn't fun, and when I realized what was happening, we headed home, I rinsed off in the hopes that whatever was irritating my eyelids would be washed down the drain, and I took a Benadryl and proceeded to sleep for several hours on the couch.
It wasn't the kind of Saturday I was hoping for, as I had aspirations of cooking several dishes and photographing them for this here blog.
Sometimes, things don't go as planned, and you've got to roll with the punches.
These muffins are a result of me rolling with the punches two weekends ago.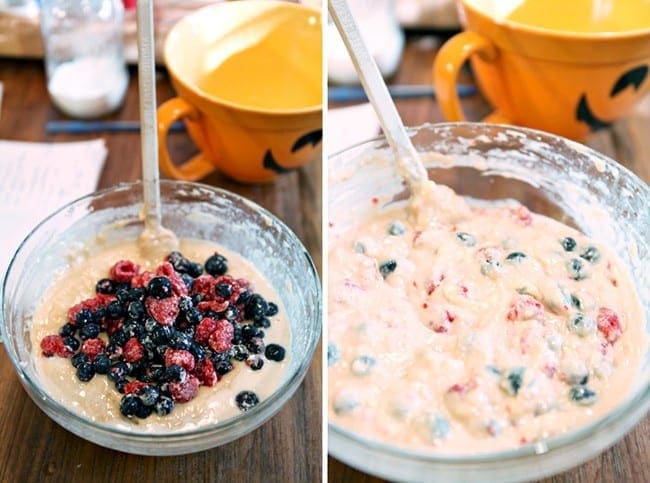 When I learned about my Pop's passing, I knew I wanted to travel to Georgia for his memorial and spend time with my family… but plane tickets, as we all know, are a bit excessive when purchased last minute.
Lucky for me and Winston, my cousin and her children were driving from Texas to Georgia for Pop's memorial, and she offered us a ride. After checking the airfares a second and third time, we agreed to the 12+ hour drive and asked what we could do.
She said we could bring muffins or bagels or something to feed us for the early morning start… and, being the thrify food blogger I am who'd already been to the grocery store one too many times that weekend, I turned to the fridge, hoping and praying I could transform something I already had into breakfast for the journey.
When inspecting the ingredients we had on hand, I realized we had lots of fresh berries… so I made muffins.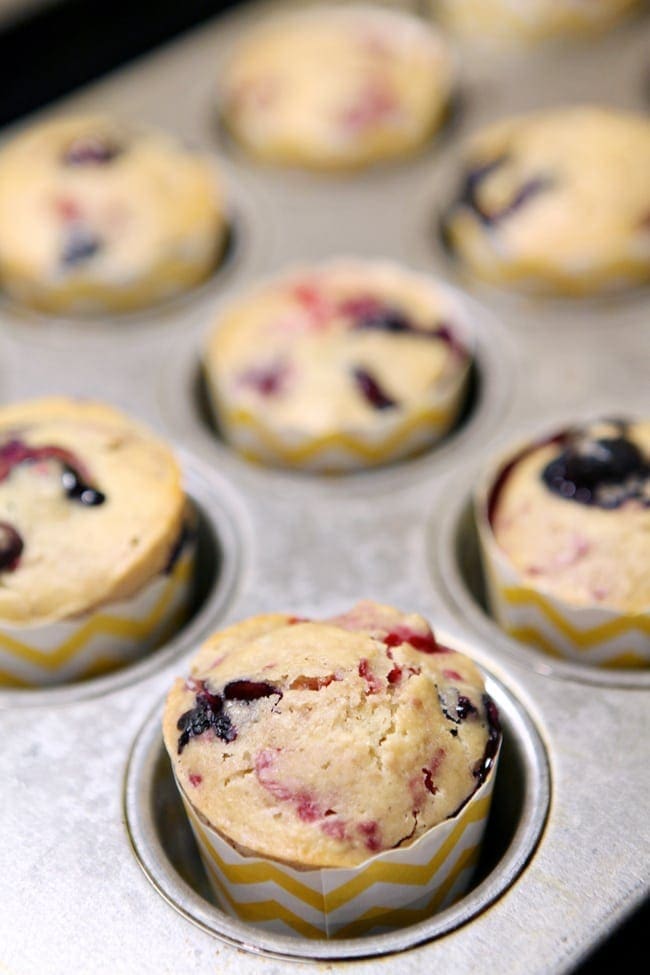 Rolling with the punches, y'all.
Sometimes, that's all you can do, and this one was a delightful success, enjoyed by the children and adults alike as we trekked from Texas to Georgia, driving through several states in the span of a day.
Here's how you can make them at home: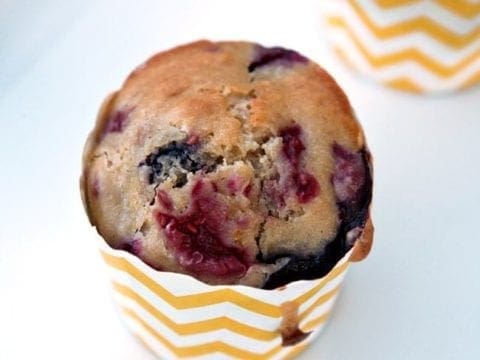 Yield:

24 muffins
Mixed Berry Muffins
Start off your morning right with these slightly sweet and juicy Mixed Berry Muffins, calling for fresh raspberries and blueberries! A sure winner!
Ingredients
1 cup fresh blueberries
1 cup fresh raspberries
1 tablespoon unbleached all-purpose flour
2 cups unbleached all-purpose flour
1 ½ teaspoons baking powder
½ teaspoon kosher salt
½ cup unsweetened applesauce
1 tablespoon coconut oil, , melted
1 tablespoon lemon juice, , freshly squeezed
½ cup granulated sugar
¼ cup local honey
2 eggs
2 teaspoons pure vanilla extract
½ cup unsweetened vanilla almond milk
Instructions
Preheat the oven to 375°F.
Coat the blueberries and raspberries in the 1 tablespoon of flour. Set aside.
Mix together the dry ingredients -- flour, baking powder and sea salt in a medium-sized bowl, then set aside.
In a large bowl, combine the wet ingredients -- applesauce, coconut oil, lemon juice, sugar and honey -- and whisk until light and fluffy. Add the eggs and vanilla extract, whisking until incorporated and smooth.
Measure in the almond milk and stir until just combined.
Sprinkle in the dry ingredients, stirring until just mixed. Do not overmix!
Gently, fold in the blueberries and raspberries to the batter, stirring until just combined.
Measure the batter into muffin tins -- large or mini -- and bake for 20-28 minutes, or until golden brown and cooked through to where an inserted toothpick comes out clean.
Enjoy warm!
Notes
This recipe will make 12 regular-sized muffins and 20 mini muffins. (I only have one regular-sized muffin tin, and I was baking for adults and kids. I know.)
For the mini muffins, bake in greased muffin tins for 23 minutes. Add an additional 5 (or so) for the large muffins.
Please keep in mind that my oven is 59 years old, so keep an eye on your muffins as you're baking, and check them at the 15-20 minute marker, depending on how efficient your oven is, as you don't want these babies to burn!
Nutrition Information:
Yield:
24 muffins
Serving Size:
1
Amount Per Serving:
Calories:

87
Total Fat:

1g
Saturated Fat:

1g
Trans Fat:

0g
Unsaturated Fat:

0g
Cholesterol:

16mg
Sodium:

81mg
Carbohydrates:

18g
Fiber:

1g
Sugar:

8g
Protein:

2g
Nutrition facts are an estimate and not guaranteed to be accurate.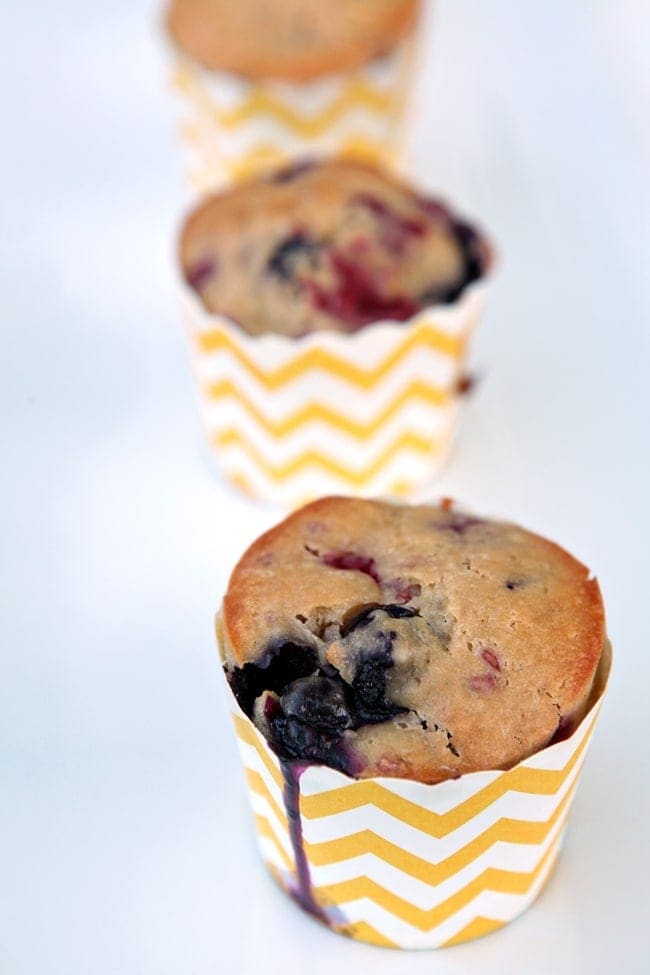 How have you rolled with the punches recently?