Dark Chocolate Chunk Muffins
These delicious and decadent Dark Chocolate Chunk Muffins are dairy free! They're perfect for a weekend get-together.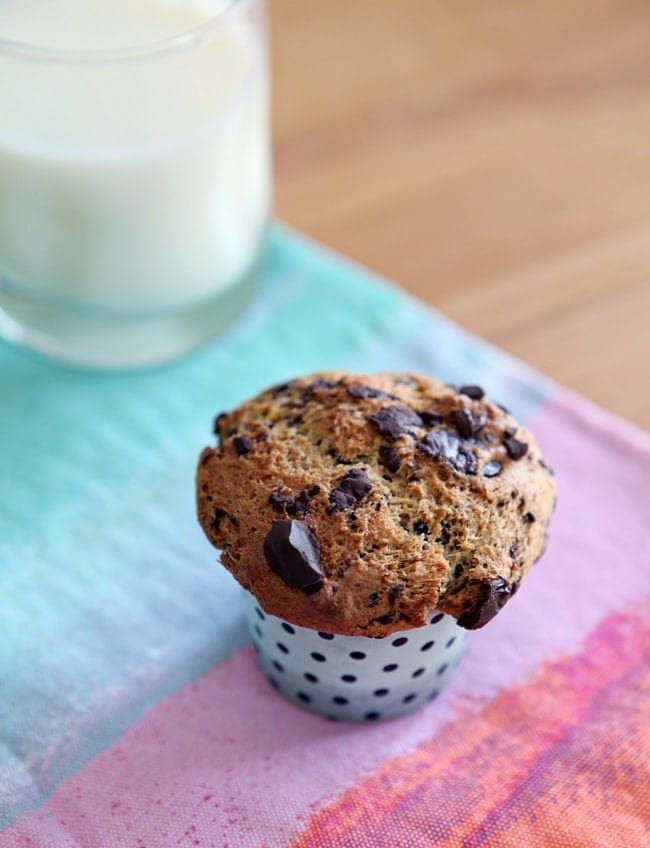 I'll be the first to admit that marathon training has transformed me into more of a cookie monster than I already was.
I eat a ton of food these days, which makes sense because food equals energy, and I need all kinds of energy for all the running I'm doing. Try as I might to keep my meals and snacks relatively healthy, I find myself baking at all hours because I have weird hankerings for specific types of cookies, muffins or cakes.
Real talk: I'm horrible at denying myself when I desperately want something… and since I'm more or less eating everything in sight these days, I'm leaning into these cravings and hoping they subside as my mileage lowers.
It's bad, y'all.
The good news? My longest long run is this weekend, then I'll taper for the rest of April until the 27th, when my body will hopefully carry me through 26.2 miles.
It's pretty insane, but I'm excited/terrified for it. Emphasis on the terrified, even though I know I can run at least 18 miles, then walk the remaining 8.2. I'm building up to the whole, "Oh yeah, I can totally do this," thing. I'm just not there. Honestly, I'm not sure if I'll be there until race day… and the finish line is within sight.
So.
I've been a cookie monster these days, and when I stumbled upon this recipe from Tina's Chic Corner, I knew I needed to make chocolate muffins. However, since I'm trying to use less dairy products in my cooking these days and since I'm avoiding dairy before long and medium-length runs, I decided to shake up her delightful recipe a little bit… and the result was quite tasty!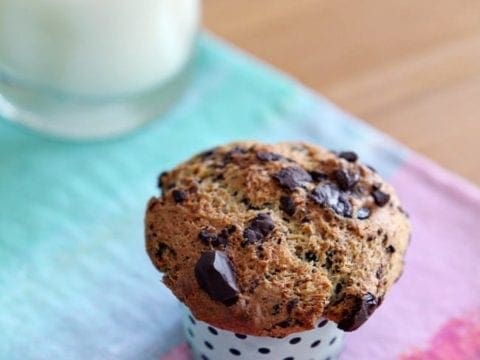 Yield:

10 muffins
Dark Chocolate Chunk Muffins
These delicious and decadent Dark Chocolate Chunk Muffins are dairy free! They're perfect for a weekend get-together.
Ingredients
1 ¾ cups unbleached all-purpose flour
½ tablespoon baking powder
¼ teaspoon baking soda
¼ teaspoon kosher salt
2 tablespoons extra virgin olive oil
½ cup granulated sugar
1 large egg
1 teaspoon pure vanilla extract
¾ cup unsweetened applesauce
½ cup dark chocolate, (bar or chips), chopped + 1 tablespoon
Instructions
Preheat your oven to 375°F and spray your standard-sized muffin tin with cooking spray. (Or go the butter and flour route, if you're feeling wild.) Set the baking pan aside.
Whisk together the flour, baking powder, baking soda and salt. Set these dry ingredients aside.
In a larger bowl, mix the olive oil and sugar together.
Add the egg and vanilla extract to the oil and sugar mixture, and stir until combined.
Pour half of the flour mixture into the wet ingredients. Scoop in half of the applesauce, too, and combine.
Once combined, sprinkle in the other half of the flour mixture and the remaining applesauce, beating until the batter just comes together. Do not overmix.
Pour 1/2 cup of dark chocolate into the batter, and stir until sprinkled throughout the batter.
Using a cookie scoop, dollop the batter into the greased muffin tins. Evenly sprinkle the 1 tablespoon of chocolate on the tops of the muffins.
Bake the muffins in the preheated oven for about 25-30 minutes or until a toothpick inserted into the middle of one of the muffins comes out clean. (Please note my oven is old, so check yours at 20 minutes to confirm these will not burn.)
Once cooked through, allow the muffins to cool in the pan for 10 minutes, then transfer them to a wire rack to finish cooling.
Enjoy warm or cold with a glass of your favorite (dairy-free!) milk.
Notes
The batter makes around 10 muffins, depending on how full you fill the muffin cups. Please note that the muffins will rise quite a bit, so do not overfill the muffin cups.
Adapted from Tina's Chic Corner.
Nutrition Information:
Yield:
10
Serving Size:
1 muffin
Amount Per Serving:
Calories:

221
Total Fat:

7g
Saturated Fat:

3g
Trans Fat:

0g
Unsaturated Fat:

4g
Cholesterol:

20mg
Sodium:

168mg
Carbohydrates:

36g
Fiber:

2g
Sugar:

17g
Protein:

3g
Nutrition facts are an estimate and not guaranteed to be accurate.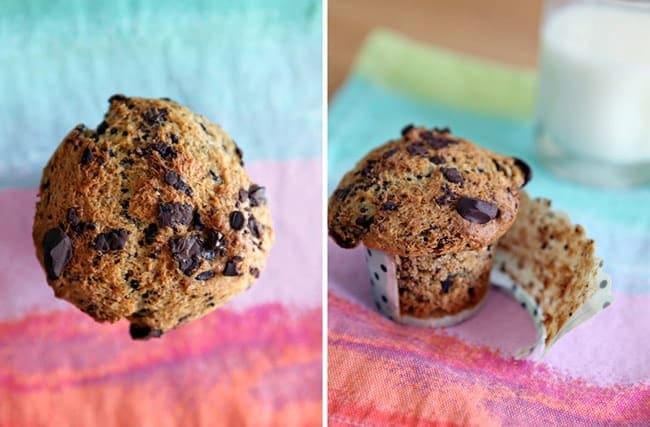 Are you a cookie monster, too?