Orange Pancakes with Chocolate Chips
Treat your loved one to these decadent Dark Chocolate Satsuma Pancakes for Valentine's Day! Dressed up with orange juice and zest, this recipe is the perfect breakfast for your sweetie!
Love pancakes? Learn how to make the best homemade pancakes!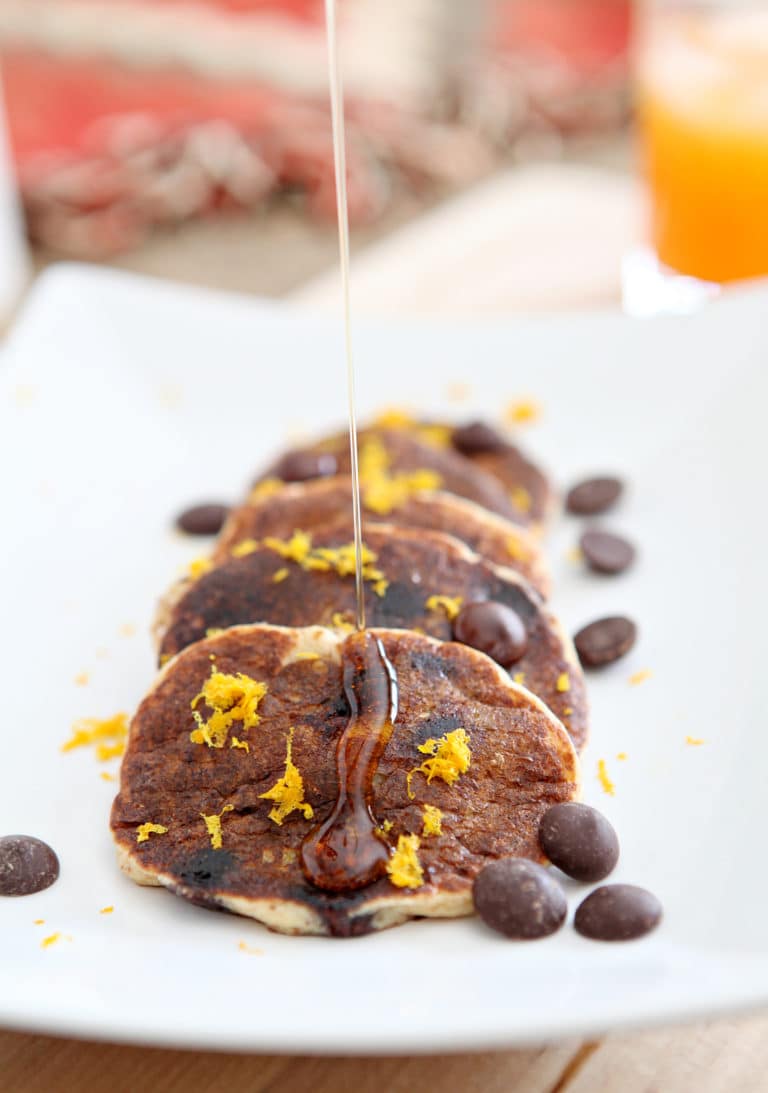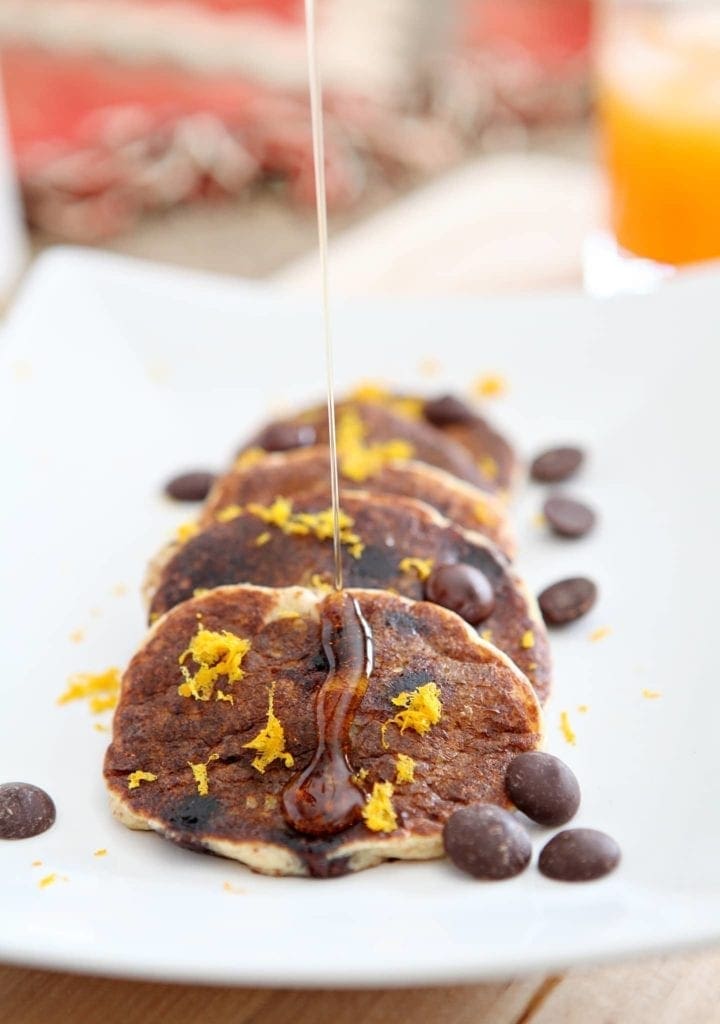 This post contains affiliate links. If you were to make a purchase through one, I would receive a small commission. For more information about the affiliate programs The Speckled Palate participates in, please refer to my disclosure page.
Since we're so close to my due date, Winston and I have taken to telling people who invite us to events that we'll be there… as long as I'm not in labor.
Because of this, we have yet to make any solid Valentine's Day plans.
That being said, assuming we are home and not at the hospital on Saturday, I plan on whipping up these pancakes for my husband as a decadent breakfast treat.
And when I say a decadent breakfast treat, I totally mean it.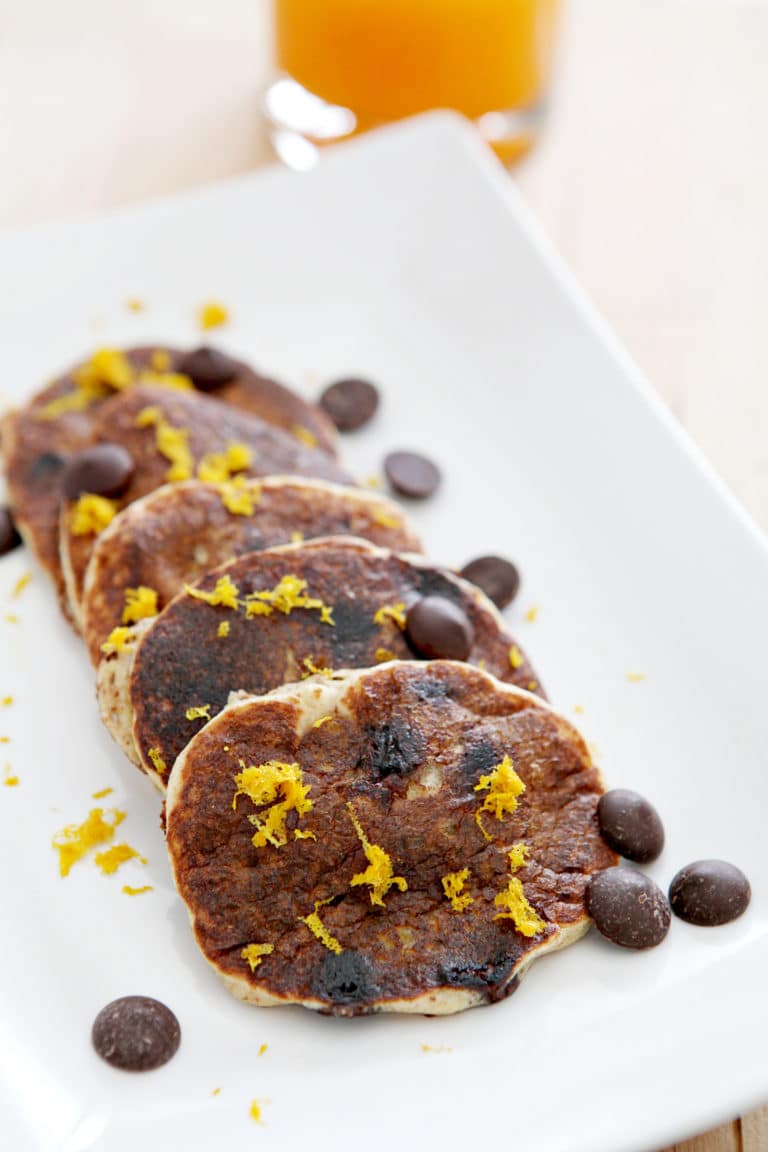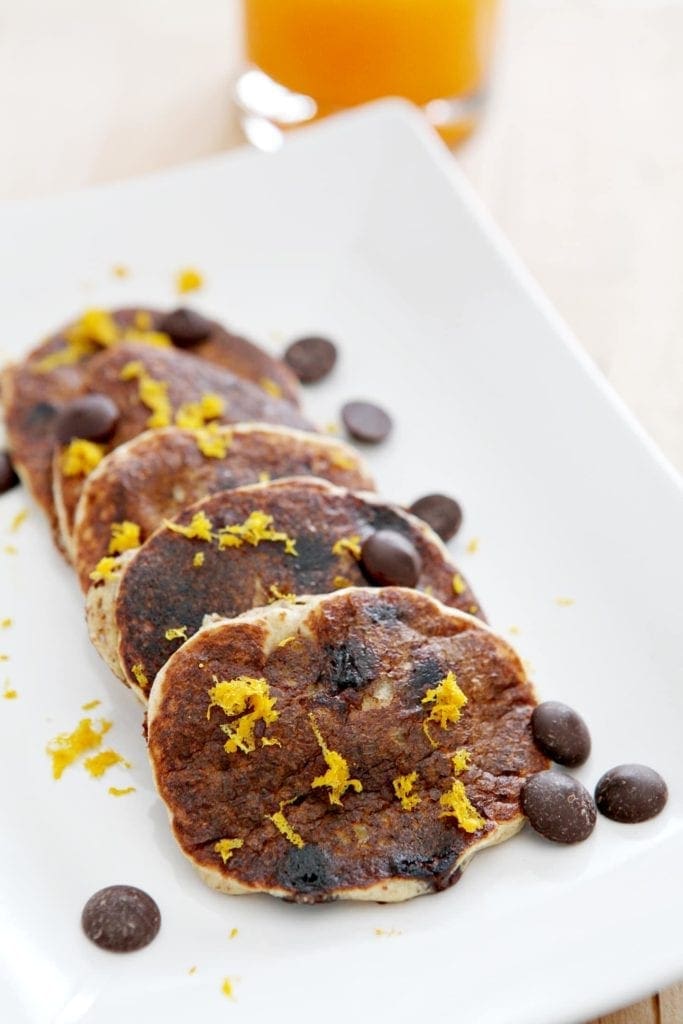 This recipe was a pregnancy brain crack idea.
One morning, I woke up and really wanted pancakes. Upon inspection of our fridge, I knew we had a ton of fresh satsumas, and they needed to be used.
I began pondering what went well with oranges, and I realized, well, duh, DARK CHOCOLATE.
(If you've spent any time on this blog, you probably have an idea that I'm a fan of dark chocolate. In fact, I use dark chocolate instead of semisweet or milk most of the time because, well, it's just so darn good!)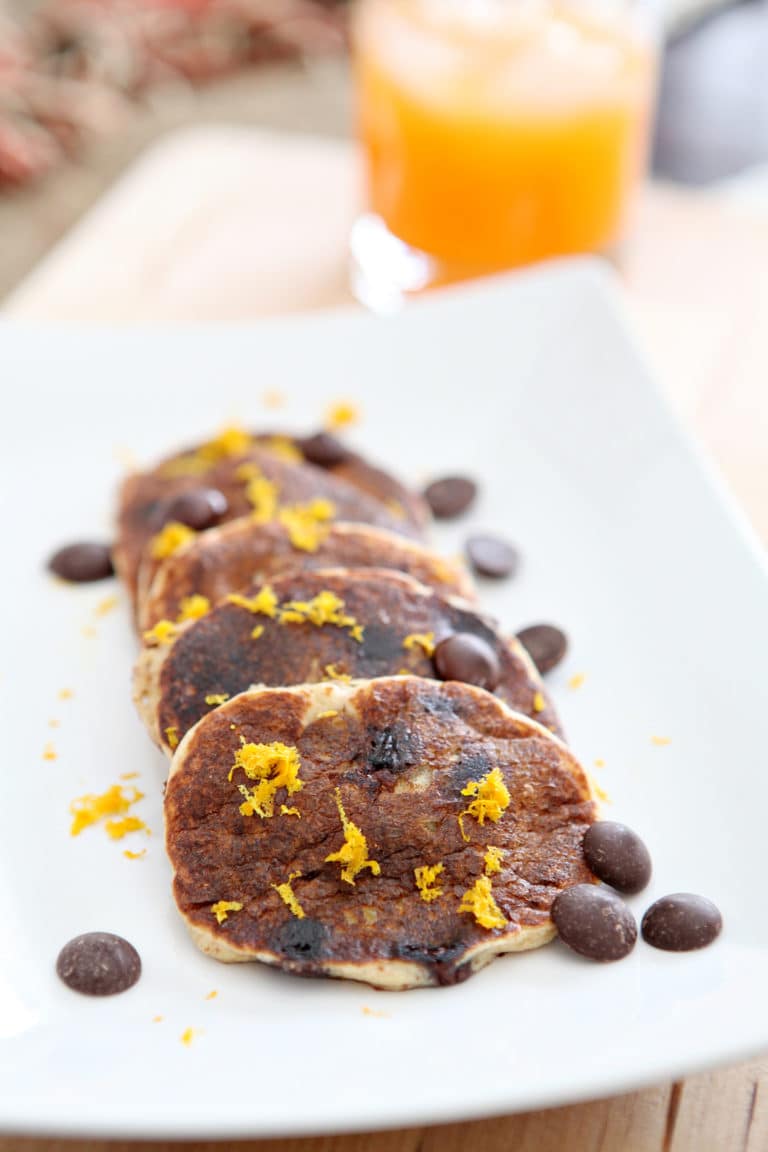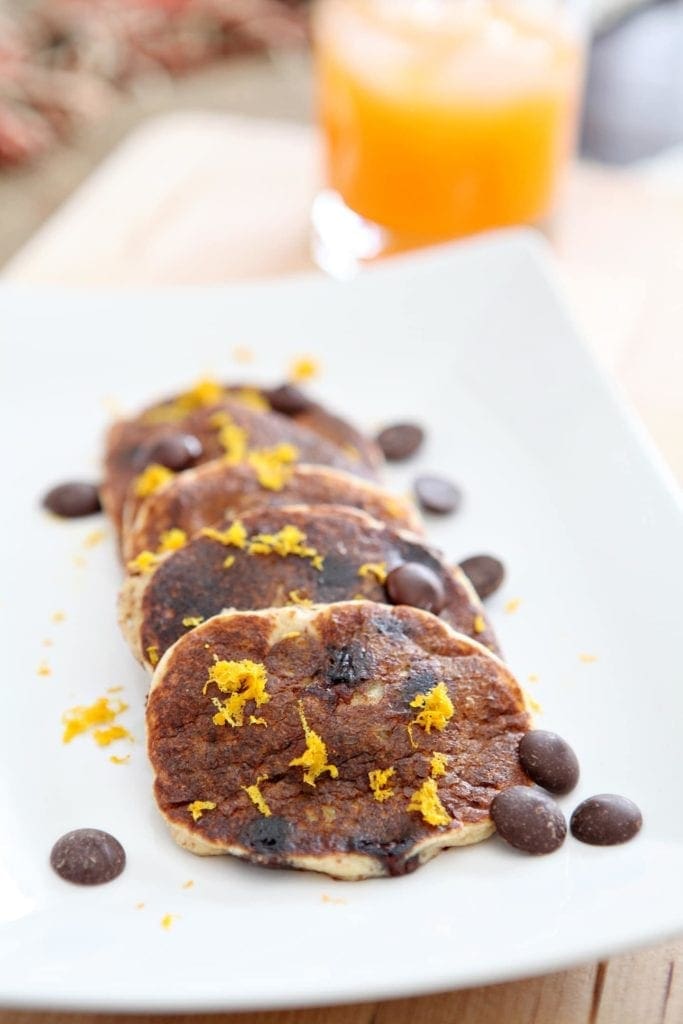 So I took our regular pancake recipe and did some tweaking… and the end result was glorious.
These pancakes are soft and gooey on the inside, bursting with chocolate and orange flavor.
They don't really need anything on top, but if you're feeling decadent, go for some maple syrup. Because maple syrup is always a good idea.n
Essential Pancake-Making Tools
Other Favorite Pancake Recipes
Interested in these beauties? Scroll down to learn how easy they are to make!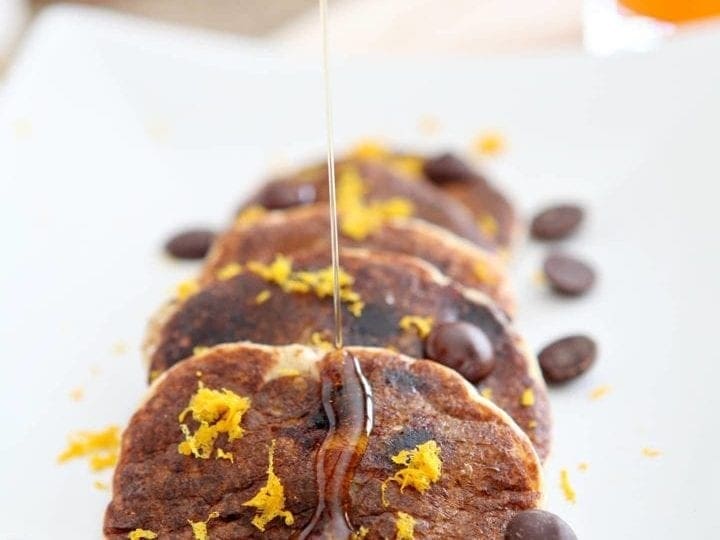 Yield:

4 servings
Dark Chocolate Satsuma Pancakes
Treat your loved one to these decadent, chocolatey pancakes for Valentine's Day! Dressed up with orange juice and zest, this recipe is the perfect breakfast for your sweetie!
Ingredients
½ cup whole wheat pastry flour
¼ cup almond meal
1 tablespoon granulated sugar
1 teaspoon baking powder
¼ teaspoon baking soda
¼ teaspoon kosher salt
¾ cup Greek yogurt
1 egg
1 teaspoon pure vanilla extract
¼ cup milk
1 tablespoon orange zest
¼ cup orange juice, freshly squeezed
¾ cup dark chocolate chips
Instructions
In a large bowl, combine the flour, almond meal, sugar, baking powder, baking soda and salt. Whisk together until incorporated.
In a small bowl, whisk together the Greek yogurt, egg, vanilla extract, milk, orange zest and orange juice.
Pour the wet ingredients into the dry ingredients, stirring until just combined. (Be careful not to overmix, as this will affect the texture of the pancakes.) Sprinkle in the dark chocolate chips. Set aside the batter, and let it rest for 5-10 minutes.
While the batter is resting, heat a nonstick skillet over medium-high heat. Grease the pan lightly with butter or cooking spray.
Dollop the pancakes onto the preheated skillet when ready.
When several bubbles have formed on the surface, flip the pancakes, and cook through. Repeat until all batter has been made into pancakes.
Enjoy warm! (And if you're feeling really decadent, add a bit of orange zest and some syrup, though this isn't necessary at all!)
Nutrition Information:
Yield:
4
Serving Size:
1
Amount Per Serving:
Calories:

555
Total Fat:

20g
Saturated Fat:

9g
Trans Fat:

0g
Unsaturated Fat:

9g
Cholesterol:

63mg
Sodium:

455mg
Carbohydrates:

77g
Fiber:

8g
Sugar:

25g
Protein:

18g
Nutrition facts are an estimate and not guaranteed to be accurate.
Are you planning on cooking your significant other or family members something special this Valentine's Day?
Have you made these pancakes? Leave a comment and star rating below to let us know what you thought!