How to make the Best Homemade Pancakes
Ever wanted to learn how to make homemade pancakes? This Guide to the Best Homemade Pancakes was written for you! Come learn my tips and tricks for how to make fluffy pancakes and the best pancake toppings around, plus 10+ pancake recipes to make at home this coming weekend.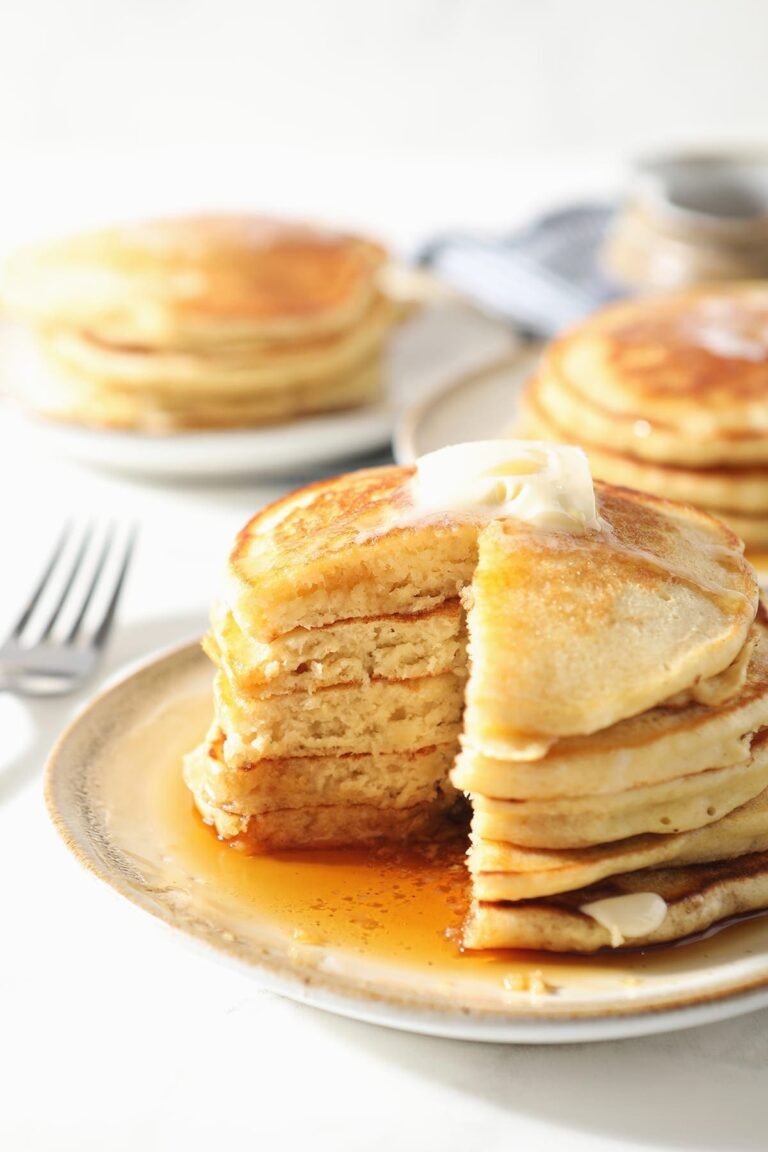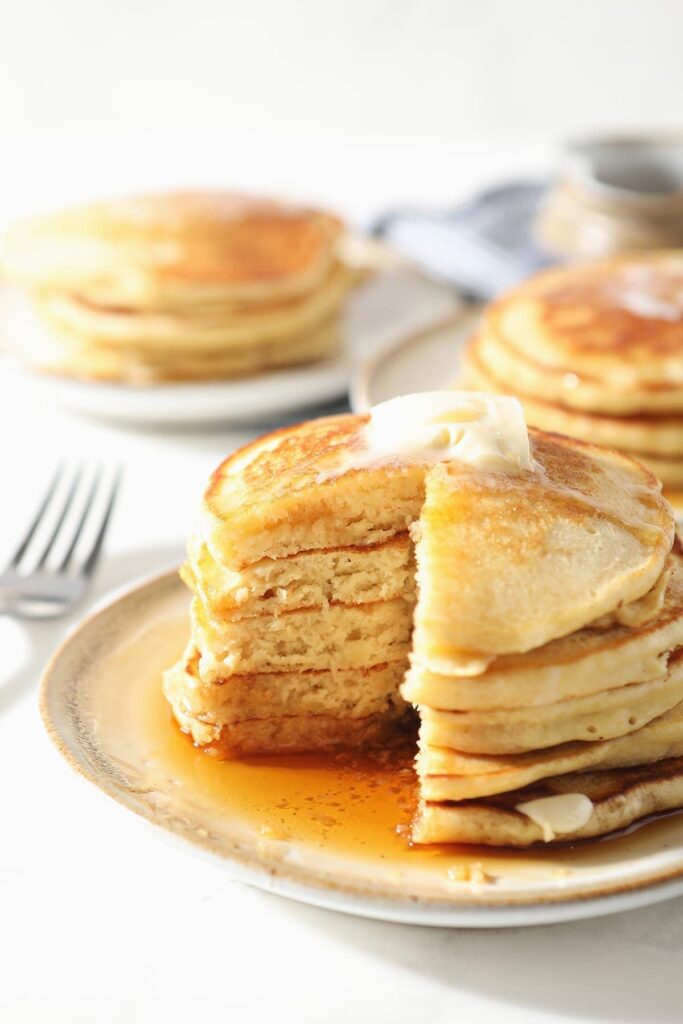 Listen, I'm not going to tell you what to do with yourself on the weekends, but our family has made Saturday or Sunday morning pancakes a tradition—and it's really delightful.
Every family member—including our 2-year-old—plays a role in making pancakes.
We switch 'em up every weekend, too, and have a blast adding different flavors to the table.
Why I love making pancakes at home
My sorority sisters and I used to make Chocolate Chip Pancakes every Thursday night before we watched The O.C. (and then Grey's Anatomy), and my love of pancakes has been strong since that time.
However, since that time, I've learned that making pancakes from scratch at home isn't much harder than using the pancake mix. You've just got to have the right ingredients and equipment.
Also, homemade pancakes are simply the BEST, tasty and a fun way to involve the entire family in breakfast… or breakfast for dinner.
Need breakfast inspiration, but don't know where to start? Head on over to my Breakfast and Brunch Recipe Index.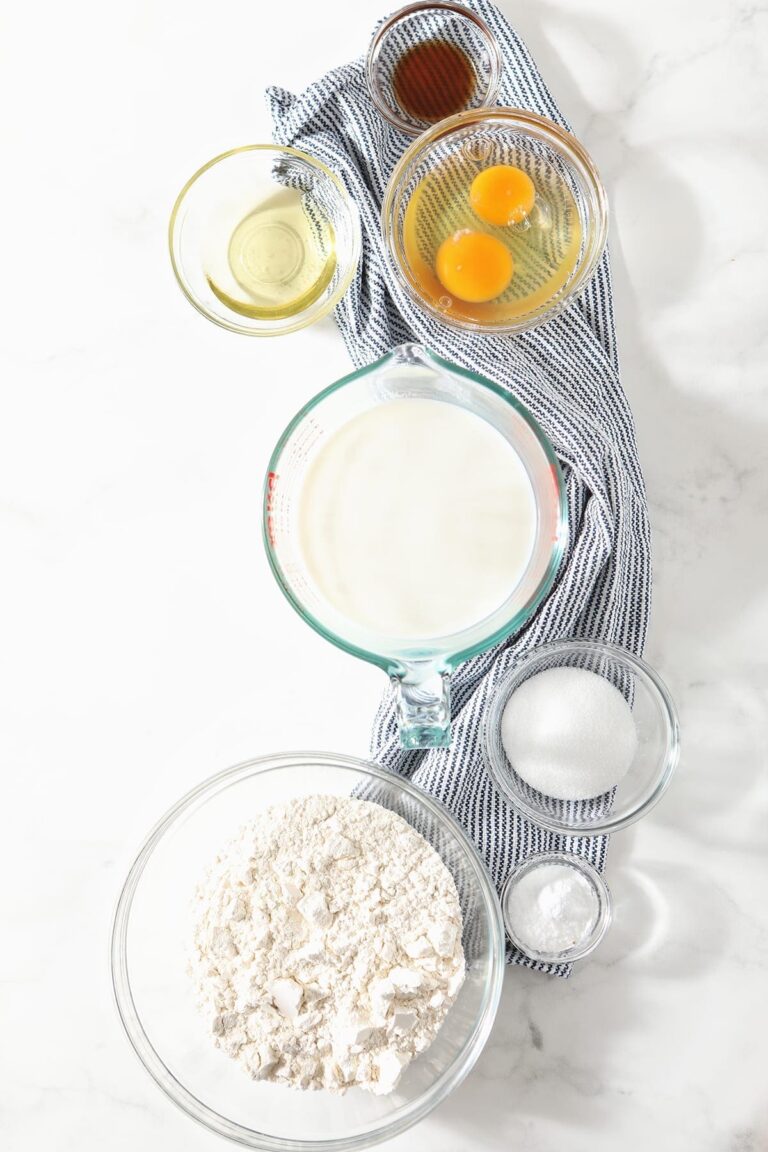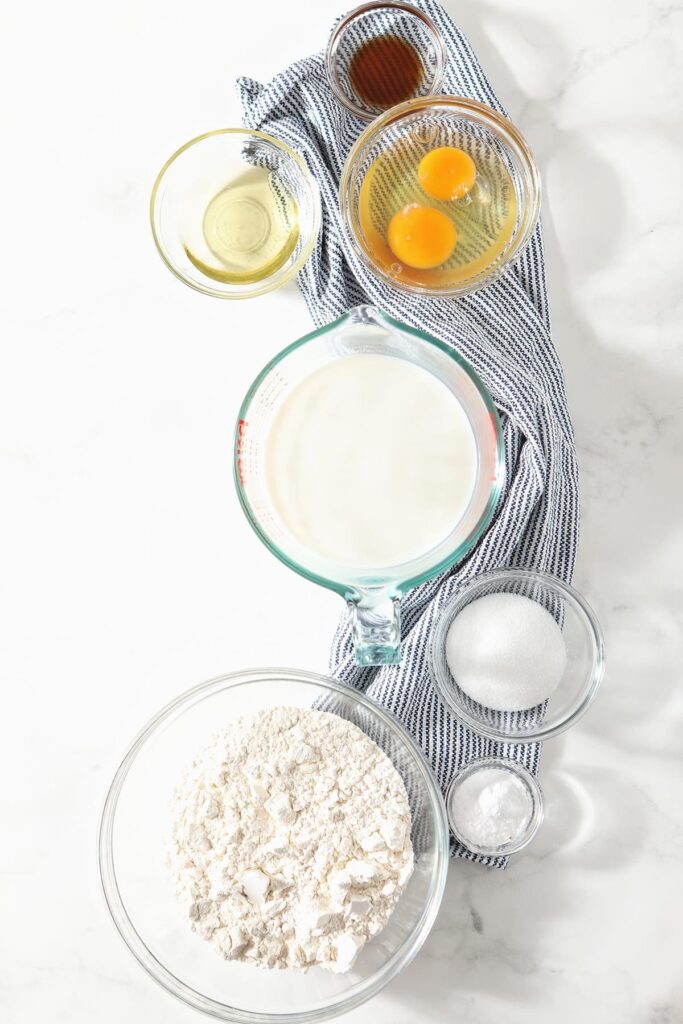 Tools to make Homemade Pancakes
The Speckled Palate participates in affiliate programs. As an Amazon Associate, I earn a commission from qualifying purchases. Please refer to my disclosure page for more information about these affiliate programs.
Let's talk ingredients!
In addition to the tools above, you're going to need some ingredients to make this recipe, too! Chances are, you might already have some of them in your fridge or pantry. Scroll down to the recipe card for the full measurements and instructions.
In addition to these tools, you'll need a few ingredients to make pancakes from scratch.
This list below is a general one and will yield some plain fluffy pancakes—but I've got ideas below for recipes to try that have some more flair and also other ingredients.
All-purpose flour — we always have unbleached at our house, but the regular kind works perfectly, too!
Granulated sugar — also known as white sugar, this provides a little sweetness to the pancake batter.
Leaveners — I like to use a combination of both baking powder and baking soda. Make sure yours are fresh.
Kosher salt — medium-grain kosher salt is my go-to. You could easily use a similarly sized sea salt.
Milk—over the years, we've made our pancakes with every type of milk available. Recently, we've made them with whole milk because we always have that on hand, but this pancake recipe works with any cow's milk (from whole to skim), as well as almond, cashew and coconut milk.
Eggs — these act as a binder, as well as help the pancakes puff up a little. I use large eggs.
Vanilla extract — the real deal vanilla extract brings together ALL the ingredients! Don't skimp here!
Flavorless oil — avocado, vegetable or canola oil are perfect here! You can also use unsalted butter if that's your jam, too.
Toppings for Fluffy Homemade Pancakes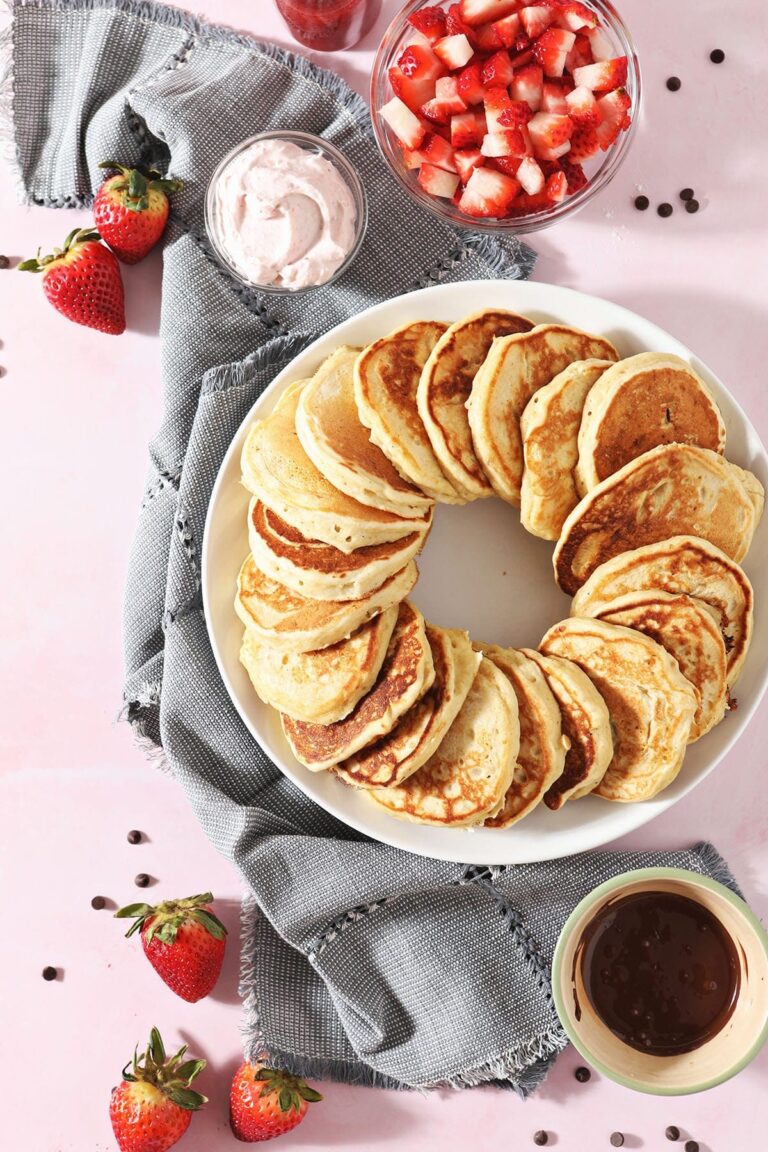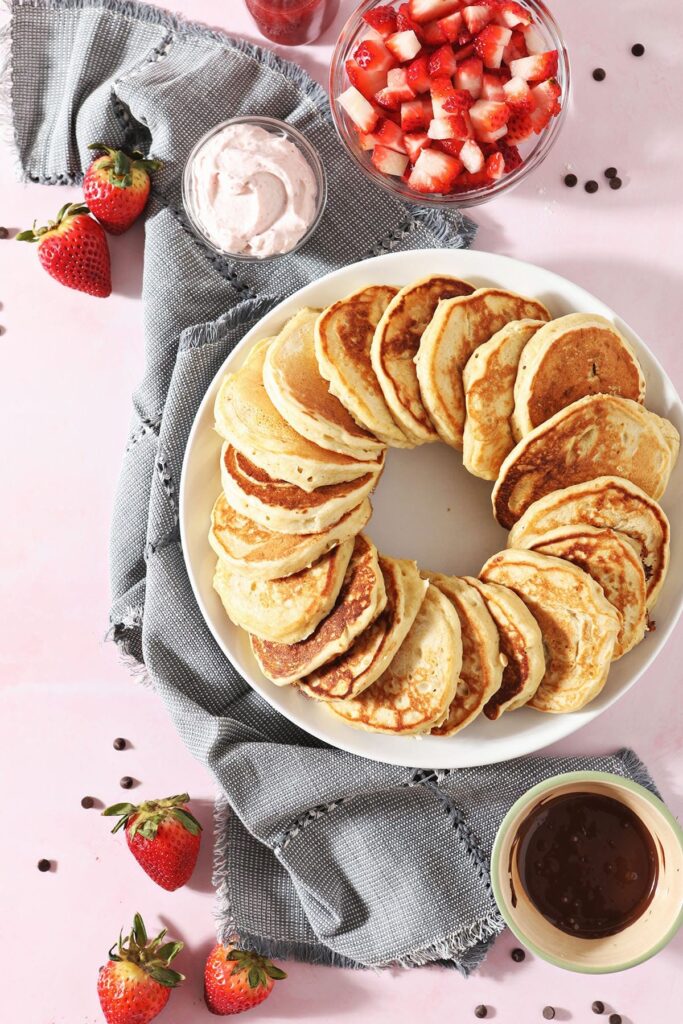 How do you make Homemade Pancakes?
Well, it depends on the recipe. But let me walk you through how I generally make my pancakes, no matter which recipe we use:
First, measure out the dry ingredients into a large bowl. This normally includes flour, sugar, baking powder, baking soda and salt. Whisk them together.
In a small bowl or a liquid measuring cup, combine the wet ingredients. This usually means the milk, eggs, vanilla extract (or other extracts) and oil/melted butter.
If you're sweetening your pancakes with honey or maple syrup, you should add that to the wet ingredients.
Want your pancakes to be a different color? Add the food coloring to wet ingredients, too.
If you're adding eggs to your pancakes, you need to whisk the wet ingredients really well until everything is combined. Because if you don't give them a good mix, there will be random ribbons of egg in your pancakes, and that's gross.
Once the wet ingredients are well combined, pour them directly into the dry ingredients. Use a rubber spatula to gently stir them together until just combined.
If you overmix the pancakes, they will become tougher, so just stir until the flour is incorporated. It's OK if this homemade batter has lumps.
Set the homemade pancake batter aside, and let it rest for 5-10 minutes. While it rests, heat your griddle or nonstick skillet over medium heat and when it's hot, grease lightly with butter, oil or cooking spray.
How to cook Homemade Pancakes perfectly
Use a cookie scoop or a measuring cup to dollop the pancakes onto the preheated skillet. I like to make 2-tablespoon silver dollar pancakes, but you can make larger ones, too.
When several bubbles have formed on the surface, flip the pancakes, and cook through. (Do NOT press down on them after you flip them! This will deflate them!) Repeat until all batter has been made into pancakes.
Make a stack of pancakes, and serve with your favorite toppings.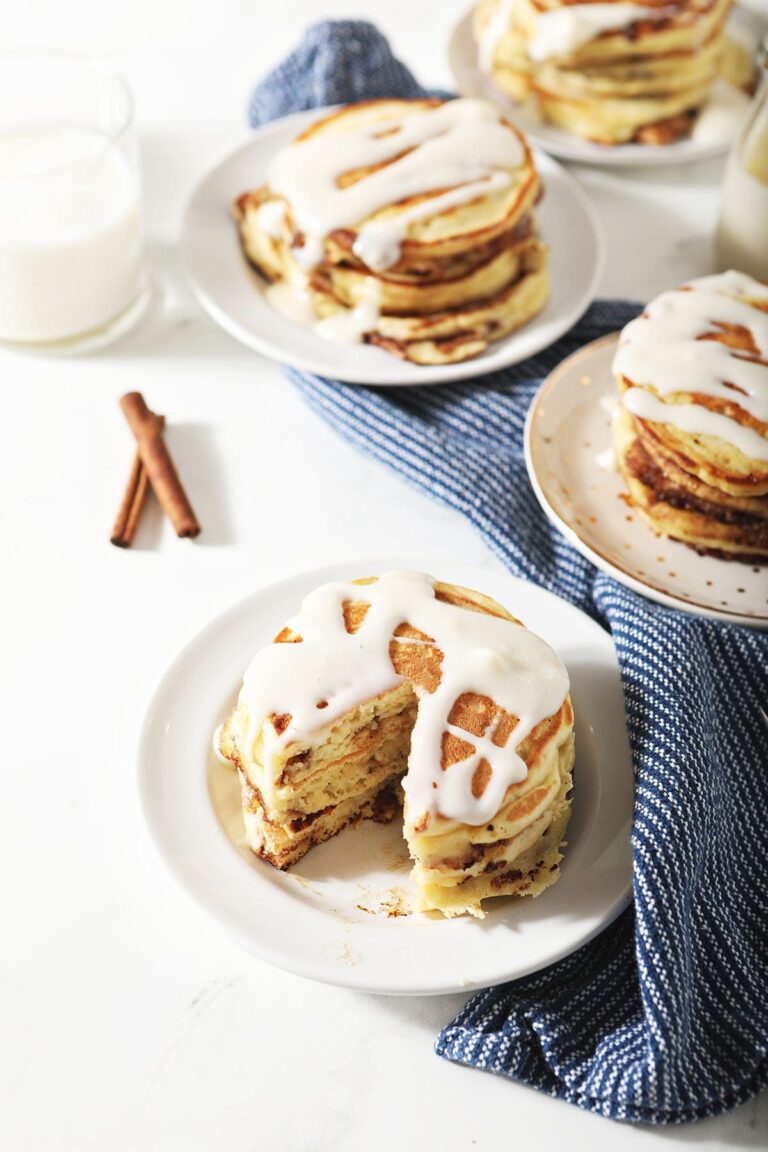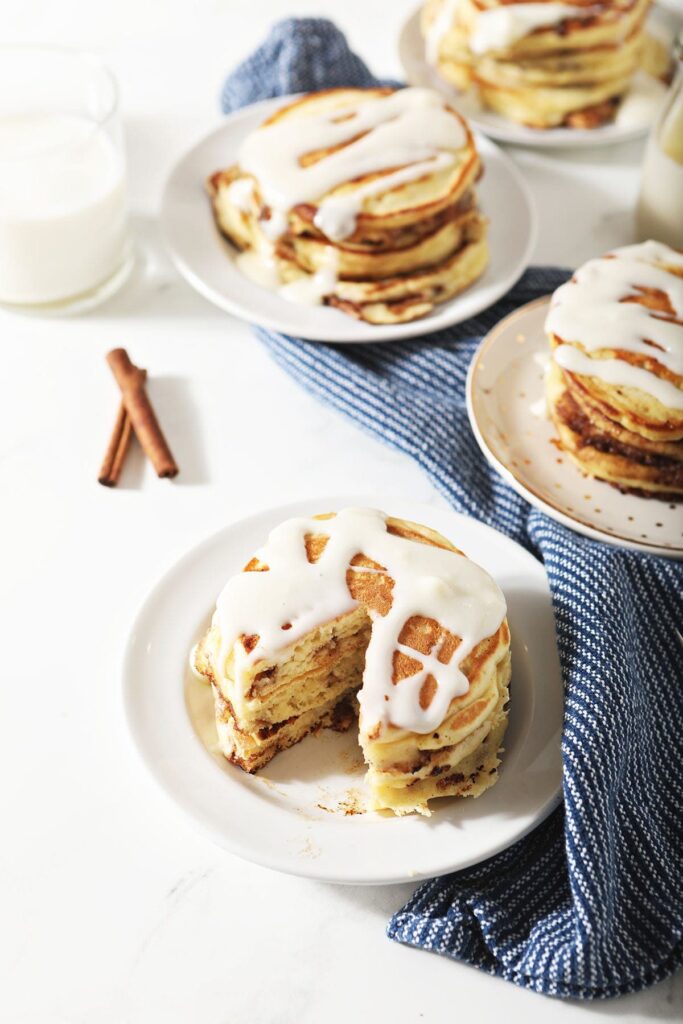 How to make Homemade Pancakes for Brunch
While pancakes are something that I previously thought might be a fussier item to prepare for a brunch at home situation, you can absolutely make them for brunch! It just requires a little patience, planning and working ahead to get 'em made before guests arrive.
Here are a few tips and tricks to transforming these pancakes into a brunch centerpiece:
Depending on the amount of people you're serving, you can double this recipe. You can also half it if you're not feeding a crowd.
Make the pancakes before guests arrive, and keep them warm in the oven. We put ours on baking sheets* (affiliate link) and keep them warm in a 200°F oven.
Transform your table into a pancake bar! Offer various toppings, like the vanilla glaze, as well as maple syrup, sweetened whipped cream and sprinkles.
What can I make homemade pancakes for?
If you don't think just because is an answer, here are a few other celebrations you could make these pancakes for…
A birthday celebration
Mother's Day or Father's Day
The first day of a vacation, summer/winter break or a staycation
Any holiday that deserves a special breakfast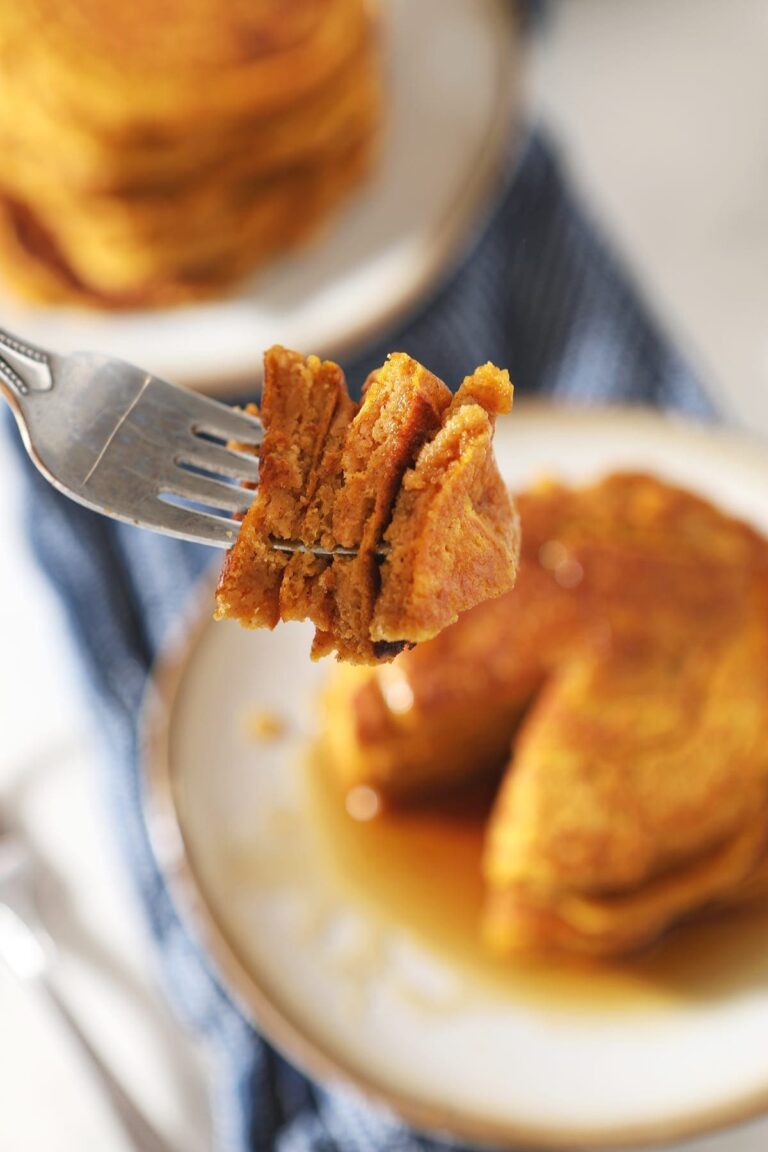 Frequently Asked Questions
What is the secret to making fluffy pancakes?
In my opinion, to secret to fluffy pancakes is mixing the wet and dry ingredients separately so you don't overmix the batter once they're combined. Also, making sure your baking powder and baking soda are both fresh.
How do you make pancakes crispy from scratch?
To get a crispy exterior on your pancakes, your griddle needs to be warmed up, as well as have a little fat on it. We like to brush ours with butter between pancakes, but you can also use an unflavored oil if that's more your speed.
Why are my pancakes flat and rubbery?
If your pancakes are flat and rubbery, you probably overmixed them. The more you mix the ingredients together, the more gluten forms, which will change the texture.
Should pancake batter be thick or runny?
The batter for the pancake recipes I make is kind of in between super thick and runny. The key is letting it be lumpy and just stirring until all the flour is incorporated so the pancakes will be nice, light and fluffy.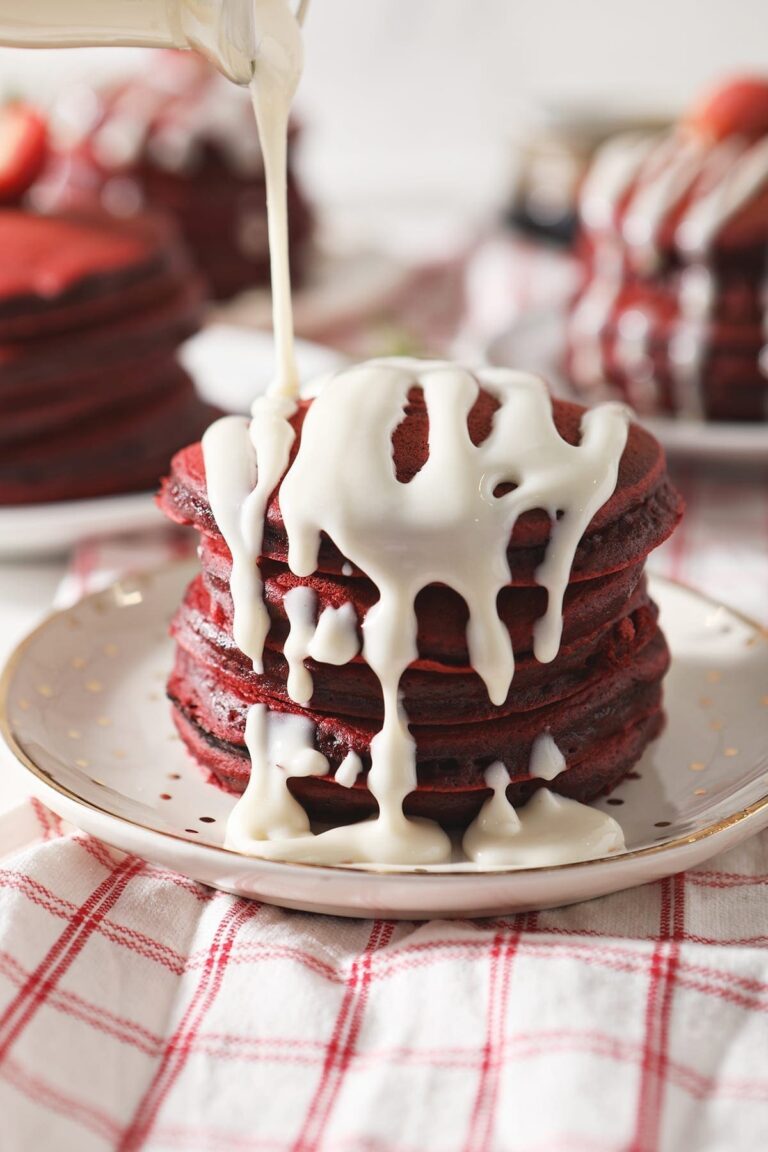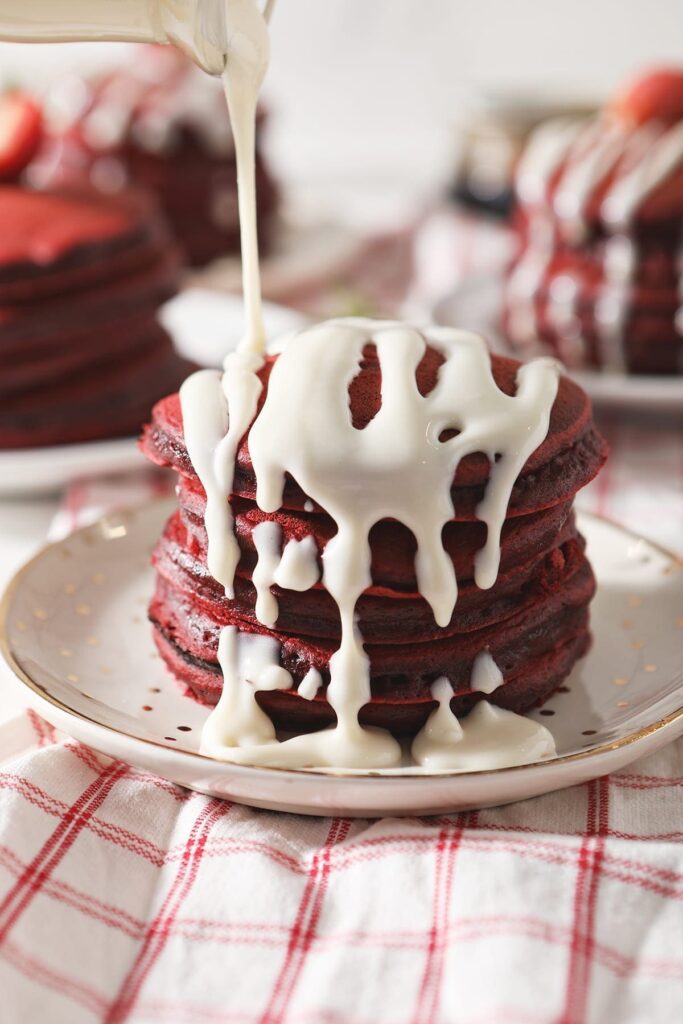 Quick Tips and Tricks for the Best Pancakes
Don't overmix your batter! Just mix the batter until it has just come together. Lumps are OK. If you mix until it's smooth, the pancakes won't be as fluffy.
When do you know how to flip? When big 'ol bubbles start to form in the batter. Lift up the edge a little bit with a spatula to confirm the color on the other side before committing… because when you flip them, you won't flip them again. (Yep. We only need to flip our pancakes once.)
Once you've flipped your pancakes, don't press down on them! This will deflate them. Obviously, we want them to puff up and be as light and airy as possible.
Leftover pancakes? Freeze 'em! Line a baking sheet with wax paper, and pop them in the freezer for 4-6 hours. When the pancakes are fully frozen, transfer them to a freezer baggie. Reheat in the toaster oven, toaster or the oven until warm.
The Best Homemade Pancake Recipes To Try
Looking for the best homemade pancake recipes to make? We've got 10+ ideas for you right here!