Breakfast has never been so decadent! Blueberry Breakfast Sausage Pancakes make the perfect recipe for any weekend morning. This combination of sweet and savory creates a lovely balance and a breakfast that's hard to stop enjoying.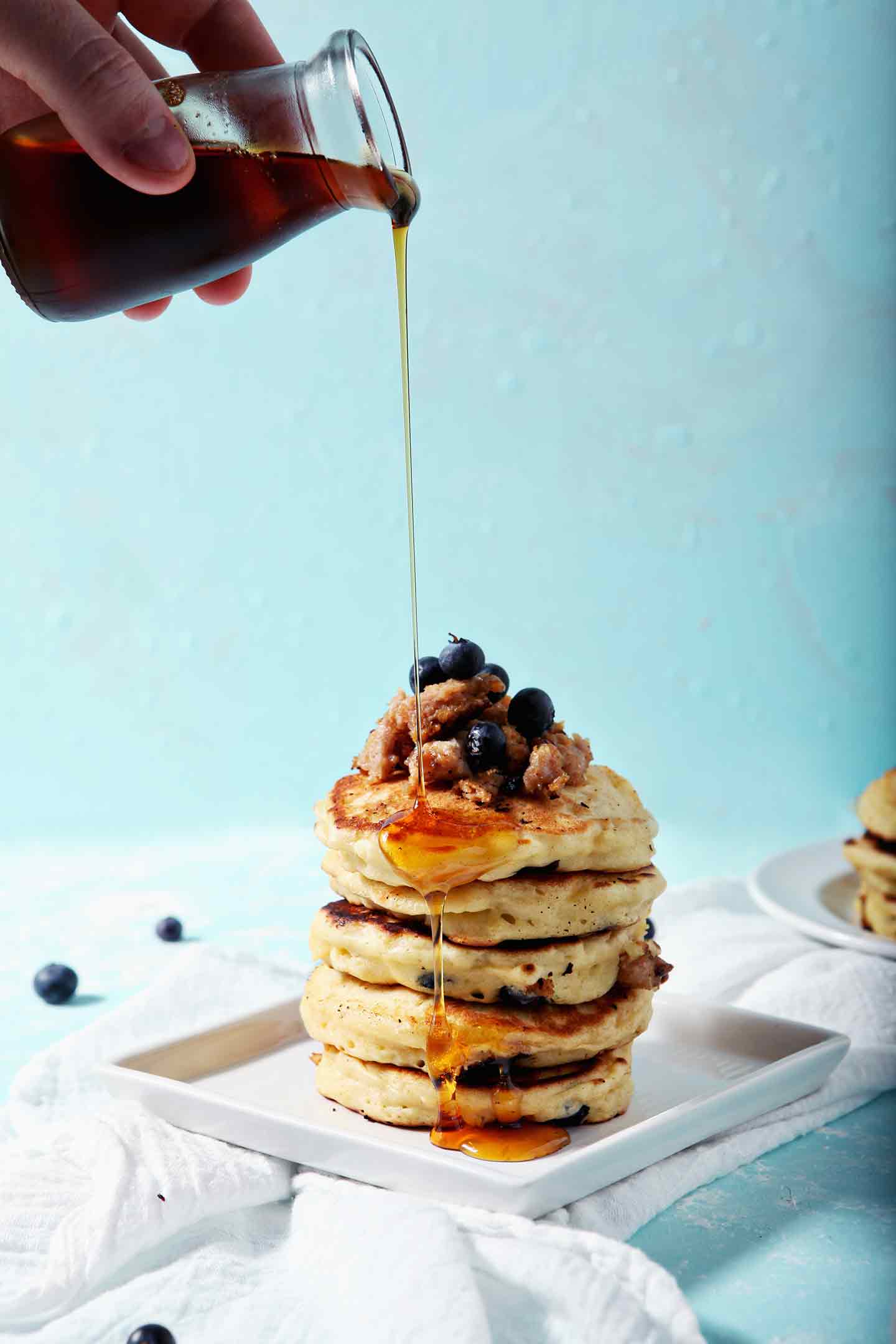 Did you know that pregnancy dreams are crazy vivid and—more often than not—bizarre?
Well, they are. Trust me on this, folks.
And these Blueberry Breakfast Sausage Pancakes are the result of a dream that I had a few months back.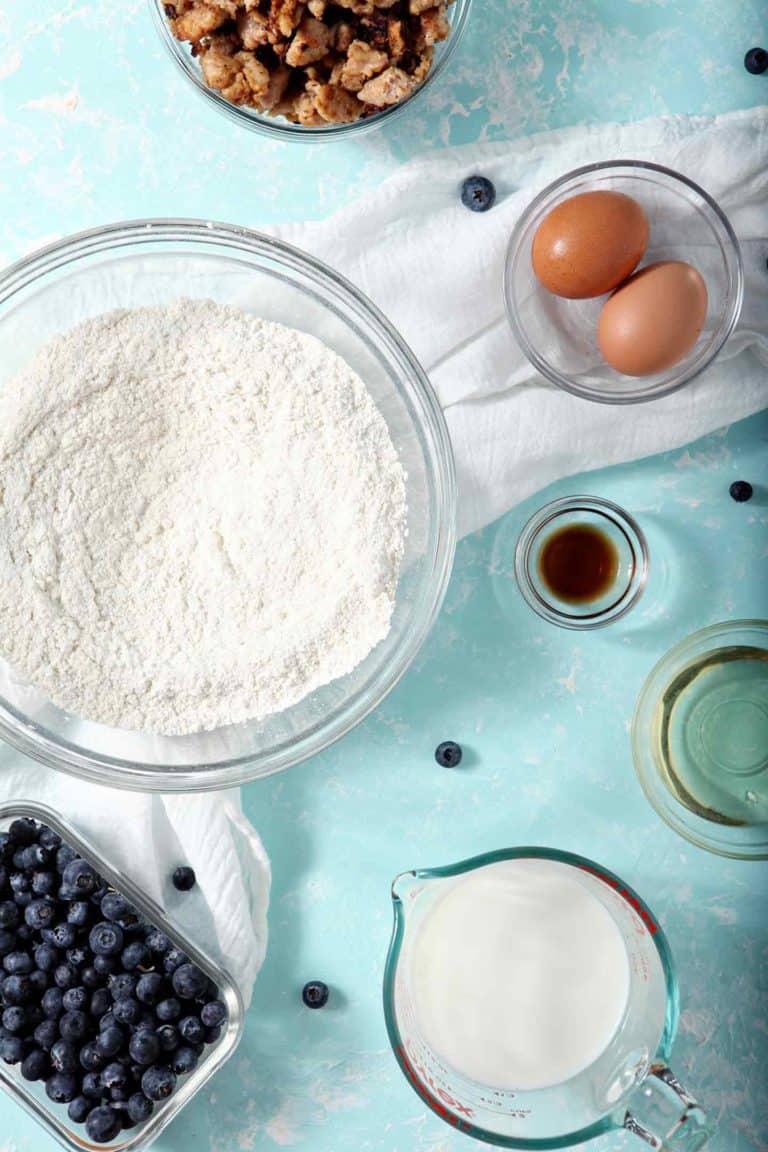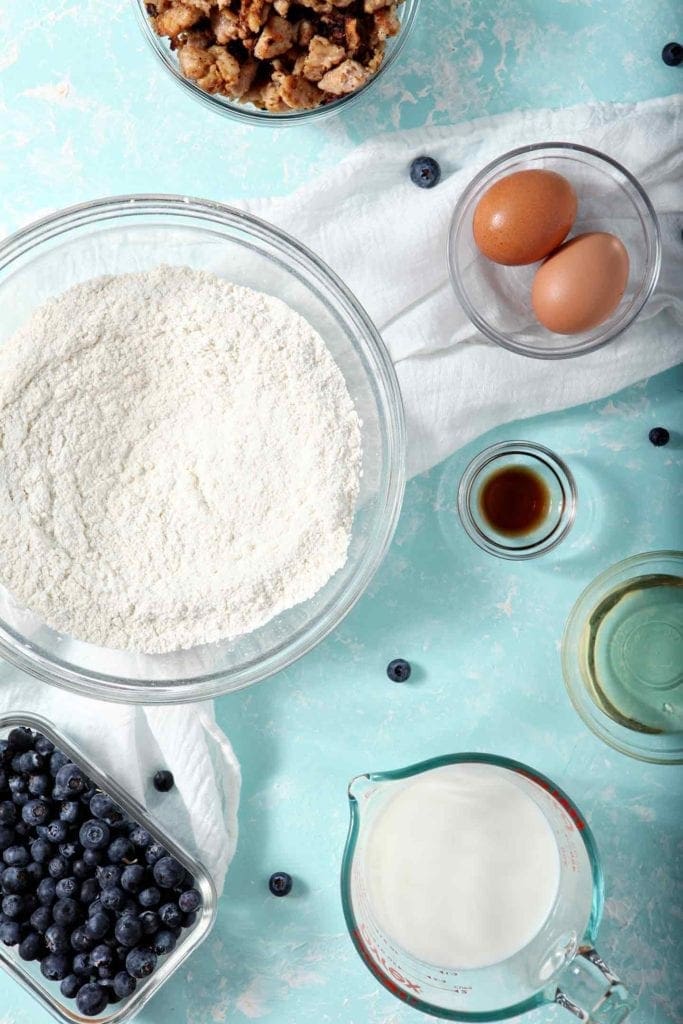 I couldn't tell you why I was dreaming about a sweet-savory pancake mix one evening, but I woke up famished… and clearly had to give the flavor combination a try.
The sweetness of summertime blueberries paired with the savory chicken sausage is absolutely PERFECT. Add a little bit of maple syrup, and you're golden!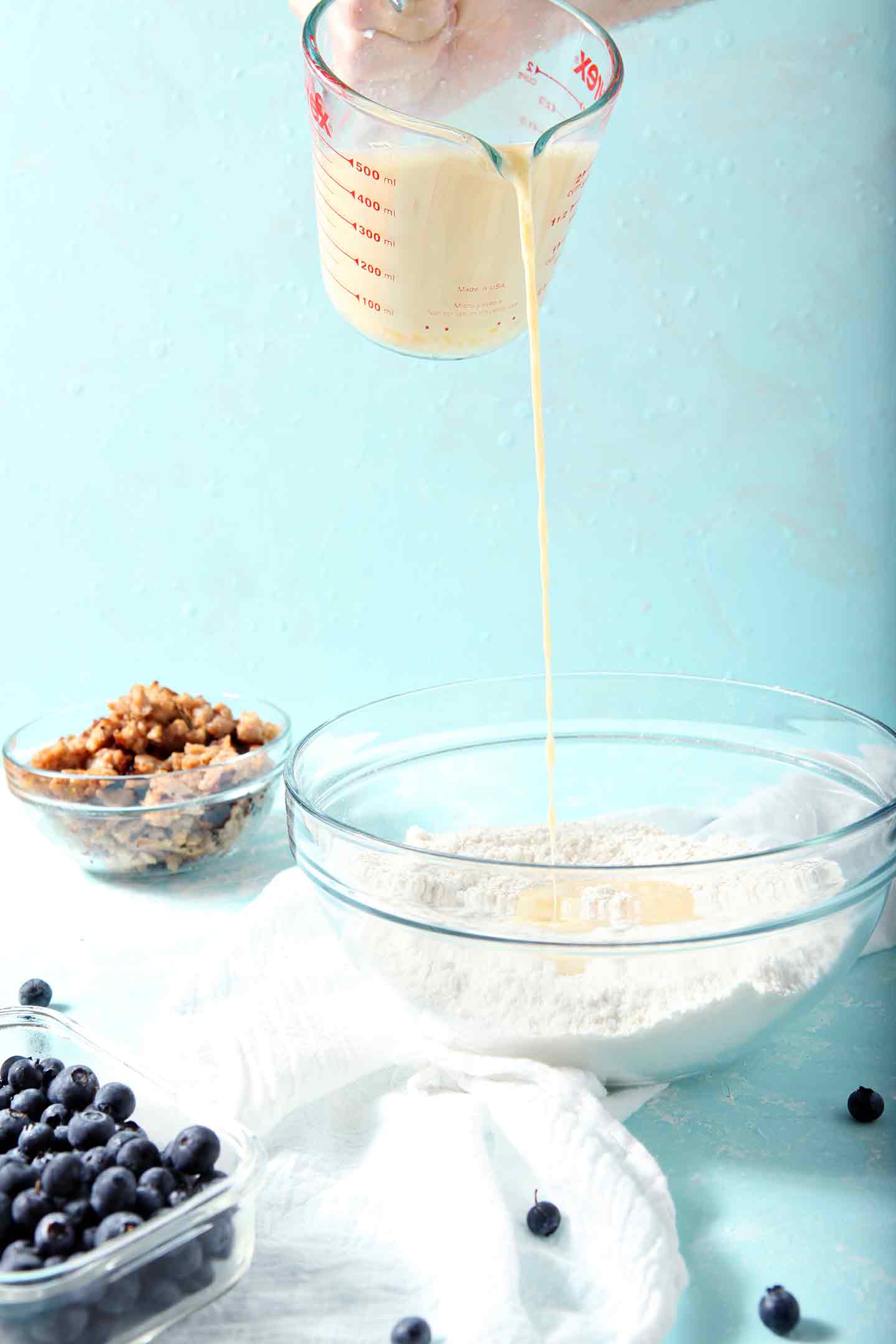 Why should I try this weird combination of flavors?
Honestly, there's just something that's so right about a sweet-salty breakfast.
There's a scientific reason, too. Our tastebuds are made up of different cells that taste different things: sweet, salty, sour, bitter or umami. And certain sweet tastebud cells only fire when salt is involved. Thus, potentially explaining why sweet-salty food combinations are just soooooo good. (If you're interested in reading more about this process, I suggest checking out this article from Delish.)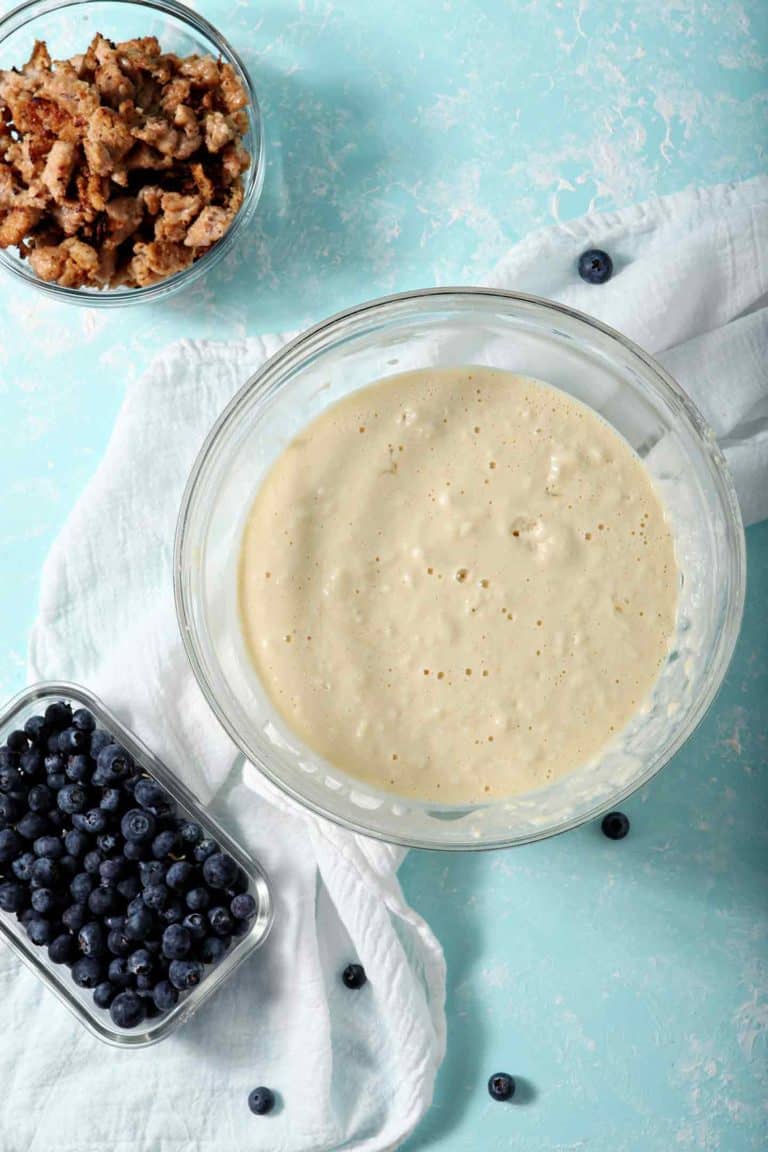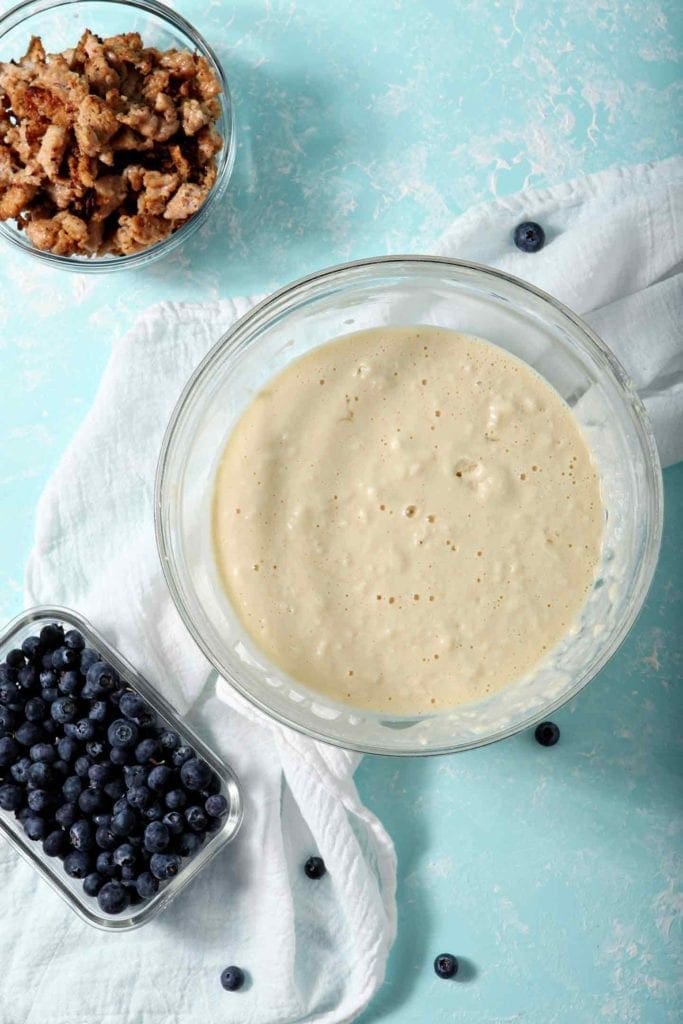 Can I make these pancakes dairy free?
Absolutely! I've included a note in the recipe card below of what can be substituted.
Bonus: It's stupid easy.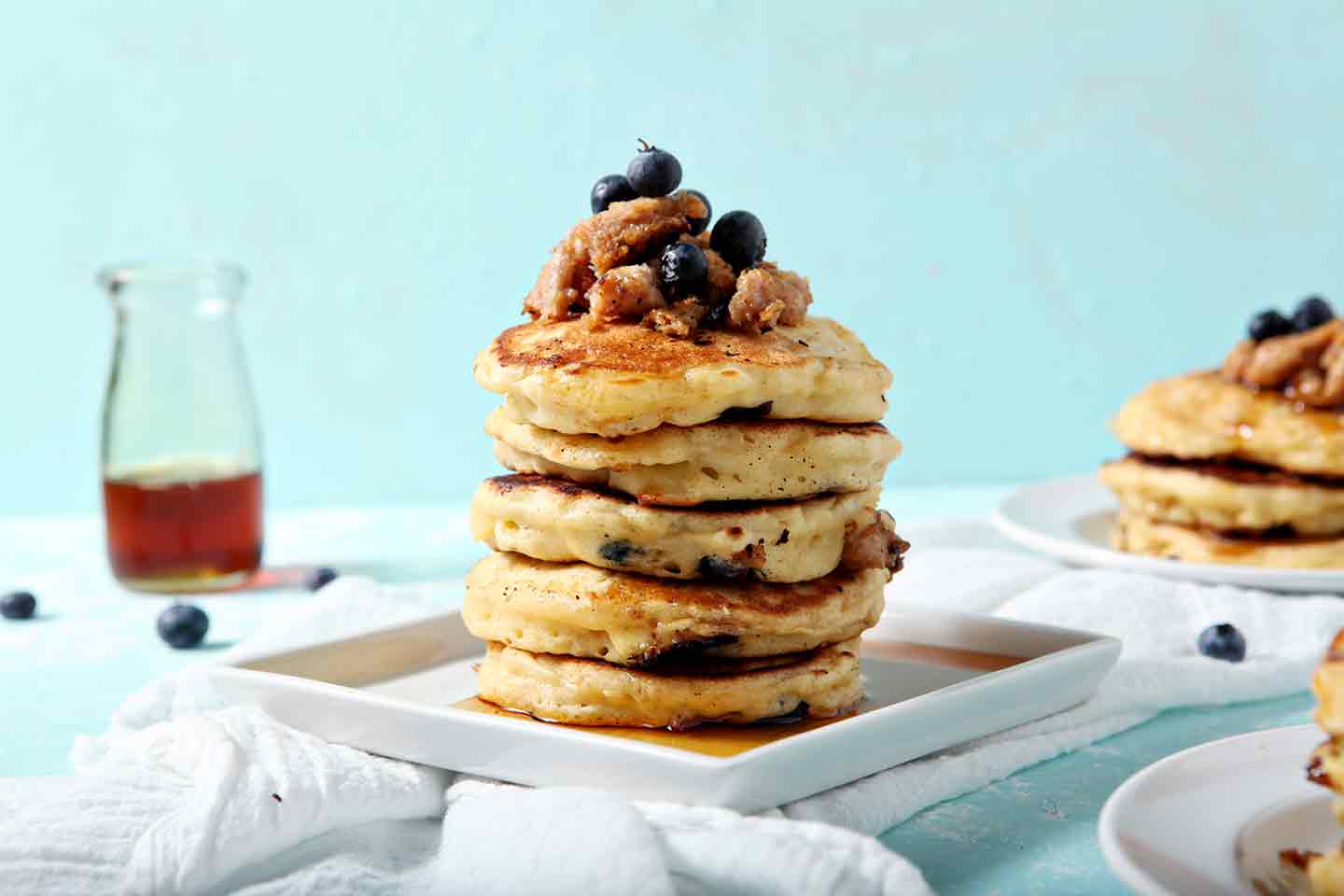 What tools do I need to make Blueberry Breakfast Sausage Pancakes?
Disclaimer: The links below are affiliate links. If you click through and take action, I will receive a small commission. Please refer to my disclosure page for more information about the affiliate programs The Speckled Palate participates in.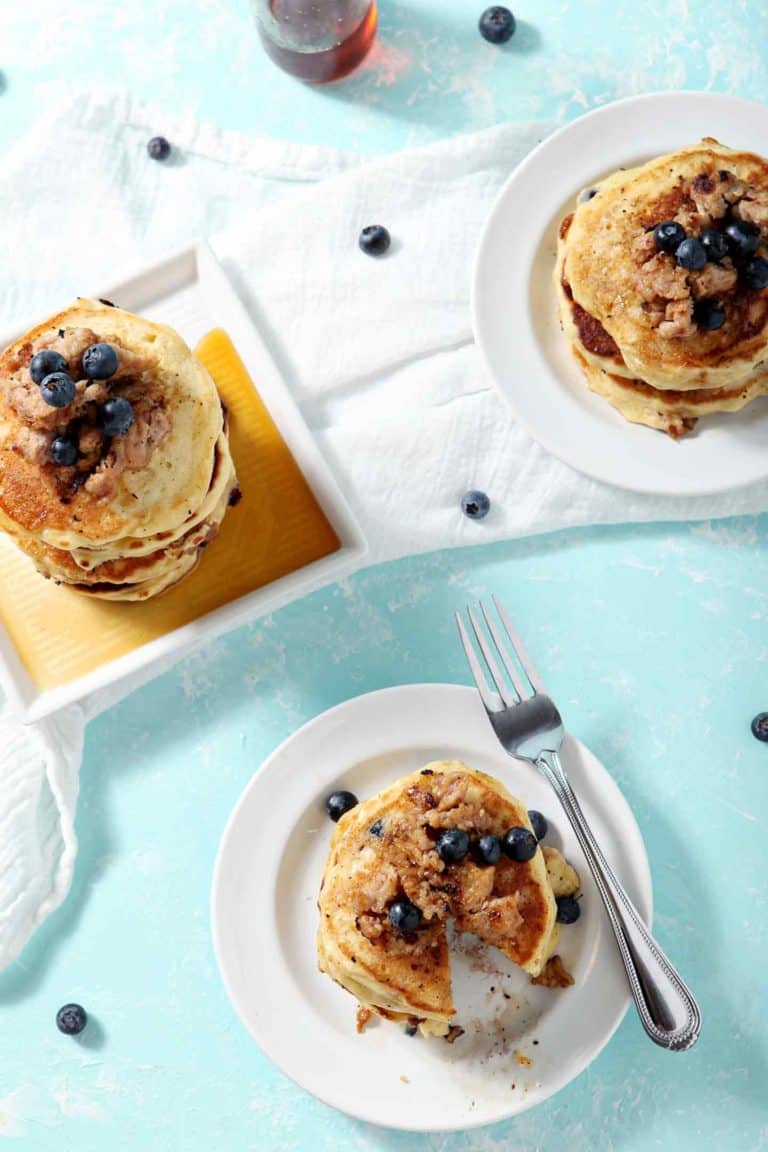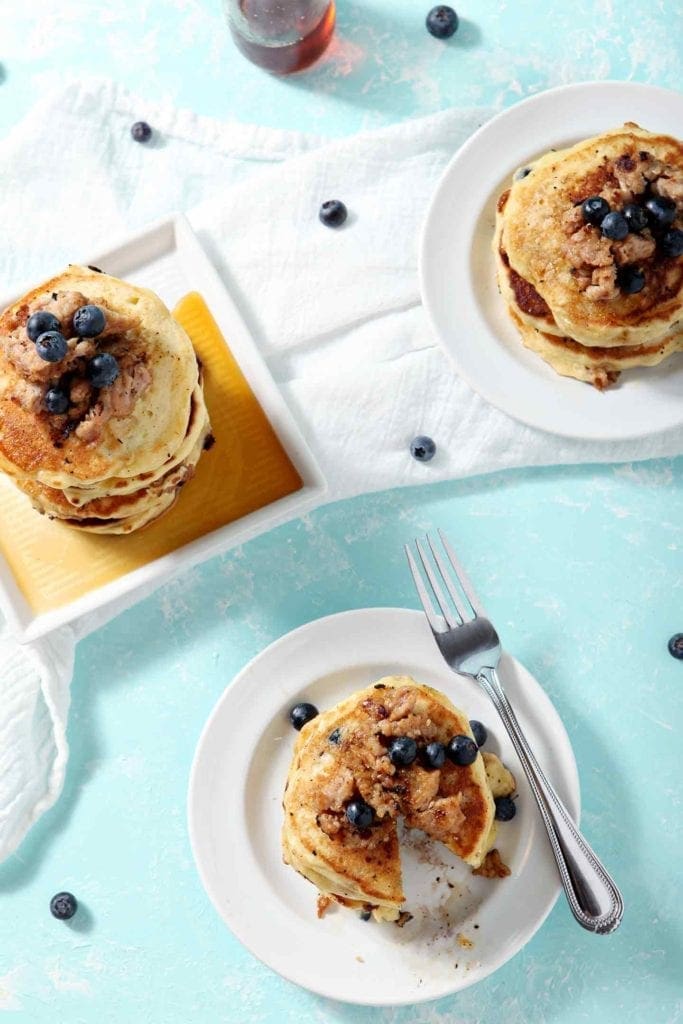 Do I have to make these pancakes from scratch?
Personally, I think these pancakes are tastiest when they're made from scratch, but you could easily add blueberries and sausage to a boxed pancake mix of your choosing if you'd rather do that.
One thing, though. Don't skip on the syruP! Use pure maple syrup with the final pancakes.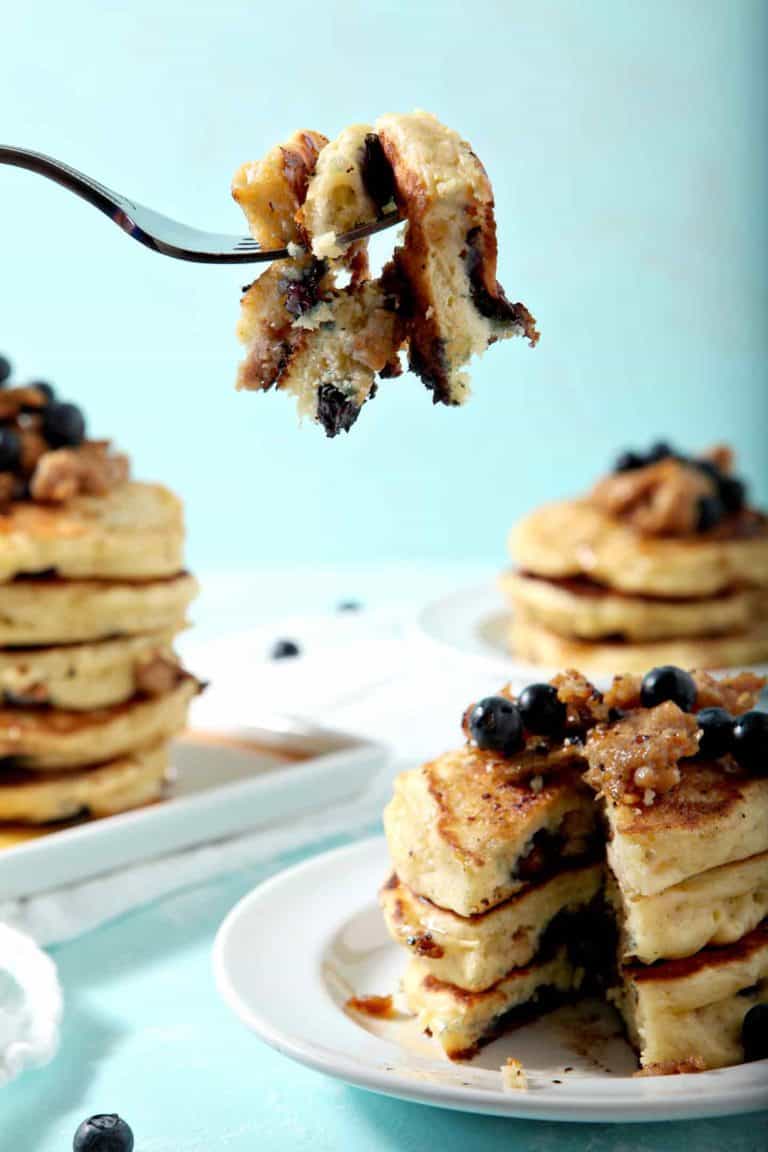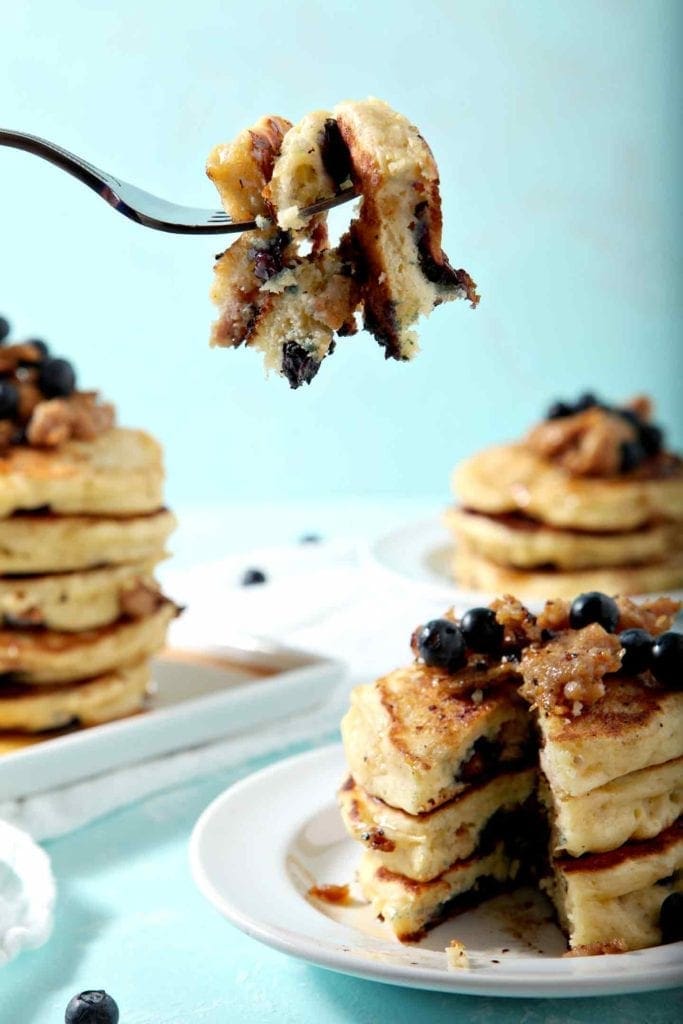 What are some recipes I can serve along side these pancakes?
Y'all ready to make this goodness for brunch?
Scroll on down to learn how easy they are to make at home…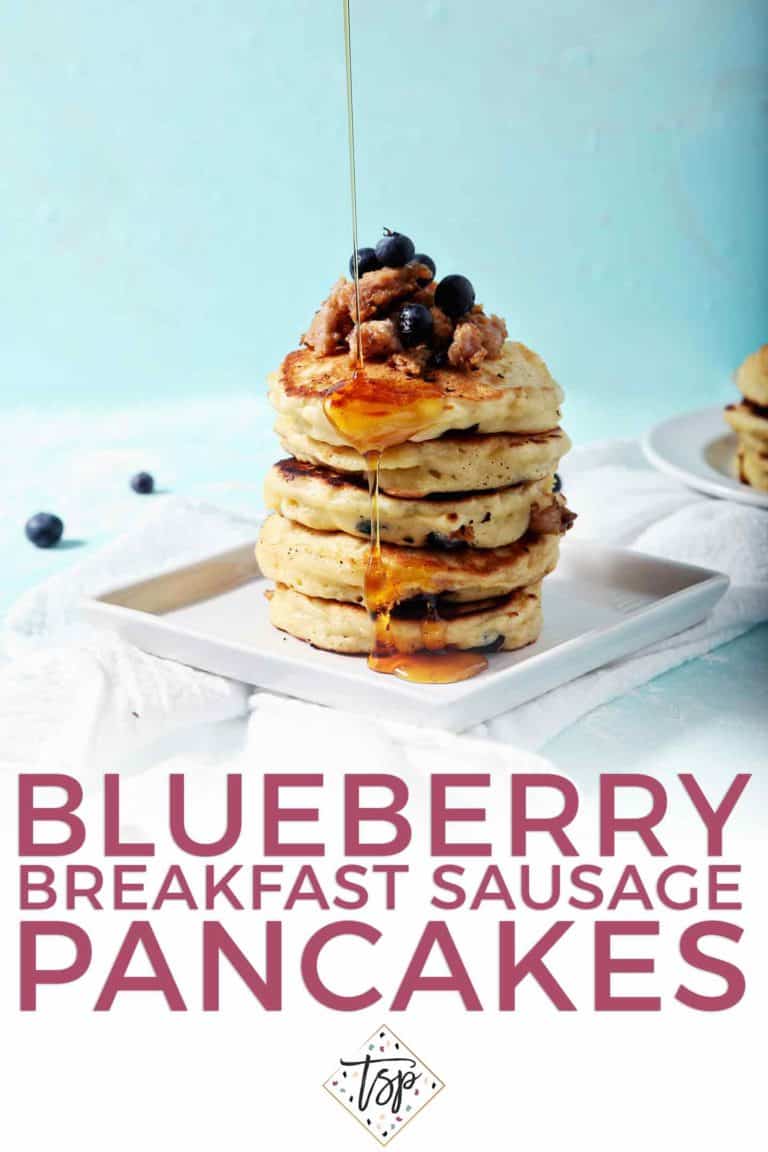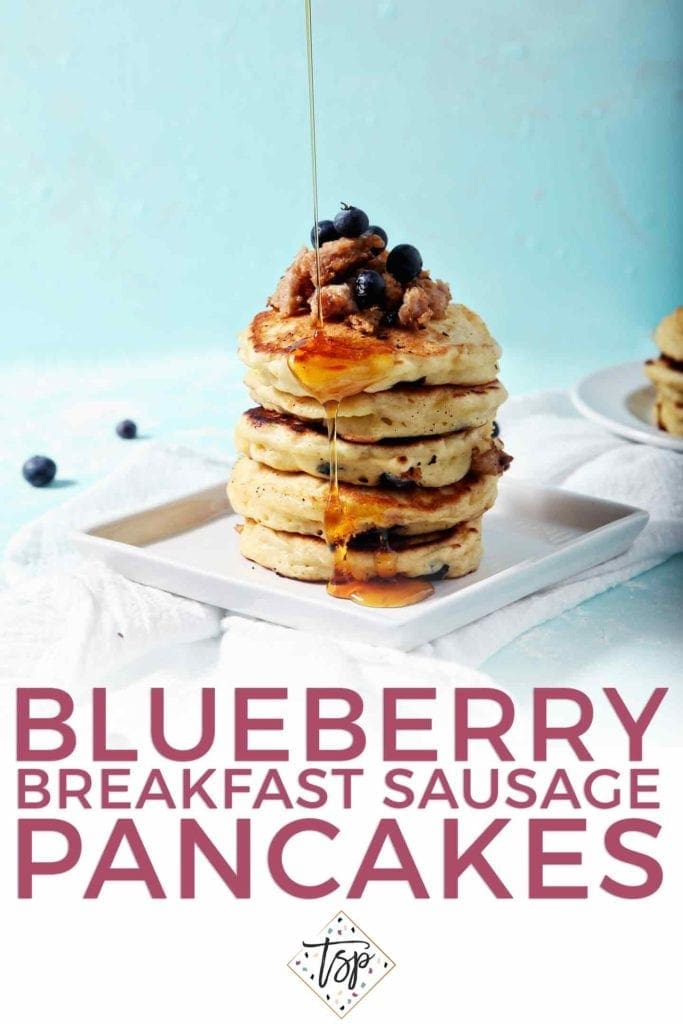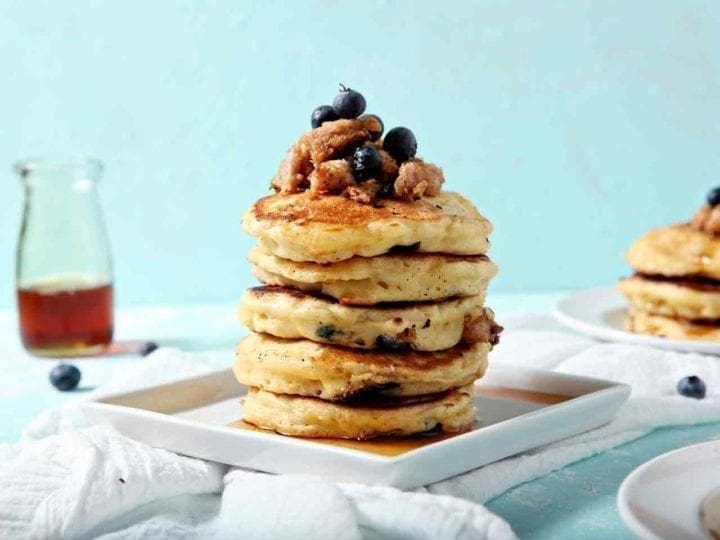 Yield:

18 pancakes
Blueberry Breakfast Sausage Pancakes
Breakfast has never been so decadent! Blueberry Breakfast Sausage Pancakes make the perfect recipe for any weekend morning. Homemade pancake batter is studded with chicken breakfast sausage and fresh blueberries. This combination of sweet and savory creates a lovely balance and a breakfast that's hard to stop enjoying. Whether you're feeding a crowd, your family or yourself, these pancakes are the perfect dish to serve for any morning occasion.
Ingredients
1 ½ cups unbleached all-purpose flour
2 tablespoons granulated sugar
2 teaspoons baking powder
½ teaspoon baking soda
¼ teaspoon kosher salt
1 ¼ cups milk, (whole, 2%, skim all OK)
2 eggs
3 tablespoons vegetable oil
1 teaspoon vanilla extract
¼ lb. chicken breakfast sausage (or your favorite breakfast sausage of choice), ground
1 pint blueberries
Unsalted butter, for brushing the griddle/pan
Instructions
In a nonstick skillet over medium-high heat, cook the chicken breakfast sausage until browned and cooked through. Once cooked, remove from the heat, and set aside.
In a large bowl, combine the flour, sugar, baking powder, baking soda and salt. Whisk together until incorporated. Set aside.
In a smaller bowl or a liquid measuring cup, measure out the milk, eggs, maple syrup, vegetable oil and vanilla extract. Using a whisk or a fork, mix the ingredients until combined.
Pour the wet ingredients into the dry ingredients, stirring with a plastic spatula until just combined. (Lumps are OK!) Be careful not to overmix, as this will affect the texture and rise of the pancakes.
Set the batter aside, and let it rest for 5-10 minutes.
While the batter is resting, heat a nonstick skillet or a cast-iron griddle over medium-high heat. Grease lightly with butter or cooking spray.
Before dropping the first pancakes onto the preheated skillet/griddle, sprinkle on a few droplets of water. If the water sizzles and steams when it hits the skillet, you're ready to go. If not, wait until the pan/griddle gets warmer.
When the pan/griddle is ready, use a tablespoon scoop to dollop the batter onto the skillet. (This recipe makes 18 pancakes if you make them 2 tabelespoons a piece.) Use a spoon or a small spatula to shape the pancake into a circle if it looks lopsided.
Scoop some of the cooked chicken sausage onto the top, and then sprinkle on a few blueberries.
Once several bubbles have formed on the surface, flip the pancakes. (This can take anywhere from 2-5 minutes, depending on the heat on your pan, so keep an eye out!) Continue cooking through.
Repeat until all batter has been made into pancakes.
Garnish with additional sausage and blueberries, then drizzle on the syrup. Enjoy warm!
Notes
Dairy-free option: Use unsweetened non-dairy milk—cashew milk is my favorite because it's a little thicker than almond milk. Brush the griddle/pan with oil instead of butter.
Nutrition Information:
Yield:
18
Serving Size:
2 tablespoons a piece)
Amount Per Serving:
Calories:

118
Total Fat:

5g
Saturated Fat:

1g
Trans Fat:

0g
Unsaturated Fat:

4g
Cholesterol:

32mg
Sodium:

161mg
Carbohydrates:

13g
Fiber:

1g
Sugar:

3g
Protein:

4g
Nutrition facts are an estimate and not guaranteed to be accurate.
Has a dream ever inspired a meal for you?
Would you like to try some of these Blueberry Breakfast Sausage Pancakes?