These festive Christmas Pancakes are perfect for Christmas day. Kids will love the bright green Grinch-like color. Drizzle them with maple syrup or a cream cheese glaze and enjoy this festive breakfast.
If you're a pancake lover, check out How to make the Best Homemade Pancakes!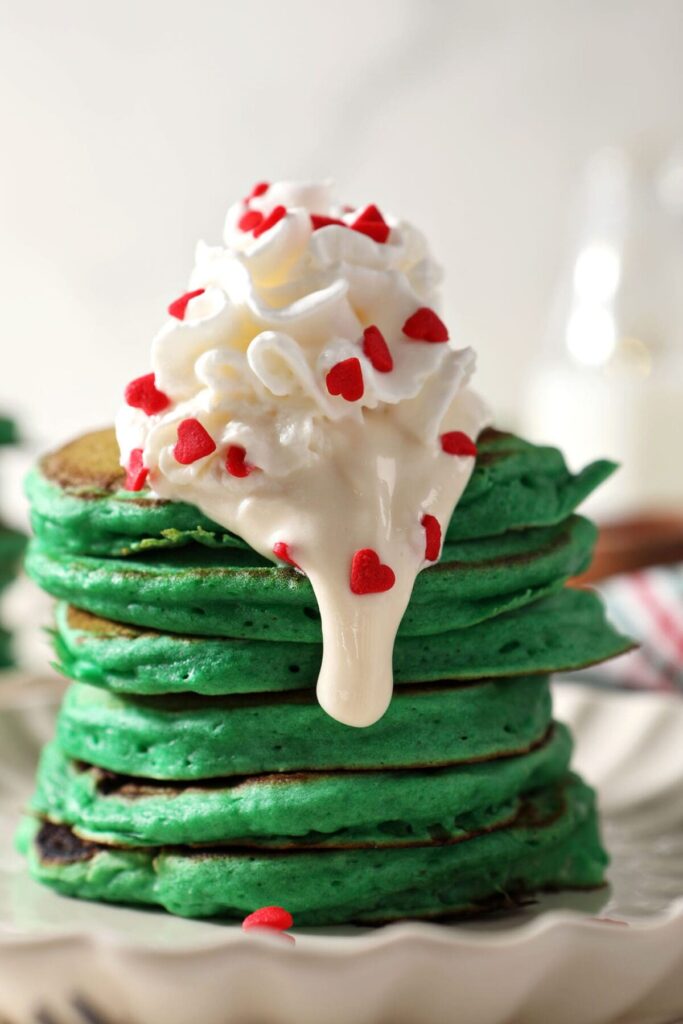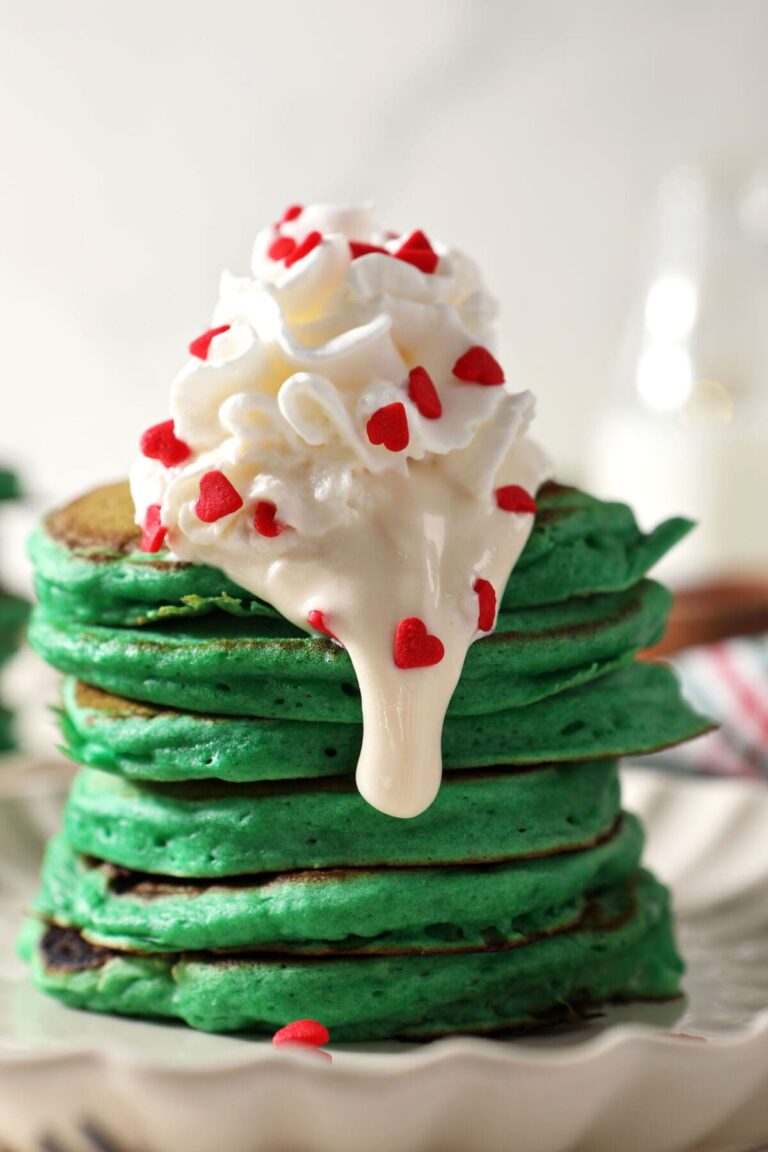 This post contains affiliate links.
Green Christmas Pancake recipe:
On Christmas morning, my family always enjoys a special breakfast. After we discover what Santa has brought, but before we open presents, my husband and I love to treat our girls and any visiting family to a festive breakfast.
We usually make Christmas breakfast casserole and a batch of gingerbread coffee creamer, plus a few other favorites.
One of those favorites is pancakes. My girls adore pancakes, and we almost always make my go-to basic pancake recipe. But this year, I decided to jazz them up with a bit of green food coloring to give them some colorful holiday spirit.
My oldest daughter called them Grinch pancakes, which is what we've decided to call them around our house.
These are SUPER festive, fun and delicious for the Christmas season!
Why I love this recipe:
Some green pancakes are made with spinach or other green foods, but I love these because they are so easy to make with green food color.
Festive pancakes are the perfect way to celebrate the holiday season.
Pancakes, in general, are an easy and family-friendly breakfast food. (They're also scalable for a crowd!)
Green food coloring is an instant way to upgrade any pancake recipe to make them feel more festive!
They're wonderful for Christmas morning or to enjoy any morning in December.
Have them for breakfast-for-dinner before a festive activity like caroling or driving around to look at Christmas lights.
You can even make these green pancakes to celebrate St. Patrick's Day.
More holiday pancake recipes to try: Pumpkin Spice Pancakes | Eggnog Pancakes | Cinnamon Roll Pancakes | Red Velvet Pancakes
Need breakfast inspiration? Head on over to my Breakfast and Brunch Recipe Index for more ideas.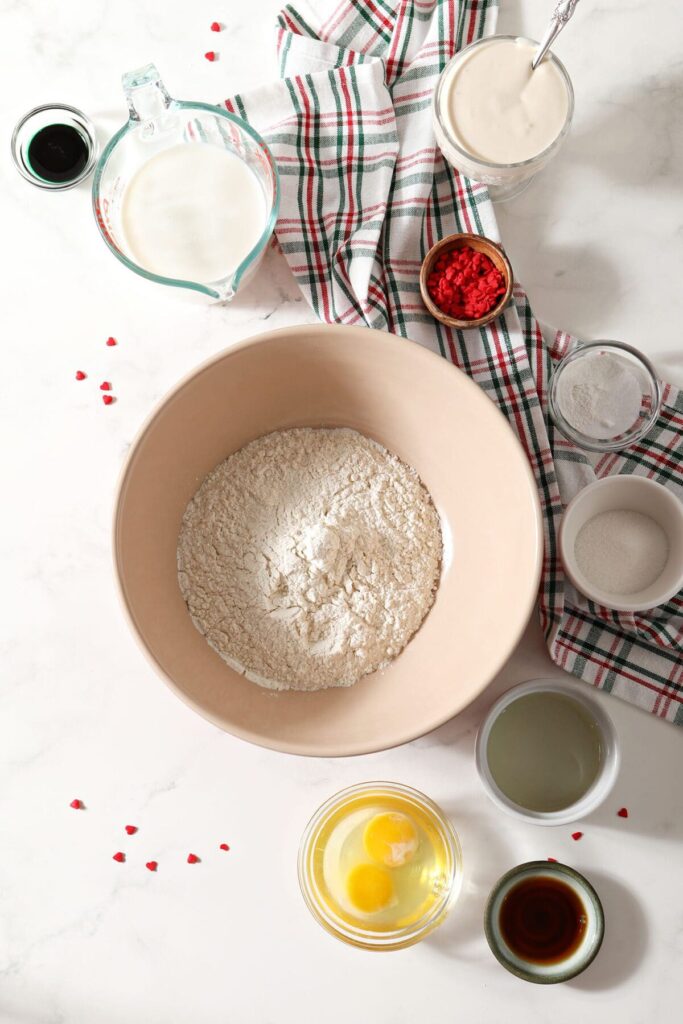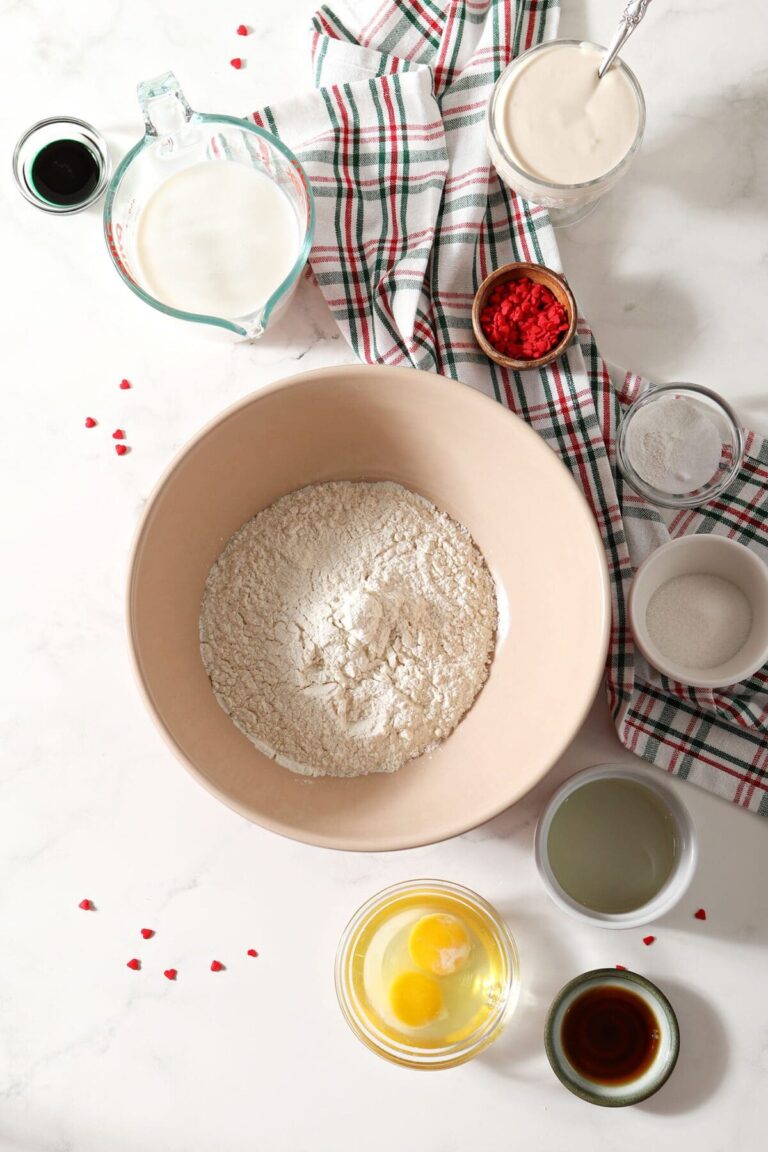 What you need to make this recipe:
The Speckled Palate participates in affiliate programs. As an Amazon Associate, I earn a commission from qualifying purchases. Please refer to my disclosure page for more information about these affiliate programs.
Let's talk ingredients!
In addition to the tools above, you're going to need some ingredients to make this recipe, too! Chances are, you might already have some of them in your fridge or pantry. Scroll down to the recipe card for the full measurements and instructions.
Here's what you'll need:
All-purpose flour — this is sometimes referred to as AP flour. It serves as the base for our recipe.
Granulated sugar — this provides a little sweetness to the batter. This is also known as white sugar.
Leaveners — baking soda and baking powder are both used in this recipe to create light, fluffy pancakes. Make sure yours are fresh — they do go bad and it can affect the final product.
Salt — I like to use fine grain sea salt. Kosher salt also works.
Whole milk — whole milk provides the best thickness. You could also use 1% or 2%, but I'd stay away from skim milk because it's so thin.
Eggs — eggs provide structure, as well as a bit of lift.
Vanilla extract — a little goes a long way! Be sure to use the real deal, not the imitation kind, for the best flavor.
Green food coloring — it's important to use the classic kind. (I used McCormick Green Food Color.) The measurements below are not for gel. I'd avoid natural food coloring because it cooks out of pancakes and can turn them an odd color.
Unflavored oil — we have used vegetable oil, canola oil, coconut oil or avocado oil in this recipe. All work.
Customizations and substitutions
Feel free to make these pancakes to your own dietary preferences.
You can make it dairy free by using plant-based milk (like almond milk) or lactose-free milk.
I have not tested this recipe using other types of flour, but you could probably use a 1:1 gluten-free flour alternative to make green gluten-free pancakes.
A splash of almond extract can be added in addition to vanilla to give these a nutty flavor. I'd start with a ½ teaspoon because almond extract is fragrant!
Christmas pancake shapes:
It's so fun to customize pancakes with different shapes! Here are a few ideas:
Tree-shaped pancakes: Use Christmas tree pancake molds* (affiliate link) to form each green pancake into a tree shape. Add white chocolate chips for "ornaments."
Tree-shaped serving platter: Pour pancake batter into varying sized circles, then stack them on a plate with the biggest pancake on the bottom. Add the next biggest, then the next, so the stack gets gradually smaller toward the top, to make the stack look like a Christmas tree from the side.
Christmas wreath pancakes: Use a cookie cutter to cut out the center of the pancakes to make them look like a Christmas wreath OR make mini pancakes to form a wreath around a small plate.
Toppings for Christmas pancakes
Kids love putting toppings on pancakes! So do kids at heart.
Here are some fun and festive ideas to upgrade Christmas morning.
Sprinkles — I used heart sprinkles to give them a Grinchy look, but any Christmas sprinkles will work.
Cream cheese glaze — I topped these with my go-to cream cheese glaze, which is made in a blender or a food processor. But you could also use your favorite toppings!
Red Syrup — for a red-and-green look, use a fruity type of syrup like strawberry syrup.
Whipped Cream — homemade whipped cream is best but I support buying store-bought to save time!
Maple syrup — maple is a classic and has a wonderful holiday flavor, too. Use the real stuff, not the corn-syrupy kind.
Butter — Some people love extra butter on their pancakes! You can serve it in a pitcher, melted, or have softened butter on the table for spreading.
Powdered sugar — dust with powdered sugar for a snowy look. A dusting wand makes this easier and less messy.
Fresh berries — garnish these with fresh raspberries, strawberries or even sugared cranberries for a festive, red-and-green look.
Chocolate chips — what kid (or adult) doesn't love chocolate chips in their pancakes?!
Best food coloring for pancakes
For the most brilliant green pancakes, the best kind of food coloring to use is the classic kind that you get from the store.
Natural food coloring, which cooks out and leaves the pancakes an odd color, is not recommended.
You can use gel food color, but you should refer to the product packaging to determine how much to use.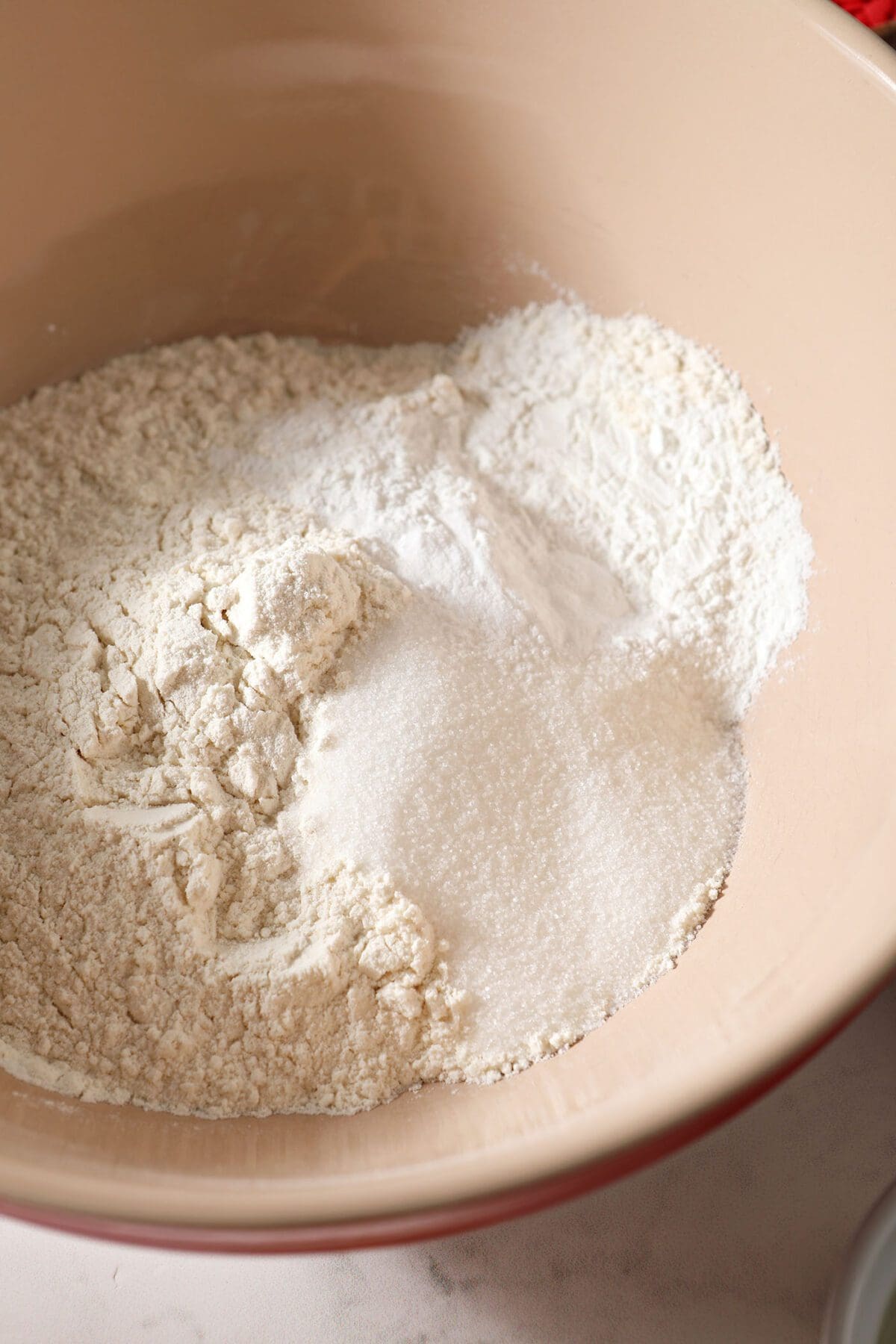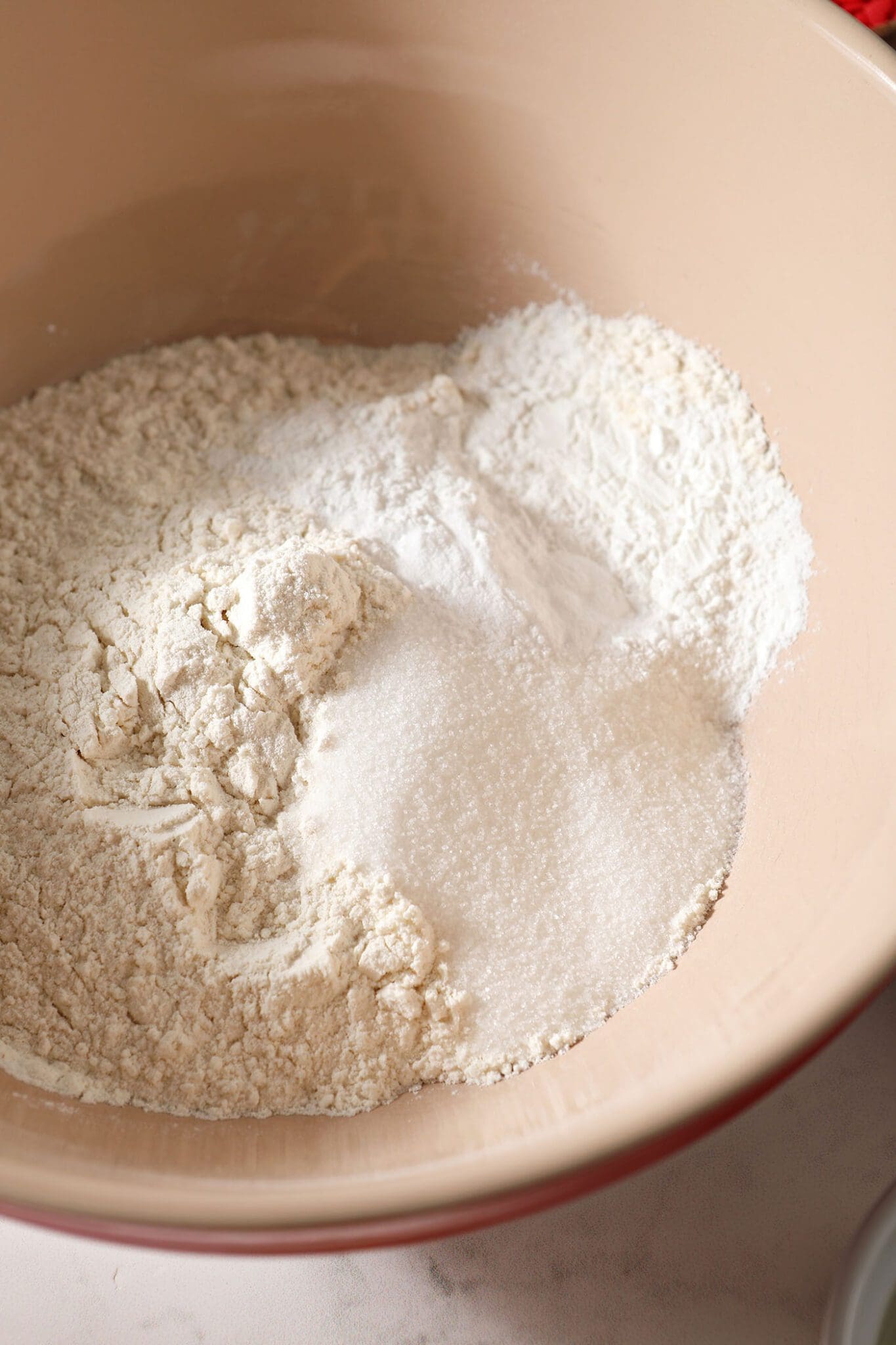 How to make Christmas Pancakes
Mix the dry ingredients in a large bowl.
Combine the flour, sugar, baking powder, baking soda and salt. Whisk together until combined, and set aside.
Next, measure out the wet ingredients into a separate bowl or liquid measuring cup. Pour the milk first. Then break the eggs, and pour them into the mixture with vanilla extract, food coloring and oil. Use a fork to stir until combined.
Pro tip!
Make sure the egg yolks and white are mixed well because you don't want stray pieces of egg white in the pancakes. It will take you about a minute of consistent mixing to get it to incorporate properly.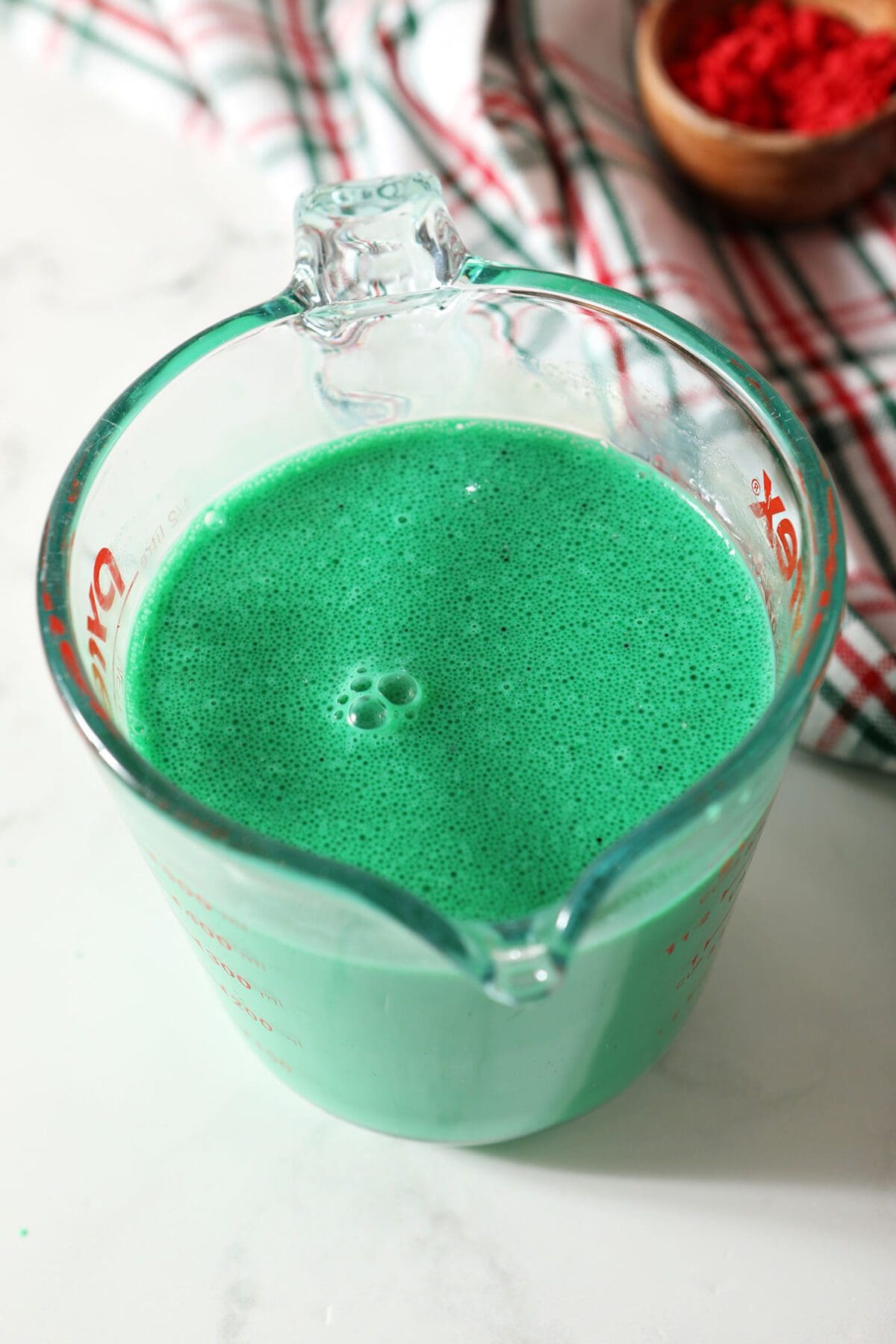 Pour the wet ingredients into the dry ingredients. Use a rubber spatula to gently fold them together until just combined.
Be careful not to overmix because that will make for tougher, less fluffy pancakes.
Once the batter has been mixed, heat a nonstick skillet or a griddle over medium heat. (You can also do this on medium-low heat if your stovetop runs hot.)
Brush the pan with melted butter or unflavored cooking spray/oil, and let it warm up.
Pro tip!
It's tempting to make the batter while the griddle heats up so you can have pancakes sooner, but I recommend waiting. This gives your batter a little time to rest, which it needs to be fluffy!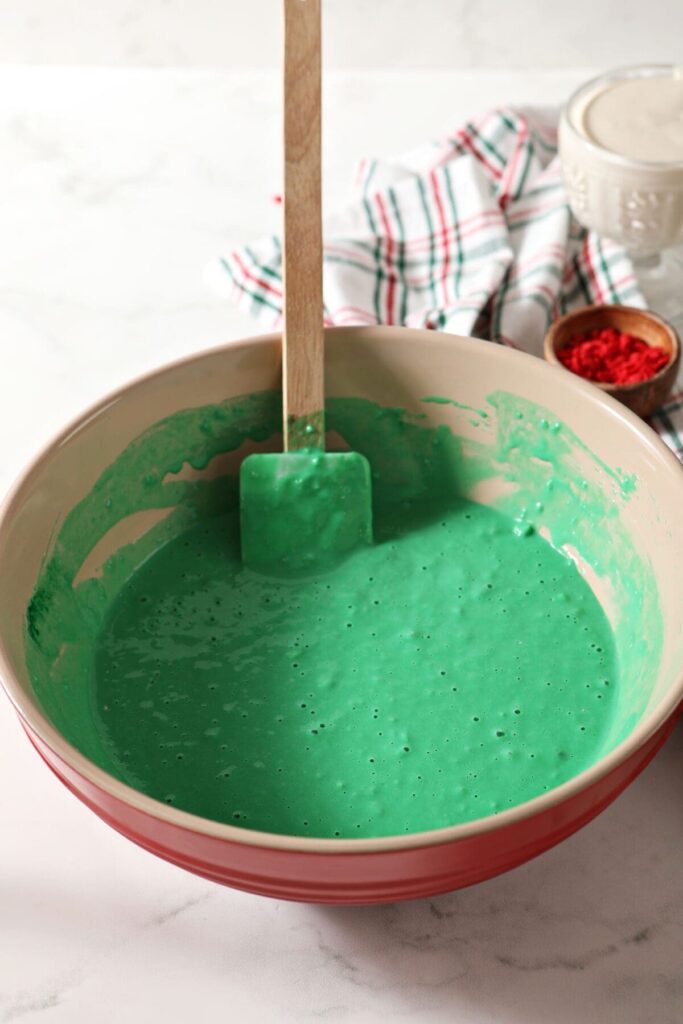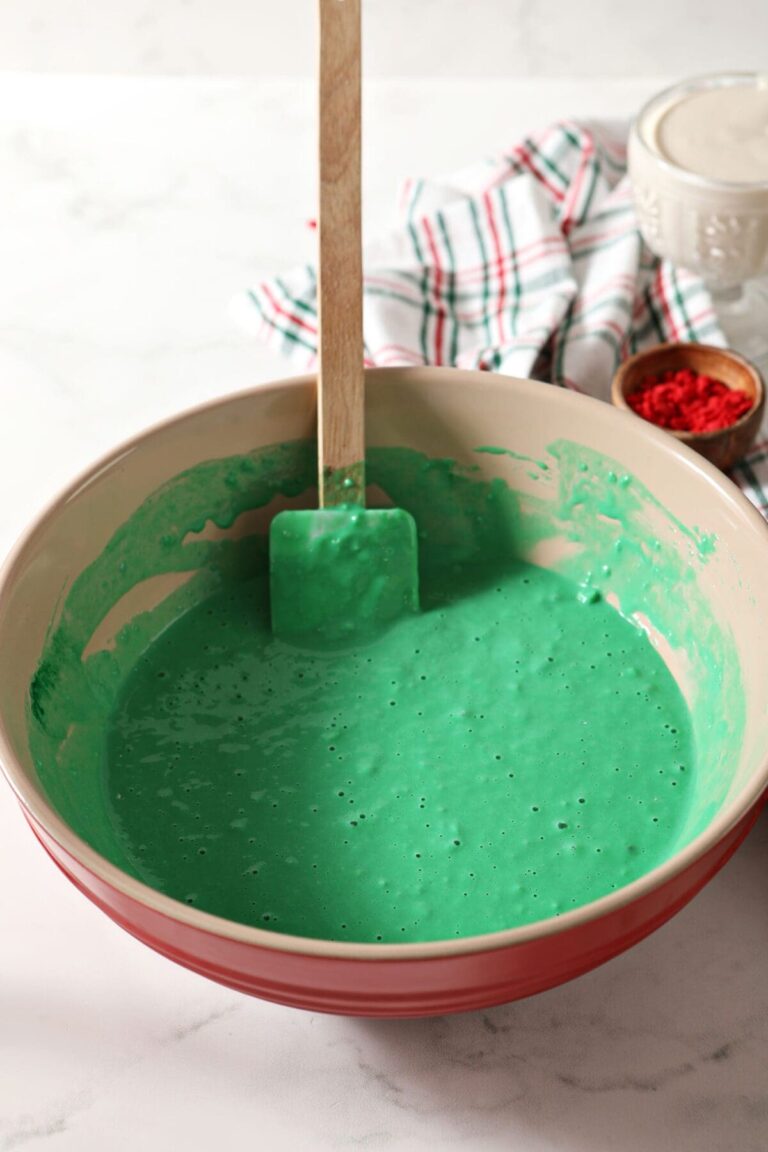 Use a cookie scoop or a measuring cup to dollop the pancake batter onto the hot griddle or skillet.
I like to use a 1.5-tablespoon cookie scoop so that they're all the same size, but you can use whatever you like to scoop them onto the griddle.
When several bubbles form on the surface, flip the pancakes, and cook through for another 1-2 minutes.
Repeat until all of the batter has been made into pancakes.
Stack the delicious Christmas pancakes onto plates. Drizzle with cream cheese glaze.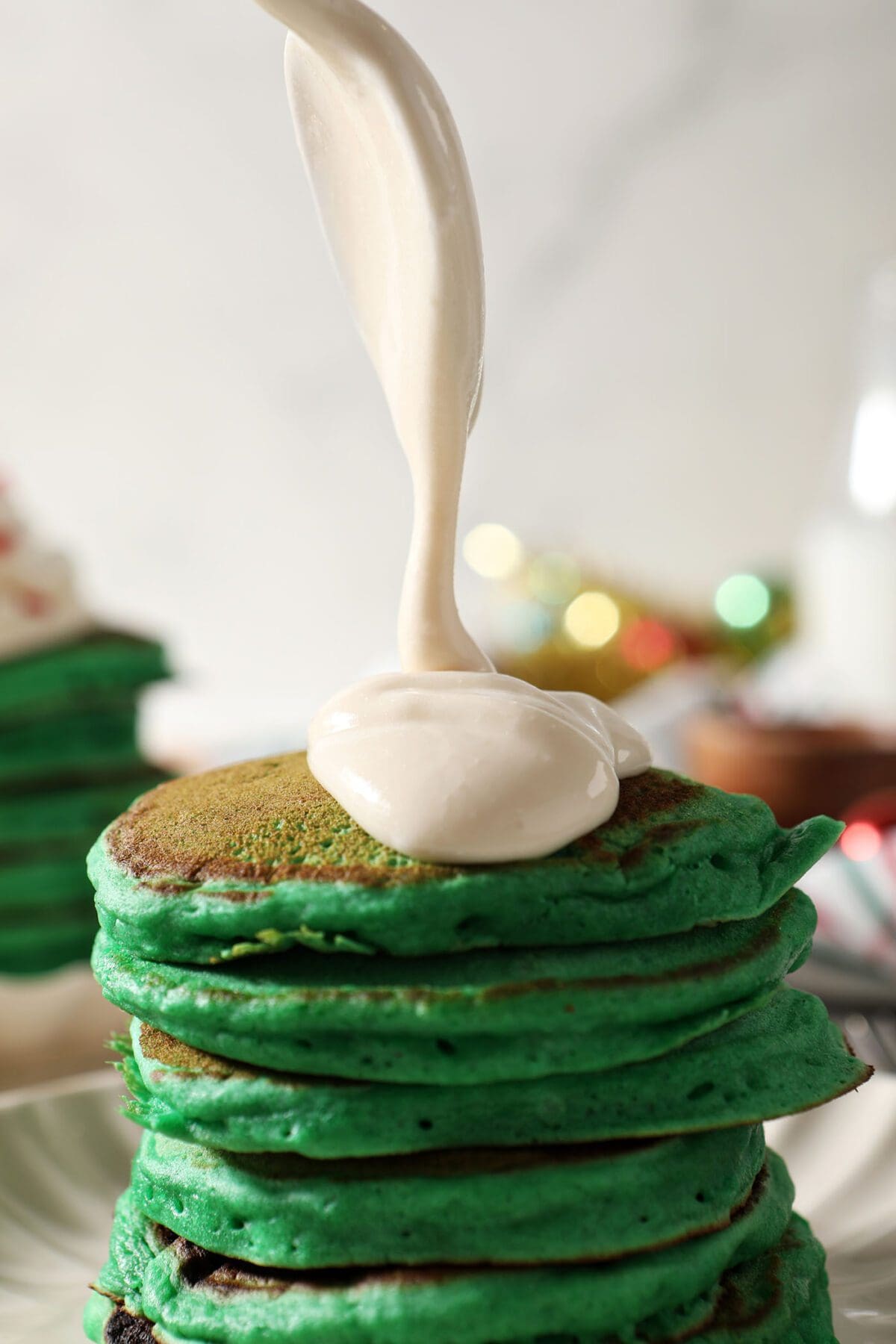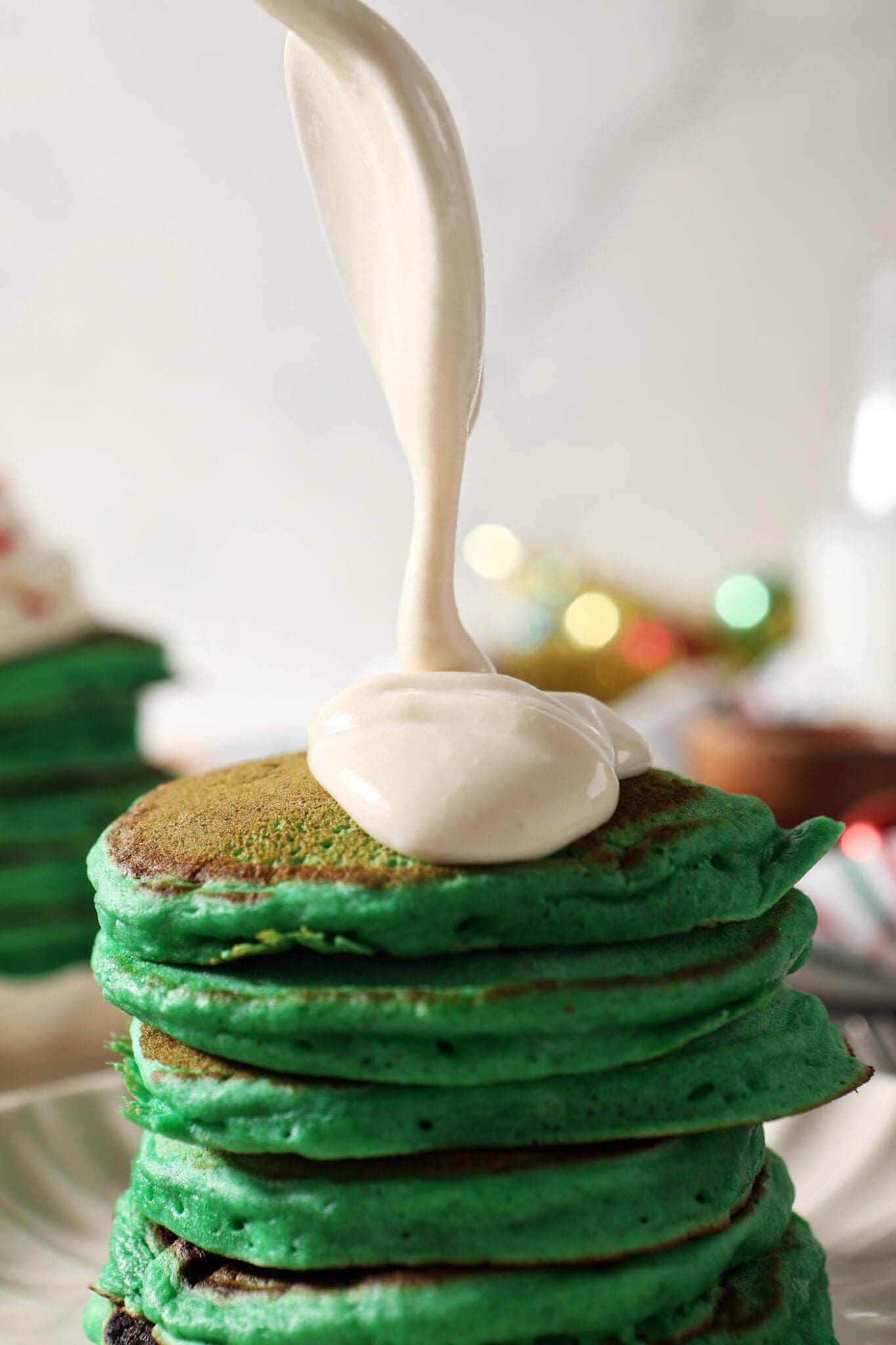 How to store & freeze pancakes
Let your pancakes cool completely. Transfer them to an airtight food storage container and keep in the fridge for 3-4 days. Reheat in the microwave or toaster oven.
Freeze on wax paper lined cookie sheet until frozen, then store in a freezer bag for up to 3 months.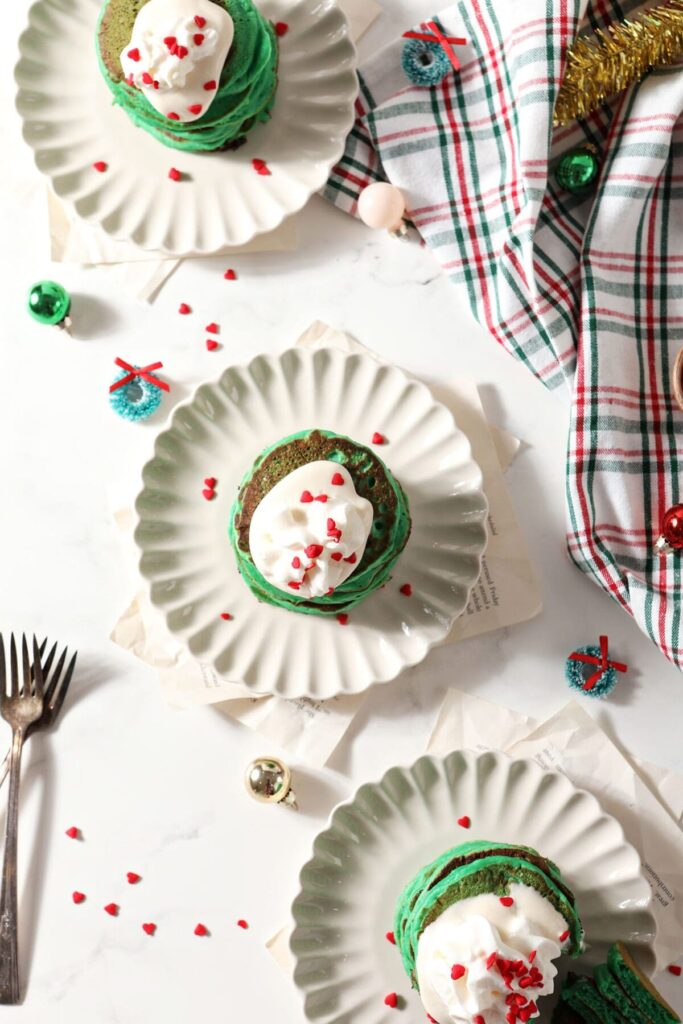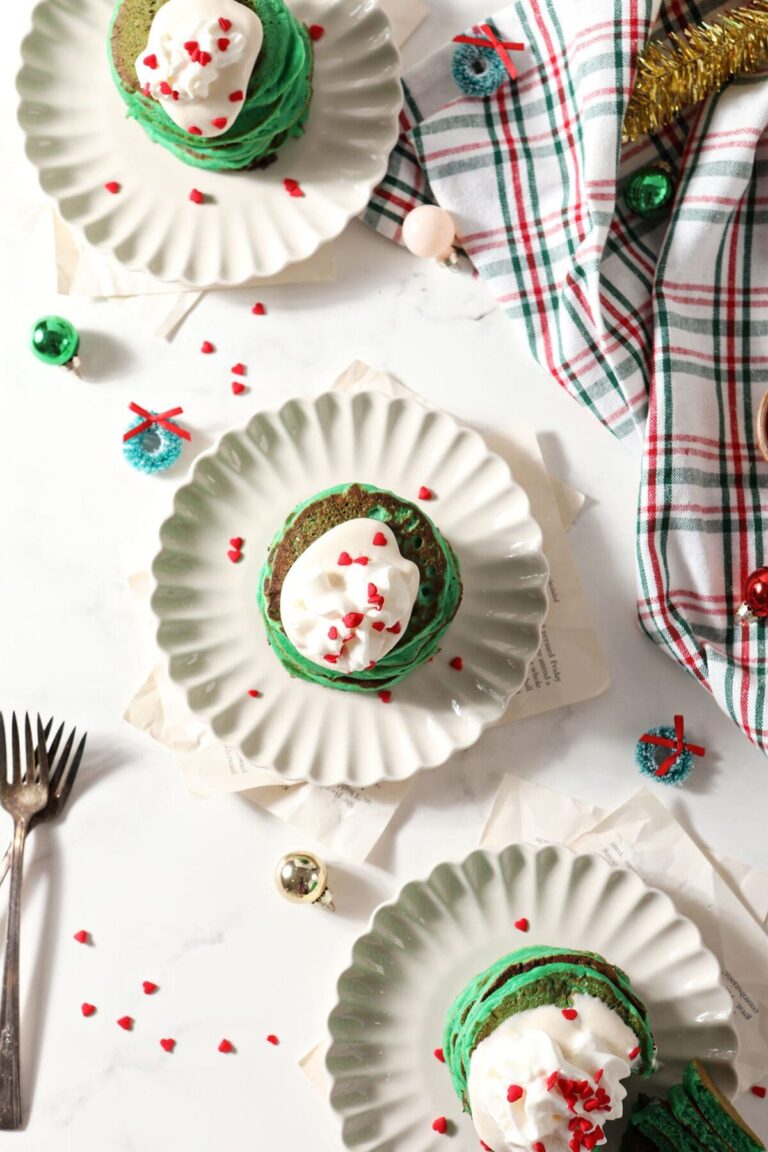 Erin's Easy Entertaining Tips
As a mom, I absolutely love hosting an at-home brunch because it's easy to do (especially when your kids wake up early), includes a lot of foods that kids generally enjoy and is more relaxed.
Making this festive pancake recipe for a holiday brunch is brilliant!
Here are some tips and tricks to make it easy:
Double the recipe. This will be dependent on your guests. Make the pancakes early and keep them warm in a 200F oven until it's serving time.
Make it into a pancake bar. Set out the pancakes, then let guests dress their own by offering various toppings, including the cream cheese icing, a variety of syrups, fresh fruit and more.
Make a juice bar for the guests! Kids love this, and you can always have a bottle of champagne stashed in the fridge for adults who might want a little bubbly. (Kind of like a mimosa bar!)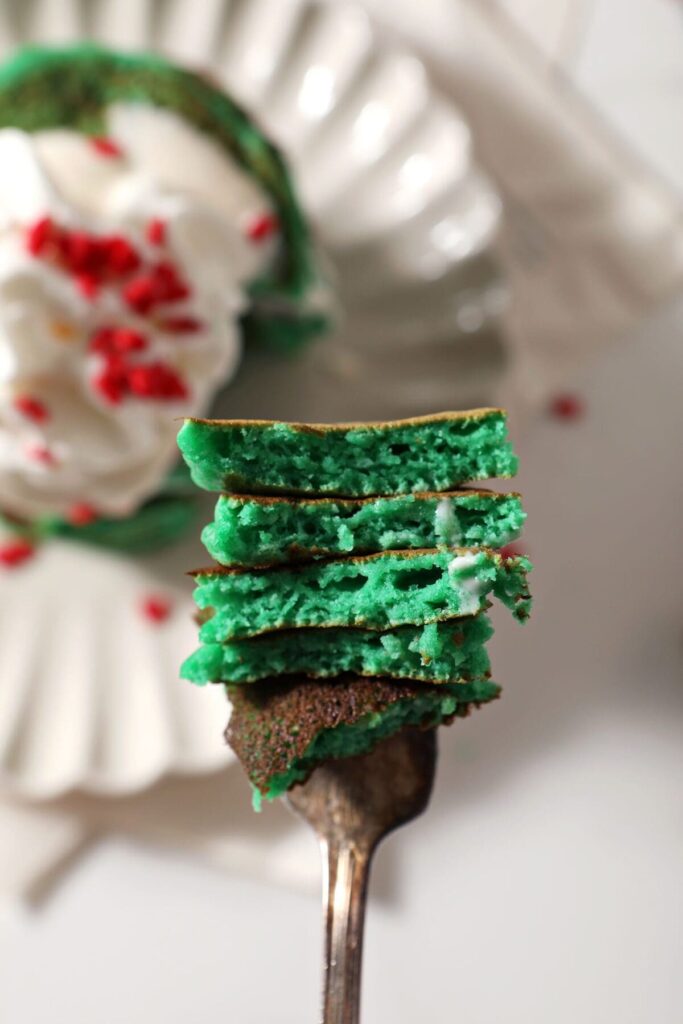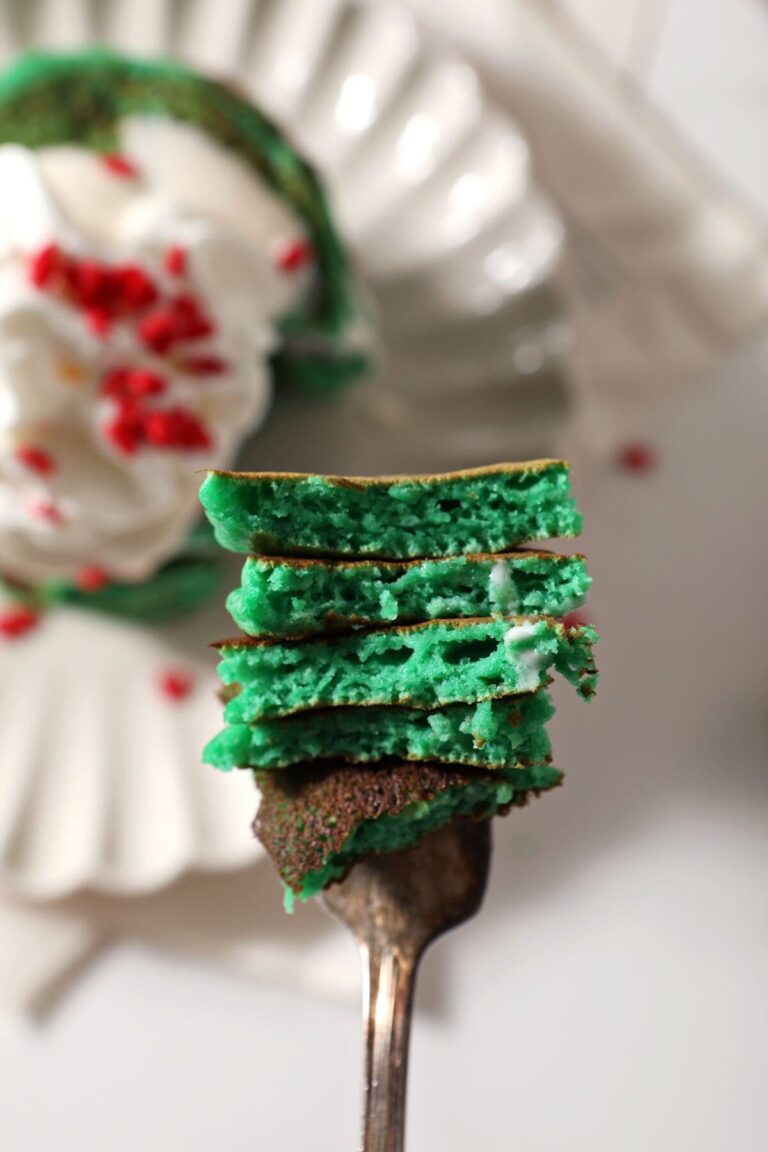 Frequently Asked Questions
When do you know how to flip pancakes?
When big bubbles start to form in the batter, carefully lift up the edge with a spatula to peek at the bottom of the pancake. It should be golden brown. Once you flip the pancakes, you won't flip them again.
How do you prevent pancakes from sticking to the griddle?
I brush my griddle with butter between every round. You can also use cooking spray or oil. This will ensure that they don't stick. A nonstick pan can help, too!
Does IHOP have green pancakes?
In 2018, IHOP launched a Grinch-themed menu for a limited time to celebrate the release of the movie Dr. Seuss' The Grinch.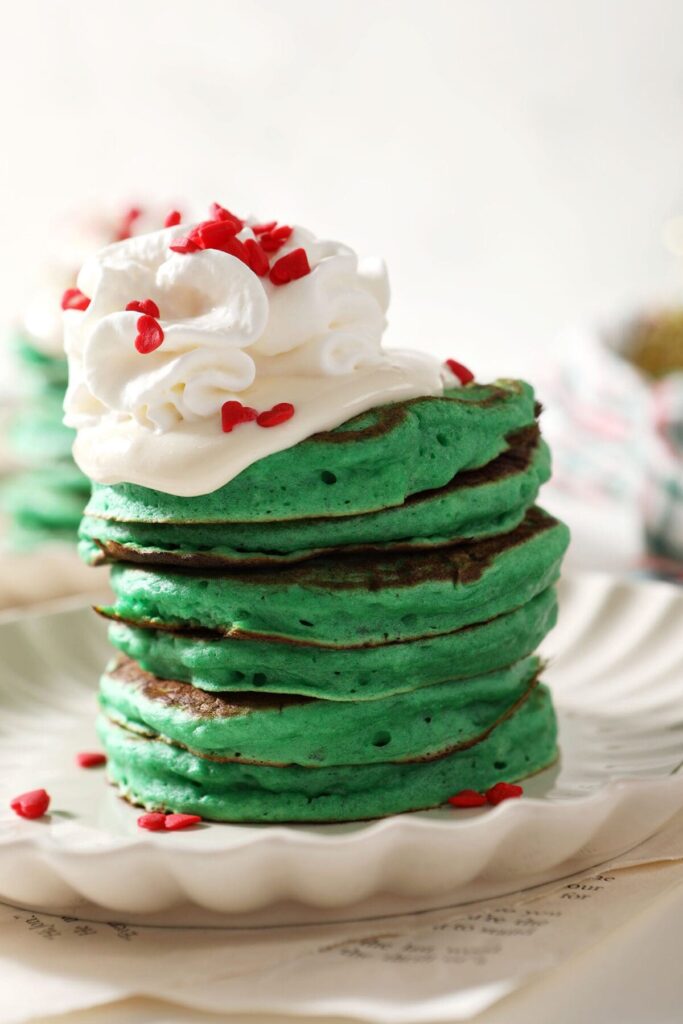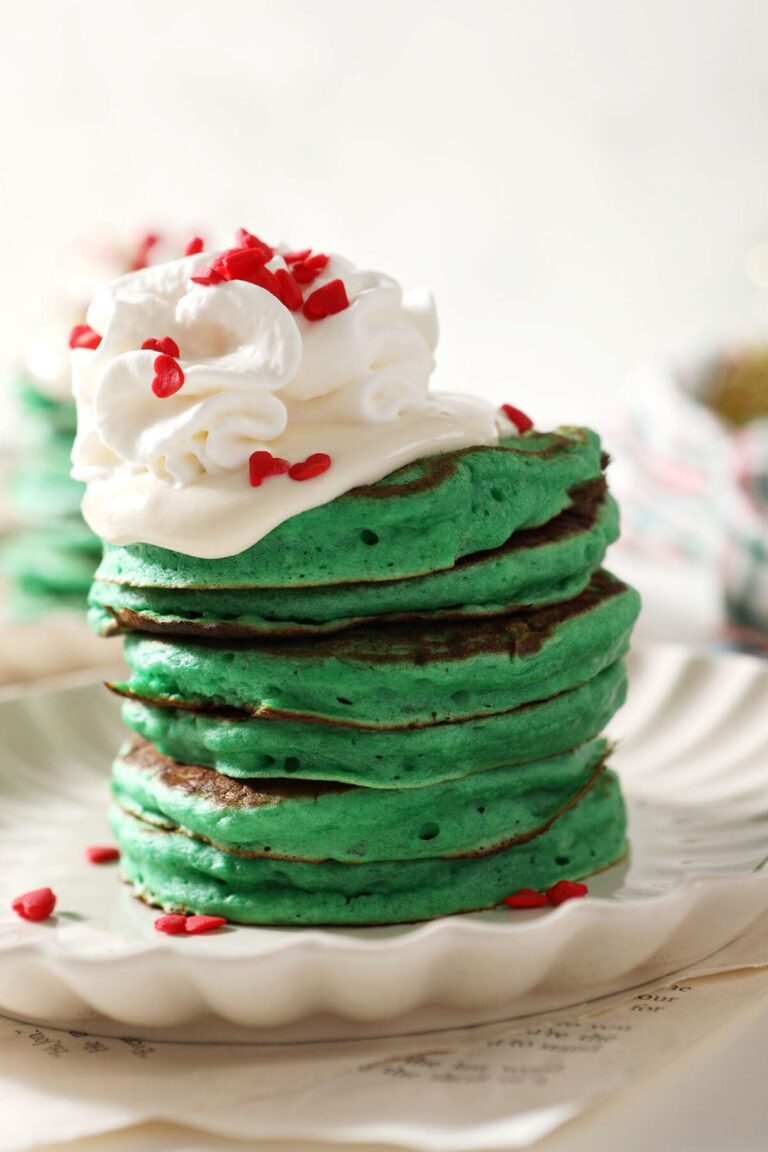 Quick tips and tricks to making the best green pancakes
Stay away from natural food coloring. These kinds of food coloring change color when cooked, and they just don't look as pretty or as bright green.
Don't overmix! Just mix until the batter has come together. Lumps are OK. If you mix until smooth, the pancakes won't be as fluffy.
When do you know how to flip? When big bubbles form in the batter. Lift up the edge with a spatula to confirm they're golden brown, then flip once.
Once you've flipped your pancakes, don't press down! This will deflate them. Obviously, we want them to be as light and airy as possible.
Leftover pancakes? Freeze 'em! Line a baking sheet with wax paper, and pop them in the freezer for 4-6 hours. When the pancakes are fully frozen, transfer them to a freezer baggie. Reheat in the toaster oven, toaster or the oven until warm.
More seasonal pancake recipes: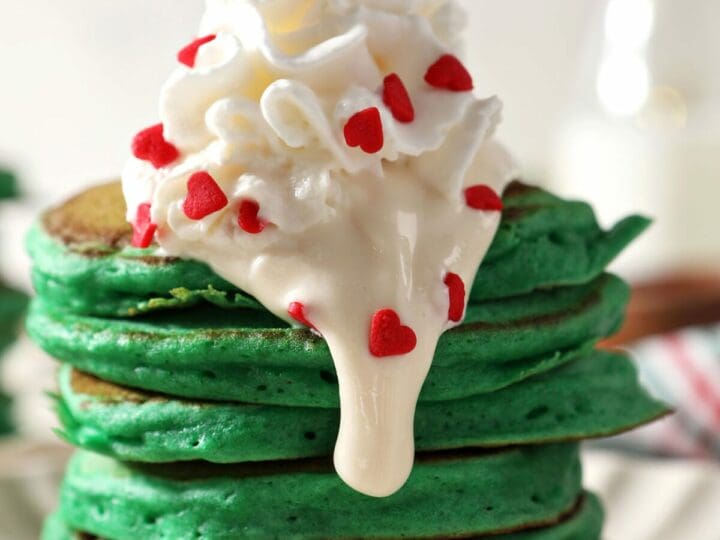 Yield:

28 (1.5T) pancakes
Green Christmas Pancakes
These Green Christmas Pancakes are perfect for Christmas day. Kids will love the bright green Grinch-like color. Drizzle them with maple syrup or a cream cheese glaze and enjoy this festive breakfast.
Ingredients
Pancakes
2 cups all-purpose flour (240g)
2 tablespoons granulated sugar (30g)
2 teaspoons baking powder (12g)
½ teaspoon baking soda (4g)
½ teaspoon kosher salt (3g)
1 ½ cups milk (382ml)
2 eggs
1 teaspoon vanilla extract (6g)
1 teaspoon green food coloring (5g)*
2 tablespoons unflavored oil (avocado, vegetable or canola all work) (26g)
Cream Cheese Glaze
4 oz. cream cheese, softened
½ cup powdered sugar (50g)
¼ cup whole milk (60ml)
1 teaspoon vanilla extract (6g)
Pinch of salt
Garnishes
Cream cheese glaze
Fresh fruit
Instructions
Measure out the flour, sugar, baking powder, baking soda and salt into a large bowl. Whisk together until incorporated.
Whisk together the milk, eggs, vanilla extract, green food coloring and oil in a smaller bowl. Whisk together with a fork until combined — you want to ensure that the egg is completely incorporated, as well as the food coloring.
Pour the wet ingredients into the dry ingredients, stirring until just combined.
Be careful not to overmix, as this will affect the texture of the pancakes.
Set aside the batter, and let it rest for 5-10 minutes.
While the batter rests, heat a griddle or nonstick skillet over medium heat.
Grease the pan lightly with butter or cooking spray.
Dollop the pancakes onto the preheated skillet when ready. I like to use a cookie scoop to measure my pancakes out into 1.5-tablespoon silver dollar sized ones, but you can use a larger measuring scoop if you'd rather larger pancakes.
When several bubbles have formed on the surface, flip the pancakes, and cook through. Repeat until all batter has been made into pancakes.
Make a stack of pancakes, and serve with the cream cheese glaze, red sprinkle hearts and whipped cream.
Notes
* Please note that if you use natural green food coloring, the pancake batter will change colors when it warms. The green tends to cook out of the pancakes and leave for less-than-brilliant colored pancakes.

How to store & freeze pancakes
Let your pancakes cool completely. Transfer them to an airtight food storage container and keep in the fridge for 3-4 days. Reheat in the microwave or toaster oven.
Freeze on wax paper lined cookie sheet until frozen, then store in a freezer bag for up to 3 months.
Recommended Products
As an Amazon Associate and member of other affiliate programs, I earn from qualifying purchases.
Nutrition Information:
Yield:
28
Serving Size:
1
Amount Per Serving:
Calories:

92
Total Fat:

4g
Saturated Fat:

1g
Trans Fat:

0g
Unsaturated Fat:

2g
Cholesterol:

20mg
Sodium:

113mg
Carbohydrates:

13g
Fiber:

0g
Sugar:

5g
Protein:

2g
Nutrition facts are an estimate and not guaranteed to be accurate.