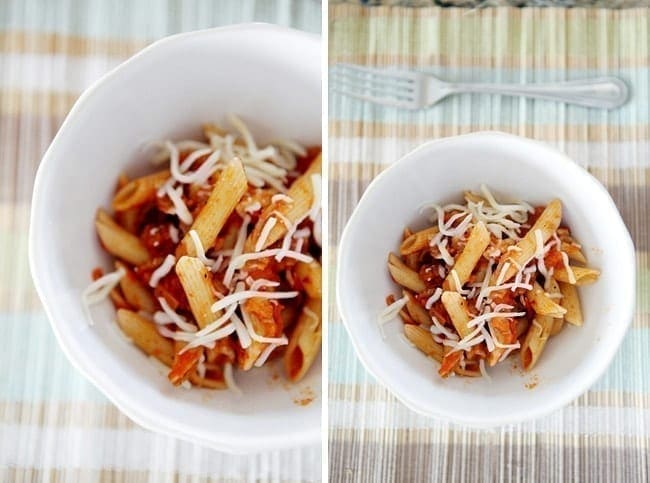 It should come as no surprise to y'all that, as a runner, I'm a big fan of carbs. However, it will come as a surprise when I say I hardly ever eat pasta.
I know.
Pasta equals a special occasion in my book, which means I'll go visit one of my favorite Italian restaurants if a pastafest is in order. It's been this way ever since I came back from Italy and discovered, sadly, that I couldn't emulate the dishes I loved the most while living in my little Etruscan town.
Don't get me wrong; I love pasta, and I know how to cook certain dishes with relative ease. I'll make my mom's spaghetti and meatballs every other month. I'll also whip up lasagna for a special dinner with friends. But pasta on a weeknight? It just never happens.
So when my Rouge-Orleans teammate, Katie, lent me her copy of The Athlete's Palate Cookbook in preparation for our race back in February, I was intrigued by this particular recipe and knew I had to make this dish, which promised sweet, spicy tomato sauce over your favorite kind of noodle.
And let me tell y'all, it didn't disappoint. This recipe was perfect for carbing up for the ridiculous relay.
Check it out: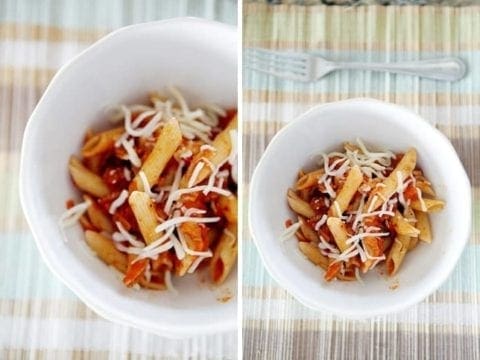 Yield:

4 servings
Penne Arrabbiata
Grace Parisi made Penne Arrabbiata in "The Athlete's Palate Cookbook." I'm reviewing her recipe and adding my own twist to it.
Ingredients
1 tablespoon extra virgin olive oil
4 ounces bacon, finely diced
½ small onion, minced
1 clove garlic, minced
½ teaspoon crushed red pepper flakes
28 ounces fresh Roma tomatoes, diced
A pinch of granulated sugar
Salt and pepper to taste
12 oz. penne pasta, cooked
Instructions
Heat the olive oil in a large saucepan over medium-high heat.
Add the bacon, onion and garlic. Cook until the bacon just begins to turn pink and the onion is golden, then add the crushed red pepper flakes. Cook until the bacon starts to brown.
Add the tomatoes with their juices and sugar. Season them with salt and pepper, then bring to a boil.
Reduce the heat to medium-low and cook until the sauce has thickened.
Meanwhile, cook the pasta in salted water until it's al dente. Drain and return the pasta to the pot.
Once the sauce has thickened, add half the pasta to the sauce and cook, stirring, for 1 minute.
Spoon the penne into bowls, serving the remaining sauce and sprinkling cheese over top.
Notes
Adapted from Grace Parisi's recipe in The Athlete's Palate Cookbook.
Recommended Products
As an Amazon Associate and member of other affiliate programs, I earn from qualifying purchases.
Nutrition Information:
Yield:
4
Serving Size:
1
Amount Per Serving:
Calories:

338
Total Fat:

15g
Saturated Fat:

4g
Trans Fat:

0g
Unsaturated Fat:

10g
Cholesterol:

28mg
Sodium:

563mg
Carbohydrates:

36g
Fiber:

4g
Sugar:

6g
Protein:

16g
Nutrition facts are an estimate and not guaranteed to be accurate.
Here are my thoughts:
Was this recipe simple to make? Definitely. It took a little time, but it was worth it. And, since it feeds 4, I got several meals out of it.
Would I make this again? Yes.
Other thoughts/ideas about the recipe? I would consider making this again with some fresh homegrown tomatoes. If I didn't have those, I'd stick with the canned tomatoes. While the recipe turned out tasty, I felt it was missing something, and I think that something was the freshness that homegrown tomatoes embody.
…
What meal signifies a special occasion to you? Cake? Pasta? Something else? I'd love to know!