Christmas Breakfast Casserole (with Vegetarian option)
Christmas Breakfast Casserole is the perfect savory breakfast to enjoy on a holiday. This colorful make ahead breakfast casserole features eggs, bread, breakfast sausage, red and green bell peppers, onions and cheese. Perfect for a crowd, this Christmas Casserole makes a delicious savory recipe to serve to the family on a holiday morning. Makes 10 servings.
Love make-ahead dishes for holiday breakfast? Check out Cranberry Overnight French Toast and Walnut Sticky Buns with Cream Cheese Icing.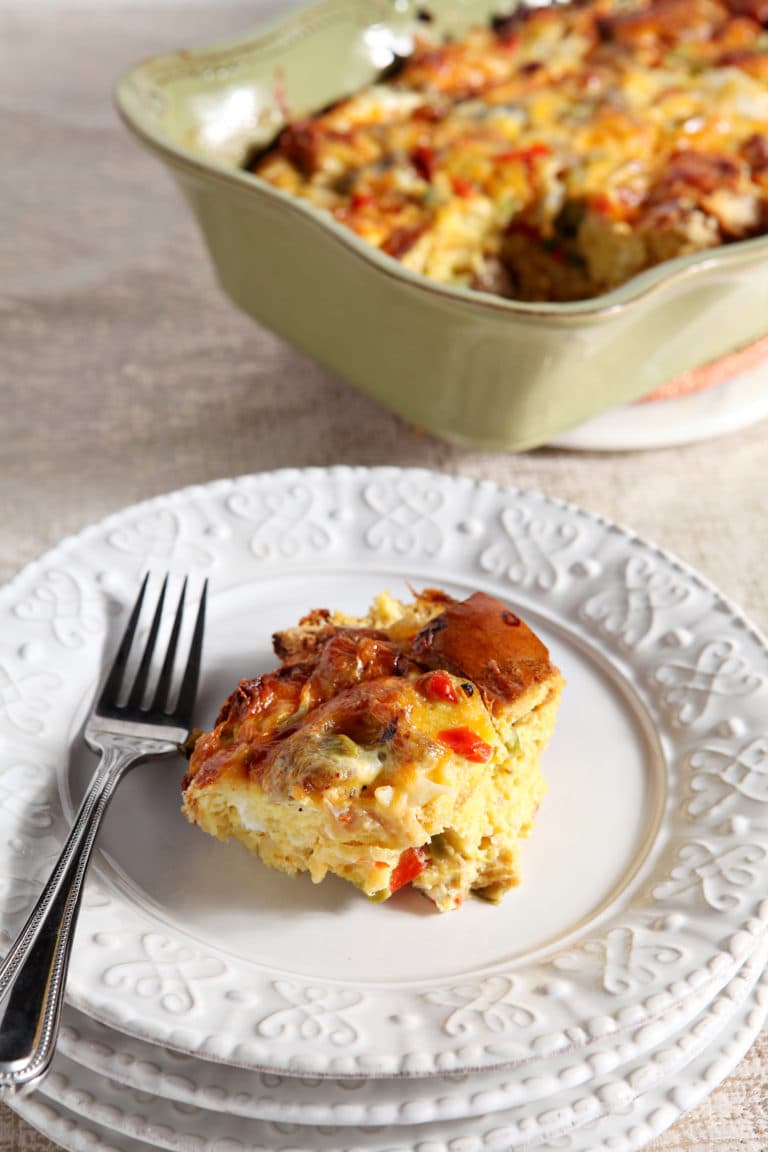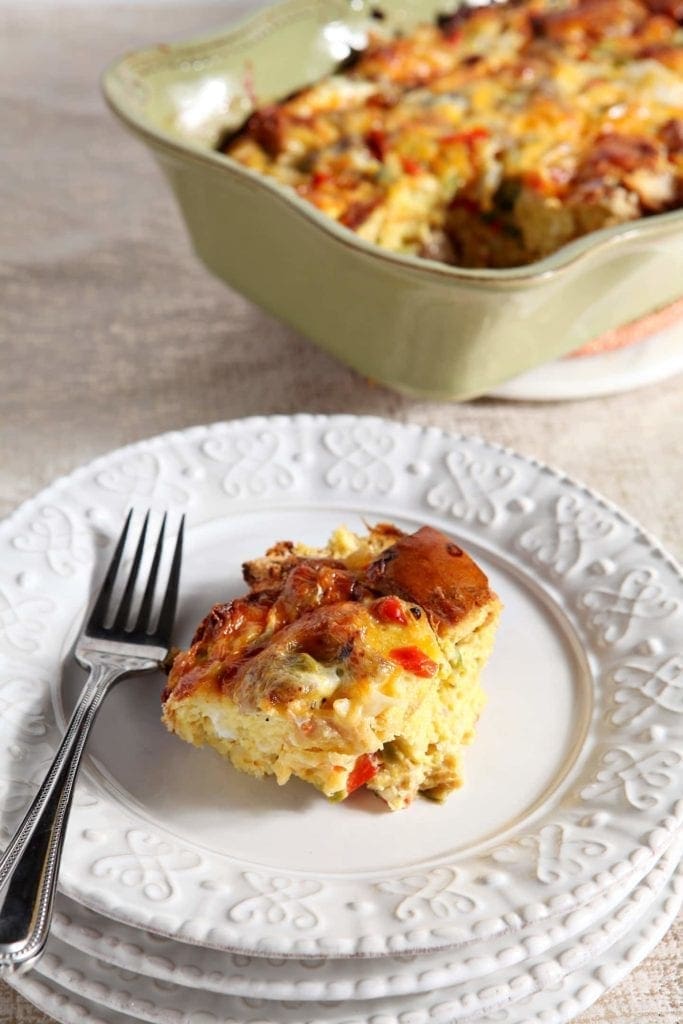 Christmas Breakfast Casserole has been a tradition in my family ever since I can remember. And since I'm sharing Christmas morning breakfast ideas with y'all this week, I wanted to include this recipe!
For as long as I can remember, my family hosts friends and family on Christmas Eve, and we always spent Christmas Day with friends and family once the festivities were over at our house.
And on Christmas Eve, once dishes are clean and our guests have gone home, my mom pulls together our Christmas Breakfast Casserole for the next morning. Some years, it features bacon; others, the leftover ham we enjoyed on Christmas Eve.
Whatever ingredients she throws into the baking dish, it turns out beautifully. More than anything, her recipe is so delicious and comforting.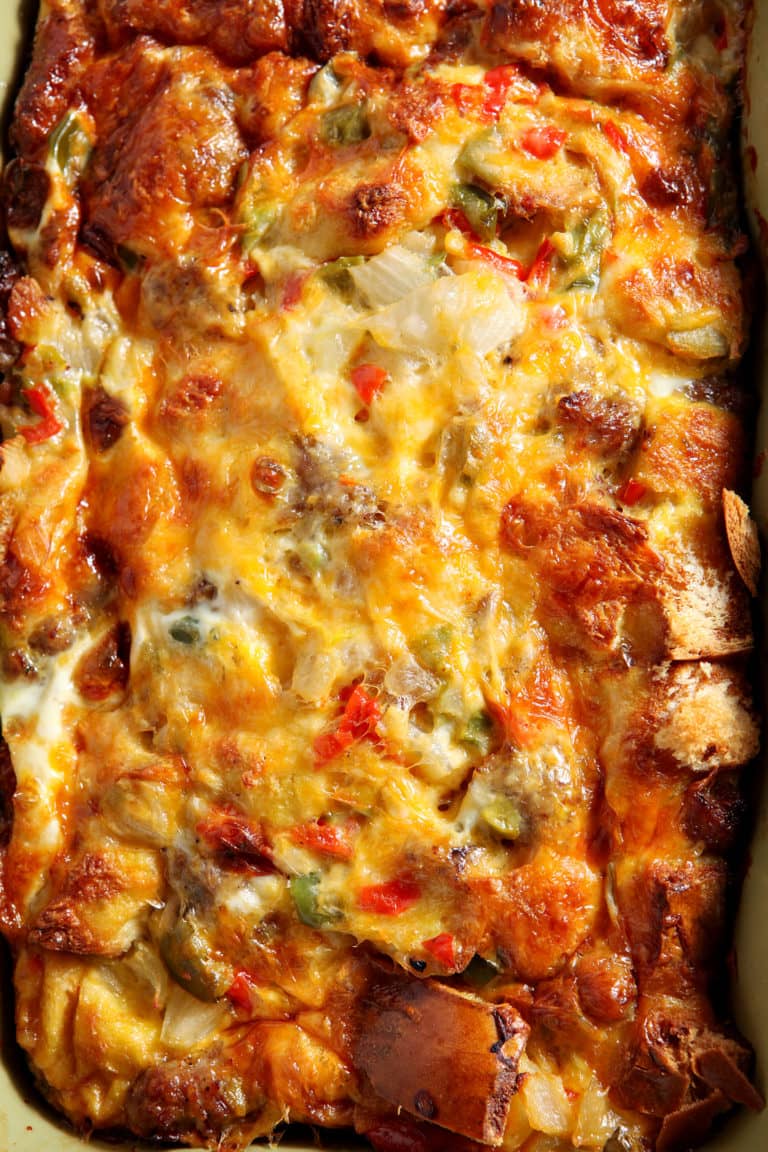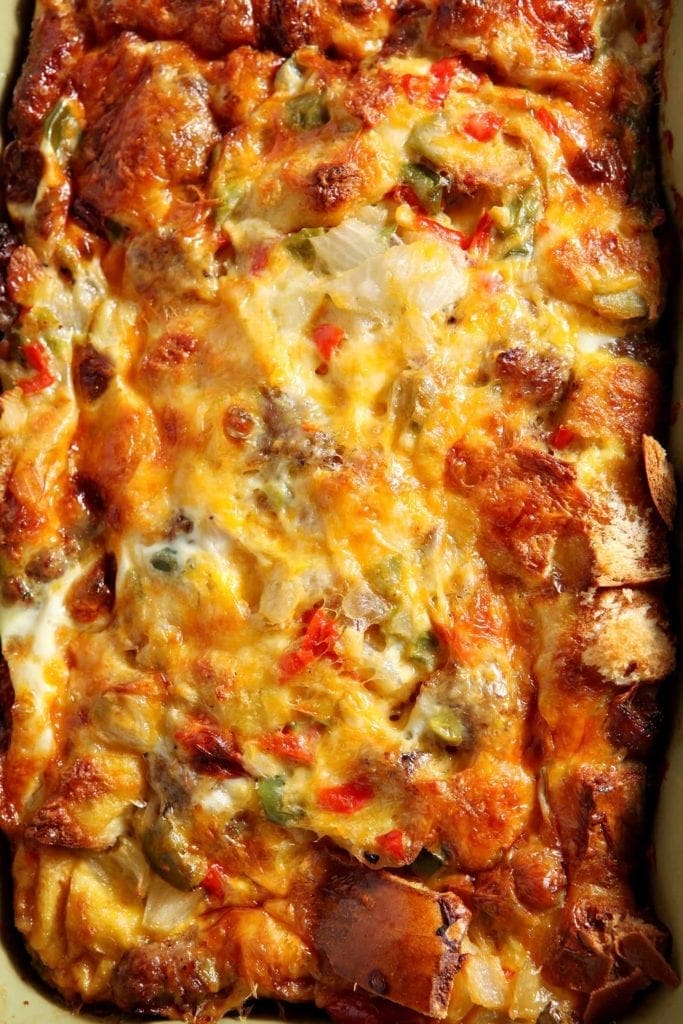 When I plotted out this week's recipes, I wanted to include a savory dish, as well as something that reminded me of home since we aren't traveling for Christmas this year.
My casserole is a bit different than my mom's. Because let's be honest: Trying to recreate your mom's traditional Christmas morning recipe is basically impossible. For whatever reason, it will always taste better when she makes it because it reminds you of your childhood and Christmas past.
That said, this casserole is super tasty, and it adds some festive colors to your Christmas breakfast table.
And the best part? You can make it the night before, let it hang out in the fridge overnight, then pop it in the oven 45 minutes before you'll be ready to eat on Christmas Day.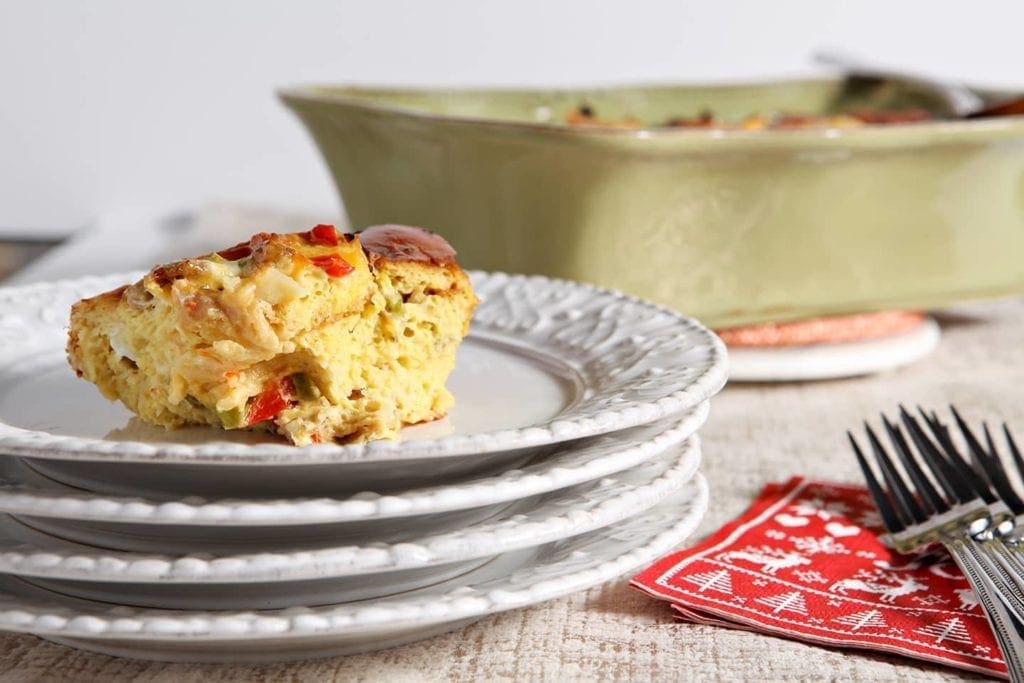 What do I need to make this recipe?
The Speckled Palate participates in affiliate programs. As an Amazon Associate, I earn a commission from qualifying purchases. Please refer to my disclosure page for more information about these affiliate programs.
In addition to these tools, you're going to need some ingredients, too:
Baguette—it needs to be stale (or close to it), as well as cut or torn into bite-sized pieces
Breakfast sausage—you can use your favorite brand and favorite meat in this recipe! Just make sure it's fresh so you can easily take it out of the casing.
Bell peppers—we need a red and green bell pepper to make this a true Christmas casserole.
Onion—use a yellow or white onion here
Garlic cloves—you're going to need a lot of these. Go ahead and get a whole head of garlic and mince them all because they'll add such glorious flavor.
E

ggs

—you need a lot, so don't skimp on these or try to find a substitute. There isn't one.
Milk—we only keep whole milk in our house, so that's what we used here. I know for a fact, though, that my mother only keeps skim or 2% milk and uses that to make this recipe, and it works just fine for her.
Salt-Free Creole Seasoning—or your favorite Cajun or Creole seasoning that has salt. Just omit the additional salt if you're using a variety that does have salt because these seasoning blends can get quite salty.
Kosher salt—I use a medium-grain kosher salt, but you could use the same amount of a similarly sized sea sat, too.
Colby Jack cheese—or another favorite cheese! Cheddar and pepperjack would be excellent in this recipe.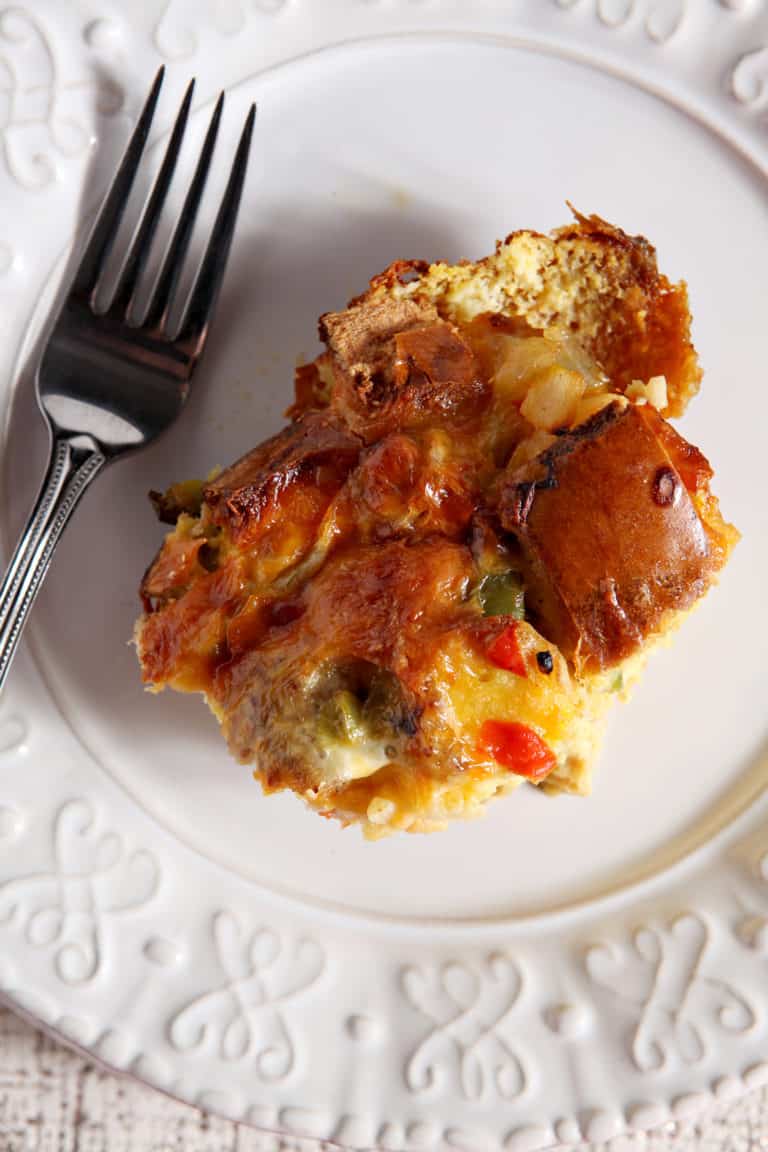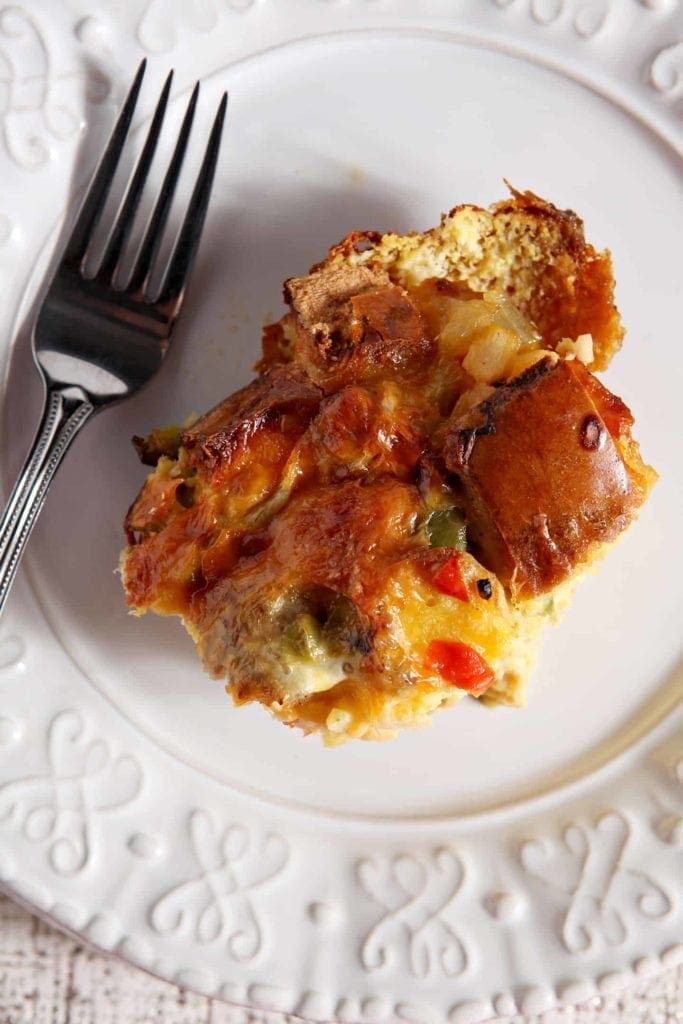 Frequently Asked Questions
Help! It's Christmas morning, and I just discovered this recipe. Can I still make it?
Of course, you can still make it.

The casserole won't be as custard-y, but you can still whip this up for your family. There have been a few years where we've done that, and while the bread doesn't soak up nearly as much of the egg mixture, it's still tasty in the end.

Just give yourself a bit more time since you'll be doing it ALL the day of.
I'm serving vegetarians. Can I make a special casserole for them?
If you've got vegetarians eating breakfast or brunch with you, simply leave out the sausage and use olive oil or butter in place of the sausage fat for cooking down the veggies. Serve the sausage on the side for meat eaters (or skip it altogether), and you're golden.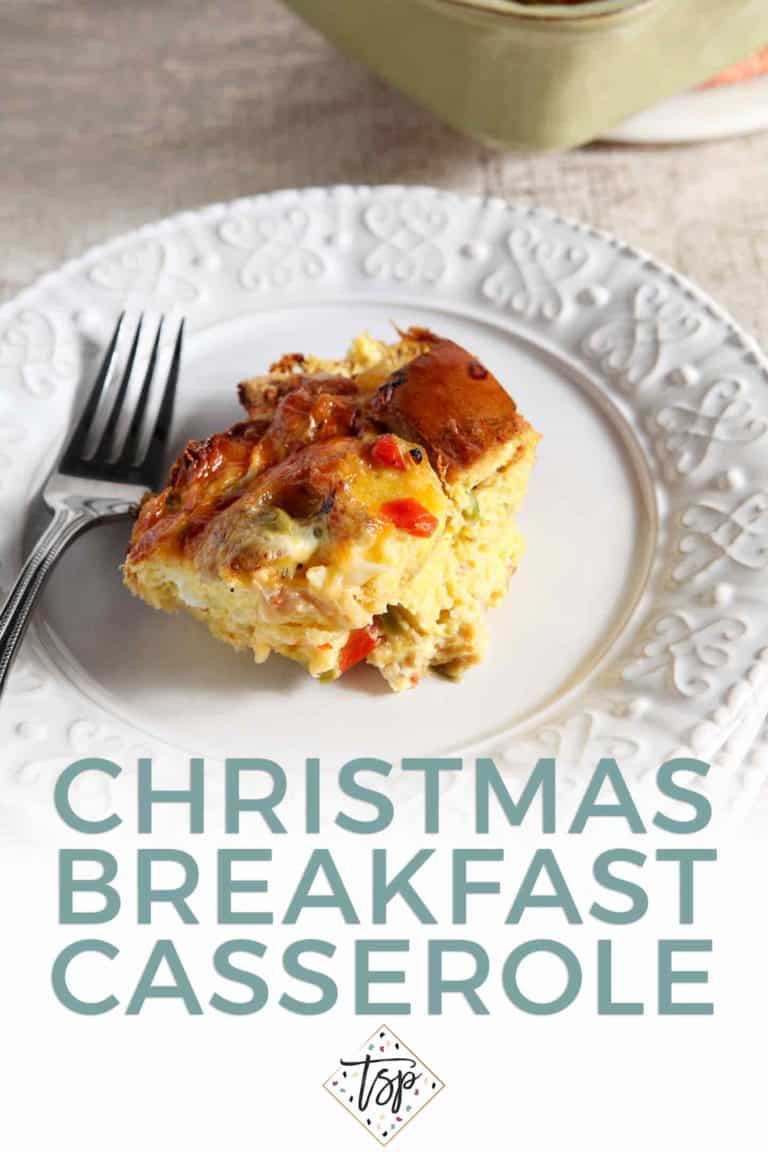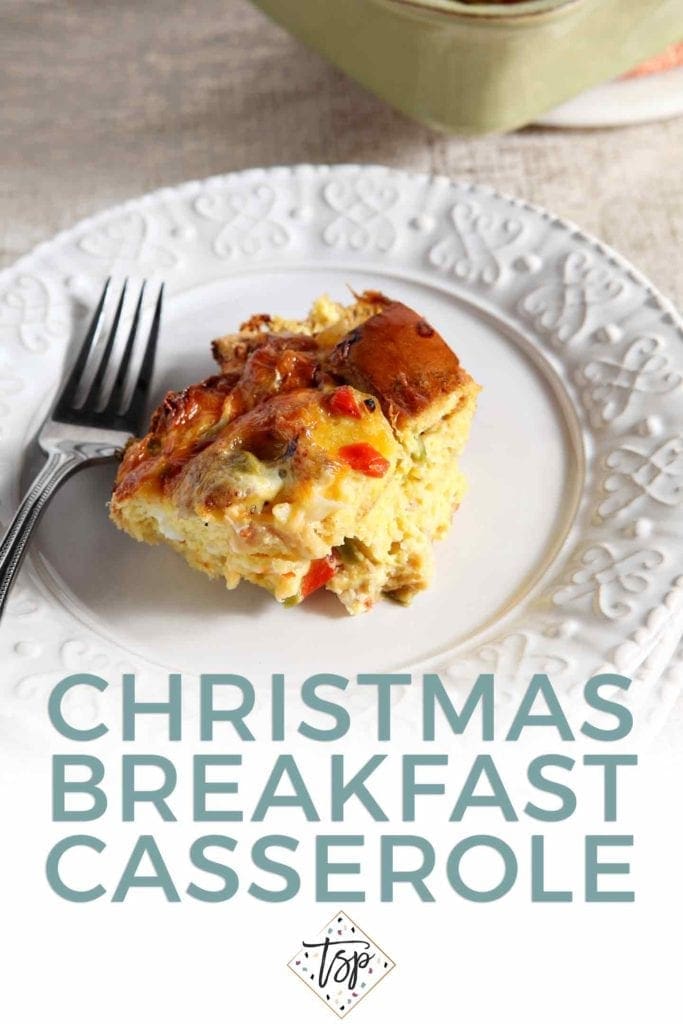 Other holiday breakfast ideas:
Interested in this colorful Christmas (or any-other-time-of-year) brunch fare?
Here's how I did it…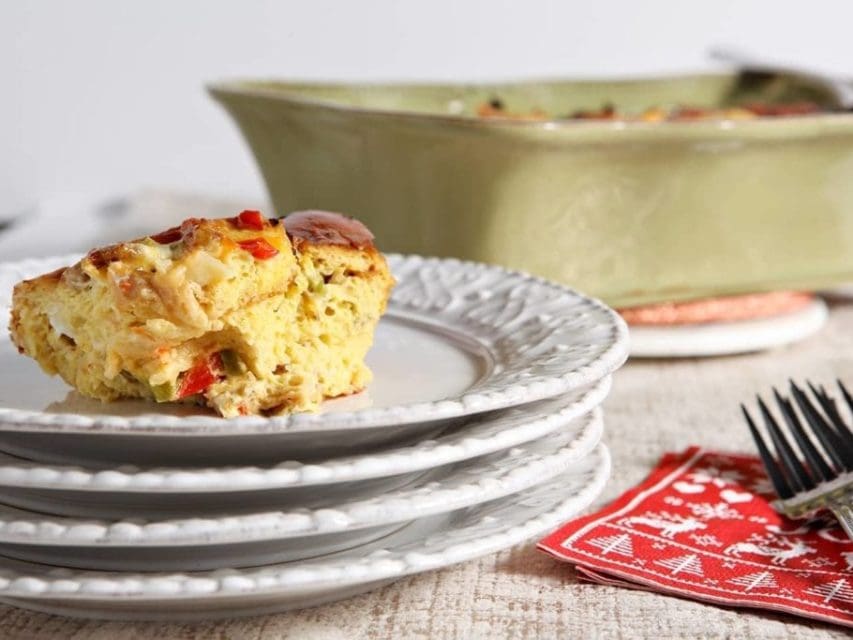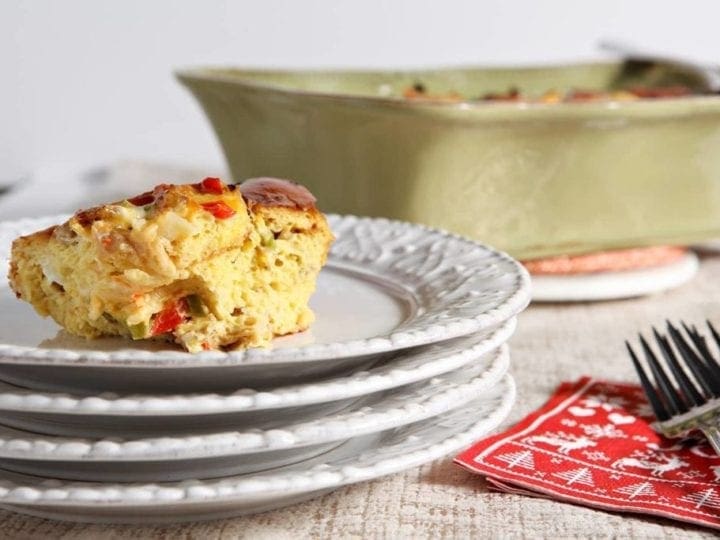 Yield:

8 servings
Christmas Breakfast Casserole
Additional Time:
12 hours
Total Time:
13 hours
5 minutes
Christmas Breakfast Casserole is the perfect savory breakfast to enjoy on Christmas morning. This make-ahead casserole features eggs, bread, breakfast sausage, red and green bell peppers, onions and cheese.
Ingredients
½ baguette, stale, cut into 1" cubes (about 4 cups)
6 oz. breakfast sausage, (NOT in casings!)
1 red bell pepper, diced
1 green bell pepper, diced
1 large onion, diced
5 cloves garlic, minced
10 eggs
½ cup milk
¾ teaspoon Salt-Free Creole Seasoning
½ teaspoon kosher salt
1 cup Colby Jack cheese (or another favorite cheese!)
Instructions
Prepare the Casserole the Night Before
Preheat the oven to 350°F.
Place the cubed bread on a baking sheet, and bake for 10-15 minutes, or until toasted.
Remove from the oven and set aside.
As the bread toasts, brown the breakfast sausage in a large skillet over medium-high heat. Break the sausage up using a fork or a wooden spoon.
When the sausage is very brown, add the bell peppers, onion and garlic, cooking the vegetables until softened.
In a large bowl, whisk together the eggs and milk. Season with the Tony's and salt. Set aside.
In a large baking dish, sprinkle in some of the sausage mixture, then top with half of the bread. Add more of the sausage mixture on top of it, then top that with cheese. Pour half of the egg mixture on top of these ingredients. Add the rest of the bread, sausage mixture and cheese, then top with the last half of the eggs.
Cover with plastic wrap, and refrigerate overnight.
Bake the Casserole the Day Of
Preheat the oven to 350°F.
Place the baking dish in the preheated oven, and bake for 45-60 minutes, or until the top of the casserole has puffed up and browned.
Serve warm!
Notes
If you're serving vegetarians, omit the breakfast sausage and cook the vegetables in 1-2 tablespoons of olive oil or unsalted butter.
Nutrition Information:
Yield:
8 servings
Serving Size:
1 serving
Amount Per Serving:
Calories:

299
Total Fat:

17g
Saturated Fat:

7g
Trans Fat:

0g
Unsaturated Fat:

9g
Cholesterol:

266mg
Sodium:

1098mg
Carbohydrates:

17g
Fiber:

1g
Sugar:

3g
Protein:

19g
Nutrition facts are an estimate and not guaranteed to be accurate.