Cream Cheese and Raspberry King Cake
Celebrate Mardi Gras by baking a Cream Cheese Raspberry King Cake for friends and family! This king cake recipe, which is a traditional pastry made and shared during Carnival season, is easier to make at home than you'd think. All it takes is time and patience. Makes 1 large king cake.
Love celebrating Mardi Gras at home? Make Instant Pot Red Beans and Rice (or Chicken and Sausage Gumbo) and a King Cake Martini to pair with this homemade king cake recipe!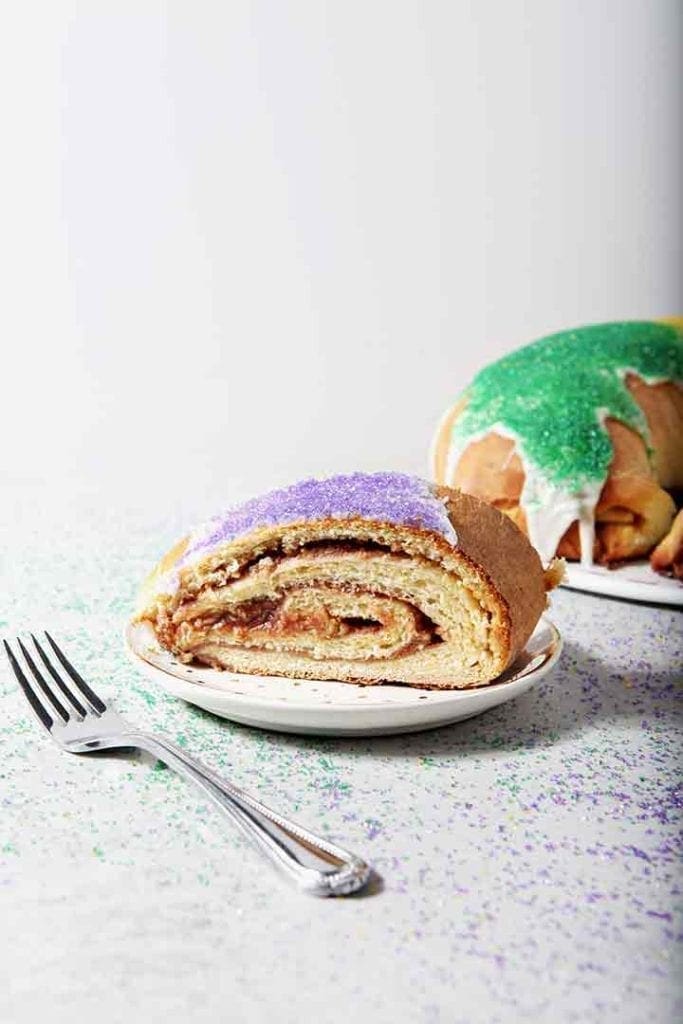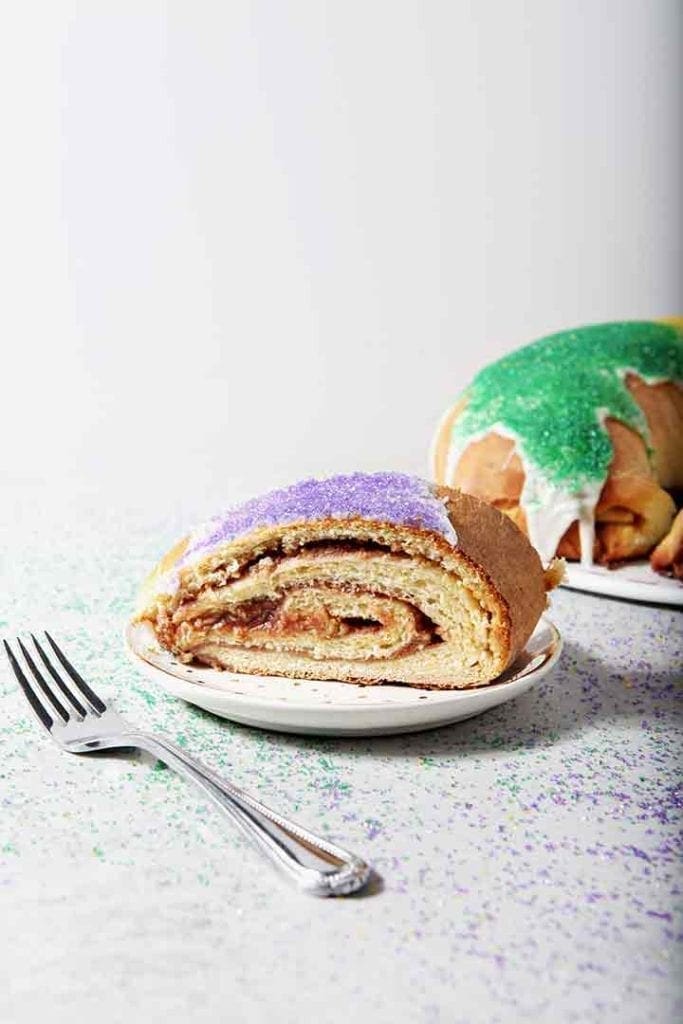 This Cream Cheese and Raspberry King Cake was originally published on February 28, 2014. It was updated in January 2022 to include more detailed information, as well as a recipe video.
I knew nothing about Mardi Gras, minus a terrible fifth grade party that involved a super dry cinnamon roll/king cake situation… until I moved to South Louisiana for college.
In fact, my first Carnival season, I was offered a slice of king cake from a friend, and I kindly refused. She, of course, foisted a plate of king cake onto me… and I skeptically took a bite as she and several of our other friends watched the scene with barely concealed excitement.
This cake was nothing like that disgusting cinnamon roll I was served so many years before. In fact, it was bursting at the seams with strawberry filling because a strawberry king cake is, indeed, a thing!
I quickly changed my tune because this cake was filled to the brim with flavor, and I was in love at first bite.
Before we begin: What is a King Cake?
A king cake is a traditional pastry made and served during Carnival season. It's a cake rolled in layers, similar to a cinnamon roll. Traditional king cakes are are filled with a cinnamon-sugar mixture. However, bakeries make fancier king cakes, too, offering fillings that include jams, cream cheese, pralines and the like.
According to Manny Randazzo, people think the king cake tradition was brought to New Orleans from France in the late 1800's.
The decorations of traditional king cakes include the colors purple, which symbolizes justice; green, which symbolizes faith; and gold, which symbolizes power, in either icing or sanding sugar.
What is the history behind a King Cake?
King cakes are associated with the festival of Epiphany at the end of the Christmas season. On the Twelfth Night after Christmas (January 6), Carnival season officially begins because Jesus first showed himself to the three wise men and to the world on the Twelfth Night.
(Did you know the word 'epiphany' comes from Greek and means "to show?")
As a symbol of the Twelfth Night, a small plastic baby is placed inside each cake after baking.
Whenever king cake is eaten at a party, each person checks to see if their piece contains the baby. If it does, that person is responsible for providing the king cake at the next party. Some also say the baby brings good luck.
Why I love this recipe:
This King Cake recipe contains a combination of my two favorite fillings: raspberry and cream cheese. Something about these together just makes the cake so delicious, and this recipe has always been well-loved.
And since I shared this recipe first in 2014, it's been a favorite ever since because sadly, we cannot get authentic King Cakes here in Dallas.
So if you're in the same boat as me, feel free to make this. It tastes like Carnival!
If you would rather a different type of filling, have at it! Pralined pecans pair beautifully with the cream cheese, as does any other jam you might be into.
Scroll on down to learn exactly what this special pastry is, what you need to bake one, how to bake it, king cake tradition and more!
Other Mardi Gras recipes you need to make: Crawfish Etouffee | Shrimp and Grits | Chicken and Sausage Jambalaya | Instant Pot Gumbo | Slow Cooker Red Beans and Rice | Turkey Sausage Jambalaya | No Churn Mardi Gras King Cake Ice Cream
Need some more Mardi Gras cooking inspiration? Head on over to find 18 Mardi Gras Recipes to Make This Carnival Season!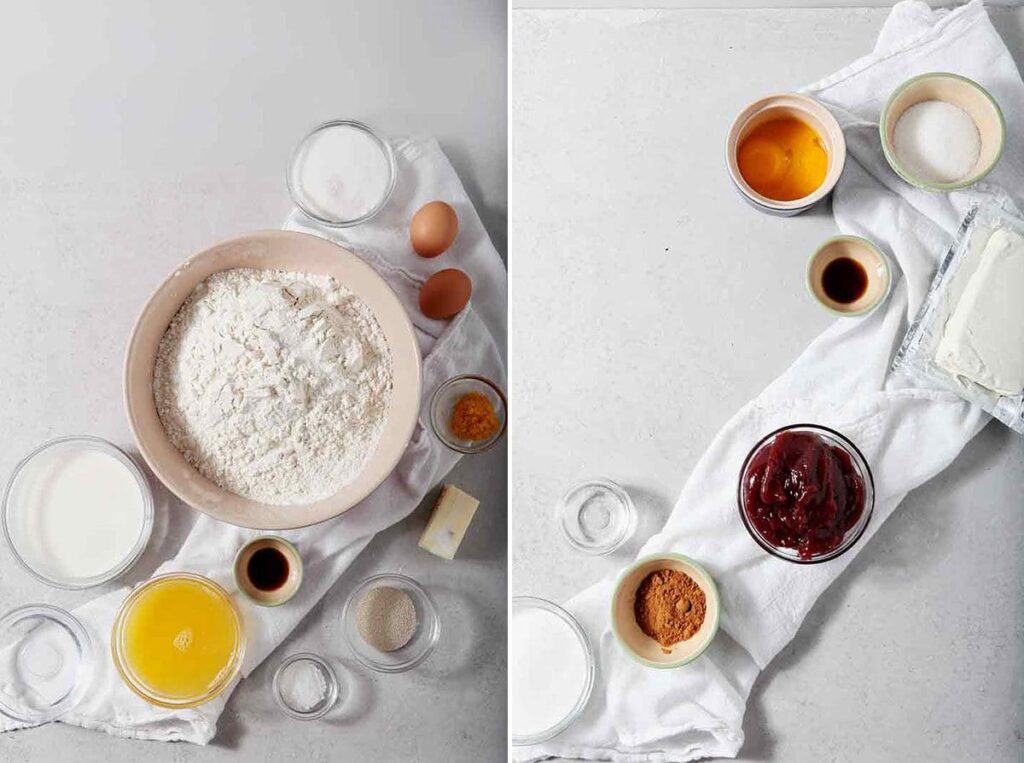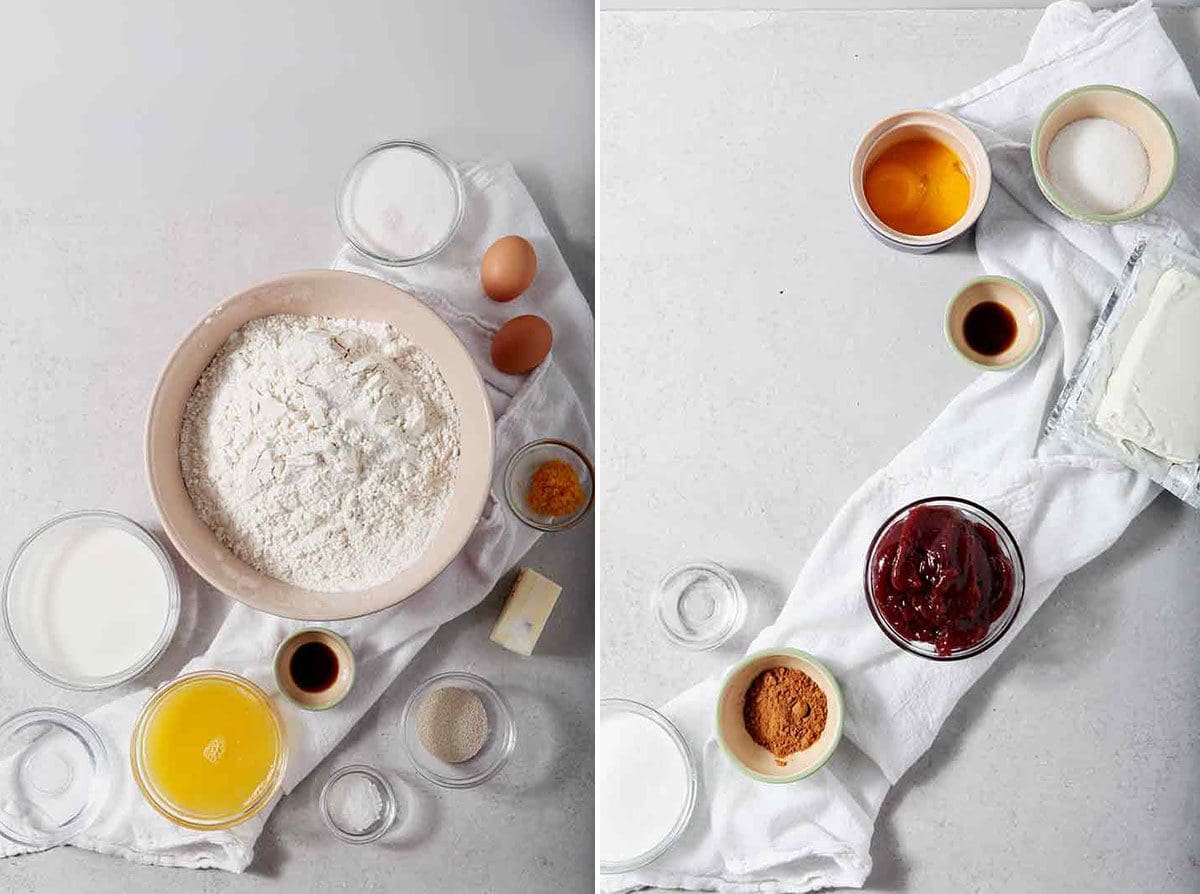 What tools and specialty items do I need to make a king cake at home?
The Speckled Palate participates in affiliate programs. As an Amazon Associate, I earn a commission from qualifying purchases. Please refer to my disclosure page for more information about these affiliate programs.
[show_shopthepost_widget id="3456253″]
In addition to these tools, you're going to need some ingredients, too. They are as follows:
Active dry yeast
Water
Milk—you can use cow's milk and unsweetened non-dairy milk, too.
Granulated sugar—also known as white sugar, there is no replacement for this in this recipe. Using brown sugar would change the color of the cake.
Unsalted butter—make sure it's at room temperature so that it blends more easily!
Kosher salt—I like to use a fine grain kosher salt. You can use the same amount of a fine grain sea salt, too.
Orange—you're going to need zest and some juice, so grab an orange or two at the store!
All-purpose flour—we keep unbleached at our house, but you can use the regular 'ol AP flour in your pantry if that's what is available
Eggs + egg yolks—we need these for both the cake and filling. There are no replacements for the eggs in this recipe.
Heavy whipping cream—we brush this on top of the cake before baking
Ground cinnamon—all king cakes have a cinnamon filling, so this is important!
Cream cheese—you can use a lower fat cream cheese, though I caution to stay away from fat free cream cheese because the flavor won't be as bold.
Seedless raspberry jam—or another fruit jam that's your favorite! Fruit-filled king cakes with cream cheese are an utter delight. We've loved blueberry, fig and strawberry, too.
Powdered sugar—also known as confectioner's sugar, this serves as the base for our king cake icing, and there is no replacement.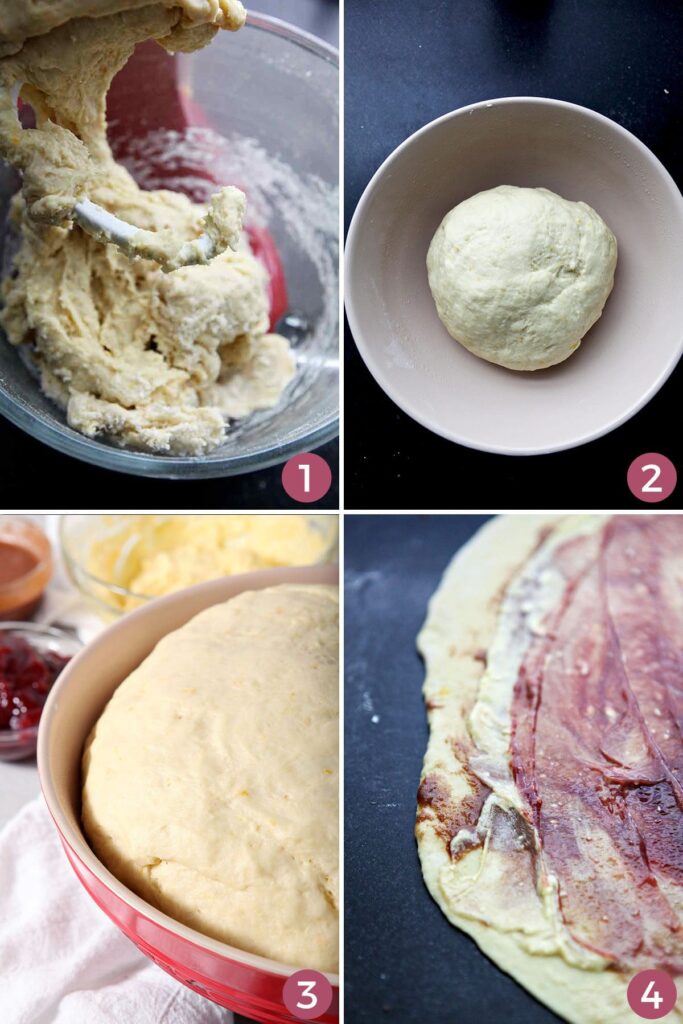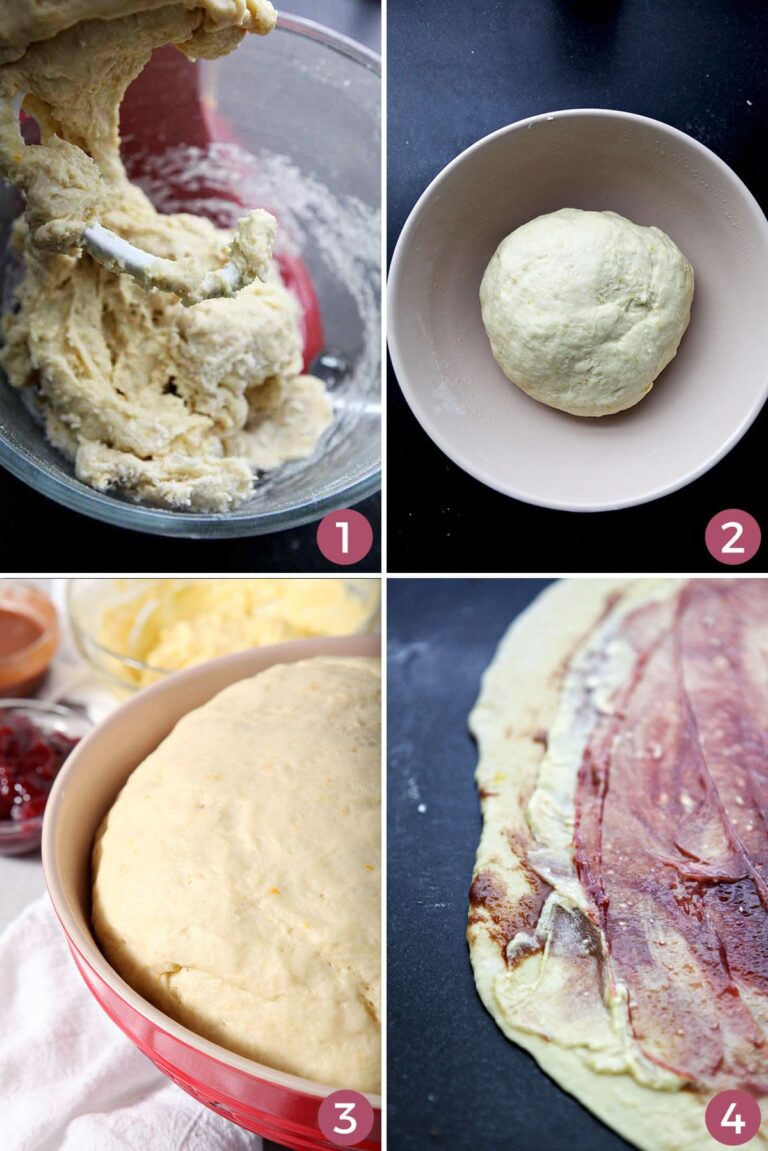 How do you make this King Cake recipe?
I have to start off by saying this: If you're looking for a quick and easy king cake recipe, this recipe IS easy, but it is time-consuming. Kindly hop on over to my Praline Pull-Apart King Cake recipe for a quick, tasty king cake that takes significantly less time and calls for some store-bought ingredients to make the process easier.
Interested in the version that takes a little more time? Well, let's go!
Make the king cake dough
You start by blooming the yeast in warm water. The key is warm water, not scorching hot, because the hot water could kill the yeast.
From there, you'll combine the scalded milk, sugar, butter, salt, vanilla extract, orange zest and orange juice in the bowl of a stand mixer. Using the whisk attachment, mix until the butter has melted.
Next, replace the whisk attachment with the dough hook and stir in some flour, then add the yeast mixture and the eggs… and mix it some more.
Knead the dough and let it rise
Then comes the rest of the flour and kneading. You can do the kneading by hand or in the stand mixer. Either way, it'll take about 5-10 minutes for the dough to become smooth and pliable. (Just know it might take a bit more time when doing it by hand, but it's a fun exercise for sure!)
Once the dough is ready, transfer it to a greased bowl, cover with plastic wrap and let that baby rise! This will be the first of two rises.
Make the king cake filling
While the dough does its first rise, you'll mix up the fillings, which are a cinnamon-sugar mixture, a cream cheese mixture and raspberry jam. (No, you don't have to make the jam. You're welcome.)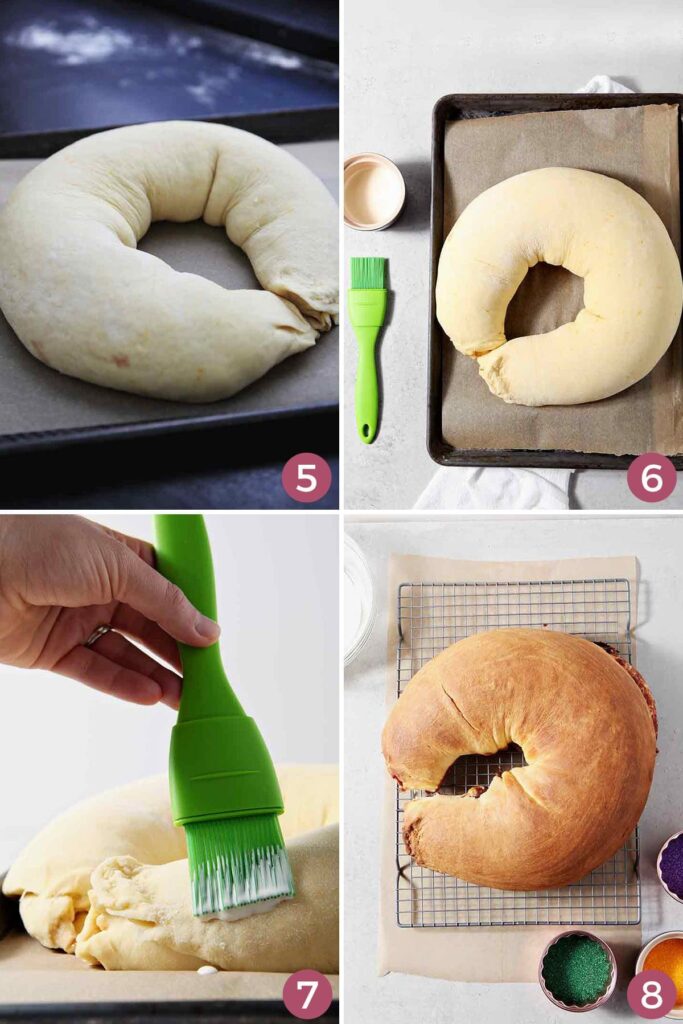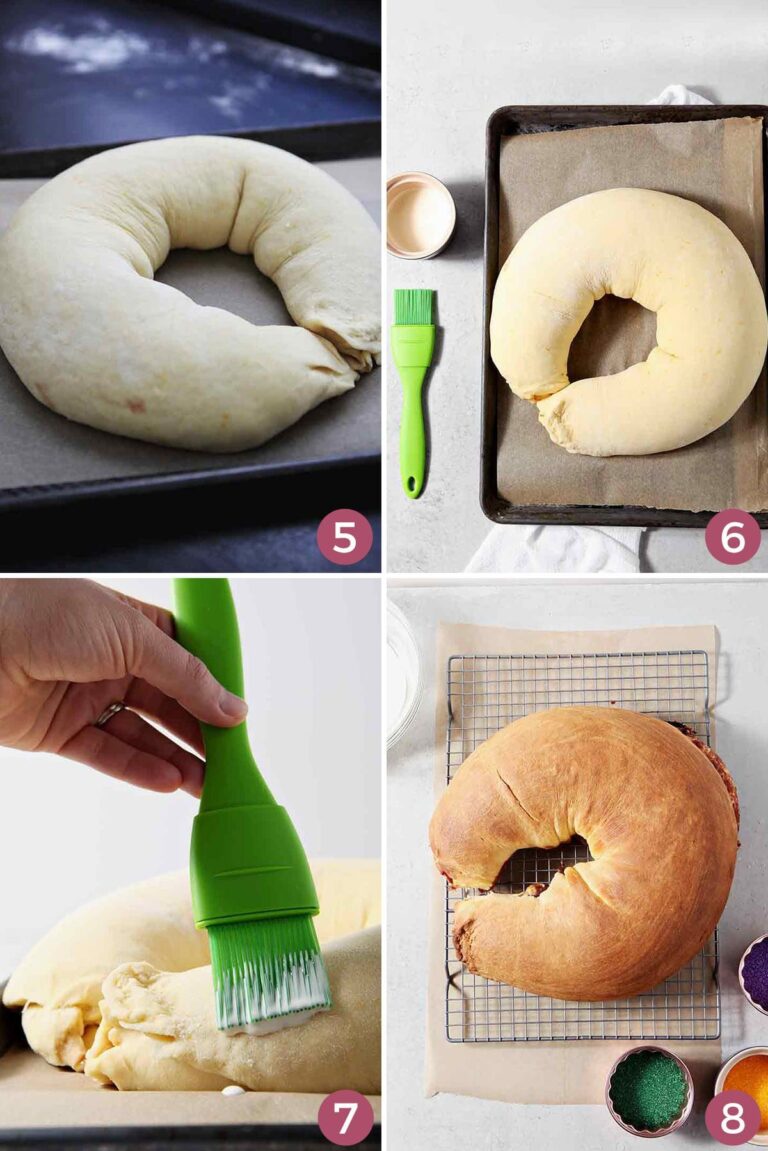 Roll the dough, shape the cake and let it rise
Once the dough has doubled in size, sprinkle a flat work surface with flour. Roll the dough into a rectangle with your favorite rolling pin. Spread the cinnamon-sugar mixture on top of it. Then smear on the cream cheese mixture, as well as the raspberry jam.
Roll it up like a jelly roll or a cinnamon roll. But instead of slicing it, curve it to form a ring. This part might get a little messy, and that's OK.
Then set it in a warm place for its second rise, which will take another 60-90 minutes.
Bake the Raspberry Cream Cheese King Cake
After the second rise, you brush the dough with heavy whipping cream, pop it into the oven and bake until golden brown and delicious.
Drizzle with a simple orange-powdered sugar icing, and voila! (You can color the icing using food coloring or use colored sanding sugar to add purple, gold and green to the cake. Your call!)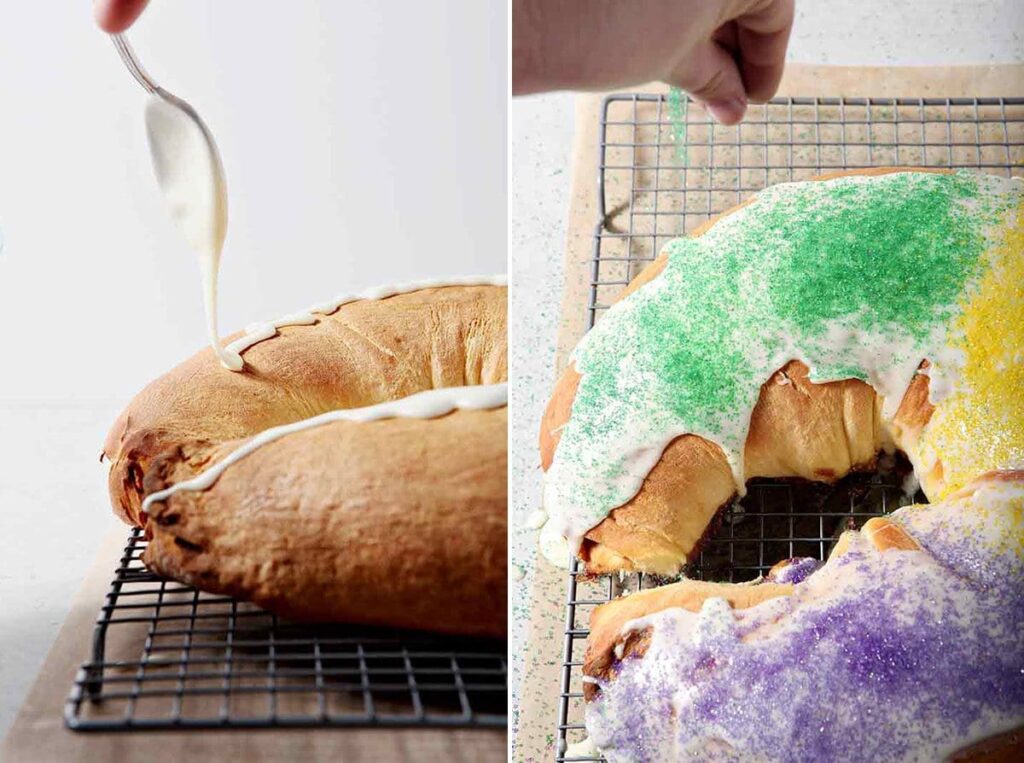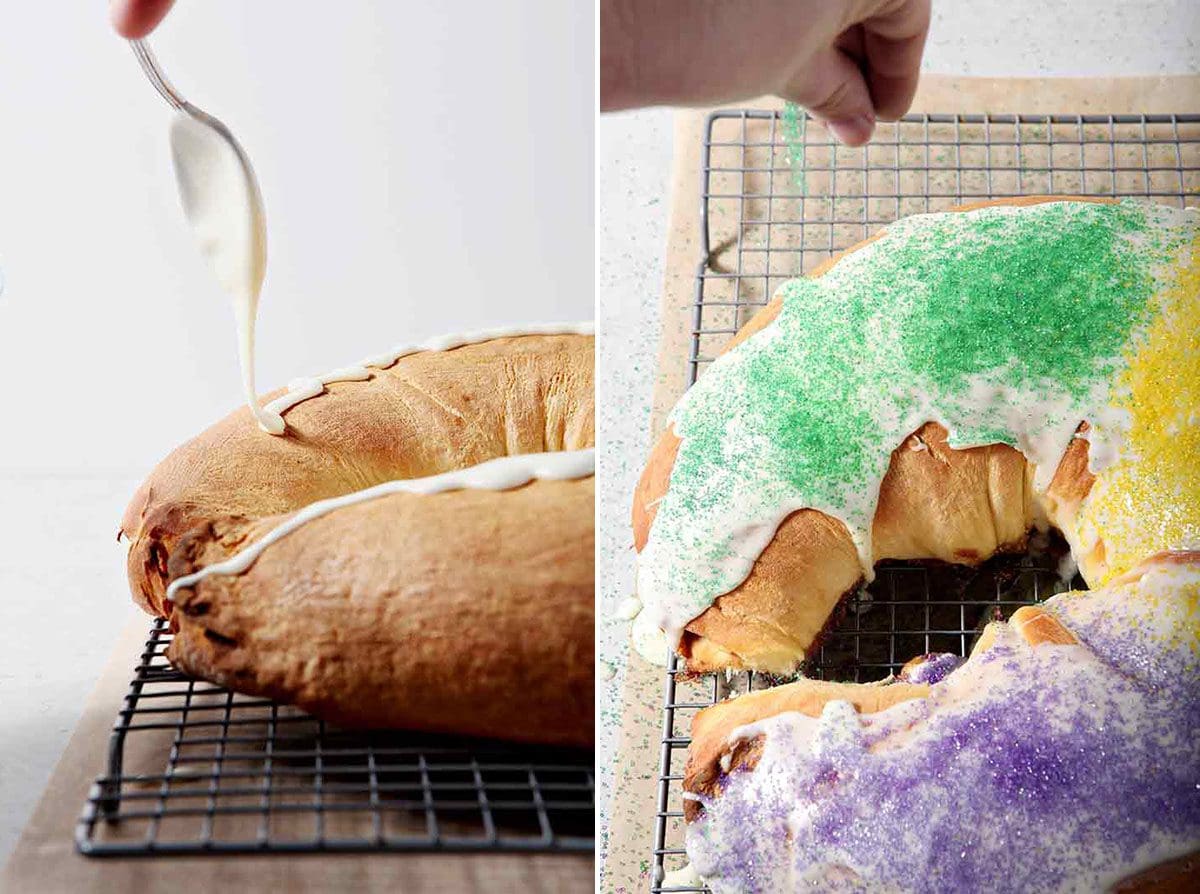 Erin's Easy Entertaining Tips
If you don't live in South Louisiana or Mobile, chances are Mardi Gras celebrations are hard to come by in your town.
As someone who adores at-home entertaining and hospitality, I think Mardi Gras is a fabulous time to host a dinner party and finish the night off with this Raspberry Cream Cheese King Cake recipe.
Here's are some tips and tricks to hosting folks for Mardi Gras:
You want to serve an awesome menu! Louisiana food is flavor-packed and utterly delicious, and you want to serve something that fits the bill. If you're serving a crowd, I recommend making Jambalaya, a pot of chicken and sausage gumbo or a pot of Seafood Gumbo.
Give yourself enough time to make your king cake. Yeasted doughs can be finicky, especially in the wintertime, and it might take longer for your cake to rise than expected. That's OK, so long as you've given yourself extra time and wiggle room. As a rule, I like to put together my king cake the morning of my event or even bake it the night before to avoid any headaches.
If you've got kids, let them in on the fun. It'll be messier than expected, but super fun. Especially the decorating!
At your gathering, talk about what is a king cake and king cake tradition! I've got more information on these talking points above.
Did you know Mardi Gras is a family-friendly affair (in some areas of town)? Many families will make costumes for Fat Tuesday. When I attended with a roommate and her family, we made costumes for ourselves on Lundi Monday while indulging in their king cake tradition: tasting different New Orleans king cakes from all over town! Most revelers choose costumes based on current events, and it makes for spectacular people watching on Fat Tuesday! We went as snowflakes because it snowed in New Orleans the Christmas before that Mardi Gras.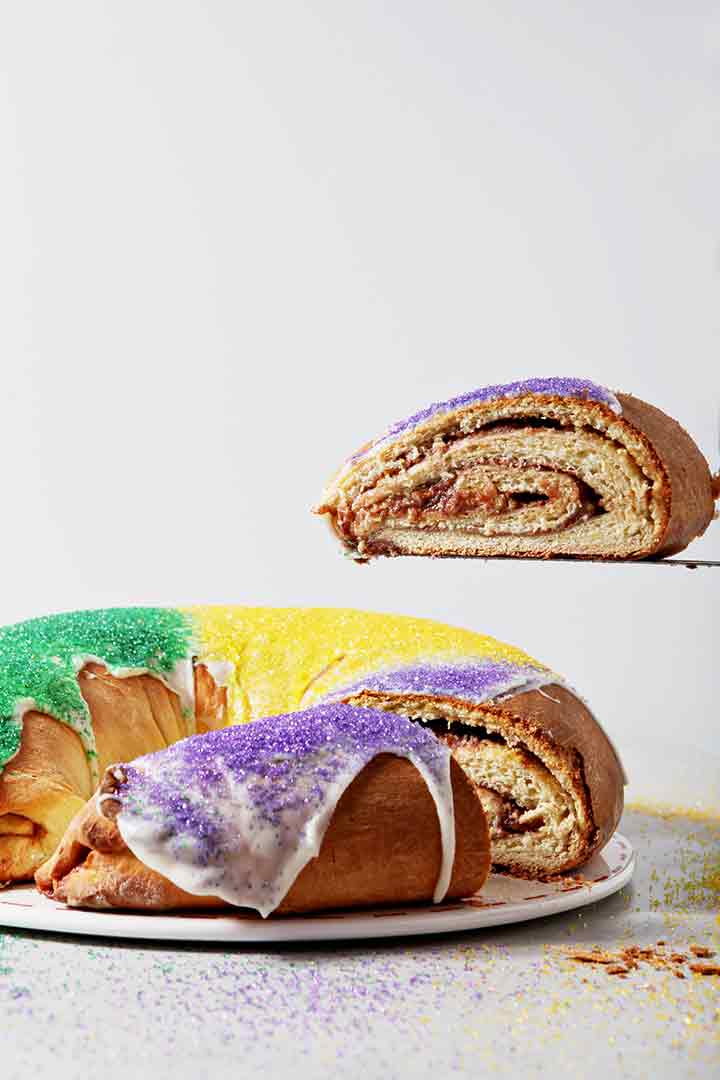 Frequently Asked Questions
What makes a king cake different than another type of cake?
A king cake is not a traditional baked good. It's more similar to a cinnamon roll or a pastry than it is a traditional cake. Like a bread or a pastry, the king cake calls for yeast and requires two rises to create fluffy, flavorful layers.

Fun fact: it's not baked in a cake pan. You bake it on a baking sheet!
How do you make this King Cake filling recipe?
This King Cake technically has three fillings—the cinnamon-sugar layer, the cream cheese layer and the raspberry jam. I mix them in different bowls.

Drizzle a little bit of water on top of cinnamon and sugar to make that layer.

For the cream cheese, combine softened cream cheese, sugar, egg yolks and vanilla extract in another bowl. You can mix it by hand or with a hand mixer. Either works. (Though if you want is smoother, I recommend the hand mixer.)
What are some other filling options?
The world is your oyster with this. You could do any kind of combination that sounds good.

Cream cheese + fruit jam is a favorite of mine, hence why I developed this recipe.

So if you don't like raspberry, use strawberry, blueberry, blackberry, mixed berry, etc., in its place. Also, pecans and brown sugar would be an awesome filling for this type of king cake.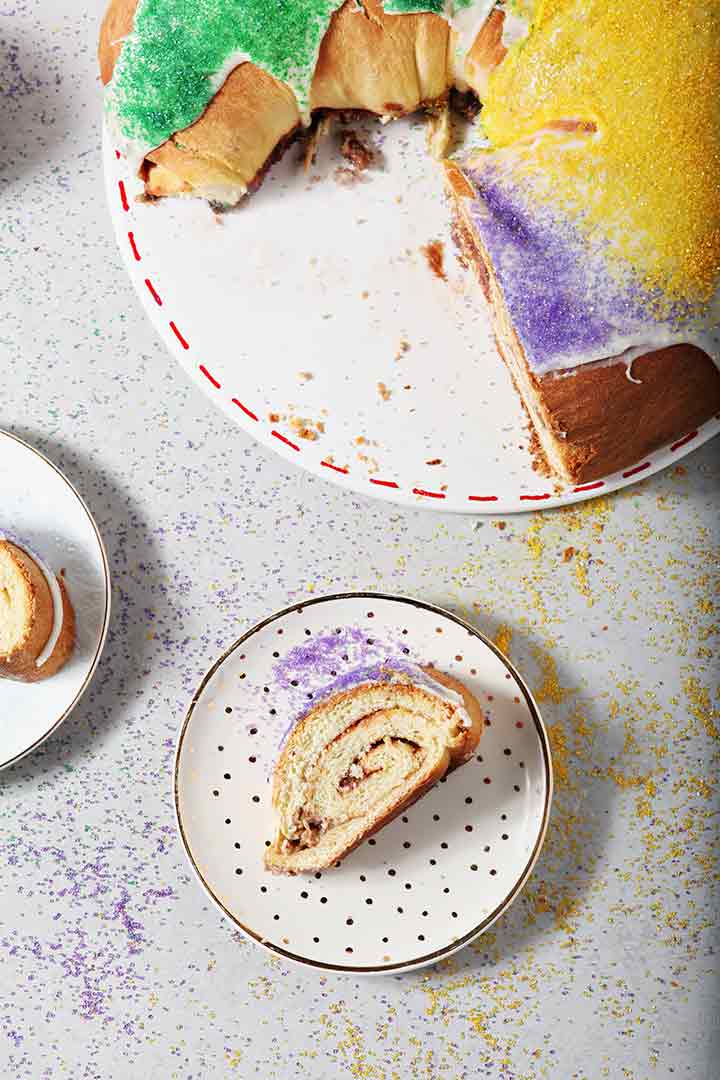 Quick tips and tricks to the best homemade king cake
Give your king cake time to rise. Yeasted doughs can be challenging in the wintertime, so give your dough enough time to do its thing. This means starting earlier than expected, especially if you're hosting friends who expect a slice of this goodness by the end of the night.
Change up the fillings. Stuffed king cakes are fabulous! If you'd rather use a different type of jam, use that. Not a cream cheese lover? Leave it out.
Invest in the sanding sugar and the plastic baby for the authentic experience at home!
Cream Cheese and Raspberry King Cake
Celebrate Mardi Gras by baking a homemade Cream Cheese and Raspberry King Cake for friends and family! This stuffed king cake, which offers a cinnamon-sugar layer, then a combined cream cheese and raspberry layer, is a favorite of ours!
Ingredients
Dough
2 ¼

teaspoons

active dry yeast

¼

cup

water

1

cup

milk

scalded (cow's milk and unsweetened non-dairy milk OK)

½

cup

granulated sugar

4

tablespoons

unsalted butter

softened

1 ½

teaspoons

kosher salt

1

tablespoon

orange zest

¾

cup

orange juice

1

teaspoon

pure vanilla extract

7

cups

all-purpose flour

divided

2

large eggs

beaten

1

tablespoon

heavy whipping cream
Cinnamon Sugar Filling
½

cup

granulated sugar

1

tablespoon

ground cinnamon

2

tablespoons

water
Cream Cheese and Raspberry Filling
8

oz.

cream cheese

softened

¼

cup

granulated sugar

2

egg yolks

1

teaspoon

pure vanilla extract

¾

cup

seedless raspberry jam

Plastic baby

to be placed in the cake after baking and just before serving
Instructions
Make the King Cake Dough
Measure out ingredients into bowls. This is called mise en place and will help greatly as you prepare to make this king cake.

Heat the water in the microwave for 30 seconds. You want it to be very warm, but not hot to touch or boiling. If it's too hot, you will kill the yeast.

In a small bowl, dissolve the yeast in the warm water. Stir well to allow the yeast to start working, and then set it aside. (You will know the yeast is working when the mixture turns into a slurry and some bubbles form on the surface. If this does not happen, it's possible that your yeast was scalded by too hot water or the packet was old.)

In the bowl of an upright mixer, combine the scalded milk, sugar, butter, salt, vanilla extract, orange zest and orange juice. Mix with the wire whisk attachment on slow speed until the butter is melted, and then allow this to cool slightly.

Replace the wire whisk attachment with the dough hook. Stir in 2 cups of the flour, and beat on medium speed until smooth.

Add the yeast mixture and the beaten eggs. Mix again until well incorporated.

Add the flour one cup at a time until all the flour has been measured and the dough is no longer sticky. It should pull away from the sides of the bowl.

Continue mixing on a slow speed with the dough hook for about 5 minutes to knead the dough. Add a little more flour if it looks like the dough surface is sticking to the bowl or if it looks too moist. (You can also knead the dough by hand at this point. I like to do this until the dough is nice and smooth and not too sticky/wet.)

Once kneaded, transfer the dough into a greased bowl. Cover with plastic wrap, and place in a warm spot. Allow the dough to rise and double in size. (About 90 minutes, depending on the temperature of your home.)
Make the Fillings
While the dough is rising, make the fillings.

In a medium-sized bowl, combine the softened cream cheese with the sugar, egg yolks and vanilla. Set aside.

In another bowl, combine the sugar, cinnamon and water, then set aside.
Roll and Fill the King Cake
Punch down the dough, then transfer it to a floured surface. Now, roll it out into a rectangle. (Make it about a ½" thick.)

Smooth the cinnamon-sugar mixture over the dough with the back of a spoon or a butter knife.

Add the cream cheese filling just inside one long edge of the dough, spreading with a spoon. Top it with the raspberry jam, spreading it evenly on top.

Starting on the long side closest, roll the dough into a log, pinching gently to keep it rolled. Be gentle with the dough, and keep in mind that this part can get messy. (You've been warned!) Pinch the seal closed gently.

Once rolled, shape it into a complete ring or circle, and transfer to a parchment paper-lined sheet pan.

Place the sheet pan in a warm spot, and allow the dough to rise and double in size again. (About 60 – 90 minutes.)
Bake the King Cake
Preheat oven to 375°F.

Brush the risen dough with heavy whipping cream.

Bake the cake at 375°F for 10 minutes, then turn heat down to 350°F and bake for an additional 30 minutes, or until a cake tester comes out clean when poked through the largest section of the cake.

Allow the cake to cool completely on a wire rack.
Decorate the King Cake
Make the icing: Combine the powdered sugar and orange juice in a deep bowl whisking until smooth. If the icing is too stiff, whisk in ½ tablespoon water at a time until spreadable. Optional: Dye the icing purple, green and gold and set aside. (If you're not coloring the icing, you can use colored sugar to decorate it in traditional Mardi Gras colors.)

Drizzle the cooled cake with the icing.

Sprinkle with colored sugar, and let the icing harden. (About 10-20 minutes.)

Just before slicing, add the plastic baby to the cake. (You will want to do this after the bake and before slicing so you know where it is. The baby can be a choking hazard, so be sure to inform your guests of the baby, as well as watch to ensure the person who receives it has spotted it before taking a bite.)

Slice and enjoy!
Notes
Adapted from Cajun Chef Ryan.
If you want a different filling, feel free to swap the raspberry jam with strawberry, blueberry or mixed berry jam. If you don't like cream cheese, skip that and just use the jam of your liking!
Nutrition
Serving:
1
slice
Calories:
448
kcal
Carbohydrates:
79
g
Protein:
8
g
Saturated Fat:
5
g
Cholesterol:
70
mg
Sodium:
287
mg
Fiber:
2
g
Sugar:
33
g
Have you tried this recipe? If so, will you leave and comment and star rating below?