No Churn Mardi Gras King Cake Ice Cream
No Churn Mardi Gras King Cake Ice Cream is a sweet treat for Carnival season! This no churn ice cream starts requires no ice cream maker and just a few ingredients and is studded with king cake! Homemade King Cake Ice Cream is the perfect Mardi Gras dessert to serve on Fat Tuesday! Makes 10 servings.
Love king cake? Don't miss Cream Cheese and Raspberry King Cake, King Cake Martini and Praline Cinnamon Roll King Cake!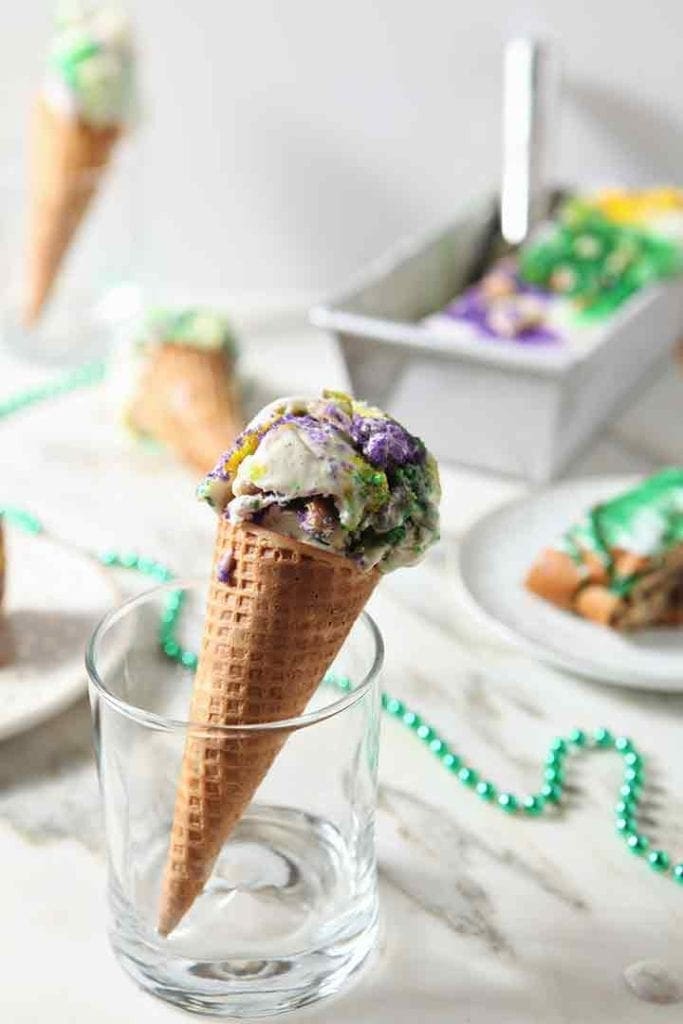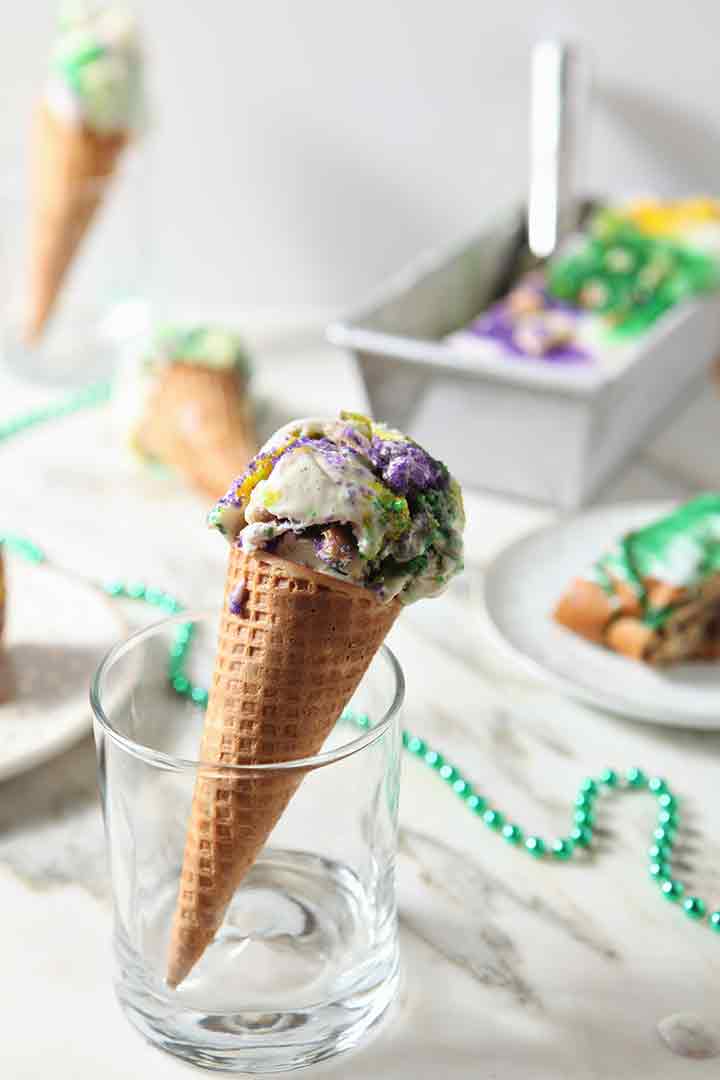 When I originally made this ice cream back in 2019, I came down with strep throat a day later, and we jokingly nicknamed this "Strep Throat Ice Cream," as reasonable people do.
And since I probably (definitely) licked the spoon a time or three while making this ice cream, so no one in our household was allowed to eat this ice cream… except for me.
Clearly, I tried the condensed milk ice cream when all was said and done because that's what a good food blogger does… but also I was on antibiotics for 10 days, and ice cream felt really good on my sad throat, too.
Rest assured, we made another batch before Fat Tuesday and confirmed its deliciousness!
Why I love this recipe:
This No Churn King Cake Ice Cream is the perfect Mardi Gras season treat, and since it's no churn, you don't need an ice cream maker! (To this day, I don't have an ice cream machine because I stand by the fact that no churn ice cream is way easier!)
It's also reminiscent of a well-known Texas brand's Mardi Gras-flavored gallon that I've heard is hard to come by some places. So if you're unable to find that ice cream, know that I've got your back with this easy ice cream recipe.
While it's not as easy as picking up a gallon from the grocery, and is a little different, flavor-wise (I chose to make mine vanilla while I know theirs is more of a cinnamon), it's the easiest way to make ice cream I know.
In my opinion, it's worth the added effort, should you not be able to purchase it from the store.
Love Louisiana flavors? Check out Instant Pot Gumbo, Chicken and Sausage Jambalaya, Cajun Shrimp and Grits, Instant Pot Red Beans and Rice and Chicken and Sausage Gumbo!
Need more Mardi Gras inspiration? Head on over to 18 Mardi Gras Recipes to Make This Carnival Season!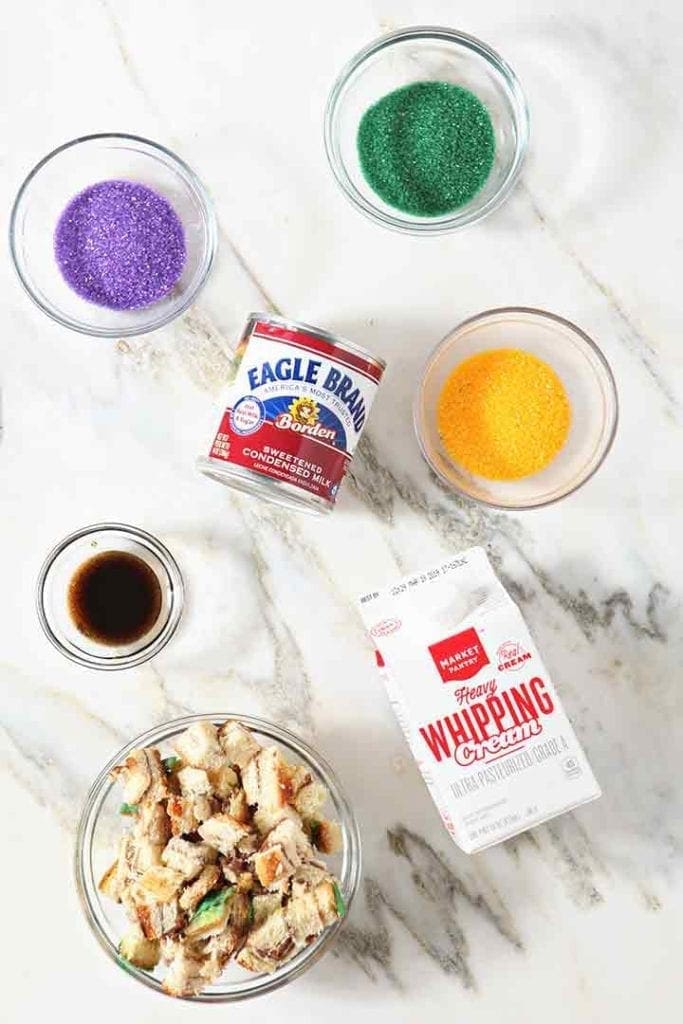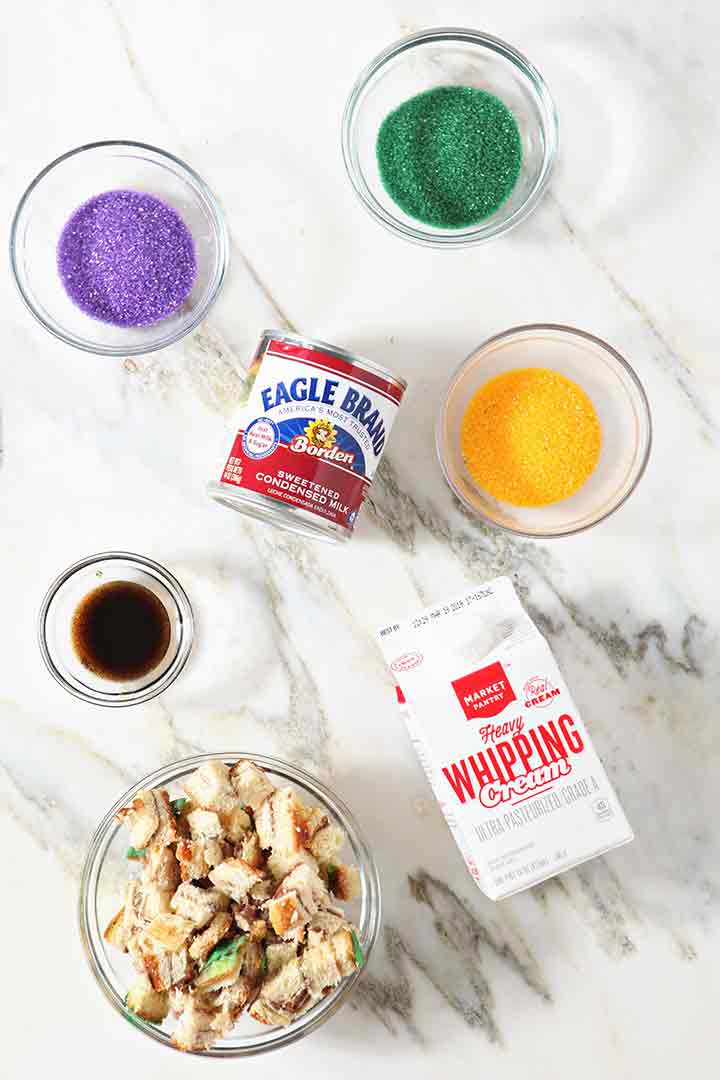 What you need to make this easy ice cream recipe:
The Speckled Palate participates in affiliate programs. As an Amazon Associate, I earn a commission from qualifying purchases. Please refer to my disclosure page for more information about these affiliate programs.
In addition to these tools, you need a few different ingredients, as well.
Heavy whipping cream
Sweetened condensed milk
King cake (homemade or store-bought)
How do you make no churn ice cream?
No churn ice cream is easy as pie because it only calls for a few ingredients!
The base of all no churn ice creams is heavy whipping cream (turned into whipped cream) and a can of sweetened condensed milk.
We add vanilla bean paste (which adds insane vanilla flavor to the base), Mardi Gras-colored sprinkles and chunks of King Cake, too, before the mixture goes into the freezer, covered tightly in plastic wrap.
Freeze for 5-6 hours, then scoop for a delicious Mardi Gras dessert!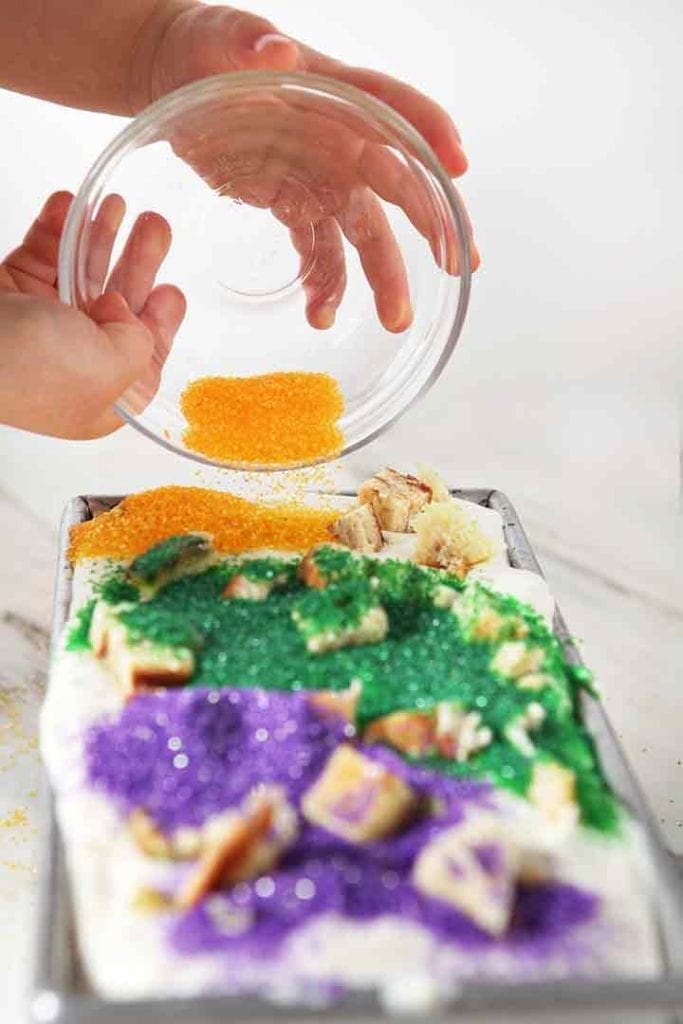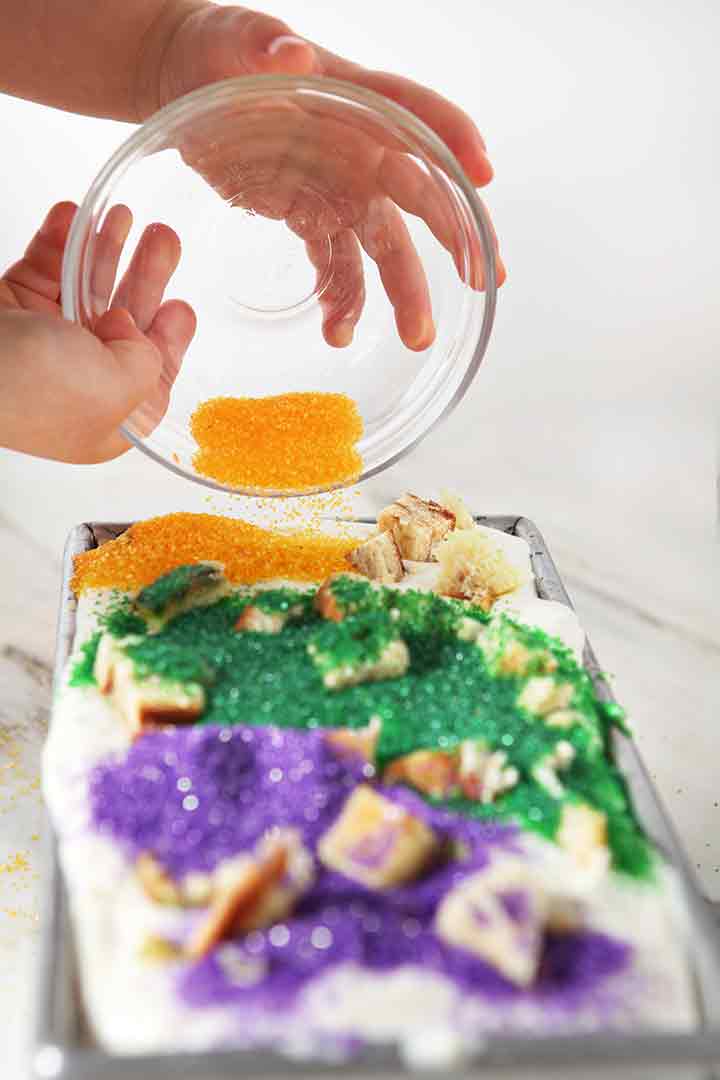 Frequently Asked Questions
Where do I find a King Cake to add to this ice cream?
I've found that most grocery stores in Dallas have King Cakes in their bakery departments. You can pick one up there, or you could special order one from New Orleans if you can't get your hands on one locally.
You can also make one, but that's a lot of extra work.

I'm all about the homemade King Cake, but a store-bought one, even a sad rendition of one, works here, because the King Cake adds to the flavors. And if it's dry, it's not like you'll notice. Ice cream is decidedly not dry, and it'll be wrapped up in that goodness, so you're golden.
How do you store no churn ice cream?
I always leave mine in the loaf pan* (affiliate link) in the freezer, covered with a few layers of plastic wrap, because it doesn't last long.

If you want to make or store your ice cream in a freezer-safe, airtight plastic container, you can absolutely do this, too! (They actually make ice cream storage containers* (affiliate link) these days, too!)

Whatever you do, just be sure to store it in a container large enough for you to be able to get an ice cream scoop into.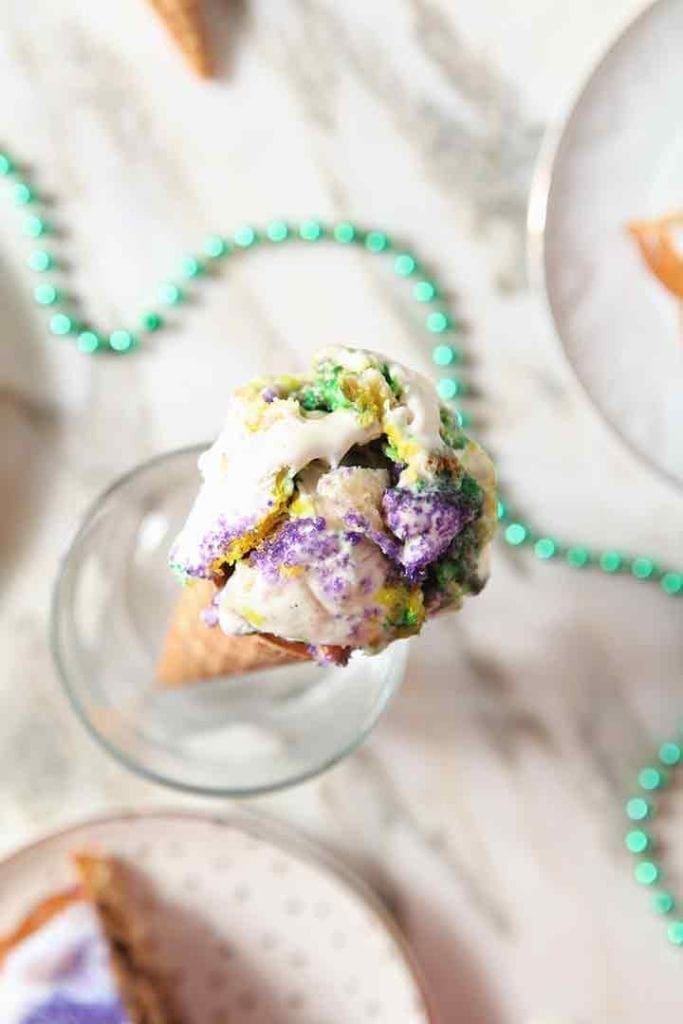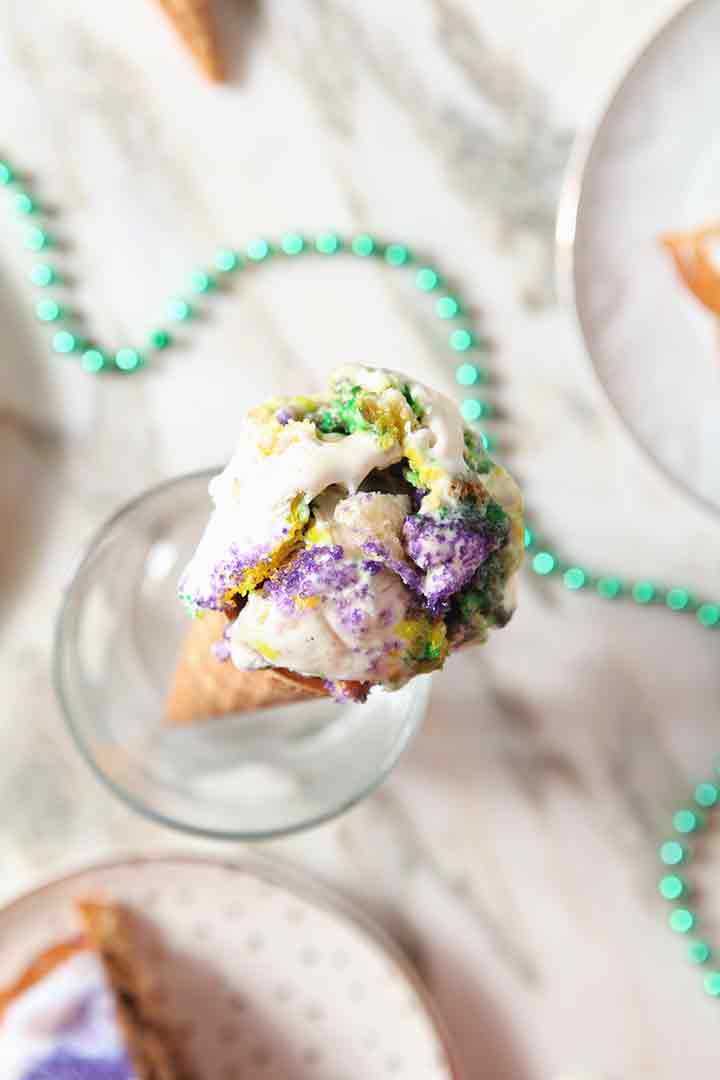 Quick tips and tricks for the best condensed milk ice cream
Use the right ingredients. This recipe absolutely will not work if you do not use heavy whipping cream and sweetened condensed milk!
If you can't find a king cake, use a store-bought cinnamon roll instead! (Technically, that would make this Cinnamon Roll Ice Cream, but since a king cake is a sister of a cinnamon roll, I consider it an acceptable substitute.)
If you can't find vanilla bean paste, you can use the same amount of vanilla extract. It won't has as strong a vanilla flavor, but it works in a pinch!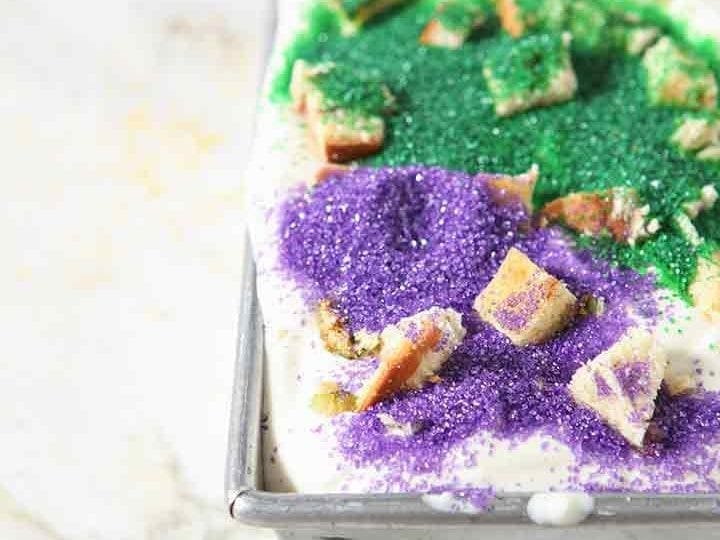 Yield:

10 servings
No Churn Mardi Gras King Cake Ice Cream
Total Time:
8 hours
15 minutes
Make No Churn Mardi Gras King Cake Ice Cream as a sweet treat this Carnival season! This ice cream starts as any no churn ice cream recipe would—with whipped cream and sweetened condensed milk. Vanilla bean paste swirls into the base, giving tons of flavor. Layer the ice cream with chunks of King Cake and green, purple and gold sanding sugar, then freeze. Homemade King Cake Ice Cream is the perfect Mardi Gras dessert to serve on Fat Tuesday!
Ingredients
2 cups heavy whipping cream
14 oz. sweetened condensed milk
2 teaspoons vanilla bean paste
1 ½ cups King Cake, cut into bite-sized pieces
2 tablespoons yellow sugar
2 tablespoons green sugar
2 tablespoons purple sugar
Instructions
In a large bowl, pour in the heavy whipping cream.
Using a hand (or stand) mixer, whip the cream slowly at first, then increase the speed until stiff peaks form.
In another bowl, combine the sweetened condensed milk with the vanilla bean paste, stirring until smooth.
Fold the vanilla sweetened condensed milk into the whipped cream.
Chop the King Cake into bite-sized pieces, and set aside.
Layer the ice cream base with the King Cake and sprinkles in the 8" x 4.5" loaf pan. (I did three layers, but you could certainly do two.)
Place the loaf pan back in the freezer, freezing for at least 4-6 hours or overnight.
Scoop with a warm ice cream scooper, and serve immediately!
Notes
If you don't have vanilla bean paste (and don't want to go find it), you can substitute 1 tablespoon of pure vanilla extract. The ice cream won't be nearly as vanilla-centric, but it will still be delicious!
Recommended Products
As an Amazon Associate and member of other affiliate programs, I earn from qualifying purchases.
Nutrition Information:
Yield:
10 servings
Serving Size:
1
Amount Per Serving:
Calories:

476
Total Fat:

25g
Saturated Fat:

16g
Trans Fat:

1g
Unsaturated Fat:

8g
Cholesterol:

84mg
Sodium:

163mg
Carbohydrates:

56g
Fiber:

1g
Sugar:

46g
Protein:

7g