This Steak Alfredo recipe first appeared on Savory Experiments, where I am a contributor.
Steak Alfredo is an elevated version of the best comfort food. A homemade garlicky Alfredo sauce pairs beautifully with steak. This pasta recipe feels fancy, but it's actually very simple to make and ready in less than 30 minutes. Makes 4 servings.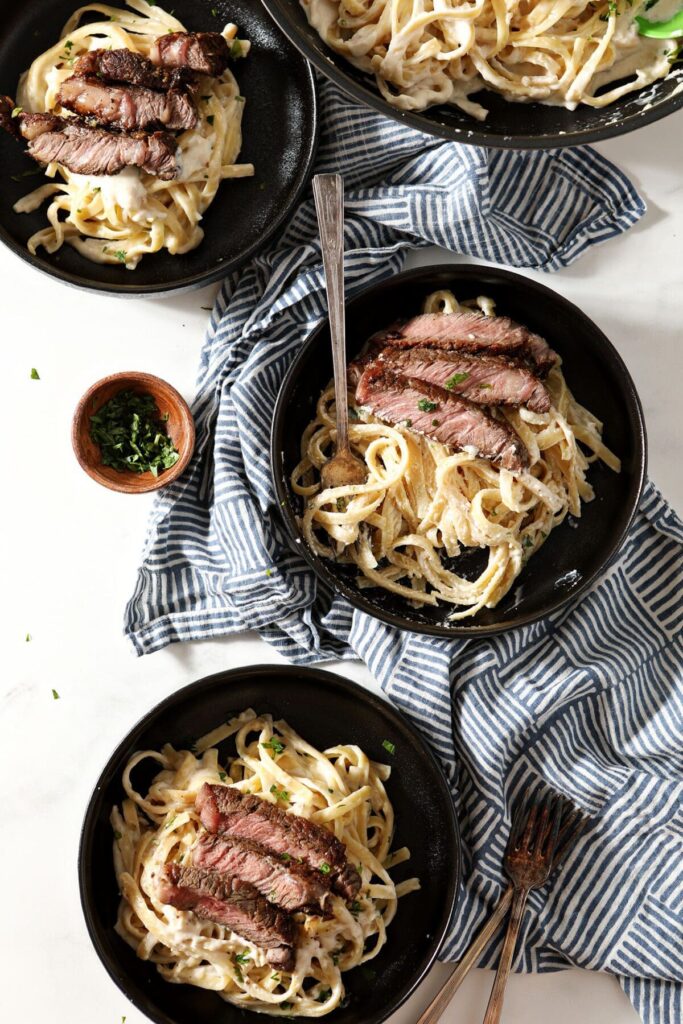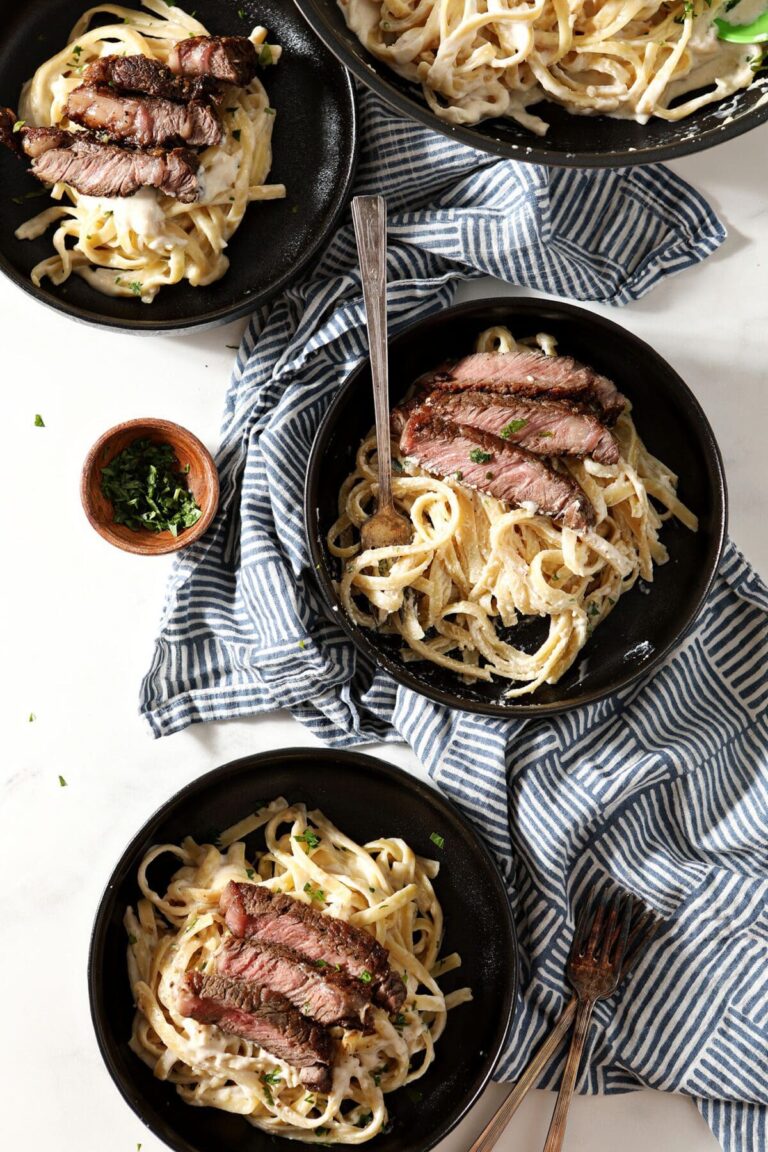 Steak Alfredo recipe:
We all love pasta in our house, but I'm particularly weak for creamy pasta sauces.
And when you pair a garlicky, creamy sauce, like this classic Alfredo sauce, with a perfectly cooked steak… well, you've got a delightful meal for any time that also feels like an occasion.
Whether you're making this as a weeknight dinner for your family or putting it together for a fancier date night at home, you're in for a treat!
It. Is. Decadent! And there's a reason why it's a favorite pasta dish.
Why I love this recipe:
This easy Steak Alfredo recipe offers the perfect balance of al dente pasta, juicy slices of steak and a decadent, creamy, garlicky Alfredo sauce that's so delicious that you'll want to lick the bowl.
It's honestly a delicious dish that's perfect for any time.
How could we not love perfectly seared steak over a creamy, dreamy cream sauce and pasta? Pair it with garlic bread and a green salad, and you're golden!
While this is not a copycat recipe (to my knowledge), it's a darn good one to have in your back pocket.
Also, this alfredo sauce serves as a sauce in a few other recipes on my site, including Cajun Chicken Alfredo, Cajun Shrimp Fettuccine Alfredo and Spicy Fettuccine Alfredo with Hatch Green Chile Peppers.
This easy dinner recipe is ready in less than 30 minutes, so it takes very little time, and you can cook your steak in whichever way you see fit!
More pasta recipes to try: Tortellini Butternut Squash Pasta with Pancetta and Spinach | Chicken Pesto Pasta | French Onion Steak Pasta | Spicy Sausage Ground Turkey Pasta Sauce | Lemon Salmon Pasta
Looking for dinner inspiration? Head on over to my Dinner Recipe Index for more ideas.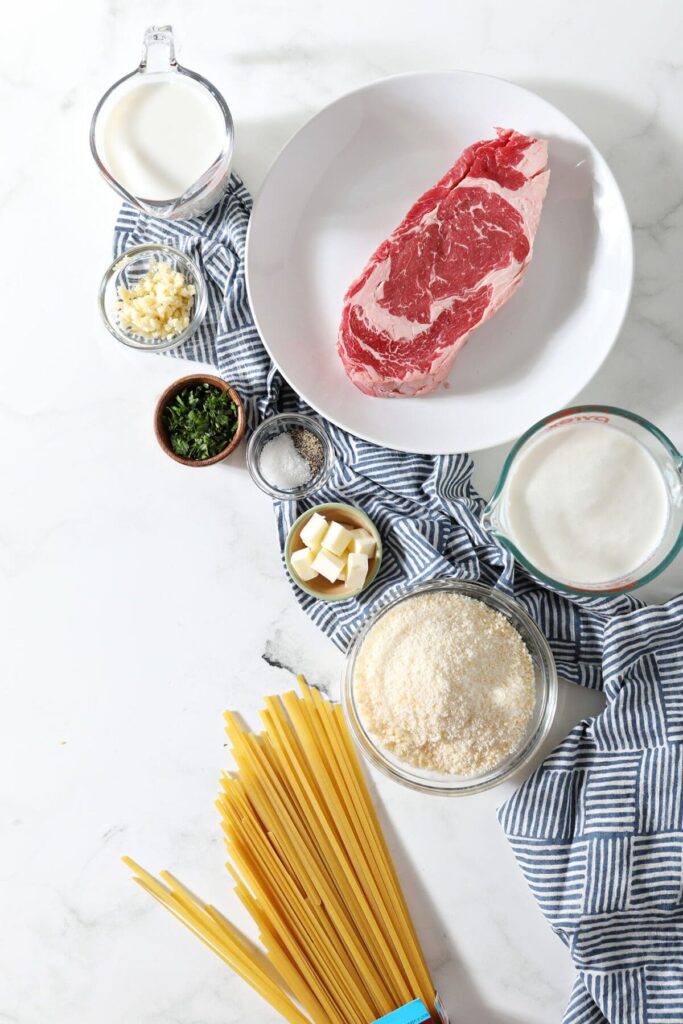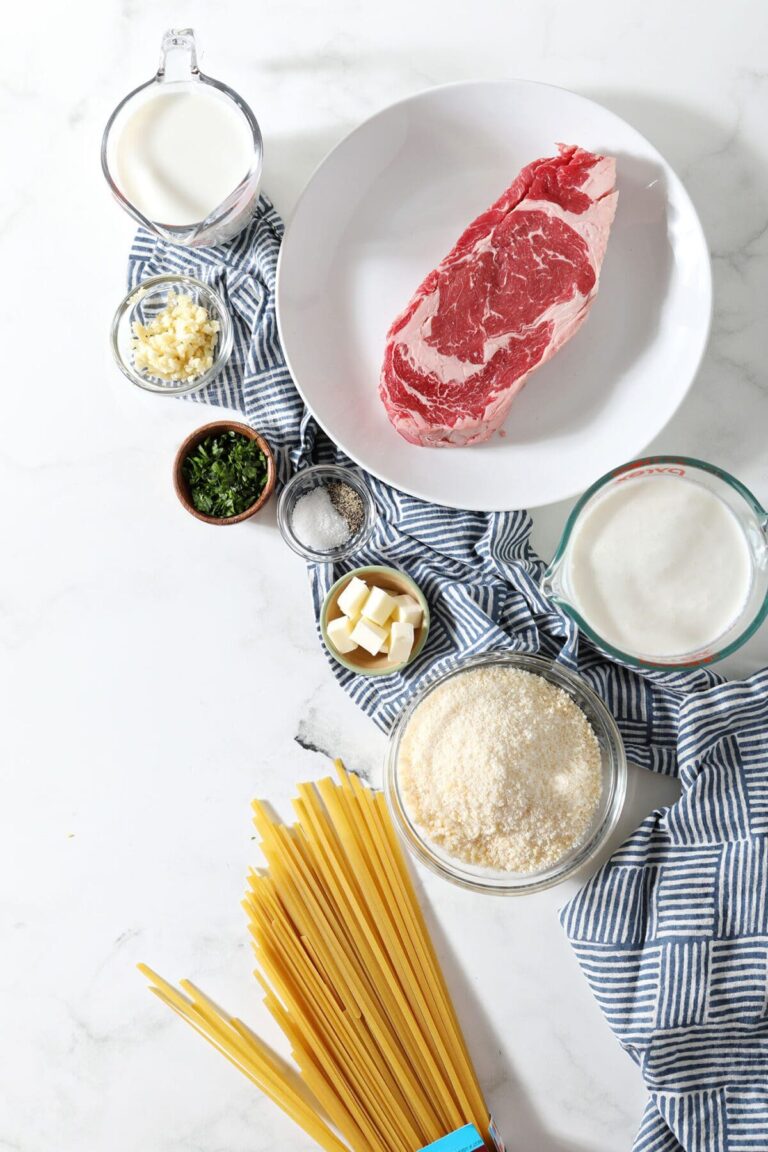 What you need to make this recipe:
The Speckled Palate participates in affiliate programs. As an Amazon Associate, I earn a commission from qualifying purchases. Please refer to my disclosure page for more information about these affiliate programs.
Here's what you'll need:
Fettuccine noodles — this is the classic pasta for Fettuccine Alfredo. If it's not your favorite, use another type of pasta that makes you happy. I think farfalle or rotini would be an excellent choice, especially if you're serving kids.
Steak — I used a ribeye steak for this recipe, but you can use whatever cut of steak makes you happy. New York strips or a sirloin steak would also be delicious. Purchase one that's on the thicker side so that you can cook it to perfection.
Kosher salt and black pepper — you'll need these for your steak. Season it liberally. I like to use about 1 teaspoon of salt per pound of red meat. You can also use a Homemade Steak Seasoning to season the steak.
Salted butter — this serves as our base for the Alfredo sauce.
Fresh garlic — this aromatic adds just a bit more flavor to the cream-based sauce
Heavy cream — also known as heavy whipping cream. It's thick, luscious and provides a TON of flavor. There is no substitute.
Whole milk — this thins out our sauce without skimping on flavor. While you could substitute it for lower fat milk, I don't suggest that.
Grated parmesan cheese — please purchase the real deal and not the shelf-stable kind. The cheese counter at our local grocery sells containers of freshly grated parmesan, and I bet yours does, too.
Fresh parsley — for garnish. This is optional, of course, but I love the pop of color it provides.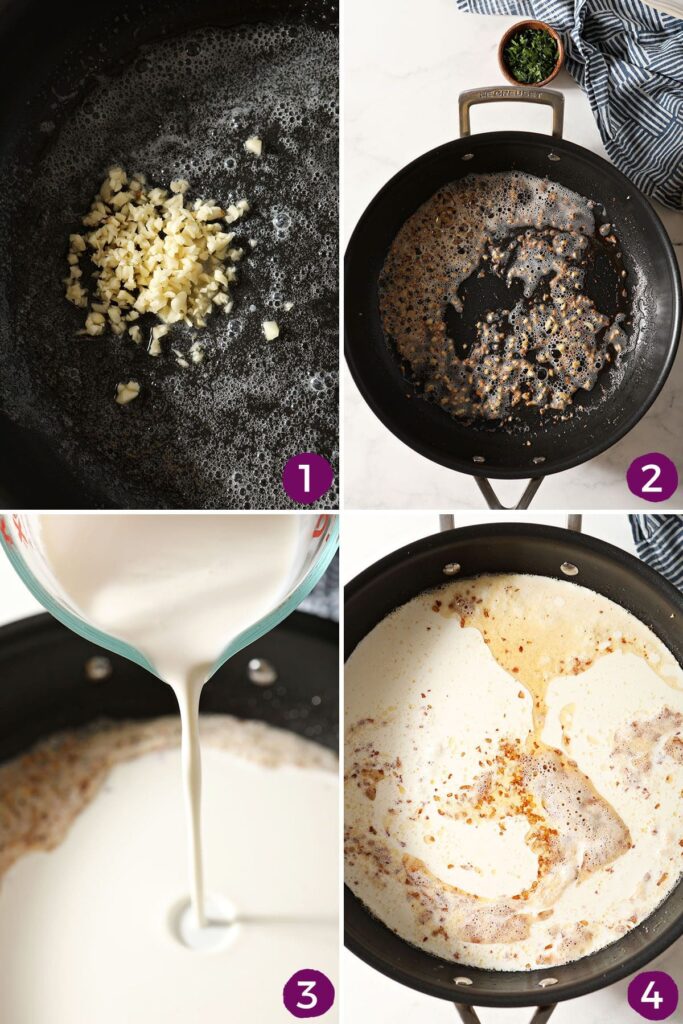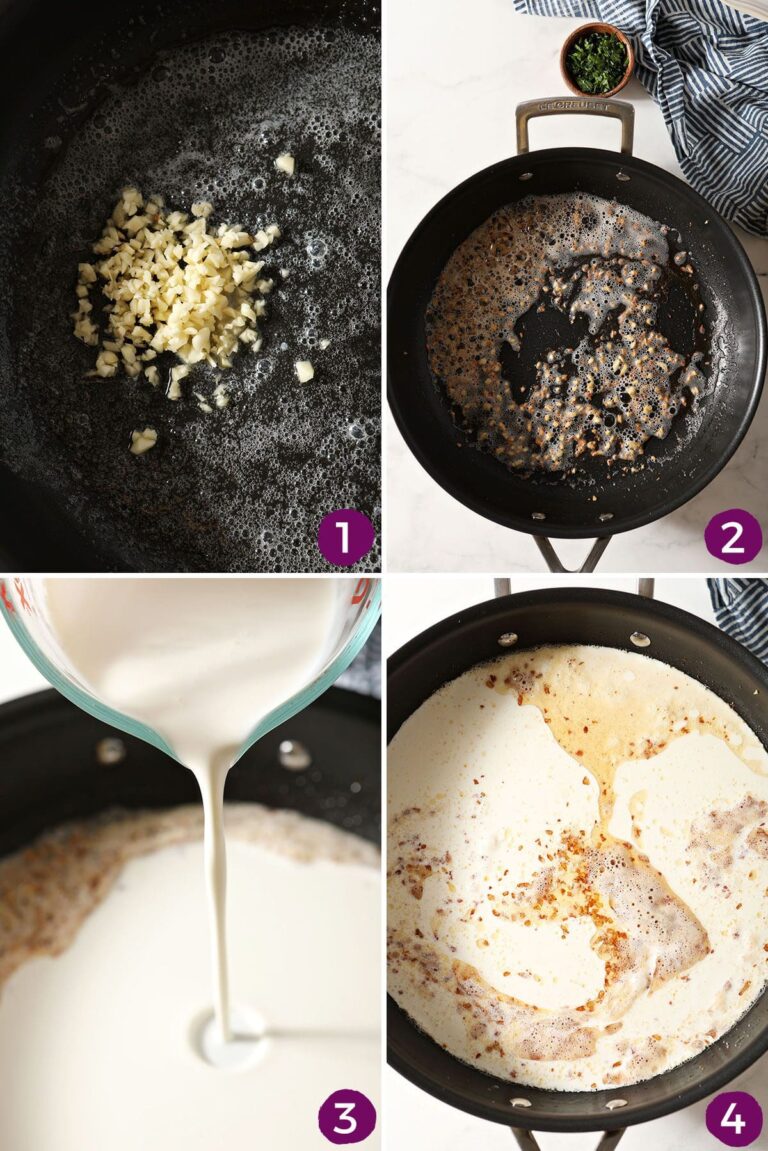 How to make Steak Fettuccine Alfredo
First and foremost, Remove the steaks from the fridge 30-45 minutes before cooking. Let them warm up.
Why? Your steak will cook more evenly if it has a chance to come to temperature instead of cooking it cold.
Season the steaks with pepper and salt. I like to use about 1 teaspoon of medium-grain kosher salt per pound of meat. If you're using table salt, please note that it is saltier and you will need less.
Cook the pasta in a large pot of salted water. Read the pasta's packaging, and cook the pasta in boiling water until al dente. Drain it in a colander, drizzle with a little olive oil to prevent it from sticking and set it aside.
Before you drain the pasta, be sure to reserve one cup pasta water right before doing this. It will help the sauce adhere to the pasta.
Cook the steak(s). You can pan sear them in a hot skillet, grill them or broil them.
If you need help cooking your steak, check out How to Broil Steak, How to Grill Steak and Cast Iron Ribeye. These techniques are my favorite for any cut of steak.
You want the steaks cooked before you start the Alfredo sauce because we want the meat to have some time to rest before we cut into it. If you're searing them, make sure to cook the sides of the steaks, too.
Slice the steak once it's had a chance to cool off. Use a sharp knife to cut the meat into bite-sized steak slices on a cutting board. Set aside.
Pro tip!
If you're going to cook the steaks and the sauce in the same skillet, make sure to wipe down the skillet with a paper towel between the two. While the steak drippings are full of excellent flavor, they'll turn your cream-based sauce a brown color.
Melt butter in a large skillet with high sides over medium heat. Don't turn up the heat higher than this—we don't want any burned bits making our Alfredo sauce bitter.
Add the garlic and cook until fragrant.
Lower the heat to a simmer (or the lowest setting on your stovetop).
Pour the cream and milk in. Add in the grated parmesan cheese, and stir until smooth and creamy.
The cream can curdle. To prevent this, cook it on low and don't let it come to a boil.
Heat it slowly until the sauce thickens. You'll know it's done when it coats the back of a spoon and you can swipe your finger through it.
Once the sauce is done, give it a taste. If necessary, add extra salt and pepper. You can also add in a sprinkling of cayenne pepper or Cajun or Creole seasoning if you want a bit more heat.
Transfer the cooked pasta to the sauce, and toss until it's coated. This is why we're using a high-sided skillet—to ensure that there's enough space for both the pasta and sauce!
Pour in some of the pasta water to help the sauce stick to the pasta.
Serve the pasta with the sliced steak on top. Garnish with parsley, and enjoy immediately.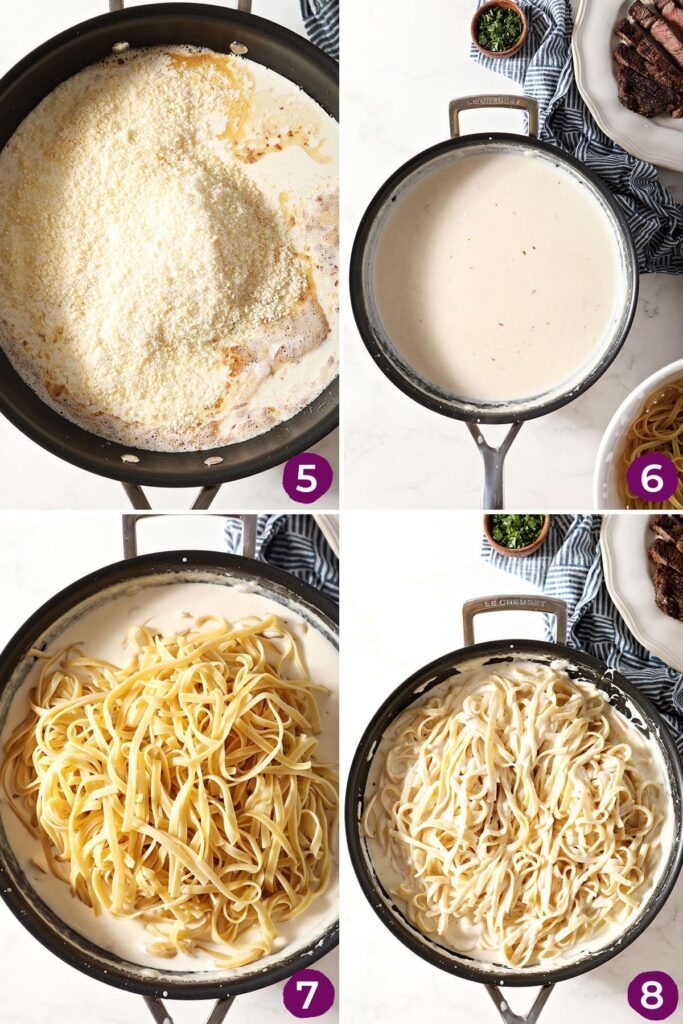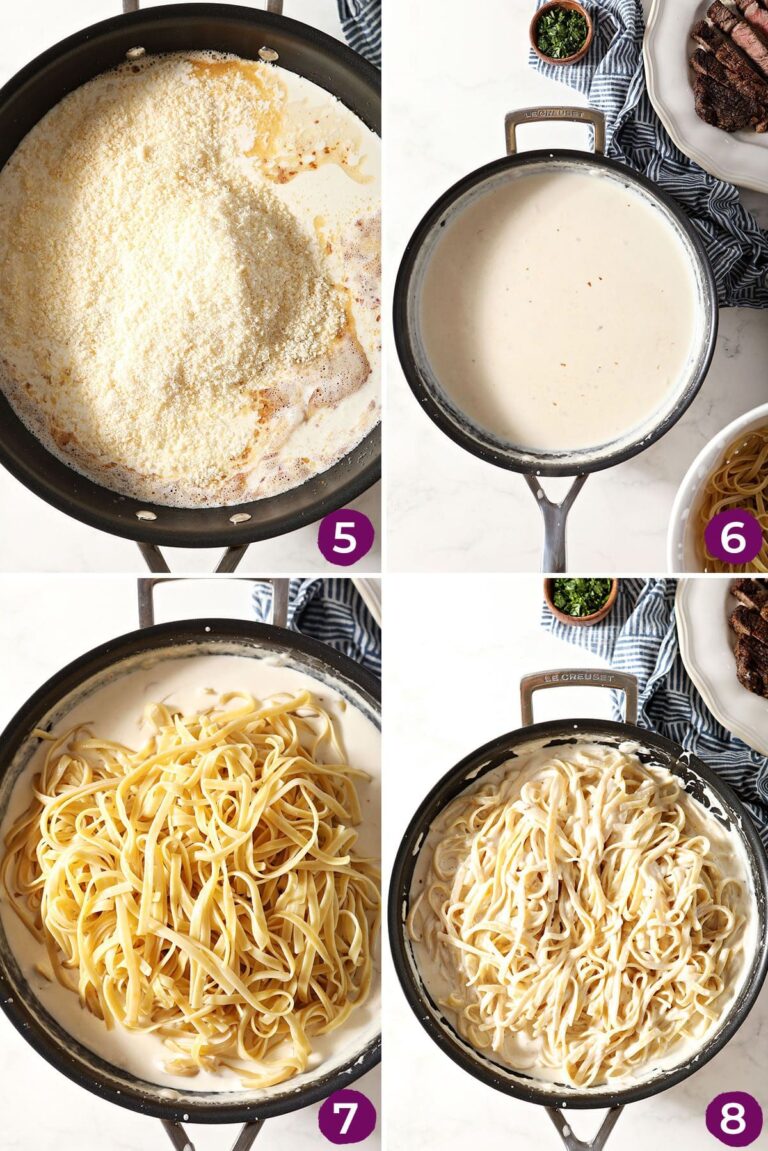 Storage, make ahead and freezing options
If you've got leftovers, store them in an airtight container in the fridge for 2-3 days tops.
I suggest storing the steak and the pasta separately, as they'll take different times to reheat. I suggest leaving the steak whole, if possible, in an airtight storage container.
To reheat the leftover pasta, add a drizzle of milk to the sauce before heating in 30-second bursts in the microwave. Heat until warmed through.
To reheat the leftover steak, sear in a skillet over medium heat or heat in 15-second bursts in the microwave. The steak can become tough in the microwave. I sometimes will remove my steak from the fridge 30-45 minutes before I plan to eat it and let it warm to room temperature.
I have not tried freezing this recipe, but have read mixed results about freezing cream-based sauces. I do not recommend freezing leftovers at this time.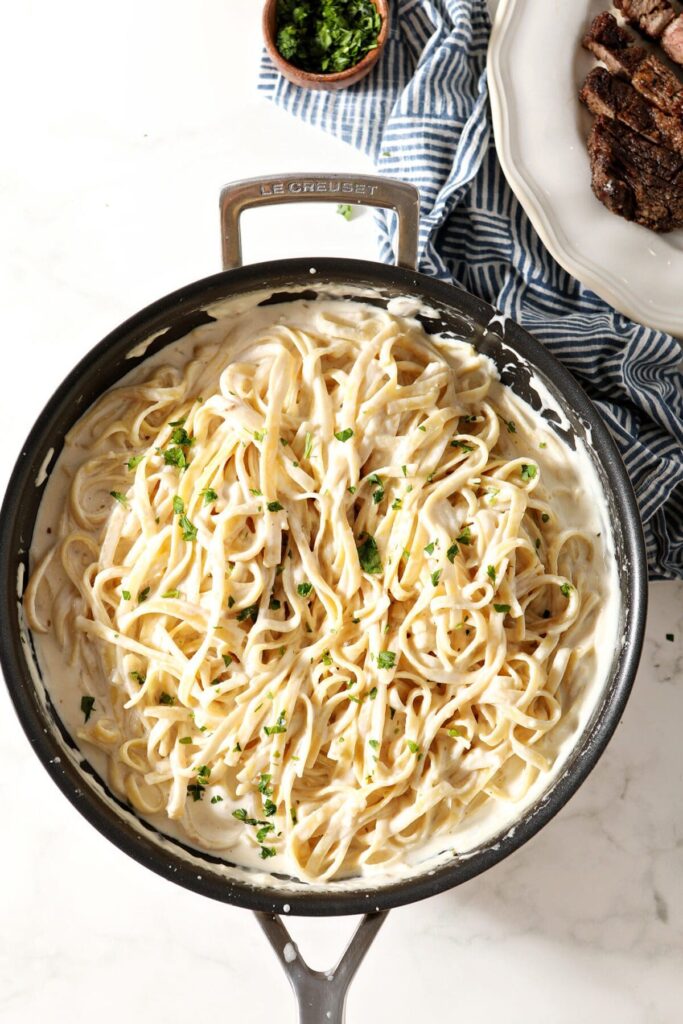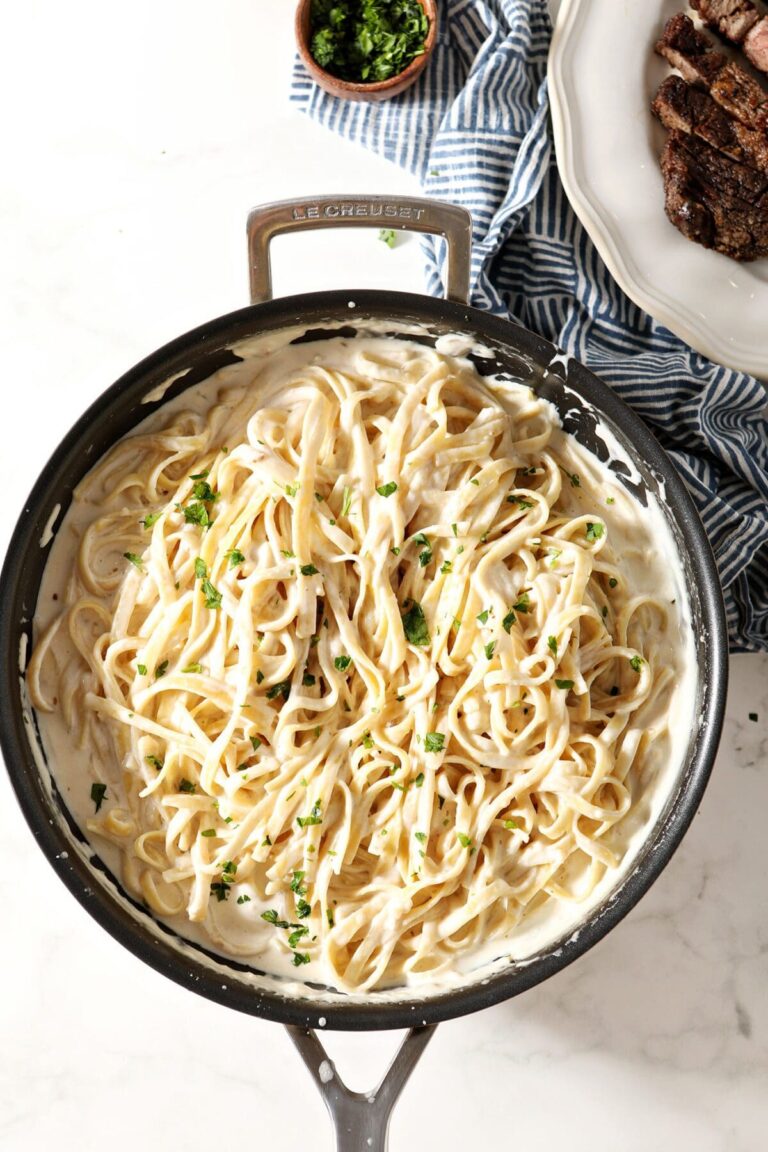 Frequently Asked Questions
What meat goes good with Alfredo?
Steak, chicken and shrimp all pair beautifully with Alfredo sauce.
What is best cheese for Alfredo sauce?
I like to use parmesan cheese in my Alfredo sauce.
What substitutions can I make to this recipe?
I don't recommend making any substitutions to this recipe. The ingredients that are used in this recipe were tested and confirmed to give it the best flavor.

However, feel free to swap out the pasta shape or type. If you like whole wheat noodles, use those. If you're gluten free, use your favorite GF noodles.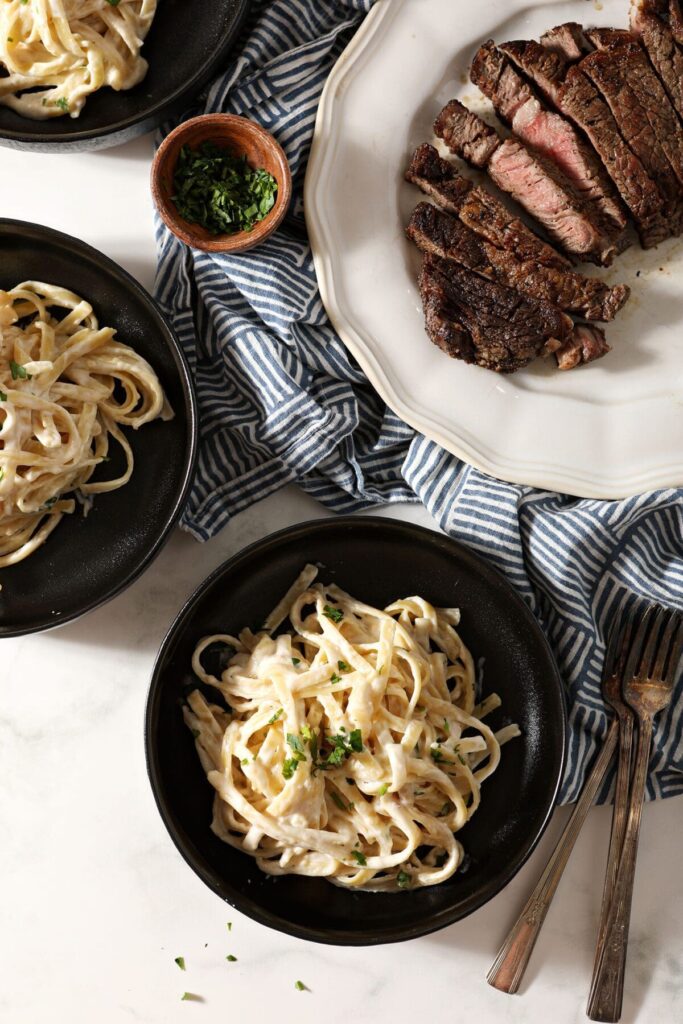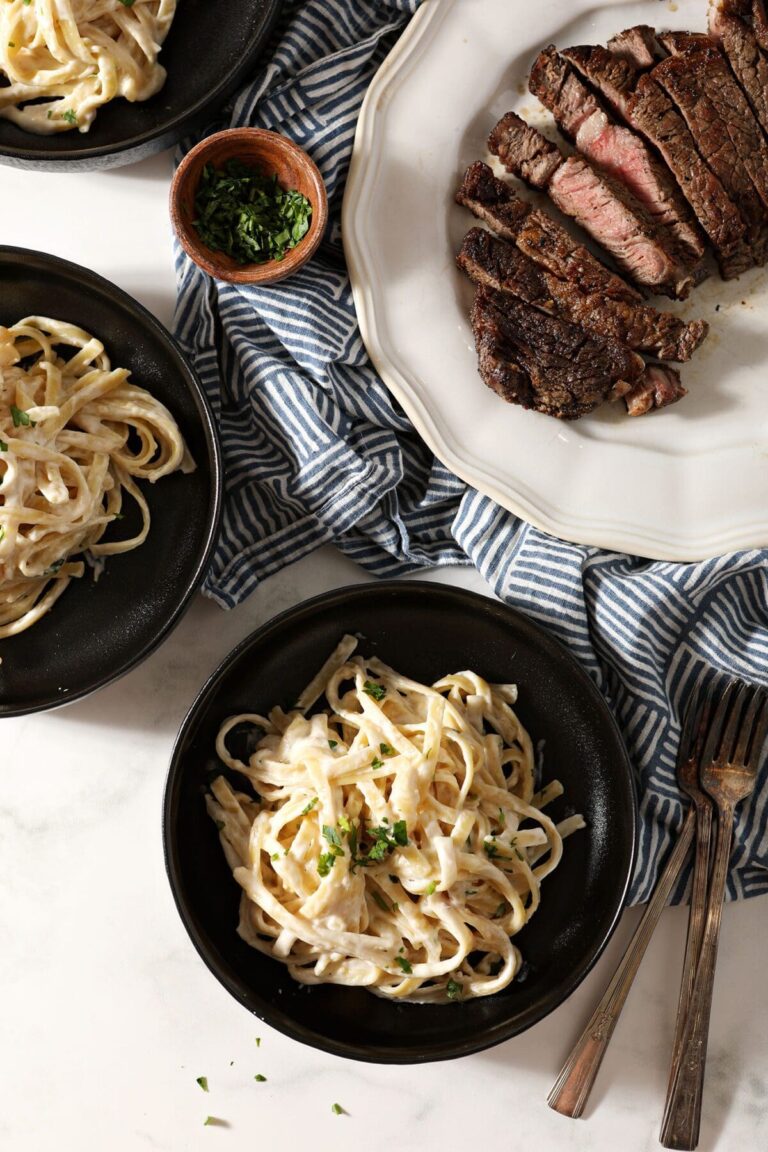 Quick Tips and Tricks for making the best Steak Alfredo recipe
This is not a low-fat recipe. It's not meant to be healthy, so please do not make substitutes. Alfredo sauce is meant to be decadent—so enjoy it!
Grate your own cheese or purchase the grated stuff from your grocery's cheese counter. Please don't use a shelf-stable cheese in this recipe.
Swap out the cut of steak! I used a ribeye, but you could easily serve this alfredo with a New York strip, a tenderloin or a sirloin steak. Use whatever sounds best for you!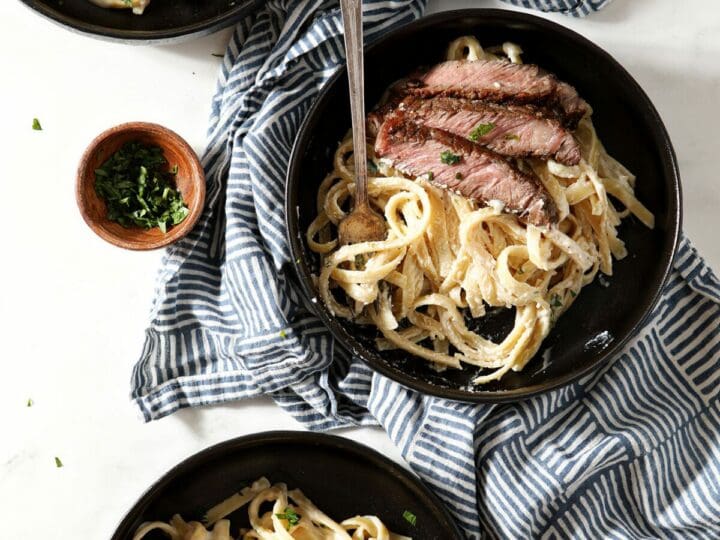 Yield:

4 large servings
Steak Alfredo
Steak Alfredo is an elevated version of the best comfort food. A homemade garlicky Alfredo sauce pairs beautifully with steak. This pasta recipe feels fancy, but it's actually very simple to make and ready in less than 30 minutes.
Ingredients
1 lb. fettucine pasta, uncooked
1 ½ lbs. steak (ribeye, sirloin, NY strip, tenderloin all OK)
1 teaspoon kosher salt
½ teaspoon black pepper
2 tablespoons salted butter
4 garlic cloves, finely minced
2 cups heavy cream
1 cup whole milk
1 ½ cups grated parmesan cheese
Fresh parsley, for garnish
Instructions
Remove the steak(s) 30-45 minutes before cooking. Let them warm up. Season with salt and pepper.
Cook the pasta in salted boiling water until al dente. Follow the instructions on its packaging. Reserve ½ cup to ¾ cup of the water before draining. Drain in a colander, drizzle with a little olive oil to prevent sticking and set aside.
Cook the steak(s). You may cook it in a cast iron skillet on the stovetop, on the grill or broil it. Cook it to the doneness you'd like (I aim for 5-10 degrees below my ideal temperature because it will continue cooking), then remove it from the pan and let it sit while you make the sauce. This is very important so that the juices don't run out when you cut into it.
Once cooled, slice the steaks on the bias. Set aside.
Heat the butter in a high-sided skillet over medium heat.
When the butter bubbles, add the garlic, cooking until fragrant and lightly colored, about 1-2 minutes.
Lower the heat to low, and pour in the cream and milk. Add the grated parmesan cheese, and stir until smooth and creamy, about 4-5 minutes.
Give the sauce a taste, and add extra salt and pepper, if necessary.
Add the pasta to the sauce, and toss until coated. Use the reserved pasta water if the sauce is not adhering to the pasta.
Serve the pasta in bowls, then top with the sliced steak.
Garnish with parsley, and enjoy immediately.
Notes
How to store: Transfer to an airtight container and store in the fridge for 2-3 days. Store the pasta and steak separately. When reheating, prepare to add a little extra milk to the pasta sauce since it will coagulate in the fridge. Reheat in 30-second increments in the microwave.

If you can, try to leave the steak whole because then you can reheat it in a skillet. If it's sliced up, you'll need to microwave it in bursts, and it can become tough that way.

Steak temperature guide: Your steak will continue cooking after you remove it from the heat, so pull it when it's within 5-10 degrees of the temperature you'd like. Use an instant read thermometer to get the best results.

Rare (cool red center): 125°F
Medium rare (warm red center): 135°F
Medium (warm pink center): 145°F
Medium well (light pink center): 150°F
Well done (cooked entirely through): 160°F

Recommended Products
As an Amazon Associate and member of other affiliate programs, I earn from qualifying purchases.
Nutrition Information:
Yield:
4
Serving Size:
1
Amount Per Serving:
Calories:

1308
Total Fat:

94g
Saturated Fat:

51g
Trans Fat:

2g
Unsaturated Fat:

33g
Cholesterol:

353mg
Sodium:

1186mg
Carbohydrates:

48g
Fiber:

2g
Sugar:

7g
Protein:

67g
Nutrition facts are an estimate and not guaranteed to be accurate.